Highsnobiety / Julien Tell
This piece appears as part of "Not In Paris," an online exhibition hosted and curated by Highsnobiety. Head here to see the full series.
Marine Serre has always been ahead of her time. The designer's upcycled face masks and couture are the most notable examples. Just last year, she added menswear to her namesake Paris label. The men's market certainly needs to slow down its pace, with its size expected to grow six percent CAGR (compound annual growth rate) between 2020 and 2024.
Moreover, Boston Consulting Group projects that by 2030, the global apparel and footwear industry will have grown by 81 percent compared to today, with the unsustainable growth rate outpacing demand, negatively impacting both the environment and the people creating our garments as a result.
Luckily, a young flock of advocates is putting responsible design at their core. Serre is among those leading the charge as she is rethinking the codes of what a modern-day luxury brand can look like — one that equally prioritizes values and aesthetics. Now, eight seasons in, the LVMH Prize winner is ready to bring her "futurewear" to a global scale, creating armor for strong men and women around the world along the way.
"Clothing imbued with meaning," is how the designer described her work in last year's Highsnobiety print issue 19. Whether that means models carrying kids down the runway during the brand's sophomore "Hardcore Couture" collection or outfitting her muses with apocalyptic armor in an era when womanhood is under attack (more than ever), the designer is empowering the next generation of shoppers with fashion that transcends its mere function of being aesthetically beautiful.
And now Serre's menswear is gaining traction, among all genders. Yet it's something she rarely speaks about. For "Not In Paris," she does open up, reviewing the references of key products, explaining its sourcing and construction process, and how it all fits into the wider narrative of Marine Serre, the brand.
Regenerated Leather Grizzly Jacket
The regenerated leather grizzly jacket is influenced by aviator styles, popularized in the 1970s. Typically, plain leather is mixed with animal fur or fleece details. This one is a regenerated version made from deadstock, black Napa leather, and unsold fleece bed covers. All was made in Italy; [between cutting and sewing], it took 10 hours to make. It would [be a perfect] fit for the character of Rachael in Blade Runner. I'll let you check that out.
Regenerated Knit Melange Balaclava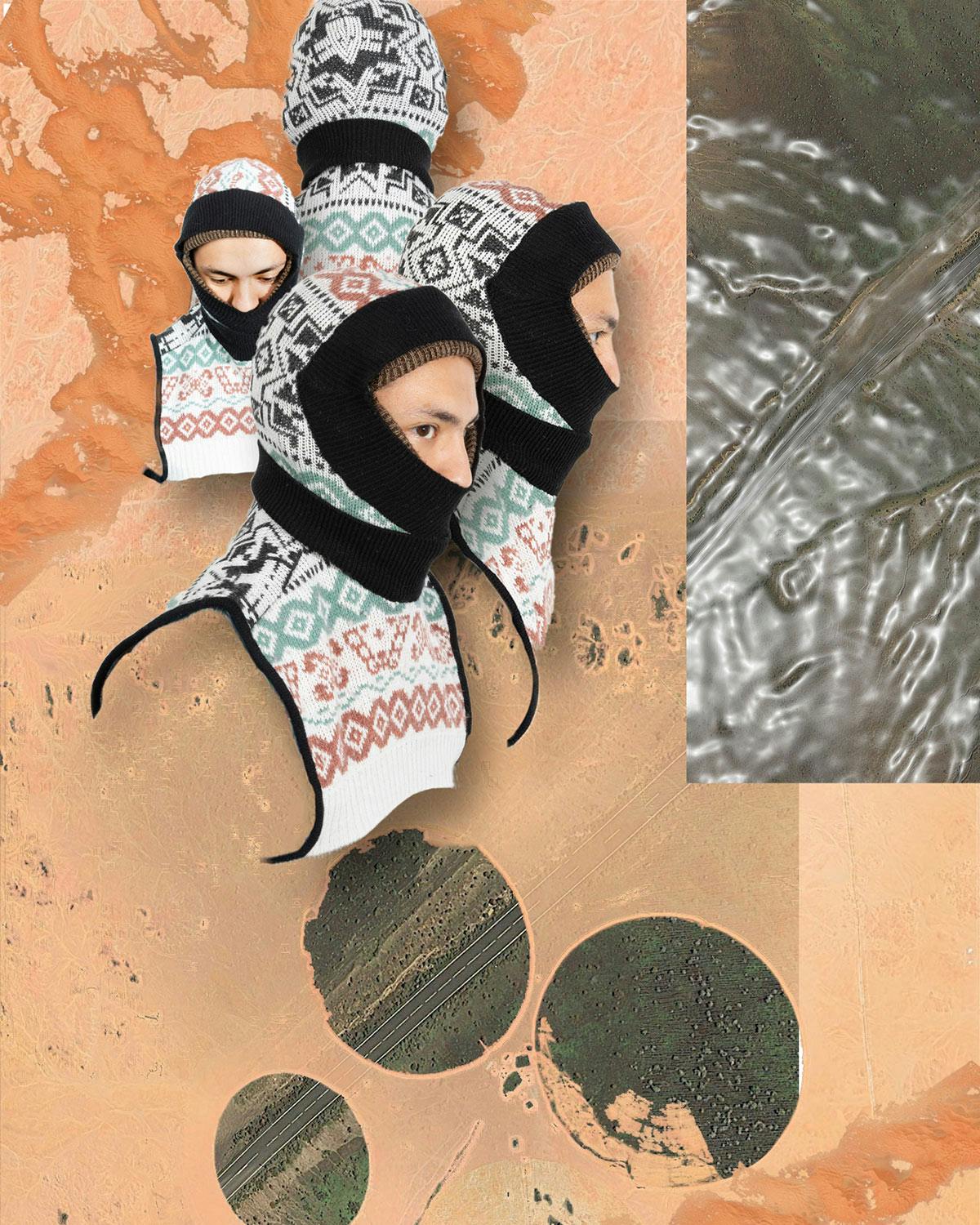 Headpieces are signatures of the brand since the very start, and they remain an uncontested key design in our offering. This collection takes place on a sandy landscape — inspired by earth tones — with a prominent use of knitwear. The translation of this design is oriented towards a total protection from hostile weather while remaining extremely attractive and fun.
It's made from vintage pullovers sourced in the Netherlands. The sweaters used are carefully selected by our transformation team and grouped by color. Due to the regenerated nature of the materials used, each design is one-of-a-kind, and it's precisely this feature that makes every piece more unique and precious to customers.
Tiny Ball Bag
Our iconic ball bag is our most unique accessory, inspired from the world of rhythmic gymnastics. It's our first bag, shaped out from an existing rounded form. We simply [created the form] because, at the start, we had no money to develop such a mould, so we had to adapt and use what was already out there. This season, it's reduced to a tiny version, styled as a necklace or attached to pants and belt loops. You can take it everywhere.
It's practical, lightweight, resistant, fun, distinctive, and really never seen before. It's made from recycled gymnastic rubber balls that have been melted and reshaped by the same company that originally created them. The smaller versions are made from children's sports balls.
Flat Babouche With Rubber Sole
Full hybridization of a venerable and timeless shoe responds to the needs of our daily life. This hybridization [is seen] between our skid-proof rubber sole and classic babouche silhouette. It's cemented with side stitches and has a very soft toe puff. Producing a pair from beginning to end, including cutting, stitching, lasting, cementing, cleaning, and packaging, will approximately take two to three hours.
Regenerated Leather Pants
Leather pants are the number one item in my wardrobe, so we couldn't miss them in this collection. Working with deadstock Napa leather — leftovers from halted production processes and UV-printed in Italy — gave us the opportunity to elevate our signature moon print beyond jersey and denim. They're a cross-generational timeless piece.
Regenerated Pull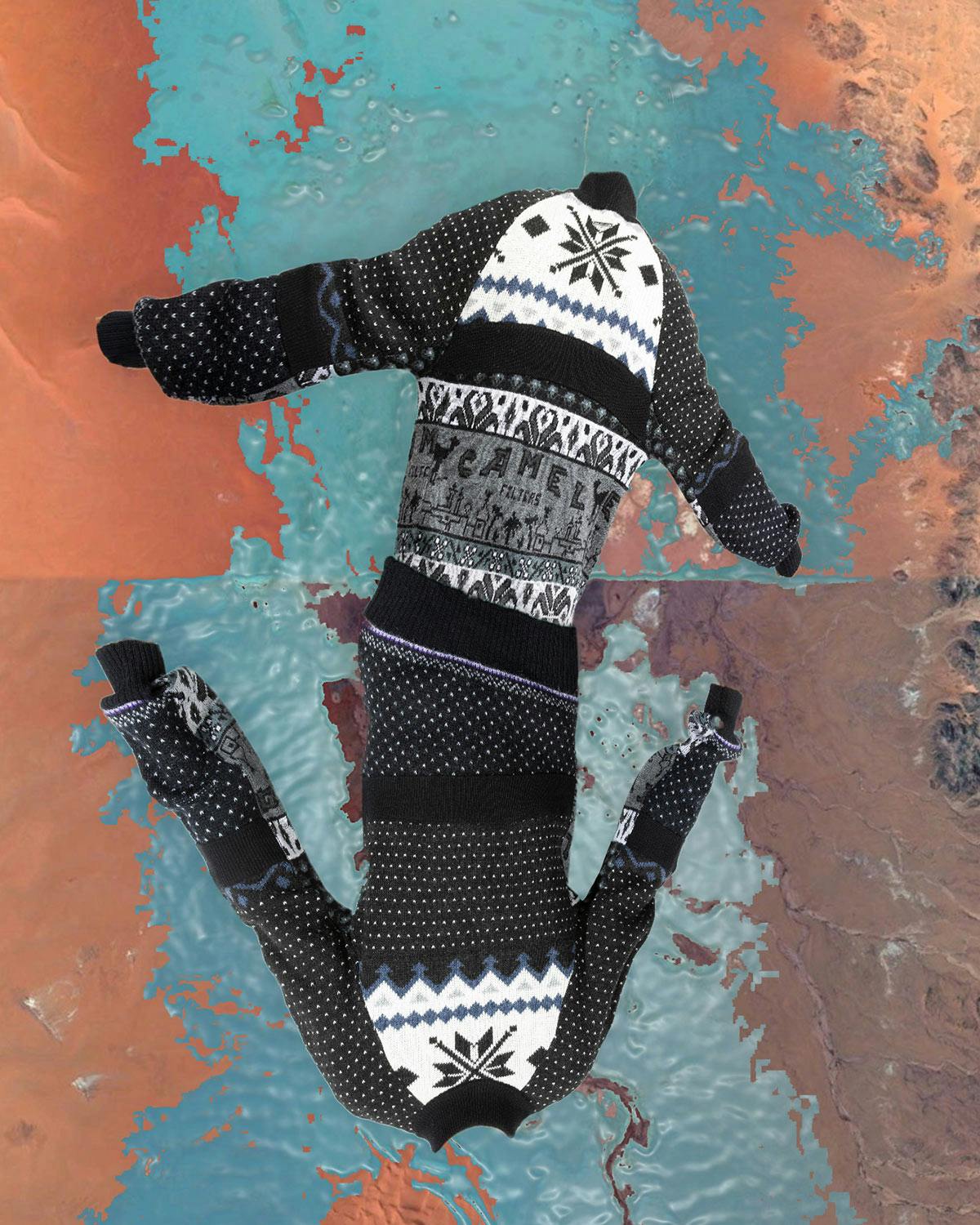 [Like our balaclava], this pull is made from vintage pullovers sourced in the Netherlands. The sweaters used are carefully selected by our transformation team and grouped by colors. They're then patch-worked and stitched together into a new shape — a survival exercise. Due to the regenerated nature of the materials used, each design is one-of-a-kind. It's a unique [blend] of the past and the future.
Two-Pocket Mini Bag
I already decided to create the multi-pocket bag series for our Marée Noire collection (Spring/Summer 2020). I worked on hybridizing sports and running bags and the technical aspects, such as straps, which you can wrap around your legs, arms, and shoes.
These versions are entirely realized in traditional moire — a material used to cover walls in the 17th century — and are made in France. It's a signature feature of the brand.
The Two Pockets Mini Bags are designed for your electronic devices, passport, and also to make sure you carry the essentials you might need for just one day. It's perfect for people who cycle or walk — you can strap it around your arm while on the road, [or] wear it crossbody or attach it to a belt, depending on the different moments of the day.
The design features an ultra-small pocket to put a shopping bag inside, so you don't have to buy any plastic or paper bags every time you go out. I always cycle, and for me, it's very important to combine design with practicality — a concept of hybridization is what's at the core of the brand since the start.
Keep up with Marine Serre via their website or Instagram.
Are you also "Not In Paris?" Not to worry, you too can join in on the non-gathering with our exclusive set of merch. Shop the collection here.