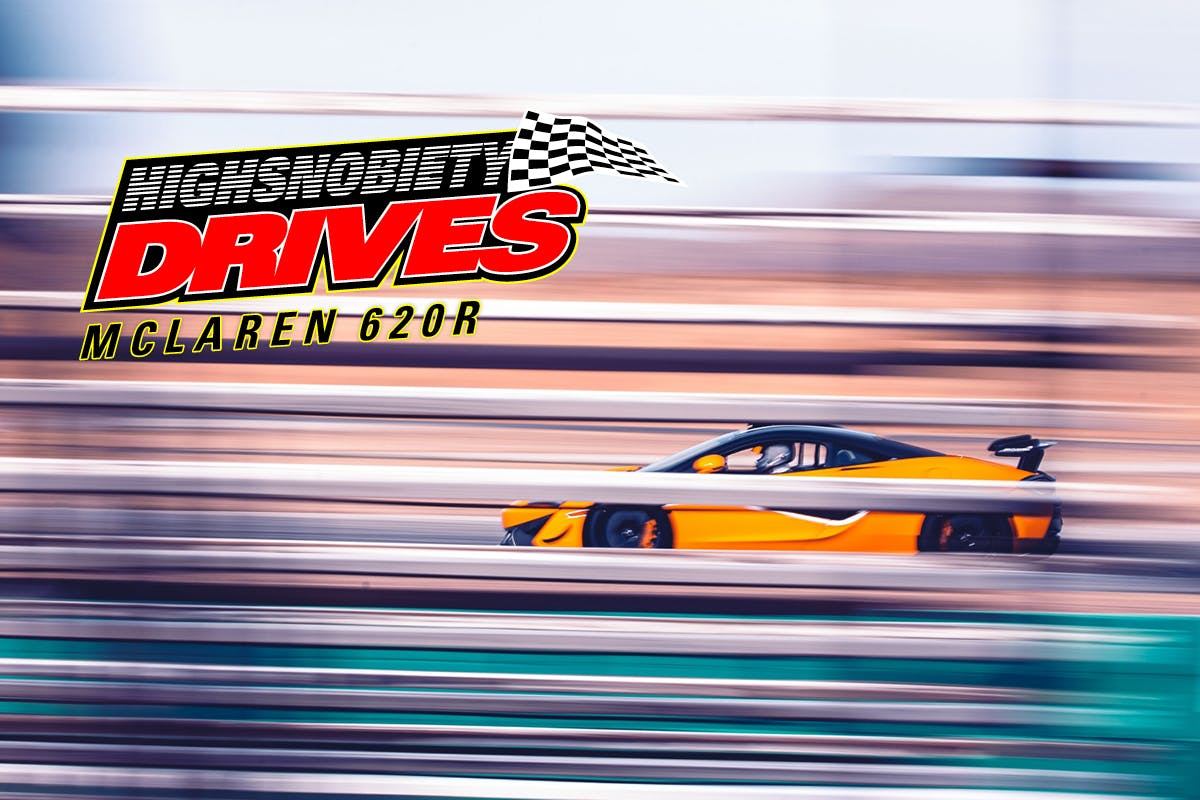 The modern success of many sportscar brands is derived from nostalgia, but as a technology company at its core, McLaren isn't a brand that clings to the past. Despite their storied history and influence in racing, McLaren as we know it today is an incredibly young company. Not until the MP4-12C in 2012 did McLaren have a bona fide in-house road going car to sell to customers. The McLaren F1 had a BMW sourced engine and the Mercedes-McLaren SLR was a McLaren-developed car with a Mercedes-AMG powertrain sold at Mercedes dealerships.
As a result, the McLaren lineup has always been challenging to follow for non-McLaren-philes. And one of the outliers in its range is the 620R, an elusive car that is peculiarly not talked about much in the media. To me, it is one of the most interesting cars in the McLaren lineup today, as it represents purest distillation of the automaker's capabilities up until now and is a transition from its Sports Series past to its Supercar future, which includes upcoming releases such as this year's Artura model. This spring, McLaren gave Highsnobiety free reign over the vehicle as the first outlet in the US to take it out onto a racetrack.
The Details
McLaren delivered the MSO Orange and exposed carbon fiber 620R to me early on a Friday morning. It's an interesting experience to see this car on the road. It is so authoritative and aggressive, yet somehow communicates an elegant cohesiveness in its purpose. It's not aggressive for pomp and flash... the 620R is function first, and there is no secondary purpose. This is automotive weaponry and it visually communicates that in a language even the automotive layman can understand.
How does it do that? Mainly, with more aerodynamics such as a redesigned front bumper with carbon fiber dive planes, a new carbon fiber hood with "nostrils" that channel air through the hood and over the car's body, and a manually adjustable fixed Carbon fiber rear wing. This all computes to 408-lbs of downforce at 155 mph. There's also a functional carbon fiber roof scoop feeding air directly into the engine, and center locking racing wheels with Pirelli Trofeo R semi-slick tires. The interior is an industrial designer's dream with all raw materials: namely, carbon fiber and aluminum. Almost no soft touches here other than the alcantara covered dashboard. Single piece carbon fiber racing seats and 6 point racing harnesses are standard as well. "Racecar for the road" is not just marketing lingo here.
The Experience
After the car was delivered, I had a conversation with McLaren's Chief Engineer of the 620R program, James Warner. Knowing we were taking it to the track that weekend, I wanted to understand James' perspective on the factory's performance set up and and how they expected the 225 would-be customers to use it. (Sidebar: that number makes the 620R the rarest fully road-legal McLaren you can buy in the U.S. if you can still find one) I also wanted James to clarify the ethos of the car.
Conceptually, the 620R is the road going version of McLaren's class winning GT4 race car, meant for customer use on track and road-legal drivability. Technically, it is the purest distillation of a modern analog McLaren on the track. That description, along with its sense of arrival, is what made it especially surprising when James used terms like "usable," "forgiving" and "balanced" when describing its character. A tool for McLaren customers to hone and perfect their track driving skills. This isn't a "throw out the rulebook" in the interest of maximum attack approach, like a Senna. This is a platform perfected. I had a sense James was underselling the experience I was about to have (spoiler alert: he was... massively).
Sometimes the traditional automotive press likes to conflate their preferences with objective reality, proclaiming a gospel that simply isn't true. Words like "sterile" were often used to describe early McLaren cars, like the MP4-12C, despite its out of this world performance... as an engineer's car devoid of emotion. The 620R debunks that narrative from the moment you press the ignition. I'd even argue that such a narrative only reinforces the focused intention of McLaren cars. No superfluous sound engineering here. No time for theatrics. McLaren's are for going nowhere fast. By that, I mean around racetracks.
My route to the track was via Angeles Crest Highway, a 70 mile mountain pass dividing East L.A. and the Mojave Desert. It was a detour, which is always a smart thing to do in a car like this. The 620R made it very clear, very quickly, that Angeles Crest was a proverbial bunny slope relative to its capabilities. That said, it was a good opportunity to get comfortable and assess its road going behavior, which, without sounding dramatic, was shocking.
Despite the previously mentioned aggression and purpose, the 620R somehow manages to be unbelievably compliant and comfortable on the road... much more comfortable than far more tame sports cars from McLaren's rivals on the continent. It would be disingenuous to ignore the fact that our test car was fitted with the optional adaptive suspension, not the fixed suspension that comes standard, so there's some measure of additional compliance as a result of that. That said, McLaren's engineer assured me that the adaptive suspension is 90-95% the same performance ability as the more hardcore fixed suspension that comes standard.
I arrived at the Streets of Willow at Willow Springs International Raceway in the California Desert for my private testing session, courtesy of track organizer, Racecar Party. Streets of Willow is a short, 1.6 mile, tight, technical course with terrible pavement. This is where James Warner's claims of "forgiving" and "balanced" would be very clearly proven right or wrong.
I lined up the 620R at the pitlane and with the track marshal's wave of a hand, I was off. The McLaren screams to life with exactly the right amount of wheelspin and drama required to show you what is available to you, while letting you know it's under control. Pull the right paddle, second gear, a crack of exhaust, and another little spin of the wheels. The power threshold is clear. It's high, but controllable. James said to me when discussing the 620R's setup that there isn't much you can throw at it that you can't correct. Let's test that theory out, shall we? Turn 8 ("The Bowl") is a wide, highly banked, almost perfect circle. In most cars you can line your car at the middle or upper half of the pavement. In the 620R, the gearing is somewhat imperfect for this particular turn given the high speed at which it can manage the preceding s-curves. This gives you a choice between being too high in the powerband in second gear, or too low powerband in 3rd gear. I chose second gear but this demanded a very delicate throttle. More delicate than I ended up being on a particular lap, which got the 620R very sideways. The level of nuance with which the 620R communicates its behavior is so telepathic and it aligned my instincts so closely with the car that before there's even any drama, I've corrected it and I'm on my way through turn 9 at over 100 MPH.
In just over half a lap, I know everything I need to know about the 620R's behavior. It lets the driver flow like an orchestra conductor's baton, allowing the driver to develop a rhythm on track more quickly than in any other car I have driven. This rhythm is what makes you consistent, and ultimately, consistency is what makes you fast on a racetrack.
James was right. The 620R is an incredible tool for driver improvement. It's not intimidating, but encouraging. It's not scary, but exciting. It gives you enough flexibility to be point and shoot, but rewards you for being academic and technical. It has your back without feeling like it's doing all the work for you. The degree to which the steering wheel communicates what the front wheels are doing at all times with the most precise measure is astounding. It is the most communicative roadcar I have ever driven. It might even be my favorite roadcar I have ever driven.
Conclusion
My only complaints about the 620R weren't really complaints about the 620R and more accidental. Namely, the padding on the seats was too big for me and I was sliding around quite a bit, but McLaren offers different sized padding for a particular owner's needs, so this wouldn't have been an issue had this been my own 620R. Yes, the fixed carbon fiber bucket seats from the McLaren Senna that were fitted to the 620R would be hard for most to live with everyday. Yes, the complete and total lack of sound deadening, carpet, or any soft material other than the bolsters on the carbon fiber seats means the 620R is loud and the carbon fiber MonoCell means more vibration makes its way into the cabin than in a normal car. Who cares? The 620R isn't a normal car. If those things bother you, this isn't the car for you and it never will be.
No car can be perfect but if there's a car that makes you question if one can be, at least from a technical perspective, it's the 620R. For me, it somehow manifested all automotive performance hyperbole into reality. I pray to the automotive gods that McLaren's future technology continues to be the basis for developing new automotive superlatives. Until I'm able to find out for myself, I'm going to keep dreaming of the 620R. It's about as good as any supercar can be.