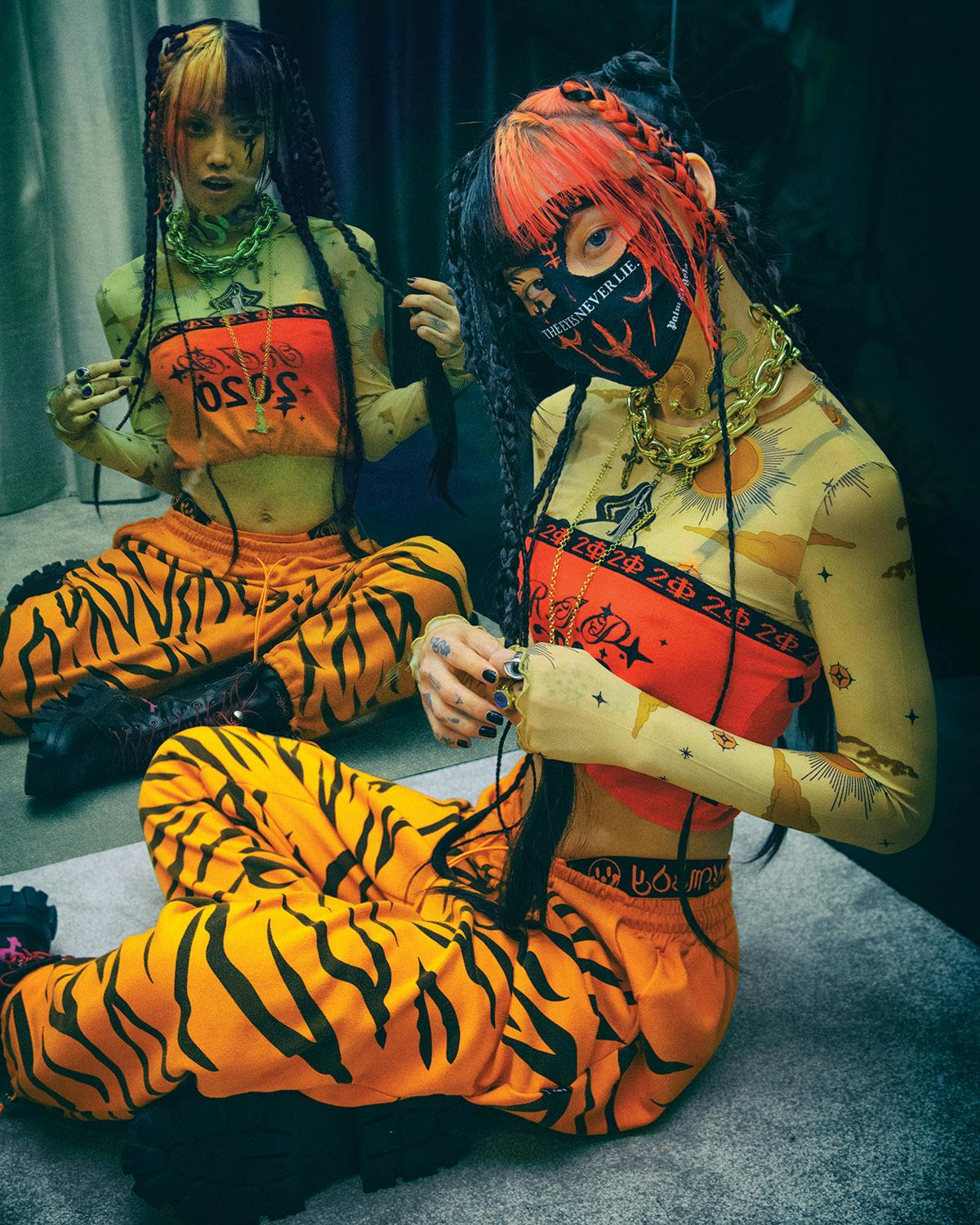 In this edition of FRONTPAGE, taken from the new issue of HIGHStyle, we caught up with MLMA — internet beauty-icon, purveyor of eye-poppingly gorgeous looks, and daddy to all.
"It's like an Evangelion view," Me Love Me A Lot says, panning her camera around a dizzying window from her hotel room in Seoul. The scene outside really does look lifted from an apocalyptic anime series, and, more to the point, so does she. "I really like that we're doing the interview while I'm here," she says, adjusting her aquamarine hair under an oversized monochrome bucket hat. "When I left a few years ago, I was like, 'I'm never going to come back here until I've made it.'"
MLMA, as she is acronym-ized, is an artist, beauty influencer, fashion designer, Pokémon trainer, musician... and she's daddy. At least, that's what her fans call her. The nickname actually came from when she was hanging out with Post Malone, and she took it to one of her later captions: "I said, 'I'm your daddy. You have to call me daddy.' I don't know why! And then, everybody's like, 'Yes, daddy. Please, daddy,' like that. And then since then, they just started calling me daddy, and I think it's very cute."
As for her official moniker, it's pulled from the "Me So Horny" line from the 2003 Sofia Coppola movie Lost In Translation, although she's tailored it to reflect her core values: "If you're confident, you look cool as fuck. Being confident is my number one beauty tip! People can feel it, even smell it."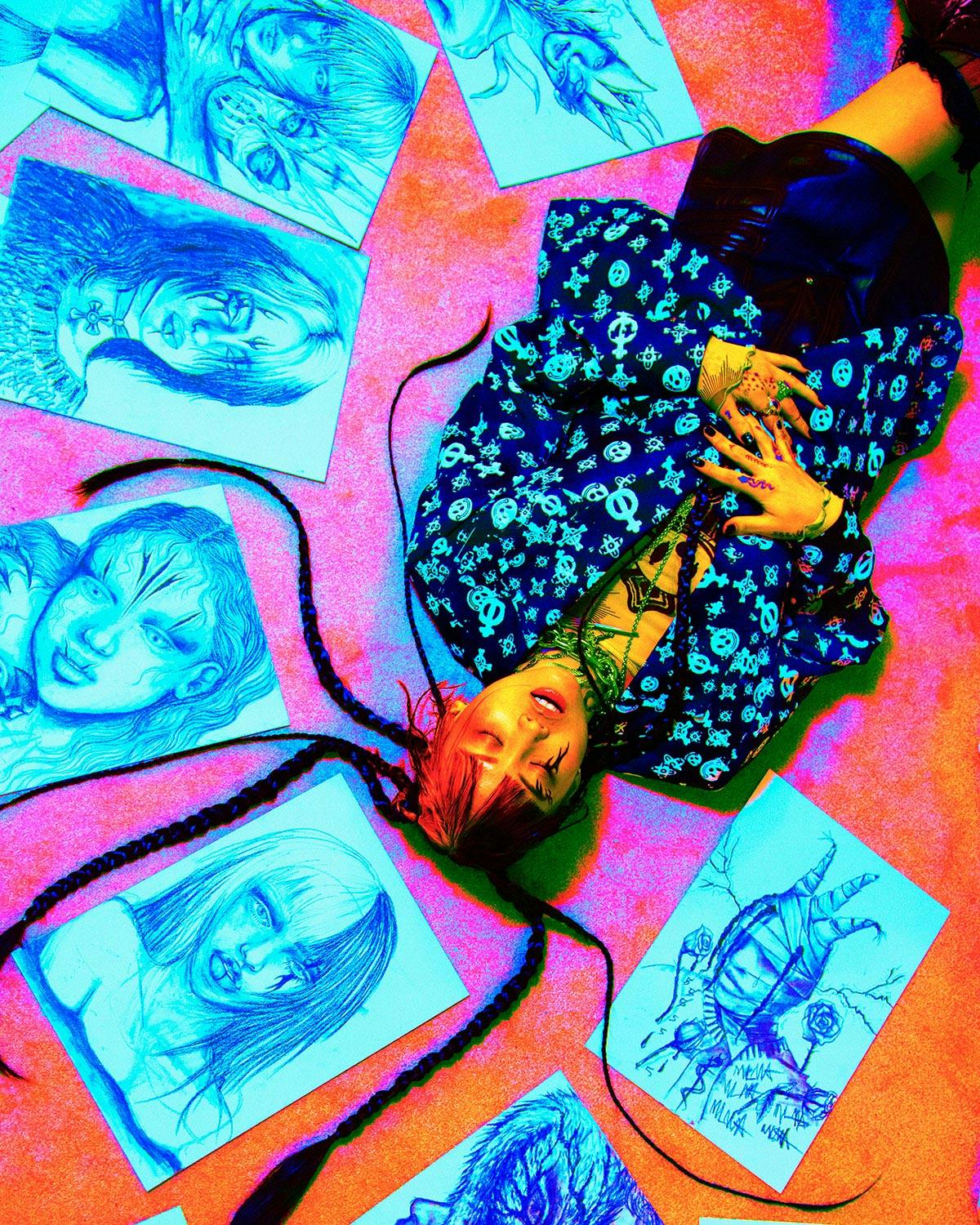 So where does this confidence come from? The clue is right there in the name: "I love myself, so why would I not be confident? I'm so awesome and I am always telling myself, 'You're fucking awesome,'" she says.
Loving oneself (with earnest) is arguably a radical act in the current era, and this has established MLMA as a beauty icon for the digital age, scoring a make-up free campaign for MAC cosmetics — a major booking seemingly at odds with her blithe unconcern for traditional beauty routines. "I remember one time I had a video shoot, and I had like pimples and stuff," she recalls. "But I don't like to cover them up; sometimes I'll just put an extra huge jewel on top of them."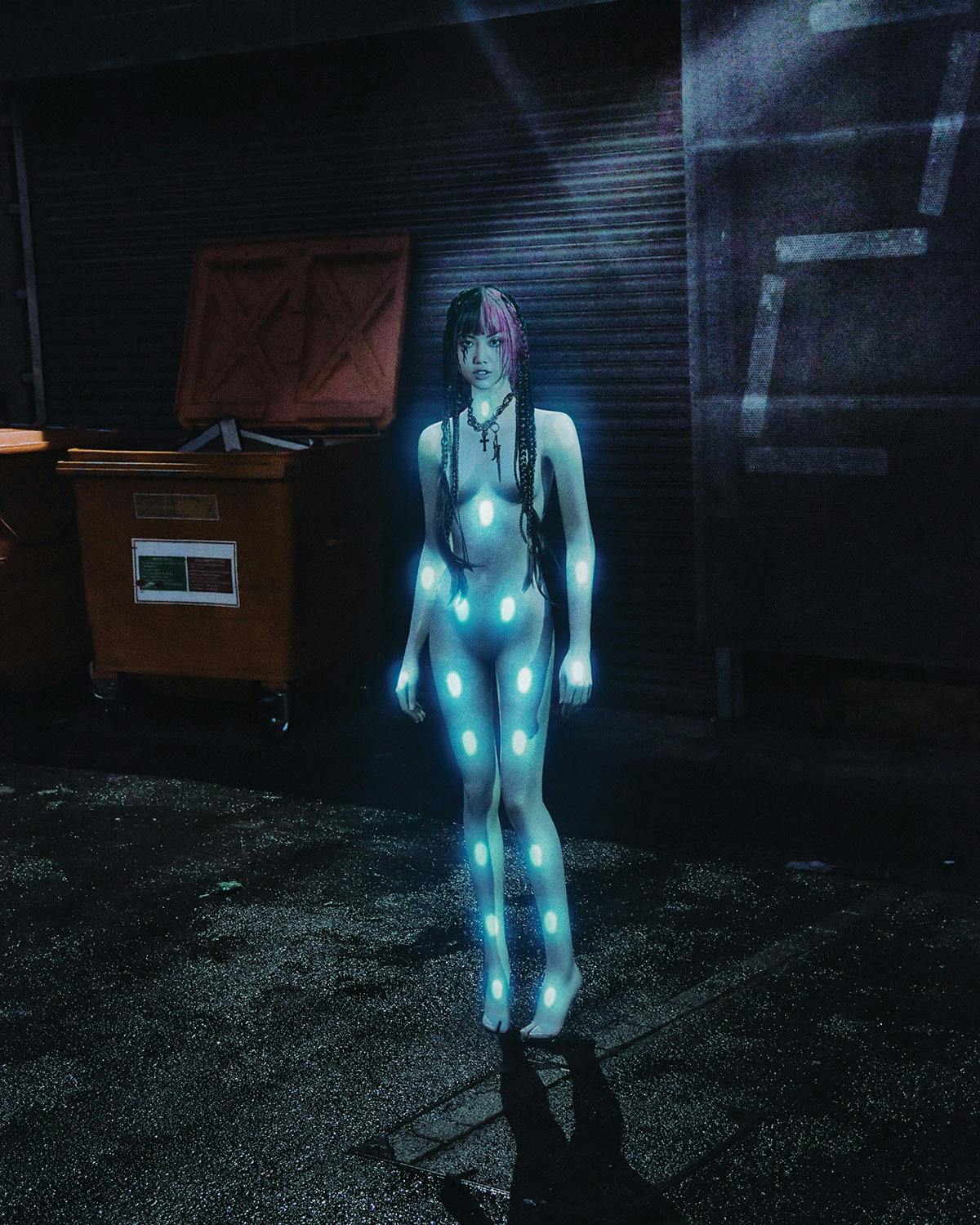 MLMA's combined follower count on Instagram and TikTok eclipses 3 million. These platforms, particularly Instagram, may feel increasingly anodyne in a wider social media ecology right now, but MLMA retains an element of intrigue on her feed with floating iPhone mirror selfies, modern beauty looks, fire conjuring, and a dose of grotesque imagery to keep us all transfixed.
Videos of her cat Pikachu squatting on the toilet not discounted, MLMA's content demonstrates the liberation that comes with being creative. She's unafraid to make permanent decisions in the spur of the moment; whether it's dyeing her eyebrows or taking to a pair of Nike Adapt BB 2.0s with scissors and nail polish for impromptu customization. Perhaps it's not the first thing we would do when taking a fresh pair of rare sneakers out of the dust bag, but it's very satisfying to live vicariously through someone who will.
MLMA taught herself English when she began building friendships online: "I didn't have any friends, and nobody would talk to me at school. I was super into art instead, and always drawing stuff on my shoe. I remember my peers saying, 'Ah, look at her. She's always drawing something and scribbling things on her shoe. She's probably so broke!' I would have Internet friends though, lots of Western, Internet friends who liked my style. I emailed them, or I DM'd them, and my English improved that way."
"I didn't realize that I was creative until meeting other people and trying to work on something together," she continues. "Because that stuff seems so easy to me! Some people really struggle. I couldn't understand. Some people ask, 'How did you do this? How you did you do that?' I'm like, 'What do you mean? I just do it!' I have no idea what the question even meant."
"And then I realized," she says though an enormous smile, "ah, okay, people have different abilities, and then I guess I'm super talented!"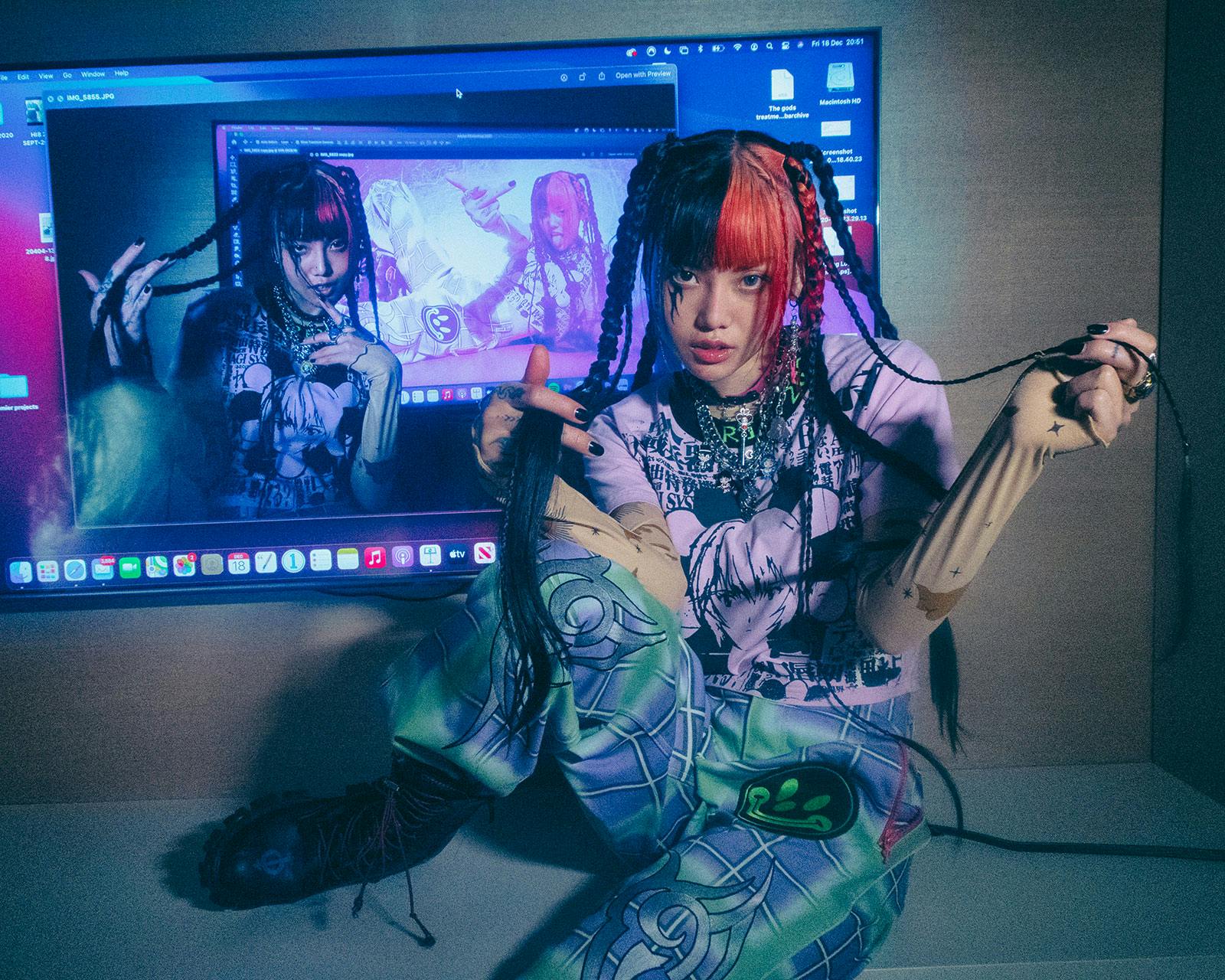 Highsnobiety / Ivar Wigan
MLMA's precocious fashion customizations during school weren't in vain. The grungy art style is synonymous with MLMA's content while forming a direction for SKØØT, her clothing label, which has picked up fans such as Billie Eilish and Rico Nasty. "I'm so proud of that website," she tells us, "because I spend so much time on it... it's all my own designs, and just feels so organic."
Although she's a beauty and fashion icon for the scrolling era, it's taken some time and a few geographical shifts to land where she is today (she now splits her time between Canada and South Korea). "No one [in South Korea] was ever really into my style, because I don't think Korean people like to dress up that loudly. They don't want to get that much attention when [they] walk around. But then I got popular," she adds with a shrug, "and now more people are into my stuff because it's just cool, I guess."
MLMA may have captured her audience with the kind of TikToks and Instagram galleries that would make any content creator jealous, but she explains how Internet virality is, inevitably, an impossible high to chase: "It sucks that I have to get used to it," she says. "I wish I could erase my memory, and then experience that every time, because it feels so good. I think that's why I am more focused on my music. Something like an offline artwork lasts longer."
2021 will appear differently, depending on your vantage point. But for MLMA, she's gearing up to what will probably be her entry to a significantly wider audience via her music. "I'm going to drop my EP. It will have five or six songs and I already shot three music videos for it. MLMA posted a highly stylized video for the lead single a few months back, depicting herself as an angel, repeating the hook: "You can't kill me / I'm alive."
"I told people this one is going to be a 14-episode series in Netflix..." she adds with a smile. But true to her trickster spirit, even her next career move is shrouded in trolling.
Experience the full story and others in HIGHStyle, a print magazine by Highsnobiety available on newsstands and the Highsnobiety shop now.