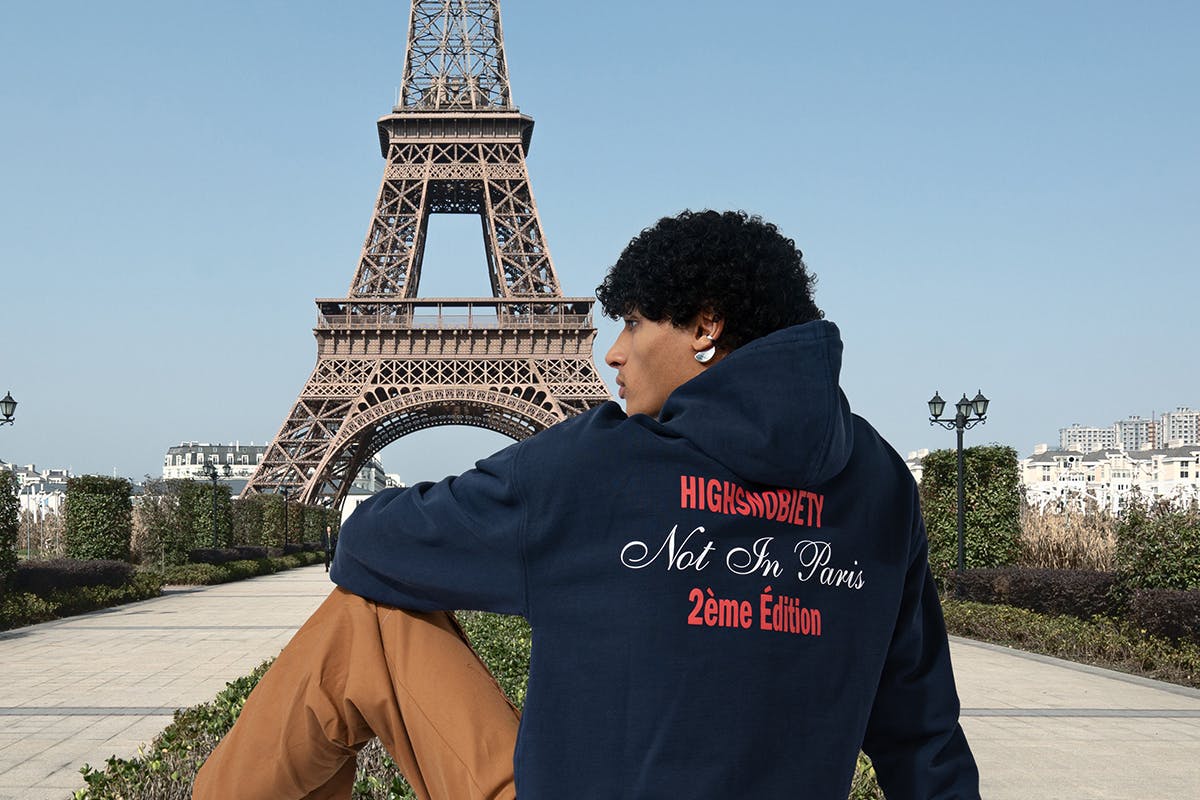 Highsnobiety is heading to France once again — virtually, that is — for a second digital exhibition, known as "Not In Paris II." Having launched the online program last June amid the cancellation of in-person runway shows at Paris Men's Fashion Week, the ensuing installment of "Not In Paris" will bring even more exclusive content to readers all across the globe.
"When we first came up with this exhibition last Spring, our team and myself were amused at the idea of celebrating the time period formerly known as Paris Men's Fashion Week in a venue with no runways, or often even with no clothes," said Highsnobiety Editor-in-Chief Thom Bettridge. "We were amused even further by doing 'exhibition' without rooms, or walls, or attendees, all set 'Paris,' in the city that gave birth to Surrealism."
"Not In Paris II" opens on Highsnobiety.com January 20, with new projects premiering daily through January 26. The exhibition will include exclusive music video releases, collection presentations, short films, and much more as we pay tribute to the things we miss about Paris Fashion Week.
Various luxury and independent brands will be highlighted throughout the week, alongside cultural pioneers who are pushing the conversation forward. We will also be showcasing the work of artists Robert Smithson and Thomas Ruff, as the goal of "Not In Paris II" is to transport the reader into the intimate world of artists, creative directors, and brands.
"Not In Paris II" contributors include 777 Jewellers, Anonymous Club, Bstroy, Barragán, BOND Hardware, Bottega Veneta, Camiel Fortgens, Cold Laundry, Craig Green, Dingyun Zhang, Dior, Dunhill, ERL, FENTY, Friedman Benda, Greg Lauren, GmbH, Hermès, JW Anderson, Liberal Youth Ministry, Ludovic de Saint Sernin, Martine Rose, 2 Moncler 1952 Man, Rick Owens, Robert Smithson, Soulland, Thomas Ruff, Vivendii, and Wales Bonner.
As a part of the exhibition, Highsnobiety has created an exclusive collection of "Not In Paris II" merchandise featuring a t-shirt, hoodie, baseball cap, and pin set. The capsule will debut on Highsnobiety Shop January 20.
Stay tuned for updates on the merch drop and the overall exhibition.