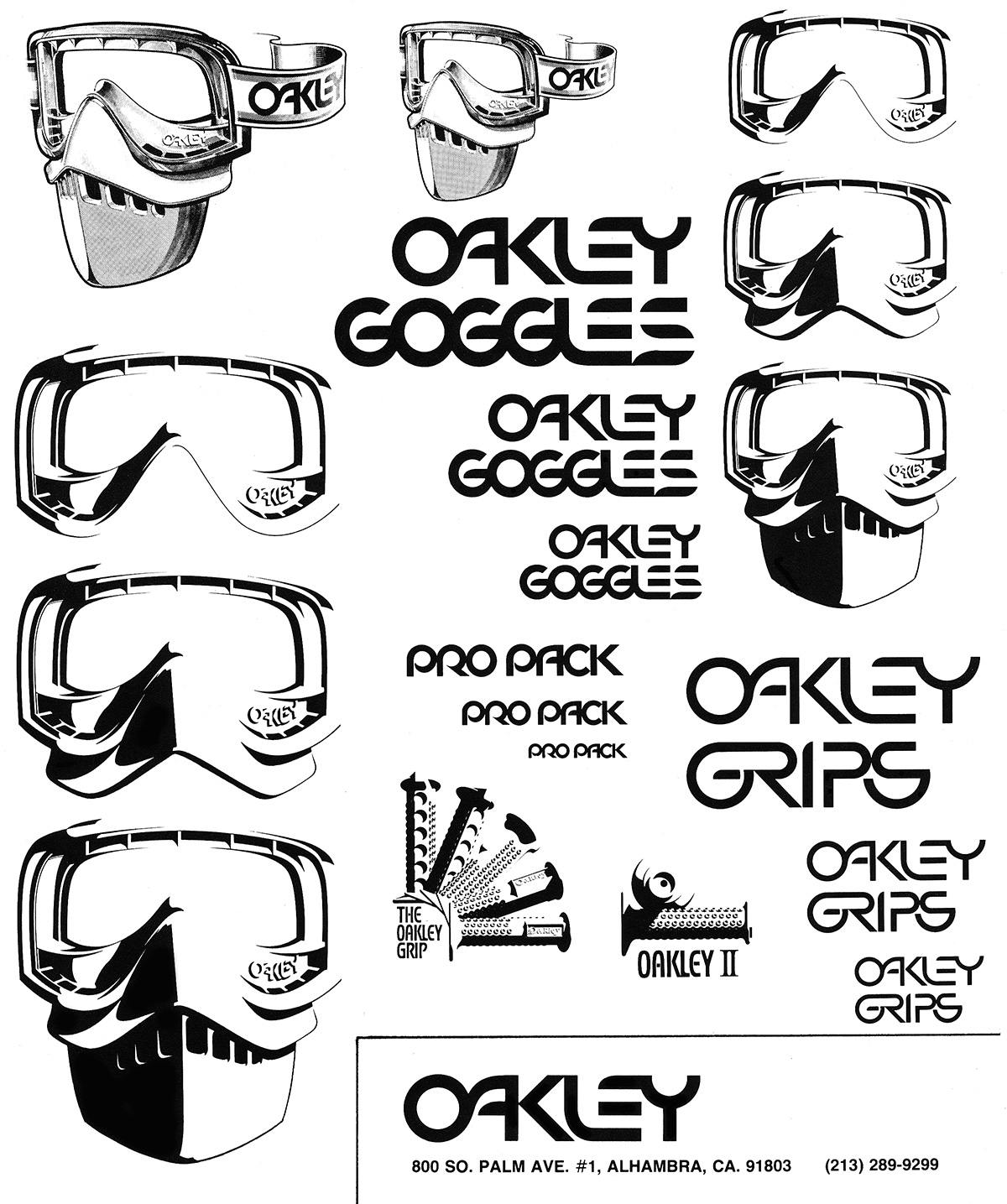 Experience this story and others in HIGHEnergy, a print magazine by Highsnobiety, available from retailers around the world and our online store
Oakley is well known for how their glasses look. They're famous for how they see. Since 1980, the brand's high-performance eyewear has kept sun, dirt, and the odd 50mph mosquito out of the eyes of the world's greatest athletes, earning its place on faces for everyone from home run kings to Tour de France champions. Oakley's unconventional aesthetics (and co-signs from sports heroes like Michael Jordan) made the brand a cornerstone of '90s culture.
Today, it's that archival status that's leading an Oakleissance, with the brand's bold, oil-slick lenses catching shine on everyone's mood board. But Olympic sprinters didn't rock M Frames for the color pops. Back when "sports shades" meant gas station flame decals, Oakley was pushing the optical envelope.
In order to get a sharper picture of Oakely's lens tech, we raided the archives with Brian Takumi, a 24-year company vet and the brand's VP of Product Creative Catalyst.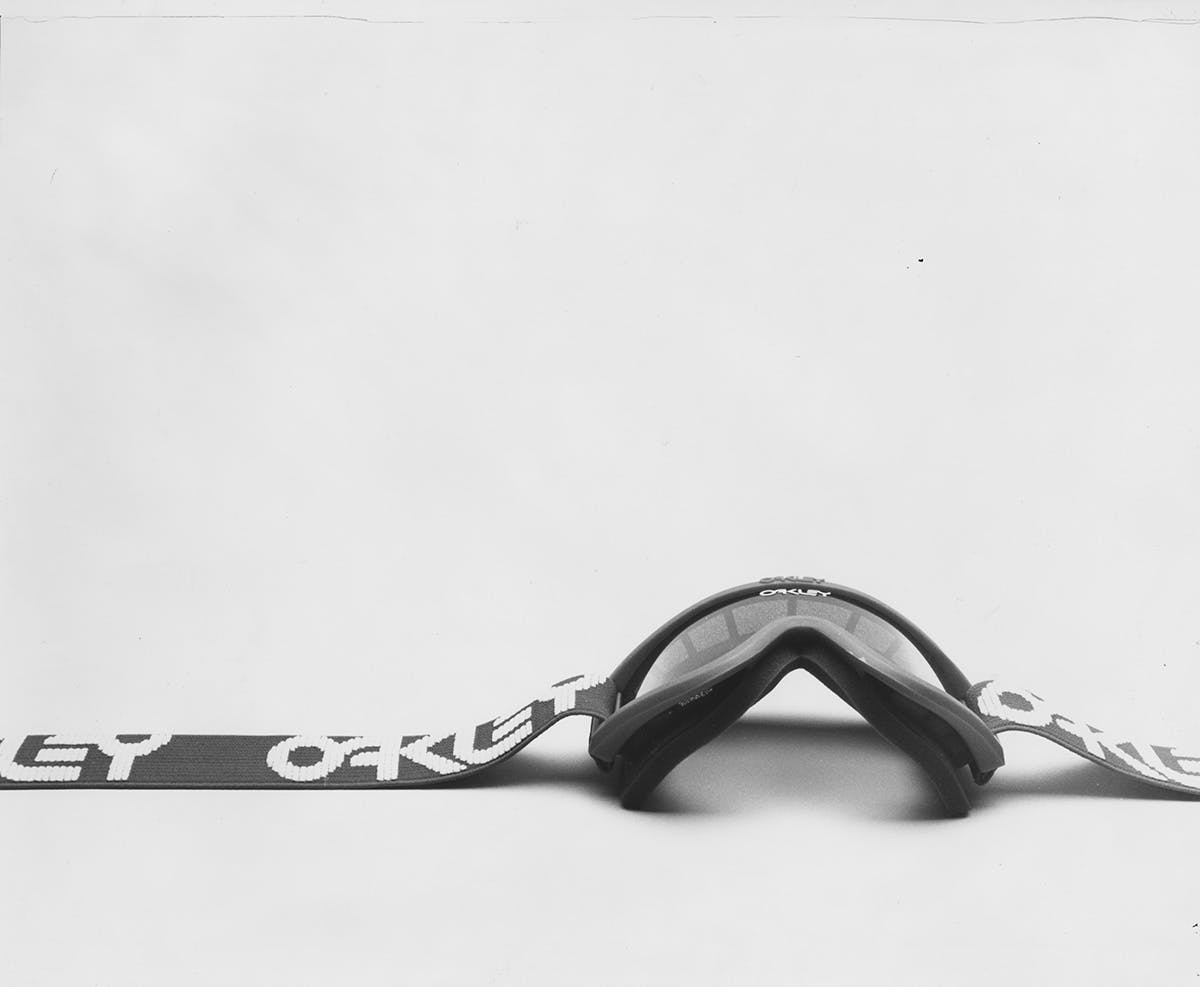 The Oakley Goggles, 1980
Oakley's original optics were goggles purpose-built for motocross. "The shape was very different for the time," explains Takumi. Oakley's founder, James Jannard, wanted to increase the rider's peripheral vision, and so he designed the lens to be curved, not flat. Internal locking points in the goggles' frame held the lens in place better than the grooved design used on competing models. A textured design on the otherwise-smooth plastic between face and lens surface was introduced to fight glare.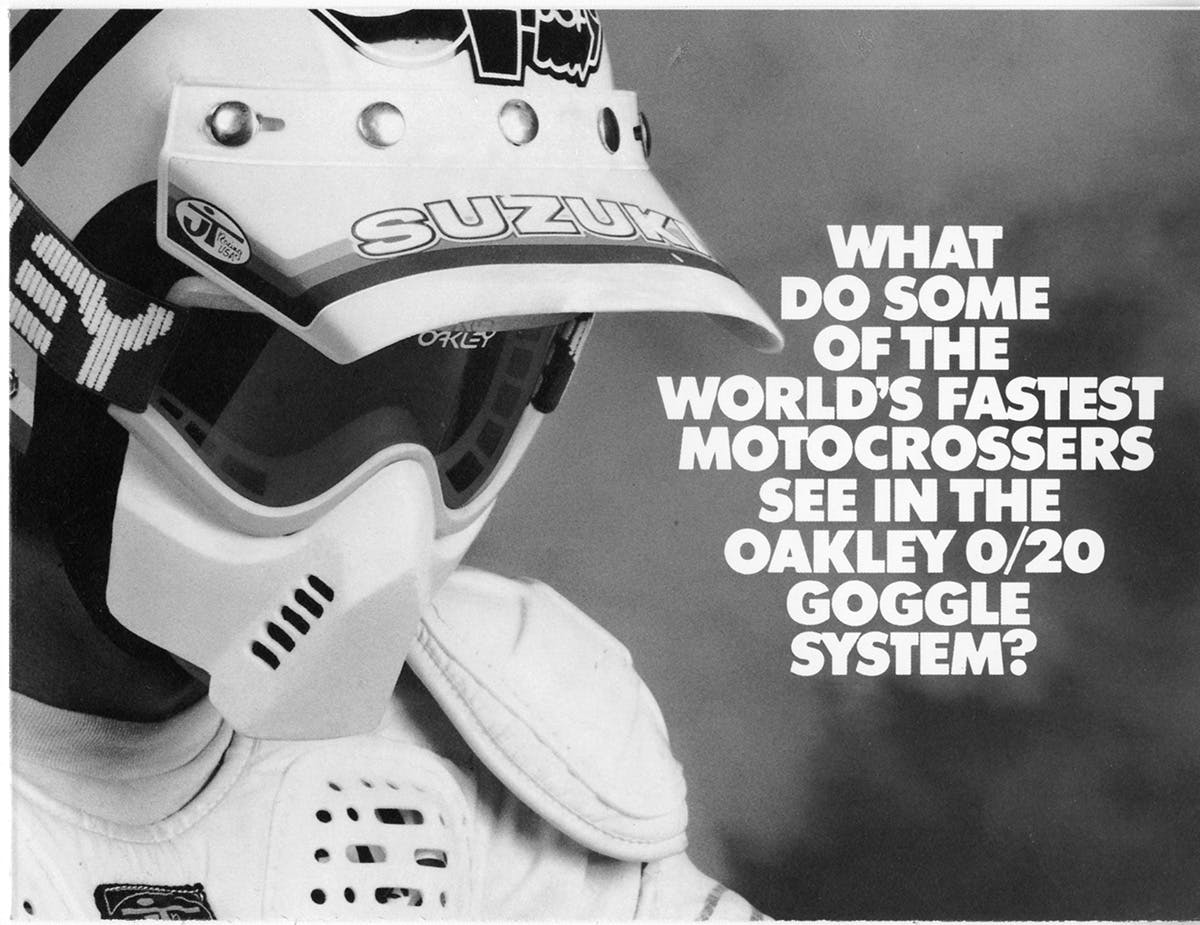 O-20 Goggles, 1980
The success of the Oakley Goggles led to the O-20, the predecessor of the brand's hit O-Frames. "The O-20s held the lens in a perfect arc, addressing optical clarity," says Takumi. "They were also some of the first goggles to use dual-density foam around the face, making them more comfortable." Tweaks to the frames themselves made the O-20 more helmet compatible, keeping the clearer lenses right where they should be.
Dual Lenses, 1982 (Ski Goggle)
As Oakley expanded past the dirt track, their lens tech adapted. The brand's first goggles for snow sports, the Ski Goggle, were built with a dual lens structure: impact-resistant lexan on the outside, clear and flexible acetate inside. The double construction provided durability and helped cut fogging. Earlier motocross goggles were still designed to take a thumping. Snow's just, you know, a little more slippery.
Iridium, 1982 (Pro Frame Goggle)
Introduced on the oh-so-proclamatory Pro Frame Goggle, Iridium is both a lens treatment and a platform. Yes, it's also the technicolor gradient that's most associated with Oakleys (or dudes in busted pickups). But the technology behind the rainbow swirl is why athletes loved it. "Depending on what the color was, Iridium filtered out different bandwidths of light so you could tune into different conditions," Takumi says. An Iridium treatment on the right lens was a fast-twitch advantage. Mark McGwire, Jose Conseco, and Ken Griffey Jr. all rocked Iridium-coated Oakleys as they swung for the fences.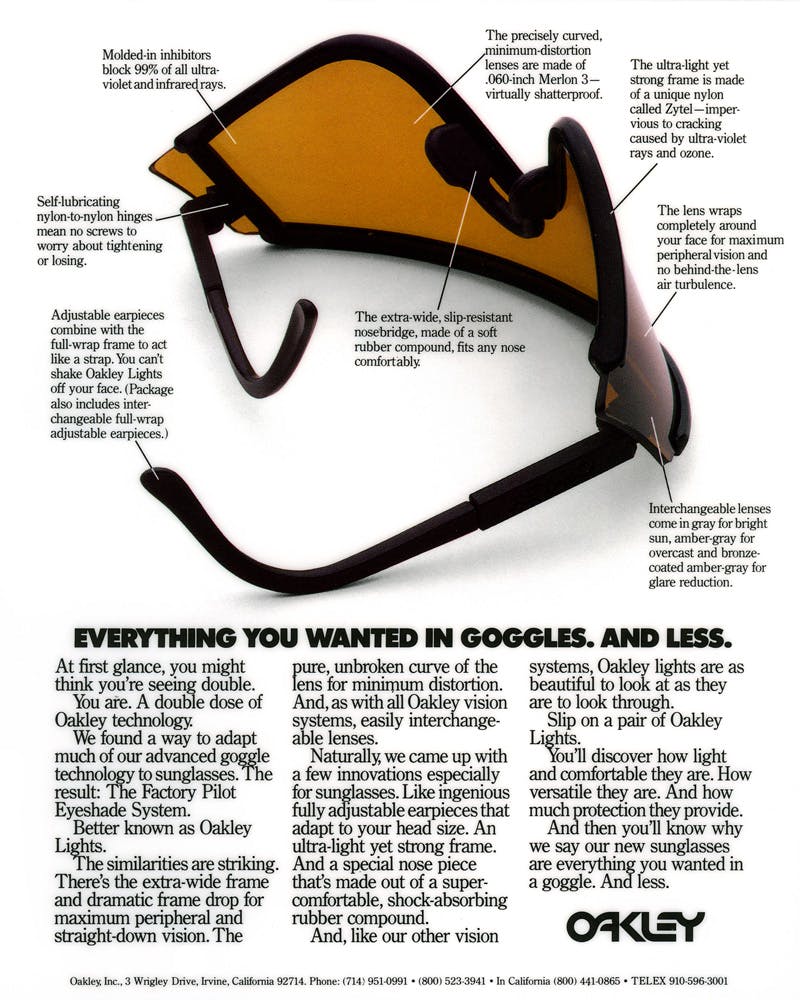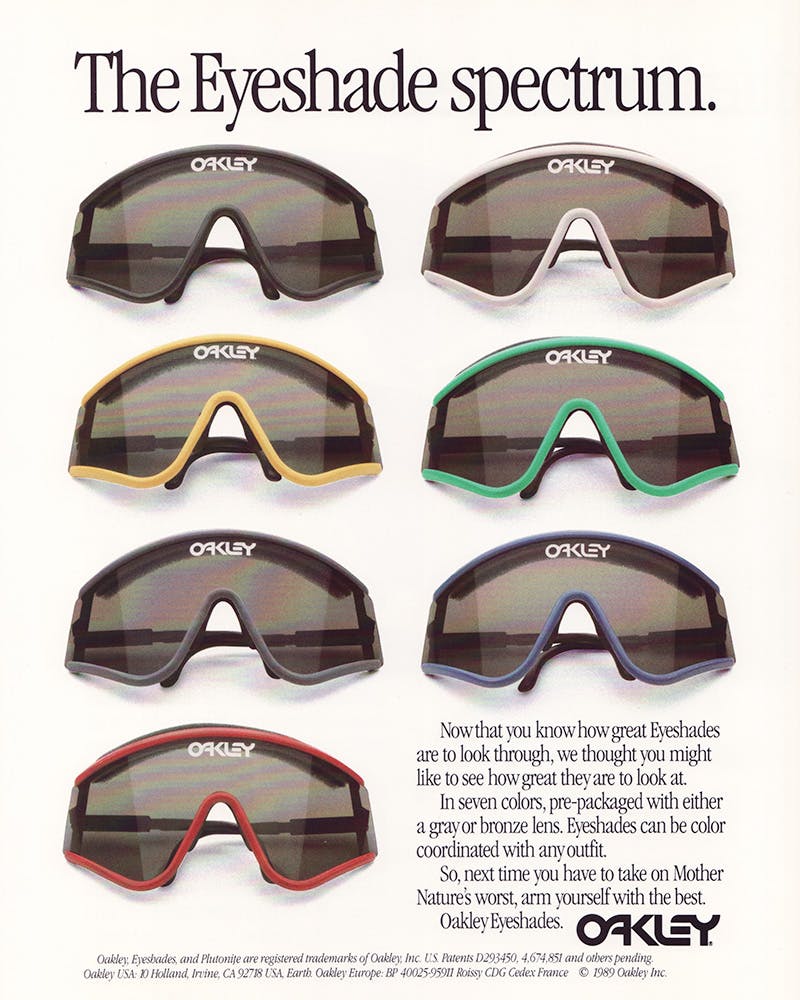 Eyeshades, 1984
Oakley's first foray into sunglasses had a lot in common with their goggles — like, everything but the strap. According to legend, Jannard was out for a sunset drive on the Pacific Coast Highway and got frustrated that his sunglasses didn't offer more coverage. When he got home, he hacked together "sunglasses" using an O-Frame and two wire coat hangers. Soon after came the Eyeshades, whose innovative shape found a home on the face of Greg LeMond, the first American to win the Tour de France.
Blades, 1985
Although Wesley Snipes would go on to rock Oakleys, the Blades lens tech has nothing to do with vampires. Responding to athletes' needs for adaptive sports eyewear, Jannard created a system of interchangeable lenses (and a sleek frame to house it). "The Eyeshades were a goggle with ear stems," says Takumi. "They had to evolve into a more sophisticated package." Interchangeable lenses are now a standard feature on active sunglasses across all sports, from triathlon to competitive shooting.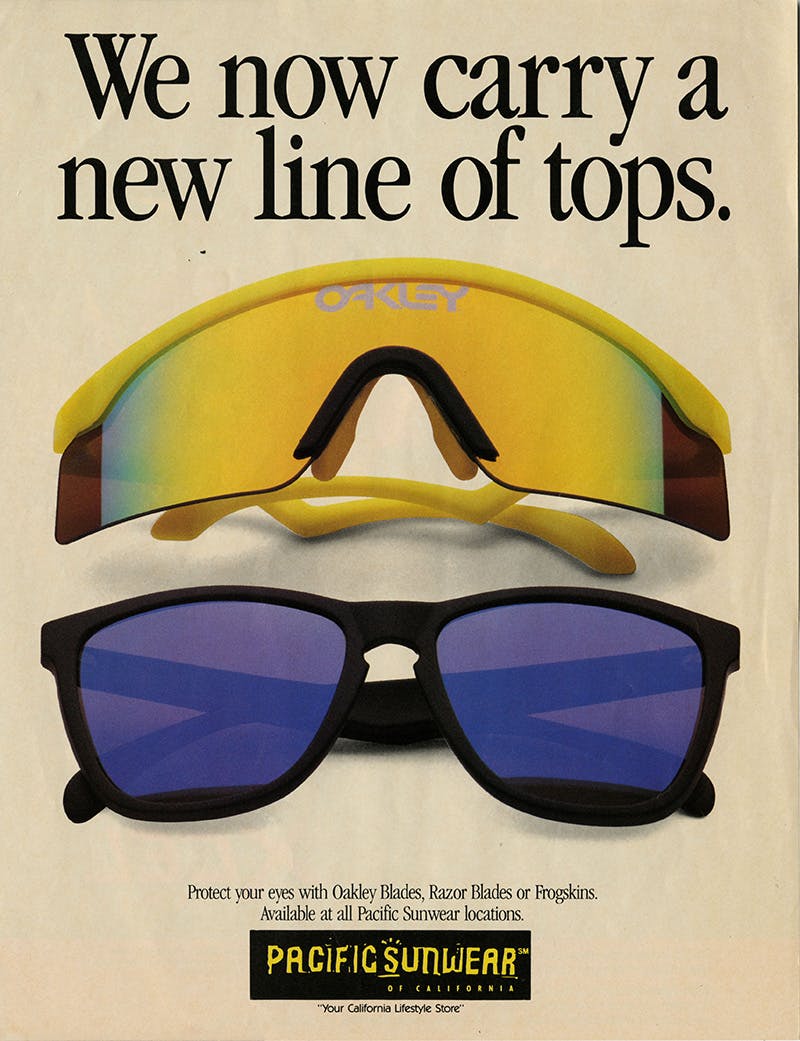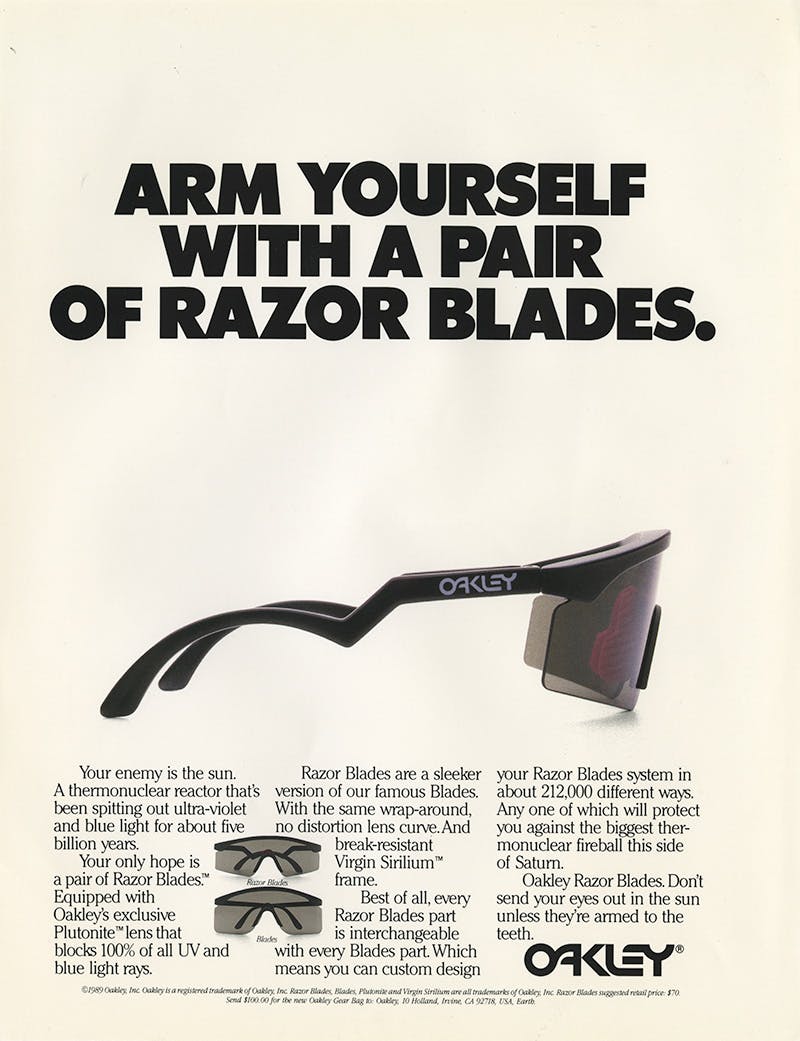 Razor Blades, 1986
Pro surfer Tom Carroll loved the Blades tech, but found their size to be harsh on the water. So he did what any engaged consumer would do: ground his lenses down on the sidewalk to make them shorter. Jannard (apparently pro-sidewalk) introduced the Razor Blades to serve this need. The Razors were shorter, smaller, and featured a new "trigger" ear stem to keep the now-more compact frame anchored. Oakley embraced the modularity and the rising love for Iridium tech to sell "Trigger Kit" customization packages. Backwards compatibility with Blades lenses gave the system more than 22 million combinations.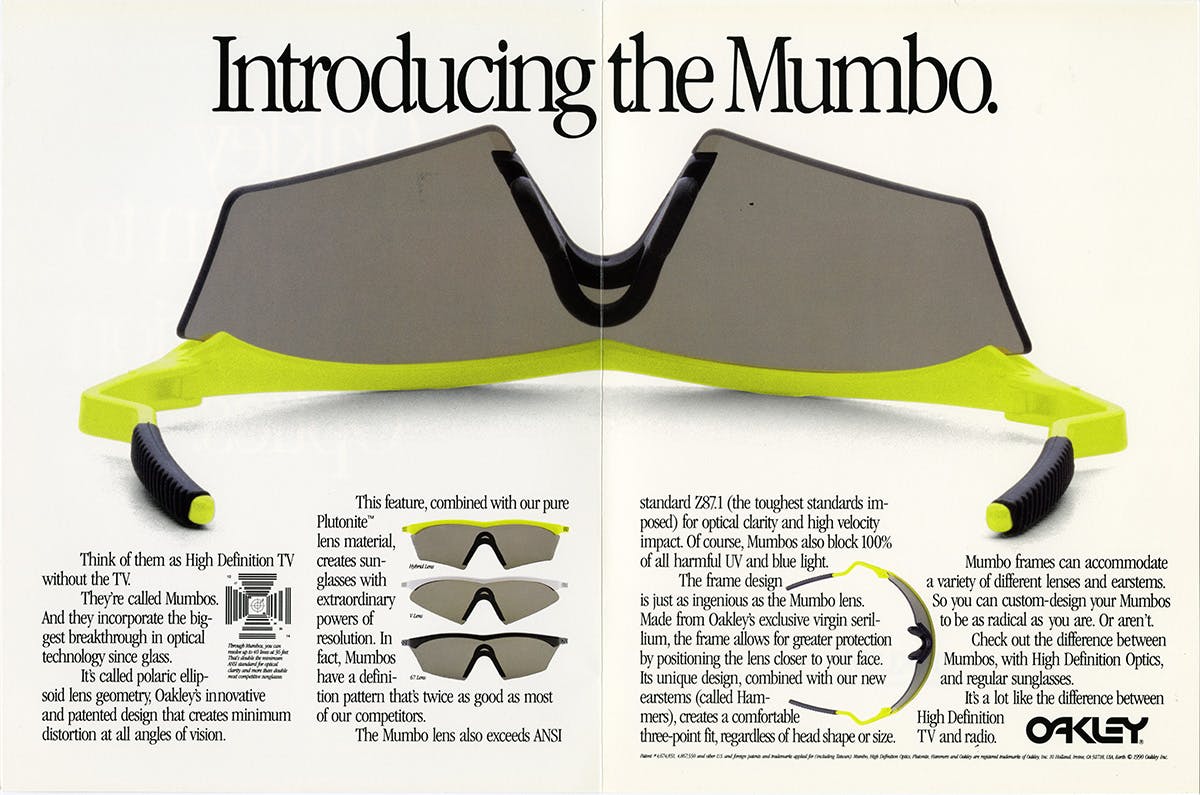 High-Definition Optics, 1989 (Mumbo)
In the late '80s, Oakley rolled the combination of toric lenses, Iridium coating, and impact protection into a cohesive system called "High-Definition Optics." HDO eliminated distortion across the x, y, and z axes, compared to the two-axis clarity found with cylindrical lenses. It was also awarded a patent, giving Oakley the claim that they had uniquely good shit. The tech debuted on the iconic "Mumbo" M-Frames, using the frame's zigzag "hammer" temples to hold the glasses at an optimal position for unsurpassed clarity. It was good shit indeed.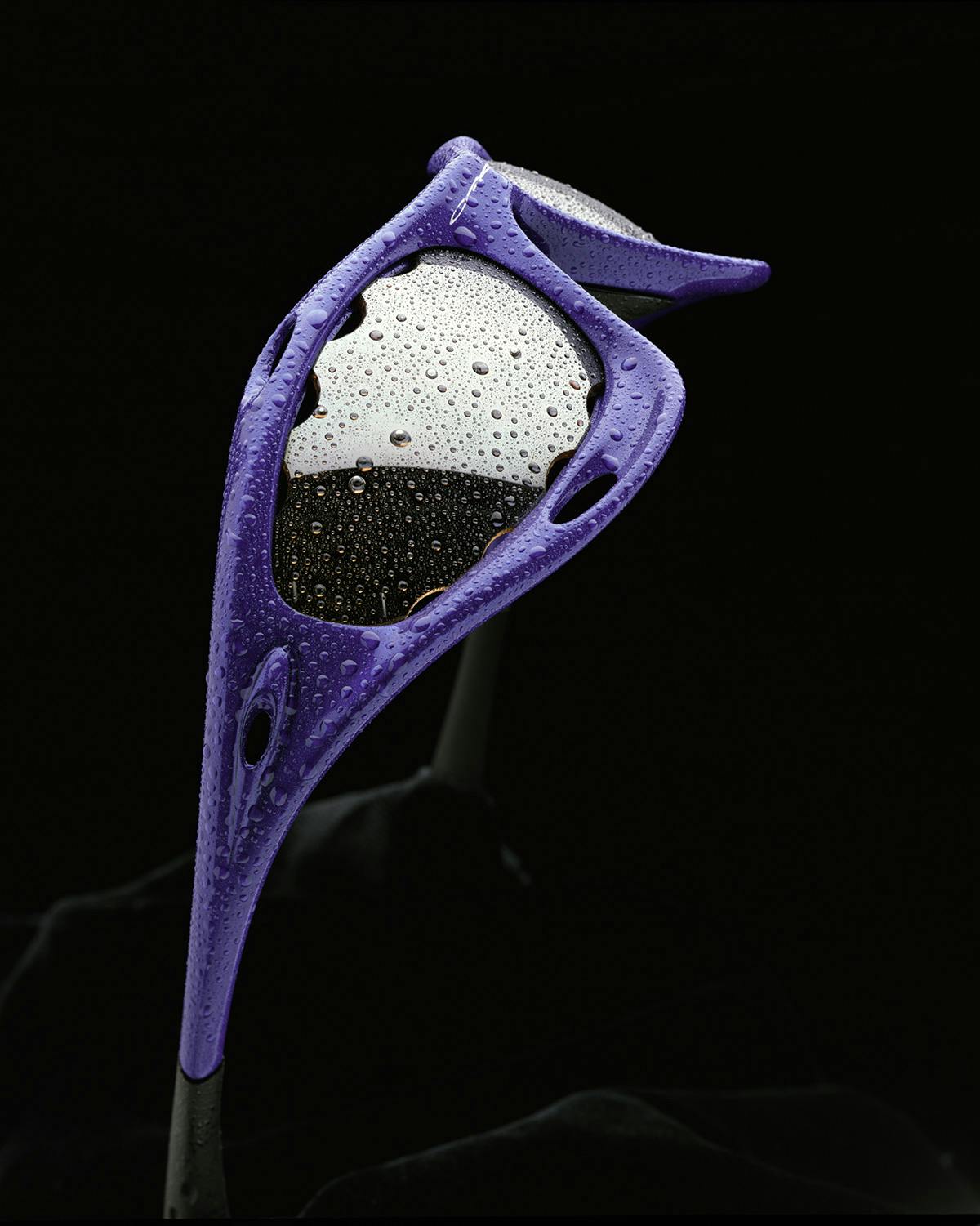 Hydrophobic Lenses, 2000
Oakley's popularity with surfers led to one of the brand's more unexpected innovations: a water-resistant lens coating. Surfers wore shades to cut glare off the water, but the very real threat of losing "the good pair" led many to wear poor optics or spend the whole day squinting. "We designed these to fight 'surfer's eye,' which is an actual condition that causes vision damage," says Takumi. The lenses debuted on the Water Jacket, an absolutely bonkers frame known for its Shark Boy vents and integrated head-strap.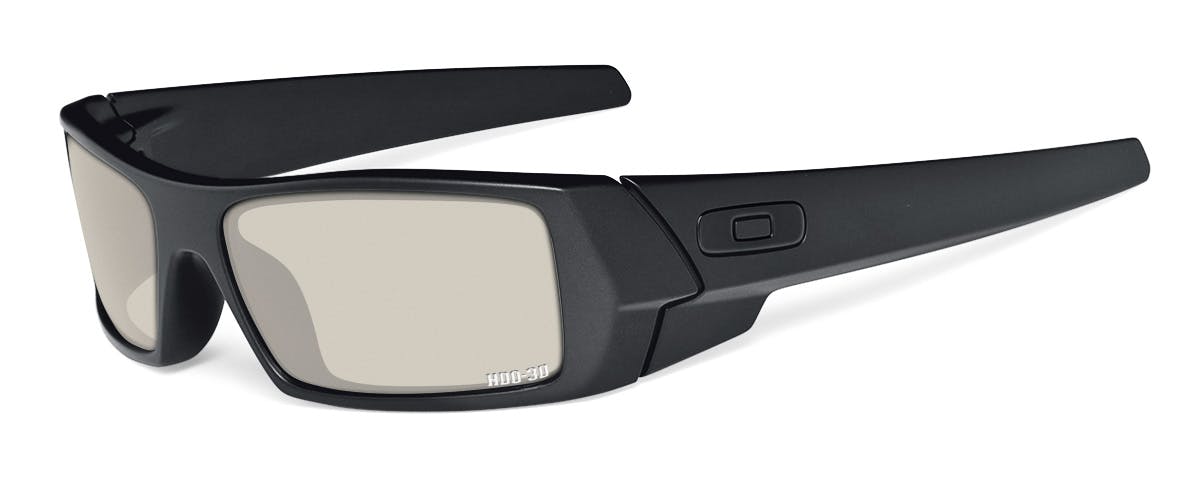 HDO-3D, 2010–2011 (Tron)
Transport yourself back to 2010. The Recession was lifting. Qwikster was still a year away. It was a wild time for movies. And society. Also, for Oakley. "We figured if we could make a 3D glass come in a normal shape, that could be very interesting," recalls Takumi. The HDO-3D glasses came to market around the peak of 3D hype, when 3DTV's and 3D movies were canonized with the same fervor reserved for AR and VR today. The best part? One of the launch partners for the retrofuturistic shades was none other than Tron: Legacy.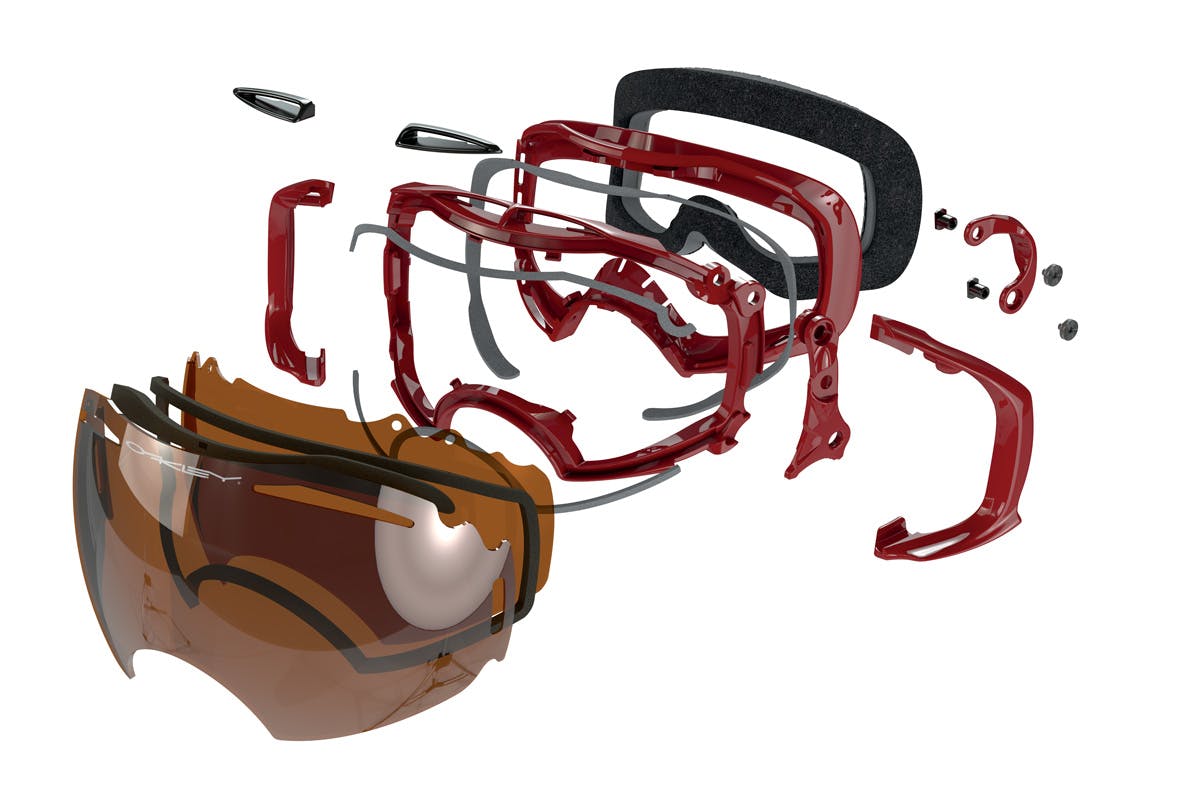 SwitchLock, 2009 (Jawbone) & 2011 (Airbrake Goggle)
The next step in the Blades evolution of modular lenses was SwitchLock. A simple hinge on the temple piece provided users with a faster, friendly way to swap lenses, letting athletes adapt to changing conditions. SwitchLock was introduced on the Jawbone in 2009 before having a breakout moment at the 2012 London Olympics with the Radarlock.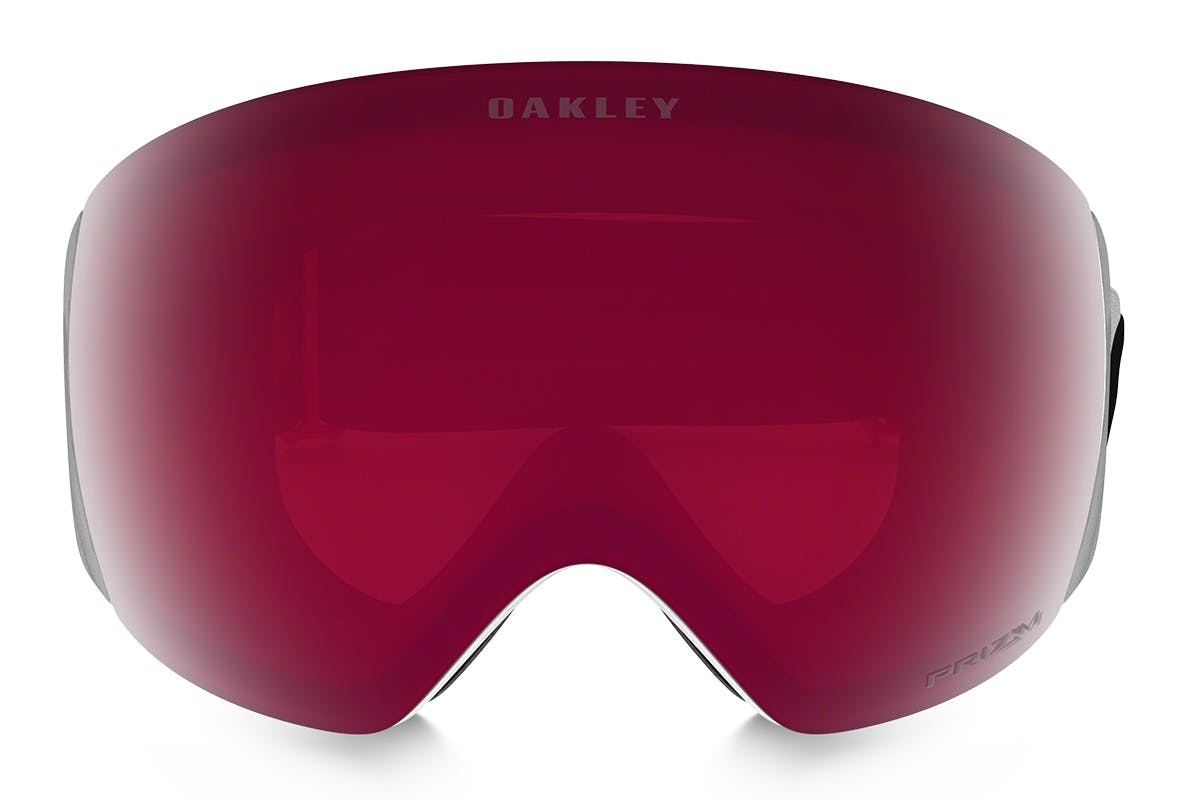 Prizm, 2014
If colored Blades were 8-bit, Prizm is HDR. The core of Prizm tech is finely tuned color profiles tweaked and balanced for specific situations. Instead of applying lens-wide tints, Prizm lets Oakley design teams engineer precise colorations that are built for sophisticated and complex lighting situations. Prizm lenses can be crafted for everyday use and action sports. For example, a Prizm lens for mountain biking helps accentuate specific color contrasts between dirt and shadows to help riders find lines. It's just not cool tech — it's safety gear.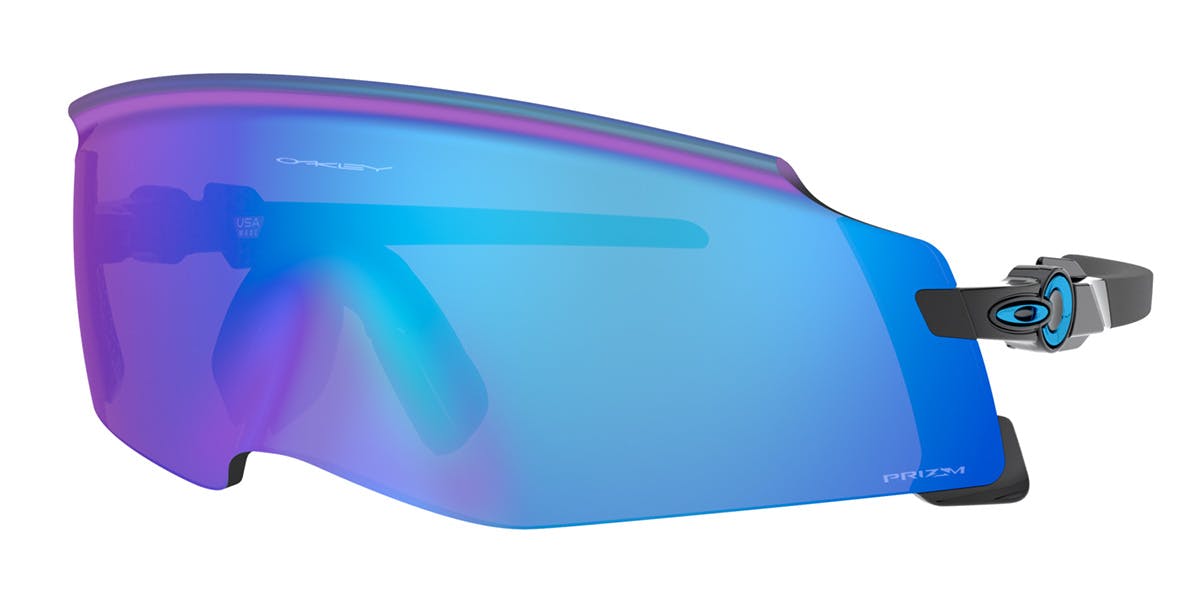 Kato, 2021
Both a glass and a technology, Kato was, according to Takumi, "born from the desire to bring sculpture into the lens itself." The brand's latest innovation, launched on the titular "Kato" frame, allows Oakley designers to "infinitely shape" lenses, accommodating the precise needs of wearers and use cases. In the near term, these minute details are mostly to correct image distortion. But down the road, it's not hard to imagine where a millimeter-by-millimeter sculpted lens could go. "Tokyo 2021 is our next big step," says Takumi.
Order HIGHEnergy, a magazine by Highsnobiety, via our online store.