"Same Damn Lo Sweater / Times is rough and tough like leather." Raekwon's lyrics on Wu-Tang Clan's "C.R.E.A.M. (Cash Rules Everything Around Me)" from 1994 provide an early insight into hip-hop's ongoing love affair with Ralph Lauren Polo sweaters, or "knits" as Lo Heads refer to them. My own love affair with the Polo Bear started not long after.
Before Marc Ecko had the rhino and BAPE had the Ape Head, Ralph Lauren had the Polo Bear. Originally drawn by Richard Tahsin and introduced in 1991, the Polo Bear is a beautiful, weathered, cuddly character, much like Ralph Lauren himself.
The Polo Bear was the ultimate in masculinity yet there was nothing more feminine than a grown man wearing a sweater with a teddy bear sewn on it. The origin story, at its simplest, goes something like this: for Ralph Lauren's birthday in 1990, he got gifted a Steiff teddy bear done up in traditional Polo clothing. Lauren loved the gift and the rest is history.
Growing up, Polo Bear sweaters retailed out of my price range, so we in the Lo Head community chose deals, trades, and cash meetups to get our hands on what we wanted. Over the years, our investments appreciated because we appreciated the garments. And as the Bear grew in popularity, the icon appeared on everything from T-shirts and sweatshirts to accessories and bed sheets.
Since then, many people, myself included, started cutting and sewing Polo Bear fabric to make unique custom pieces. Why? Simple: the Polo Bear is anything and everything for us, so we make the Polo Bear into anything and everything.
What follows are, in my opinion, the five greatest, rarest, and most coveted Polo Bear pieces of all time. And before you ask, no, the Palace Skater Bear is not on the list. Despite its recent surge in value, that Bear is still a rookie. This list is for veteran Bears worn by veteran Lo Heads. Real value doesn't come from limited production runs and long lines on release days, it comes from history, tradition, and iconography — that's what made the Polo Bear iconic in the first place.
5. Red RL 2000 Bear sweater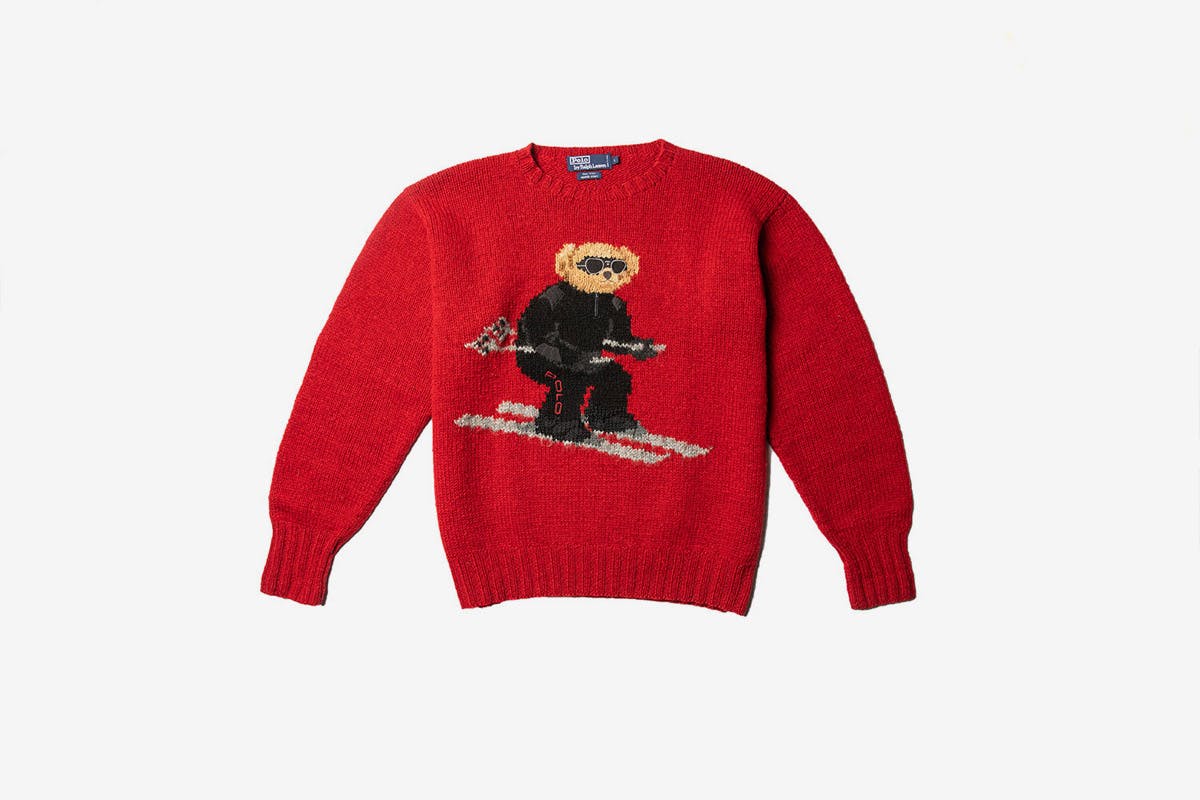 A classic piece originally released in 1994 as part of the RL 2000 collection. This is a beautifully designed bear, wider than most other Bear designs due to the skis and poles. Crafted from wool and built to last, this sweater has stood the test of time.
Details like the "POLO" stitching on the Bear's pants are based on actual RL 2000 ski pants from 1994. Back in the '90s, these were considered "throw-ins" (a low-priced piece to be named later) by some Lo Head traders of the era. However, the knit has grown in value and popularity over the years.
Fabolous rocked this sweater in his music video for "Baby" back in 2004. I sold it to Fab and his stylist before the shoot. They were looking for sweaters for the slow jam's video and I recommended this knit because ladies love the Polo Bear.
I also sold one of these knits to Kanye West in 2004. He tried to trade me the snare drum sound of a beat he had produced in exchange for the sweater, but I preferred PayPal. Looking back, I should have taken up his offer. Overall, this is one of the rarest pieces in my collection.
4. Navy Grandfather Bear knit
The "Grandpa" is definitely one of the largest bears on the market and a piece that's gotten more and more attention over the years. In this design, the Bear is wearing a sweater with "POLO" stitched in.
In the '90s, there were even rumors that OG Lo Lifes were picking the "PO" stitches so only the "LO" was visible, a nod to the Lo Lifes. Fast forward 20 years and the question has become: damaged sweater or urban myth?
Values skyrocketed on these recently, even though they weren't power pieces in the '90s.
As if to solidify its legacy, the Polo store in SoHo recently honored this particular knit by placing the sweater on a mannequin behind glass as part of Ralph Lauren's 50th-anniversary celebrations. This came about after a conversation I had with Ralph Lauren's son, David, in 2006, when I presented my proposal at Polo HQ to put vintage Ralph Lauren items back in stores.
3. Red 1992 Sit Down Bear knit
This was always the ultimate classic. While many designs feature "stand up" Bears, often playing a sport, this Bear is the most like the original concept: a teddy bear on a sweater. In the '90s, this knit was incredibly important among Lo Heads and collectors, arriving in three colorways: red, navy, and cream.
Its value has fluctuated over the years mainly due to the sweater being one of the first Ralph Lauren items to be given the retro treatment in 2002, as seen on Kanye West during The College Dropout years. Unlike the retro, the original featured "RL 92" in the lower right corner. Most other details were an exact replica, however.
2. The "Downtown" Bear
The "Downtown" is perhaps better known as the gray cashmere Bear turtleneck. Its release date is believed to be 1994 and it was nicknamed the "Downtown" because of the Bear's Downtown art gallery look. I first heard about this piece in 1998 and it was always in the upper echelon of Lo pieces.
I got my first gray cashmere from my friend Joe Einhorn, who started NYC retailer Fancy. Prada Sport had just popped off, so I traded a brand new Prada Sport abstract tennis graphic vest, very similar to a Polo graphic, plus $100 cash and a $100 MetroCard, and in return I got my first cashmere Bear.
I've since acquired two more "Downtown" Bears, with the XL selling for $3,000 in the early '00s. The other one I wound up renting to Fabolous and his stylist for the final scene of the "Baby" video. I still own and wear that knit.
1. The Martini Bear
Supposedly released in very small quantities in 1992 at the Polo Mansion on 72nd Street and Madison Avenue, the Martini Bear was an urban legend in the '90s. Here's a rare Polo Holiday 1992 catalog showing the turtleneck version of the knit with a retail price of $1,250. My version is the crewneck.
In the '90s, this was always the most valuable, talked about, impossible-to-find piece. Some Lo Heads would say it didn't exist, and many thought it was a women's item because of the sizing, but this tag is a size 40, as often seen in men's suit sizing. This gentleman Bear comes on the softest cashmere sweater you'll ever see or feel. Notice the "RL" insignia on his slippers and the detail of the olive in his martini glass.
I sold one for $2,000 in the early '00s and it continues to be one of the highest-valued Lo pieces of all time. _
These days, Ralph Lauren regularly releases retro and new versions of its iconic Polo Bear. It's hard to say which ones will become classics 20 years from now, but the five listed above will live on forever. Although the Ralph Lauren brand has been around for 50 years, it feels like it's just getting started. There's no telling where the Bear will go from here. With NASA's newfound popularity in fashion, here's hoping the Polo Bear makes it to the Moon.
For a bigger scoop of Ralph Lauren Polo, watch the video below.