For this week's FRONTPAGE, we took things seriously off-road in this behind-the-wheel interview with race car driver Leh Keen. Get schooled on the Porsche 911 below.
Have you ever wanted to take a Porsche 911 off road? Do you even drive a Porsche 911?
Tearing down dirt roads and bouncing over muddy creeks might not sound like something the owner of a luxury sports car would do, yet it's precisely what race car driver Leh Keen makes possible. His Atlanta-based Keen Project seems like a garage, but it's really a tight-knit group of Porsche obsessives — owners, mechanics, and drivers — who recombine elements from classic cars to make robust objects of singular beauty.
Driving with Keen is a bit like entering a particle accelerator — only he built the accelerator and volunteered to be the particle. After a decade of professional racing, the unassuming, mild-mannered Georgia native began building Porsches as a platform for all sorts of four-wheeled fun. It's not widely noted, but Porsche's first race was at the Monte Carlo Rally in 1965, initiating an evolution that led to a Group B off-road victory at Paris-Dakar in 1984. Extremity and high performance in all terrains is a sort of secret history at Porsche, and Keen's experiments have cast a spotlight on this unsung corner of the German manufacturer's archive.
When Highsnobiety visited Keen in Atlanta this spring, he was working on his 24th commission. (All the cars are numbered, and they don't get their official sticker until the work is done.) With a rapidly rising waitlist, a small but valuable secondary market has emerged for these creations, though no car escapes Keen's close attention. In addition to the business, he holds multiple world records. He set an EV indoor speed record of 102 mph while driving a Porsche Taycan in February 2021.
Thankfully, when our car correspondent, Jonathan Schley, visited Keen this spring, the driving was very much outdoors. After cascading through the scenery and getting one of his 911s stuck in a deep mud pit, Keen invited us into his workshop to explain the passion, process, and inspiration behind his work.
Jonathan Schley: How did the Keen Project Safari get started?
Leh Keen: I love Porsches and 911s. Always have. When I was a teenager, I was racing four-wheelers in the woods and eventually started racing professionally. I raced Porsches at Le Mans 24, Daytona 24, and after a while, I just kind of wanted to blend those two things together. There's actually a ton of off-road history with Porsche, but people don't know much about it. The first Porsche 911 ever built was raced at Monte Carlo in 1965.
Highsnobiety / William Sitton
What do the owners of the cars you've built have in common?
Well, they all want a lifted, air-cooled 911 with off-road tires. There's just something in their brains that tells them they want that. I'll name-drop a little bit: Patrick Dempsey has a car. The artist Daniel Arsham now owns Number 19. Journalist Matt Farah is a very well-known name in the automotive industry. There are others in Seattle, Miami, New York, Maine, and we're all in a big group chat. Everybody is on it talking, sending pictures. It's really important to me. I want the cars to be used. It's not cheap to build these 911s, but it's not so expensive you're scared to scratch the car up.
What things do you and the owners do to get them scratched up?
Every year, we do the Appalachian Adventure. I have a little cabin up there in the western North Carolina mountains. It's like 60 degrees in the summertime, not many people around, nice gravel roads. You can pretend to be a rally driver, go through creeks, and just cruise around. It's a good time. We also had an event where a buddy rented an old golf course. It closed a couple of years ago, but they still maintain it. We were ripping around down where the tee box was — on the green and everything. That was a lot of fun.
How much of the build comes directly from historic Porsche rallying?
Pretty much all of it. I try to build the cars period-correct. I'm really inspired by late '70s East African safari cars, early-'80s Paris-Dakar cars, Group B SCRS race cars, and the 953, which was the first Porsche supercar with an all-drive system originally designed for the 959. I love all those cars. Design-wise, I'm completely inspired by them. Period-correct builds are important to me because they're already timeless. In a way, I want the car to be a time machine. It's a bit cliché to say, but when you're in the woods and there's no cellphone service and you're driving one of these — it could be the late '70s or early '80s. You don't know it's 2021. You don't know there's a pandemic. You're just having fun, like flying an old airplane through the clouds.
Talk us through ordering a Keen Project Safari.
They're all commission builds, so first you reach out and get on the list. We have six cars in production right now and deposits numbering in the high 50s. It's about a four-year wait at the moment, which is a great problem to have, I guess. I wish I could produce cars faster, but the way we do it, I can't. Next we need a donor car. The customer provides the donor, but I can help them find it. I want to understand what I'll be working with. Then, it usually takes 8 to 10 months to go through all the mechanics. I spend a lot of time just living with each car, going to buy groceries, taking my wife to dinner, stuff like that. It all needs to feel a certain way for me to be happy.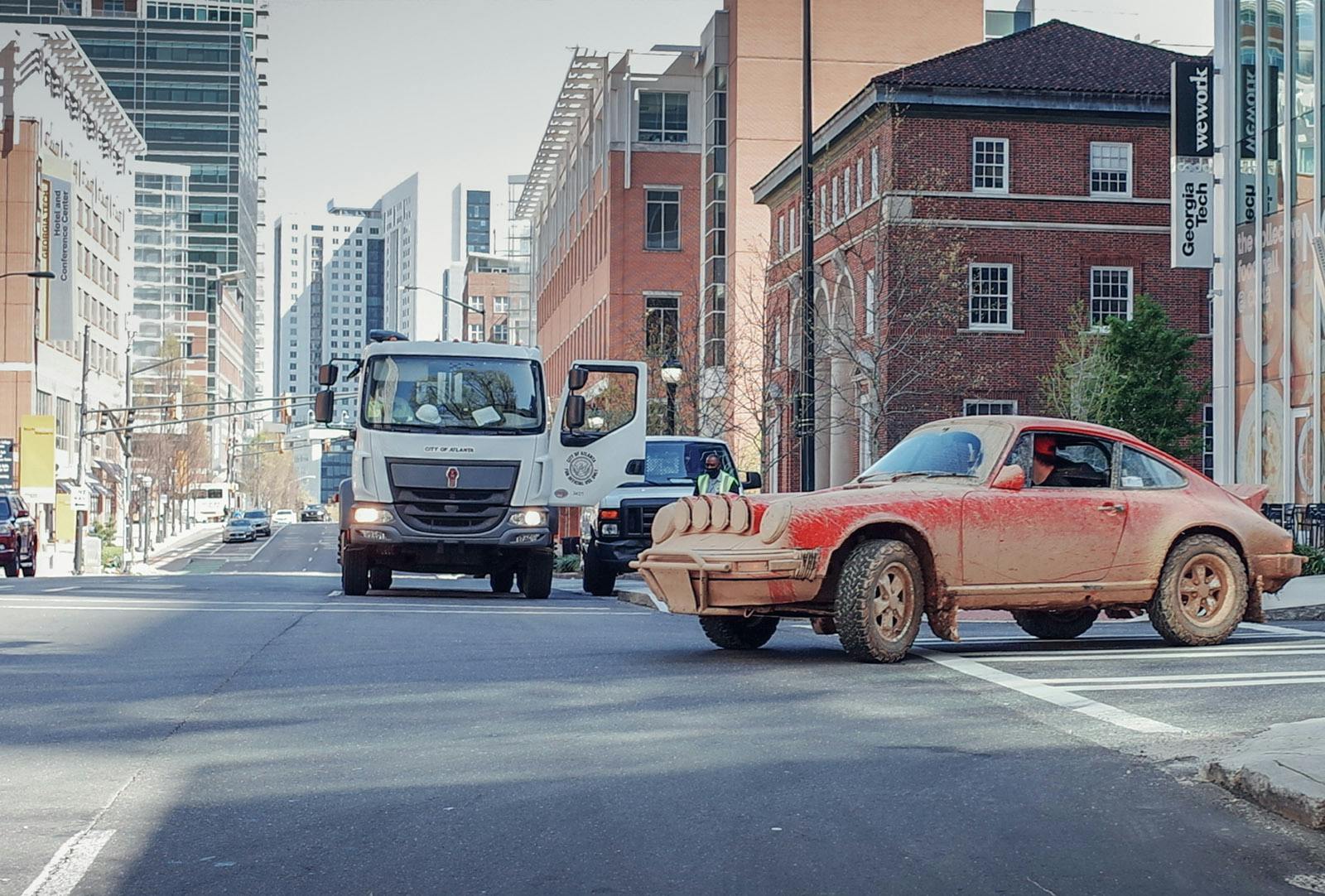 Could you walk us through some of the features?
Starting at the front, we have a brush guard and skid plate going underneath the car, behind the front axle, which is hard-mounted to the chassis. Then there's bumper blades pressed in about two inches. We do that on the rear as well. Then there's the light pod, so if you're out driving at night, you get plenty of light. We do a little bit of trimming on the bumper for tire clearance and shave the mirrors. All this is metal-welded. We fill in where the original mirrors were and use 935 mirrors. This keeps the whole width of the car compact, so when you're driving on really tight trails, it doesn't seem like you're about to rip the mirrors off.
For the mud flaps, we have through-body. It's a clean look. Mud flaps look very cool, too. Back in the day, you had to have them so you couldn't shoot gravel and hit spectators while rallying. It does help. If you're picking up rocks and there's people behind you, you won't smash up their windshield. We lift the car about four inches from standard ride height and mount BF Goodrich All-Terrain tires. A lot of cars get new brakes — new rotors, new pads, brake bias control inside the car. We go through the entire chassis: Brake system. Engine. Transmission. Make sure everything is as it should be, as Porsche originally intended. We start with 3.0 liter cars. We use SCs and Carrera 3.2s. So we deal with the 915 gearbox and the G50 gearbox in the later cars. They're all rear-wheel drive. These cars are not made to race. They're built for fun, so rear-wheel drive is really easy to manage. Easy to drift, slide, whatever.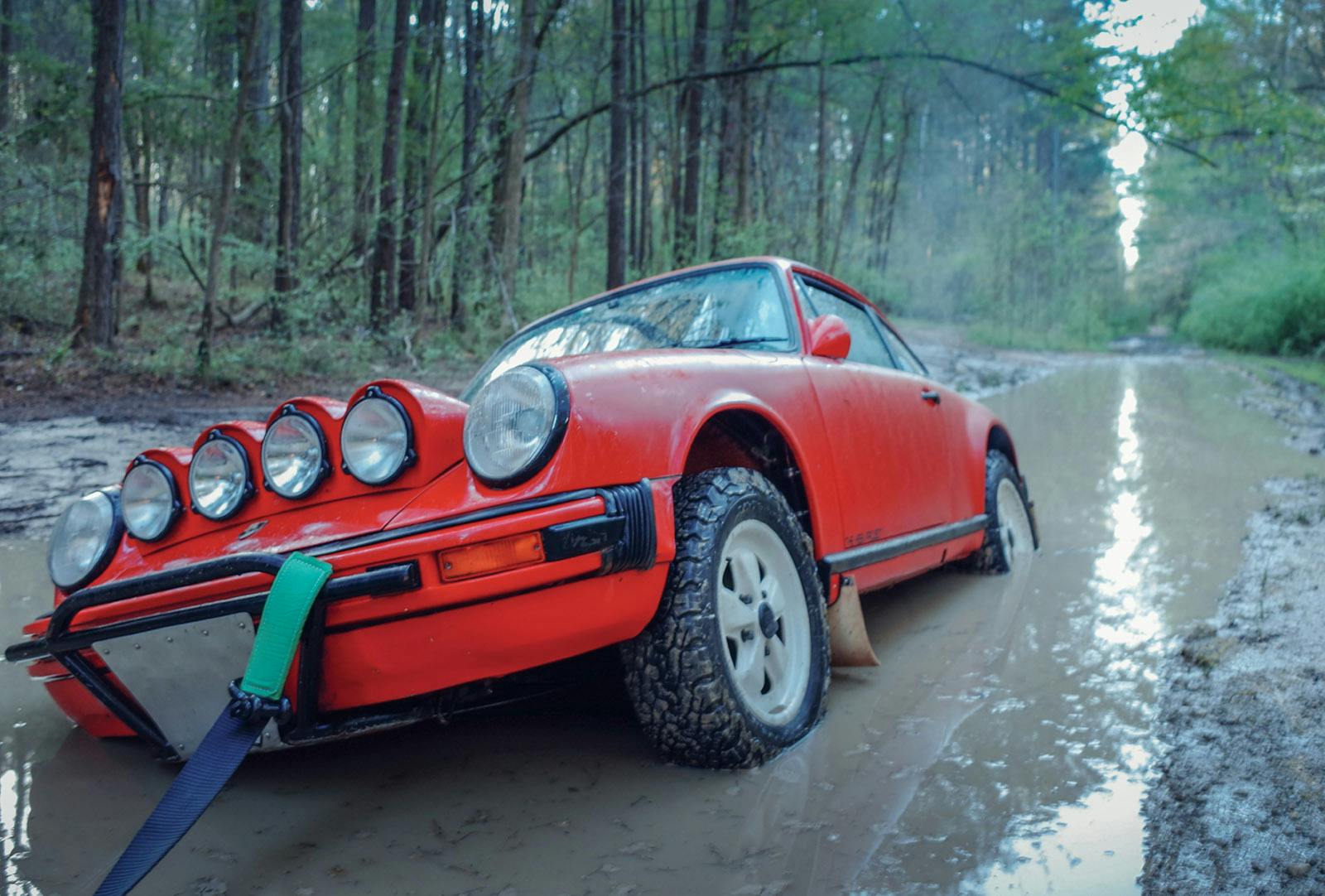 Highsnobiety / William Sitton
Tell us about some of your favorite builds so far.
The car Daniel Arsham now owns is Safari Number 19. It's Oak Green Metallic and has a factory tartan interior and factory sports seats. It's got full rear seats as well. The material in that car is an original 930 material from the '70s that Porsche used. I actually grew up in a 930; I love all the old colors. There's this popular color now —
Fashion gray?
Yeah. Fashion gray's a 356 color from the '50s. People think it's a hot trend now, but Porsche was doing it 70 years ago.
Is there anything the customer might request that would be a no-go?
What you see with the mirrors, light pods, bumper bars — that's mandatory. We can change roof racks and the décor. We have cars with different wheels, and white or black mudflaps. But we basically have a recipe, and that's the recipe we stick to. If someone has reached out to me and is interested in the car, I assume they like what I'm doing.
There are a couple of things: We wouldn't leave a carbon-fiber roof exposed so you could see that, and we wouldn't diamond-stitch in the interior. There's so many good materials that Porsche has done, Mercedes has done. I get stuff from Europe, I walk around the textile stores here in Atlanta. I have a paint sample in my hand just looking at all the different stuff we have. One car is acid blue, and literally has a dog interior.
Prints of dogs?
Yeah, there's just dogs on it, all kinds of different dogs. We've done cows, too — for this Austrian guy, a good buddy of mine, actually pretty well-known in the Porsche world. I thought he wanted a cow print, but he was like, "No, I want hide." Sparks were going off in my brain. We have long hair on the door panels, and it's literally shaggy. If you open it and it's windy, it's like the door panels are waving at you. We just have fun. Ultimately, that's why I built my car to begin with — I just wanted to have fun. Everybody who wants one of these cars, they pretty much just want to have fun, too.
Experience this story and others in HIGHEnergy, a print magazine by Highsnobiety, available from retailers around the world and our online store