When you get a watch collection based on one of America's most iconic designer's $40m vintage Bugatti race car, you know it's gonna be pretty sharp. After all, watches and sport cars share a similar design heritage—a focus on quality materials, expert craftsmanship, and precise performance.
These same pillars are all reflected in Ralph Lauren's Automotive collection of luxury timepieces.
Established in 2015, the collection uses Mr. Lauren's iconic 1938 Bugatti Type 57SC Atlantic Coupé as a starting point for aesthetic inspiration, but in a wider sense it reflects the vintage automotive world's shared passion for quality and craftsmanship.
Taking pride of place is the Ralph Lauren Automotive Skeleton, the brand's first open worked timepiece, and the Ralph Lauren 45mm RL Automotive.
With Swiss movement customized by Val Fleurier and dropping in at a cool $50,000 USD, the 44.8mm by 11.20mm Automotive Skeleton features steel and brass gear elements, black oxidised hands, a large balance, a black shot-blasted stainless steel case, and a distinctive varnished bezel made from Amboyna Burl.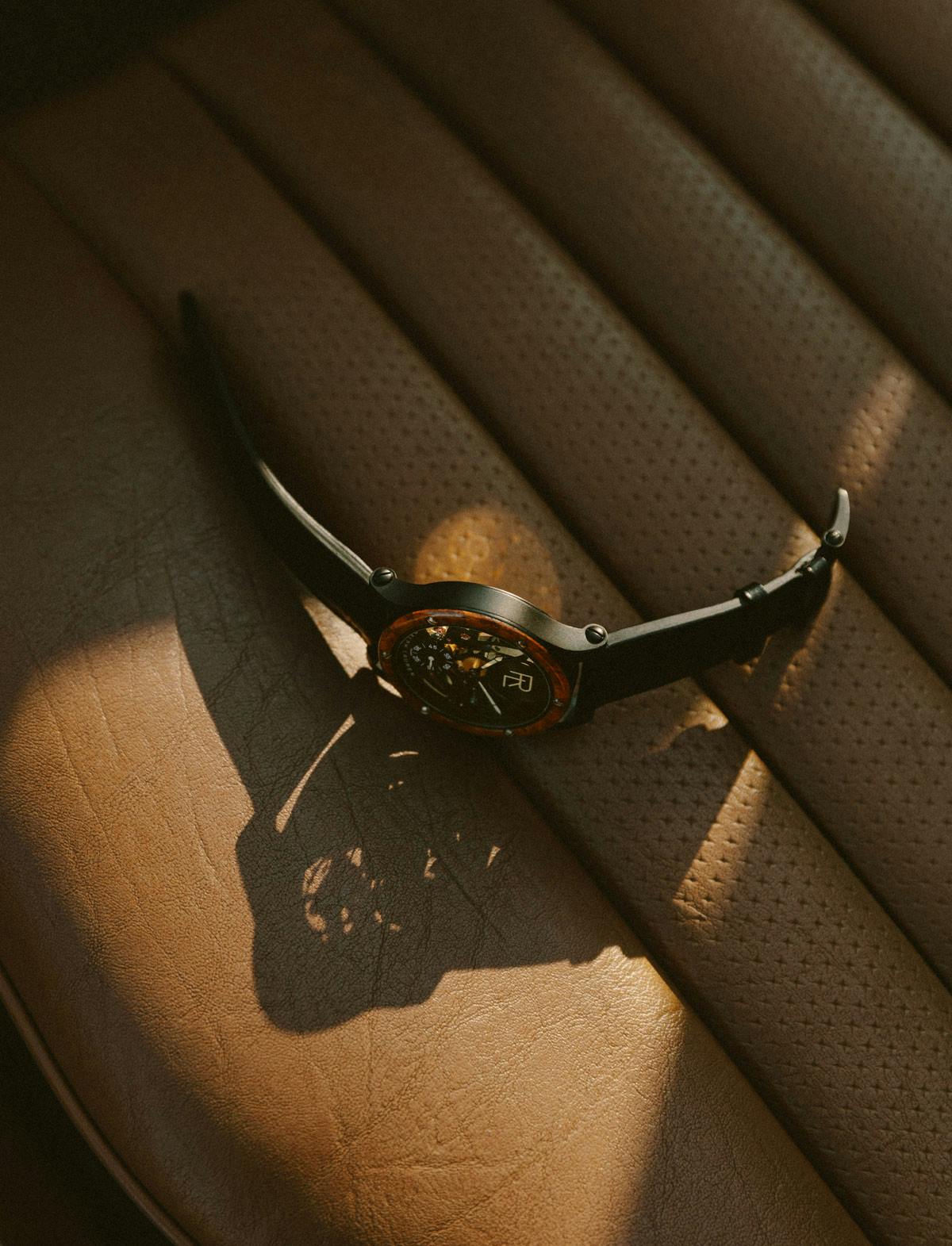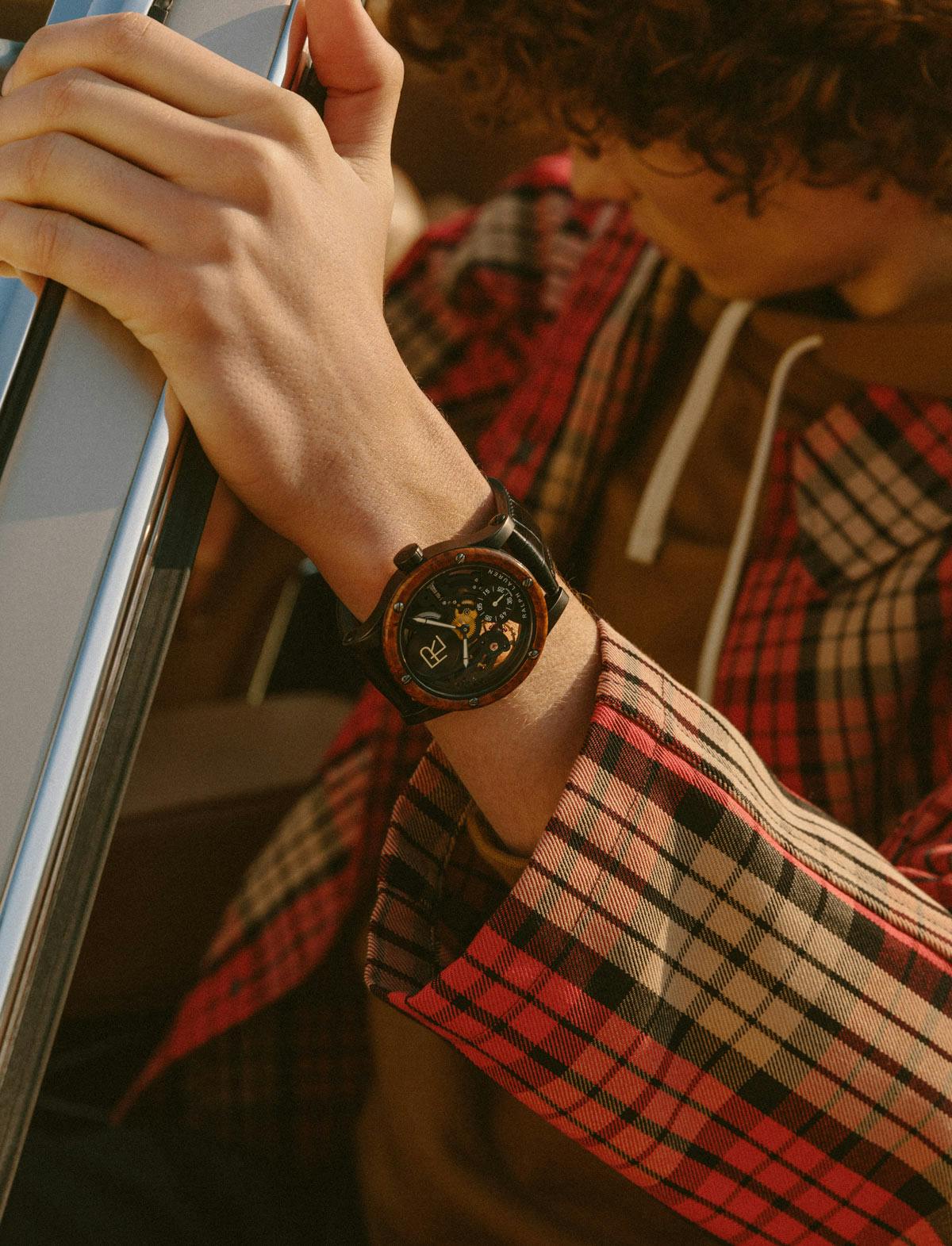 Amboyna Burl is a noble hardwood that features distinctive swirls and that must be both hand-cut and then finished by hand. For the Ralph Lauren Automotive collection, this takes place in the home of watch-making: Switzerland. The Automotive Skeleton's design gives a subtle nod to the interior craftsmanship of the Bugatti through its distinctive black polished alligator leather strap.
Full Technical Specifications
Ralph Lauren Sporting Black Automotive Skeleton Watch RL 1967 Steel Case Black Mat Wood Bezel Roman numerals 115mm Alligator Leather Bracelet Steel Buckle
The watch is such a rare piece of craftsmanship, it can only be purchased direct from specialist Ralph Lauren retailers. Send a mail or phone them up at +1 212 891 2312 for info on where to get it.
However for those looking for a more industrial feel, Ralph Lauren has just revealed the Skeleton Steel as part of the Automotive lineup. Replacing the Skeleton's alligator leather with a polished stainless steel bracelet and clasp, and together with the artful removal of the watch's main plate to reveal the intricate mechanics underneath, the Skeleton Steel is for those that prefer their watches a little more rugged and robust.
The Automotive collection's 45mm RL Automotive piece comes in at $16,500 USD and features similar styling, with Super-LumiNova® Arabic numerals on the matte black dial emulating the car's softly glowing gauges.
Ralph Lauren's multi-billion dollar eponymous fashion house started in 1967 in New York's Empire State Building. His distinct idea of preppy, aspirational Americana is so strong an aesthetic that the 'New England look' has defined and solidified itself as a key pillar of American fashion.
Today, the business maintains its headquarters in New York with Lauren continuing to lead his brand as key creative officer. Earlier this year, the brand announced it's bringing back one of its most iconic collections to celebrate its 15th anniversary: Snow Beach. This will sit alongside Ralph Lauren, Polo Ralph Lauren, the formal Ralph Lauren Purple Collection and, of course, the Ralph Lauren Watch & Jewelry line of which the Automotive collection's Skeleton and 45mm sit within.
45mm RL Automotive Technical Specifications
RL Sporting Classic 45 ST Automotive Wood Bezel Black Mat Manual MVT RL98285 Oblk LTH Transparent Case-Back
Browse the full collection, including the brand new steel edition of the RL Automotive 45mm Skeleton Steel, unveiled today, February 16, at Ralph Lauren.com.