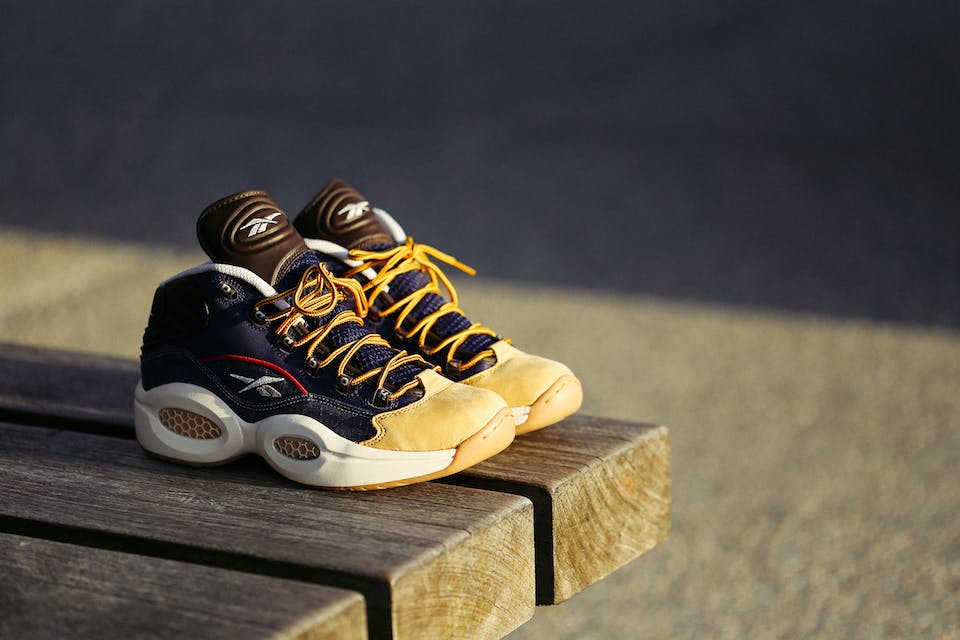 With so many kicks on the market, finding the best of the best calls for a little bit more than just strolling into the shoe store with some spare change. To help you isolate the best of the bunch, our Sneaker of the Week is a chance for us to highlight some shoes that you need to add to your rotation. Thanks to some help from our partners at Finish Line, we're calling out the best sneakers on shelves today.
Of all the players in the league—past, and present—there's very few that could live up to the legacy of Allen Iverson. A dominating guard on the court and an outspoken presence off of it, the only thing that stacks up to his dynamic play is his iconic sense of personal style. In Reebok's "Dress Code" edition of Iverson's signature Question sneaker, the brand pays tribute to both the man and one of his most infamous rivals—the NBA dress code.
Instituted by the NBA Commissioner in 2005, the dress code was established clean up the league's perceived hip-hop image by asking players to wear business or business casual attire during pre and post-game events. Considering that many players embraced the style and culture of hip-hop at the time—wearing baggy jeans, jerseys, do-rags, oversized sportswear, and workboots—this mandate flew in the face of players like Iverson, whose unabashed personal style helped set the precedent for a modern-day NBA that embraces its players' personal fashion sense.
Honoring Iverson's own fashion sense, this Reebok Question incorporates a series of small homages to some of the more recognizable things Iverson (and many of his fellow players) would wear to games—all outlawed by the institution of dress code. The Question's blue denim upper is a nod to the "business casual" ban on jeans. The beige suede toebox, workboot laces, and gum bottom, are clear references to Timberland boots, which many players wore into the stadium before switching into their on-court kicks. This Question caps off it's homage to the wardrobe taboos by plastering a red banned symbol on the back heel.
It wasn't just his electrifying play that made Allen Iverson one of the league's most-talked about players, it was contagious sense of style and unflinching attitude. As we look back on the legend himself, this "Dress Code" Question adds Iverson's own personal flair to any sneaker rotation. It may be one of the more attention-grabbing, conversation-starting sneakers you'll add to your wardrobe, but knowing Iverson's public persona, we can imagine he wouldn't have it any other way. Iverson may be a hall-of-famer for his work as one of the greatest guards in the game, but his insistence on personal style helped lay the groundwork for the NBA style renaissance we've seen with players today—a feat well worth it's own signature sneaker.