#GramGen is a series profiling the most radical characters in youth culture, who continue to shape trend behavior and spark controversy through their avant fashion sense and candid social media personalities.
South Korean-based artist Rudy, who goes by @rudyindahouse_ on Instagram, specializes in deconstructing sneakers. The artist first came to Highsnobiety's attention when his work was exhibitioned at a South Korean multi-purpose facility.
His signature move is to dissect each layer of a sneaker before carefully reconstructing them to make what can best be described as an "exploding sneaker." While customizing already-highly-sought-after sneakers usually adds an extra level of flair to the silhouette, Rudy goes a step further by completely destroying the kicks to the point that they aren't wearable anymore.
Highsnobiety sat down with the artist to get some insight on what it's like to deconstruct sneakers worth a lot of money, whether he wears them first, and how he got into the business of creating sneaker art to begin with.
Please introduce yourself.
My name is Rudy and I'm from Seoul, South Korea. I'm a sneaker deconstruction artist. I'm just a guy who's into sneakers and collects them. For my day job I do photo and video art work with my younger brother.
In your own words, describe the kind of work you're creating.
I deconstruct sneakers by removing the stitching with a needle and then using a heat gun to separate the midsole and upper. After that I use a knife to separate each of the panels by cutting through the stitching. Once the sneaker is deconstructed, I put it back together using glue and wire to create the sculpture.
When I first started deconstructing sneakers, I didn't expect it to be art. It was born out of my curiosity for how sneakers are put together. I wanted to make the shoes look interesting to other people and as a result it became art and I an artist. Naturally, I became more serious about finding different ways of showing off my work, which is always different due to the different ways sneakers are put together.
Which interest came first, art or sneakers?
Ever since I was a kid, I've loved sneakers. I was into hip-hop culture and basketball, so I think it was a natural development of my interests. I also loved singing, dancing, drawing and doodling. I even spent some years as a rapper, although I never dropped an album. My mother thought I was good at drawing and made me study art but turns out I was just a kid who liked to paint and doodle. Because I had a lot of artist friends I thought I could be an artist in any field. Then one day I dissected sneakers and I guess that's how I've become an artist.
But to answer the question, I've always been very much into both art and sneakers, it just so happens that I was able to combine them eventually.
What is your educational/artistic background?
I didn't study or major in art but it plays a big role in my family. I paint, draw, and doodle whatever is on my mind. My father majored in vocal music and also worked as a conductor in church. My brother majored in video and he is also a photographer. I guess you could say I have a familiar background in different types of art.
What are some of your favorite sneakers to wear?
I love all sneakers but my favorites would have to be Air Force 1 Highs and Air Jordans. I like hip-hop and basketball, so I prefer sneakers that fit that culture and style. My favorite Air Max sneaker is the Neon 95.
Do you have a specific deconstructed sneaker that you're most proud of?
My favorite piece so far is the NIKE DUNK SB "PIET MONDRIAN," which I painted on a canvas before adding the deconstructed layers of the shoe. I wanted to highlight the red, yellow, and blue hues used on the shoe and I really liked the result. It took me seven hours straight to complete the piece as it was the first time I used canvas to create one of my art works. Maybe the fact that I combined my love for painting with the deconstruction of the sneaker is why I'm more attached to this specific piece of work.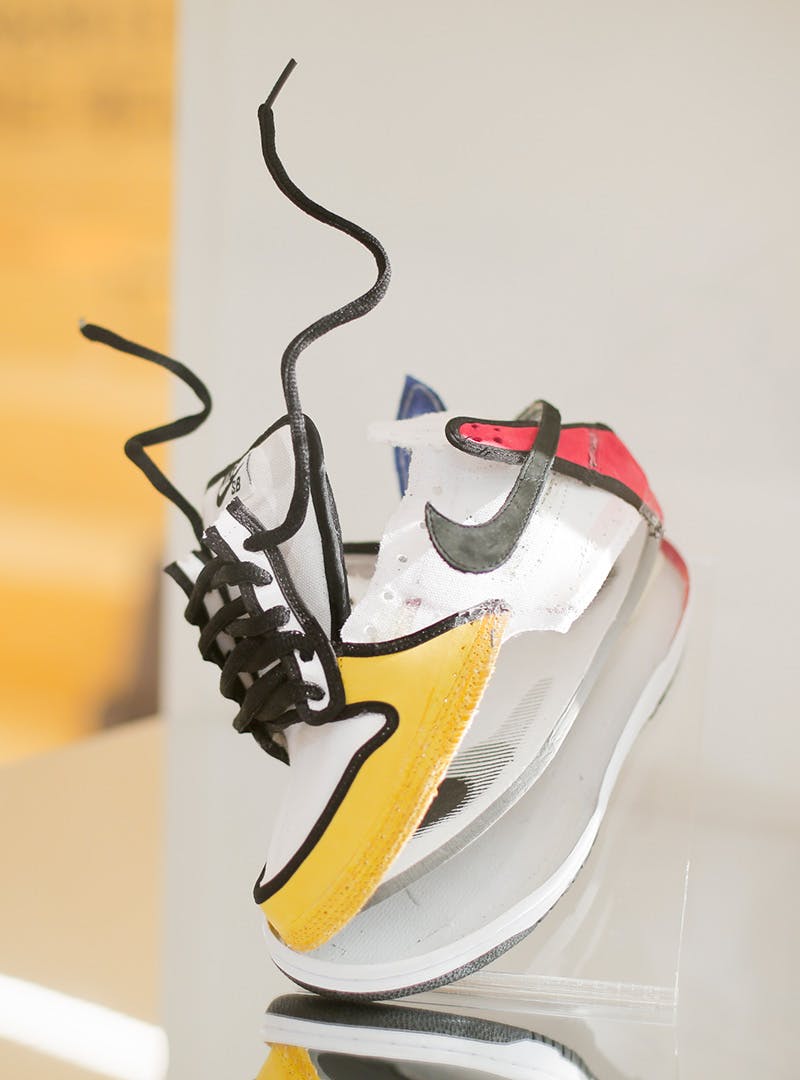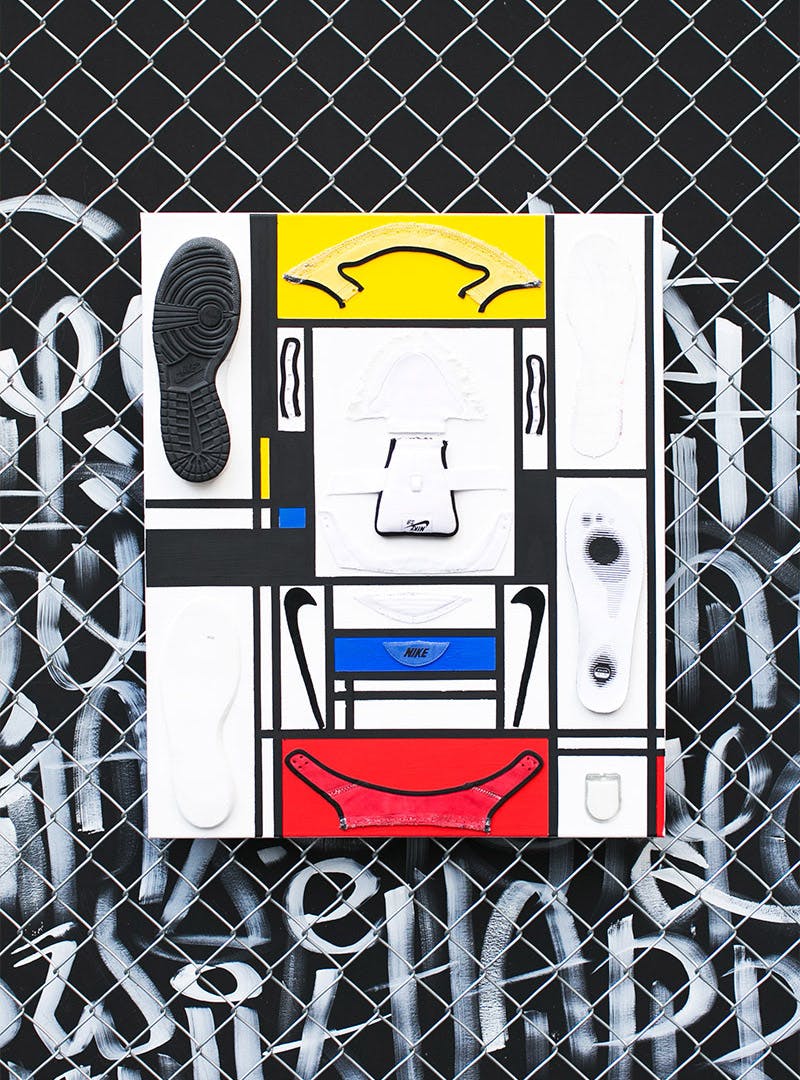 What was the first sneaker you cut apart? Were you nervous?
It was the Nike Air More Uptempo "Olympics" from 2011. I wasn't nervous at all, I was excited! I just wanted to see the shoe dissected and cut to pieces. I couldn't wait to get started.
If you could dissect an item other than a shoe, what would it be?
I get asked this quite a lot. People often talk about maybe doing what I do on expensive designer bags. I'd definitely like to try if I get an offer but don't have any plans for it at the moment.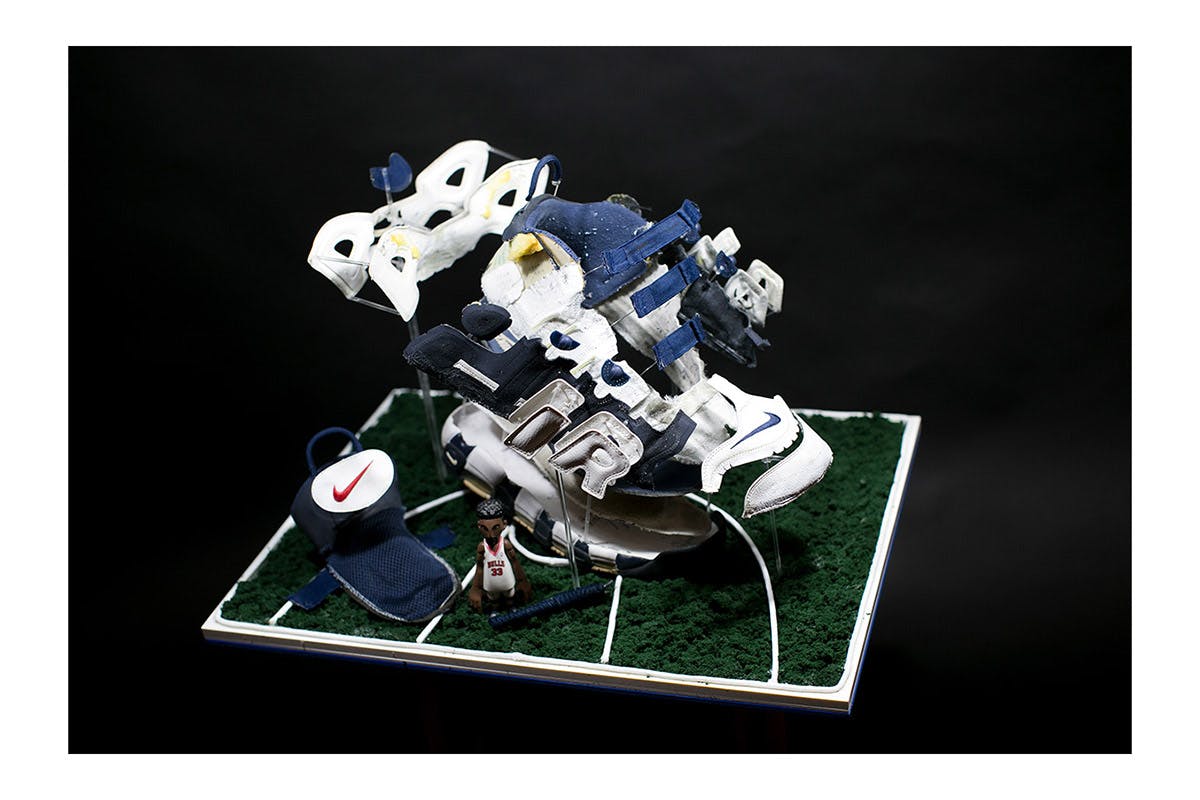 Some of the sneakers you deconstruct are worth a lot of money. Do you wear them first?
In some cases I do wear the sneakers before I work on them. I won the OFF-WHITE x Nike Air Jordan 1 through a raffle so I wore them about twice before deconstructing them further. The Nike More Uptempo and Nike Air Jordan 11 "DMP" were from my collection. But since then I've been working on mostly new, fresh-out-the-box sneakers.
Luckily I've been able to win two or three raffles and sometimes people just give me their pairs to work on. Lots of people ask me, "Are you rich?" or "Don't you know how much they're worth?" I know how much they resell for but it doesn't really matter to me. Who knows? Maybe my work will be worth more.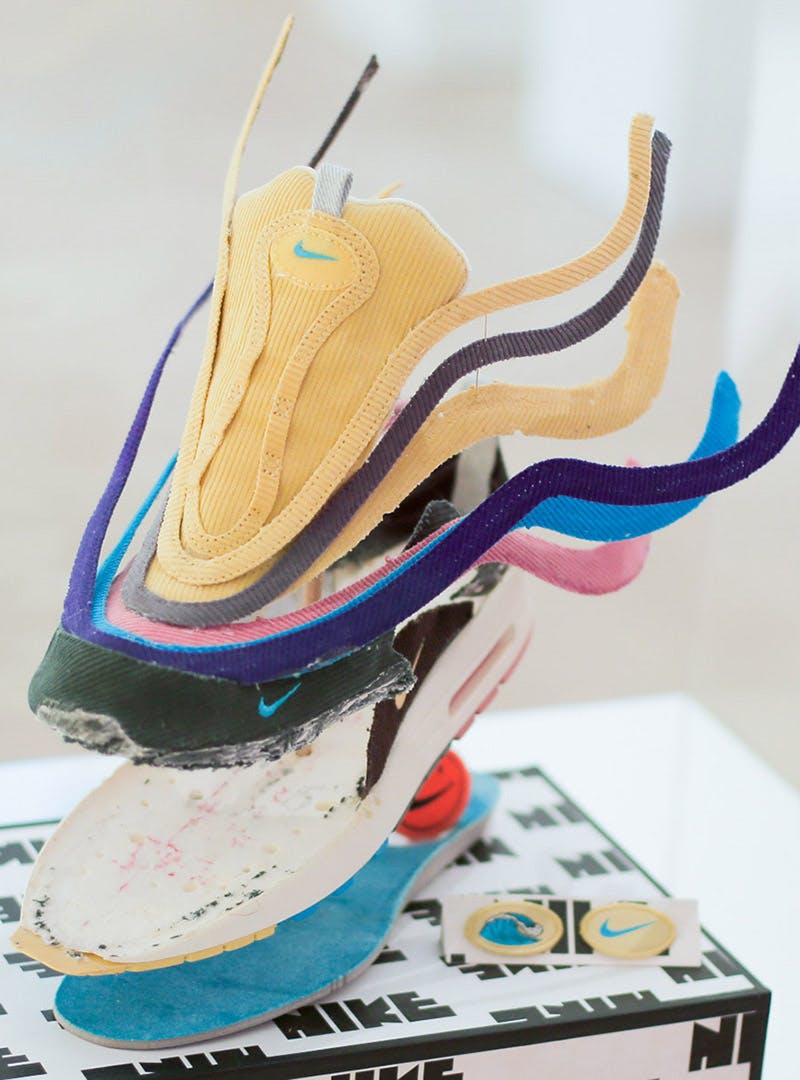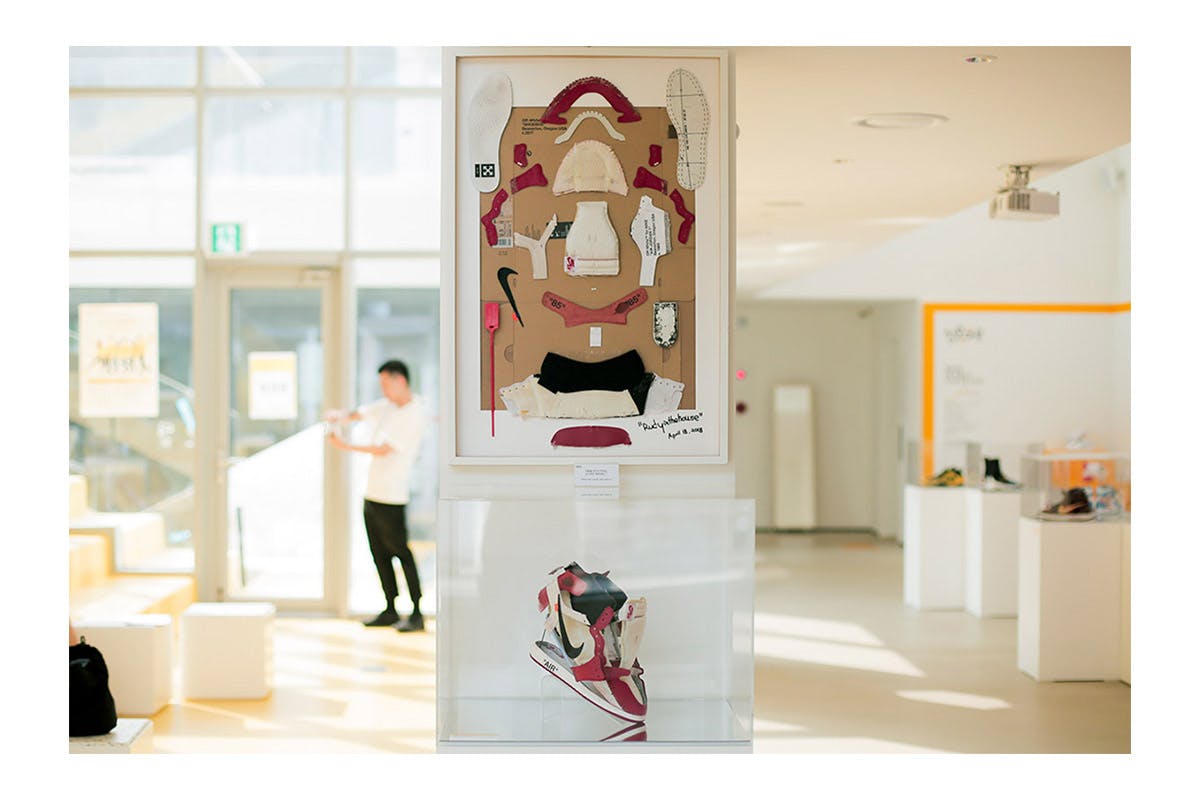 How much (if at all) do you sell your art for?
I haven't sold any yet although a few people have asked about pricing. I don't actually create these pieces to sell them so I had to think hard about whether I wanted to do so. In terms of price though, I have no idea where to start. I talked to a curator and my artist friends but as of now I haven't made a sale yet.
Next, check out our quick and easy guide on how to dye your sneakers here.
To stay updated on everything happening in the sneaker world, follow @Highsnobietysneakers on Instagram, check our sneaker release date calendar and subscribe to our sneaker chatbot on Facebook to receive lightning quick updates to your inbox.