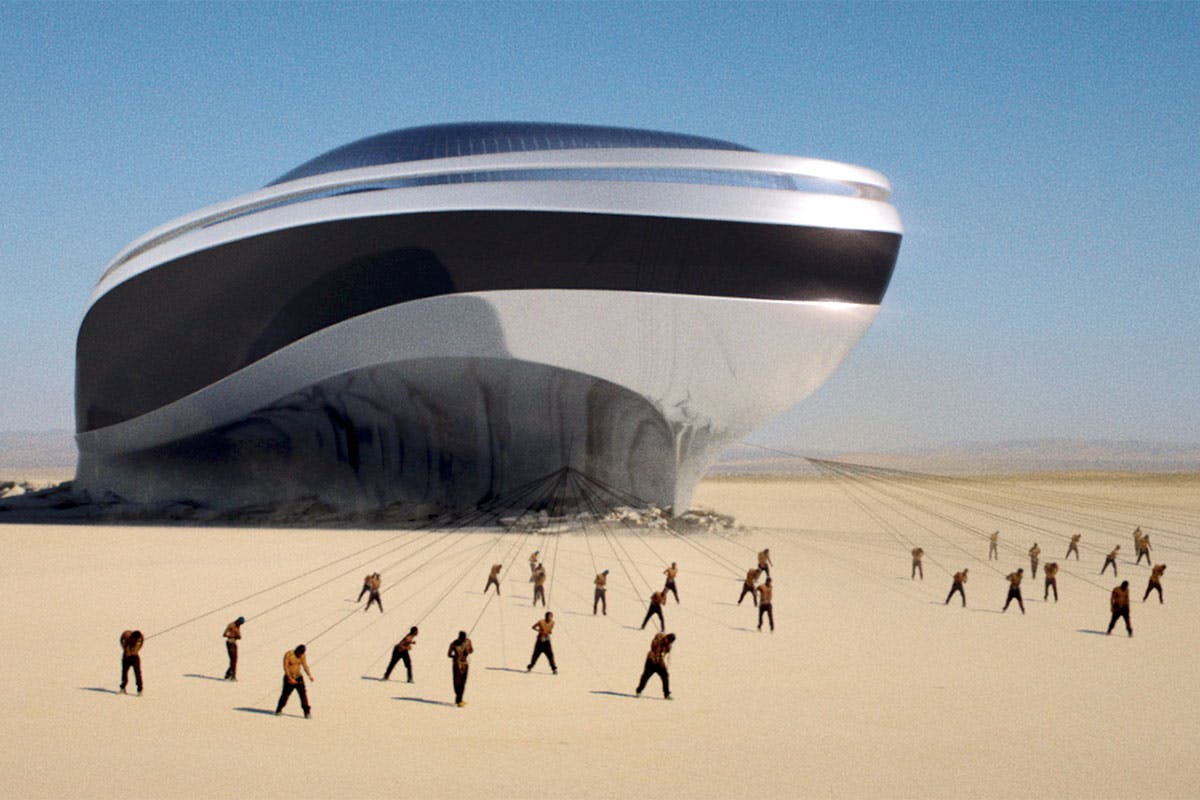 Over the summer, we were all treated to the latest astonishing video from Sevdaliza, one of today's most enigmatic and alluring musicians with a growing body of visual work to match. "Shahmaran," which initially appeared as the opening track on her 2017 debut album Ison, is a clip that is utterly epic in scope. It depicts such striking imagery as workers tugging a colossal boat through the sands and Sevdaliza reclining on a floating leather couch, her face adorned with a crystal face mask.
"Shahmaran" was helmed by Emmanuel Adjei, a director and visual artist who has developed an incredibly fruitful relationship with Sevdaliza, previously collaborating on her breakthrough video "Human." Highsnobiety spoke to Adjei to discuss the creation of "Shahmaran," his unique working dynamic with Sevdaliza, and projects such as his work with the brands Hugo Boss and Patta.
Tell us a bit about Sevdaliza's new video "Shahmaran" - what were some of the concepts you all were thinking about?
At its very core the idea stems from the music, and the end result is a symbiosis of music and visuals combined. Initially, it was important to listen to the lyrics, the track, and, most importantly, Sevdaliza's interpretation. Those were the foundations on which the concepts behind "Shahmaran" were developed. The visual element came to fruition after we came to an understanding that "Shahmaran" was her music to my story. Another concept behind the film and the visual sphere is the Greek notion of Hieros Gamos, or 'Holy Marriage.' It's more about the image of two souls blending with each other that was important to our vision, rather than the actual story, but it basically describes our artistic relationship and our collaboration as two artists, and the way in which the music and the visuals melt together.
What is the underlying message of "Shahmaran" and how do the visuals and music work together in this piece to deliver the message?
"Shahmaran" is utterly the marriage of music and visuals, not only to the enrich and rely on each other to communicate the message of the film, but they were driving each other further in the creation of both elements. Combined together, the piece questions the eternal fascinations and desires of the human mind. It's the story of the black man, who continues life in a cycle of oppression. The modern chains on black men today are the aspirations of decadence, power, and success that create a false sense of autonomy and freedom. This leaves them victim of addictions to power and materialism, unable to venture outside what is "expected" of their behavior. This is visible in the strong symbolic nature of the work, reflected in both the visual and the music. It's a stylized parable world that shares an almost biblical semantic.
We'd also like you to give us some insight into making Sevdaliza's "Human" video, a particular favorite of ours. What was creating that video like?
I can still remember the first time I heard the track, my mind was completely blown away. It was a no-brainer it needed visuals that would reinforce its universal message because it was clever and utterly powerful. It didn't take long before we got the initial concept to where it was in the final video, but fleshing it out visually was quite a task. Our budget was quite limited, but we had a talented team of creatives that helped us out with the production. Creating the video for "Human" was really fun because Sevdaliza and I knew we were telling this untold story that really reflected both our personalities in a way we haven't done before.
At the time that was shot compared to now, Sevda's audience has grown enormously, largely to that visual. Did you have a sense of what a success "Human" would be at the time?
No, not really. At the time we were quite overwhelmed by the amount of exposure it got straight after the premiere. But we knew the timing of the release couldn't have been better. Sevdaliza's fan base was growing already; she's been putting out audio-visual statements for a while, but "Human" resonated with a far bigger audience which made the video even more relevant.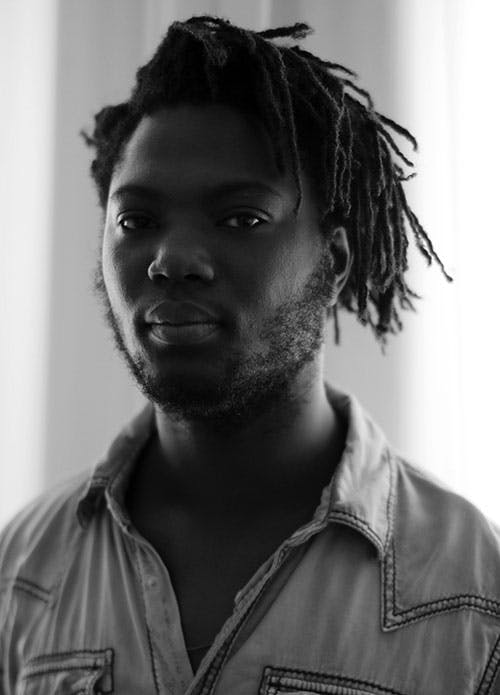 How would you describe your artistic relationship with Sevda? What do you think you two see in each other?
I have known Sevdaliza around four years or so. The first time I met her was after one of her shows. But I've felt a connection to her from the first time I listened to her music. Funnily enough, my introduction to her music was with the earliest version of "Shahmaran" (which wasn't even "Shahmaran" back then). There was something about her work I found so magical. I instantly knew I wanted to collaborate with her and when I reached out after her show, we connected on a very deep level. It was almost as if we knew each other from a previous life, spiritually and creatively. It sounds cliché, but artistically it was a creative marriage bound to happen. As soon as we started to exchange ideas, we realized that we share much of the same creative vision and interest. Our artistic relationship grew organically; we challenge, support and complement each other on so many levels. I think what really made us click initially, was that we both had a feeling of being in a sort of survival state as artists. We realized that our voices could be stronger together, reinforce, and elevate each other.
You've also worked with the likes of Hugo Boss and Patta on visuals. Is it different for you to translate fashion versus music into visuals? If so, how?
It's not necessarily different, but I always begin with a concept which I gradually build upon. The idea is in constant development up to the day of the shoot, even on the day of the shoot. As soon as you have a concept that is driven by the music or the identity of a brand, it is hard to get sidetracked. At first I would always listen to what a brand has to say or what kind of feeling/message an artist wants to capture with their music. It's always good to know why they want to work with you. This way, you know their motives and earn their trust. In the case for Patta, a few years ago they crossed over into the UK to open their London store, and so the film we created together was based on that message, the idea of following a journey to a new, uncharted place and chapter for the brand. Hugo Boss was a great creative exercise and collaboration with another brand who wanted to trust in the artistic vision. We shot on 35mm film and created a journey that pushed the freedoms of a commercial, something that more and more brands are doing today.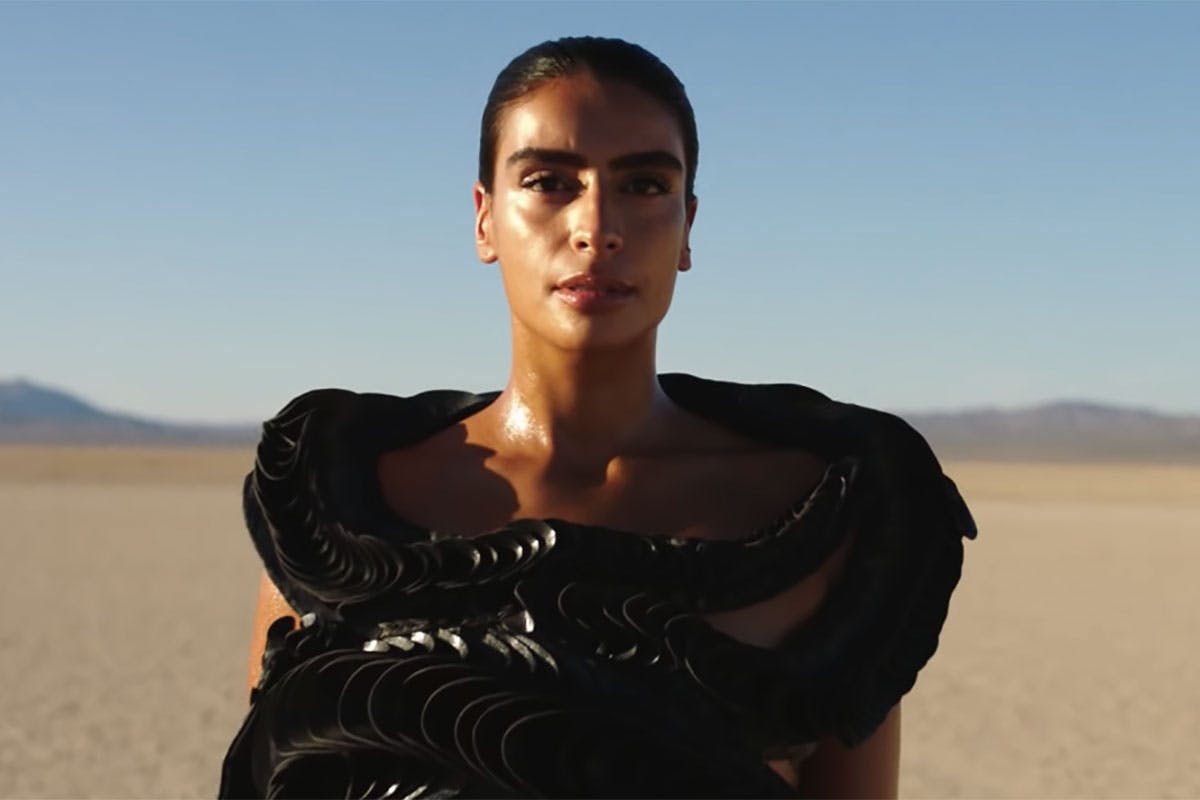 How did you get into filmmaking? What or who are some of your cinematic inspirations?
I studied Fine Art, doing many self-portraits and through performance and installations, I would create stages/decors for me to perform in, making up all kind of personas. It was actually then when I started collaborating with fellow artists ( the writer and DoP I still work a lot with now) with whom I felt the need to explore different narrative stories. I applied for Film School and after graduating I got the opportunity to make a short film with the same team. I then knew I really wanted to develop my artistic practice further within film. I guess my love for classical cinema is to be blamed not only the likes of Andrei Tarkovsky or Apichatpong Weerasethakul, but also directors like Stanley Kubrick and Terrence Malick, and anyone else who speaks in a poetic language. For me, each frame needs to be a painting. In order to achieve that, you get need to pre-visualise it a lot.
If you could describe your artistic aesthetic in a single word or object, what would it be and why?
Monumental. Every film needs to grab you from the very start.
For more of our interview features, read our chat with the multi-talented producer and artist Dâm-Funk right here.