Last Friday, more than 400 people gathered at The Times Center, New York, for the fifth edition of Slow Factory Foundation Study Hall Summit to discuss a sustainable future for the fashion industry. The event, in partnership with the Earth Institute at Columbia University and supported by the United Nations, brought together scientists, activists, culture-leaders (including the original queen, Ms. Tina Knowles-Lawson, and Yara Shahidi) with a solutions-focused approach to the anxiety-inducing climate crisis that we're facing.
Brands such as adidas, Bolt Threads, and G-Star Raw, joined in as the panels took a dive into some of the most complex environmental issues of the moment. With Slow Factory's mission on democratizing the sustainability movement, this included decolonization, labor rights, and the power of culture and community, with a heavy focus on the "climate positivity" theme and how sustainable fashion is a human right's concern.
In case you missed it, or just need a rundown of what "climate positivity" actually means, we took notes from the experts. Here are the 10 tips we learned from Study Hall on how the fashion industry can address its most pressing environmental issues.
1. The Science Calls for Immediate Action
You may or may not know the stats: we only have 10 years left to prevent irreversible damage from climate change, according to the United Nations. One thing Study Hall made extremely clear is that we're too low on time to hold space for token acts of environmentalism without substance and measured impact. The summit was solutions-focused, recognizing that the fashion industry produces 20% of global wastewater and 10% of global carbon emissions. As musician and presenter Jasmine Solano put it, "Everyone needs to be a climate enthusiast. We don't have time to be indifferent."
2. Climate Change Is a Human Rights Issue
The Slow Factory focused on "environmental and social justice", so it's no surprise that human rights were at the center of the discussion. Céline Semaan, executive director of Slow Factory Foundation, reminded us that the climate crisis is a refugee crisis, with climate change already displacing one person every two seconds, and Lilian Liu, sustainable strategist at Futerra, explained fashion's labor rights issue on a panel exploring the "global garment workforce". "1 in 6 people in the world work in a job related to fashion. That's 60 million people worldwide," she said. "Only about 2% earn a living wage."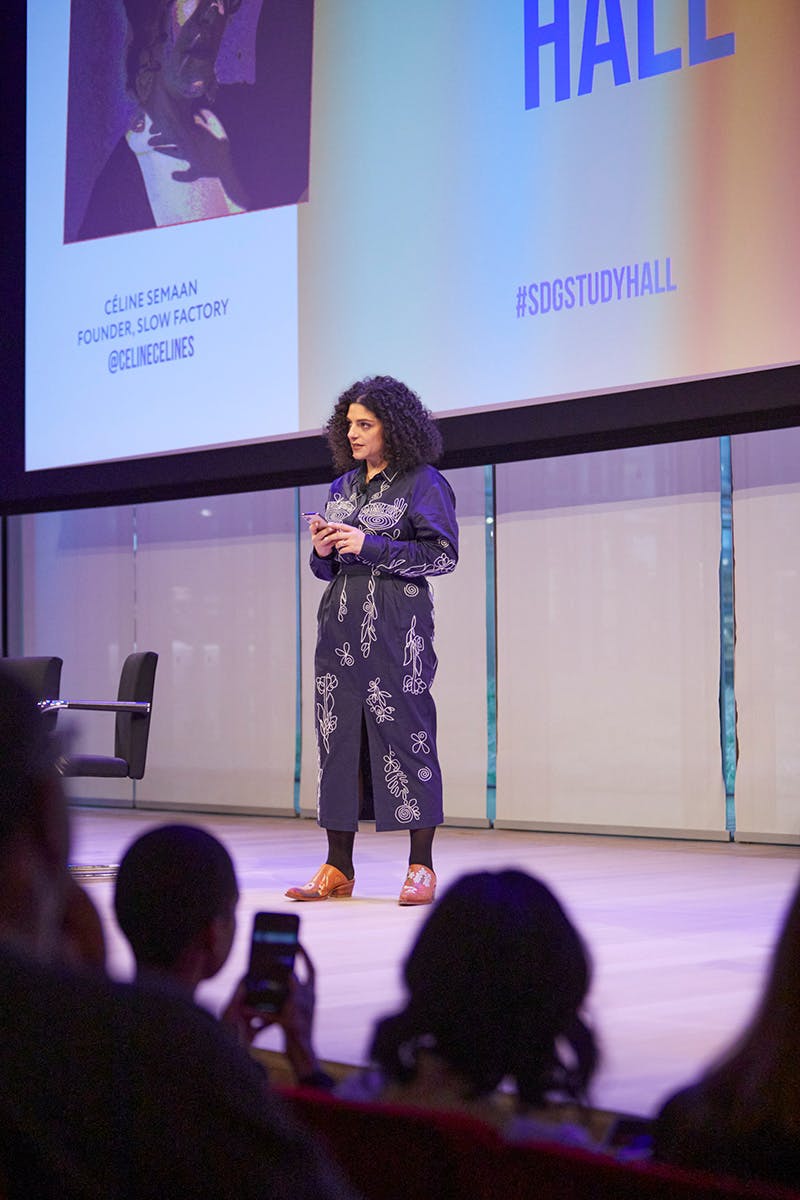 3. Sustainability Is Also a Gender Issue
A number of speakers at Study Hall referenced that educating girls was listed as the sixth most important climate solution by Project Drawdown, factoring in that women with more years of education have fewer children and reach higher wages. "We need women leading in order to meet the technological needs of the future," said fashion designer Mara Hoffman. The conference itself also reflected this by having a predominantly female lineup, including Mari Copeny (Little Miss Flint), Yara Shahidi, and Ms Tina Knowles-Lawson.
4. Fashion Has a Microplastics Problem
Microplastics, small pieces of plastic less than 5mm, are relatively new to the sustainable fashion discussion as we continue to learn about the ways in which they impact our planet and ocean's health. While they are part of the overall single-use plastics problem, the use of synthetic material in clothing (that then shed off our clothes when we wash them) makes the fashion industry also a culprit. Marco Tedesco, a scientist at Columbia's Lamont-Doherty Earth Observatory, reminded us that these microplastics have been found in arctic snow. "We have to be made clear: all of the plastic that has been made is still around. It's not going anywhere," he said at Study Hall. Also, there's already microplastics on the planet than stars in our galaxy.
5. There Are Already Scalable Solutions at Our Fingertips
Since Study Hall was solutions-focused, it featured a number of people and initiatives that are creating scientific solutions now. One of these was Theanne Schiros, Assistant Professor at FIT, who passionately believes that our future fabrics could be bioengineered (made from living bacteria, algae, fungi etc). Schiros is particularly excited about algae, working her students at F.I.T. to create an algae-based yarn like fibre that can be knitted into apparel. She previously wore a tank top knitted with the yarn for her TED Talk on sustainable fashion and has co-founded Algiknit, a biomaterials company integrating science and design into textile production.
6. If It Doesn't Involve Decolonization, It's Not a Solution
"Indigenous people make up about 4% of the world's population and we are still protecting 80% of the world's biosystems," Korina Emmerich, artist and designer, stated in her land acknowledgement. At Study Hall, amplifying black and indigenous voices was posed as one of the most crucial climate solutions and was not afraid to criticize often white-washed environmental movements. "Indigenous people have always understood the equilibrium of working with the land instead of against it," said model and activist Haatepah Clearbear when discussing the power of education, community and culture.
Co-founder of Sustainable Brooklyn, Whitney McGuire's land acknowledgment was also a first for all industries, recognizing the need for labor acknowledgment from black voices. Her co-founder, Dominique Drakeford, related, "We disrupt the sustainability literacy space by placing black and brown indigenous people of color at the forefront."
7. There's Hope in the Next Generation
With the recent unprecedented growth of the School Strike For Climate movement, people are increasingly recognizing the power of youth activism. That was also true for Study Hall, as some of the most popular speakers at Study Hall were the youngest, including Yara Shahidi and 13-year-old Mari Copeny. "It's not that young people aren't interested in politics, it's do we have access to act on our passions?" said Yara Shahidi in the culture-focused panel. Empowering young people was a central theme to the proposed climate solutions and the inspiring young guests demonstrated that it is possible to create change at any age.
8. Climate Positivity Is Next and Necessary
The term "climate positivity" was this year's theme for Study Hall, proposing that it goes beyond the vagueness of sustainable fashion by offering scalable solutions. The Slow Factory has previously discussed climate positivity as "going back to our roots of living in harmony with nature", "an activity that goes beyond achieving net zero carbon emissions to actually create an environmental benefit", and "ecologically regenerative projects and practices in alignment with environmental justice for black, brown, and infigenous communities". Semaan wants us to move forward from aiming to create things that are "less bad" for the planet, and instead look towards things that are good for the planet. She hopes the new definition will continue to be shaped by the Slow Factory community.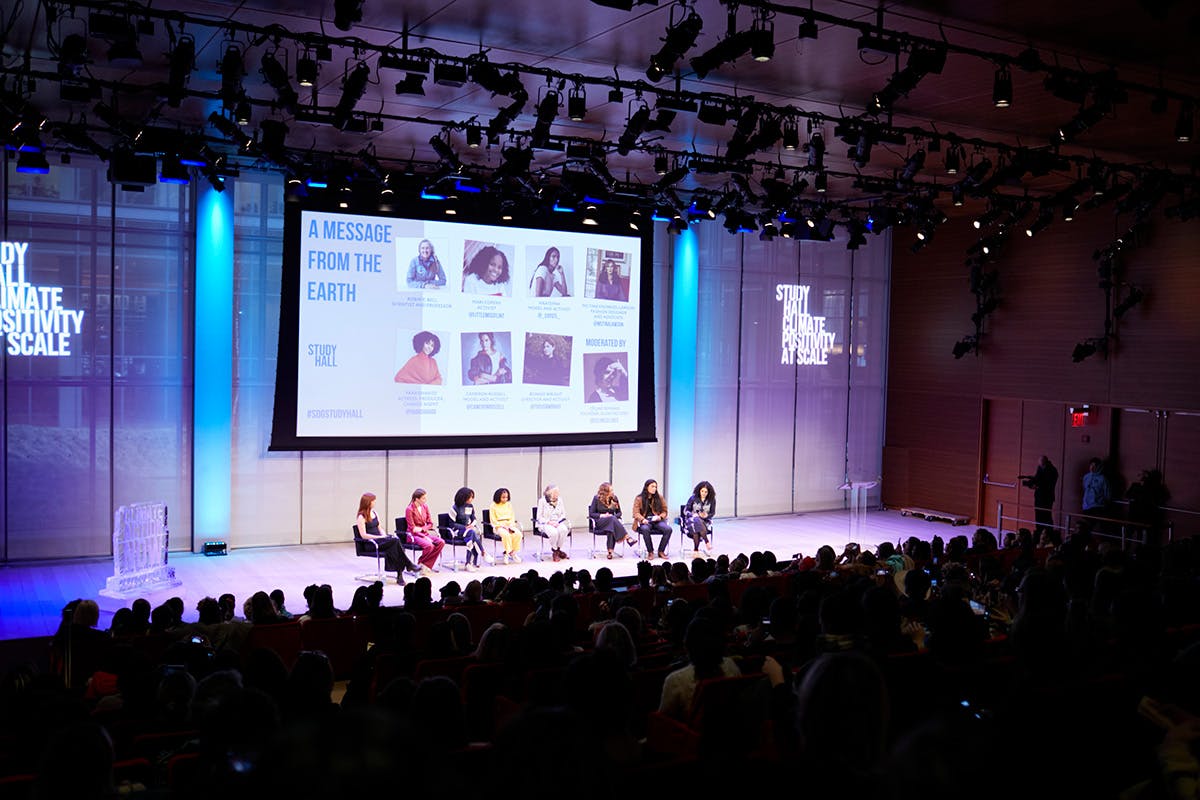 9. Taking Action Looks Different to Everyone
"We must all become professional troublemakers within our given industries," said Dr. Ayana Elizabeth Johnson at the beginning of the day. The keywords "within our given industries" became emphasized as the day went on, with an overall emphasis on us all contributing with the strengths and talents we have individually. "Just because you're inspired by a leader, doesn't mean you have to be that leader," said Bonnie Wright, director and activist. For many of us, this may mean getting involved in a local, already established initiative. It could also mean contributing to scientific research or influencing culture.
10. Culture Will Lead the Way
While we must listen to the science behind our climate crisis and embrace advances that make solutions possible, there also undeniably needs to be a culture shift towards a fashion industry that puts environmental and social equality before profit. Ms Tina Knowles-Lawson spoke to the importance of embracing different cultures as we work together towards change and Dr. Ayana Elizabeth Johnson reminded us that: "Policy and legal change follows culture."