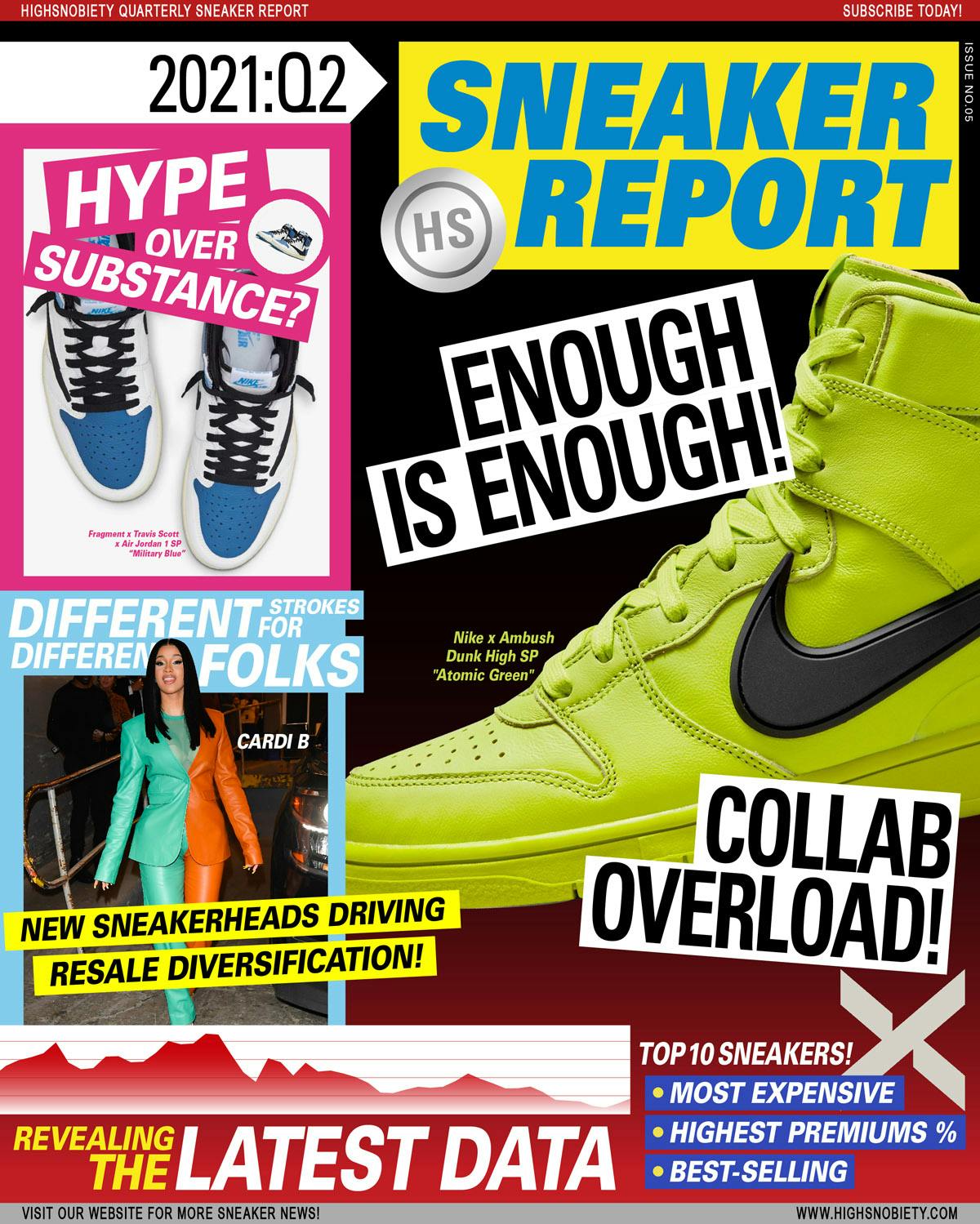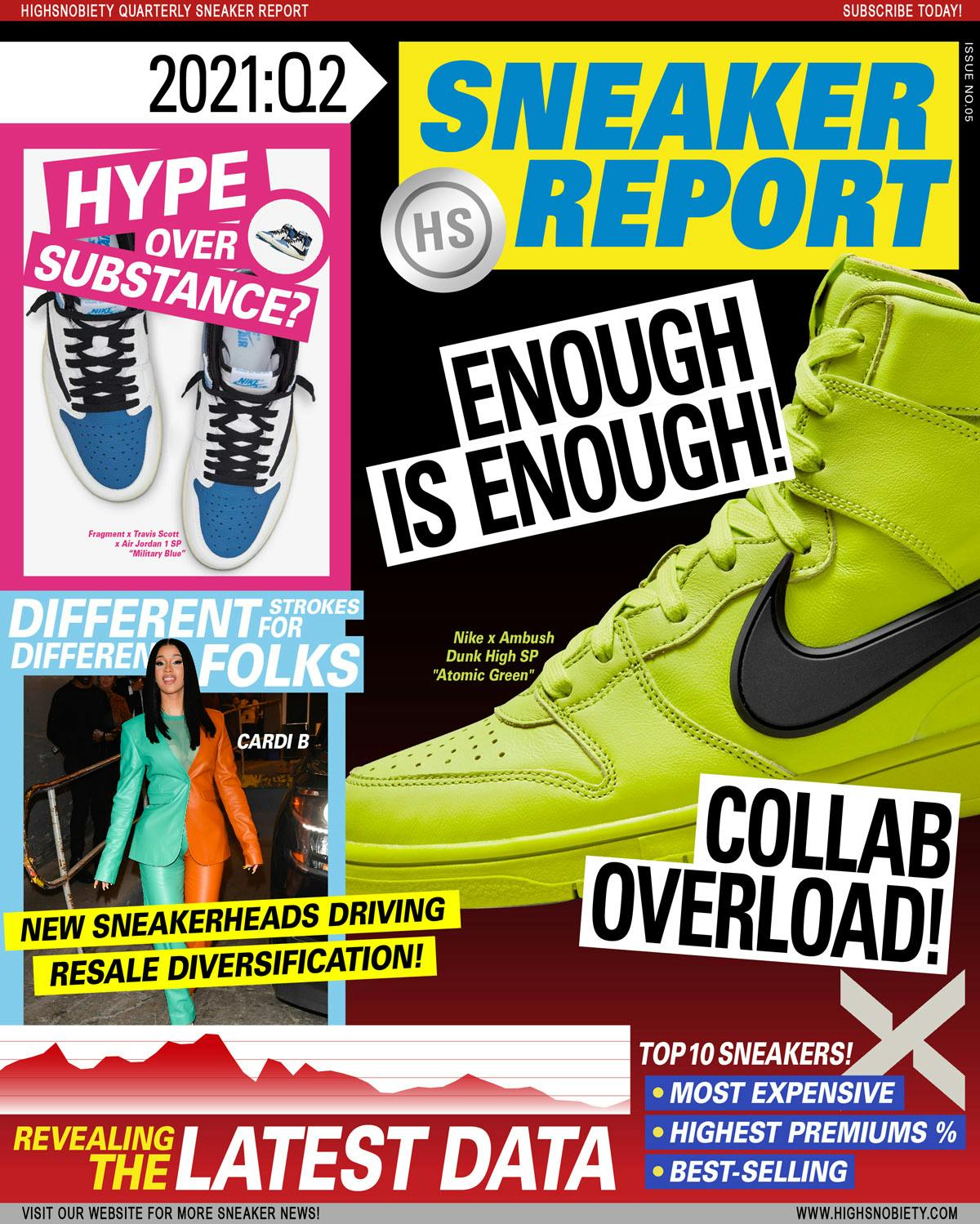 More than half the year is already over and, with the end of summer soon to follow, we can begin to paint a picture of what direction the sneaker market — both at retail and resale — is taking in 2021.
As we do every quarter, Highsnobiety has teamed up with the data wizards at StockX, who recently released their own report, to illustrate the biggest trends and storylines of the past few months. Instead of limiting ourselves to just Q2 2021, as we have done in the past, we're using this report as an opportunity to take a look at all of 2021 so far. Call it a halftime report, if you will.
While Q2 was somewhat slower than other quarters before it (more on that later), a lot has still happened in 2021 thus far. Releases have not slowed down, Nike still seems to be releasing a Dunk every other day, and collaborations are getting bigger (and more saturated) than ever. Add to that the fact that the sneaker landscape is continuing to develop, with new and increasingly diverse consumers joining the fray. It's no surprise that the industry is moving and evolving at hyper-speed.
If you're marginally into sneakers, you'll have seen what went down over the past eight months. In this report, we'll decipher what that means, and discuss what the future of sneakers holds. As always, read on for the industry's most insightful sneaker report.
Is the Sneaker Industry Collaborating Itself to Death?
What do adidas' 26 A-ZX collaborations, Travis Scott x fragment design x Nike, and sacai's whirlwind of projects have in common? They represent an era in sneaker culture that has put collaborations on a pedestal, resulting in an unhealthy obsession with hype. What once made sneaker collaborations special — scarcity, high barriers to entry, and authentic storytelling — has been replaced with an Oprah Winfrey meme-esque "you get a collab, you get a collab, everyone gets a collab" approach to co-branded sneaker projects.
The obsession with getting, designing, and buying a collab has resulted in brands cannibalizing themselves with the frequency at which they release sneaker collaborations. Too often nowadays, collaborations feel like they're ticking boxes, or exist for collaboration's sake. To summarize: there is an over-saturation of sneaker collaborations.
So much so, in fact, that it has had an effect on the resale market — one of several barometers to measure how successful a sneaker is after it is released. "We've seen an uptick in the supply of new collaborative releases, and now-familiar partnerships are producing more models and colorways than ever before," reveals StockX chief economist Jesse Einhorn.
StockX data shows that, as the number of collaborative releases has gone up, the price premiums of those same projects have gone down. To illustrate this, we highlighted three popular partnerships: AMBUSH x Nike, sacai x Nike, and Aimé Leon Dore x New Balance — and compared the resale premiums and release numbers for their drops in 2020 versus 2021. The former two saw stark increases in the number of releases, with both having nearly 75 percent more sneakers released in the first eight months of 2021 than in the entirety of 2021. At the same time, the price premiums of those releases are down over 30 percent for both projects versus 2020.
"A surge of new drops can lead to a decline in average price premiums. Some proven collabs that used to trade on StockX for 2x or 3x retail are now reselling for significantly less," says Einhorn. "On the flip side, it means more consumers have access to a product that they wouldn't otherwise."
That's not to say that those sneakers are not still selling for well over retail. They are, and many of the sneakers from 2020 are reselling for even more in 2021 than they were in 2020. But the data set shows that, as these projects pump out more sneaker collaborations at a higher rate, their value on the resale market drops. Hence, one could argue that interest in the sneakers has also dropped, though of course, there can be a myriad of other reasons for that drop — larger stock numbers being one.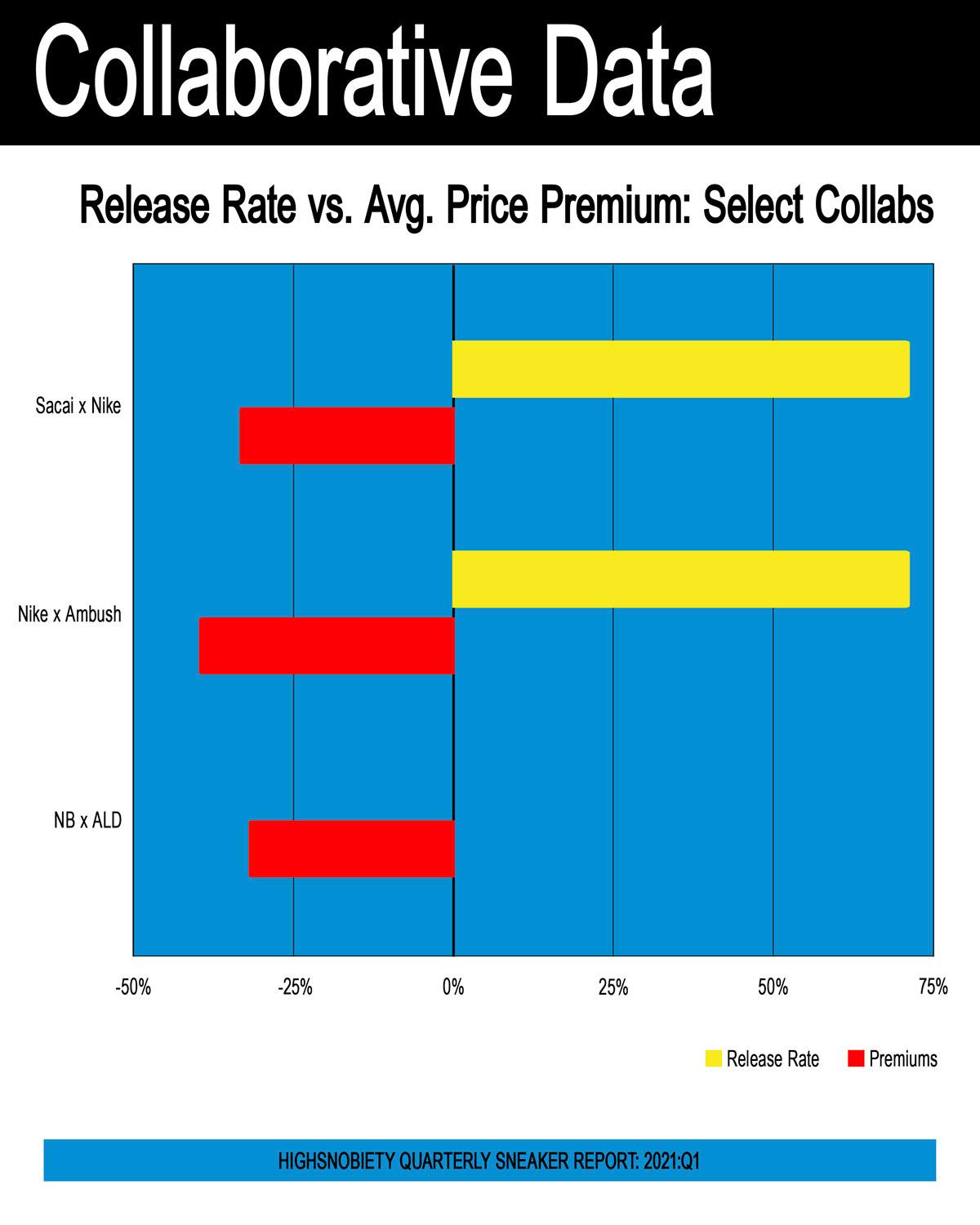 "These collabs still inspire considerable hype, and they remain profitable for resellers: their current premiums, while lower, are still bigger than a typical non-collab sneaker," adds Einhorn. "But because of the increased supply, they simply aren't fetching the extraordinary prices of years past, and the data here clearly shows that."
Interestingly, Aimé Leon Dore x New Balance has not produced any more sneakers in 2021 than in 2020, but still, the price premiums are down over 30 percent year-on-year. A different year brings a different zeitgeist and a different type of demand, as well as other competitors on the market. All of these could be reasons for the drop in ALD's price premium. But it stands to reason that when several colorways of the same collaborative shoe (such as the 550 in ALD's case) are released, the first few colorways remain the most special and coveted, with subsequent releases losing value.
adidas YEEZY's increased supply of the Boost 350 V2 is a good example of that. Or Virgil Abloh's "The Ten," which quickly warped into "The 50." There, the resale prices of the original sneakers are ridiculously high, while the colorways and models that followed never lived up to the high bar set by the OG.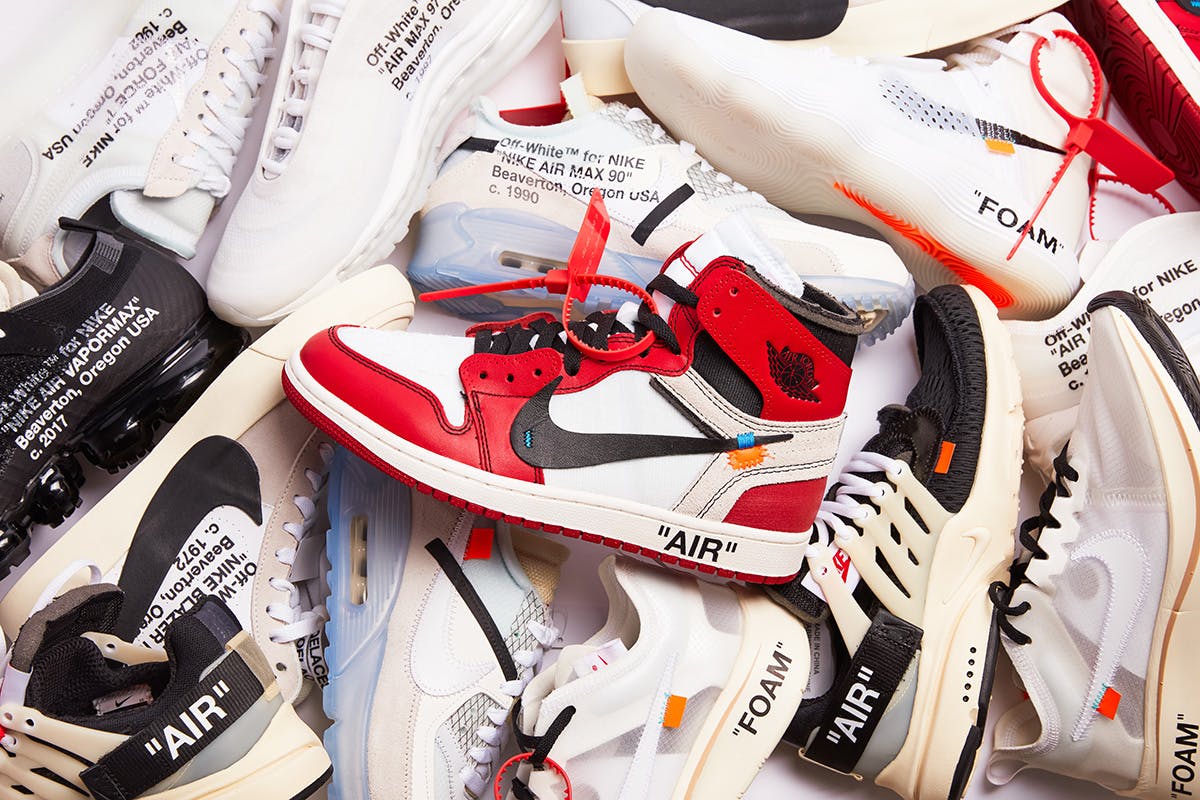 On the other hand, however, there are some collaborations that seem to be resistant to the over-saturation. The aforementioned Travis Scott x fragment design x Nike Air Jordan 1s are the most-hyped sneakers of the year. That, although they are the very epitome of hype over substance.
"Jordan Brand and Fragment have a long history of collaboration, yet its popularity is anything but exhausted: the Jordan 1 Low is trading for 900 percent above retail, and the Jordan 1 High boasts an eye-popping 1400 percent premium," says Einhorn. "Certainly, adding Travis Scott as a third co-signer played an enormous role, and it's hard to know how much hype this collab would garner if the only two names were Nike and Fragment"
Travis Scott isn't the only one engaging in three-way collabs. It remains to be seen how the seven further sacai x Nike LDWaffles (with three different partners, no less) will fare in the coming months, though it's likely they, too, will suffer from there being so many slight variations of the same shoe.
The media and the consumer aren't blameless in this, as we play along to fan the fire of hype and, ultimately, vote with our wallets and social media posts. As long as brands think this is what the consumer wants, this is what the consumer and the industry will get. At the end of the day, brands are out to make money, and currently, they stand the best chance of doing so by catering to the hype machine.
The Diversification of the Resale Market
The sneaker and fashion industries still have a long way to go in terms of diversity and inclusion — particularly when it comes to positions of power at major brands and multi-national corporations. Things look a lot better on the consumer side of things, however.
"StockX continues to expand internationally, and over the past year, we've seen record growth in a number of new markets," says Einhorn. "Brands like New Balance, Crocs, and Alexander McQueen are growing much faster overseas than they are in the US. As our Current Culture Index report shows, their increased market share is being driven by strong international demand and an increasingly diversified customer base."
Geographically, the platform's new users are growing at a rapid rate, with non-US users growing quicker than ever. The same goes for female users, who are quickly adding up to have a powerful voice on the platform. This boom in diversity on the consumer side has meant that certain brands and sneaker silhouettes have seen surprising growth in 2021 so far.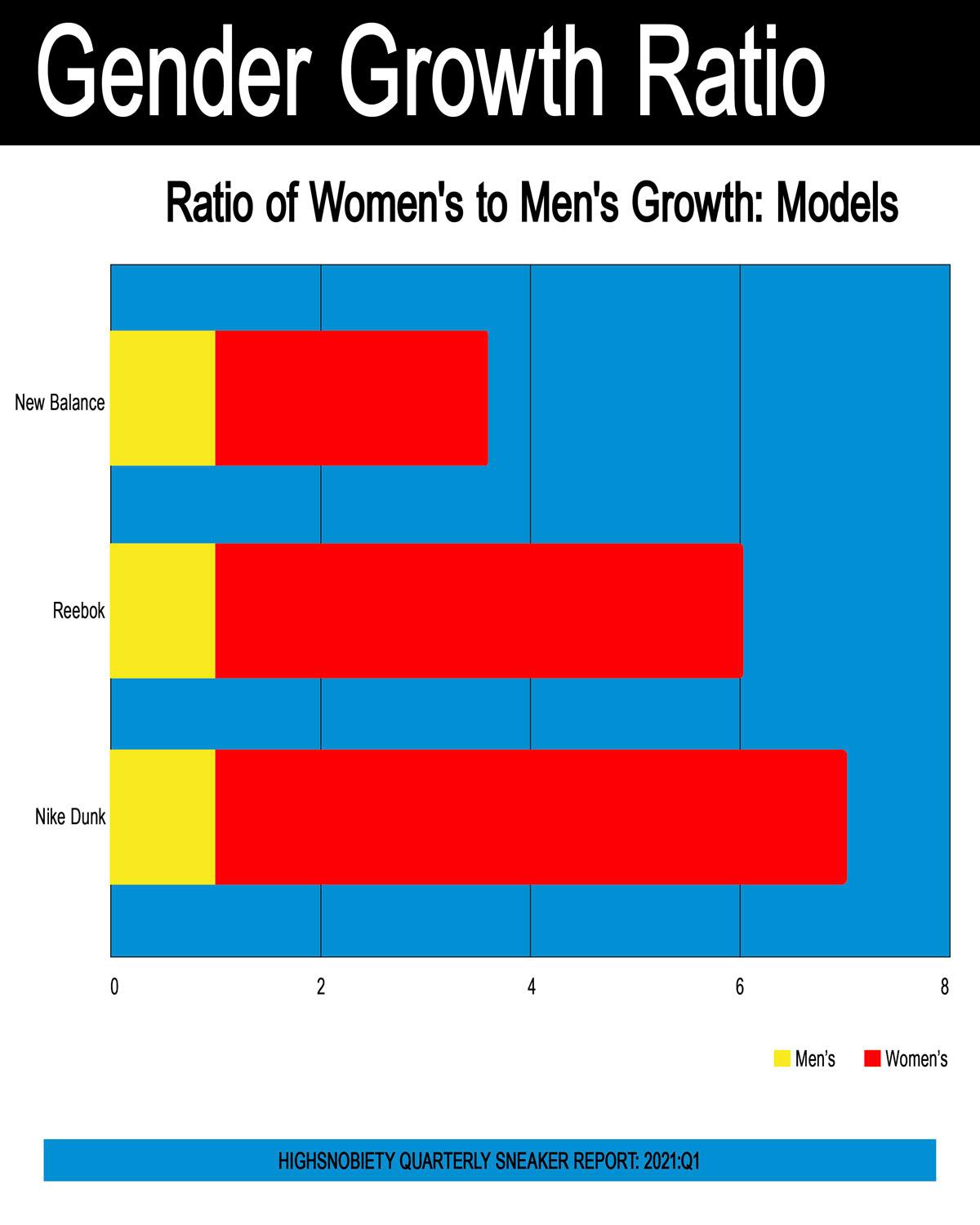 "Globally, Alexander McQueen saw 370 percent growth in the first half of 2021 — an impressive number, by any standard. But outside the US, growth was even stronger, with trades of the luxury brand's sneakers up over 1,000 percent year-over-year," highlights Einhorn. "Crocs have been one of the fastest-growing brands on our marketplace, thanks in part to strong demand in Canada, the UK, and Southeast Asia."
In the past, we've seen that different cultures breed sneakerheads with very different tastes. The Nike Air Jordan 1Mid, for example, is a shoe that gets close to no love in the United States, but was one of the most popular shoes in Europe last year. Similarly, Bad Bunny and J. Balvin's collaborations with adidas and Nike respectively were unsurprisingly incredibly popular in their own country.
It's not news that tastes vary from country to country and continent to continent. The sneaker culture in Europe has always looked very different from that in the USA. With sneaker resale platforms such as StockX expanding internationally and more consumers getting access to the secondary market, it makes sense that we're beginning to see these diverse tastes represented in the data. They've been there all along, but it's taken a while for the resale market (at least on organized platforms) to reflect them.
Perhaps more interesting than the diversification of resale through its international expansion is the power and diversity new female users bring to the secondary market. As the graph above shows, New Balance and Reebok's otherworldly growth is primarily due to women.
"The share of women's exclusive products on our platform continues to increase, and our female customers are driving sales growth for some of the biggest brands on our marketplace," explains Einhorn. "For far too long the sneaker and streetwear space wasn't inclusive, but the market is shifting to become a more balanced one."
New Balance was one of the fastest-growing brands regardless of gender on StockX in 2021 so far, but the brand's women's sneakers are growing 2.5x quicker than the men's. Reebok's women-led growth is even more impressive, at 5x men's, but most impressive — and surprising — is Nike Dunk growth, where women are outperforming men 6x.
"Reebok saw year-over-year sales increase by more than 200 percent in the first half of 2021. Much of this growth can be attributed to the success of the Club C silhouette. Trades of Club C sneakers are up more than 500 percent, and the credit goes to Cardi B," explains Einhorn. "The top-traded Club C sneakers on StockX are all women's exclusive Cardi B releases, which speaks to both her influence as an artist and the rising purchasing power of female buyers."
But it's not just mainstream sneaker brands that are benefiting from the increase in female buyers and sellers. Brands such as Alexander McQueen, who don't usually come to mind when thinking of the secondary market, are so well-traded that they are breaking into "best of" lists.
"Alexander McQueen has seen rapid growth this year (+370 percent) thanks to a high number of women's exclusive releases," notes Einhorn. "Three of the top 10 best-selling Alexander McQueen sneakers on StockX are women's exclusive releases."
Q2 2021 Snackables: Most Expensive, Most Popular, and Biggest Price Increases
To stay updated on everything happening in the sneaker world, check out the best sneakers to add to your rotation this week, follow @highsnobietysneakers on Instagram, and sign up to our newsletter for early access to the best drops sent straight to your inbox.