This year, everything paled in comparison to Covid-19's devastating effects. The pandemic's far-reaching tentacles altered the way we live — and likely will live for the foreseeable future. The way we work, the way we spend our free time, what we wear, how we spend our money, and much more was carefully re-examined by the majority of the world's population over the past 10 months.
That change also befell the sneaker industry. Drops were pushed back, in-store raffles were canceled, and stores had to close. While Covid-19 did not manage to bring the behemoth that is the sneaker community to a complete halt, however, the footwear industry took a double-digit hit on the retail level, according to NPD, who predict that sales trends are expected to recover and stabilize in 2021. StockX data, on the other hand, shows that an incredible amount of money was again spent on the resell market, which — at times — almost seemed pandemic proof. Make no mistake, though, each of the biggest footwear storylines of 2020 was impacted in some way or form by the pandemic, some changes tangible and some less so.
As we do every quarter, we've teamed up with the data wizards at StockX to tell this year's biggest stories and, in 2020, there were a lot of winners. New Balance saw its popularity soar thanks to an incredibly smart and brilliantly executed collaboration strategy. The Nike Dunk obliterated the competition and rose to an unrivaled level of popularity. Michael Jordan's line of retro Air Jordans saw a rather unexpected resurgence on the resell market. Kanye West's YEEZY juggernaut continues to chug along, carving out its own niche and setting trends without you even realizing.
This is 2020's fourth and final sneaker report. Usually, the reports are quarterly, however, instead of looking at what happened from October to December 2020, we're taking a look at the year as a whole.
Nike Dunked On Us In 2020
Perhaps the best stat to demonstrate the Nike Dunk's domination in 2020 is this year's biggest price premium list. All 10 sneakers are Nike Dunks. Eight pairs are SB Dunks, while the other two are mainline Dunk Lows. Simply put, if you bought Nike Dunks this year, chances are you either made a lot of money by flipping them or spent a lot of money on the secondary market — $55 million on StockX alone, to be exact.
Either way, it's clear that it's the shoe of the moment, as not just newer releases such as Travis Scott's SB Dunk Low or the Ben & Jerry's Chunky Dunky are reselling for four-figure sums — older releases from the model's first heyday in the early '00s have steadily increased in price.
Our Dunk 30 Index (above), which StockX put together exclusively for Highsnobiety during our Q2 report, shows the average price of 30 carefully-selected Nike Dunks that were released in 2018 or before. As the chart shows, price appreciation has nearly doubled since January 2019. The biggest price jump took place in the last 18 months when the Index was valued at just under $250 and jumped to over $450.
The level of popularity sustained over the past two years begs the question: When will it end? Peaks inevitably give way to troughs, and while the Dunk is still as popular as ever, that popularity looks to have peaked. The past three months show a plateaued index price, and recent releases have not resold for the exorbitant sums we saw in Q2 or even Q3 of 2020.
"What we saw this year in the SB Dunk market was truly unprecedented," says StockX's chief economist Jesse Einhorn. "During the spring and summer, we saw close to 10 new colorways that resold for 10x retail or more. The combination of authentic storytelling, collaborative partnerships, and social media hype drove demand through the roof."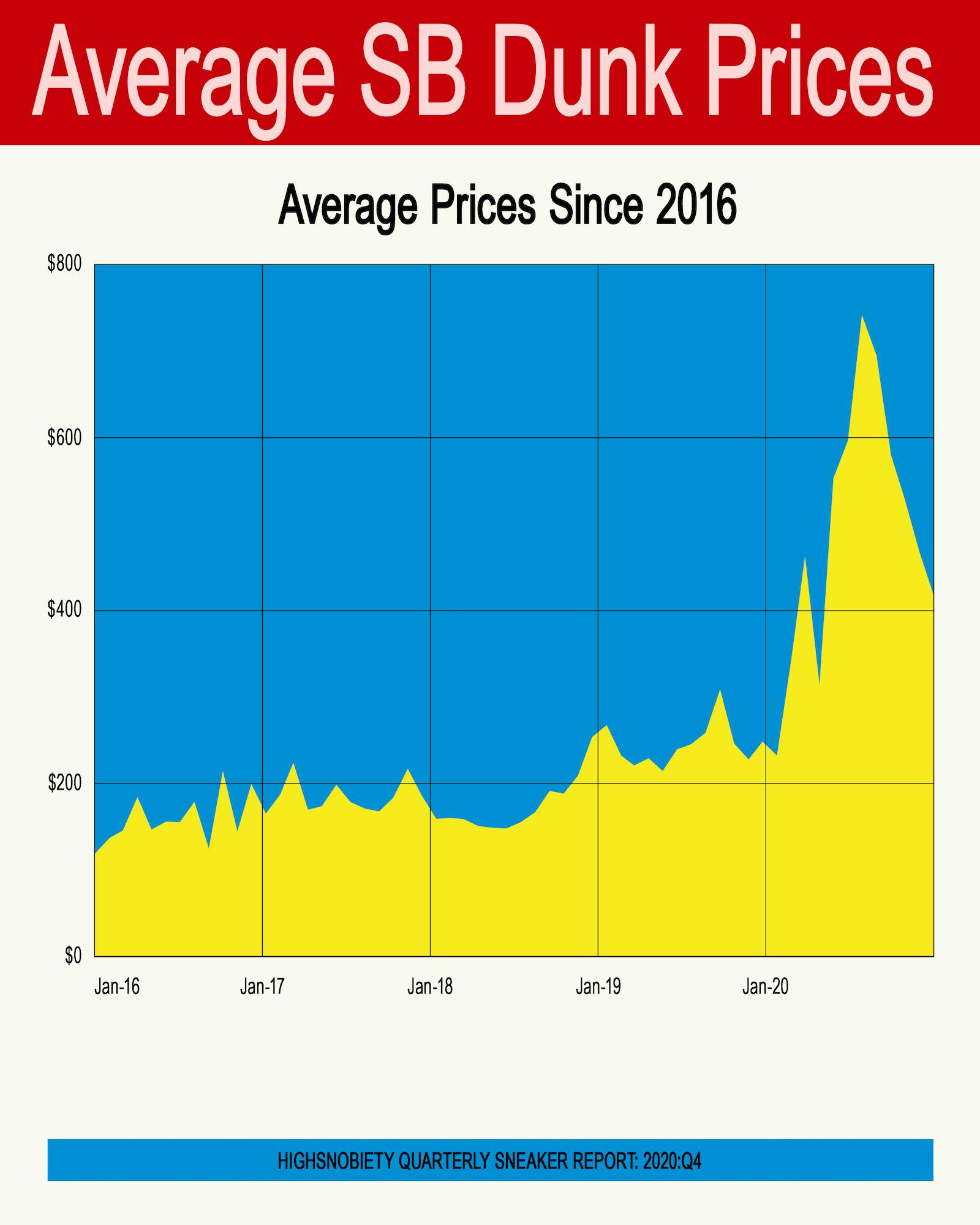 The next chart shows the average Nike SB Dunk price since 2016. In January 2020 that price was just over $200. In the summer, it was closer to $800, but has since fallen to around $400, still double what it was before. The steep price drop since the summer can have several reasons, one being that summer 2020 saw several incredibly high-profile Nike SB releases that helped bring the average price to an unsustainable level. Secondly, summer 2020 was when early Covid restrictions were beginning to loosen and more people were going outside. Though speculation, it could be that sneakerheads bounced back from a relatively dry first half of the year and went all-in on the more hyped releases.
The downward trend does suggest that the Nike Dunk hype is beginning to slow down, though it is worth noting that slowing down does not necessarily mean it's over. "There has been a softening in the SB Dunk market over the past few months, but it's important to keep that cooldown in perspective," echoes Einhorn. "New releases continue to resell for between 2x and 4x retail — that's a level of hype that any other brand would strive for."
The Dunk hype will not last forever, however — there are signs this could be the beginning of the end, albeit a very drawn-out end.
Michael Jordan Is Still the GOAT of Sneakers
Anyone with a Netflix account or cable subscription with ESPN on it this Spring will tell you that Michael Jordan's GOAT status on the court is untouchable. His sneaker legacy, though, is in a league of its own, as 2020 proved — MJ is still the GOAT of sneakers. This year, Jordan saw his sneakers fly off the shelves and skyrocket in value on the secondary market. The Last Dance was a marketing phenomenon that created a different type of demand for his product — one that hadn't been seen in decades.
Shortly after the show aired, StockX's data suggested that Jordan Brand resale prices did a 180 when compared to the trend pre-show. Whereas in Q1 2020 Jordan Brand resale prices were actually declining, they began to rise from April onwards. An extreme example of the legacy of The Last Dance is the price appreciation of the Nike Air Jordan 1 OG "Chicago" from 1985. Before the show aired, its last sale on StockX was in 2017, for $3,023. After TLD, there were four sales, at an average of $7,360.
"While 2020 was a breakout year for many smaller brands such as New Balance and Crocs, the biggest winner was Jordan Brand," claims Einhorn. "In terms of market share, Jordan Brand had its biggest year in StockX history and boasted five of the 10 biggest releases of the year."
The Last Dance effect is probably best exemplified in the above graphic, which shows Jordan Brand's growth on StockX, as measured by changes in GMV. We've split the growth into three categories: men's, women's, and the Air Jordan 1 Mid. The men's market growth of 65 percent is already impressive enough, but the fact that the women's Jordan Brand sneakers have nearly doubled speaks to the democratization of sneaker culture and a much-needed female influx into an industry that is still too male-dominated.
With StockX predicting its female users will continue to grow — having already grown by over 130 percent in 2020 thus far — it is definitely worth Jordan Brand's time and money to invest in authentic ways to speak to and engage its female fans.
The Jordan 1 Mid's meteoric rise is influenced by tastes that vary geographically. In Q3 2020, Air Jordan 1 Mid sales made up 63 percent of all AJ1 sales (excluding Lows) this quarter in France, Italy, and the United Kingdom. Meanwhile, the figure is almost reversed in the US, where they made up 41 percent of all sales. The 200 percent increase in GMV across 2020 is almost certainly attributed to Europe's fascination with the Air Jordan 1 High's "ugly stepbrother."
Being flexible across markets — both geographically and demographically — will continue to prove to be a recipe for success, not just for Jordan Brand, but for any sneaker brand hoping to make a difference and cultivate a passionate and loyal consumer base.
WFH Changed Everything
It's no secret that the pandemic had a huge impact, not just on how we wear sneakers, but the type of footwear we bought and wore in 2020. With sneakerheads stuck at home and perhaps feeling some of the financial effects of the pandemic, many turned to more affordable — and most of all, comfortable — footwear options. YEEZY and Crocs were two of the biggest winners in that space, though sportswear and luxury brands also managed to grab a slice of the pie.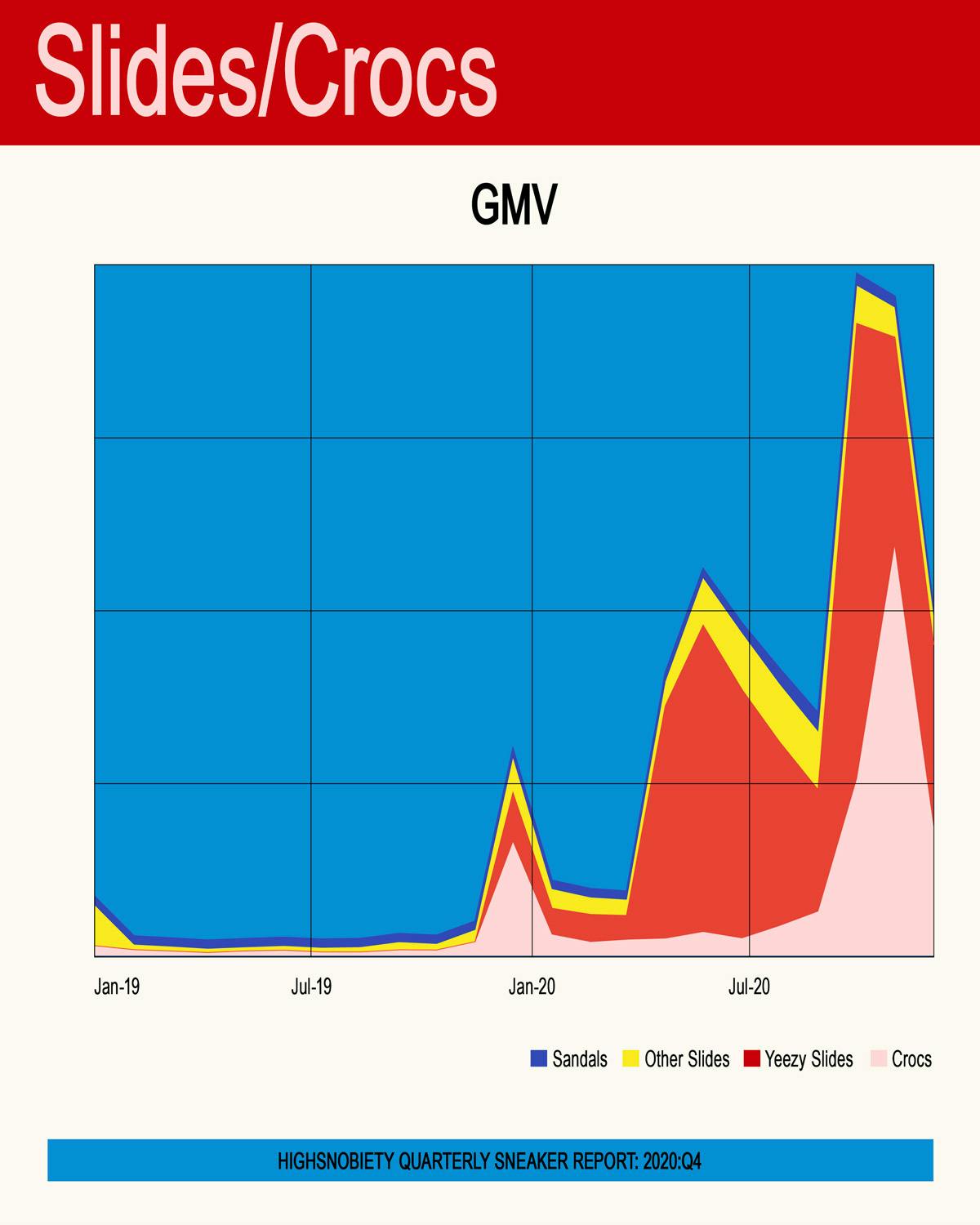 The above chart shows the aggregate gross merchandise value (GMV) of sandals, YEEZY slides, other slides, and Crocs. The first uptick in GMV clearly coincides with the first lockdowns in March and April, which totally changed most peoples' daily routines. Without a daily commute or reasons to go outside, people were stuck inside and had little to no use for their shoes. But if there's one thing that's predictable, it's that sneakerheads love spending money and buying new things. In March and April, for a lot of sneakerheads, that meant stocking up on new sandals and other open-toe footwear.
"The pandemic has had a profound impact on footwear and fashion, and StockX data shows a clear shift in consumer preferences," explains Einhorn. "With more people stuck at home, comfort-minded consumers are turning to slides, Crocs, and sandals in record numbers."
The record numbers Einhorn is referencing are obvious when looking at the chart. Crocs, for example, saw a 750 percent increase in sales year-on-year on StockX. YEEZY slides, on the other hand, saw a formidable 400 percent increase. "What became clear in 2020 is that the right partnership with the right artist can take a brand such as Crocs — a company with little clout in the sneaker space — and position it at the center of the hype market," explains Einhorn.
Crocs collaborations are nothing new, having started around 2016 and entered the mainstream in 2018 at the latest. Over the past 12 months, however, Crocs really pushed its collaboration strategy to the limit. At times, it felt like everyone was getting a Crocs collab. The aggressive push looks to have paid off, as Crocs is now collaborating with some of the biggest names in the game, some of which are helping the brand move into new, previously unconquered territories.
"Sneaker culture is universal, but regional-based loyalties are becoming increasingly influential," reveals Einhorn. "Justin Bieber Crocs are uniquely popular in his home country of Canada; Bad Bunny Crocs are purchased at much higher rates in Puerto Rico and Mexico. As a global marketplace, it is fascinating to watch these local patterns emerge and shape the overall resale market."
WFH footwear's second spike came towards the end of summer. At first, this may seem counter-intuitive, as temperatures were beginning to drop. However, the second spike coincides with the release of several high-profile Crocs collabs (such as those with Justin Bieber and Nicole McLaughlin), and came at a time when people were moving back indoors, as summer had allowed for relatively unrestricted movement.
With vaccines on the way, it remains to be seen how much of a factor Covid-19 will have on the popularity of slides and sandals. It's highly possible, though, that this preference for comfortable footwear will remain with us for the foreseeable future.
Snack-Sized Sneaker Stats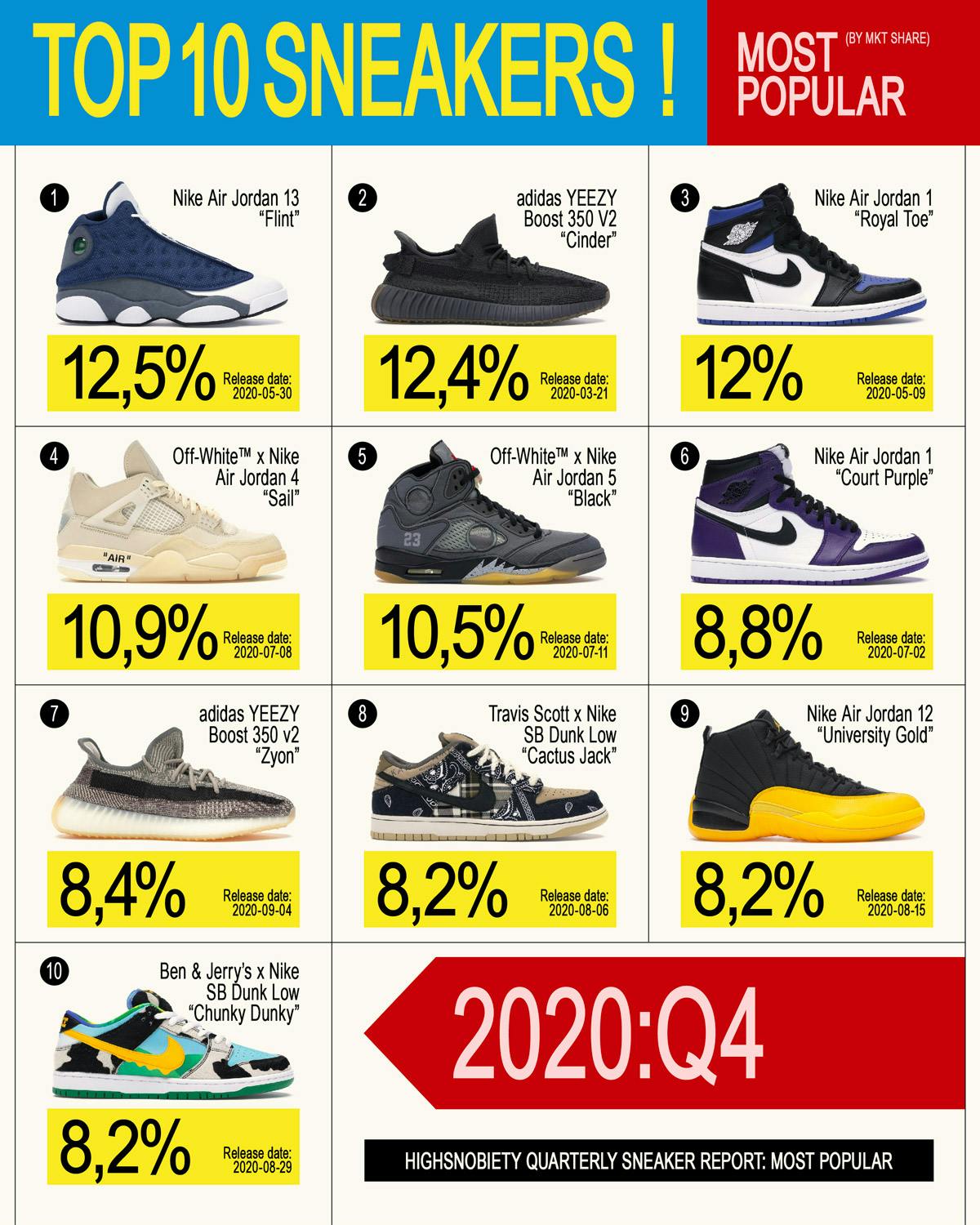 Fabs' Footwear Forecast
How to predict what next year will look like when 2020 came as a complete surprise and changed so much about how we live, dress, and consume? It's clear that this year has left us with several overarching trends.
It's quite likely that many of us will continue to spend more time working from home, not just while the vaccines roll out but because being in an office five days a week feels incredibly old-fashioned. That opens the door for sandals, slides, and Crocs to continue to find success with sneakerheads that are now buying shoes for a different reason.
The growth of StockX's female users is a trend that reflects the sneaker industry as a whole. What has long been a male-dominated space is beginning to open up — and must continue to do so at a quicker rate.
Last but not least, it's not enough anymore to have a few "sustainable" collections a year. That energy needs to be part of every single product, every partnership or collaboration, and every single release. We've got to hold ourselves accountable too, as consumers and media that cover releases and use our voices to contribute to lasting change.