Highsnobiety Q2 is the second in a series of quarterly insight weeks dedicated to the business behind youth culture and what makes our market tick. Head over to our Q2 hub to see the full series.
We're now more than halfway through 2020. Q2 and all of its sneaker releases are behind us, and we can finally take a deep dive into the data-driven world of sneaker resale. Partnering exclusively with StockX once again, we've collated data from the secondary sneaker market to bring this past quarter's biggest stories to life. While resale doesn't cover figures at retail level, it's a useful tool to explore the intricacies of sneaker supply and demand, and what releases most resonated with sneakerheads.
As in previous reports, we'll be looking at the most expensive and most profitable sneakers, as well as those with the biggest market share. Additionally — and for the first time — we'll explore the events, trends, and releases that shaped sneaker culture over the past three months.
Nike SB's revival has been well-documented and (unless you've been living under a rock) will still be at the forefront of every sneakerhead's mind, following collaborations with Travis Scott, Virgil Abloh, and Ben & Jerry's. It's irrefutable that the Nike Dunk is reliving its early to mid-'00s glory years, and the proof is in the StockX pudding.
Similarly, ESPN and Netflix's The Last Dance provided one of the most powerful pop-culture marketing moments in recent memory, as the record-breaking docuseries re-introduced Michael Jordan's on-court genius to a whole new generation of basketball and — perhaps most importantly — sneaker fans.
Finally, New Balance has established a collaboration strategy that could become the industry's gold standard. The brand's collaborations have been some of the most valuable on the resell market this year, and the numbers prove that this isn't a fluke.
The Nike SB Dunk Is Here to Stay
The Nike Dunk has been around since the beginning of modern-day sneaker culture — 1985 to be exact — and it's enjoying a bona fide revival right now, thanks to a combination of Nike's concerted effort to push its SB subdivision, streetwear icons such as Travis Scott and Virgil Abloh adopting the silhouette, and the cyclical nature of fashion.
Over the last three months, Nike has released both SB and mainline Dunks, simultaneously pulling from archival colorways to appeal to older 'heads and tapping unexpected collaborators, such as Ben & Jerry's, for more hype-driven releases. StockX numbers show that over the past 12 months, 98.3 percent of all Nike SB Dunks have increased in value. That makes them as surefire as sneaker investments get.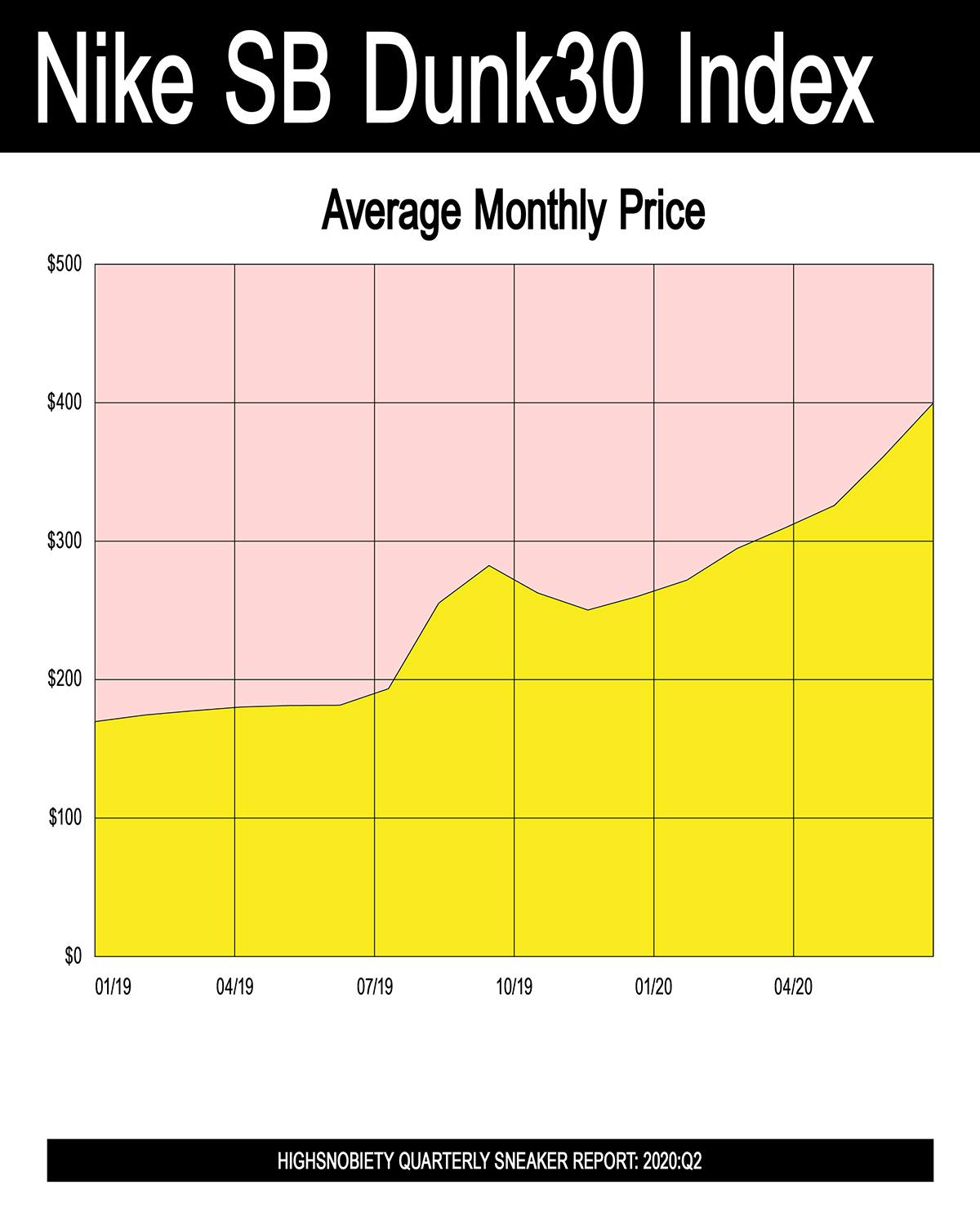 StockX' chief economist Jesse Einhorn underlines just how significant the above figure is: "When you're talking about a brand or a subcategory with hundreds of colorways, you're usually going to have exceptions to that trend. Not every sneaker is going to increase in value," he explains. "But with Nike SB, the increase in value is nearly uniform across the board."
Of 475 Nike SBs tested, only eight had not increased in price year-on-year. That level of uniformity, paired with the fact that the average price change was 95 percent — meaning the average SB Dunk nearly doubled in value — begins to paint a picture of the Nike Dunk's dominance in Q2.
In terms of absolute numbers, the average price increase was $306, whereas the median price increase was $139. The Nike SB Dunk Low "Paris," one of the most expensive Dunks in history, increased in value from $25,000 to $51,950, underlining how prices have reached a boiling point this quarter.
The aforementioned Ben & Jerry's Nike SB Dunk Low "Chunky Dunky" is the epitome of the Dunk's popularity, according to Einhorn. "It's highly unusual to have a sneaker like the Chunky Dunky — with thousands of sales — that resells for as much as it does, especially given the low retail price," he says.
The Chunky Dunky, which was released in May, was resold 1,400 times in the first three days, at an average resell price of $1,640. In comparison, Virgil Abloh's 2017 "Chicago" Nike Air Jordan 1 needed four months to resell over 1,000 pairs, at an average price of $1,450. The Off-White™ collaboration is now a $4,000 shoe, so if the same appreciation pattern holds true for the Chunky Dunky, we could see prices rise significantly over the next few years.
The Chunky Dunky outperforming 2017's biggest sneaker can be extrapolated to Nike SB's overall performance on the resell market. In Q2 2020, the SB Dunk Low was the second most popular Nike silhouette, as measured by StockX GMV (gross merchandise volume), and in May 2020, it was briefly the top Nike silhouette. In Q2 2019, the SB Dunk Low wasn't even among the top 5 Nike silhouettes, trailing the likes of the Air Force 1, Air Max 90, Air Max 97, and Air Max 1. What makes this feat even more impressive, is the fact that the aforementioned models are released in much higher quantities and more varied colorways than the Nike SB Dunk. Additionally, a lot of Nike Air Force 1s are sold for under retail on StockX, as so many types and colorways are produced.
Overall, Nike SB outgrew the general StockX market by more than three times over the past 12 months, and the SB Dunk's GMV has increased steadily, to the point where it's almost 500 percent higher now than it was in Q2 2019.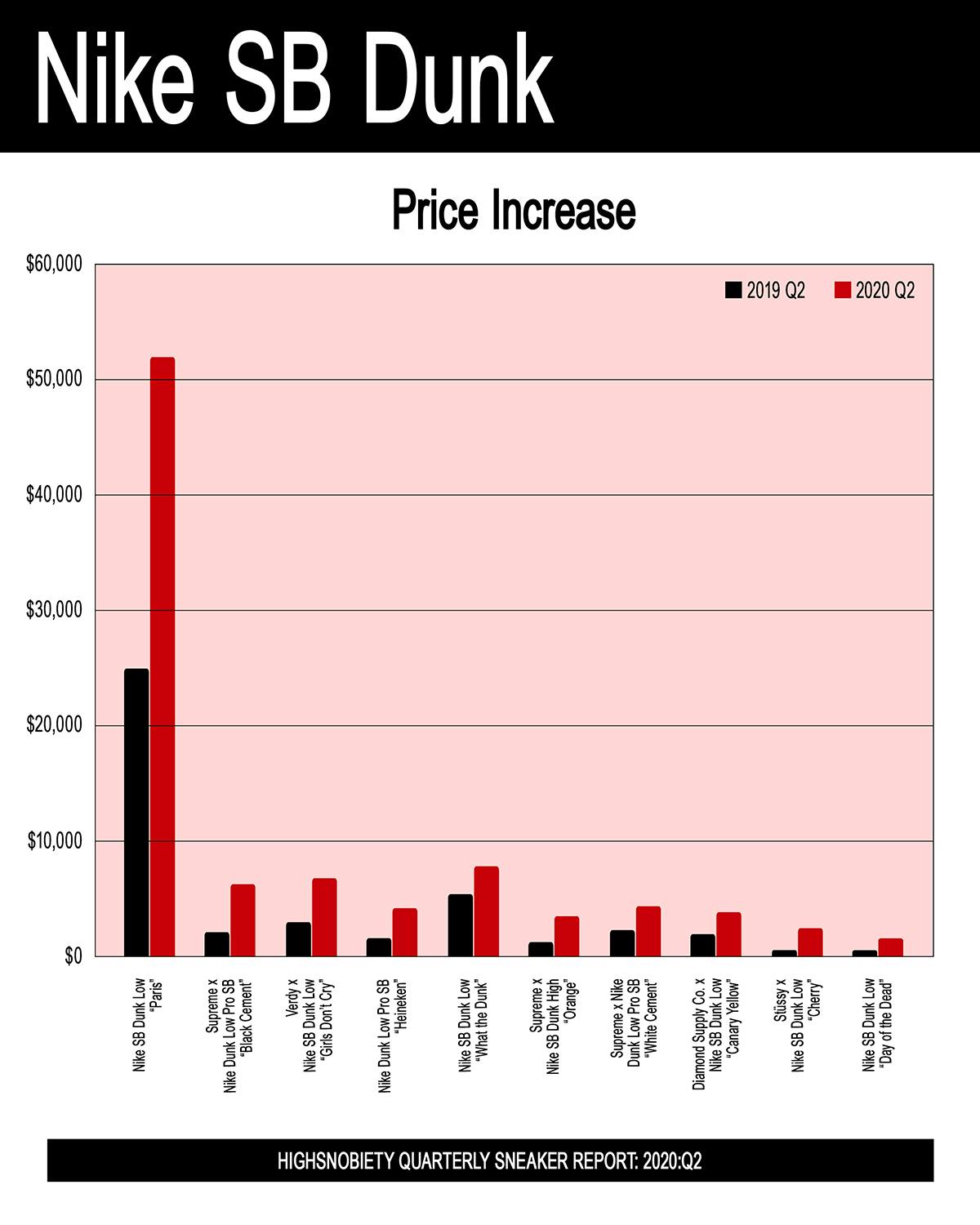 To track the price appreciation of older Nike SB Dunks and investigate the effect of the Dunk's newfound popularity on OG resale prices, StockX created an index of the 30 best-selling Nike SB Dunks that were released in 2018 or before. The graph above outlines the monthly prices of the index from January 1, 2019 to June 30, 2020, and shows that the index consistently rises, though not significantly until July 1, 2019. In Q1 2019, the average monthly price of the index was $173, whereas it is currently $363 — an almost 100 percent increase, which reflects the earlier average price change and underlines the stability of the Nike SB Dunk's appreciation over the past 12 months.
The biggest increase occurs over the first six months of 2020, which coincides with the releases of the StrangeLove, Travis Scott, and Ben & Jerry's collaborations — none of which are included in the index, but all of which helped raise the general hype around the silhouette. This further underlines that present-day hype, releases, and collaborations have a profound effect on the demand for older colorways.
The index price change from Q1 to Q2 2019 was minor, at just 4.6 percent, however, the change in price from Q2 to Q3 2019 was huge, at 34.3 percent. This is most likely due to the reintroduction of the skate store-exclusive Orange Label pack, Nike SB "J Pack," and (at the time) upcoming release of the Parra x Nike SB Dunk in late Q3 2019. It was around then that mainstream hype for Nike Dunks was building. The next big jump in the index price followed between Q1 and Q2 2020, which coincides with the hyped releases outlined above.
Highly impressive numbers aside, Nike SB's rocket-like performance on the secondary market over the past 12 months — and especially in Q2 — is down to an amalgamation of several factors that all lead back to the Swoosh's ability to tie its storytelling to real-life cultural events. The "Chunky Dunky" Dunk Low occupied five of the 25 top trending topics on Twitter when it dropped, while the likes of Virgil Abloh and Travis Scott's influence cannot be overstated.
Nike SB has successfully created a vortex of hype that feeds itself. Celebrity co-signs raise the profile of the Nike SB Dunk, which in turn benefits general releases and smaller collaborations, whose high resale value contributes to the never-ending cycle.
New Balance's Collaboration Strategy Is Industry-Leading
New Balance is a global sportswear titan in its own right. The New England-based company has quietly revamped its collaborative strategy and is now reaping the benefits of a more focused approach. Instead of targeting hype collaborators such as Travis Scott, Kanye West, or Virgil Abloh, New Balance has put together a roster that consists of brands and creatives that are leaders in their respective communities. Brands such as Stray Rats, No Vacancy Inn, or Aimé Leon Dore, and creatives including Salehe Bembury and Ronnie Fieg are all part of the same sneaker culture but speak to very different audiences and tell very different stories.
Joe Grondin, senior collaborations manager at New Balance, tells Highsnobiety: "Within the heritage 99X line specifically, we look to partner with brands and individuals that hit on a wide spectrum of lifestyle consumers, communities, subcultures, and demographics. By doing this, we're able to keep product executions and stories fresh while creating different followings for each type of partnership."
These stories, and the authenticity they lend New Balance, have resulted in a strong performance on the resale market, which is reflected in the StockX index created specifically for this report. The index includes over 60 New Balance collaborations and shows the average resale price for each month from January 2019 to June 2020 (below).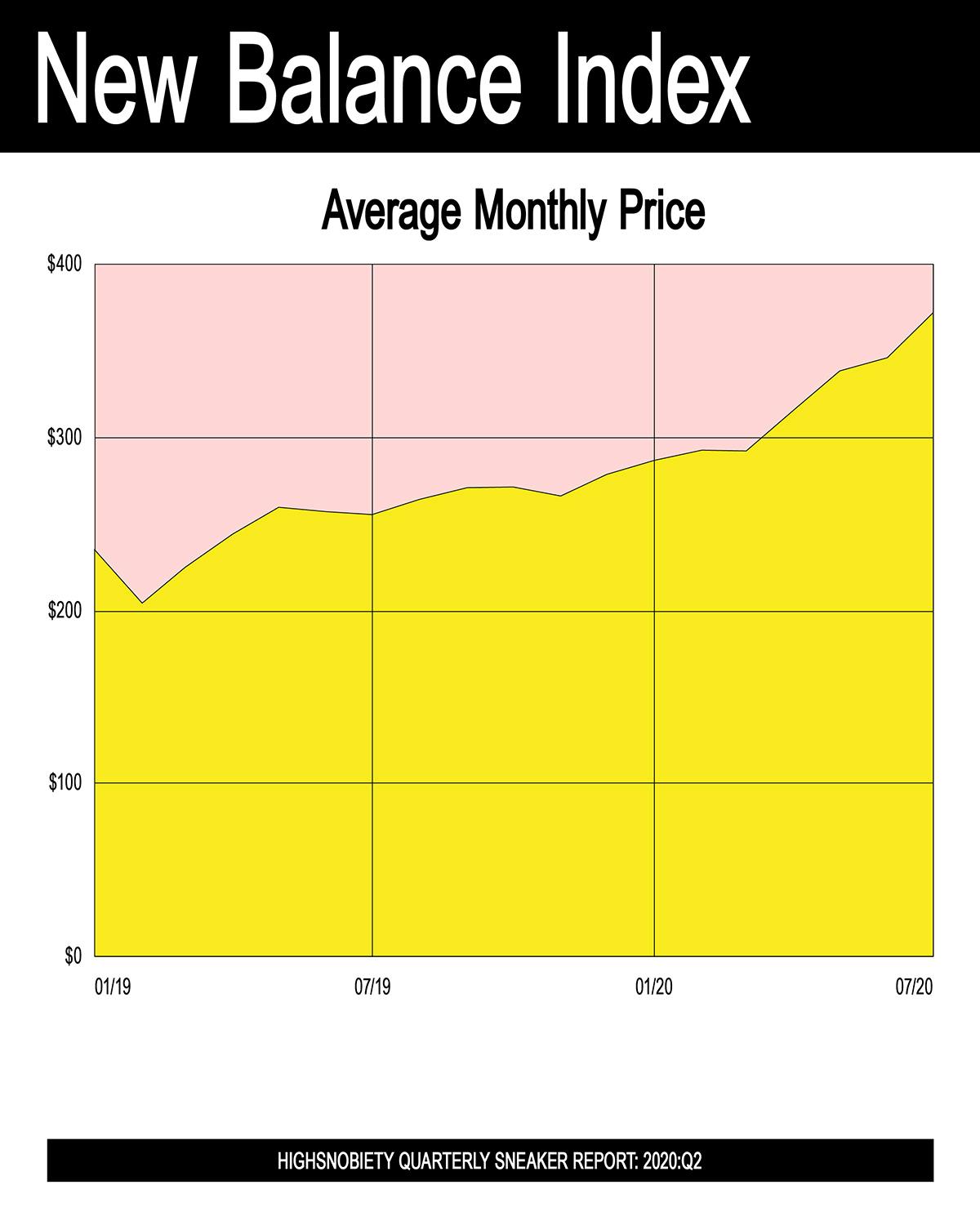 Over the past 18 months, prices for New Balance collaborations have increased steadily. Though there hasn't been as uniform an increase as with the Nike SB Dunk (it's worth remembering that Nike SB's performance is an anomaly), generally New Balance collaborations have been a good investment. In early 2019, New Balance collabs in the above index resold for between $200 and $250. Those same collaborations are worth an average resale price of nearly $350 in Q2 2020.
The above graph also shows that the index price plateaued somewhat in Q1 2020, but has shot back up in Q2 2020, backed by strong collaborative releases with the likes of Kith, Stray Rats, Casablanca, and WTAPS.
Of the 60 collaborations included in the index, two of the top 5 most expensive sneakers were released in Q2 2020. The WTAPS and Kith 992s take first and second place, with average resale values of $991 and $723, respectively. While recency bias may have an impact on resale prices, simple supply and demand would suggest that older New Balance collaborations — such as the Bodega or Aimé Leon Dore projects from 2019 — would be more expensive due to the scarcity of unworn pairs.
The next three most expensive collaborations were all released in April 2019 or before, which further strengthens the argument that New Balance's change in strategy is paying dividends — especially on the secondary market.
According to Einhorn, New Balance's uptick in resale performance coincided with Kawhi Leonard's NBA championship with the Toronto Raptors last season: "For a few weeks at least, New Balance was at the front of the conversation in both sneaker circles and broader cultural circles," he explains. "And I think that set the stage for what they've been able to do over the past months, which is more a function of their collaboration strategy."
Further underlining New Balance's success is the fact that the brand has outperformed the general sneaker market on StockX by 100 percent. While not as outrageous as Nike SB's, that figure is more than respectable and speaks volumes, not just about the work that goes on behind the scenes in Boston, but that consumers are buying in to New Balance's strategy and — most importantly — product.
'The Last Dance' Was a Marketing Phenomenon
The impact of ESPN and Netflix's The Last Dance on the resale market has been well-documented, however, the numbers in this report show that it may have been even greater than previously thought. To best communicate this, Einhorn put together an index for Highsnobiety of the 30 most popular Air Jordans released prior to 2020 (due to recent models having a more volatile price trajectory).
StockX's data suggests that Jordan Brand resale prices have done a 180 when compared to the trend pre-show. Whereas in Q1 2020 Jordan Brand resale prices were actually declining, the index began to rise from April onwards. This is likely due to the hype around the show before it premiered and the sustained interest in retro Jordans after the series was released. Between April 19 and June 30, the index gained over $50 in resale value, which is an appreciation of almost 20 percent in just two-and-a-half months.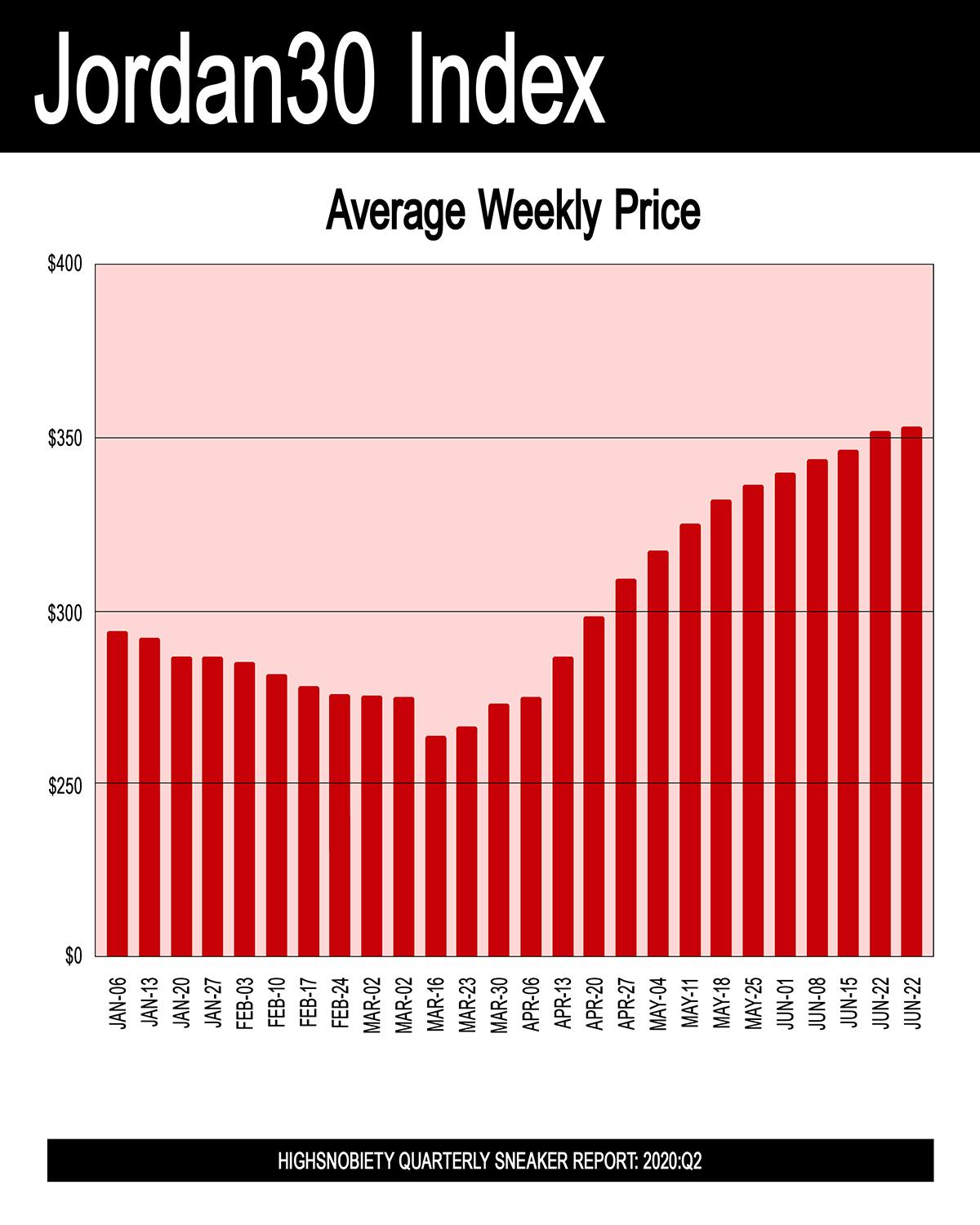 To Einhorn, this is simply evidence of the microeconomics of supply and demand. "What happened with The Last Dance is we had a surge in demand for Jordans without a corresponding increase in supply," he explains.
The Last Dance re-introduced Michael Jordan the basketball player to a generation that was unable to witness him live at the height of his career and gave them a chance to fathom the sheer magnitude of the legend that was created around him in the '80s and '90s. Not only did the series cement MJ's status as the GOAT, it was a marketing phenomenon that created a different type of demand for his product — one that hadn't been seen in decades.
Whereas in the '80s and '90s people bought Jordan sneakers because of the otherworldly athleticism Michael Jordan displayed on the court, the sneakerhead of the last 10 years bought retro Jordans mainly because of fashion trends and hype. That hype-first mentality seems to have been replaced by true Jordan fandom, which is part of the reason why we've seen spikes in Jordan prices on the secondary market.
An extreme example of the legacy of The Last Dance is the price appreciation of the Nike Air Jordan 1 OG "Chicago" from 1985. Before the show aired, its last sale on StockX was in 2017, for $3,023. After TLD, there were four sales, at an average of $7,360. Almost all sneakers featured in the documentary experienced similar spikes in price. Values surged initially during The Last Dance and — unsurprisingly — kept rising following the conclusion of the series.
That speaks volumes with regards to how important cultural moments are for brands and their storytelling. While Nike and Jordan Brand did not commission the documentary, the brand directly benefited from it on a retail level as well. The "Flint" Nike Air Jordan 13 that was released after the conclusion of the documentary — and immediately sold out — became the fastest-selling sneaker ever on StockX, outpacing holiday releases such as the Nike Air Jordan 11. So not only were sneakers hitting new heights on the secondary market, the uptick in demand translated to new releases at retail, as well.
Similar to how the Nike SB Dunk Low "Chunky Dunky" transcended sneaker culture and became its own mainstream pop culture moment, The Last Dance was constantly trending on social media for at least six weeks.
"I think the success of The Last Dance was based on a number of pretty extraordinary circumstances," muses Einhorn. "Chief among them being that, for the first time in my lifetime, there were no live sports on television." Einhorn is right — Jordan Brand hit the jackpot without even buying a lottery ticket. A lot of stars had to align — no live sports; people at home due to coronavirus lockdown; the release date being pushed forward; the series being about the greatest athlete of all time — for the series to have the impact that it did.
It would be hard for any brand to replicate that purposefully, though it shows that it's worth at least trying to tap into real-life moments, because storytelling and authentic cultural moments are still the most powerful drivers in our industry.
Q2 2020 Snackables: Most Expensive, Most Popular, and Biggest Price Increases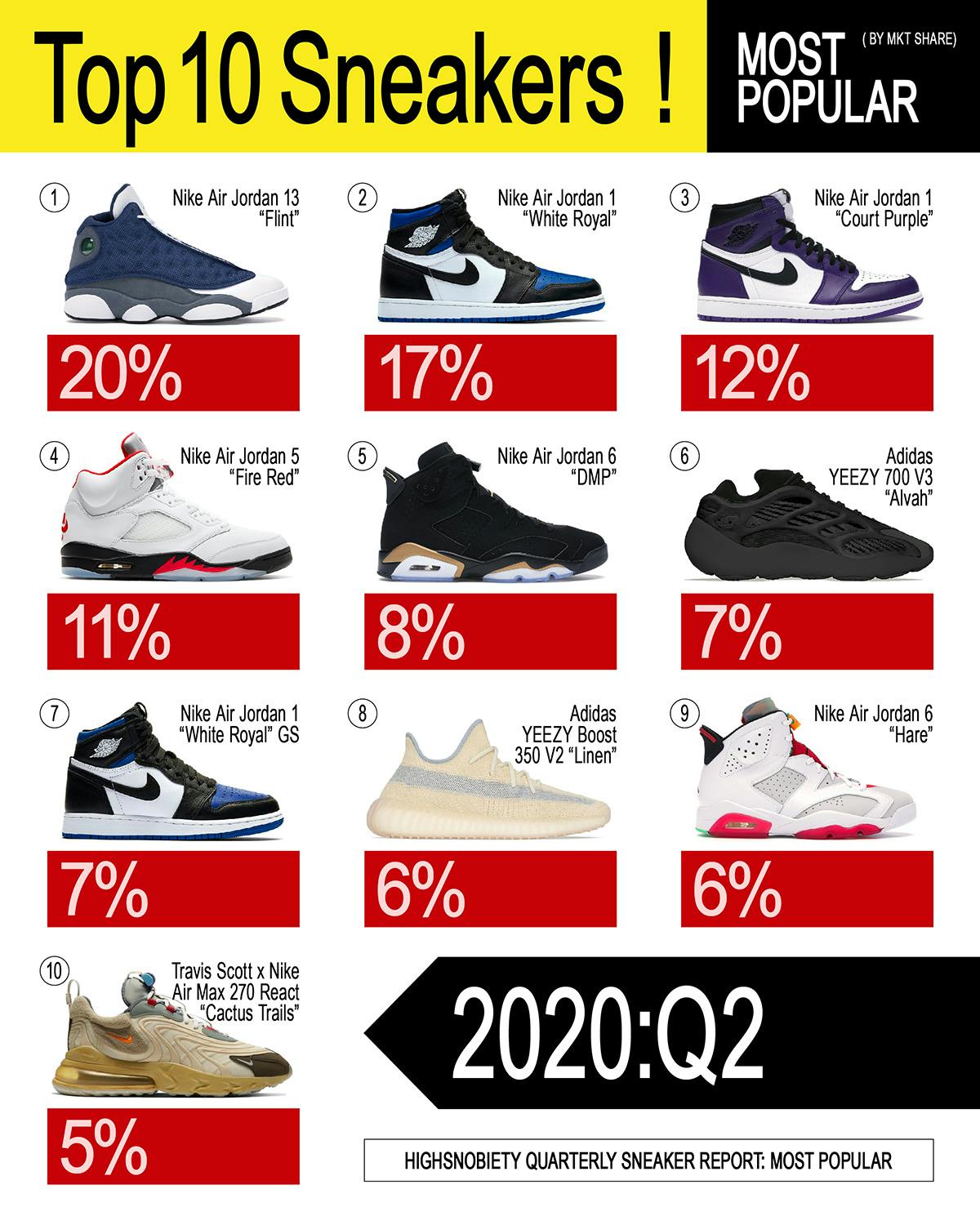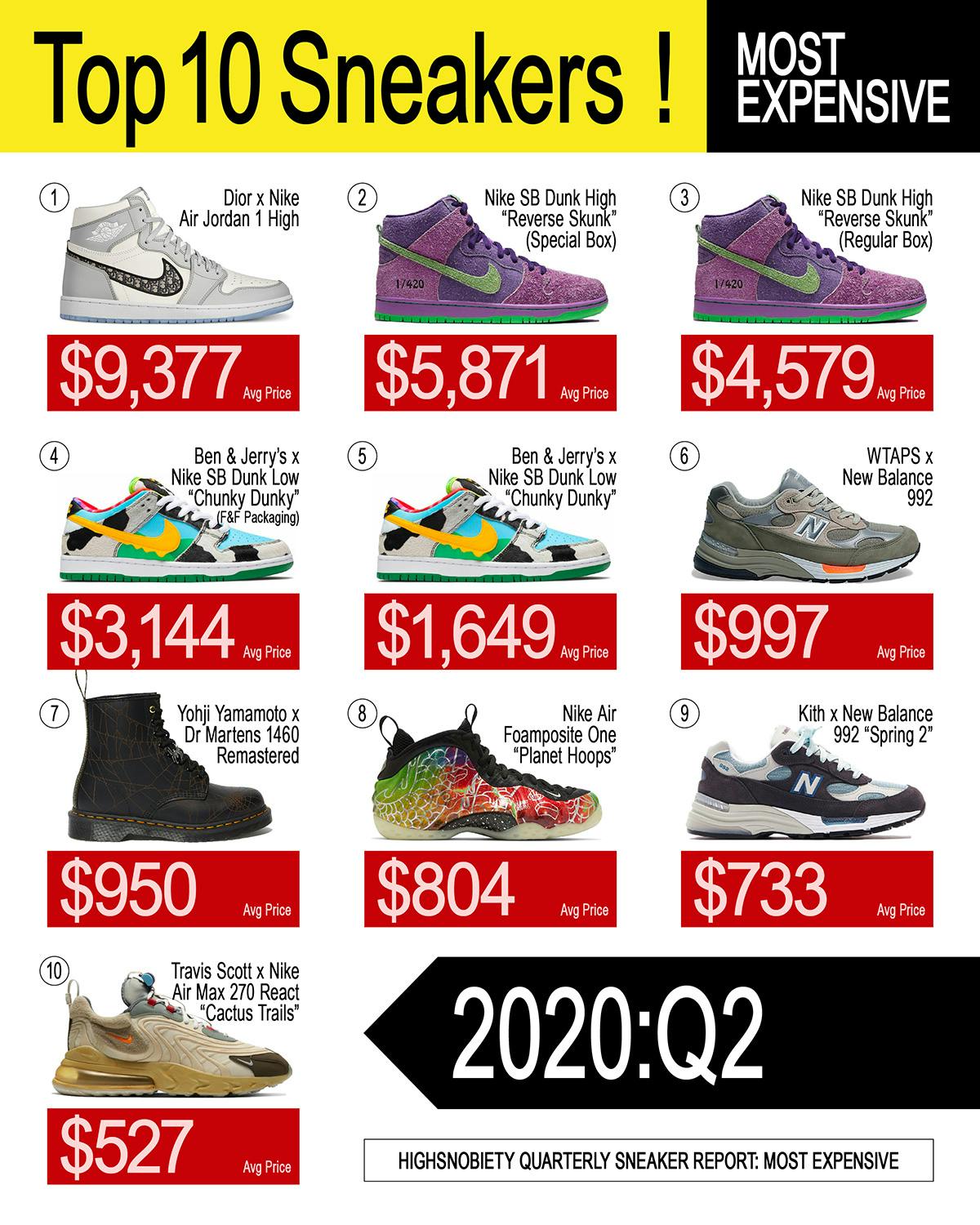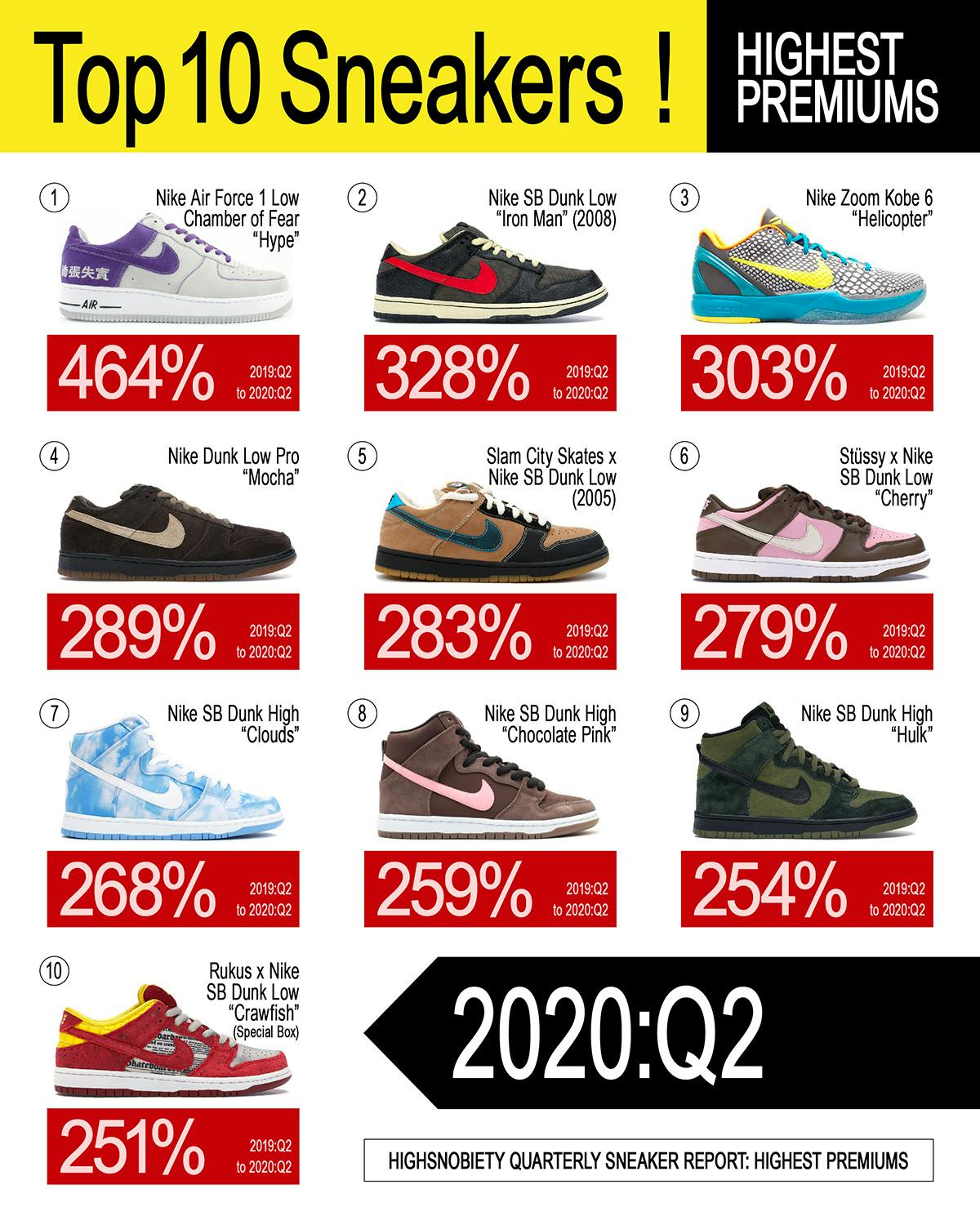 Fabs' Footwear Forecast
In some ways, sneaker resell is more predictable because there's more data than ever to fall back on and to suggest certain releases or strategies will do well. On the other hand, you could argue that the avalanche of sneaker releases and the secretive nature of stock levels and marketing strategies of brands have made it harder to find resale gems. What's become clear in Q2, however, is that storytelling was the biggest factor in brands' success on the secondary market, and will continue to be important moving forward.
"The Last Dance, Nike SB, New Balance, is storytelling. In each of these cases, the increases we're seeing are backed by a really rich narrative tapestry that each of the brands has spun around the sneakers themselves, and Nike SB is — at this point — the leading storyteller in the sneaker game," says Einhorn. "Each of its collabs tell really unique and powerful stories, and I see no reason why that will change."
Looking forward to the next three months, it's highly likely that we'll continue to see Nike SBs dominate the resale market, while the Dior x Nike release is almost destined to break all resale records. Kanye West and YEEZY's move to Made in USA production will be interesting to keep an eye on, too.
To stay updated on everything happening in the sneaker world, follow @highsnobietysneakers on Instagram, check our sneaker release date calendar, and subscribe to our sneaker chatbot on Facebook to receive lightning-quick updates to your inbox.