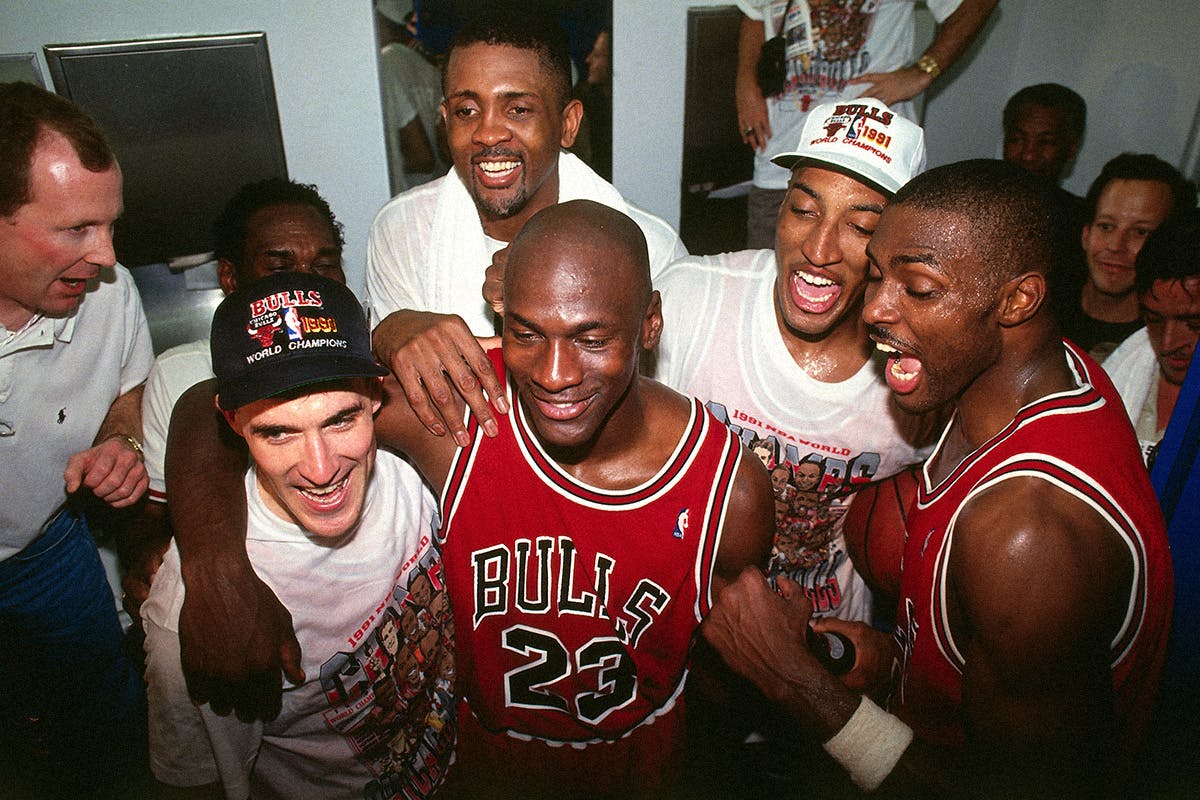 Michael Jordan's game-worn Nike Air Jordan 1s from 1985 sold for half a million dollars at auction over the weekend — the most ever paid for a pair of sneakers. The amount underlines Michael Jordan's status not just as the GOAT of basketball but also as one of the most marketable and admired people of all time, across all walks of life.
Over the past few weeks, Jordan has been the subject of ESPN and Netflix's docs-series, The Last Dance — whose influence can't be understated. The 10-part series introduced Michael Jordan the basketball player to a generation that never got to see him play. In turn, that has had a remarkable effect on the demand for Jordan and Chicago Bulls merchandise and memorabilia.
As StockX has shared with Highsnobiety, its data shows that The Last Dance has influenced consumer behavior in more ways than one. Since its premiere on April 19, The Last Dance has resulted in a spike in traffic on StockX's Jordan products every Sunday. On average, there is 76 percent more traffic to Jordan catalog pages than a typical Sunday evening prior to April 19.
Of course, this isn't the first time that pop culture has had an influence on consumer behavior like this. As Complex points out, Kawhi Leonard and the Toronto Raptors winning the NBA championship last year caused the now-Clippers star's signature New Balance sneaker to soar in value on the resell market. A morbid example would be Kobe Bryant's tragic death earlier this year and the ensuing spike in resell prices on his sneakers — something that was frowned upon by a vast majority of the community.
Diving deeper into the data, it becomes clear that it's not only Michael Jordan's signature sneakers and memorabilia that have benefited from The Last Dance. Scottie Pippen — who was heavily featured in the first two episodes — has seen sales of his sneakers and merchandise increase by 50 percent compared to the previous month. In the 24 hours after the episodes aired the effect was even greater, as sales of Pippen's sneakers, collectibles, and merchandise increased 300 percent compared to a typical day.
The below chart outlines other consumer trends, such as Air Jordan sales being up 38 percent month-on-month and Chicago Bulls merchandise receiving 35 percent more bids than the month prior.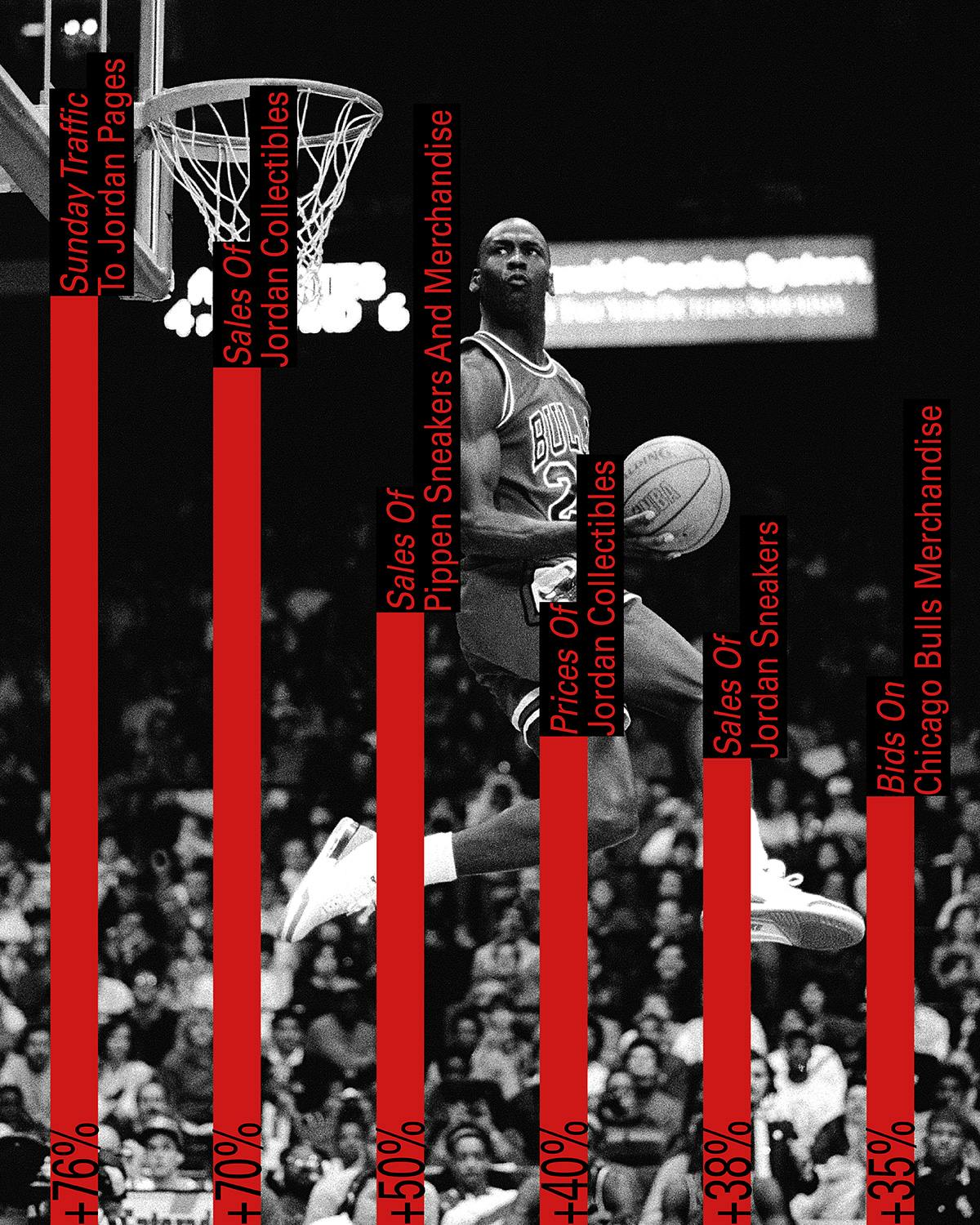 As Highsnobiety reported on earlier, the "Chicago" Nike Air Jordan 1 from 2015 jumped in value following the May 3 episode, which focused on that silhouette in particular. Before the series aired it was reselling for around $900. Over the past 10 days, the average sale price is over $1,400 — good for a 50 percent increase. Similarly, the "Banned" Nike Air Jordan 1 from 2016 has seen its average resale price increase by 33 percent.
Following the final two episodes, which aired on May 17 and heavily featured the Air Jordan 13 and 14, traffic to the catalog pages of both sneakers surged to their highest in StockX history. The "Flu Game" Nike Air Jordan 12 — another big subplot in the series — saw its average resell price rise to $400 immediately after the finale, a good 30 percent more than its 12-month average. The "Last Shot" AJ14 sold for 55 percent more than its 12-month average sale price of $225.
Another interesting development is that the OG 1985 "Chicago" Nike Air Jordan 1 sold three times over the past few weeks. Prior to the documentary airing, StockX had not seen a sale of that sneaker since 2017. Back then it resold for around $3,000, whereas the last three sales have had an average resale price of $7,123 — more than double.
In short, The Last Dance has basically been a 10-hour commercial for Nike and the Air Jordan line. To celebrate the premiere on April 19, Nike dropped its "Fire Red" Air Jordan 5s on its SNKRS app. The OG colorway had been long-rumored and hotly-anticipated before it promptly sold out on the platform.
Since then, though, Nike has not done anything to capitalize on The Last Dance. In the past, Nike has shown it has its finger on the pulse of pop culture by scheduling special-edition, limited drops around larger events. In 2018, the Justin Timberlake x Nike Air Jordan 3 was available on Nike SNKRS during the artist's performance during the Super Bowl half-time show, while more recently, Travis Scott's collaborations have dropped during his Grammy's performances.
Of course, the coronavirus pandemic has complicated matters, as supply chains — almost all of which run through China — have been impacted in one way or another and resulted in several delays. Comparing the resell market with retail might not be entirely fair either, as StockX numbers have shown that the secondary market is as robust as ever and has barely been affected by Covid-19 — the same can't be said for retail.
Additionally, Highsnobiety's latest market analysis shows that a new generation of "immune shoppers" has been born, who are less affected by trends and hype and are reassessing their priorities when it comes to spending their money on fashion.
Those factors may have played a role in Nike's decision (conscious or not) to refrain from dropping more product in conjunction with The Last Dance. Still, it feels like Nike may have missed the mark over the past month, as all eyes were on the docuseries and, as a result, Nike and Jordan Brand product.
The StockX numbers show that there were consumers out there that were influenced by what they saw on their screens. It would not be farfetched to think that these same consumers spending their money on Michael Jordan memorabilia and sneakers or Scottie Pippen and Chicago Bulls gear would have bought related product directly from Nike.
"MJ's success on the court transcended beyond the game of basketball and ignited a culture. That culture became the foundation of the Jordan Brand and the Jumpman community," says Jordan Brand president, Craig Williams. "The Last Dance has given us a chance to highlight the people, stories and sneakers that made basketball culture a global phenomenon. Seeing fans across different generations celebrate MJ's success speaks to the impact MJ and Jordan Brand continue to have on basketball culture and the breadth of the Jumpman community."
The Last Dance speaks to both a new generation of basketball fans and a new generation of consumers. By introducing kids today to Jordan's accomplishments, unparalleled athleticism, and competitive drive, The Last Dance is providing a generation that never got to see MJ play live with the same "Like Mike" feeling kids had in the late '80s and throughout the '90s.
In a way, by creating new Michael Jordan fans and providing access to his on-court dominance, it also strengthens peoples' sentiments towards Jordan Brand and its products — something StockX's numbers prove. Whereas over the years, Air Jordans have become synonymous with hype, limited-edition collaborations, and sold-out release dates, kids that watched The Last Dance now want Jordans for the same reason that kids 30 years ago wanted Jordans — because he's the greatest basketball player of all time.
Perhaps Nike consciously chose to refrain from dropping products alongside the documentary, as it knew the effect The Last Dance would have on its viewers. Maybe Jordan Brand took a step back to let its most marketable asset ever do what he does best — make kids want to be like Mike.