Our guide to the best New York sneaker shops, from iconic retailers to under-the-radar boutiques.
New York is where sneakerhead dreams are made. The Big Apple has long been the capital of streetwear and sneaker culture, and that reputation only grows more hard-earned by the year. If you're going to be in the city any time soon, sneaker shopping should definitely be on your agenda.
In addition to mega-flagships for major brands such as Nike and Adidas, there is a whole crop of stores and boutiques you need to check out. If you're looking for ultra-rare retro kicks, head to consignment shops such as Stadium Goods and Flight Club. If you're looking for something a little more high fashion, there's always Dover Street Market and Barneys New York.
The Big Apple can be a daunting place to shop, though. It's loud, crowded, and busy — but don't let that you stop you. Sneaker shopping in New York is second to none and absolutely worth the effort. To get you started, we've has rounded up the 10 best sneaker stores in New York City.
Extra Butter
Address: 125 Orchard Street, New York, NY 10002 (map) Store hours: 11 a.m.-7 p.m. Phone: +1 (917) 965-2500 Instagram: @ExtraButter
Extra Butter has been a staple of New York downtown sneaker culture since it opened its doors back in 2007. Located in the city's Lower East Side, the store is a must-stop for any sneaker lover or streetwear fan. The shop collaborates with top-tier fashion and sportswear brands on limited-edition projects and also stocks a variety of your favorite brands. All that aside, the store's movie theater theme makes for a singular retail experience.
Flight Club
Address: 812 Broadway, New York, NY 10003 (map) Store hours: 12 p.m.-8 p.m. Phone: +1 (888) 937-8020 Instagram: @flightclub
When it comes to consignment sneaker shops, Flight Club is pretty hard to beat. The store has been around since 2005, and if you visit, you'll see why it has been so beloved for so long. Shoppers are greeted by walls upon walls of shrink-wrapped sneakers, including everything from classics to new releases, rare Air Jordans to the latest adidas models.
KITH SoHo
Address: 337 Lafayette Street, New York, NY 10012 (map) Store hours: 10 a.m.-9 p.m. Phone: +1 (646) 648-6285 Instagram: @kith
KITH's New York flagship is basically Disneyland for sneakerheads. There are three whole floors dedicated to the coolest streetwear and sneakers out there. Whether you're looking for a pair of classic white Air Force 1s or something a little harder to find, you won't leave KITH empty-handed. Plus, there's ice cream and treats on the second floor. What more do you want?
Concepts
Address: 225 Hudson Street, New York, NY 10013 (map) Store hours: 11 a.m.-7 p.m. Phone: N/A Instagram: @cncpts
Headquartered in Massachusetts, Concepts has come a long way since it started out more than two decades ago. Considered one of the founding fathers of premium streetwear-centric retail, people flock to Concepts for its well-curated selection and limited-edition collabs. Concepts' New York location has only been around for a couple of years, but it has already asserted itself as a must-stop shop for any sneakerhead.
Nike SoHo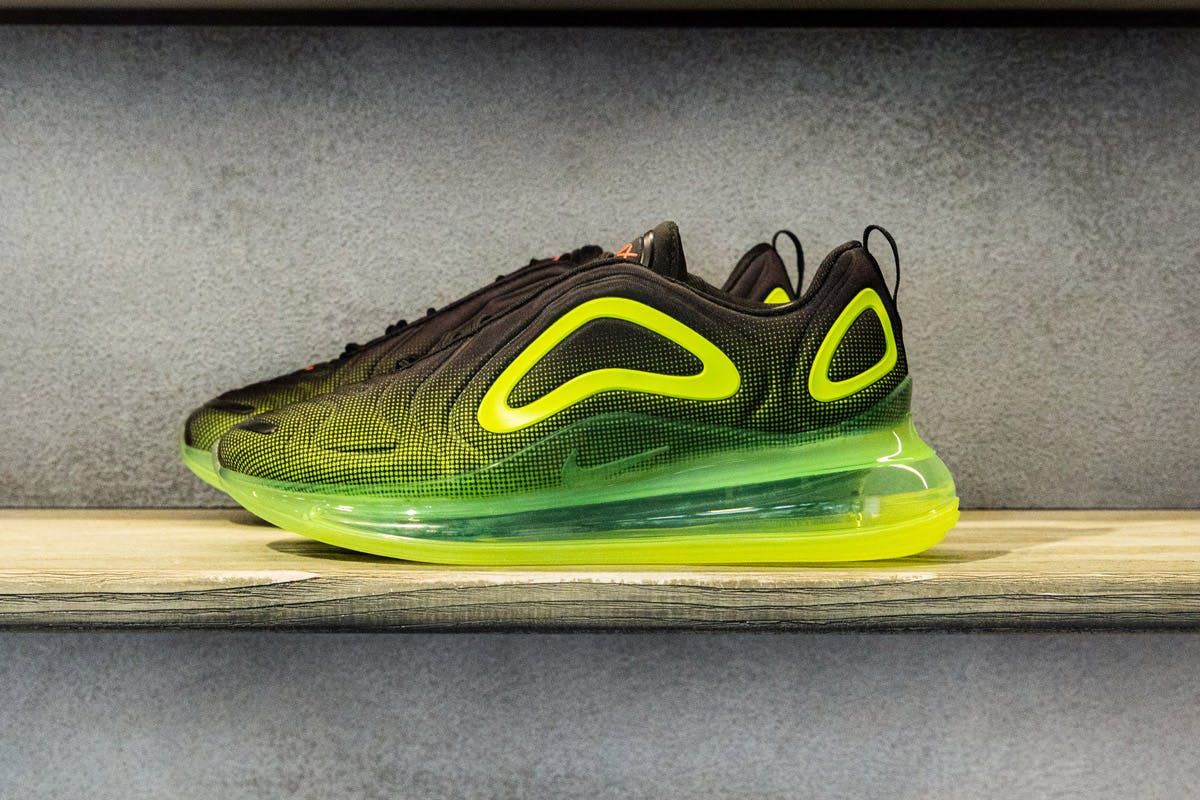 Address: 529 Broadway, New York, NY 10012 (map) Store hours: 10 a.m.-9 p.m. Phone: +1 (646) 716-3740 Instagram: @nikenyc
Nike's SoHo store is a supercharged sneaker shopping experience. There are five stories of Swoosh products, with a lineup that is changing constantly to ensure only the latest and greatest Nike goods are on display. When the brand closed its NikeTown location in 2018, many worried. But the SoHo behemoth doesn't disappoint, with interactive customization stations, next-level product displays, and so much more.
Dover Street Market New York Address: 160 Lexington Avenue, New York, NY 10016 (map) Store hours: 11 a.m.-7 p.m. Phone: +1 (646) 837-7750 Instagram: @doverstreetmarketnewyork
Dover Street Market is the place to find skaters, hypebeasts, and fashion-heads all under one roof. The shop is known for its eclectic take on expert-level fashion, as well as cool-dude sneakers. If Dover Street Market's impressive list of brands and in-the-know reputation wasn't enough to convince you, the store's stunning displays and deep footwear collection should do the trick.
Barneys New York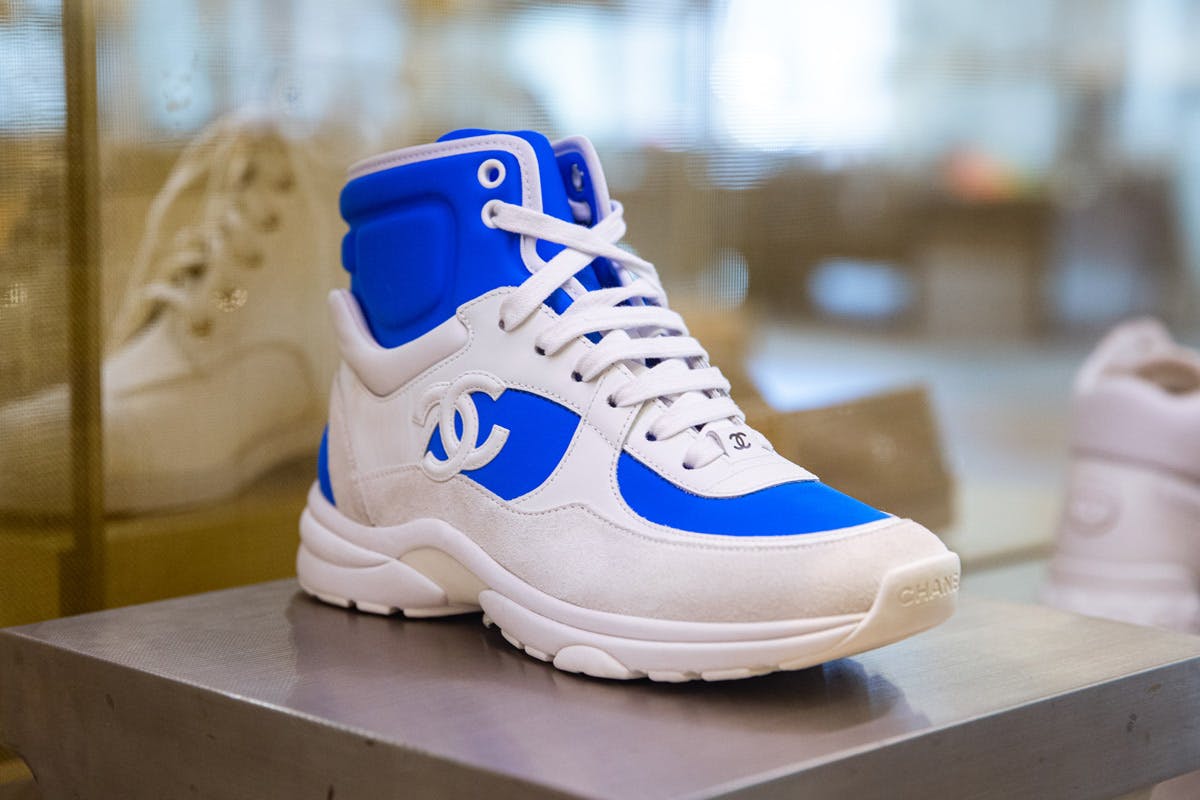 Address: 660 Madison Avenue, New York, NY 10065 (map) Store hours: 10 a.m.-8 p.m. Phone: +1 (212) 826-8900 Instagram: @barneysny
Barneys is an old-school luxury department store that has kept with the times as men's fashion has skewed more toward streetwear and sneakers. The store has continued to stock the best designers from all over the world, but you can also find a next-level sneaker selection at Barneys New York, whether you're looking to pick up a pair of Nikes or something by Balenciaga.
Stadium Goods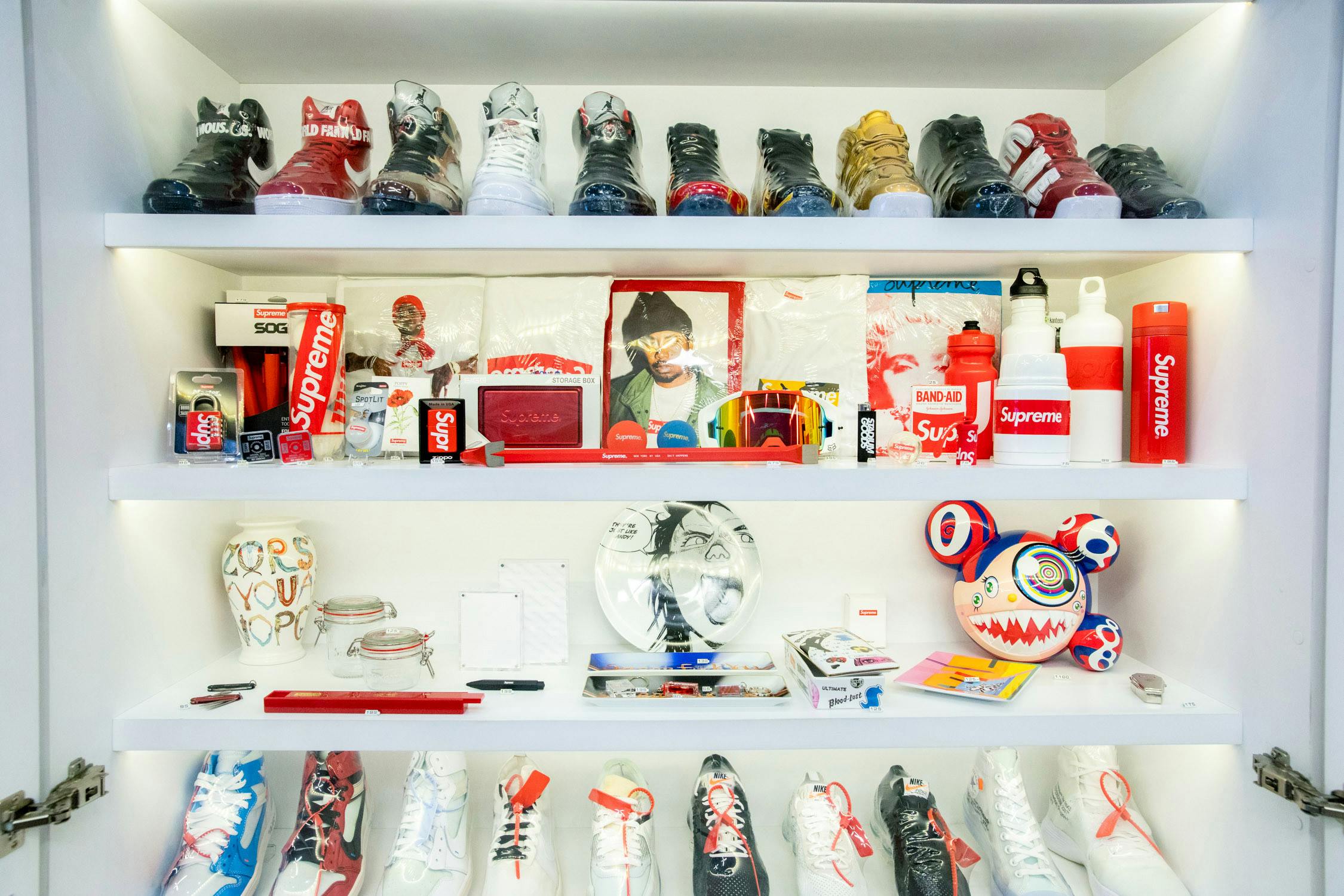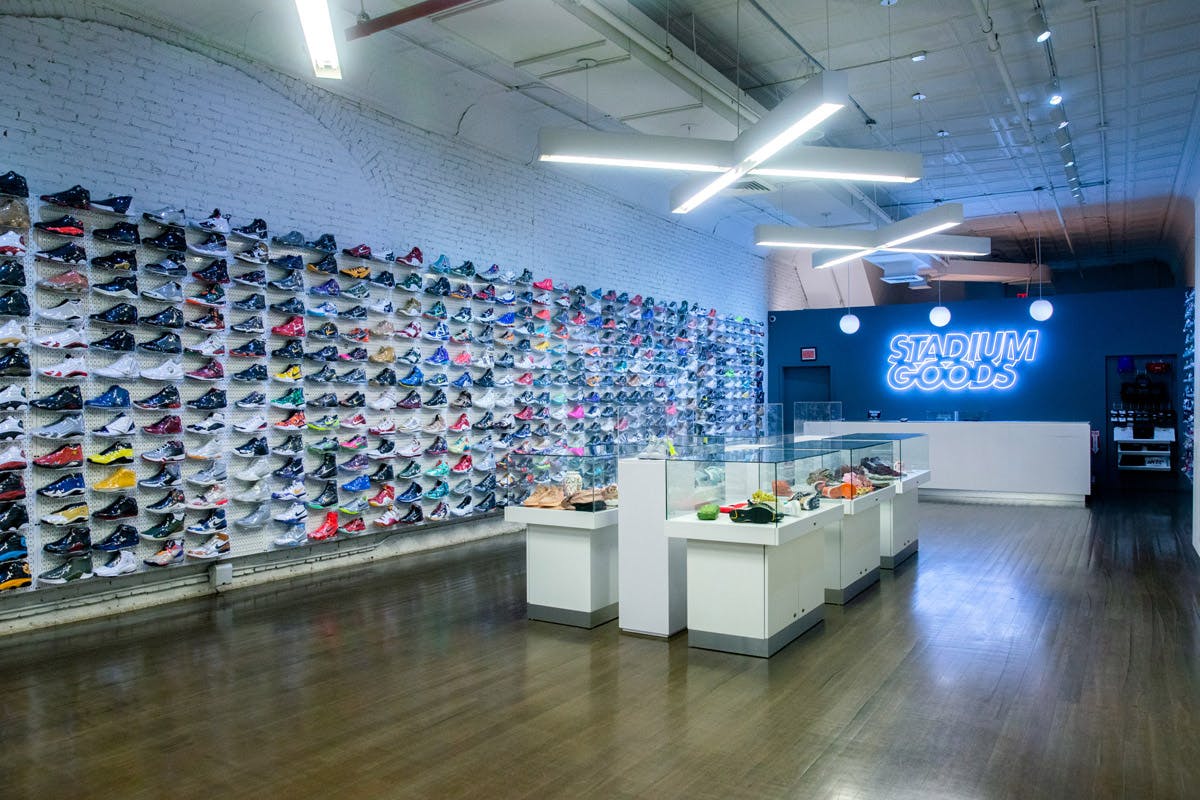 Address: 47 Howard Street, New York, NY 10013 (map) Store hours: 12 p.m.-8 p.m. Phone: +1 (646) 779-8410 Instagram: @stadiumgoods
Stadium Goods is one of the most famous sneaker shops in the world. It's the frequent backdrop to Complex's Sneaker Shopping web series and customers from all over the globe flock to its doors. The glossy sneaker consignment shop is always stocked with grail-level kicks and plenty of other footwear to satisfy the needs of any kind of shopper. Plus, it's a stone's throw from other great stores such as Palace Skateboards and Nike's 21 Mercer boutique.
atmos NYC
Address: 203 West 125th Street, New York, NY 10027 (map) Store hours: 10 a.m.-8 p.m. Phone: +1 (212) 666-2242 Instagram: @atmosnyc
atmos is a Japanese streetwear and sneaker retailer whose NYC store offers a deep collection of sneakers and hard-to-beat streetwear. The shop also sells its own coveted in-house label, which has put out sought-after collaborations with the likes of Nike, adidas, and New Balance. The New York outpost is located all the way uptown in Harlem, but the store's laid-back environment and knowledgeable staff make it worth the trip.
Sneakersnstuff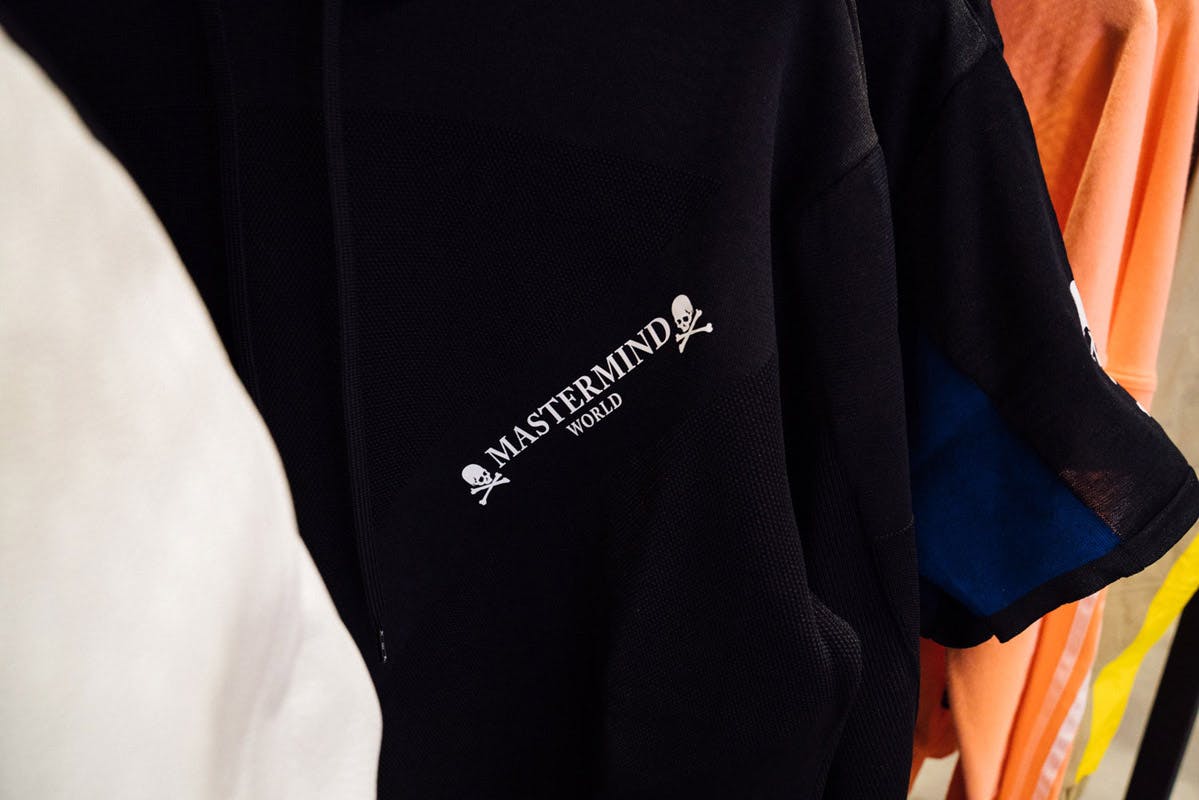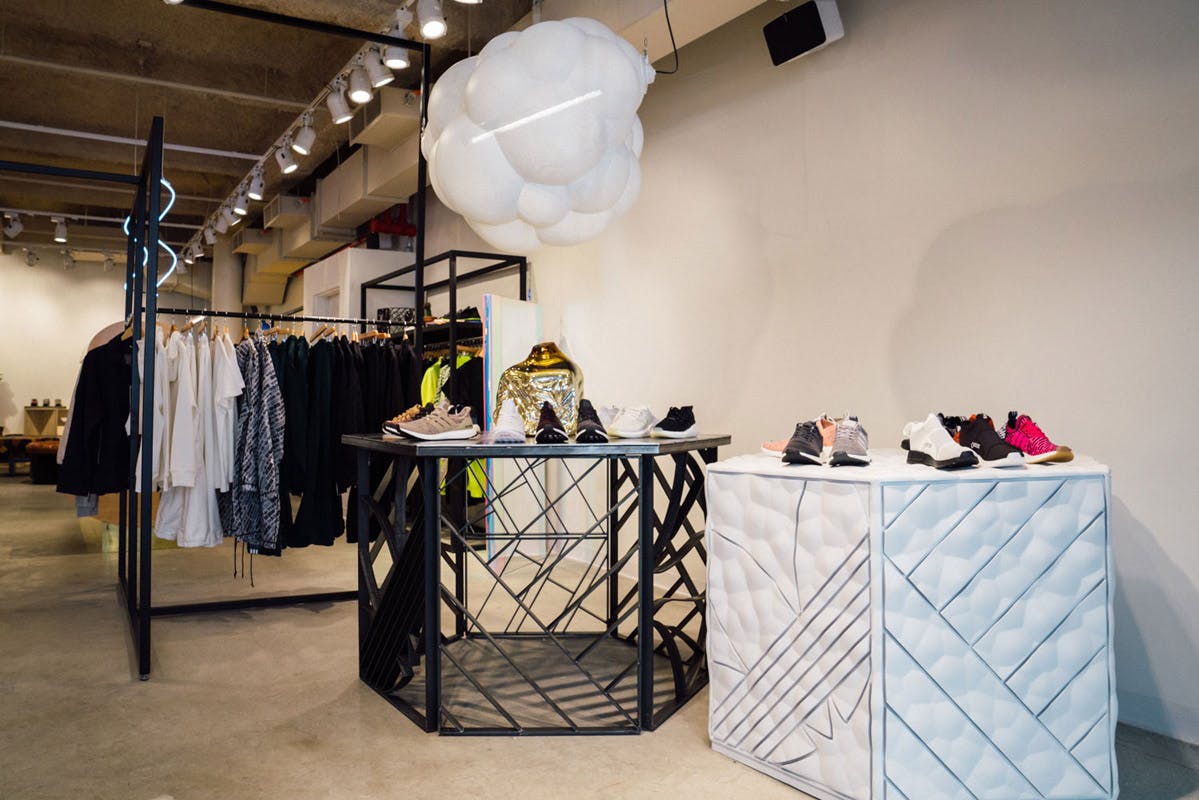 Address: 22 Little W 12th St, New York, NY 10014 (map) Store hours: 12 p.m.-8 p.m. Phone: +1 (646) 710-7866 Instagram: @sneakersnstuff_nyc
Far across the pond from the retailer's original doors in Stockholm, Sweden, New York City's Sneakersnstuff location should be on any list of the best shops in the city. Not only does the retailer have access to top-tier offerings from all major footwear brands, including the most limited collaborations from Nike and adidas, Sneakersnstuff also consistently delivers strong in-house collaborations which you can get your hands on here. Once you've secured a few bags, you can then head over to Sneakersnstuff's recently opened bar, which aims to add a refined twist to classic cocktails.
To stay updated on everything happening in the sneaker world, follow @Highsnobietysneakers on Instagram, check our sneaker release date calendar and subscribe to our sneaker chatbot on Facebook to receive lightning quick updates to your inbox.