Perched in the Santa Monica mountains of Los Angeles is The Getty Center, a palatial open-air expanse made up of curvilinear architecture, idyllic gardens, and 16,000 tons of stone, housing multiple centuries' worth of priceless art. It has some of the most scenic panoramic views of LA you're likely to see: one side overlooks the entire city past the 405 freeway, on another, you can see the Pacific ocean. It's here that Solange is exhibiting her latest interdisciplinary art endeavor, "Bridge-s," a series of performances, films, and artist talks she has programmed in partnership with Getty, Dropbox, and IAMSOUND.
Earlier this week, Solange previewed the centerpiece of "Bridge-s:" a live music and dance performance she directed and composed, featuring choreography by Gerard & Kelly. The performance takes place on an outdoor terrace in a clearly-defined square, each side about 50 feet; viewers stand on all sides. (The audience at the preview included Dev Hynes, Tyler, the Creator, Thundercat, Syd, and Solange's son, Julez.) A troupe of musicians take the floor one at a time, stationing sparsely within the square with drums, piano, keyboards, upright bass. Vocalists and horn players mill in, out, and around. Solange's vocal flourishes can be heard in the minimalistic jazz arrangements she has composed. Dancers enter, one or two at a time until there is ultimately about a dozen, each dressed monochromatically in a shade of beige, brown, or bright marigold— same as the instrumentalists. As the late afternoon sun began to sink and saturate the terrace, everyone looked golden.
The choreography is consistent with contemporary dance, which fuses elements of ballet, jazz, and lyrical styles; in the performance, the dancers orbit around the square and around each other, repeating sequences, spoken elements, and percussive body sounds like slaps and steps. At times they interlock and lift each other to create shapes and play with scale. They move in elliptical, measured intervals, like a clock. It speaks to the "transitions through time" that the series itself thematically centers. In Solange's words, "'Bridge-s' is a reflection on how much transition can be controlled and accelerated by our own ideas, thoughts, and movements vs. the natural process of time and space." The performance begets an understanding of time as something that is indeed cyclical, but also relative and malleable.
Characteristically, Solange engages the space in its entirety. Intermittently throughout the performance, dancers and instrumentalists appear on distant balconies and in peripheral corners of the grounds, expanding the scope of the performance well beyond the square. A drummer makes his way behind a kit situated on a grassy clearing several yards away; meanwhile, a single dancer on an upper terrace moves in sync with the group in the central square. A horn section bleats from a staircase on the far side of a sunken garden, suspended above the treeline. A percussionist lays a beat with mallets used against the thick stone columns. The performance is inseparable from the environment; a reminder that a work of art's physical context integrally informs our relationship to the piece.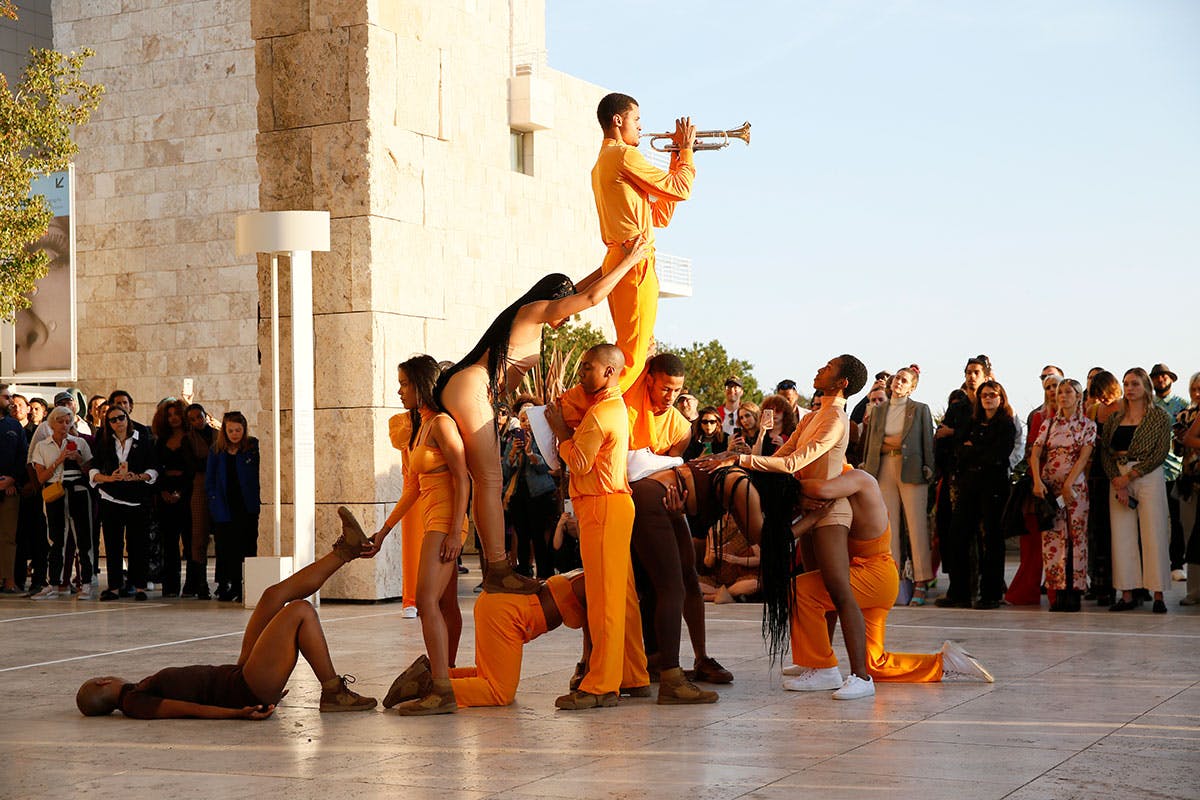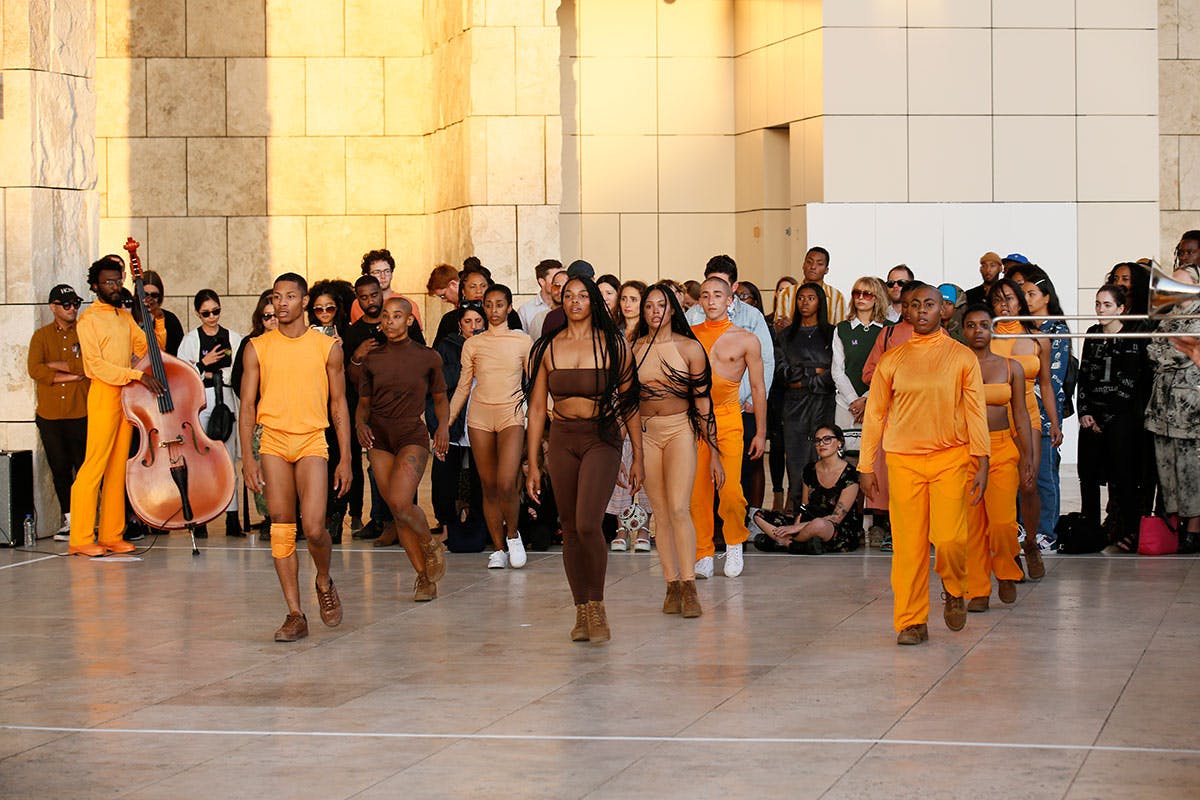 At the end of the 45-minute preview performance, a beaming Solange entered the square to take a bow alongside her performers and collaborators. She thanked them, as well as Getty, for the opportunity "to experiment and evolve," and said she felt eager to further her practices as both a director and composer. This comes as no surprise to anyone who has paid attention to the work she has produced over the past three years. Solange has been honing herself as an artist of multiple disciplines, in tandem with her career as a recording artist, and carving a space for herself fine art institutions; from the iconic 2017 presentation of her performance piece "Scales" at the Guggenheim, to the video/dance/sculpture work "Metatronia (Metatron's Cube)" featured at the Hammer Museum in 2018, to the presentation of her When I Get Home film in New York, Los Angeles, and London museums earlier this year.
"Bridge-s" is Solange's first offering in which she does not herself take the stage. This next chapter of her artistry sees Solange taking what she's learned from her extracurricular interests and from aestheticizing her own work— through stage design, choreography, art direction, music composition —and implementing those skills in new contexts that go beyond propping up her recording career. It's an exciting development that should inspire any artist with similarly sprawling inclinations; anyone whose creativity unfurls in multiple directions that are subject to intertwine but that also subsist as individual, lively avenues of their own.
Riding the Getty tram from the gallery space back down to the parking level after the event, I gazed out the window. The full moon stared back, round and yellow as an egg yolk, looming low above the mountains. In unison, everyone on the train turned to marvel at it. The woman next to me instinctively pulled out her iPhone to snap a photo before quickly remembering out loud, to no one in particular, that you can never really get a good picture of the moon— not one that does it any justice. No one responded, but everyone apparently agreed, because the rest of us didn't dare try either. We just took it in. It was understood that some experiences, like the moon and like the performance we just watched, are a matter of time and place.
"Bridge-s" will be free entry and open to the public on November 16-17.