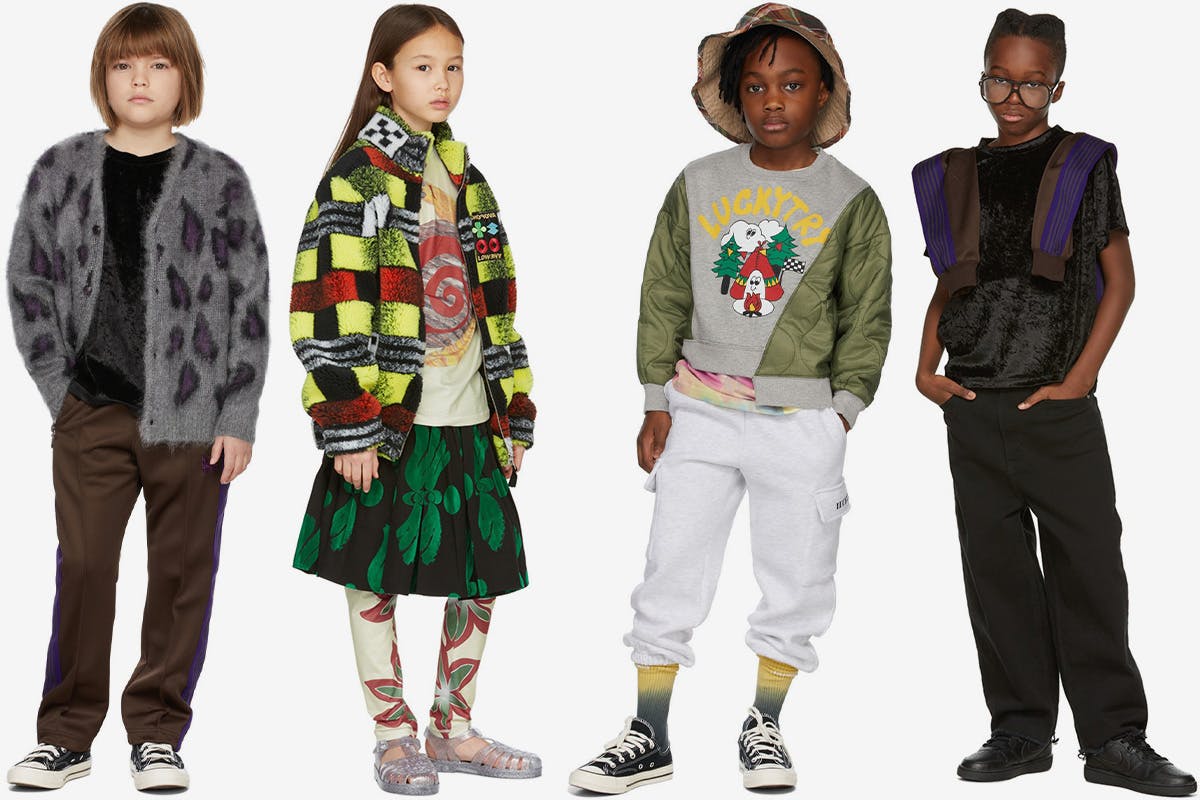 To preface this article: I don't have children. That's what makes it even more wild that something primal is telling me to cop a kids' Needles Mohair Cardigan. Maybe it's a sense of planning ahead, like what if I have kids and they don't sell Needles mohair cardigans in their size anymore?
While many kids' collections feel like an afterthought, SSENSE Kids boasts the same buying direction that has put SSENSE in the top tier of online luxury retail.
Exclusive collections from 1017 ALYX 9SM, Collina Strada, Dime, Doublet, Museum of Peace & Quiet, Rave Review, and more set the tone, with new collections arriving regularly. New drops from Needles, Chopova Lowena, Margiela, and more have really caught our attention lately.
SSENSE Kids ranges from newborn through to 14 years old, so whether you're copping fire for your new arrival or kitting out a teenager, you'll have no trouble at SSENSE. We know you're wondering whether you'll fit a kids' XL, too, don't lie.
Shop our top picks from SSENSE Kids below.
Needles SSENSE Exclusive Mohair Cardigan
The aforementioned mohair cardigan. Definitely a nightmare to get spilled yogurt out of, but who cares?
Balenciaga Track Sandals
While many of the selections in this roundup are truly impractical, Balenciaga's Track Sandals are actually a pretty viable option for your steezy child.
Axel Arigato Catch Hoodie
Again, in comparison to luxury mohair pieces, this black hoodie is a sensible choice.
Chopova Lowena Snail T-Shirt
Chopova Lowena does kids' clothing properly: fun graphics that are actually tasteful for once.
LuckyTry Paisley Dumbled Jacket
Kids have it easy these days. This paisley fleece blows my old ones out of the water.
Maison Margiela Denim Dress
Is this almost too tasteful for a child? I mean, where do they go after this? Is it all downhill from here?
LuckyTry Padded Cut Line MTM Sweatshirt
This cut-and-sew masterpiece should definitely come in regular adult sizes, too, but until then copping the kids' version will suffice.
Chopova Lowena Flocked Gathered Dress
They'll be a tangled mess within an hour but at least they'll look cute at the very beginning.
Needles SSENSE Exclusive Velour Pocket T-Shirt
Comfy, warm, and a full-blown flex. What more can you ask for as a toddler?
Want to keep browsing? Head to the Highsnobiety Shop for more products that we love. Highsnobiety has affiliate marketing partnerships, which means we may receive a commission from your purchase.