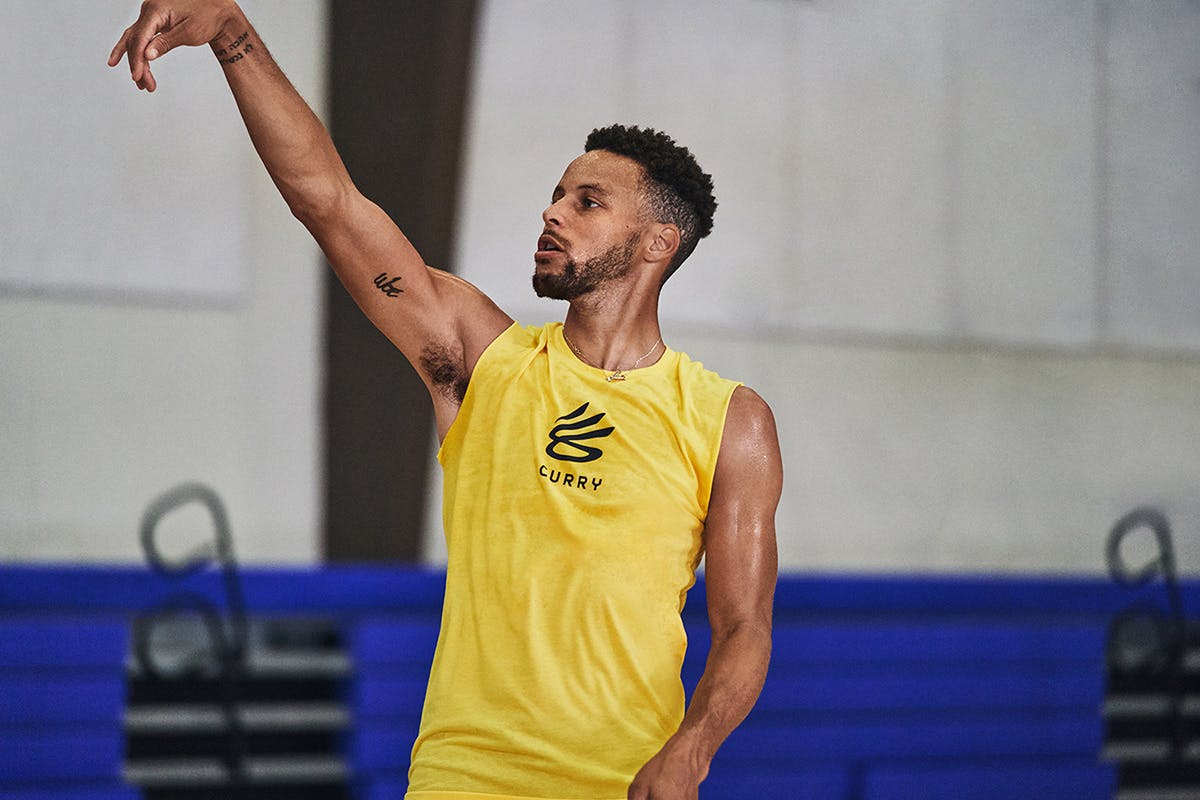 Following rumors, Under Armour has officially announced Stephen Curry's new brand, simply referred to as Curry Brand. Curry Brand is a legacy brand powered by Under Armour, similar to Michael Jordan's Jordan Brand by Nike.
Launching December 1, Curry Brand will span footwear, apparel, and accessories, with each category being backed by Under Armour's performance product innovations. Curry Brand isn't solely focused on product, however. The imprint is all about giving back, similar to how Steph and his family have done since he was a kid, having grown up in the home of an NBA player, his father, Dell Curry.
"I grew up doing a lot of things to give back to the community with my family—and continue that now—while Under Armour has done so much to support athletes around the world," Steph said.
Curry brand has committed to investing a percentage of yearly revenue in under-resourced communities, largely targeting youth, as less than 30 percent of kids ages 6 to 18 who grow up in low-income households participate in organized sports.
"Play is a fundamental part of childhood and is critical to development. So much of who I am as a person and a leader today is because of playing sports as a kid," Curry added. "I learned the value of hard work, resilience, teamwork, communication, time management—sports teach young athletes so many critical life skills, which is why I'm passionate about making sure everyone has access to these opportunities, first through my foundation and now through Curry Brand."
Beginning in Oakland, Curry Brand will be partnering with local organizations to provide youth with safe places to play, coaching and leadership development, and programming and product.
"A lot of my inspiration for the brand came from the last 11 years I've spent in Oakland. All the support that the community has given me, I want to be able to hand that right back," said Steph. "Under Armour and I have already been working on bringing play to Oakland, and through this work, I've been able to see the challenges kids are facing first-hand, so Curry Brand just builds on the strong foundation we've started."
"Curry Brand is all about doing good in everything that we do," he concluded. "I've tried to embody that in my own actions, and I think it's also something that other people can really get behind no matter where they are in life or what their goals are, sports or otherwise. We all have the ability to impact the next person and to give back in some way, and that's more important now than ever before."
Curry Brand apparel and accessories will be available beginning December 1 on currybrand.com, while unisex basketball performance footwear launches December 11. The brand will also expand into other categories such as running and women's in the months to come.