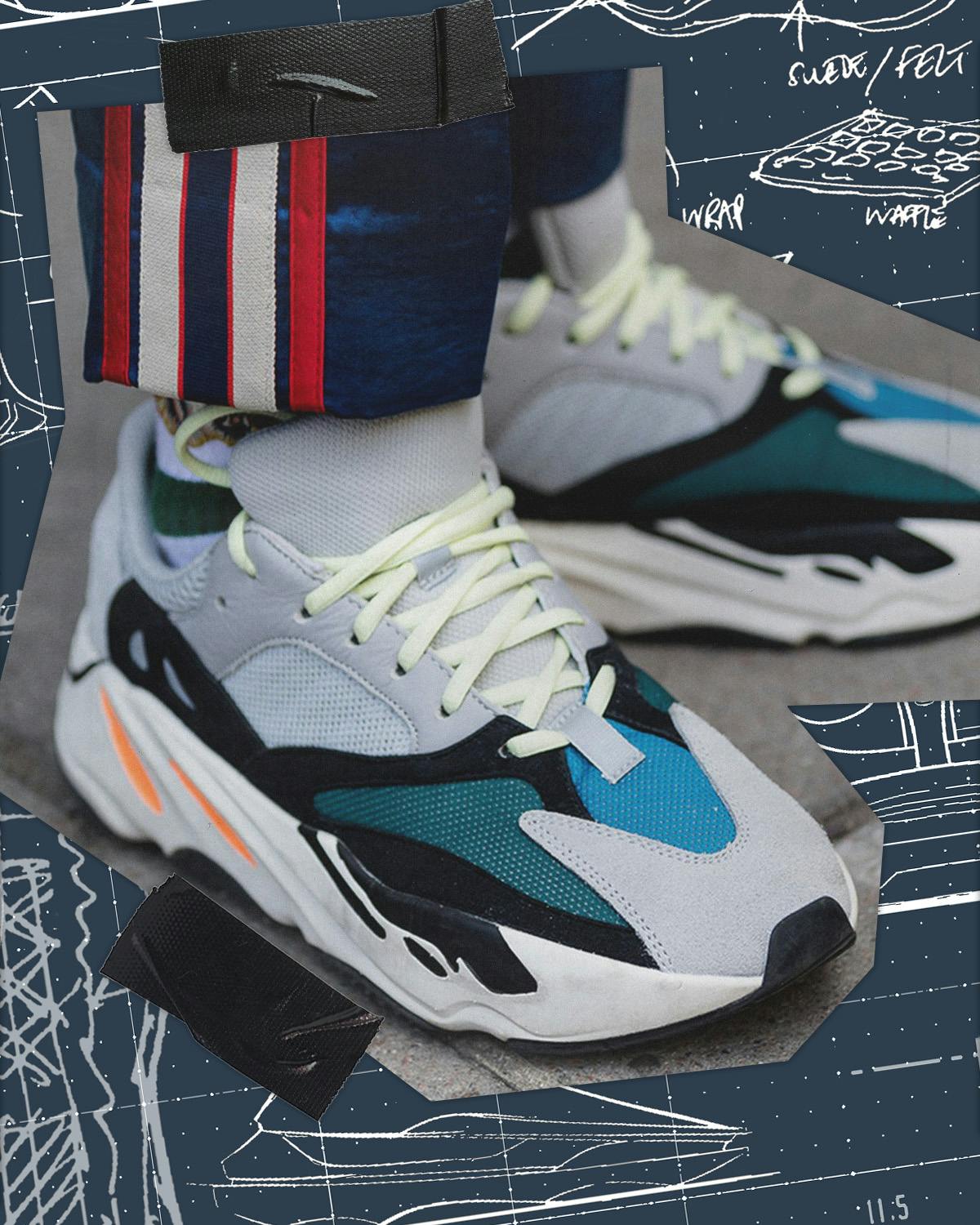 In an industry addicted to retro, Highsnobiety presents The New Vanguard of Footwear, a dedicated hub that celebrates the pioneers from around the globe who are changing the face of what today represents a multi-billion dollar industry. For this debut iteration we spotlight nine designers (most of whom were born after the Air Jordan) working across sportswear, streetwear, luxury and everything in between. They represent youth culture today, and show us early glimpses of where it's going next. Before we dive in, sneaker legend Steven Smith has some words of advice for this next generation, that includes you.
Steven Smith is your sneaker designer's favorite sneaker designer. For over three decades the designer has created some of the world's most iconic silhouettes for Nike, adidas, Reebok, New Balance, FILA, and now with Kanye West at YEEZY. Many of his early designs continue to be rereleased today through collaborations and updates.
A career that began at New Balance in 1986 where he went on to create models including the brand's 574, 997 and 1500s, later took him to adidas where he joined as a Senior Designer two years later. There he changed the world's perception of high-tops with the launch of adidas Artillery.
That stint lasted only a year before he was swooped up by Reebok as Director of Innovation Design. Under his tenure he launched the brand's signature Instapump Fury. It was innovative in every way. It had a no-lace closure, it was chunky, and aesthetically incomparable from anything out there at the time.
Later, at FILA, he partnered with NBA's Grant Hill on the player's signature shoe line. Then came Nike, the big dog. At the sportswear giant he worked on sneakers including, Nike Shox Monster, Nike Air Streak Spectrum Plus, and Nike Air Spiridon Cage 2.
Since 2016, Smith has worked with Kanye at YEEZY, once again pushing the boundaries of what a sneaker can be for as seen with the brand's YEEZY Boost 700 runner and the unreleased YEEZY 451 sneakers that he has a hand in.
From London, I called him up at his Lake Oswego, Portland home. I'm curious to hear what the Godfather of sneakers thinks of where the sneaker industry is heading, what's changed, and what the new vanguard of footwear will bring to this multi-billion global industry next.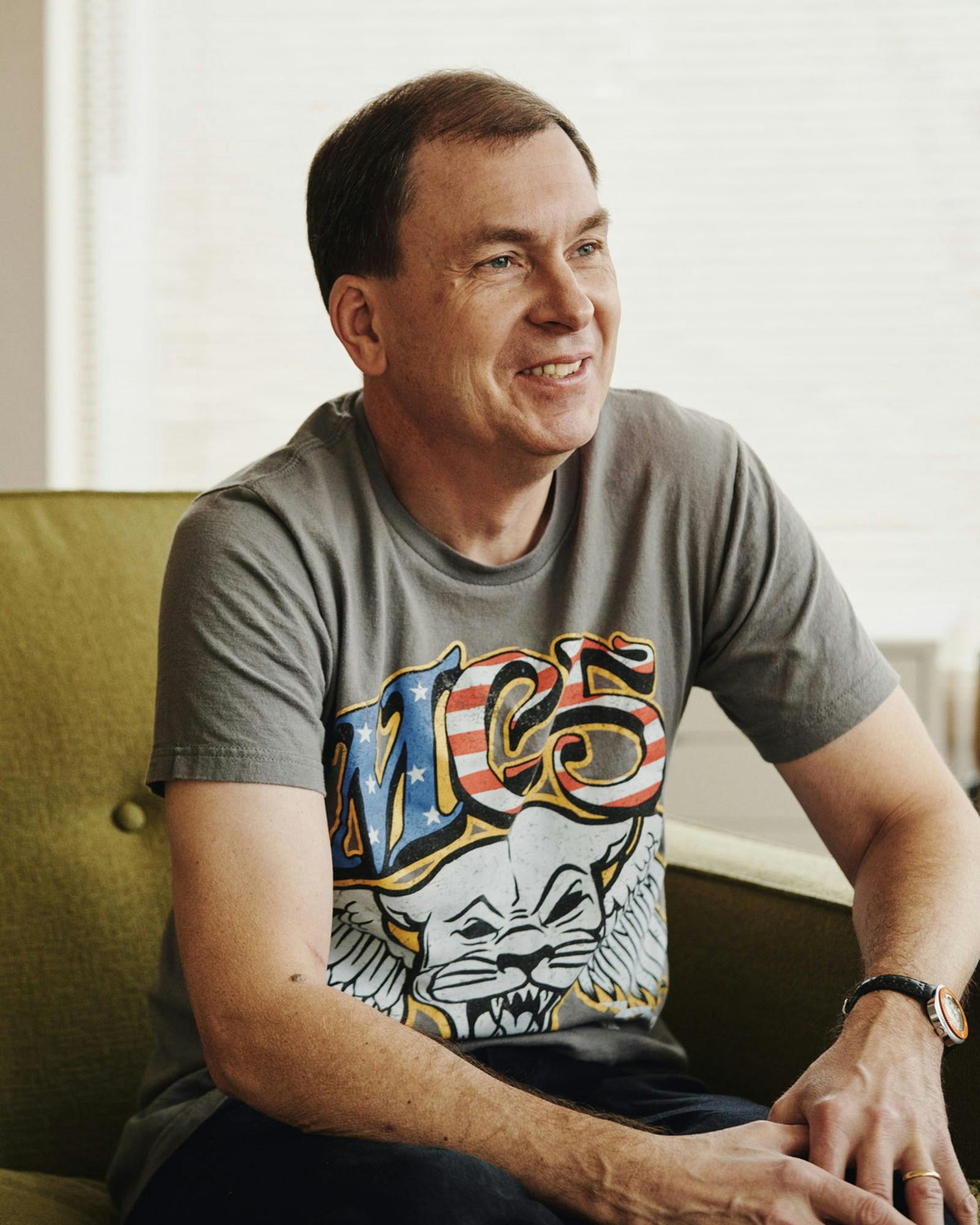 On What's Changed in the Sneaker Game
I think quite a bit of it has changed from the past. Things were much more performance-based in how we approached everything, especially in the days of Nike and adidas, [where] the culture side of it was almost secondary. But I think the culture side of it has risen to rival that of performance at this point and it's an equal to it. Neither one has displaced the other. I think it's a hybridization of the two that has come to a new place. And if there's anyone who has been responsible for that, it's Kanye. He's kind of dragged the industry into a new place there. It's definitely culture based, hookup based, outfit based. But at the end of the day, it still has to have performance roots.
On Working With Kanye at YEEZY
What I've helped to bring to him, with the other members of the team, is [something] I wouldn't call a conscience of sport, [but] an awareness of it. When I say sport, it's not sport specific. I mean, the basketball shoes, kind of the first real sports specific ones that we've done, [and] with the Wave Runners, there's an aesthetic or a format to it that encompasses those sports, you can physically run in them. When you go back to look where Kanye started with the 350s and 750s, what are they for? Can you tell me? It's like, are they for running, are they for chilling out? Yeah. Can you play hoops in them? Yeah. They're for all of that, but it's all [about] style, comfort, fashion with performance. I think it's been a shattering of those boxes, and it's blurred those categorical licenses.
On Why Sneaker Culture Blew Up In the First Place
It's hard to say, it's breached into those other areas. I'd say ball caps come close to it, but I think, again, shattering those categorical definitions or preconceived notions of what something is (also what we've also done in the limited releases, whether it's sheer volume, or even in colorways). For a lot of the kids in the culture, we've created functional art. I think that's a big difference. Everybody would love to collect great art pieces, whether it's Keith Herring or Rembrandt [however] there's only so much of it. And what we've done is created this functional art in accessible volumes and accessible price points. But it's also that limited edition element. I think that's what's cool about it. I mean, you can use them if you want, you can keep them, store them, or collect them. On How Sneakers Are Democratized Art
There are a lot of things I look at, like KAWS figures [but] what's going to happen to this stuff. It's fun to look at it. It was fun to collect them, but you know, what can I do with them? At least with the sneaker side of things, you can put them on and wear them. You can show them off. That's the other funny thing too. Individual art pieces, they're in your home. They're there for you to enjoy, but you can't really share it and that's what's kind of cool about what we've done with this industry in particular. Rather than having to invite them into your home, you can walk down the street and share the art.
On the Power of Being a Footwear Designer
For me, as a designer who's done this for 35 years, to this day, there's nothing more humbling and satisfying than walking down the street and seeing somebody in something that you touched or helped to create. I just want to thank everyone I see with them and I do. When I do, I'm like, "Hey, thank you for appreciating an art piece that I was part of." And I think that's really special to me. I mean, I'm not here to carve out my place in the industry. I have, and it wasn't my goal. I just wanted to do a good job at what I was doing at that point in time for all of the companies.
On Becoming a Footwear Designer
It's the first thing I did out of college. I mean, you younger guys just assume this always existed. It didn't. Some of us were the first of our kind to do this and through that work and through those products that we created, and the excitement that we generated through the products that we designed, we took it beyond a foot covering or a necessity and made them objects of desire and something special. I mean, we defined what it should and could be as a job, as a role and as a creator and that's pretty cool. I've always looked at that as part of my job as well, to keep this special and keep people excited and interested in wanting to do it. Because it was new territory.
On Going Against the Grain Early On
When I would go back to my college I would be mocked by the guys who went to go work at computer companies and real product design companies, but you know, they do some dumb, dumb stuff too. You know, you design a box, you put a light on the right and some vents on the left and next year you move the light to the middle and the vents on right and left. That's kind of mind numbing. There's industrial design that's problem solving where you have to make something a certain way. With us, we have to make something desirable, especially in that price point that we're in between the $70 to $200 price range where there's a lot of competition for cool stuff. It became this great challenge and goal to compete against those things at that price point, as electronics moved into it as did cell phones, music players, and gaming systems. That's our competition now. Before, when I was at New Balance, we had to just look at what Nike or adidas were doing. But now it's just so much more. The bar has been raised around what I've got to compete against.
On Today's Sneaker Designers Gaining Traction
It's fun to inspire the future of what the industry should be. Again, when I started, I was a 21 year old kid and it was new. Like I said, there was nothing like this for a job. And so it's cool to see people more interested in it now and wanting to do it. It's rewarding because you get to see, depending on what brand it is, anything from 10,000 to millions of people, appreciating and sharing your designs.
On Advice for Footwear's New Vanguard
I think to keep things interesting, and the way I've always approached it, is that you have to challenge yourself. That's what's kept me fresh and at the top of what I consider my game for this long. When I look at something I look at if it's been done before, and would I want it? That's one of the biggest challenges, too. I've seen designers over the years who would just punch the clock and "Oh, I got to do another $65 shoe." And it's just dumb, their impression of a dumb, dumb thing. And it's like, "Dude, if you're not creating something that you want or would desire, how the hell could you expect anyone else to want it?" I want to make something so cool that I wish would exist. And it's like, you have that power. The power to create the future, so why not push the envelope. That's what I've always been about. Whether I've been considered a pain in the ass or difficult to work with, part of that is seeing the future and bringing everybody along with you. And it's not an easy thing to do. Also, don't compromise. Unless you want to make lots of money, you can suck it up and compromise and be a tool. But that was never me.
On Pushing Footwear's Boundaries
I was about the challenge, the effort to bring [sneakers] to new spaces. I think that's a good thing to do is, challenge yourself, challenge the industry, push it to new places, show me things I've never seen before, make something where I say, "Damn, I wish I did that. That's so cool." That's where things like the Reebok Fury came from, or the 1500 at New Balance. This is the pinnacle. Again, you have the power to do it so why not push the companies, push the market. That's where it's been great with Kanye because he believes in the same things. He pushes me and we go to new places and together as a team, we all create things that people have never seen before. You're bringing [people] into the future and they don't quite understand the future until it's right in front of them.
On Fitting Into the Future
Yeah. It's important also for us to be good clairvoyance to what's coming so that our stuff, at the end of the day, jives with everything else so you have that fit or that hookup. The easy stuff is great because we do the collection and I think that's important. Part of it is us driving the future that others can then jump on and everything does kind of hook up automatically or make sense when you put your fits together. And again, that's a big difference because in the past, the fits were like, "Oh, I got to do the Nike Pegasus. It's going to go with the warmup that Nike makes." Now it's like the world's wide open to what your fit can connect to and what's a great vibe and have it all work together as a bigger picture beyond just the singularity of a brand.
On Creating Legendary Sneakers Still Used Today
E. Scott was a designer who worked with me at Reebok and Nike and he was once like, "Dude, you're the only one competing with yourself for 35 years straight." It's pretty crazy to see all of my styles from the different brands on the shelf together, coexisting. I mean, it's weird to see that stuff. Part of it back then was that it was a solution for that brand with their DNA, with what I could do at that point in time. I mean, it's delightful to see them all last this long, because they were never meant to become these icons of the industry. But, it just means I did something right.