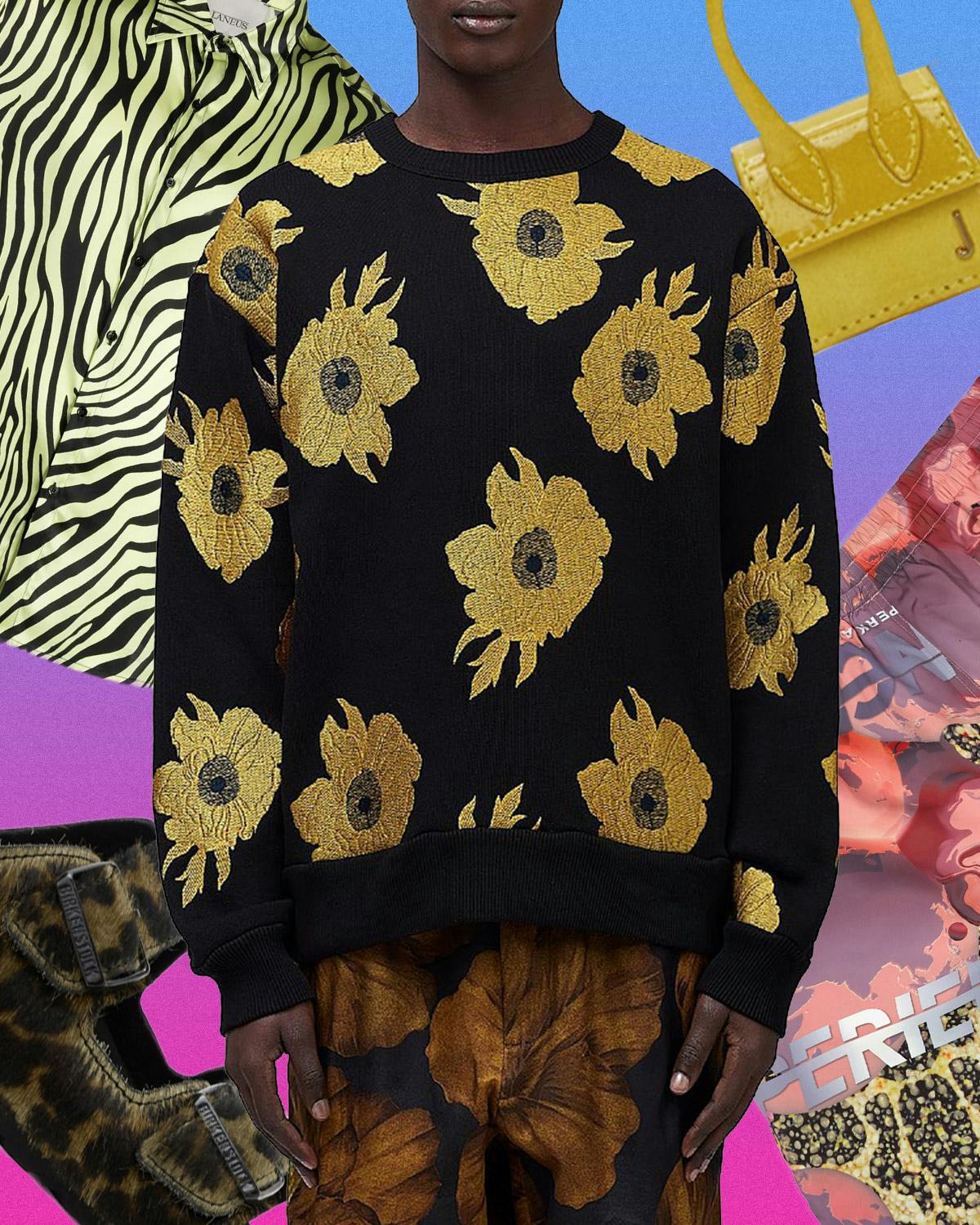 Style Hack is Highsnobiety's weekly column set to clear the confusion around some of fashion's biggest conundrums. So, if you're looking to wear sneakers to a wedding, or need help styling a bolo tie, you've come to the right place. For the third edition of our series, we look at the infinite combinations that come with deliberately clashing your clothes. 
Putting together outfits that "work" can be exhausting, defeating – impossible, even. Filtering through your wardrobe for various shades and styles to create a congruent "look" is arguably the bread-and-butter of getting dressed in the morning. This gray shirt with those black pants, this bright shirt with that neutral jacket e.t.c..
However, there is an alternative to remedy this. We present to you: the power clash.
Styling your outfits with garish combinations – animal print and stripes, denim and shiny vinyl, houndstooth and check – is an antidote to the somewhat overplayed clean and cohesive aesthetic that says everything needs to match. Power clashing is anti-Instagram, but pro-fashion. It's about reclaiming your inherent chaotic messiness and styling it out in such a way that says "yes, this is all intentional."
The recent Fall/Winter 2020 collection from Dries Van Noten (as above) played into these ideas of remixing sartorial codes by styling camo jackets with animal prints and floral shorts. The Belgian designer dubbed this "Archi-Fluidity" and it's an inspiring reference point for a new era of men's fashion that's unafraid of disrupting archetypes and embracing the ambivalence of liking more than one thing at once.
Perhaps 19th-century American poet Walt Whitman said it best, "Do I contradict myself? Very well, then I contradict myself, I am large, I contain multitudes."
Check out some of our favorite products to aggressively clash together below.
Nova Check Safari
The red zebra pants below come from Seoul-based label We11Done and would be especially eye-catching even if they were worn on their own. However, in the spirit of a discordant style, you can get even more eyes on your fit by pairing with a loose-fitting shirt in a light blue/red nova check pattern from Burberry. It doesn't really go together, and it shouldn't. That's the whole point.
As for accessories, the Jacquemus necklace pouch in yellow should fuck up the whole aesthetic, as intended.

(Available at 2 Merchants)
(Available at 2 Merchants)
Stripes & Sunflowers
Sportswear is typically worn in matching sets,  i.e. a '90s-style shell suit. Well, you can offset the athletic vibes from the classic Needle track pants below with a sunflower print sweatshirt from Dries Van Noten. As the goal here is to multi-hyphenate your style, you can add a pair of pony-hair leopard print Birkenstocks from the Random Identities collaboration to round it off.


(Available at 2 Merchants)
(Available at 2 Merchants)
Chaos Theory
As the melting globe graphics and acid-burn cheetah prints make clear, the swim shorts from Perks & Mini below are an outstanding example of power clashing in and of themselves. You can take the chaotic patterning one step further by getting two of your five-a-day recommended fruit serving courtesy of the Acne Studios fleece. Top it off with a polka dot bucket hat from Needles because anything goes.
The beauty of power clashing is that the more it doesn't work, the better it looks.

(Available at 2 Merchants)
(Available at 2 Merchants)
Our designated Selects section features products that we love and want to share with you. Highsnobiety has affiliate marketing partnerships, which means we may receive a commission from your purchase.