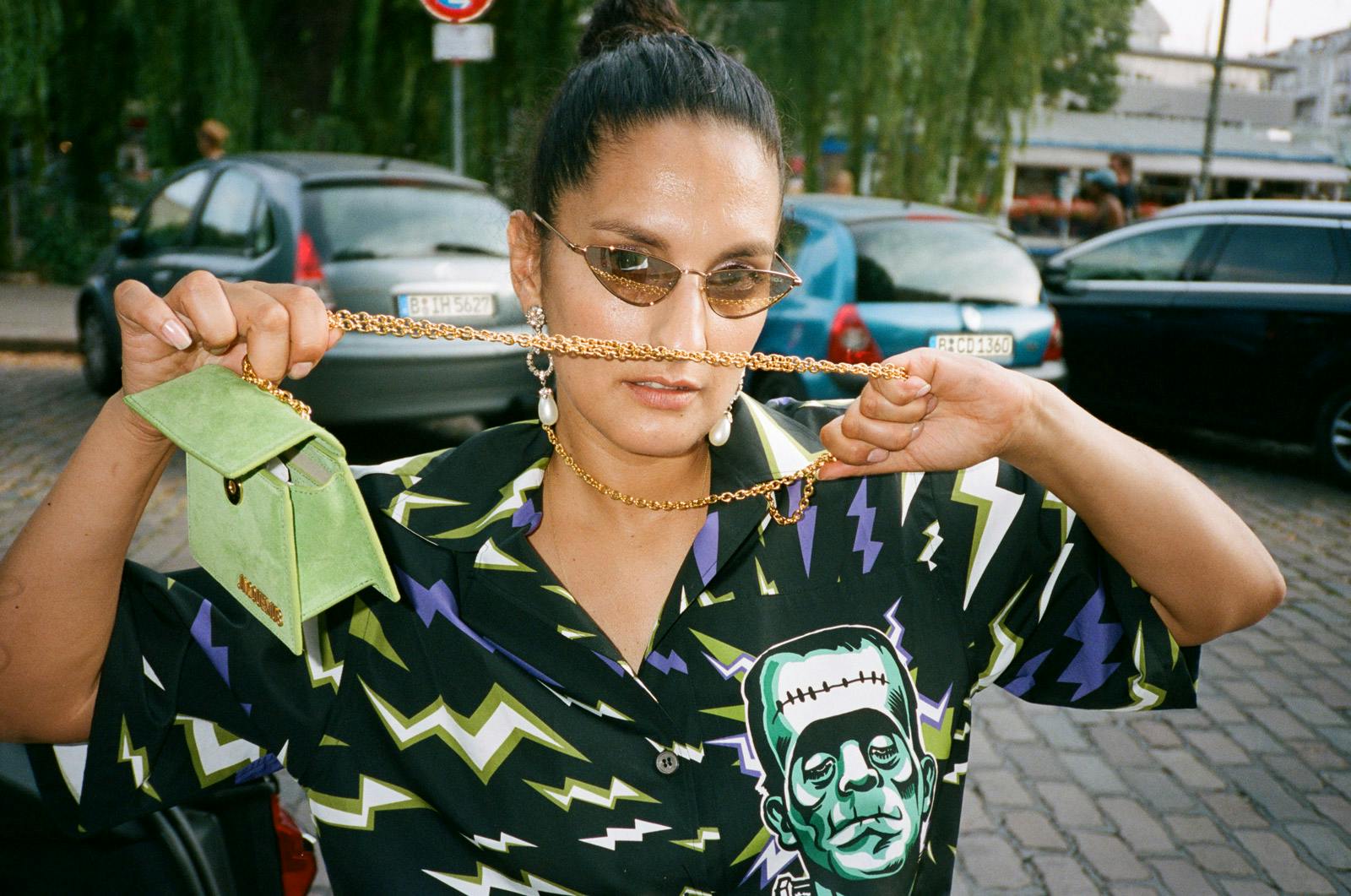 Over the last six months, we've partnered with Sunglass Hut to dig deeper into the world of sunglasses, exploring the style movements that have influenced them, what styles Highsnobiety staff are collecting, and breaking down the complicated terminology around them. To round off the partnership, we sat down with Berlin-based stylist Lorena Maza to discuss styling tips, future trends, and self-confidence.
Summer may be over, but if we've learned anything in the last years it's that sunglasses are no longer bound to the warmer months. As a staple style accessory, flexing shades in winter is definitely not unconventional, in fact, it's becoming the norm. That's not only because the sun's rays, although weaker, are still harmful in winter, but because shades long surpassed their functional purpose and become an everyday expression of style.
Why that's happened is debatable. Perhaps it's the fact that we live in the age of the selfie when sunglasses are one of the few accessories that fit into an arm's length shot capturable on our phones. Or, contrarily, do shades give us a sense of anonymity and privacy when nearly everything else we do is being gathered, monitored, and measured by some internet giant. Whatever the reason for it, the message is clear, we want to wear shades and we want to wear them all year round.
But don't just take it from us. To dive deeper into the subject, we caught up with Berlin-based stylist Lorena Maza on a sunny fall afternoon and talked about our increasing obsession with sunglasses, 2020 trends, and what the future has in store.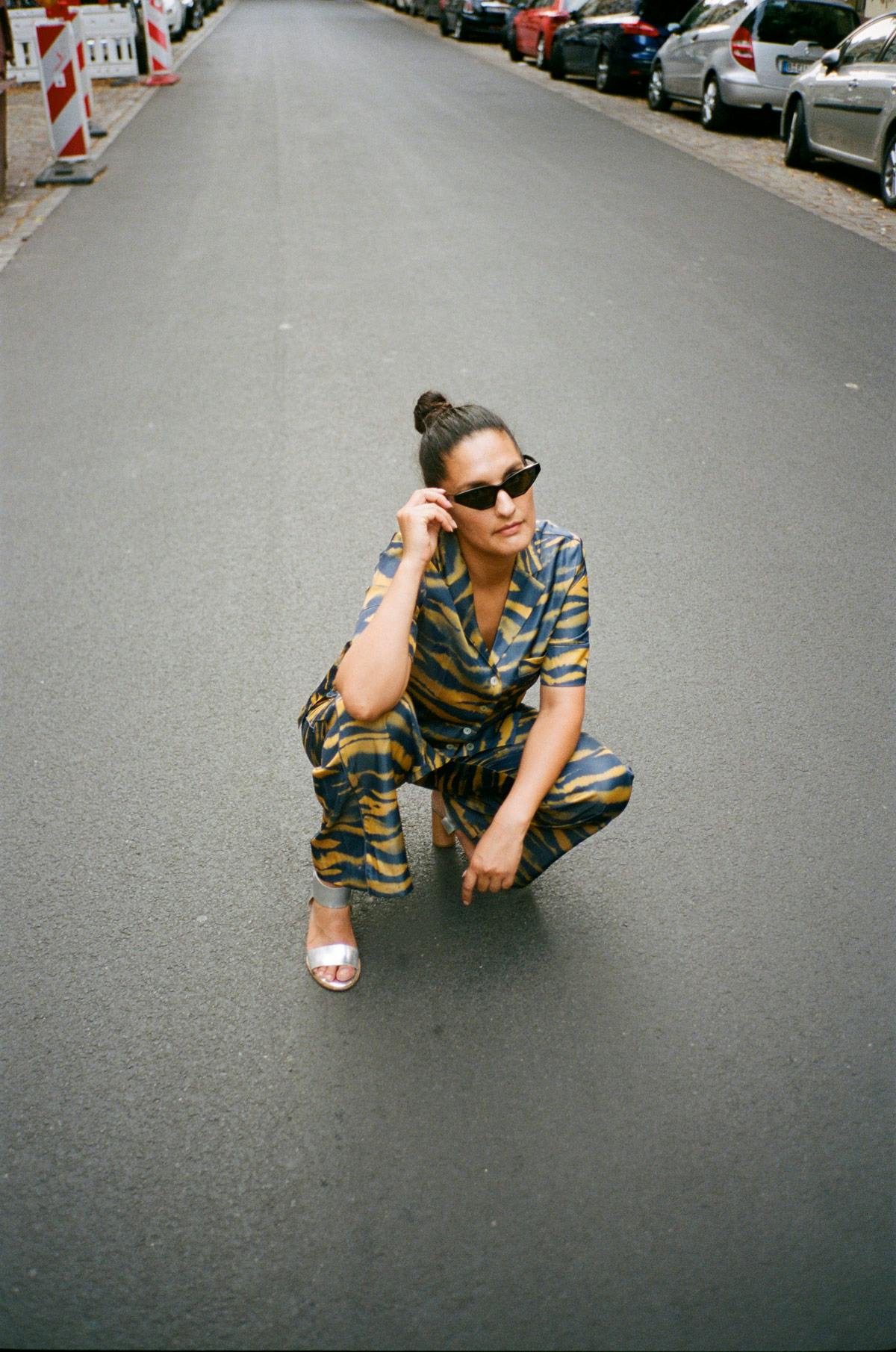 As a stylist, have you noticed sunglasses becoming more popular?
Yes, sunglasses are now more popular than ever before. Just look at the number of brands doing sunglass collaborations.
Why do you think that is?
The price of a pair of sunglasses is accessible to a lot of people, unlike other luxury items. You can buy a Chanel pair of shades and still have the feeling of, 'Oh my God! I own a piece of luxury.' Even if we'll never be able to afford a €20,000 Chanel coat, you can afford a couple of hundred Euro pair of sunglasses. Plus you're wearing it on the most visible part of your body.
Do you think the fact that we live in a time so obsessed with our portrait plays a part?
Totally. I was doing research about fashion and the future and I read an interesting article by a well-known trend forecaster where she said that our generation is so focused on this part of the body [gesturing to her face and shoulders] because of the selfie. It's changed a lot of things. Like with hair, this part of the body is so important. Glasses, earrings, accessories, jewelry for your hands, and even the collar of your jacket. All the details are focused on this area.
But for sunglasses, in particular, there is just something so timeless about them, they always give you a certain coolness. When you wear your sunglasses, you separate yourself from the people around you. Even if someone is just wearing shades, they look almost like they're untouchable.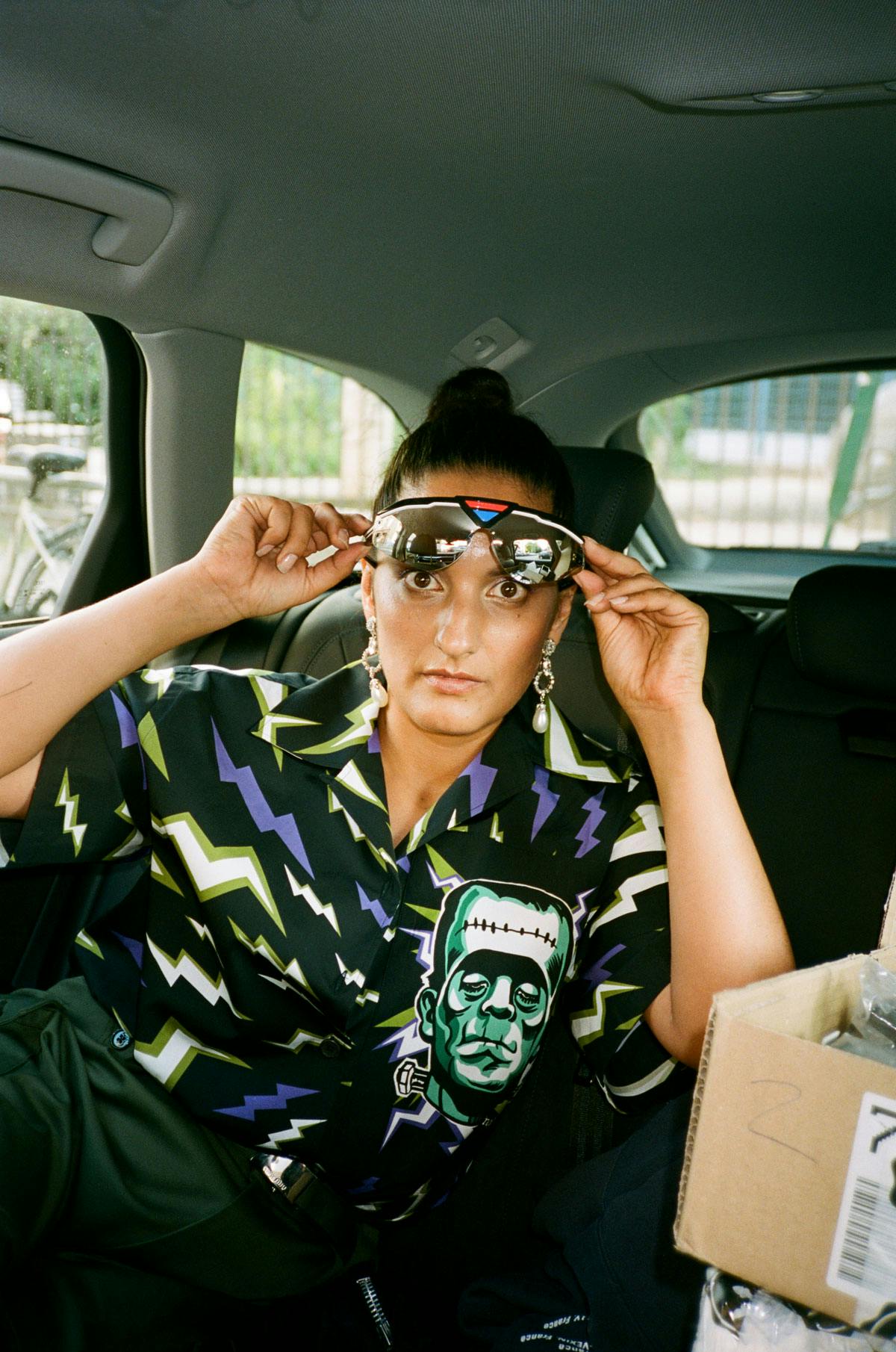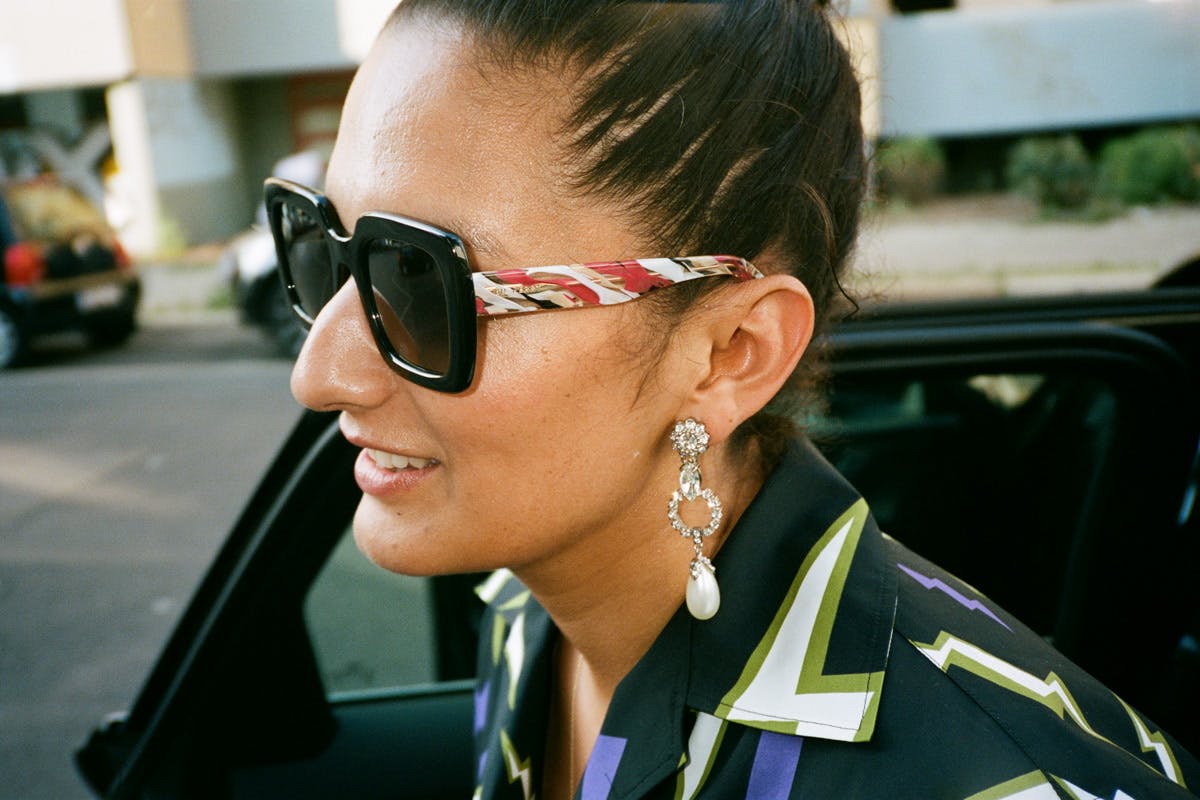 Why do you think a good pair of shades is key?
For me, glasses are like a picture frame for your face. You can have a beautiful picture but if you don't have the right frame, it won't look great, so it's very important to choose the right one.
How do you pick which shades to wear?
I always let my mood decide, how I feel that day.
What advice would you give to someone shopping for sunglasses?
There's always a lot of trends, but from my point of view, your sunglasses should be something that suit you. It's not about trends, they should make you feel good, give you confidence and empower you in a certain way.
What were your favorite shades this summer?
I love the cat-eye thing that's been going on for a while now. It's a classic kind of shape, but now it's being redone in a way that's more futuristic, more extreme, but still very cattish. And then, of course, there are the wrapped sport shades. We're going back to the '90s, to the raves and the Love Parade kind of vibe.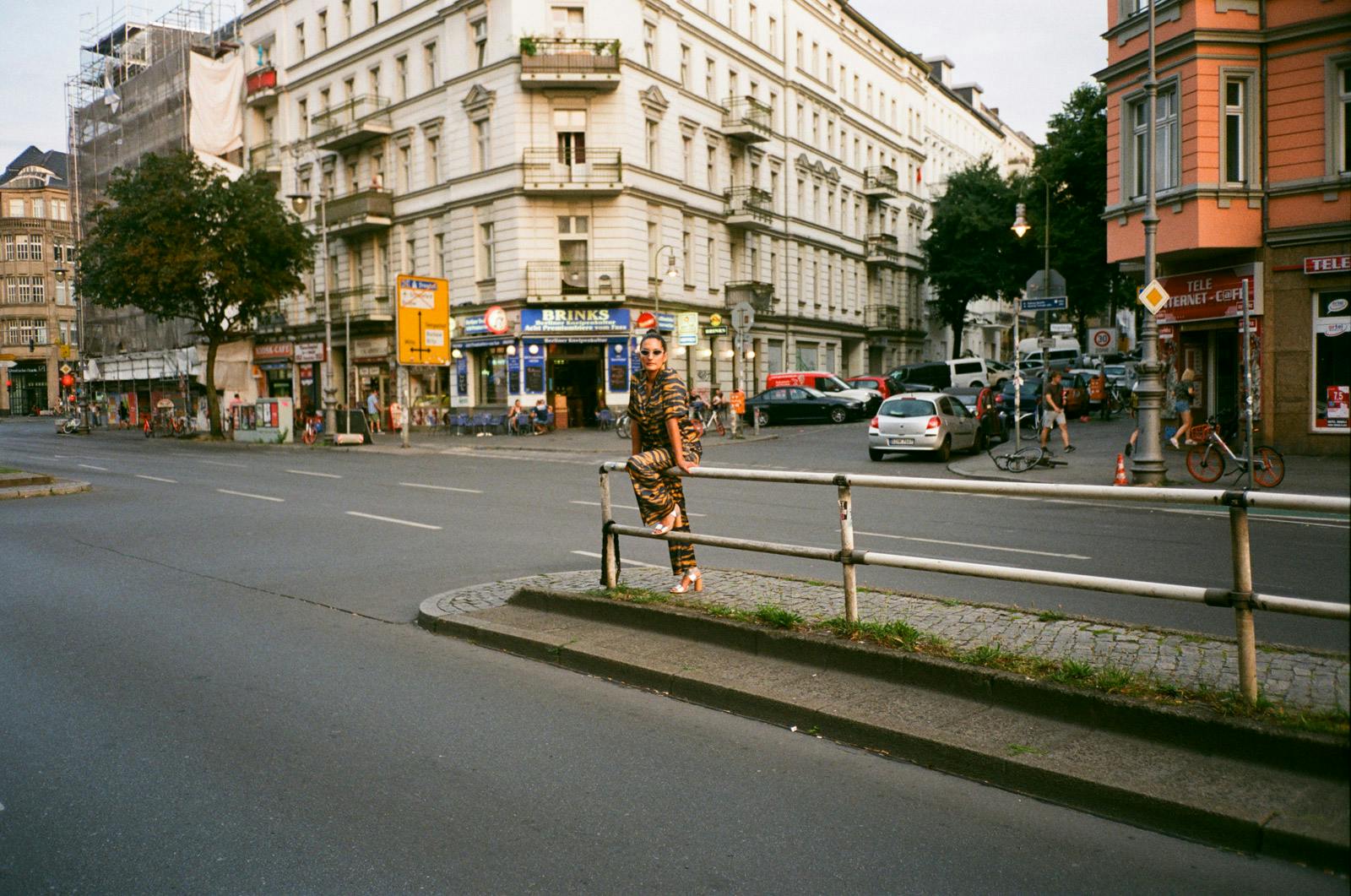 Do you wear them?
I'm wearing them for the shoot and they look really great. I think I would wear them myself, it would depend on how I felt. Sometimes you don't want to be so extraverted-ly dressed. Even though it is really on-trend and cool right now, you also have to have that feeling that they're for you. Maybe other designers will kill me because for them it's all about trend, but for me, it's not. Clothes, and fashion in general, are there to highlight your personality and not for you to use to be someone who you are not. They should highlight who you already are and show what is on the inside on the outside in an aesthetic way. That's how I work. I don't jump on every trend, it has to fit me, my story, my look, my personality.
Based on what you've just said, how do you do it when you've got a job styling someone you've never met?
I try to avoid looking at what they've worn previously as I'm not there to repeat what's been done in the past. If I have the chance, I like to speak with them before on the phone and then I consider all the different components such as location, who's shooting, what's the vibe.
So you always have a big selection of shades at the ready?
Yeah, of course, I always bring a big selection. The most important thing for me is that the model or celebrity doesn't feel uncomfortable in what they wear and that they feel themselves.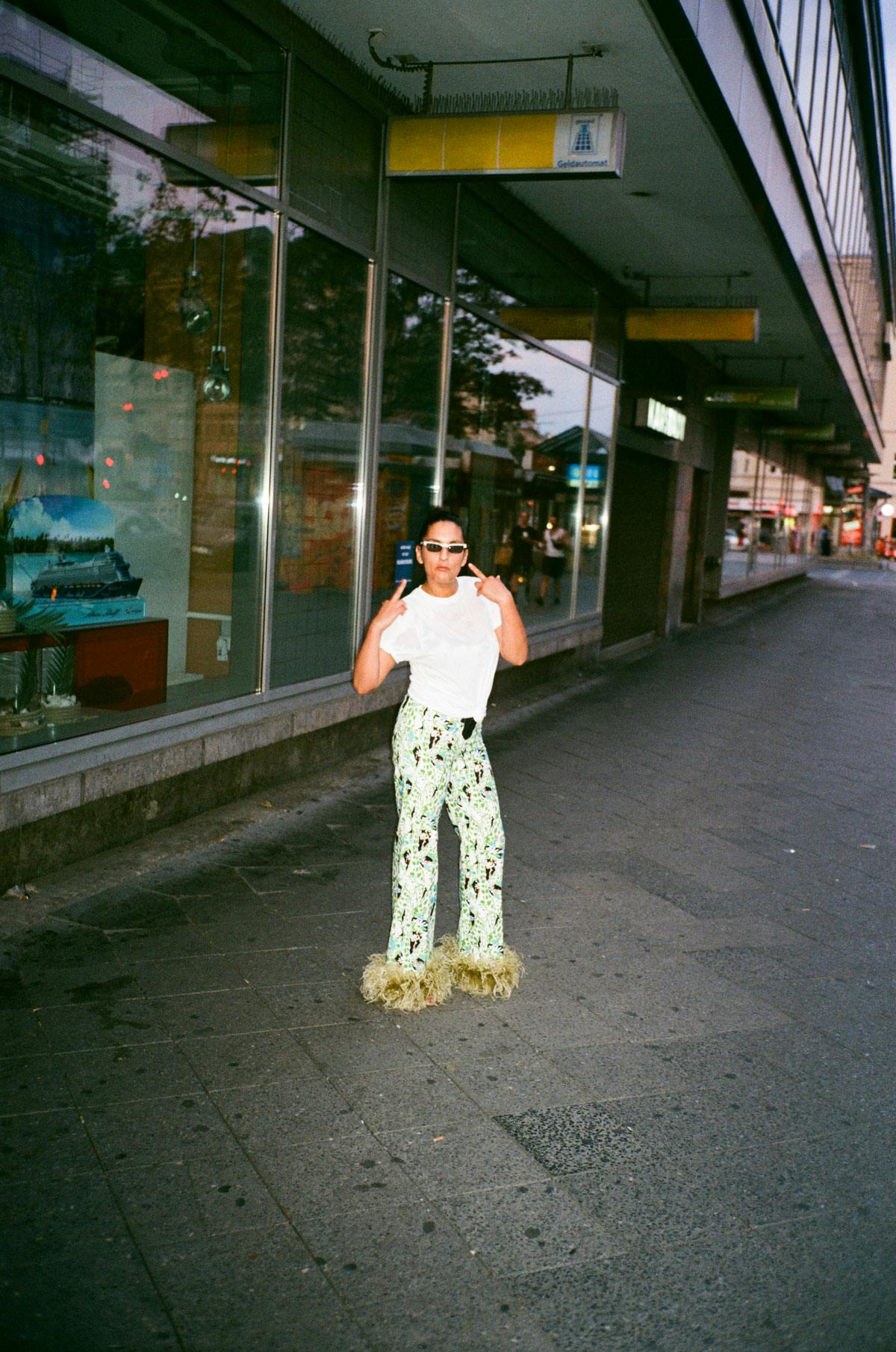 Are sunglasses something that you can wear all year round?
Yeah. Especially in Berlin with all the club culture. It doesn't matter what season it is, it's about coming out of the club and putting your protection on so you feel like you're invisible for a second.
What do you think the next big trend will be?
I think we will play with more color, more volume, and different textures. Brands from the 2000s are going to make a comeback too, as are sunglasses from that time. And then there'll always be the classics. The classics will never be out of fashion.
What about the futuristic trend?
The futuristic thing is growing more and more. The technology is there – it will definitely be the next step. I don't mean it in a tacky way, as you might find it now, I mean in a really 3D, futuristic kind of way. It's crazy what's possible now. I went on vacation in Jordan a few years ago and they scanned the iris of my eye. We're talking seven years ago. It's not a futuristic movie anymore.
Tell us about the glasses you're wearing for the shoot?
The Vogue ones are my favorites. To be honest, if I saw them on the shelf I wouldn't pick them up, but when I put them on I loved them. They have this kind of cat-eye thing but are so modern and futuristic. It's a great interpretation of classic shape in a futuristic way – something I think we will be seeing more and more of. Then there are the Burberry ones, all loud and I love them. The all-over traditional Burberry check is done in a really nice way.
What do you have in your personal sunglasses collection?
My favorite pair is by Miu Miu. I love Italian brands in general. I also love to buy vintage pieces including sunglasses. I buy the frame and then I go to the opticians and buy new lenses.
I think vintage glasses will become more of a thing.
I think it's always been a thing, but it's coming back everywhere. Just like the trend now is to have a really old phone from the 2000s and to not be available anymore – no WhatsApp, no Insta. It's always the way – if there's one thing happening like there is now with all the technological advances, then the opposite will arise too – like yin and yang. Not being available even for a few seconds gives us privacy.
We don't have much privacy nowadays...
Yes, and sunglasses, for example, are like a second layer of protection somehow. They give you confidence but at the same time, they can also protect you if you're feeling shitty. You just put your sunglasses on and you have the feeling that nobody can do anything to you. Like a superhero thing… I put my glasses on and I'm untouchable.