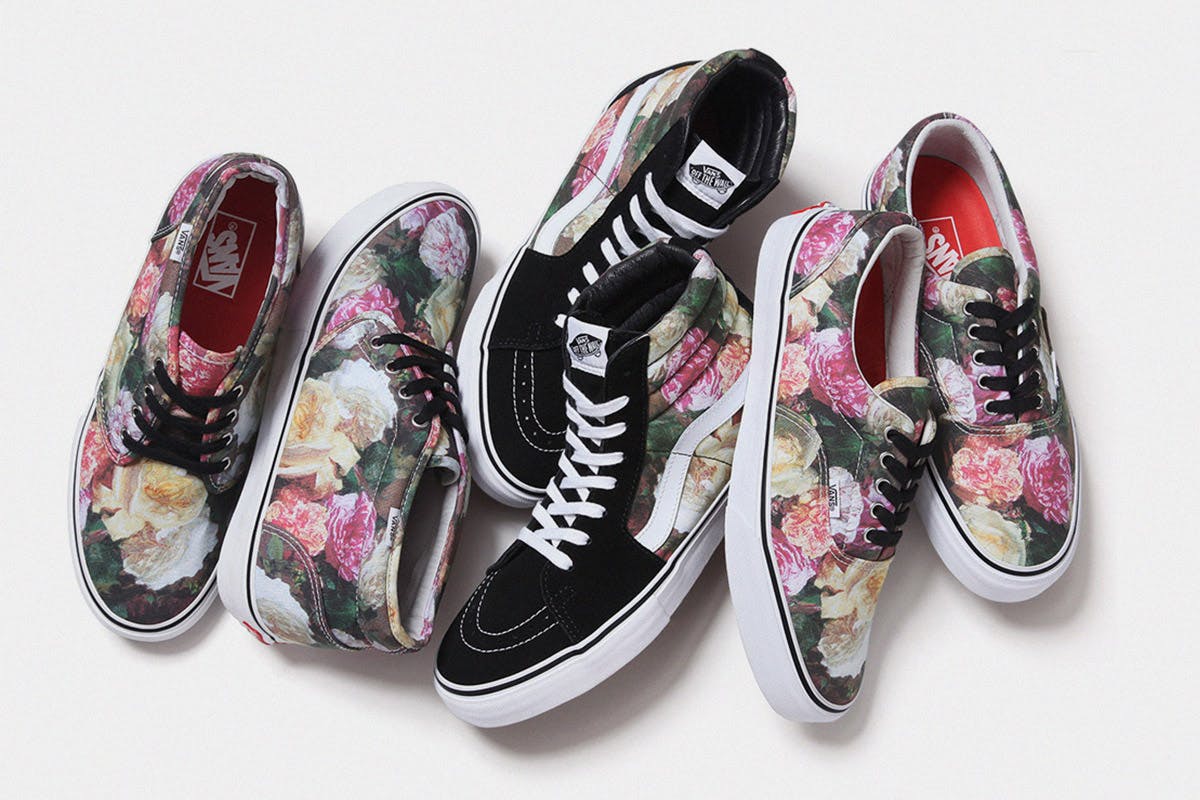 Over the years, Supreme has firmly established itself as the king of collaborations. The brand's ever expanding roster of brand projects ranges from a simple $10 handball with Sky Bounce to a $57K leather trunk with French luxury fashion house Louis Vuitton. Some collaborators are introduced but never to be seen again, whereas others enjoy a long lasting partnership with the New York City skate brand.
For Supreme's very first collaboration project, we have to look way back to 1996, a yea when their first brand partnership came to fruition. The small skate store on Lafayette Street in Soho, New York, had been in business since 1994, selling a mix of their own short-run produced clothing and reputable skate brands such as Independent, Zoo York and Spitfire. A decent range of sneakers has always been an important offering for skate shops, as shoes are typically quick to wear out from constant griptape abuse. Vans has always had deep skateboarding roots, starting within the California scene, and the brand has never really dropped out of favor, thanks to simple products, the unmatchable waffle sole, and timeless designs.
These factors set the table for Supreme to work with Vans on a store exclusive. For a small, independent, one-door skate shop to collaborate with a major corporation such as Vans (owned by holding company VF Corp since 2004) was no easy feat, especially considering the business was only two years old at the time. At the time, the decision was a testament to James Jebbia's vision and character, and this would go on to cement a relationship that has lasted for over two decades. To celebrate the partnership that keeps on giving, I look back at the complete Supreme x Vans timeline.
Make sure to flip through the slider galleries to see all the releases from each year. When you're done, check out a full history of Supreme x Nike collaborations.
1996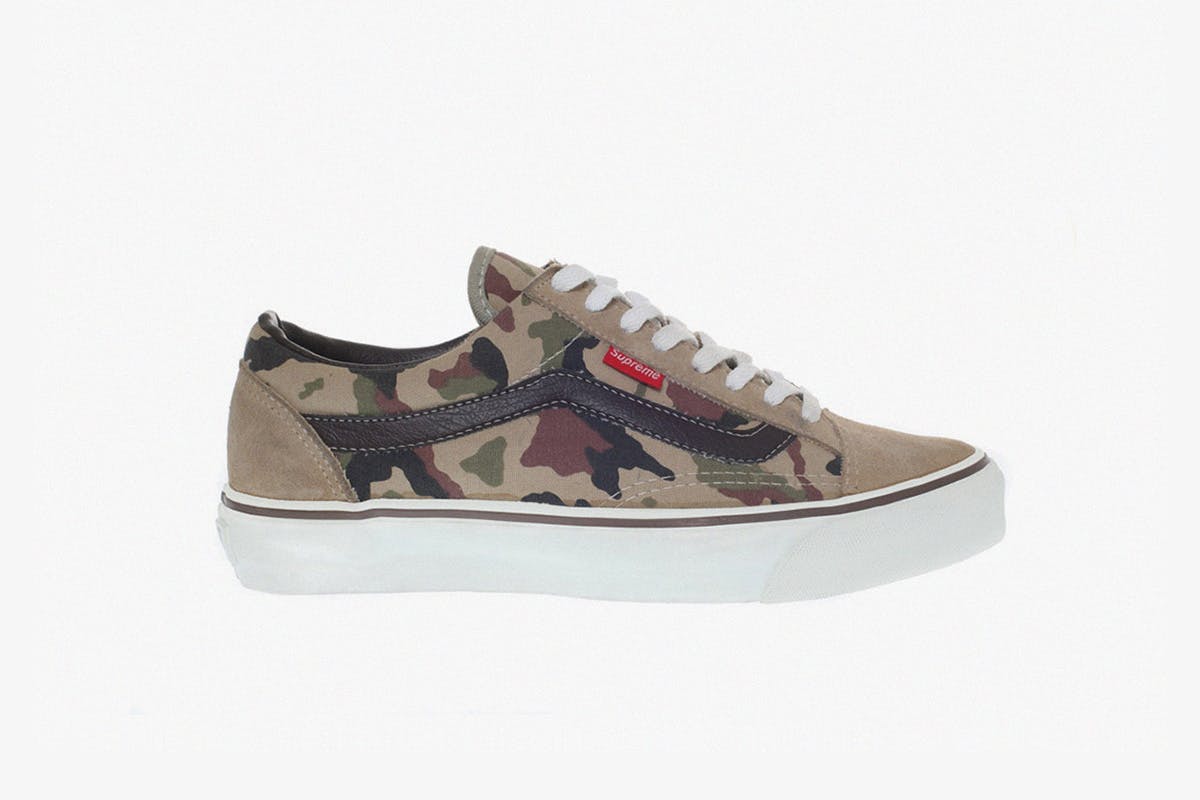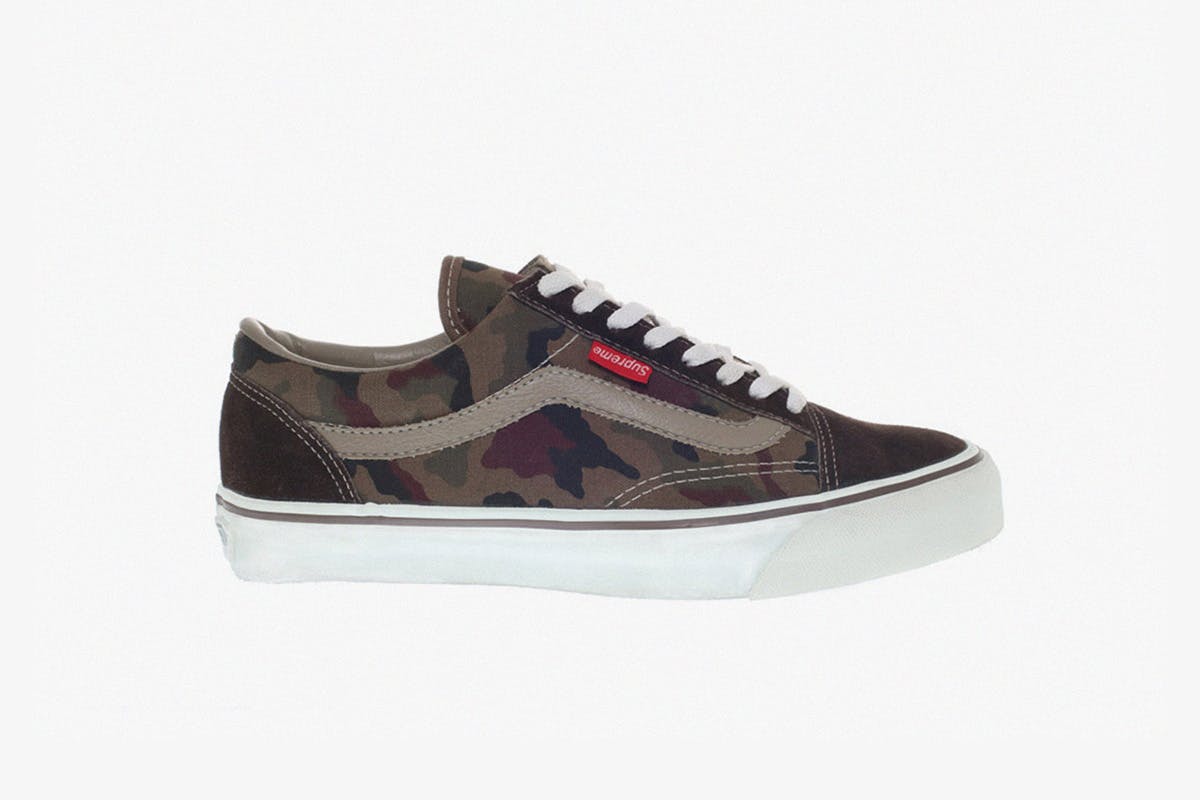 For their debut collection with Vans, Supreme chose the Old Skool, as the first silhouette to work with, creating a trio of colorways. "The Old Skool is iconic, classic skate," said Supreme's James Jebbia. "In 1996, it was one of the best shoes offered by Vans and really stood the test of time." He put newly enlisted Design Director Brendon Babenzien (who now runs Noah) in charge of the collaboration as one of his first projects at Supreme.
These first three Supreme x Vans Old Skools offered a perfect blend of timeless simplicity and effortless style, which still look as fresh today as they did 21 years ago. These were made in the U.S.A and incorporated Supreme's box logo as a tab on the eyestay.
2004
Considering how prolific their combined output has been in recent seasons, it's strange to think that the second Supreme x Vans collaboration was released a whole eight years after the debut Old Skools. During this period, Supreme released footwear with DC Shoes (1999), Gravis (2000), Padmore & Barnes (2001) and kicked off their relationship with Nike SB (2002). They even produced their own Air Force 1-inspired sneakers with the so-called Downlow in 2001 and the Midtown in 2002.
It was Supreme's 10th anniversary year when they revisited their partnership with Vans to produce a total of twelve colorways across four styles of sneakers in two separate packs. Firstly came the "FBI" pack featuring graphic FBI transcripts printed across the Sk8-Hi and Old Skool styles, alongside matching hoodies and snapback hats. Later that year, a collection of toned-down Autumnal-coloured Chukka Boots and Half Cabs released, all dressed in a rich suede. These remain one of the simplest of all Supreme x Vans shoes to date.
2005
Returning with more side-striped silhouettes the next year, Supreme presented new takes on the the Sk8-Hi and Old Skool for their "Evil Empire" capsule collection. The upper of the Sk8-Hi was peppered with large stars while the low-cut Old Skool featured an all-over micro stars pattern that ran across the quarter and tongue. An accompanying "Evil Empire" graphic T-shirt was also part of the brand's seasonal offerings that year.
2006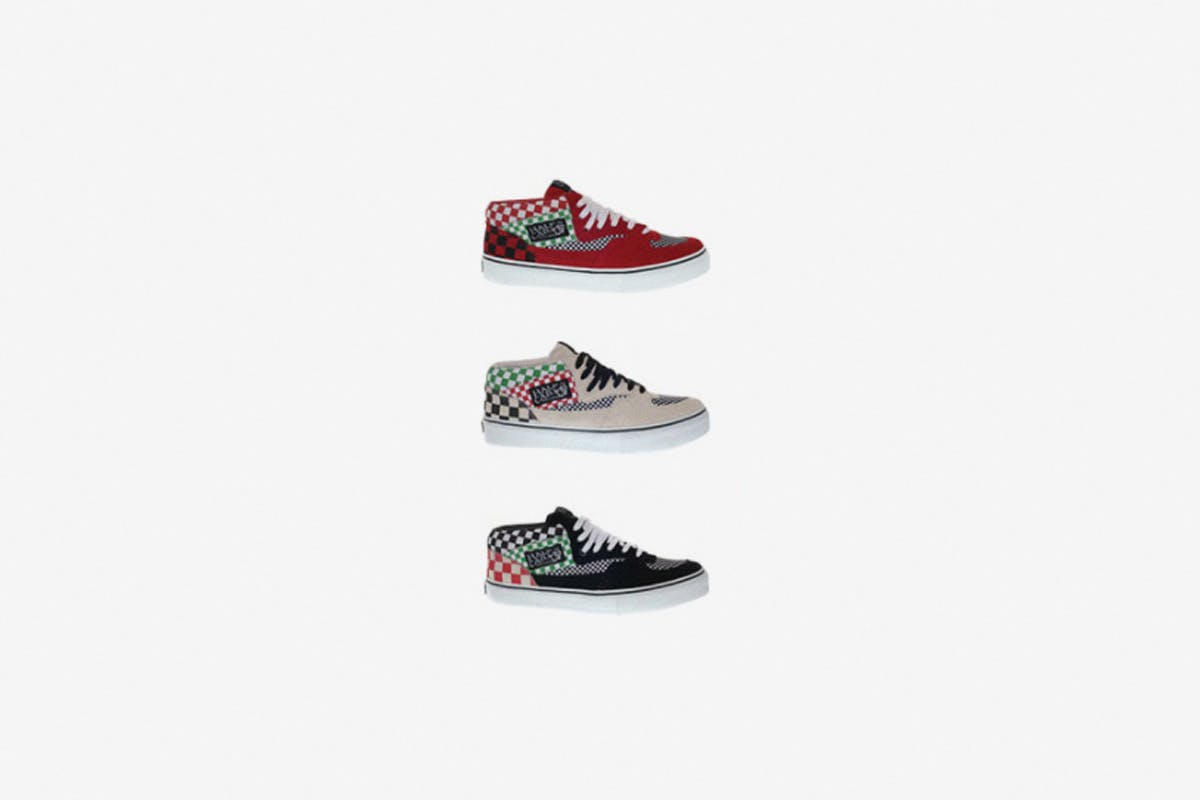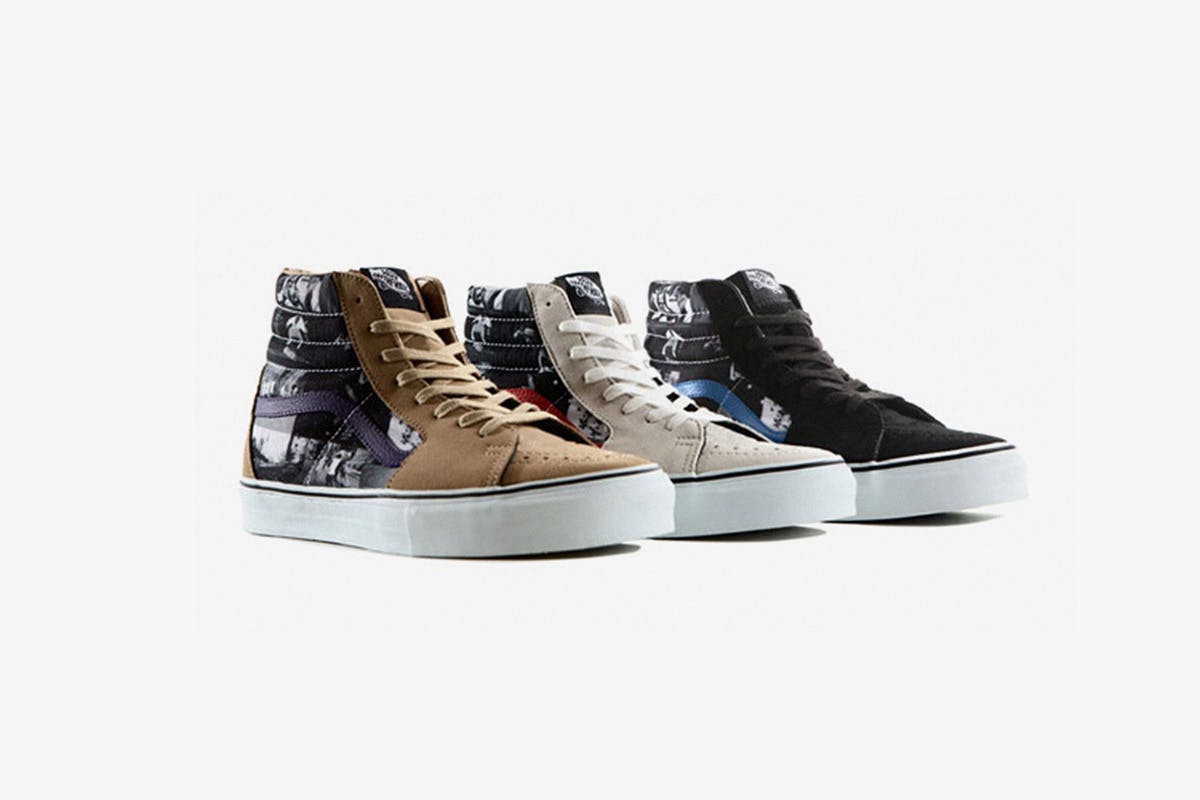 2006 was a busy year for Supreme and Vans, with a total of three separate collections releasing across the seasons.
For the Spring collection, a trio of 1980s BMX-inspired Half Cabs released in multi-checkerboard patterns. Dropping alongside the Half Cabs were two colors of the Public Enemy Sk8-His featuring a prominent target logo on the upper, and the title of the group's classic sophomore album It Takes a Nation of Millions to Hold Us Back on the vulcanised midsole.
With the launch of their brand new website, Supreme could now publicise product launches and release dates in advance for the first time and the first product to be promoted this way was the Ari Marcopoulos collection in September 2006. Dutch born photographer Marcopoulos had been documenting the downtown skate scene in New York City since Supreme opened their doors in 1994 and it's these early images of the store's crew that adorn a collection of Vans Sk8-Hi and Era sneakers. The black and white portraits were also featured on a hooded sweatshirt and 5-panel cap, and can also be seen on the walls of their stores in London, Paris and Tokyo.
2007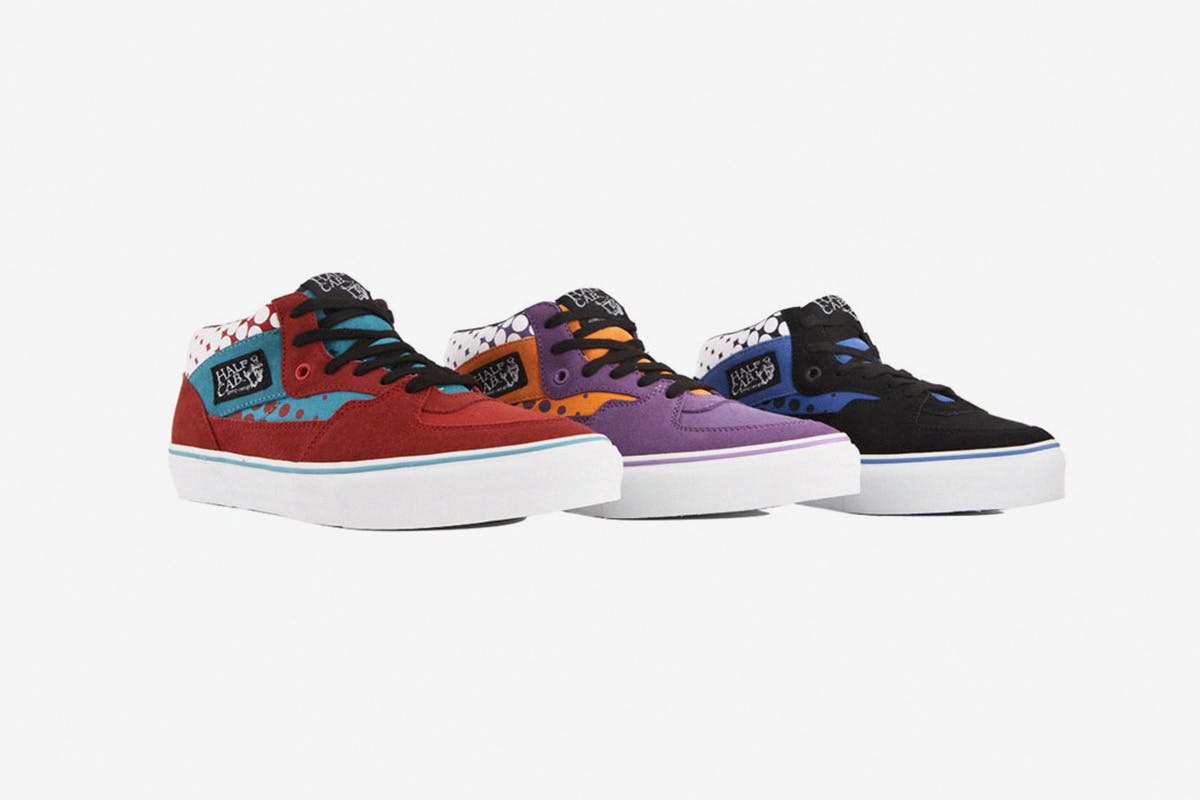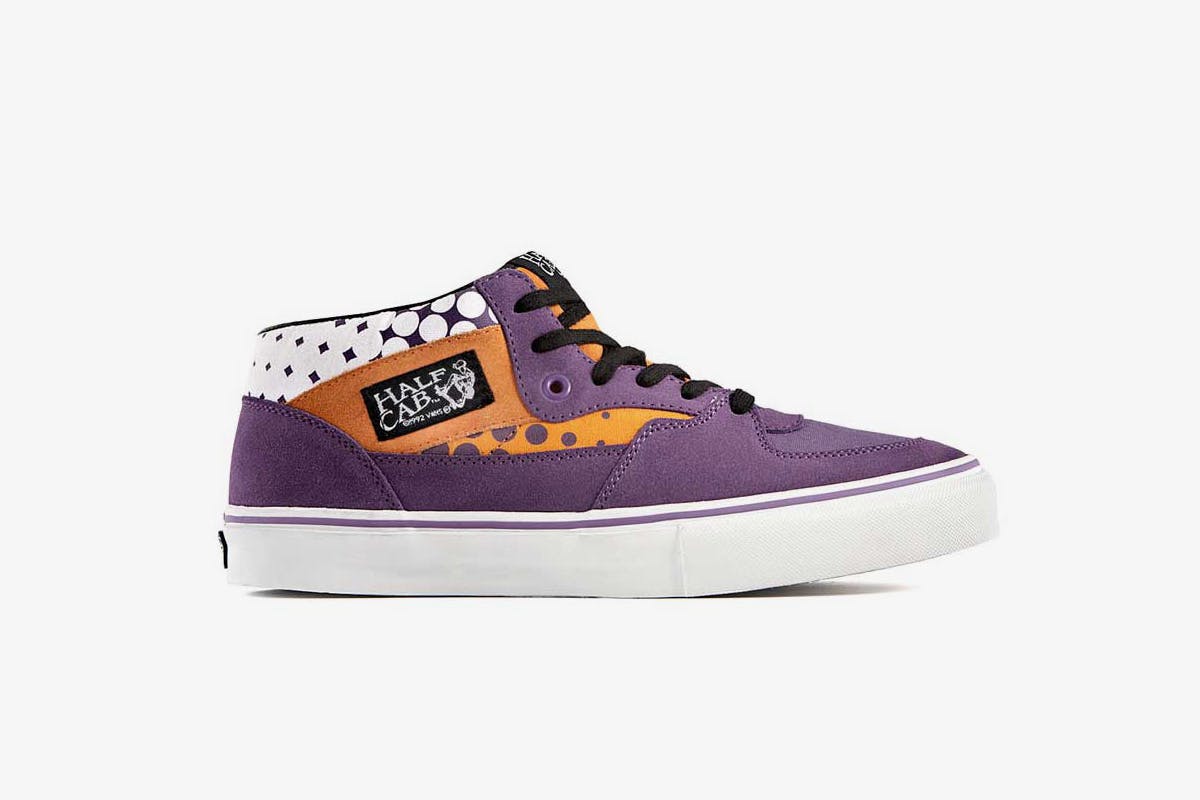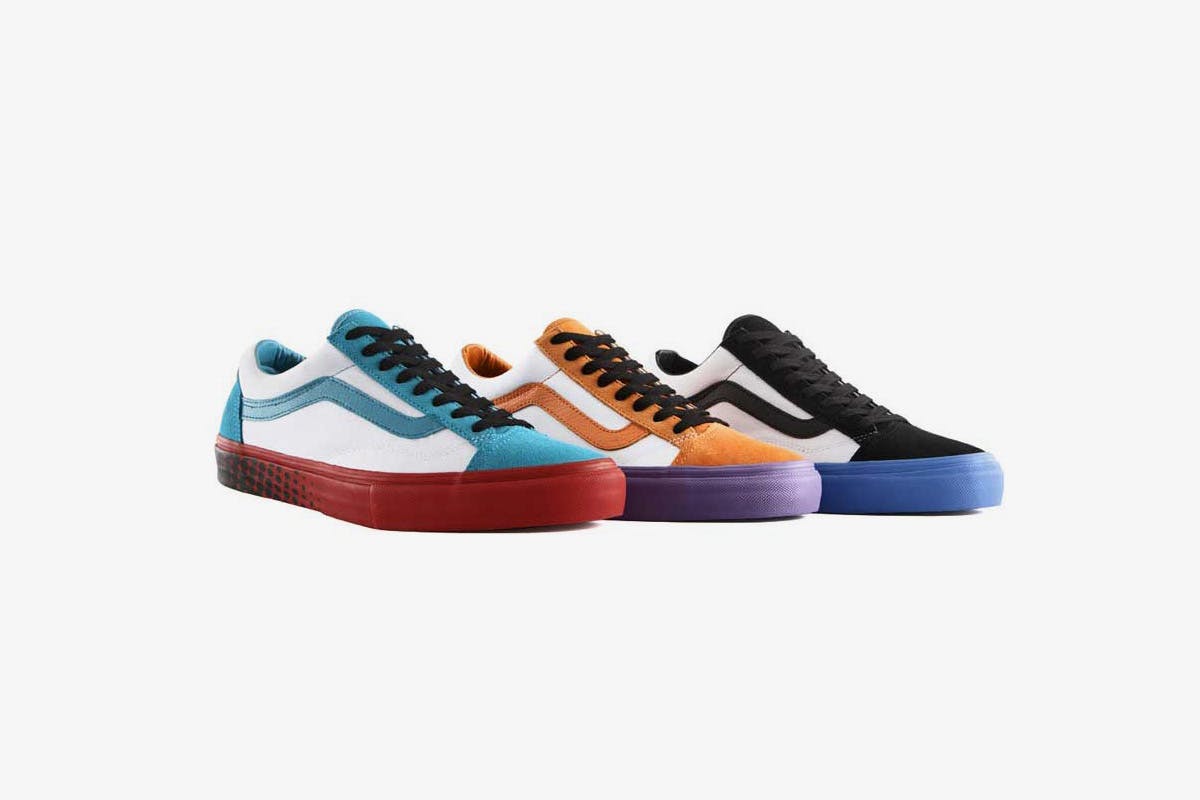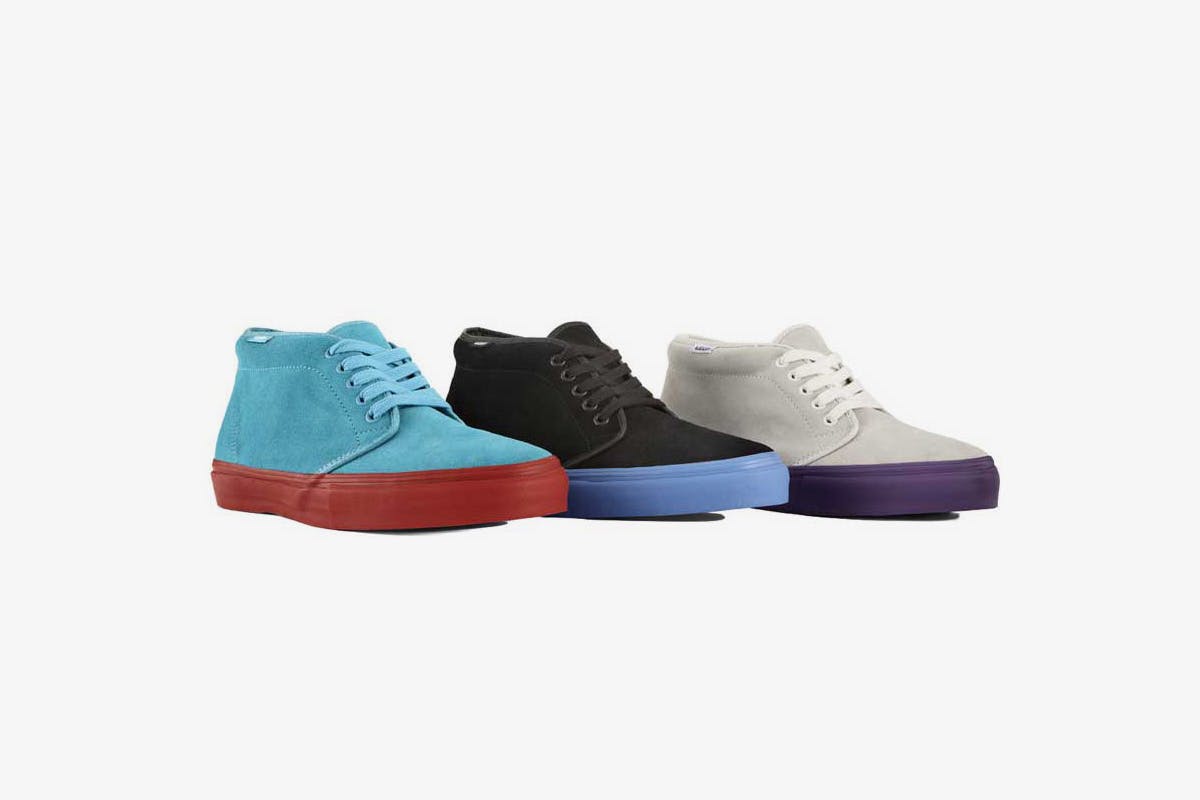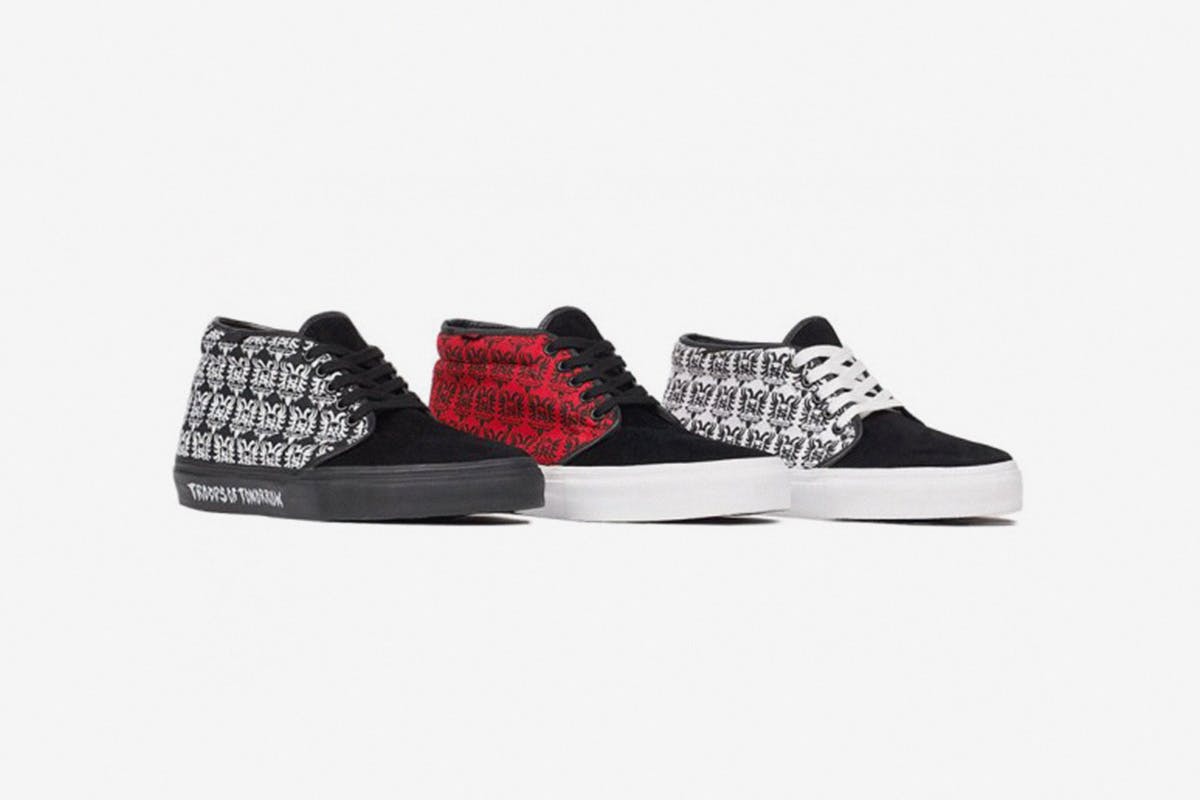 In April 2007, Supreme released what was their largest collection with Vans at the time. Three styles were selected for simultaneous release; the Old Skool, Half Cab and Chukka boot. The pack was themed around bright uppers and contrasting midsoles. The Half Cab and Old Skools featured a gradient spot pattern not-too-dissimilar to that on the walls of downtown NYC skater hangout Max Fish, while the Chukka was pattern free with a color-block sole.
To close the year, Supreme teamed up for their second collection with Shinsuke Takizawa's Neighborhood brand. In addition to the Supreme x Neighborhood apparel and accessories, this collection saw the addition of footwear to the co-branded capsule. A Vans Sk8-Hi and Chukka Boot were created, both featuring the slogan "Troops of Tomorrow" running across the midsole, and a repeat pattern of the Supreme x Neighborhood crest covering the upper.
2008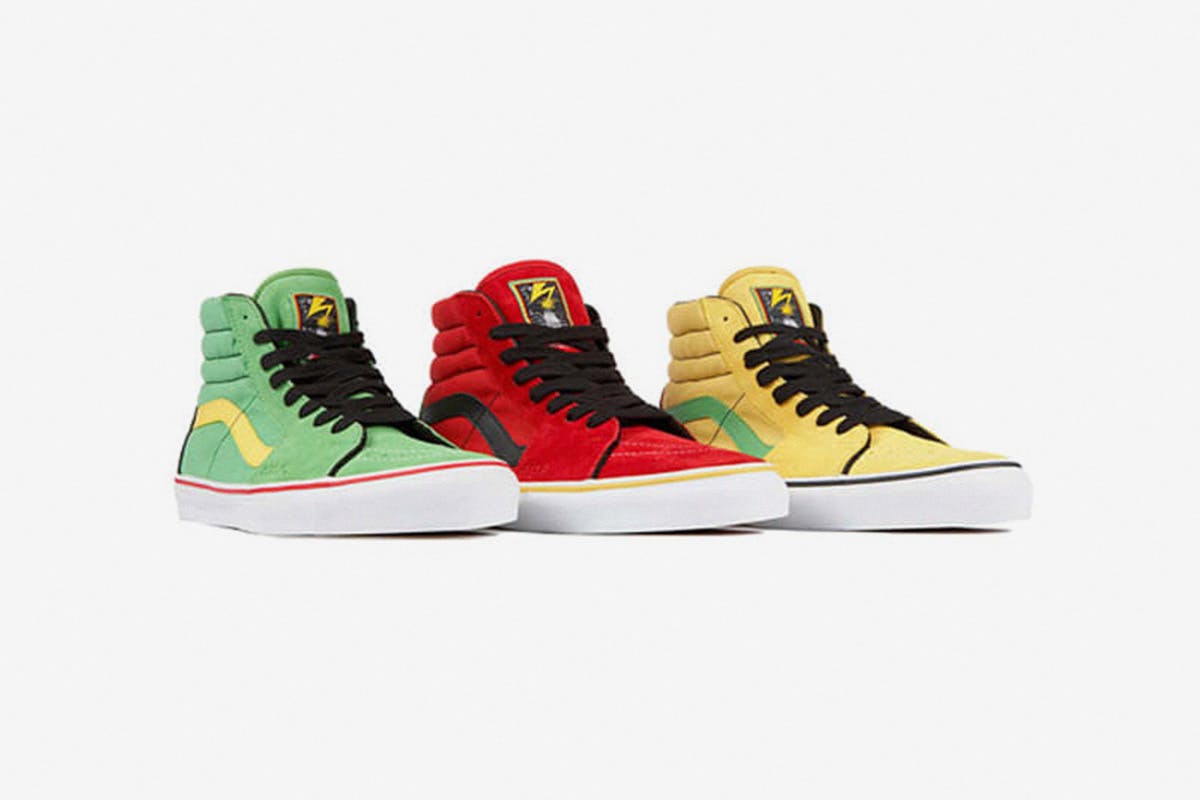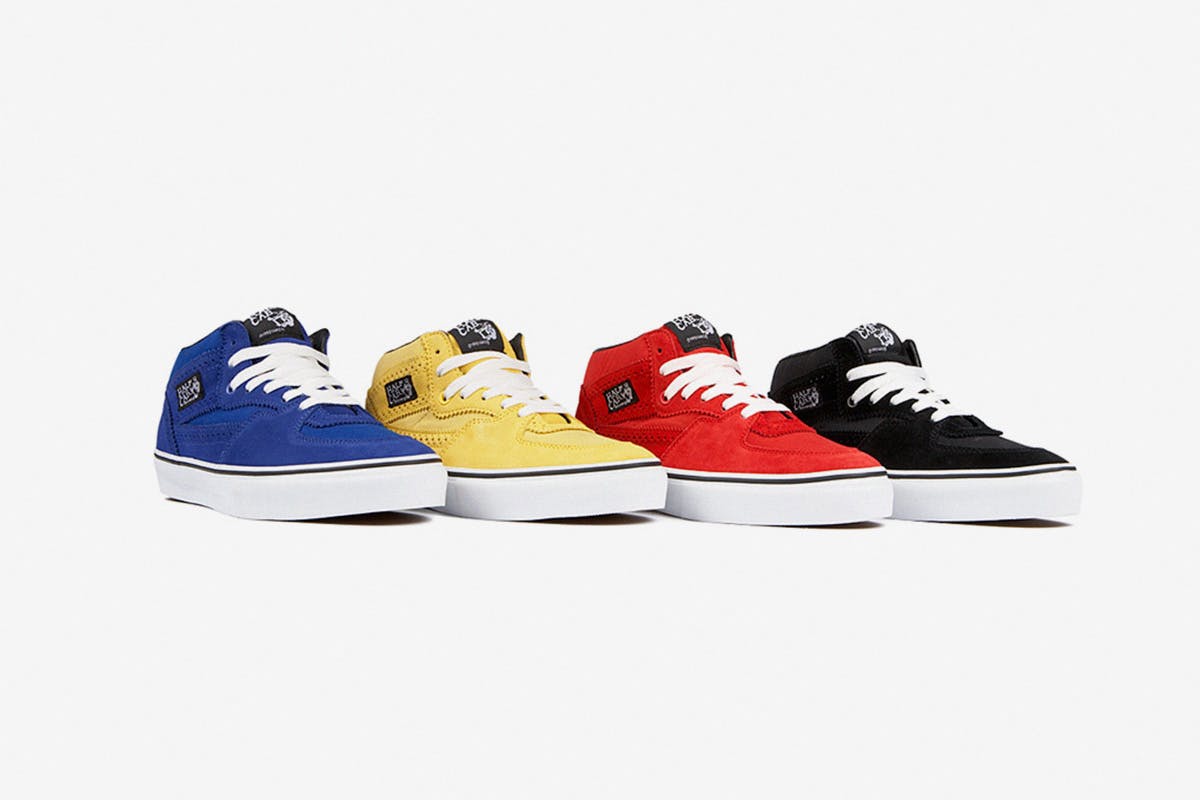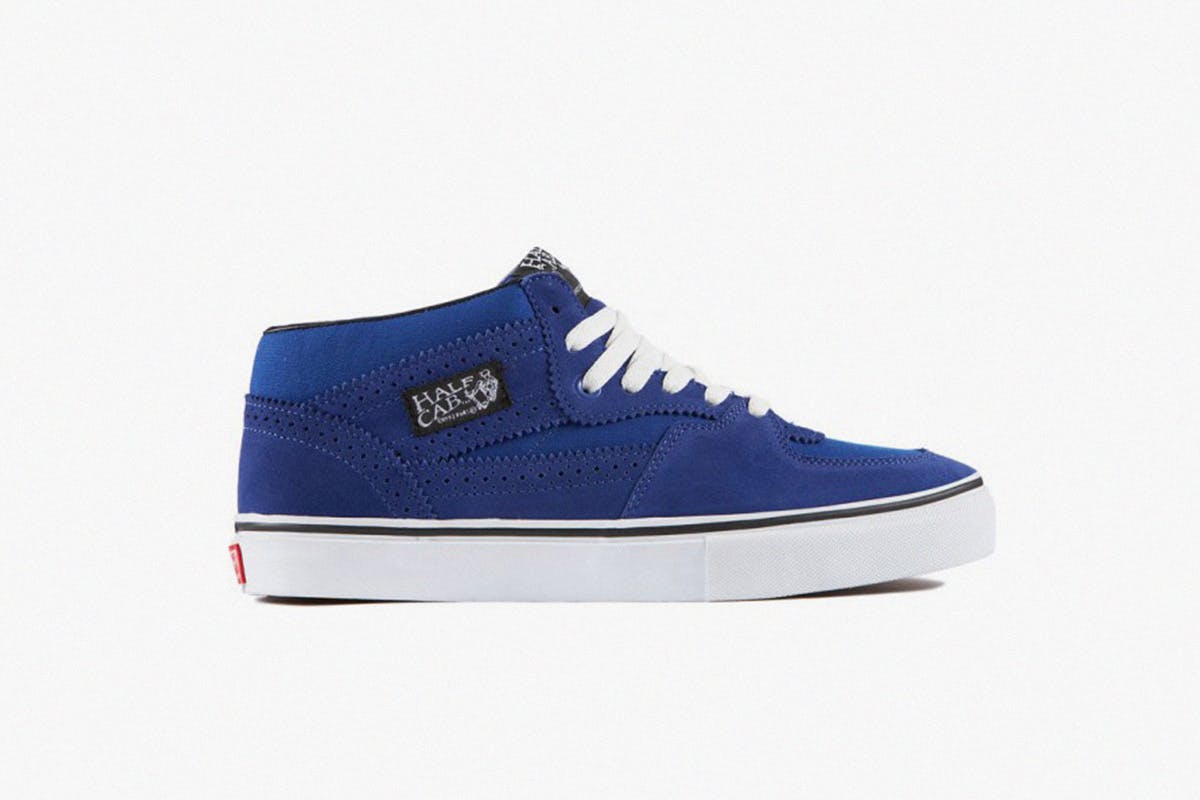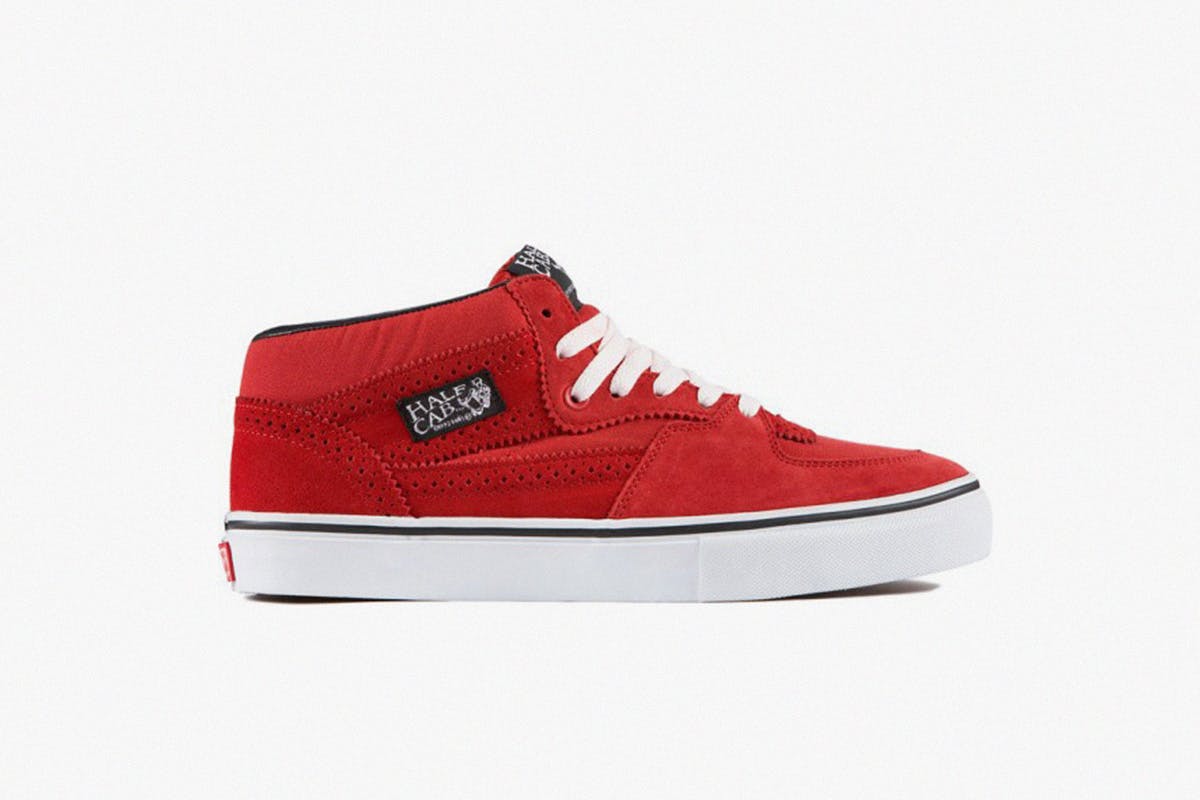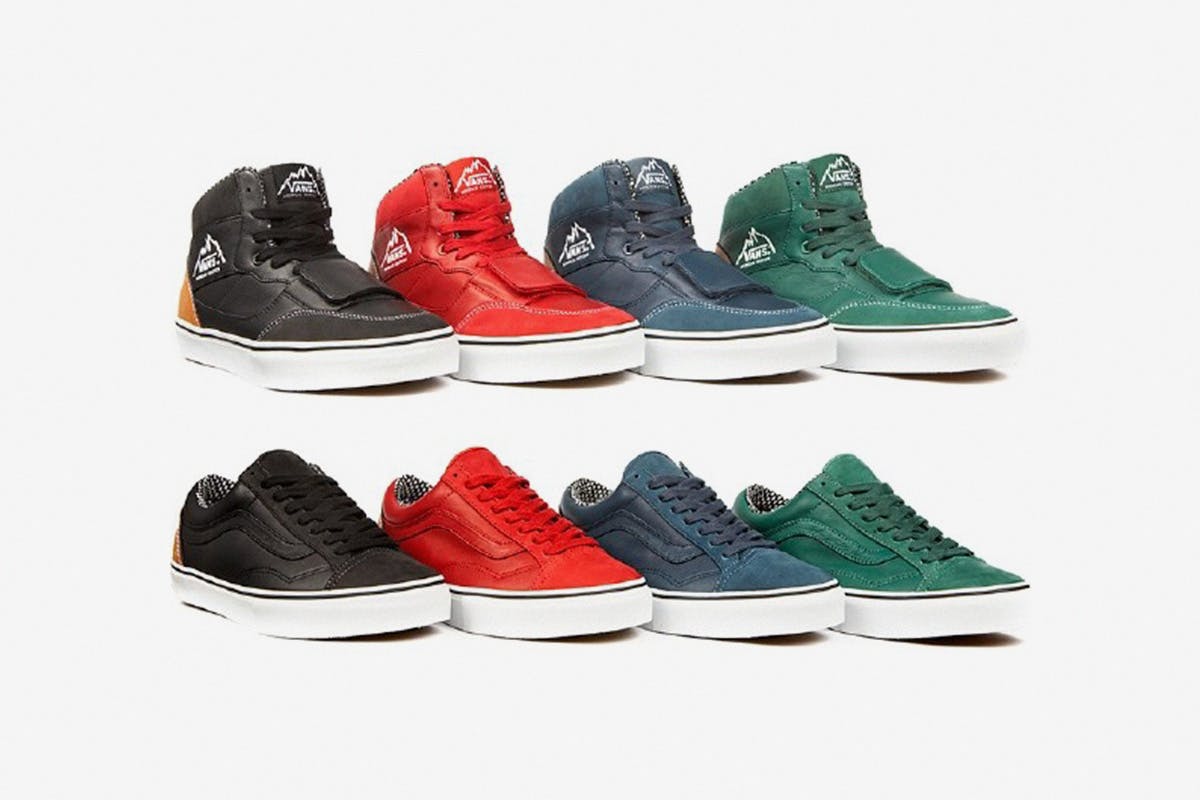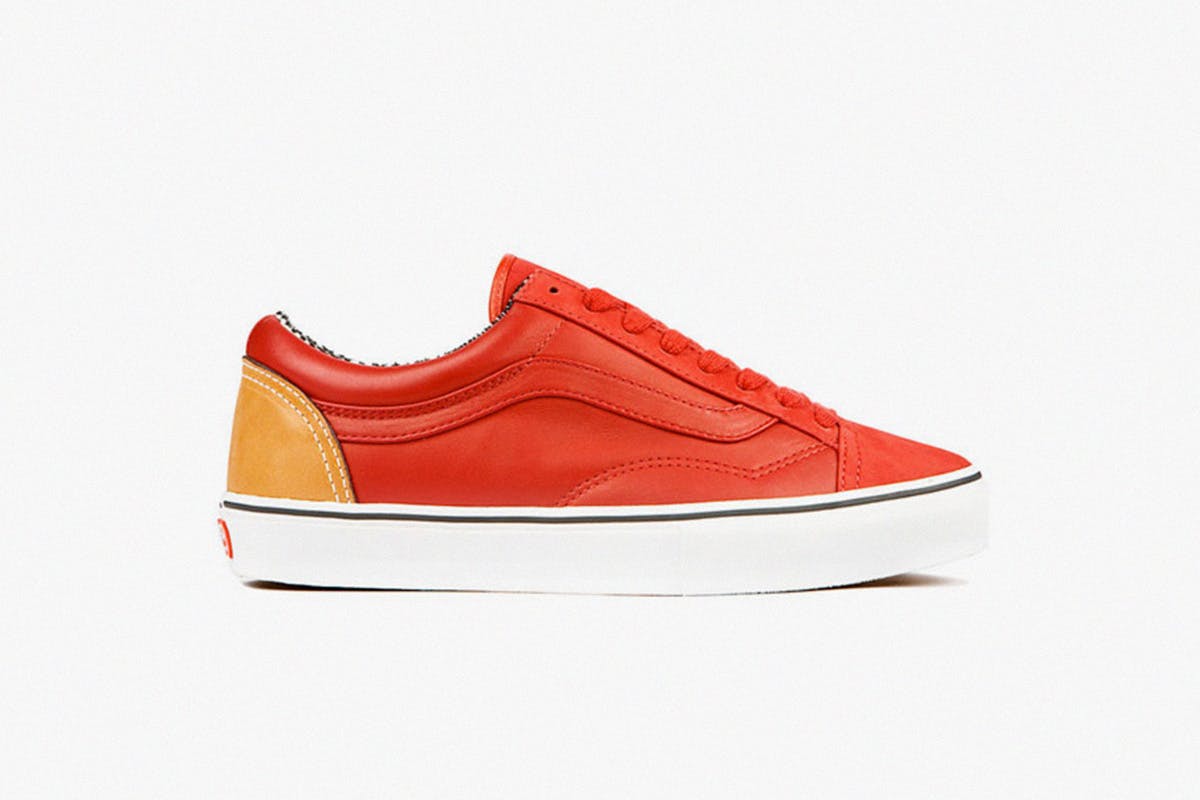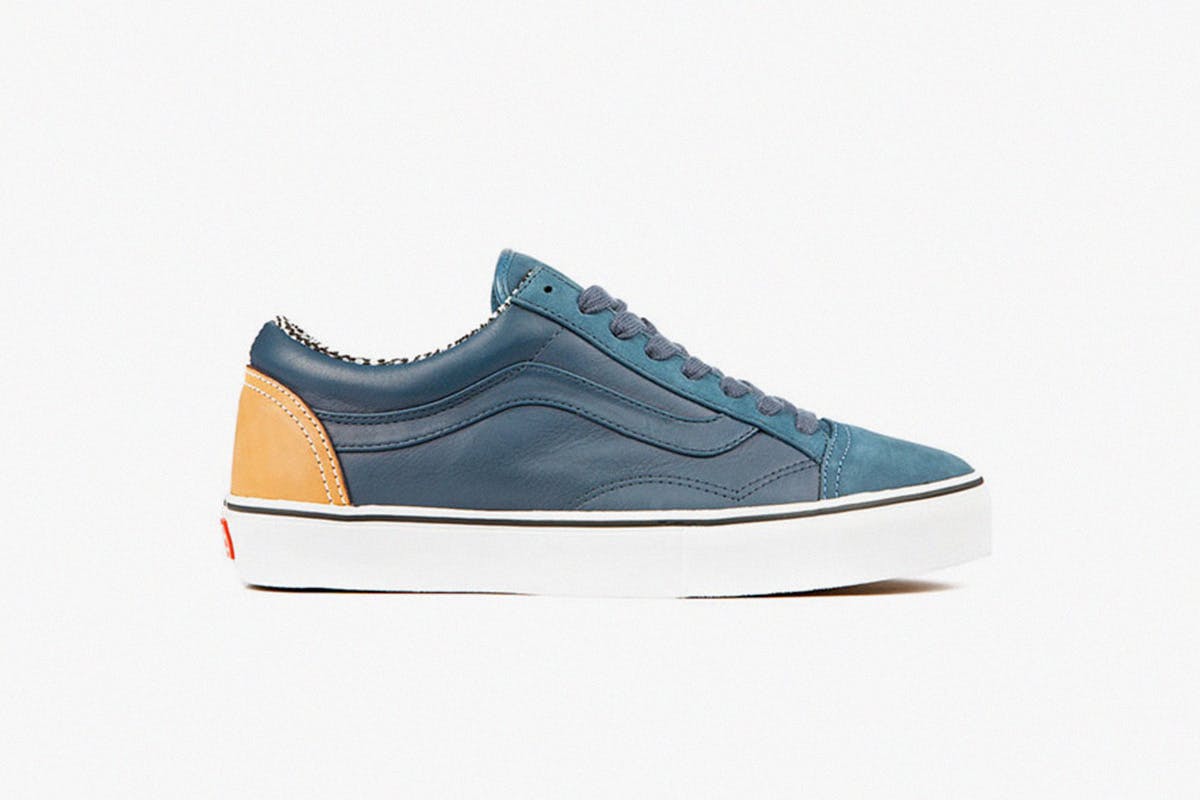 For the first Vans project of the SS08 season, Supreme released a trio of Sk8-His with Washington hardcore punk band Bad Brains. The band (who played the legendary closing party of neighbouring downtown punk venue CBGBs just 18 months earlier) chose to colour the sneakers in red, yellow and green in tribute to their following of the Rastafari movement.
A month later, and Supreme were back at it with a further selection of exclusive Vans. This subtle pack often slips under the radar due to it's minimal branding and simple single-color presentation. Four Half Cabs and four Chukka Boots were released in blue, yellow, red, stone and black, with a nice diamond-perforated trim, similar to that found on traditional Brogues.
Staying with the minimal theme, Supreme finished off the year with another collection of eight clean looking Vans. The models chosen were the Old Skool and the rarely seen Mountain Edition, with both styles coated in premium leather uppers. Custom accents such as the tan nubuck heel patch, micro-checkerboard lining and leather insoles complemented the color-blocked upper and laces. Maybe these shoes were a little too subtle for the masses, as they were actually marked down for sale the following month and were available for a discount price in the store's temporary Crosby Street location throughout January 2009. This collection of sneakers is pure class, and remains one of my favourite Supreme x Vans collaborations to date.
2009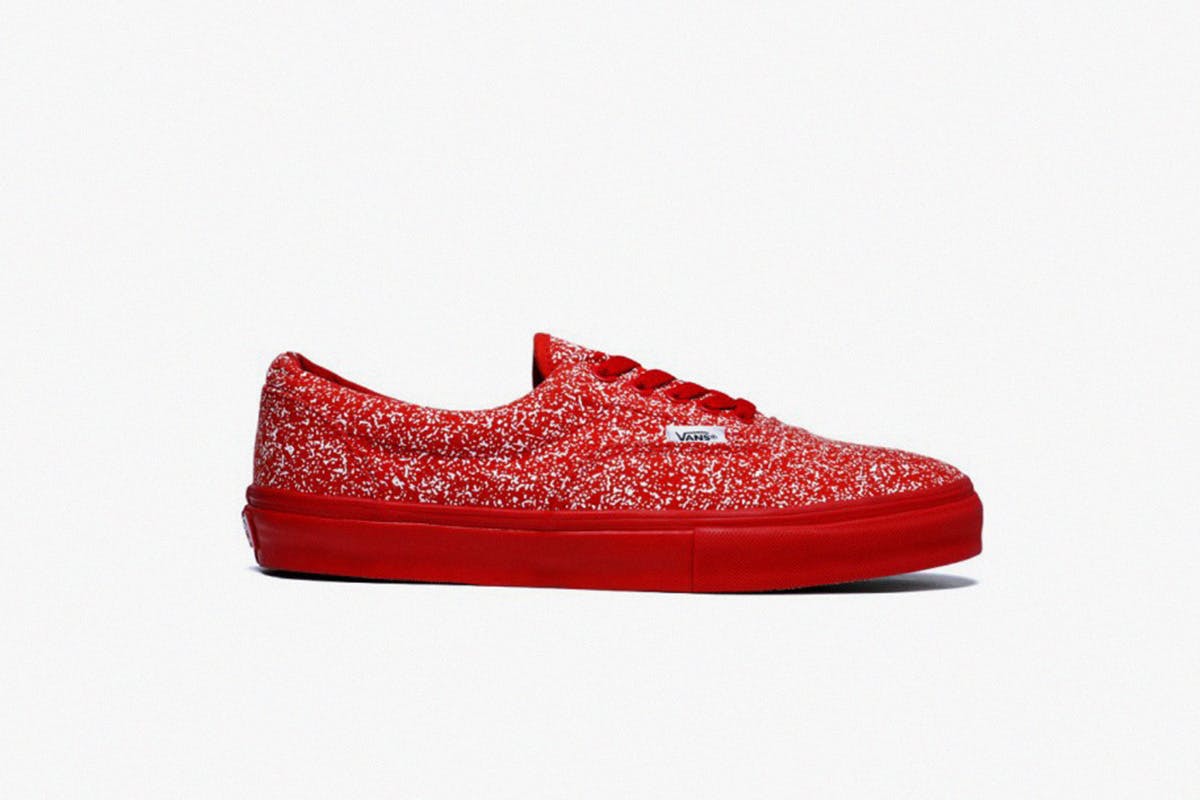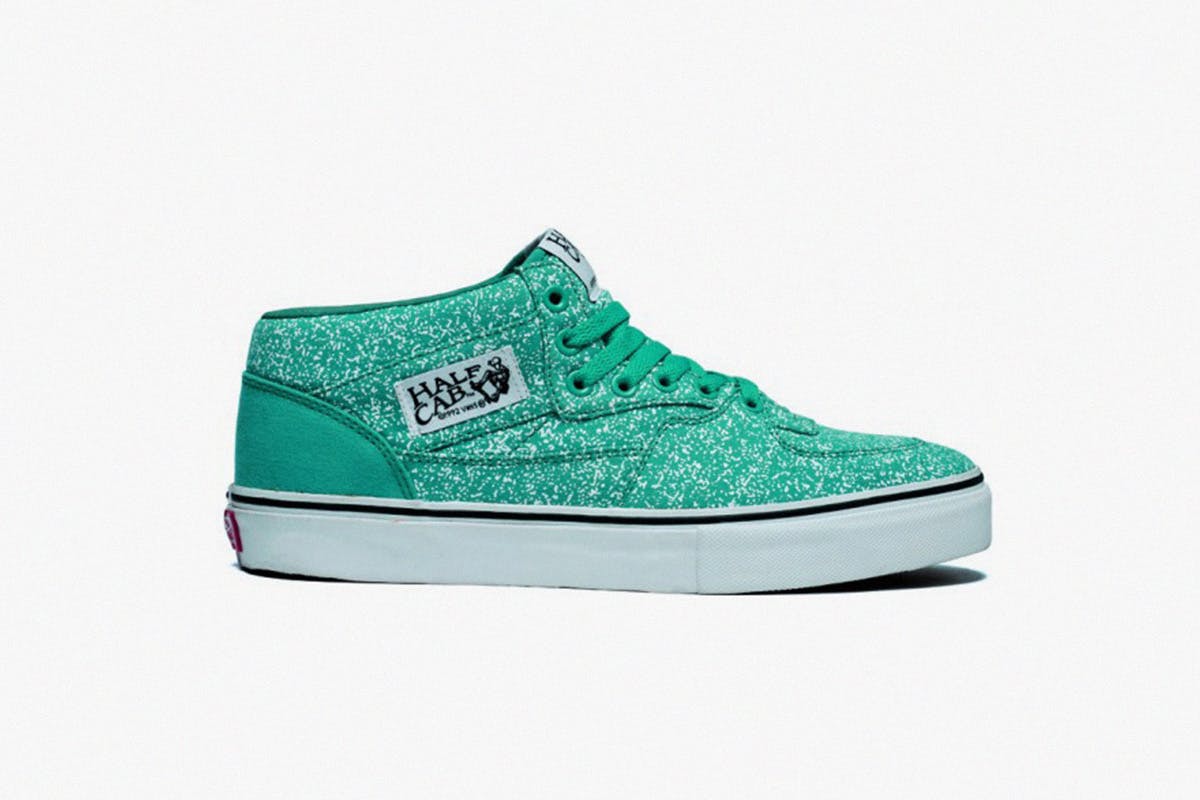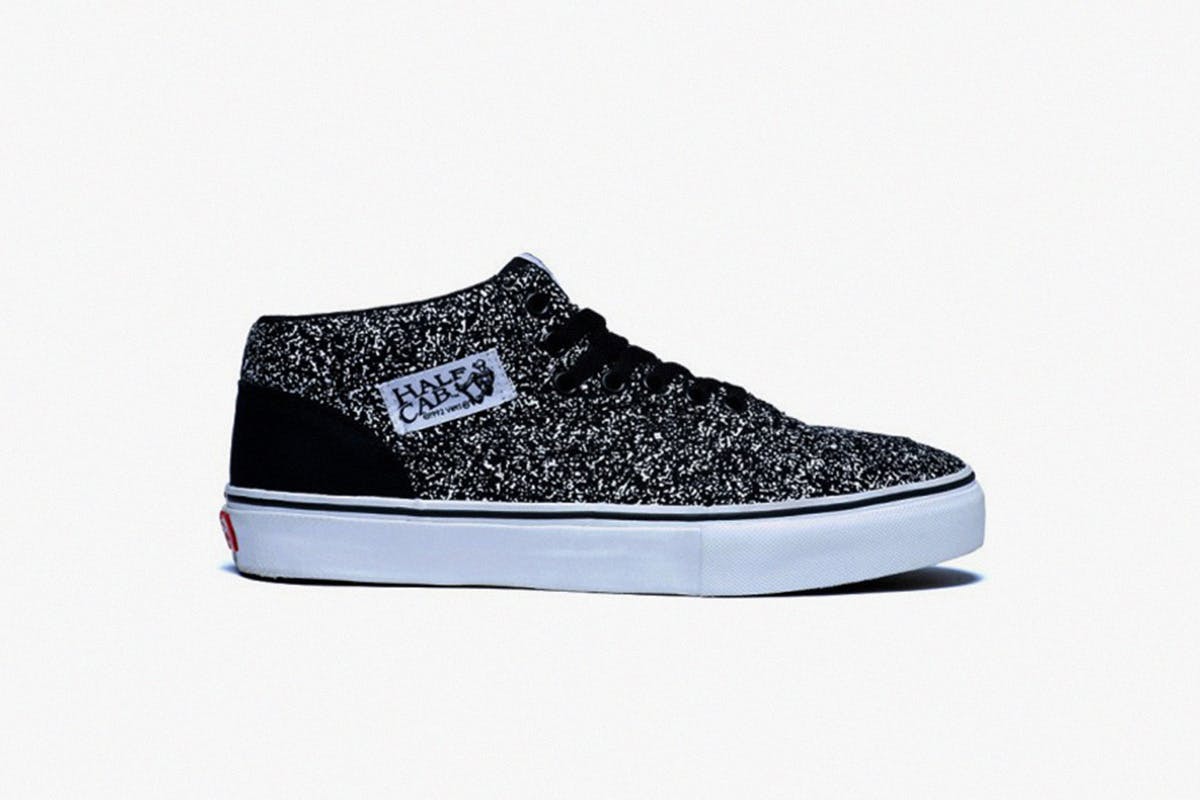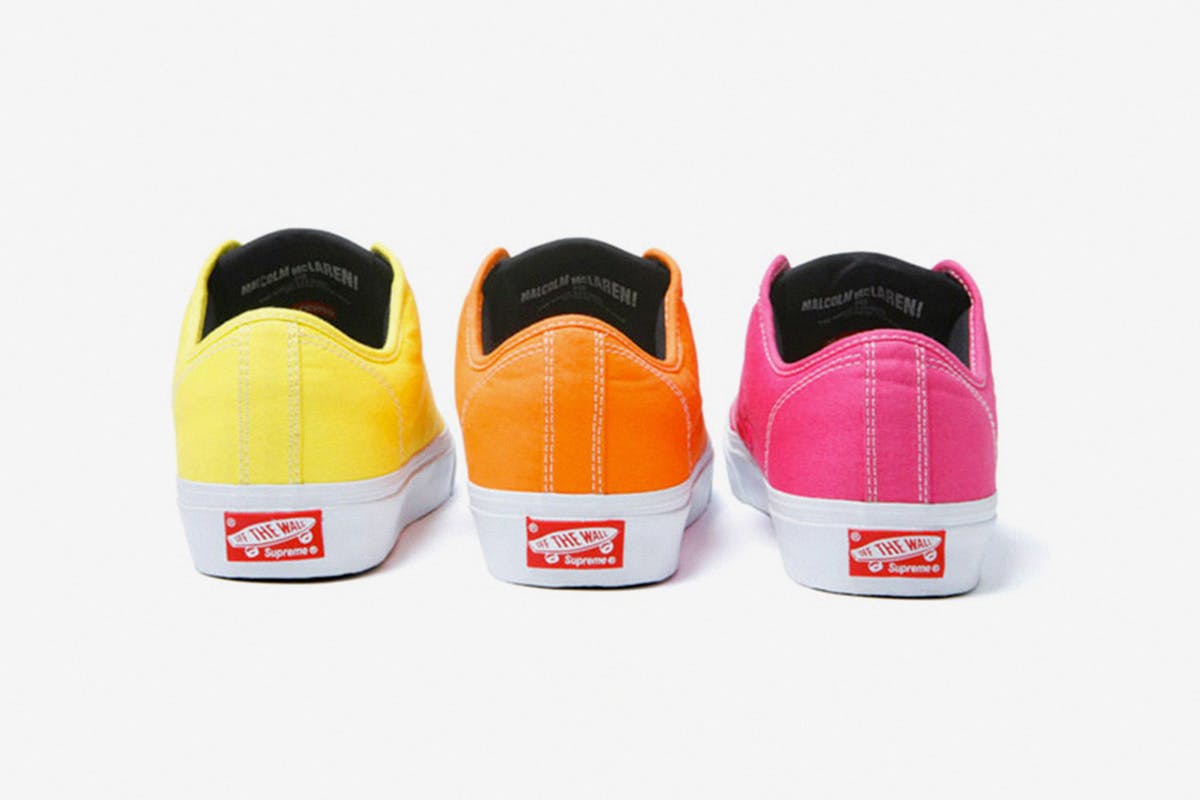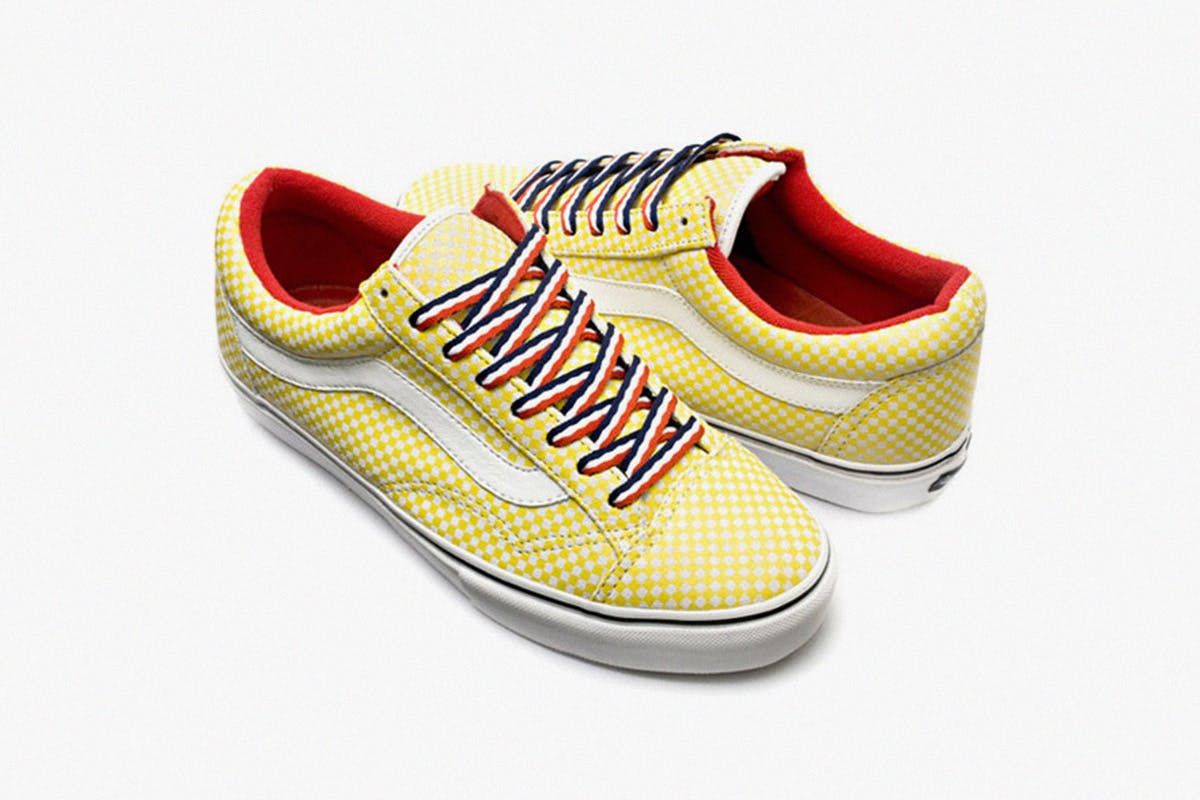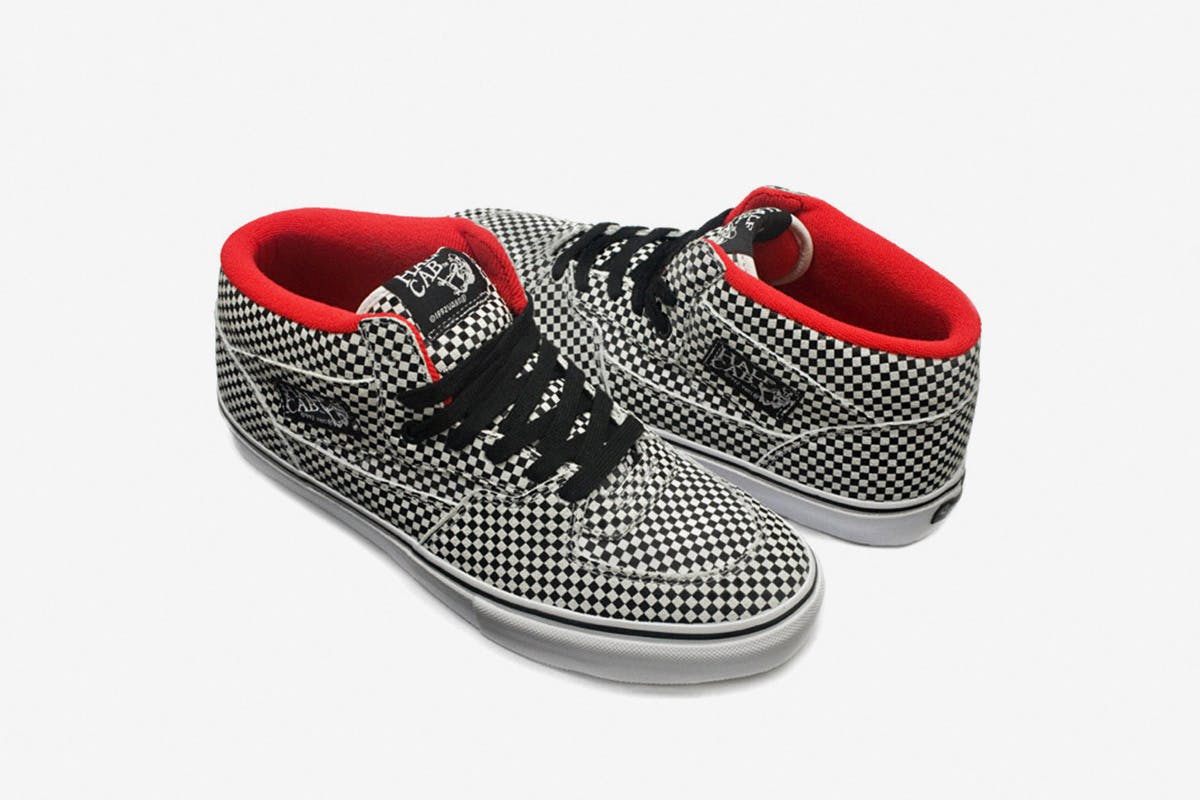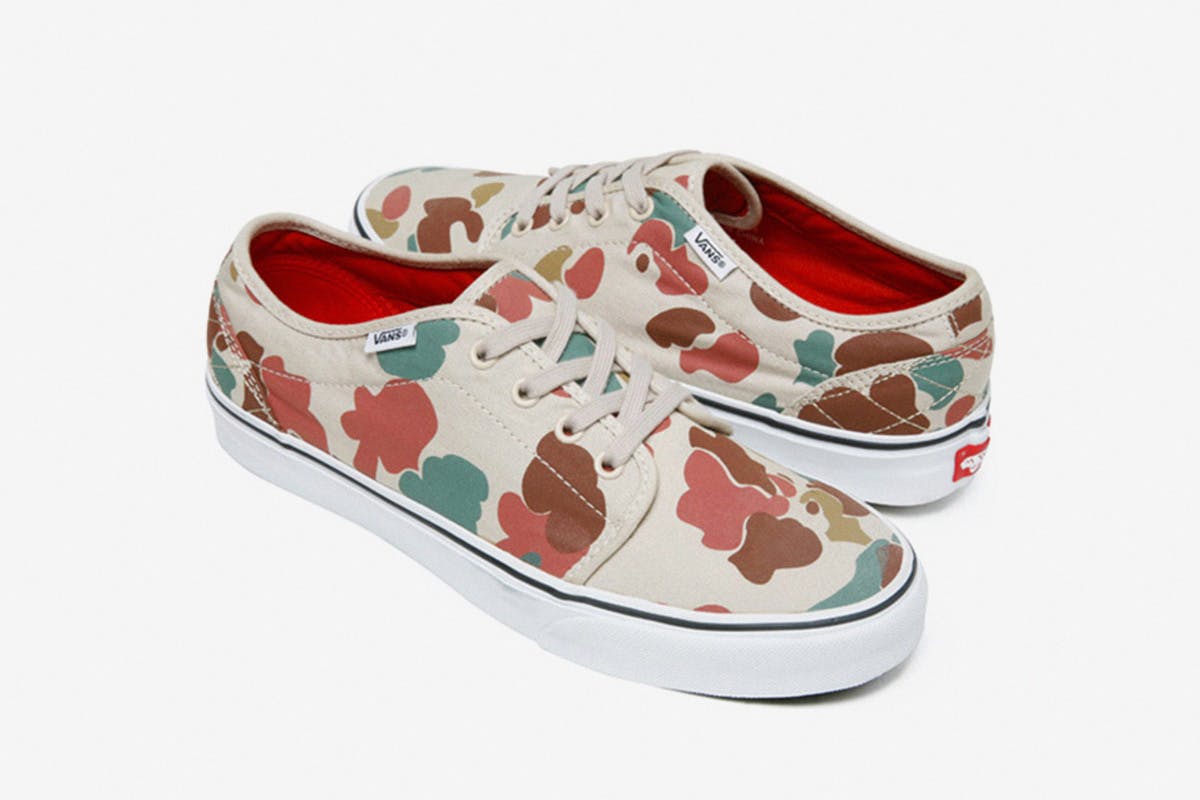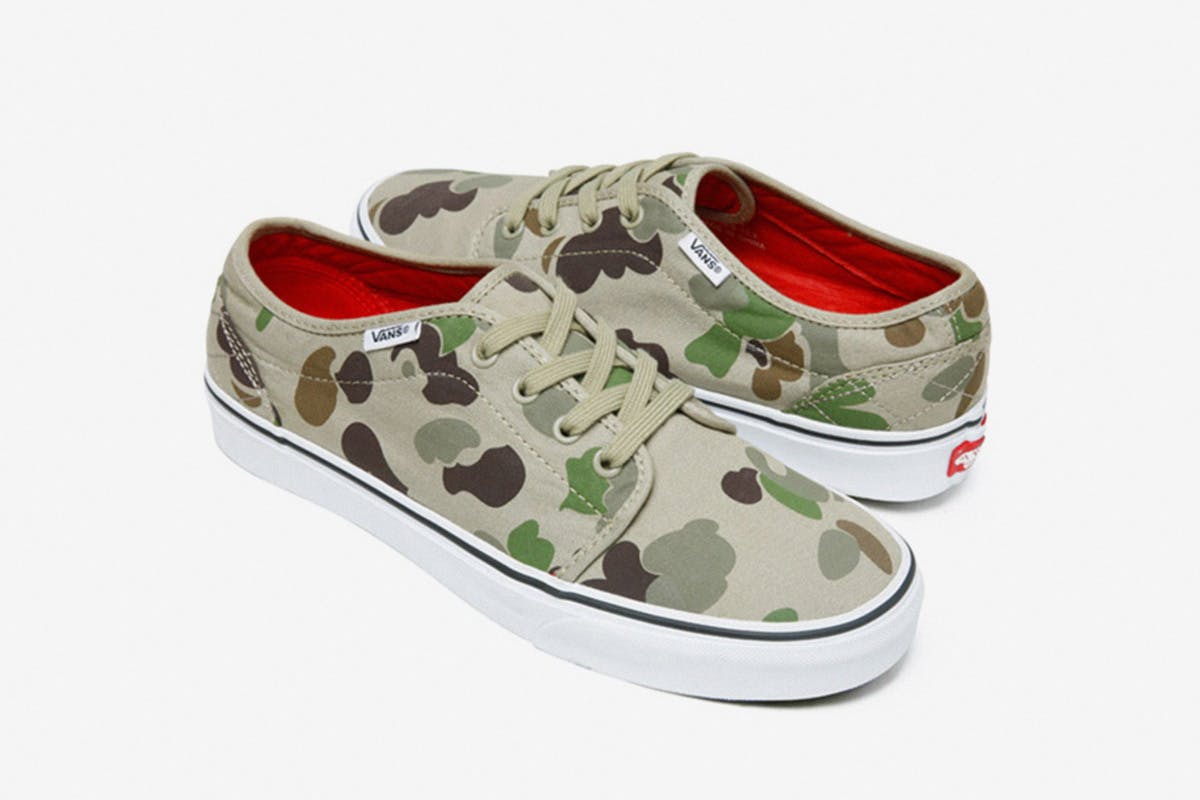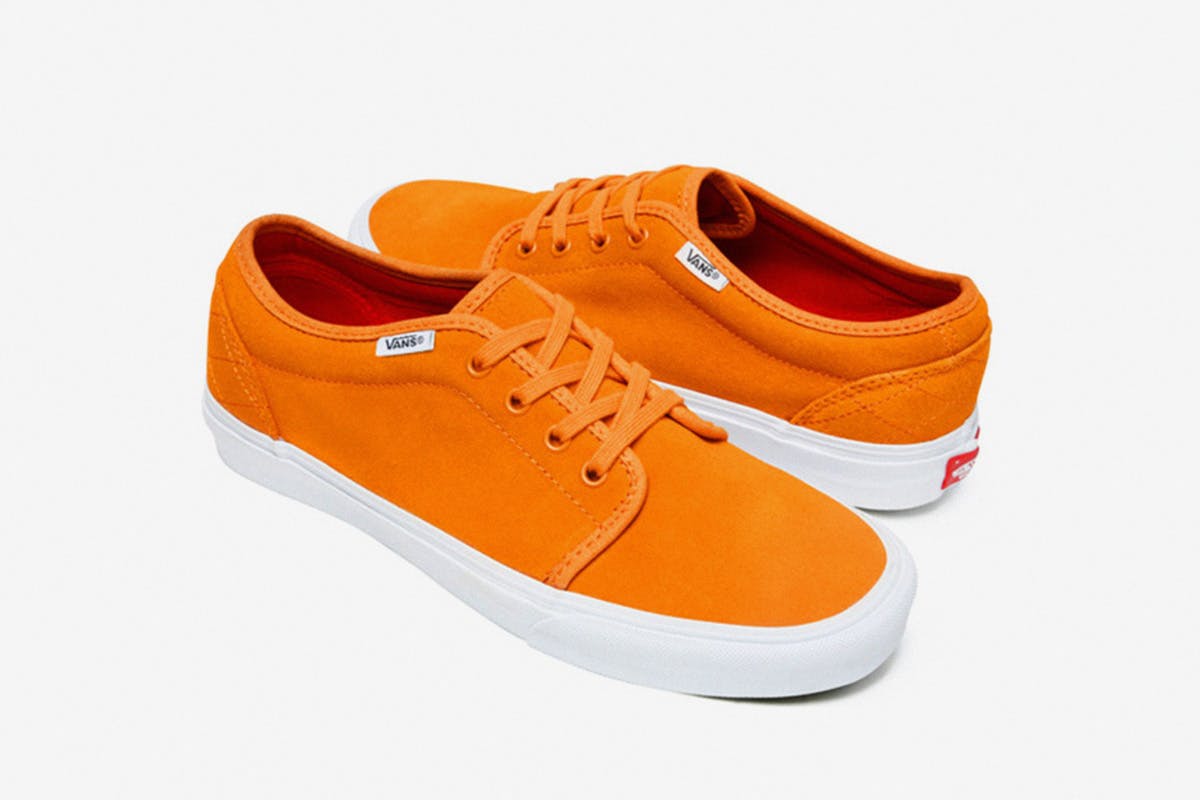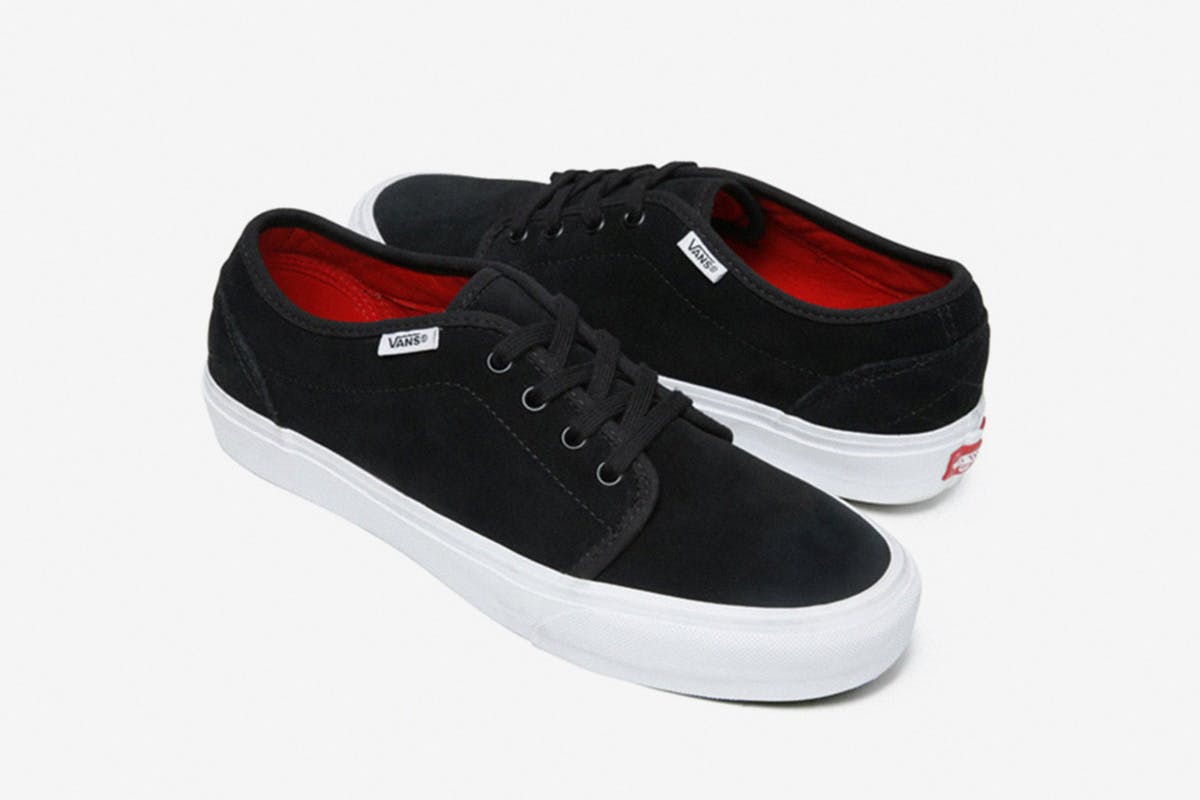 Supreme chose an all-over "Disruptive" pattern to cover the Half Cab and Era models in March 2009. Both shoes were available in four colorways (white, teal, red and black) and featured canvas uppers with leather for the lining and insole.
Not long after, May 2009 saw Supreme coming out with something a little different, using the Vans V-79 silhouette as part of their collection with British punk pioneer Malcolm McLaren. The neon low-top sneakers came in bright orange, pink, and yellow, and used original imagery from McLaren's groundbreaking 1983 album Duck Rock. The florescent color palette wasn't for everyone, and eight years on this trio remains an underrated classic.
For their FW09 season, Supreme revisited their micro-checkerboard pattern on Vans skater favourites, the Half Cab and Old Skool. Black, yellow and red were the color choices on both sneakers, with the Half Cabs featuring black shoe laces and the Old Skools sporting a French tricolor lace.
To end the year, Supreme chose to color up the Vans 106 silhouette for the first time. The pack was made up of two pairs with camouflage canvas uppers, and two pairs in simple one-color choices (black and orange) with suede uppers.
2010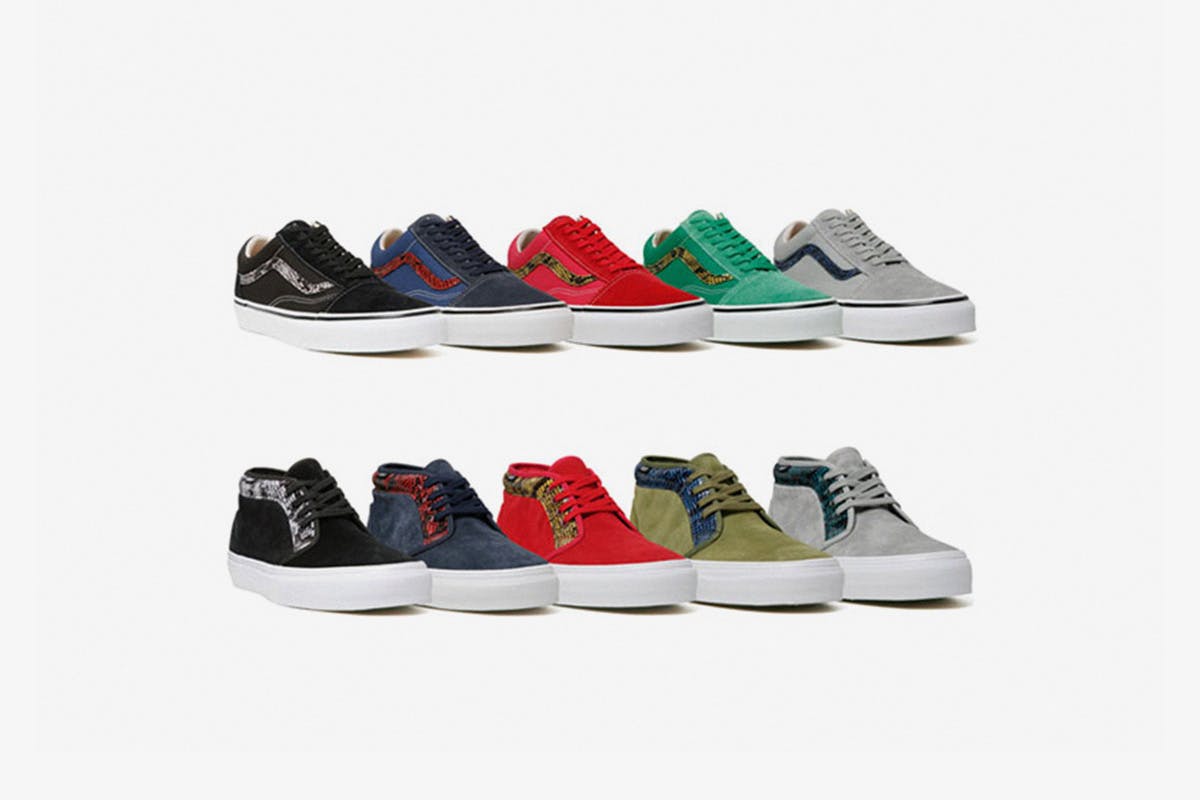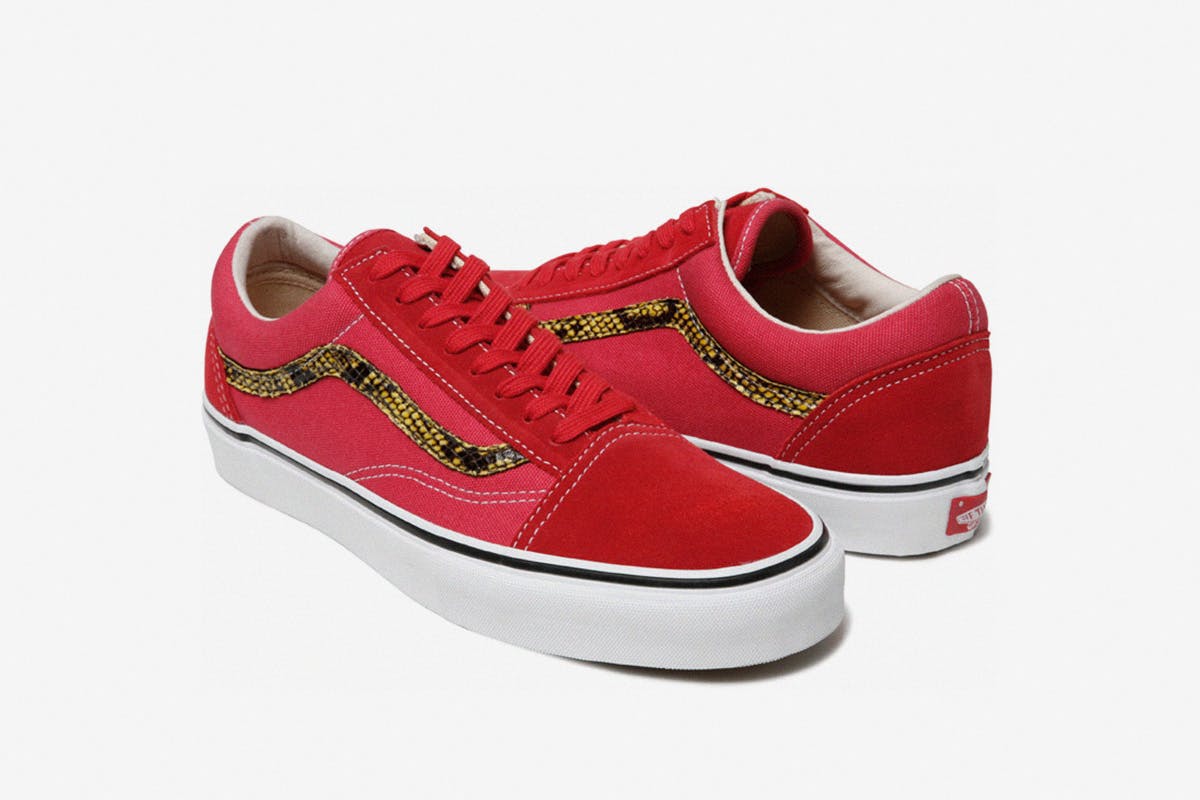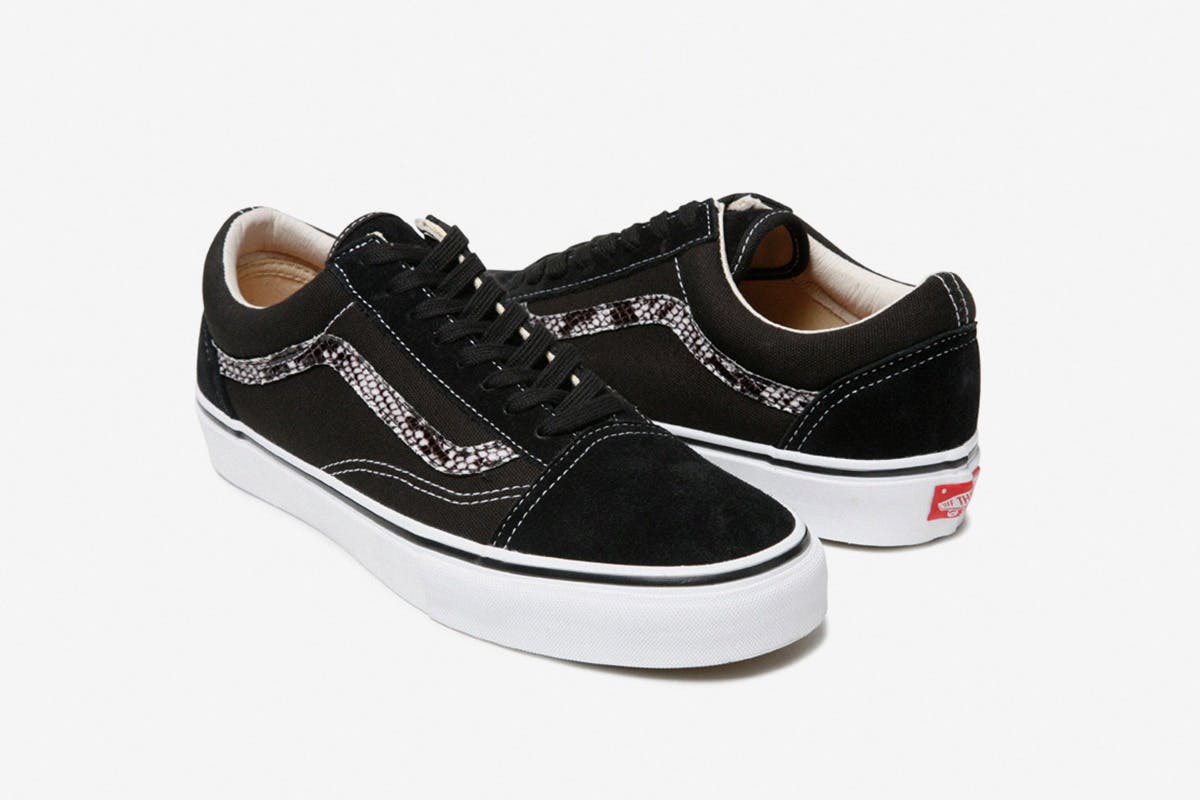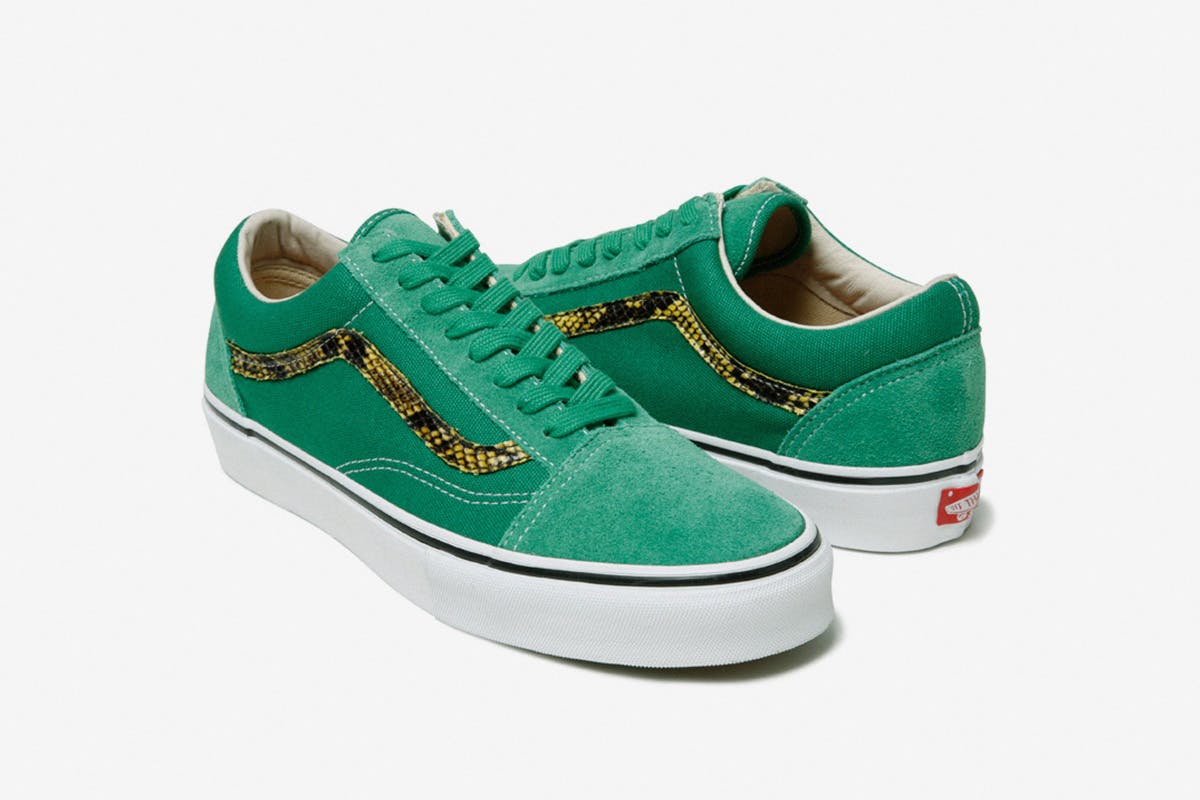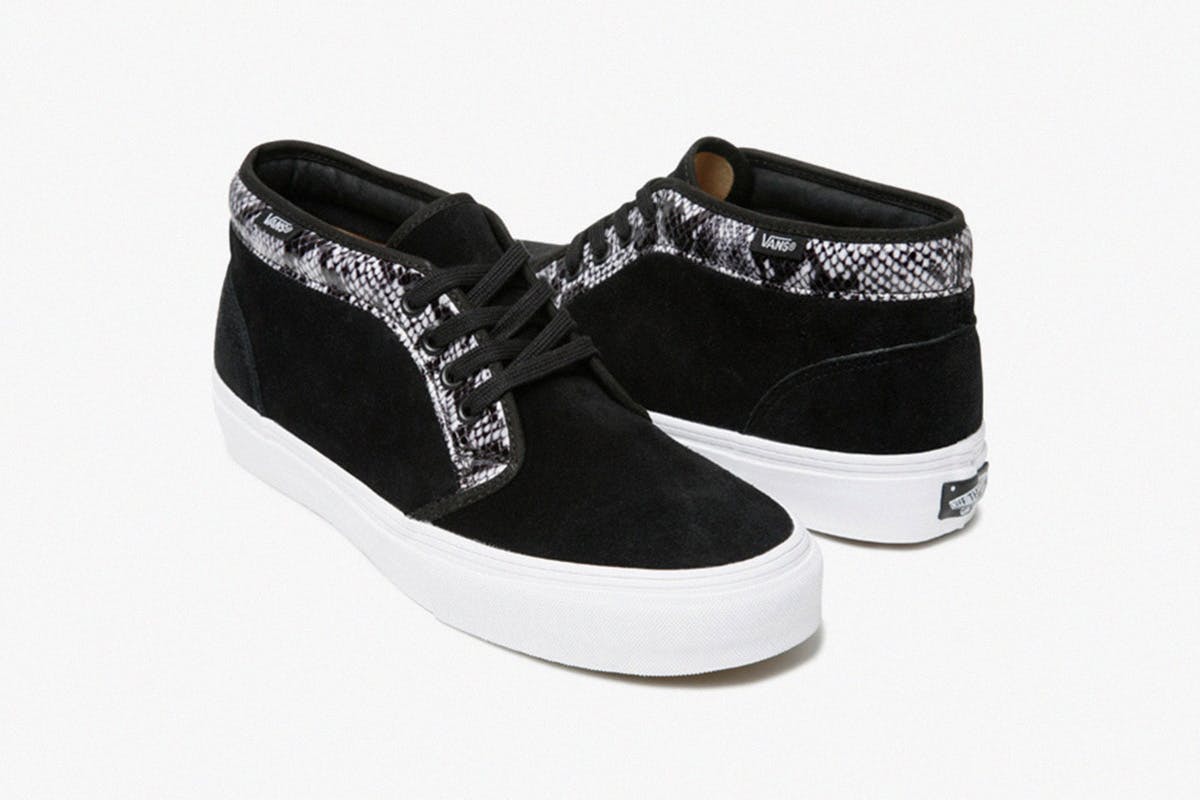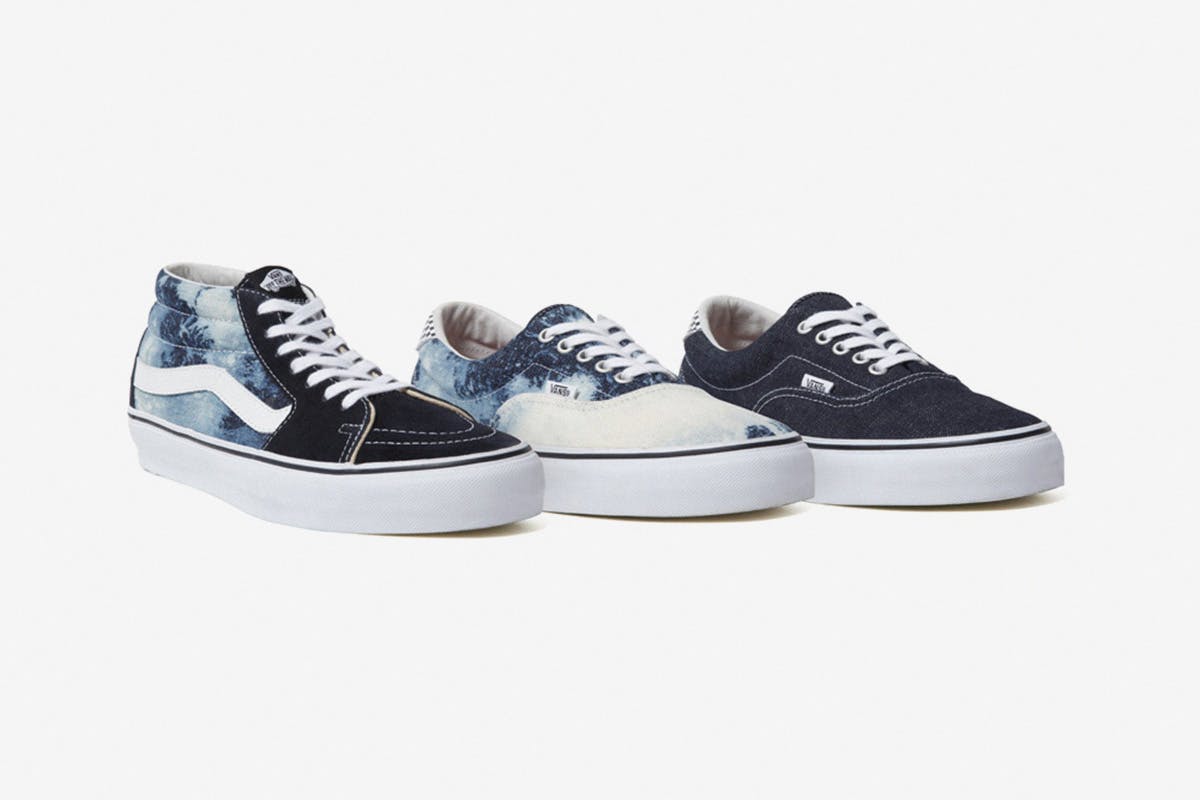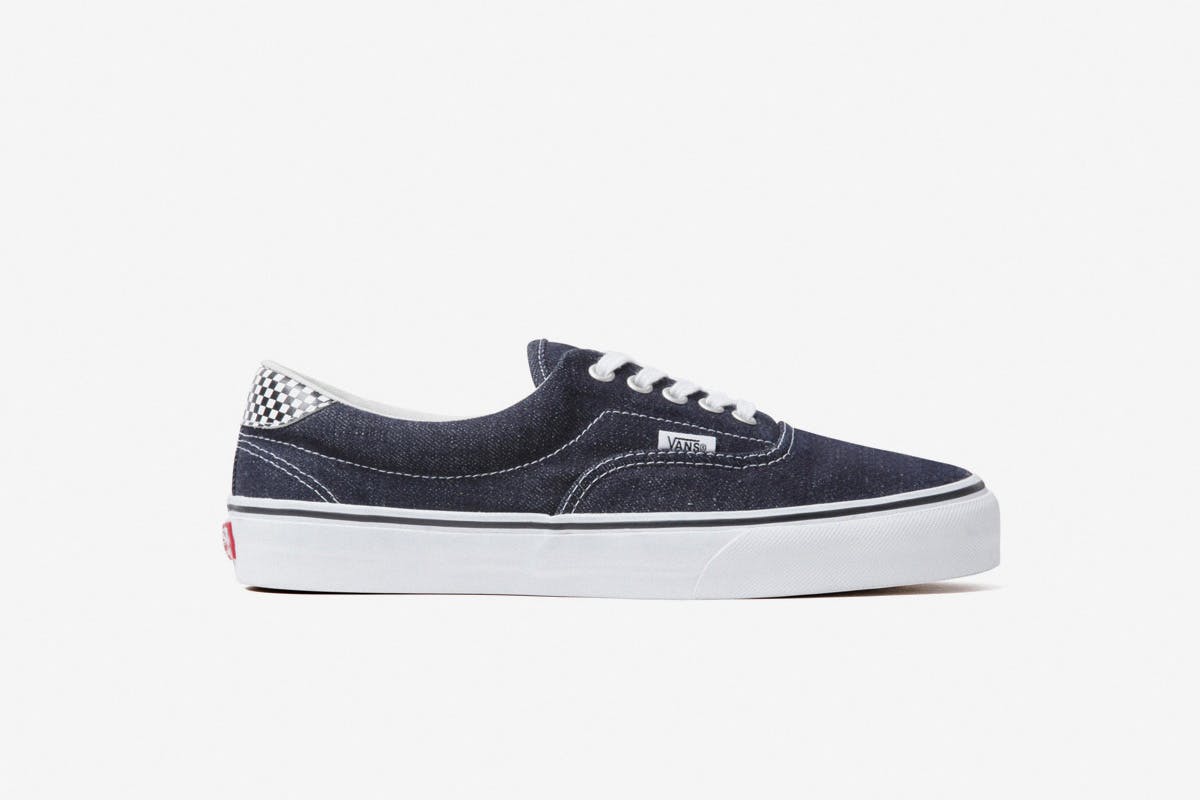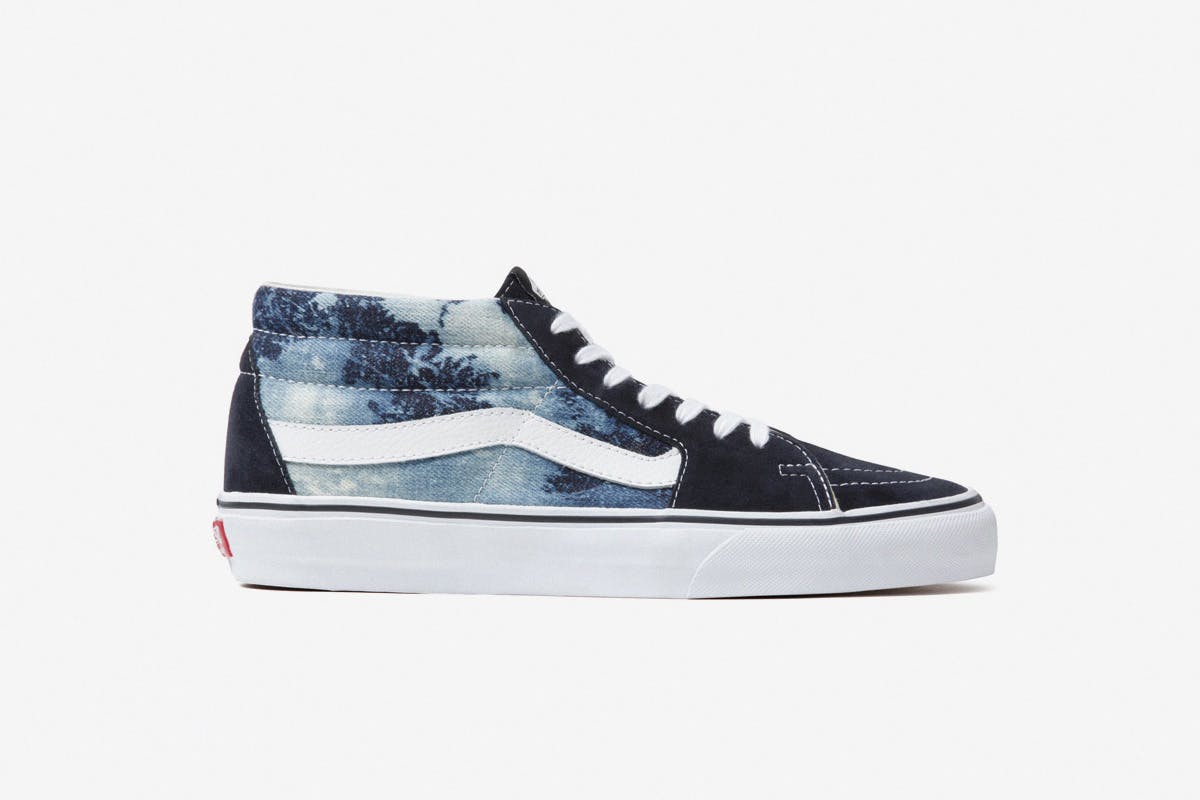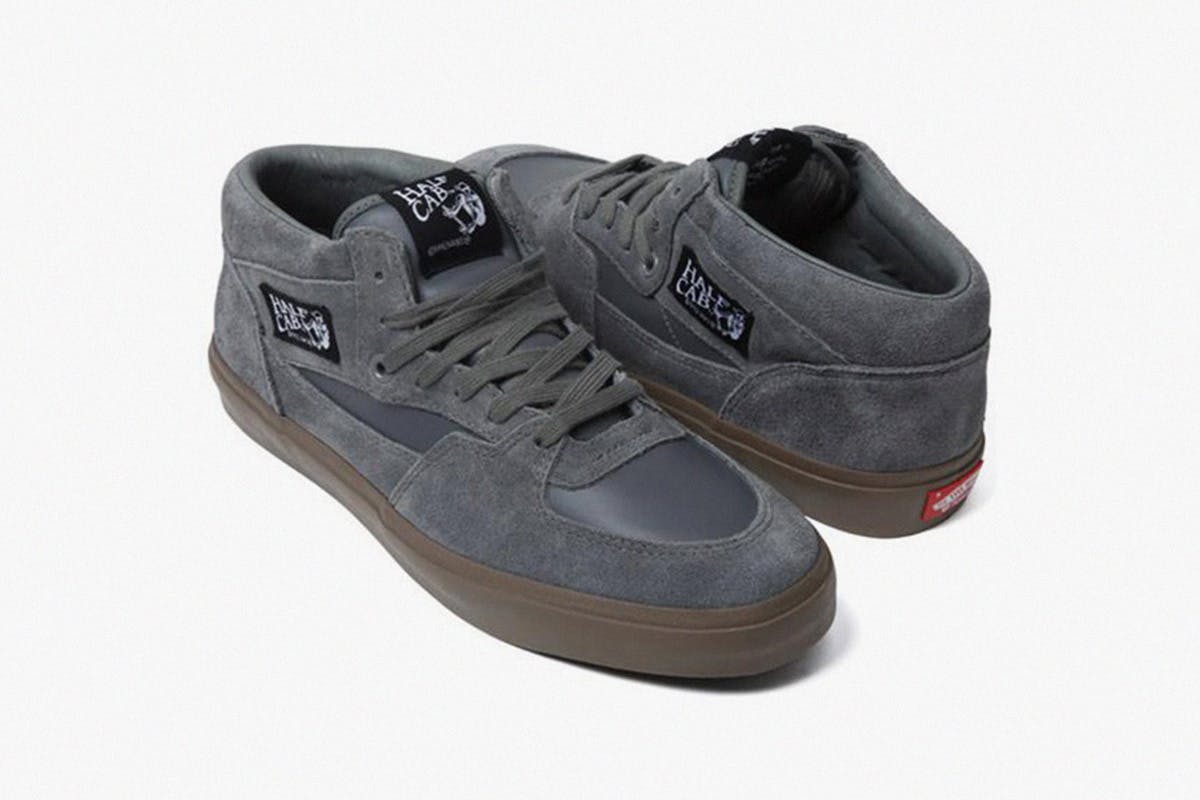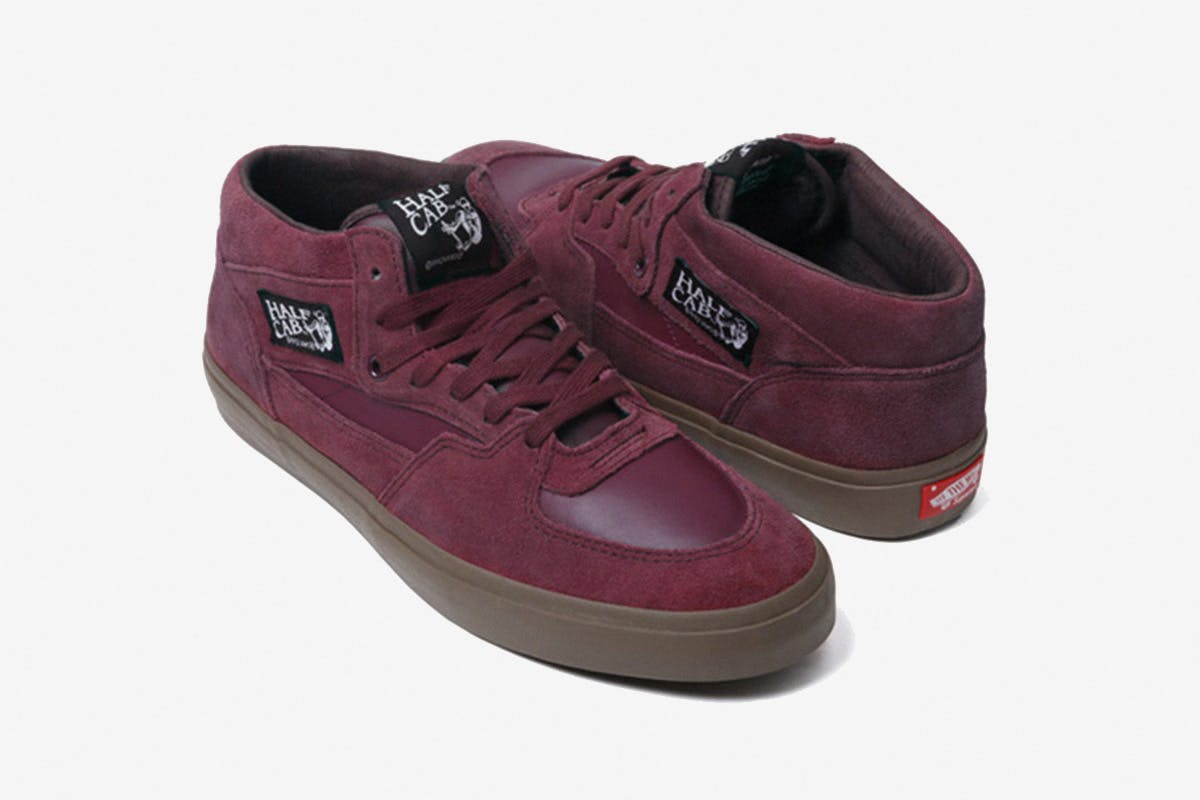 Continuing to show love to the Old Skool and Chukka Boot styles, Supreme extended their Spring collection with a lineup of ten colorways across the two styles. The suede uppers and leather insoles were topped off with a contrasting snakeskin detailing on the sidestripe (Old Skool) and collar/eyestay (Chukka).
Following a month after the snakeskin pack came a British punk-inspired collection of denim Vans. The Era was available in a choice of a custom bleached denim upper or a raw denim upper with the SK8-Mid (making its Supreme debut) available in the bleached pattern only. All shoes featured a custom tartan innersole to complete the iconic look.
For the FW10 season, Supreme stripped things back to basics with a collection of Vans Half Cabs and Old Skools that were perfect for Autumnal skating. The muted colorways, suede and leather uppers, and gum soles provided skateboarders everything they wanted from a Vans skate sneaker.
2011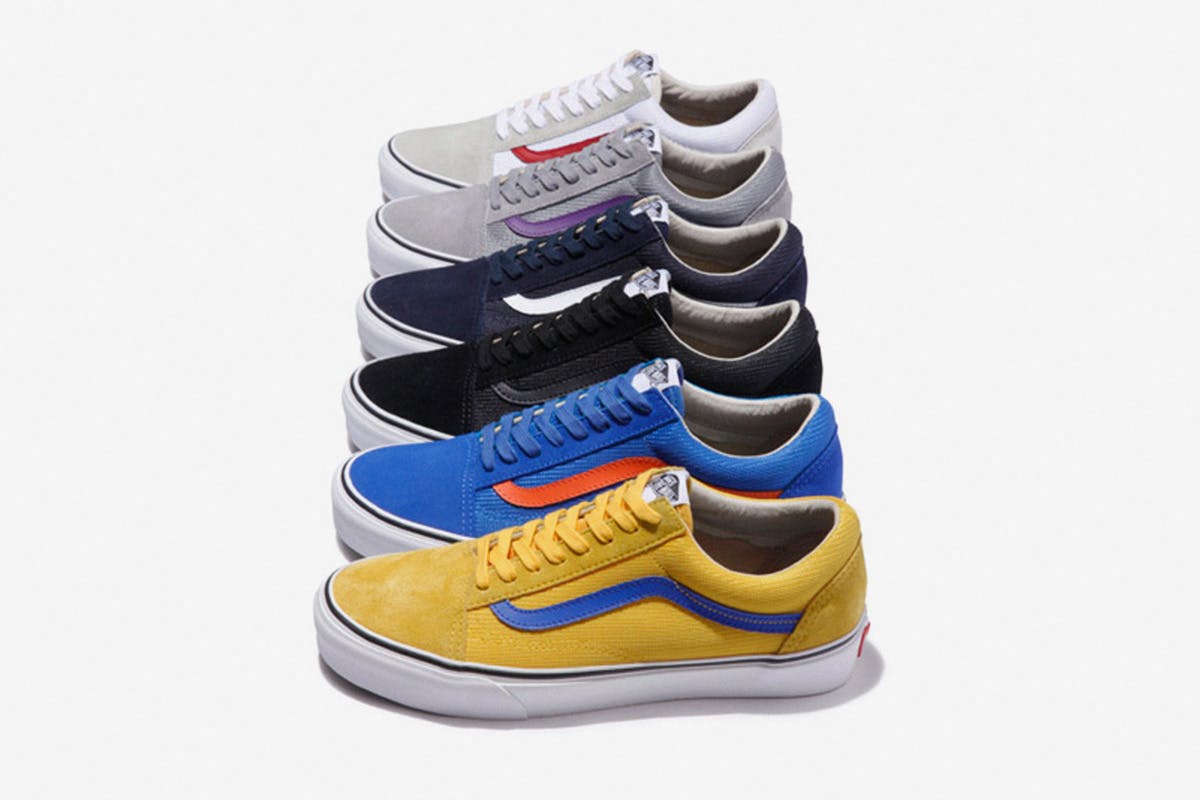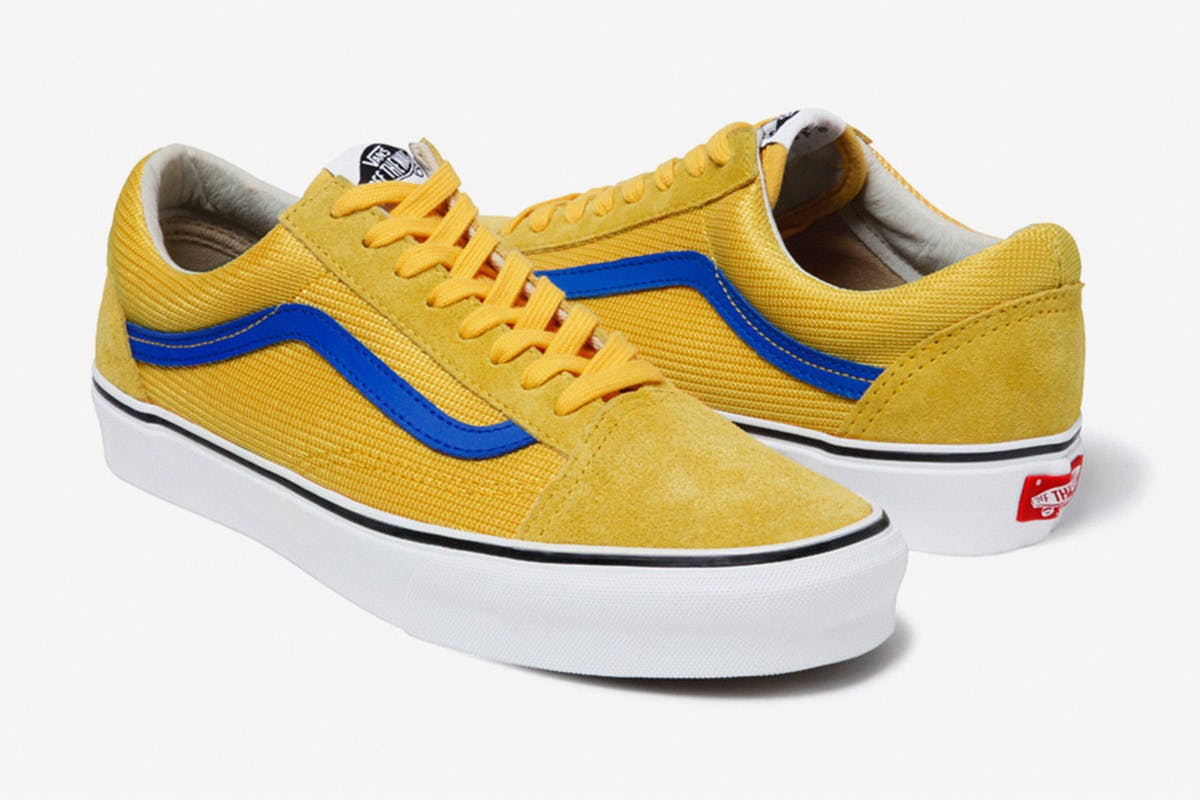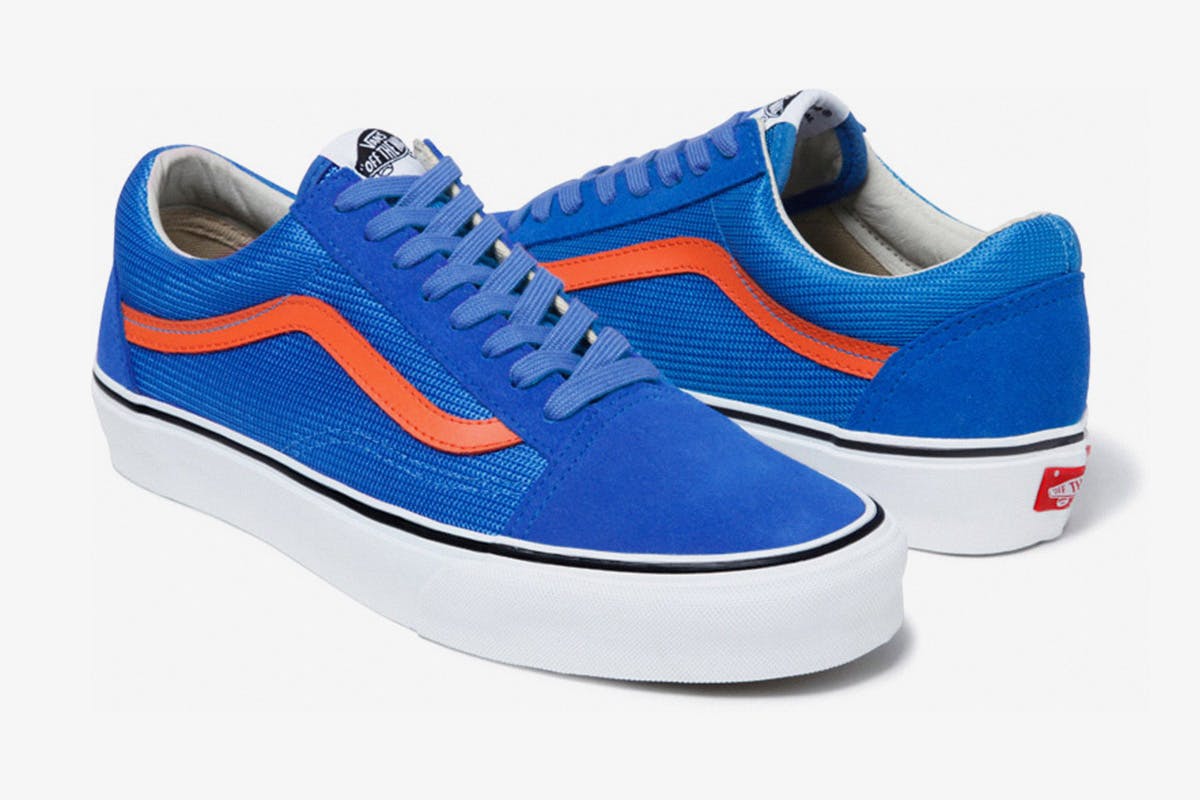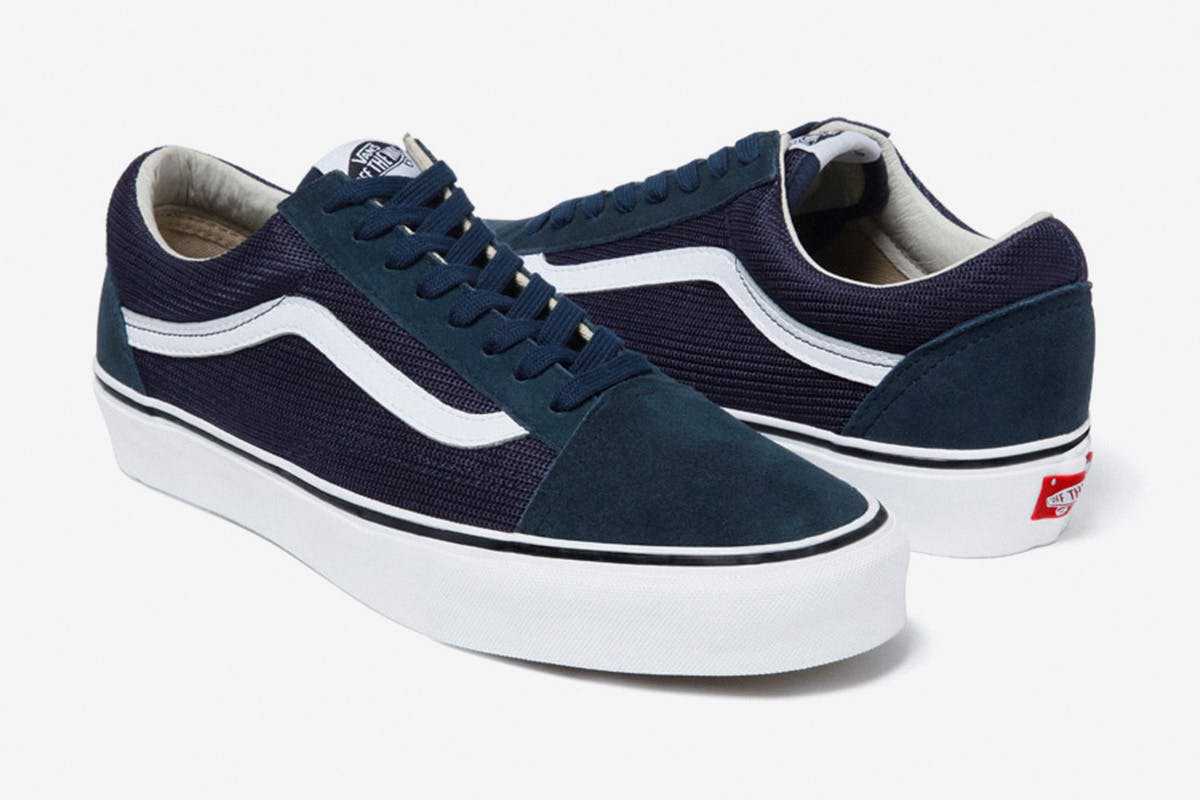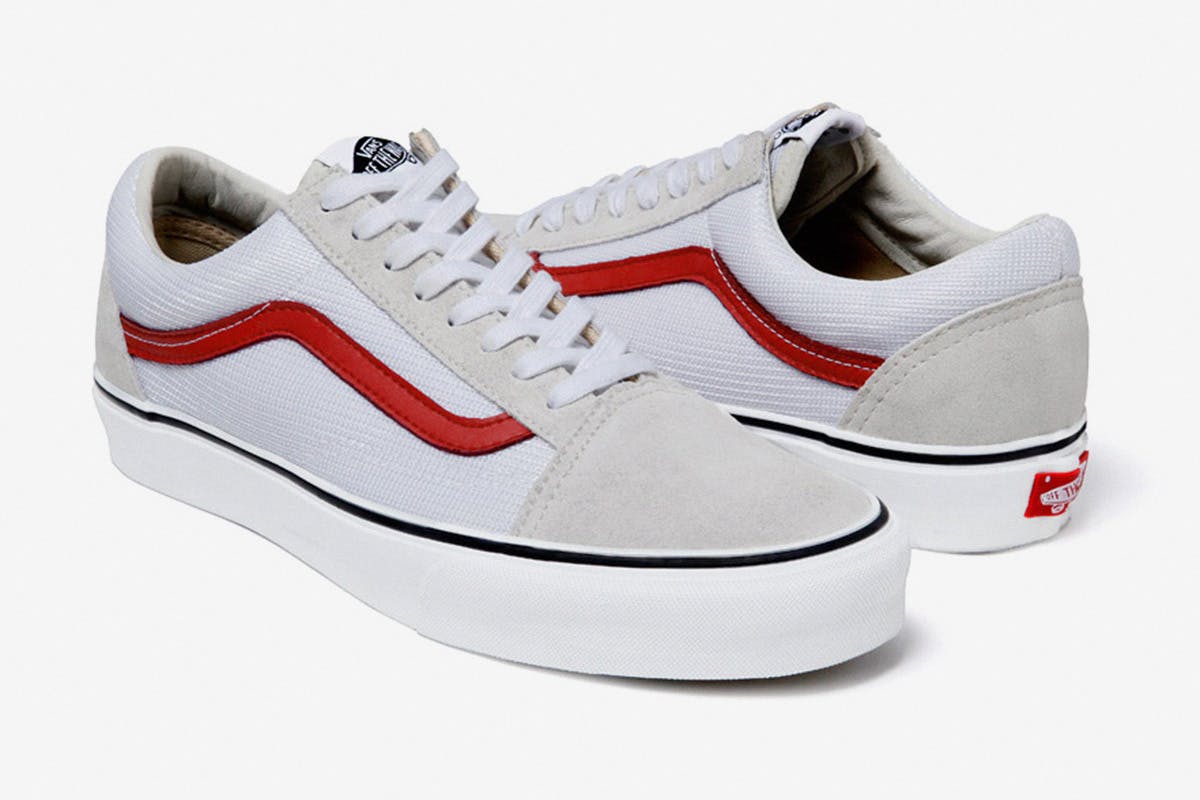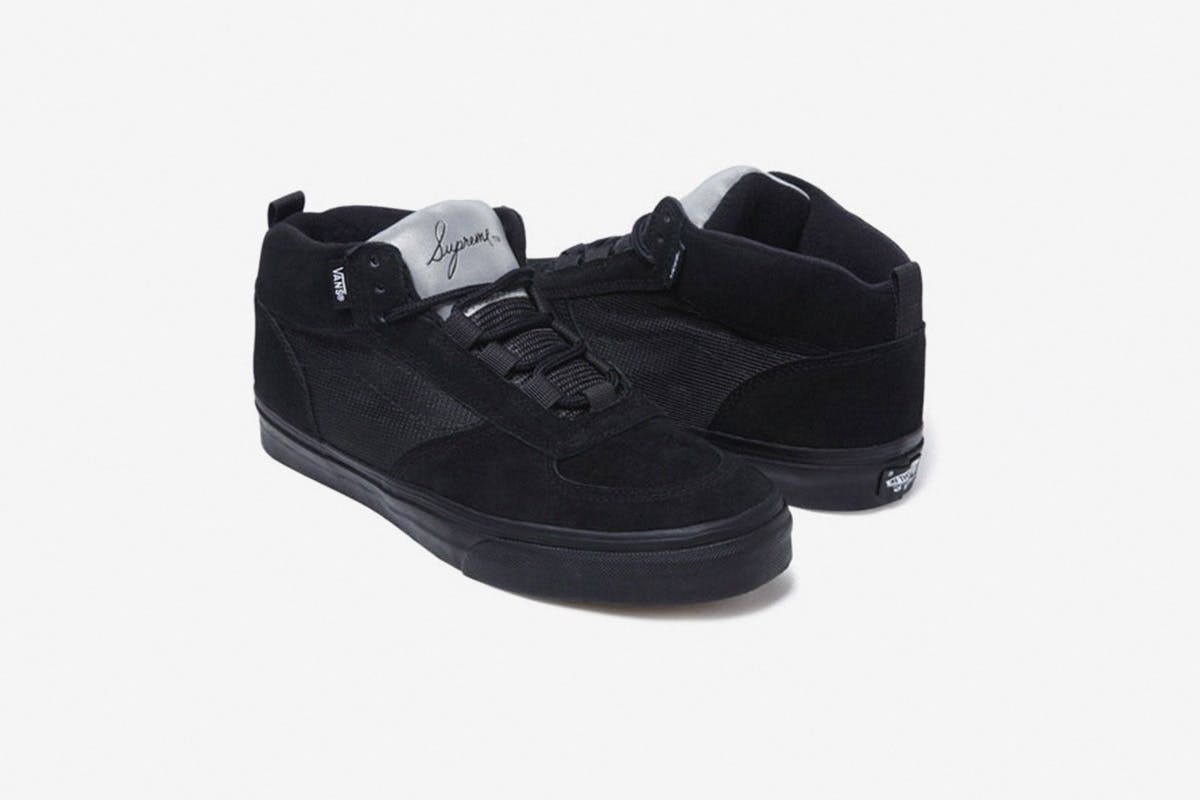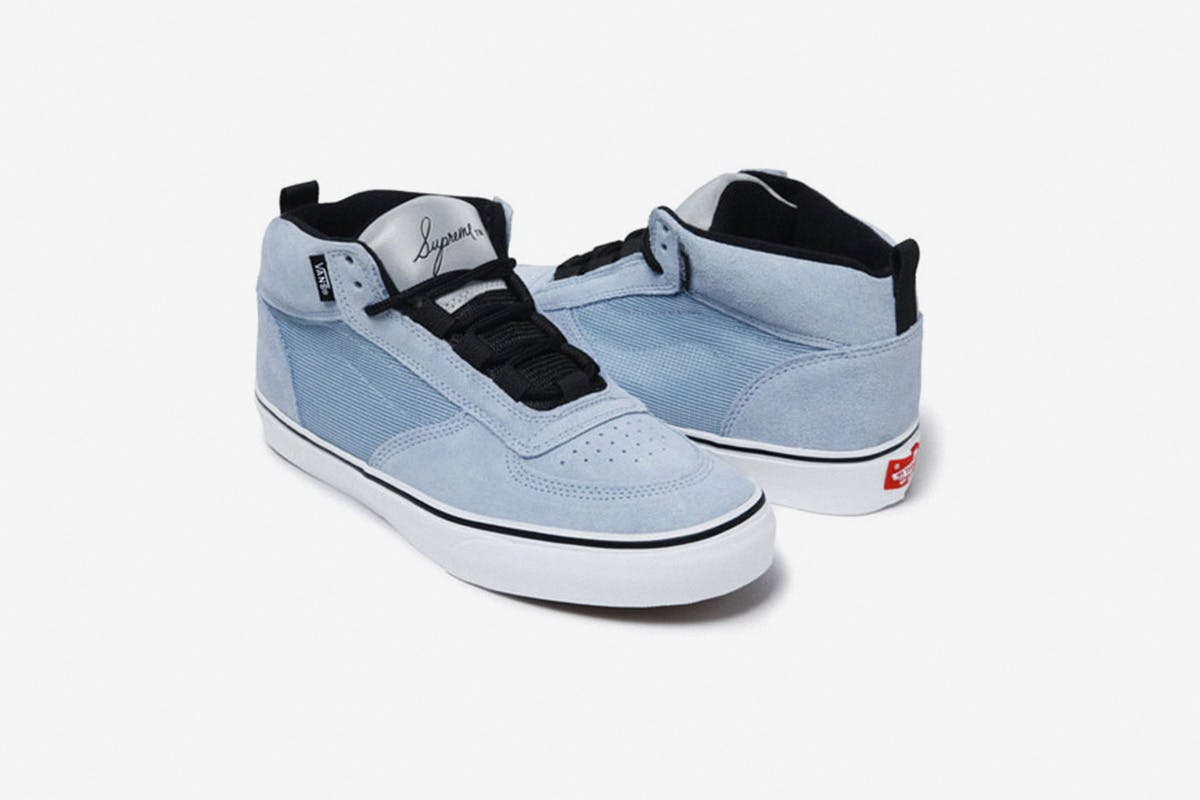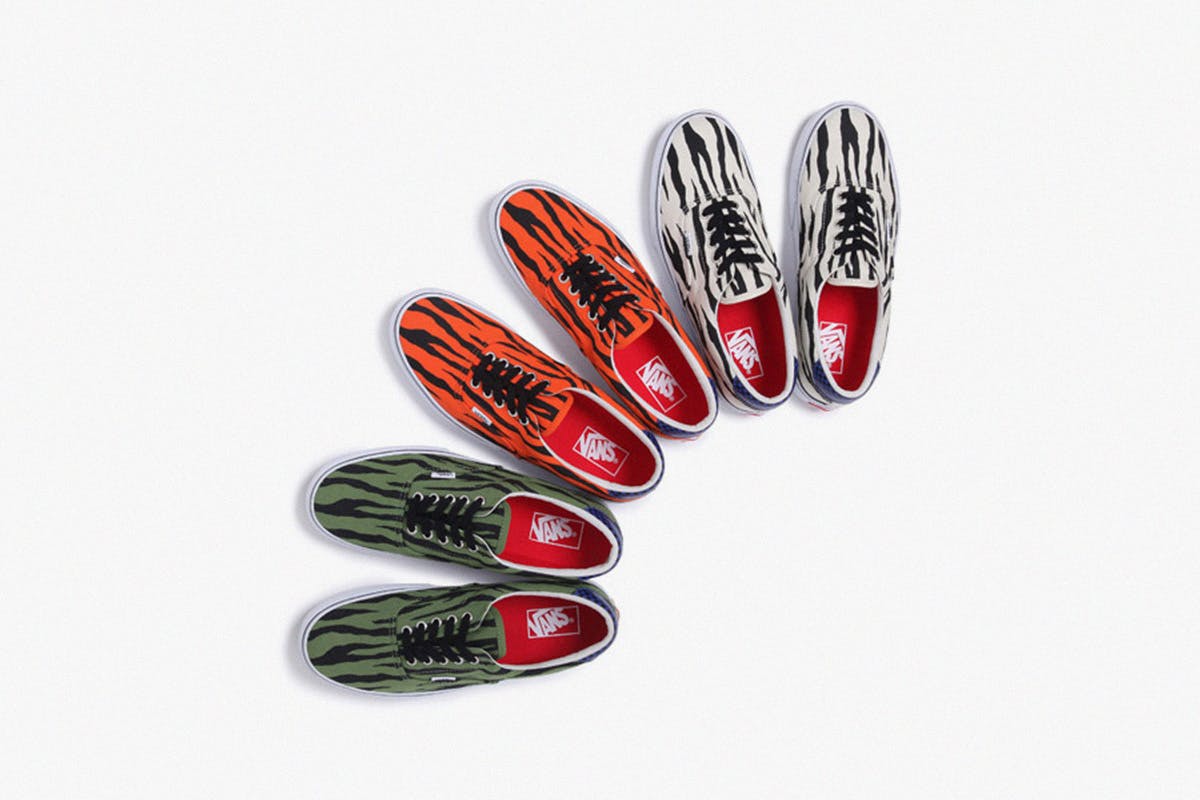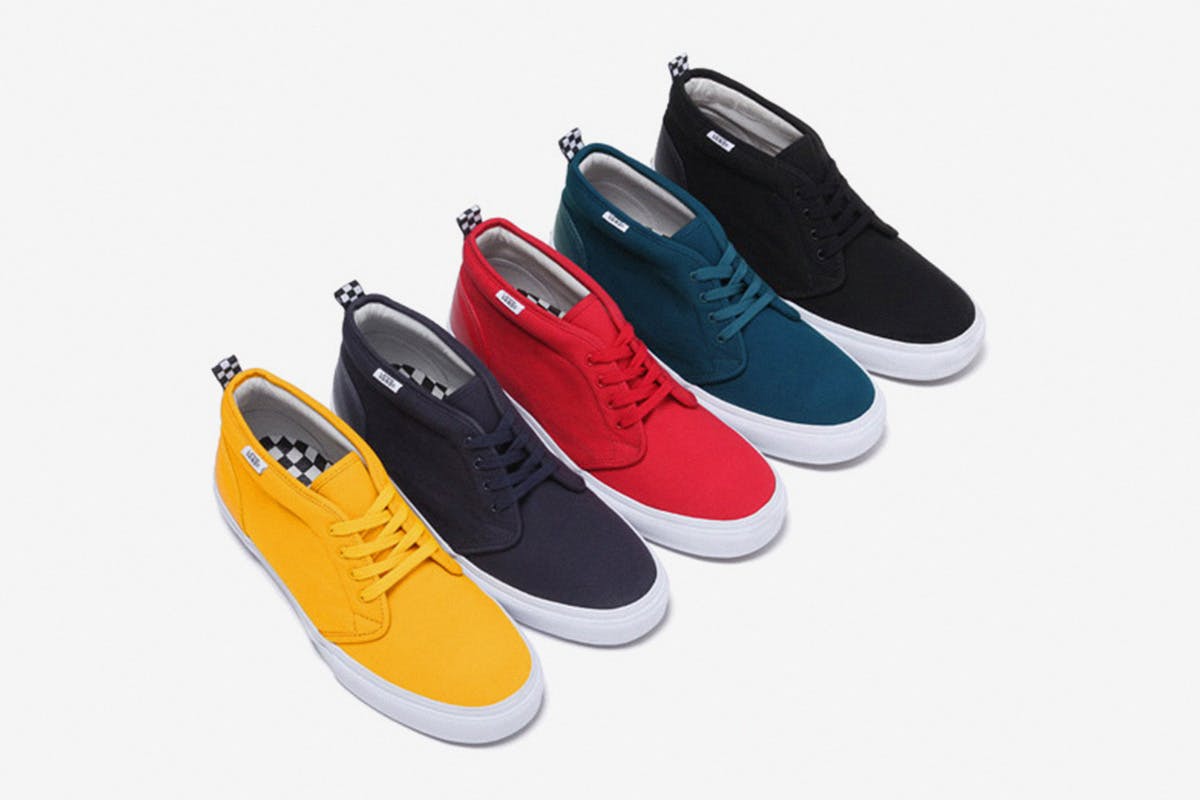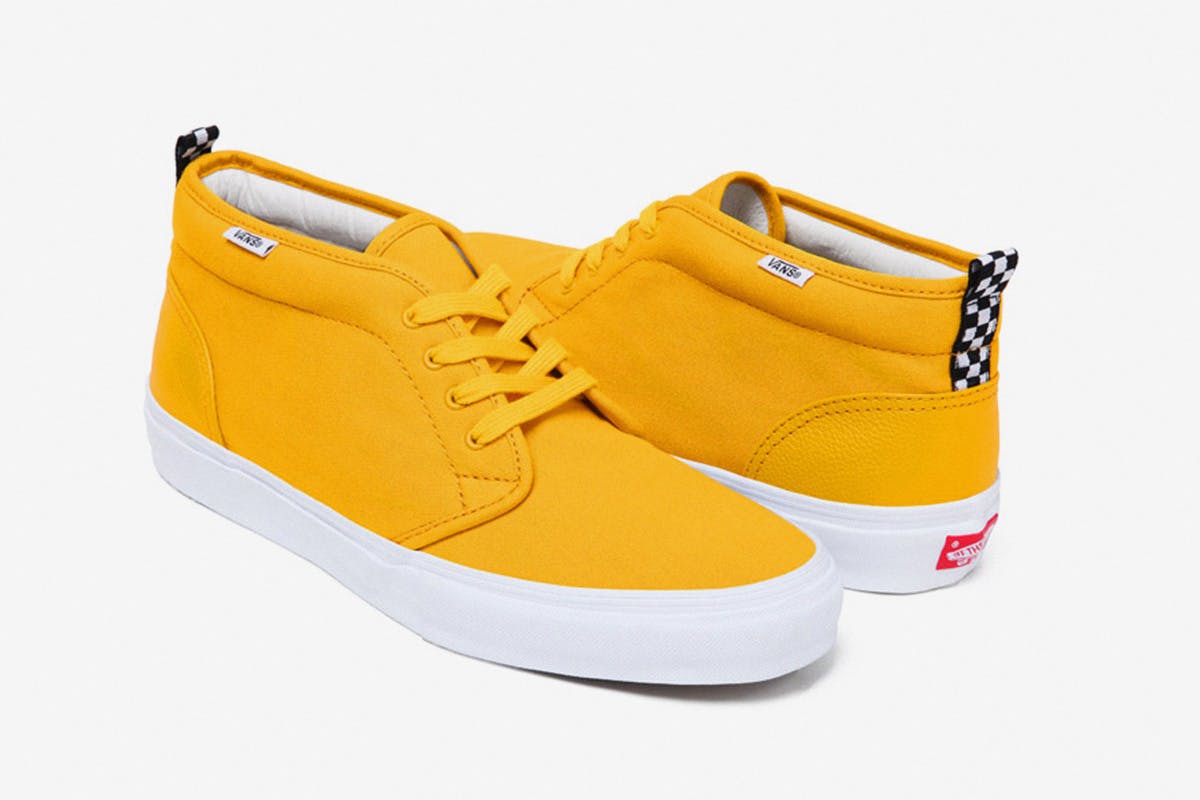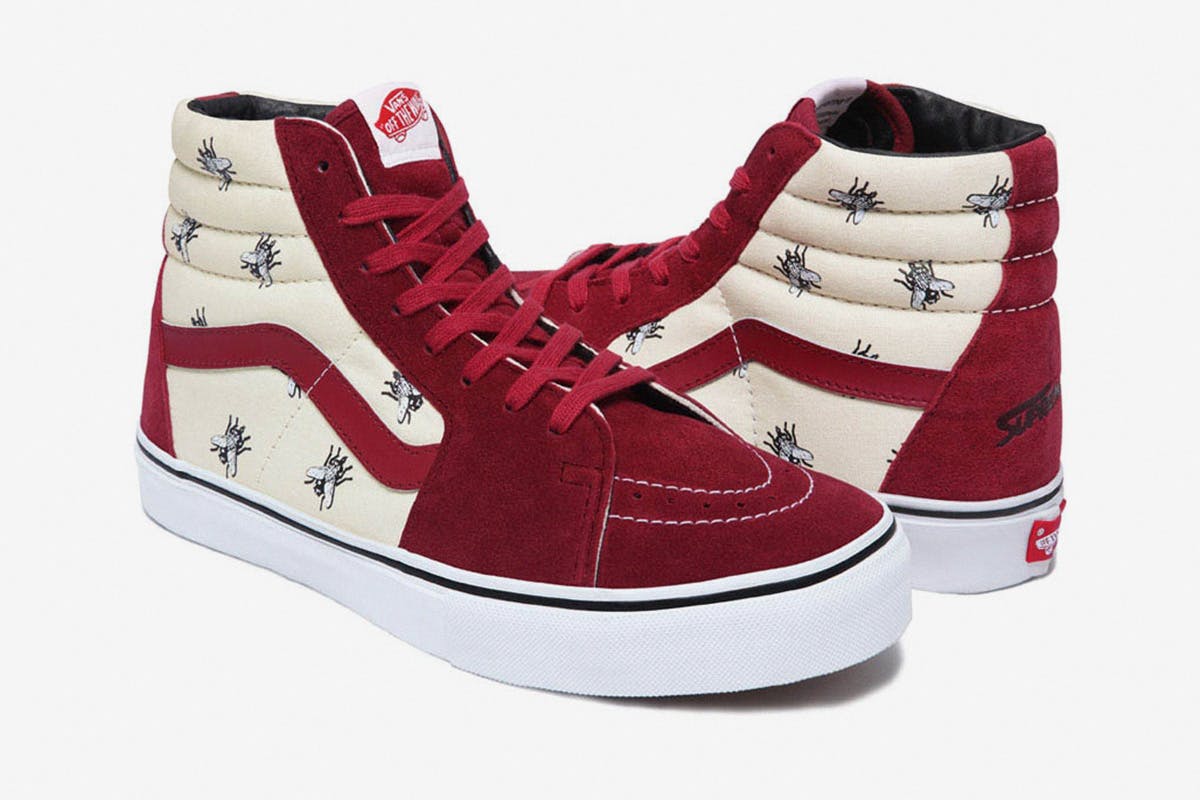 A few weeks into their SS11 season, Supreme released a collection of six Vans Old Skools with suede and mesh uppers. Released alongside the Old Skools was somewhat of a curveball move for Supreme, as they brought back the Vans MC from 1994. The MC was the first (and last) pro model for Mike Carroll before he jumped ship from Vans to DC Shoes shortly after its release. The silhouette is similar to a streamlined Half Cab, with Carroll's signature featured prominently on the shoes tongue. It may have been short-lived but the shoe made an impact on skaters of the time so it was nice to see Supreme revisiting it 13 years later. Apart from Mike Carroll's autograph being swapped in place of a Supreme script, the collaboration kept true to the shoes original model. Bizarrely, three months later Supreme teamed up with EMB legend Mike Carroll once again to release two exclusive colorways of his Lakai signature shoe.
A recurring pattern throughout Supreme's SS11 season was the zebra print, which featured across a variety of products including jackets, hats and luggage. Footwear wasn't excluded with the zebra pattern covering three Vans Eras in May 2011. Alongside the wild zebra print, a toned-down collection of five canvas Chukka Boots was released.
Supreme ended off their FW11 season with Vans by bringing out the Sk8-Hi and Era featuring a new graphic. The flies print was a nice homage to Madrid Fly Paper, a brand of grip tape popular with skateboarders in the '80s that featured punch-out flies. Both shoes were produced in three colorways and featured Supreme branding across the heels.
2012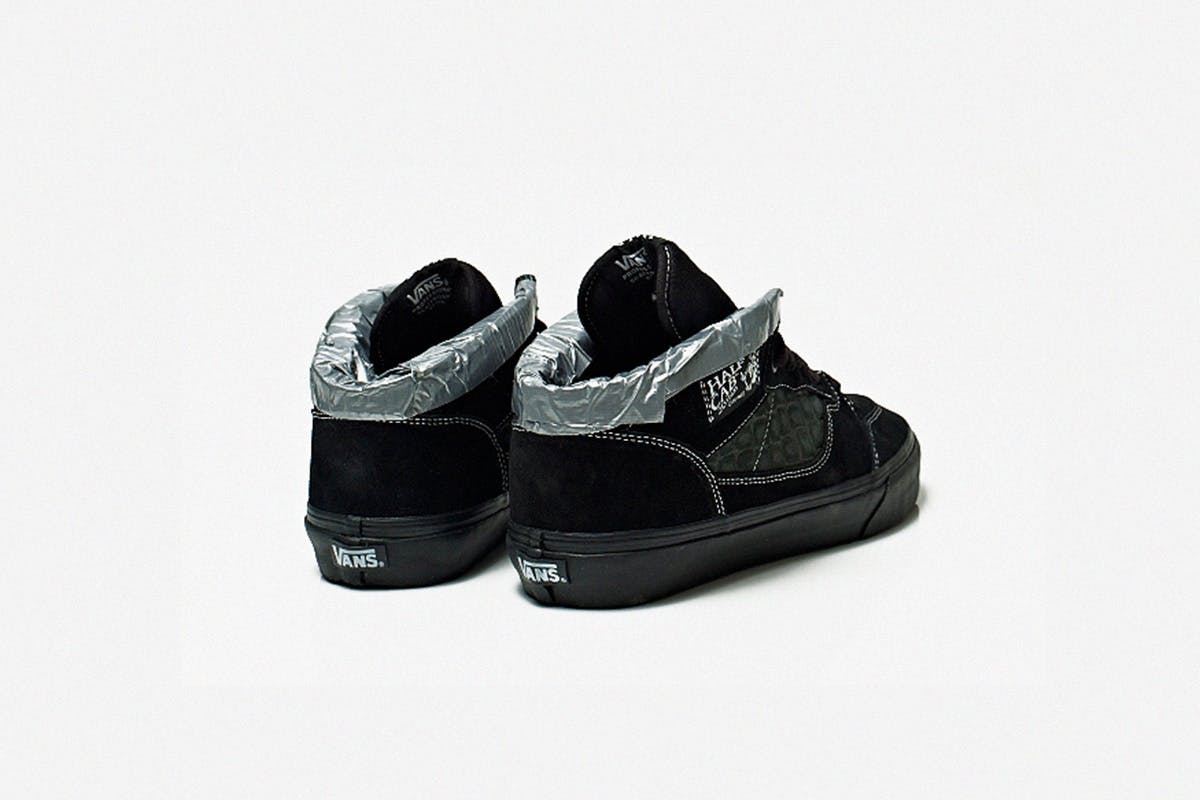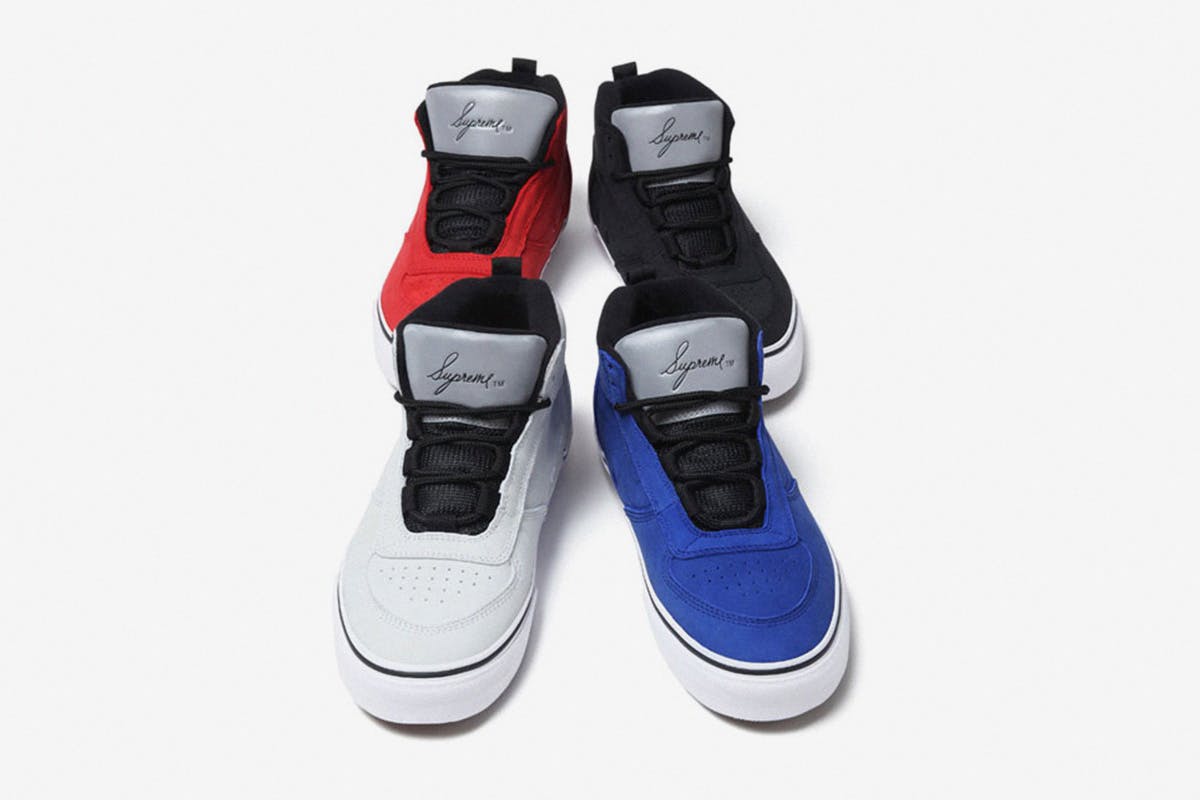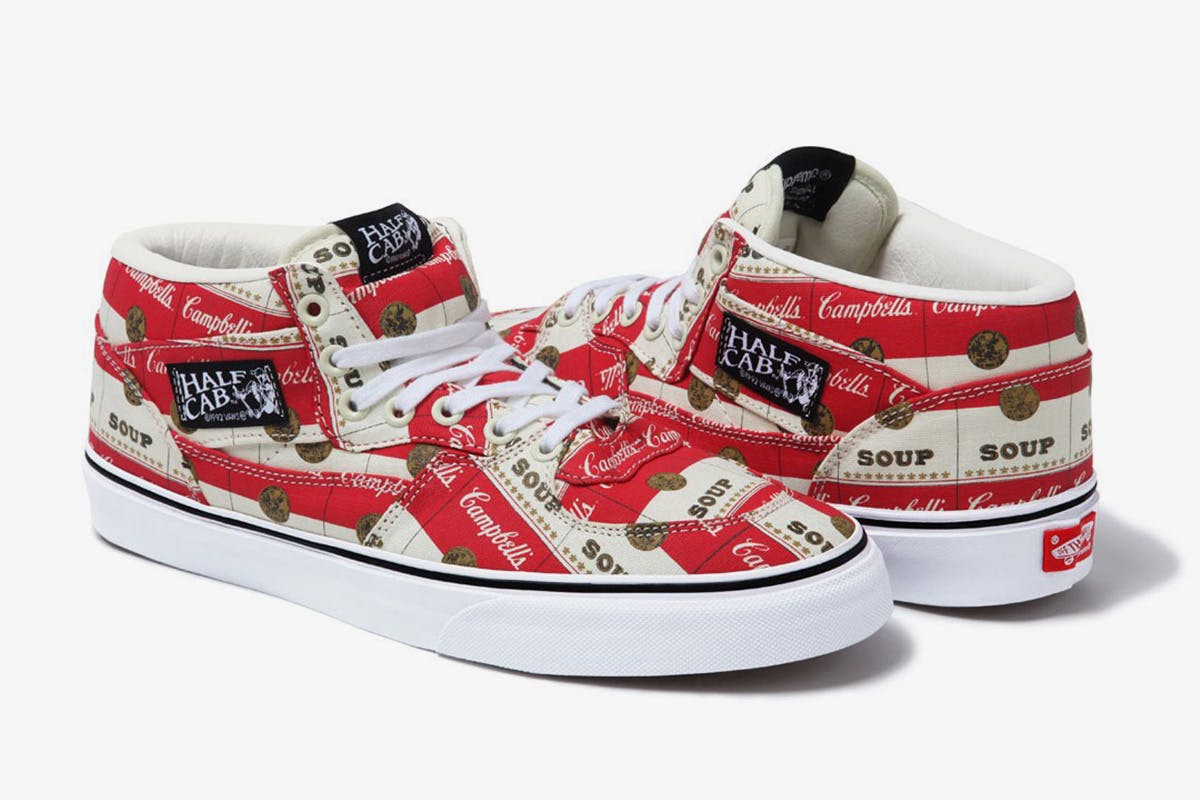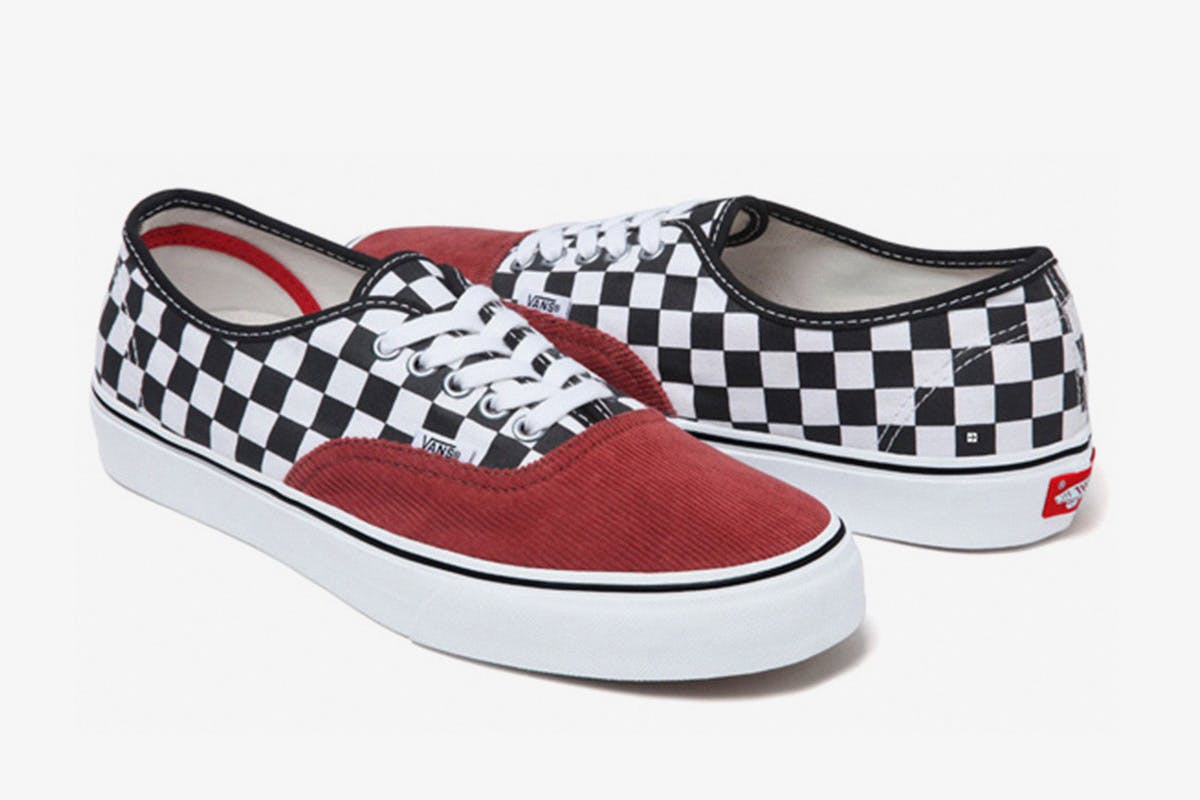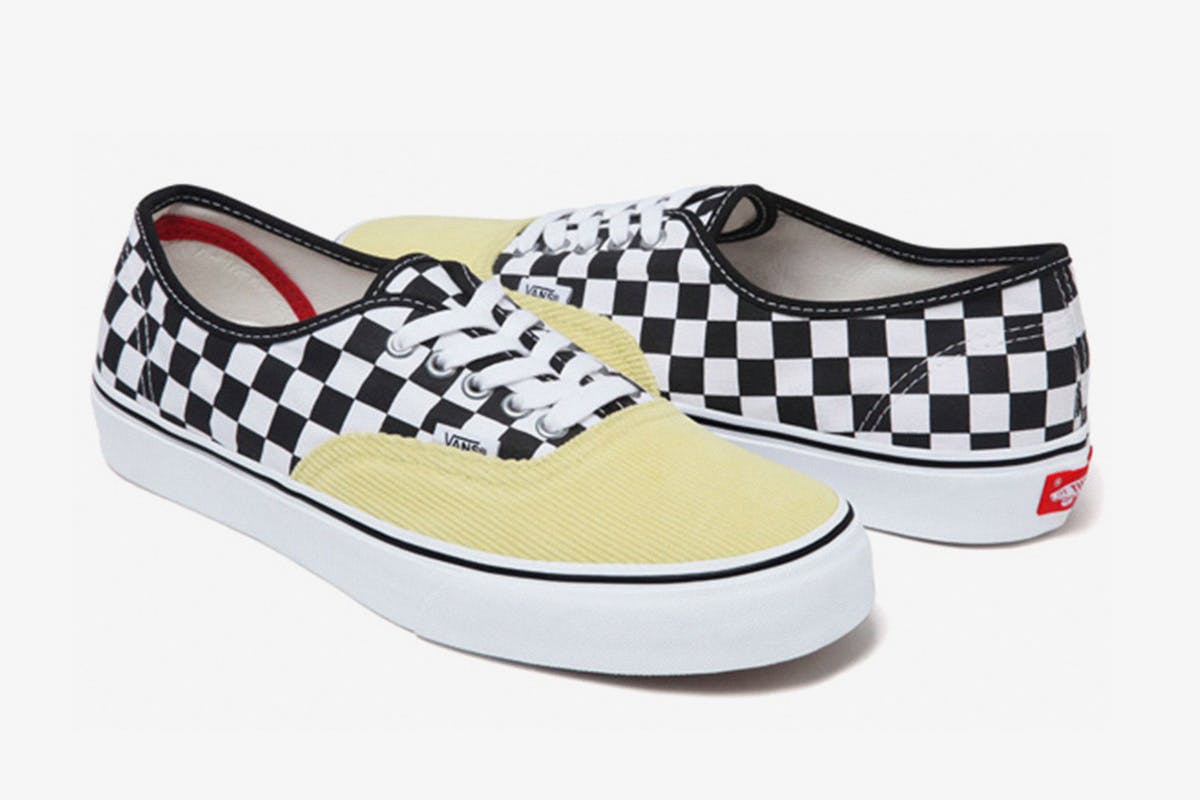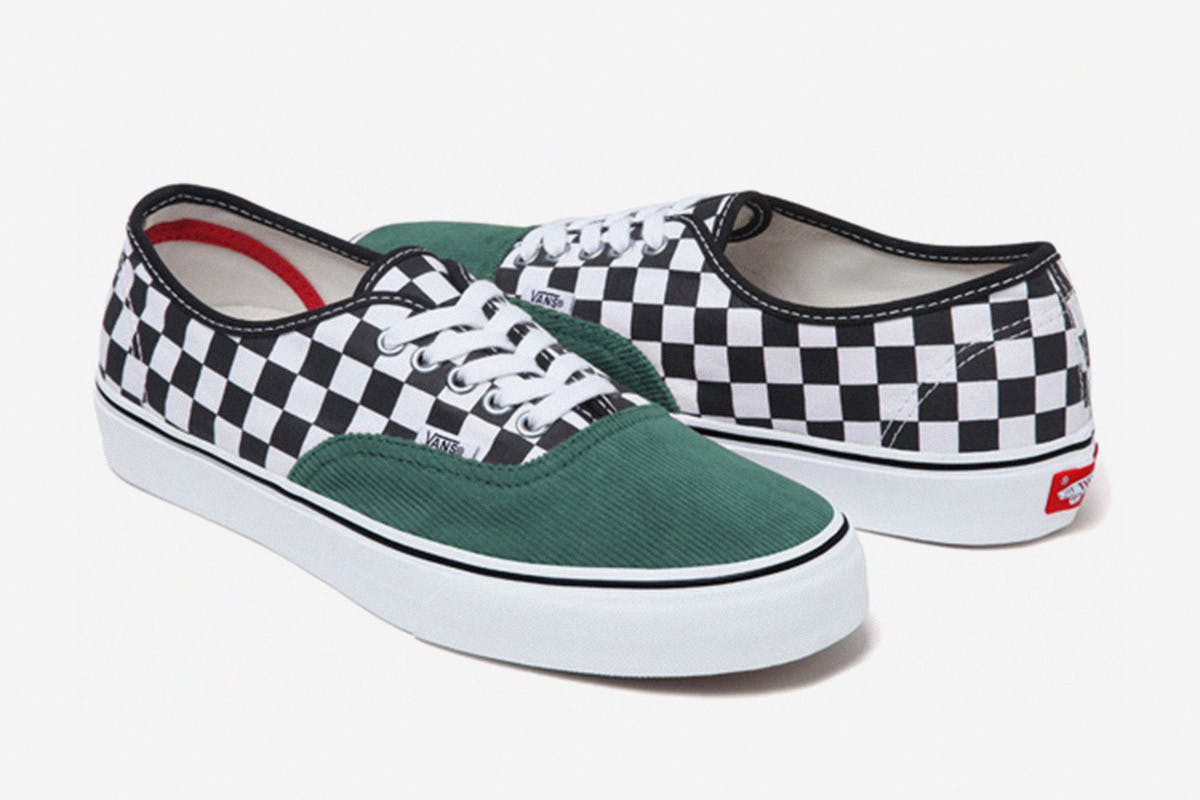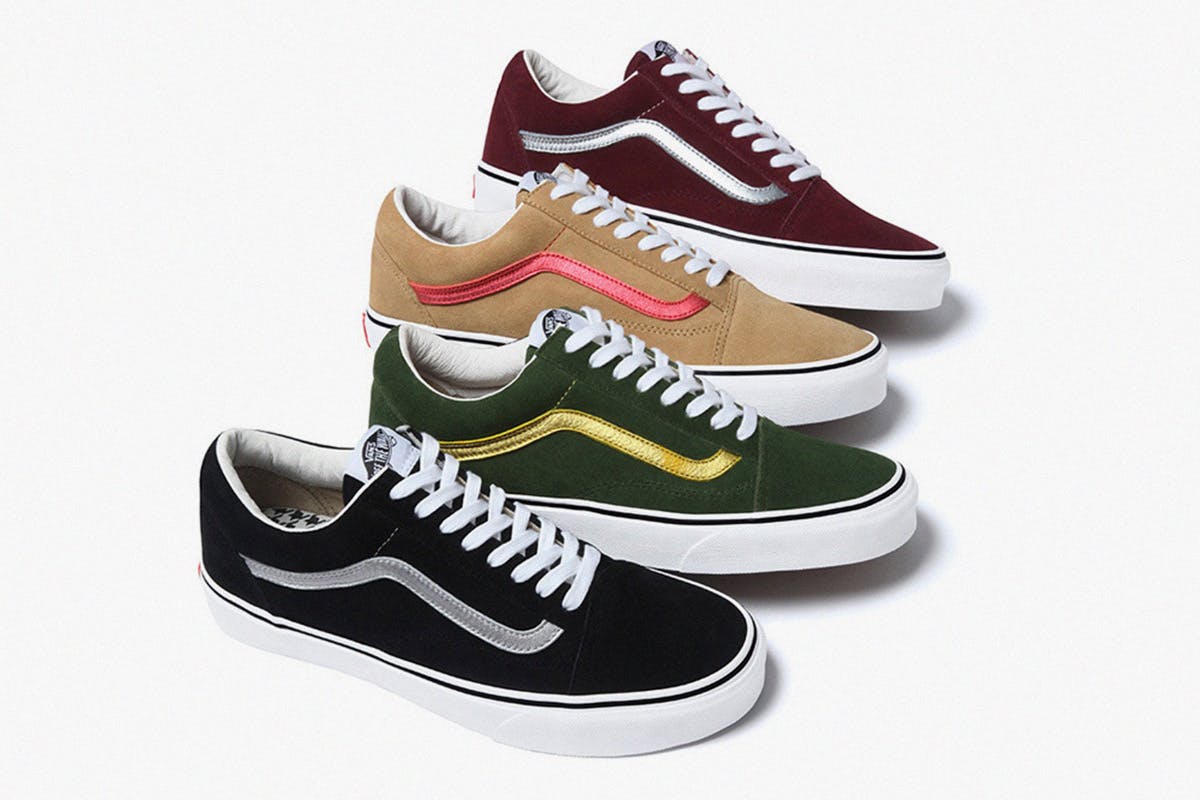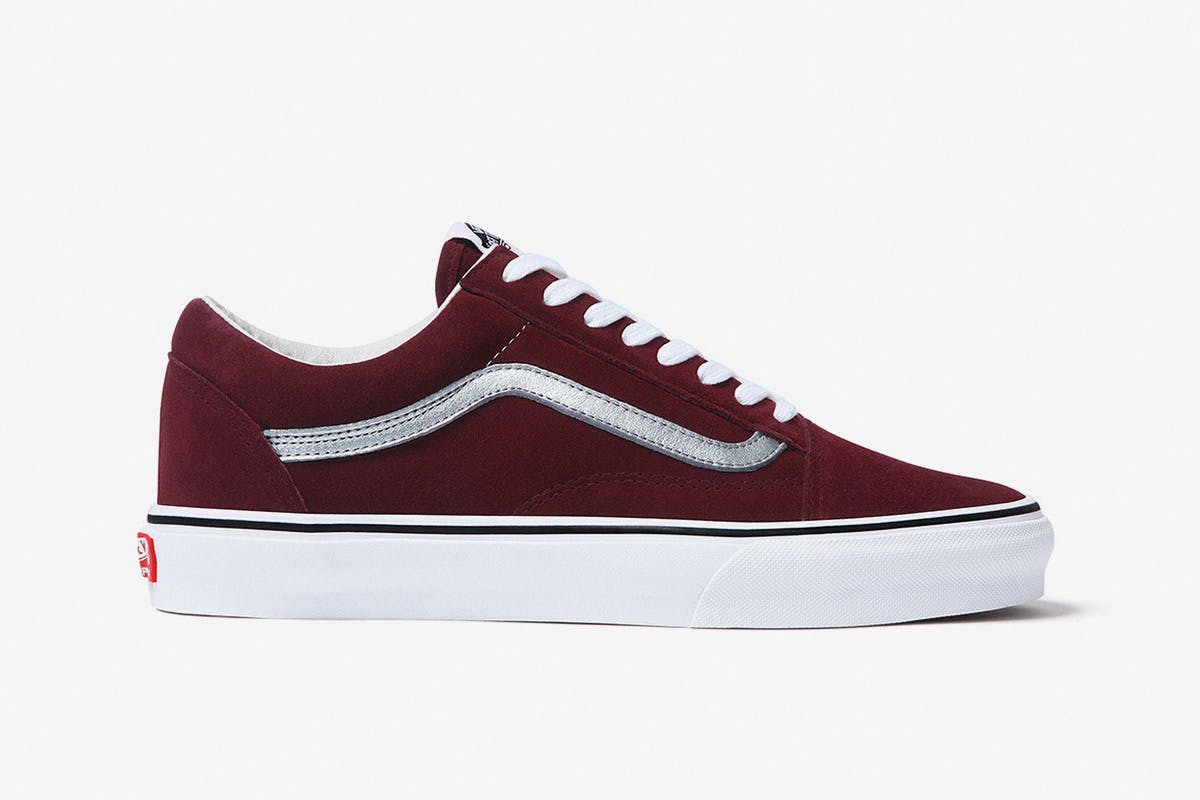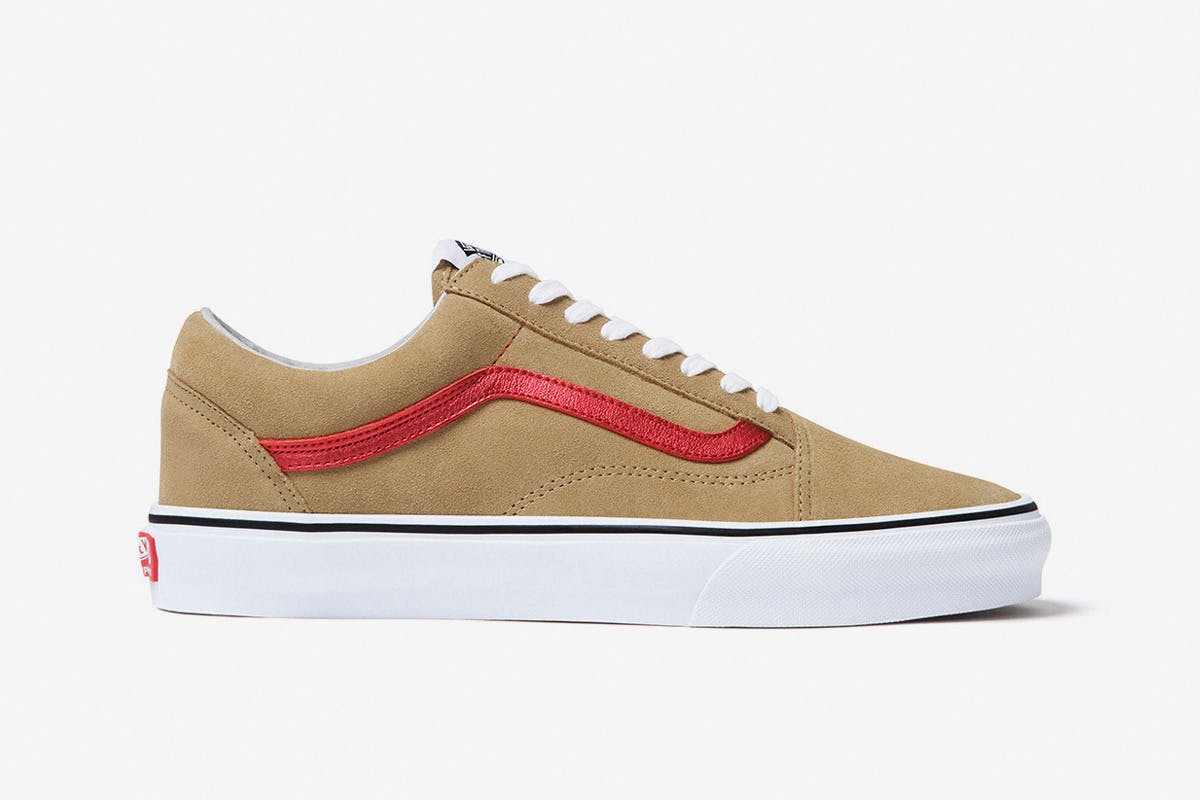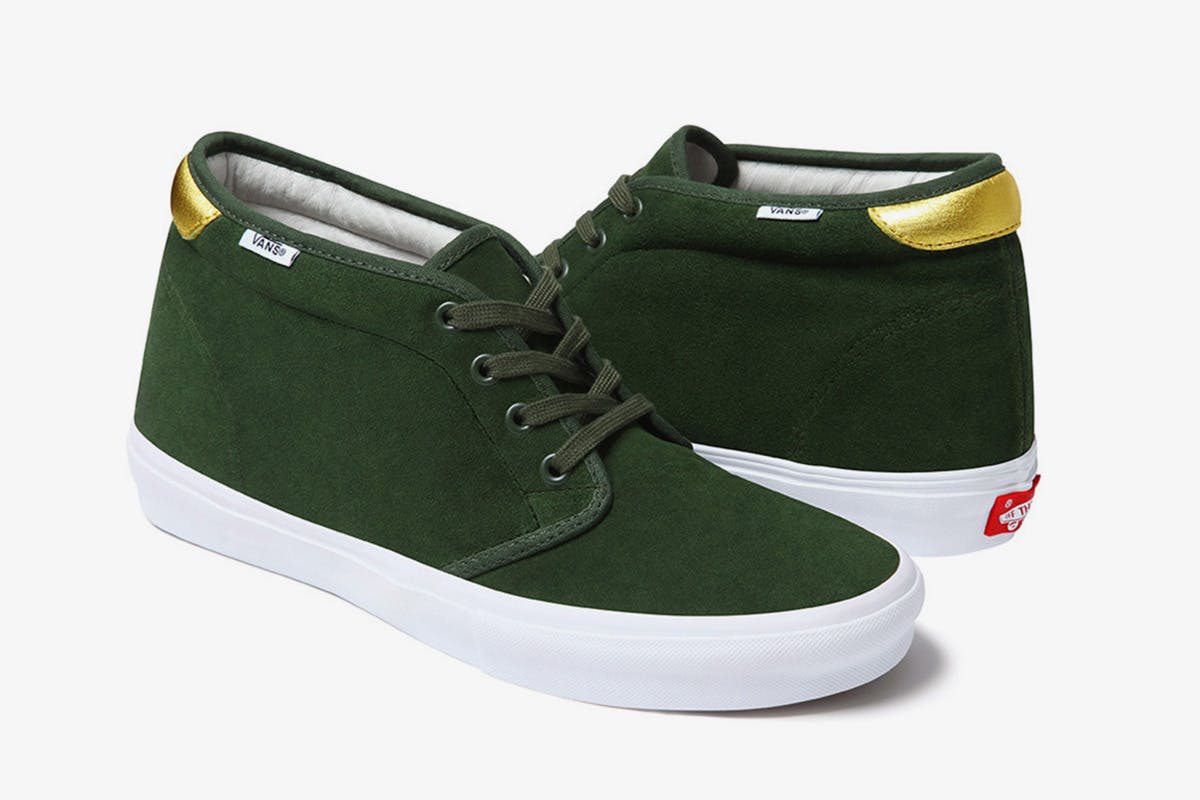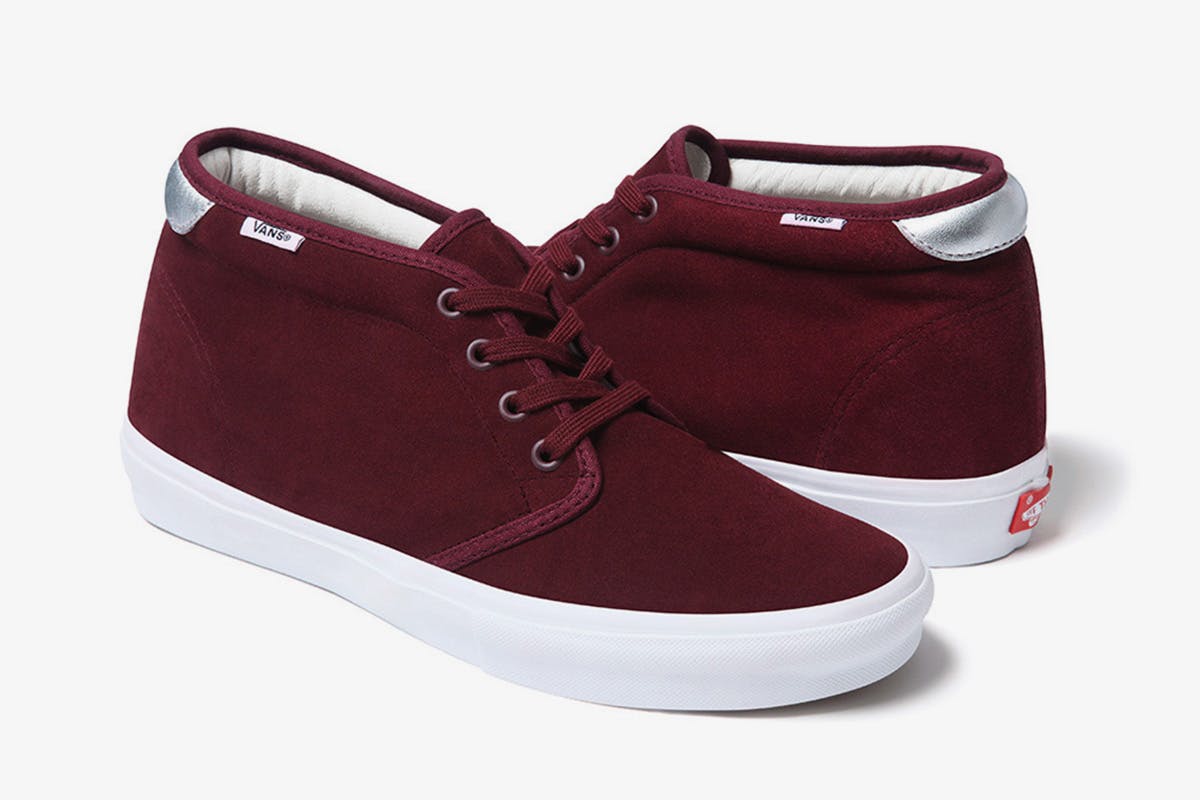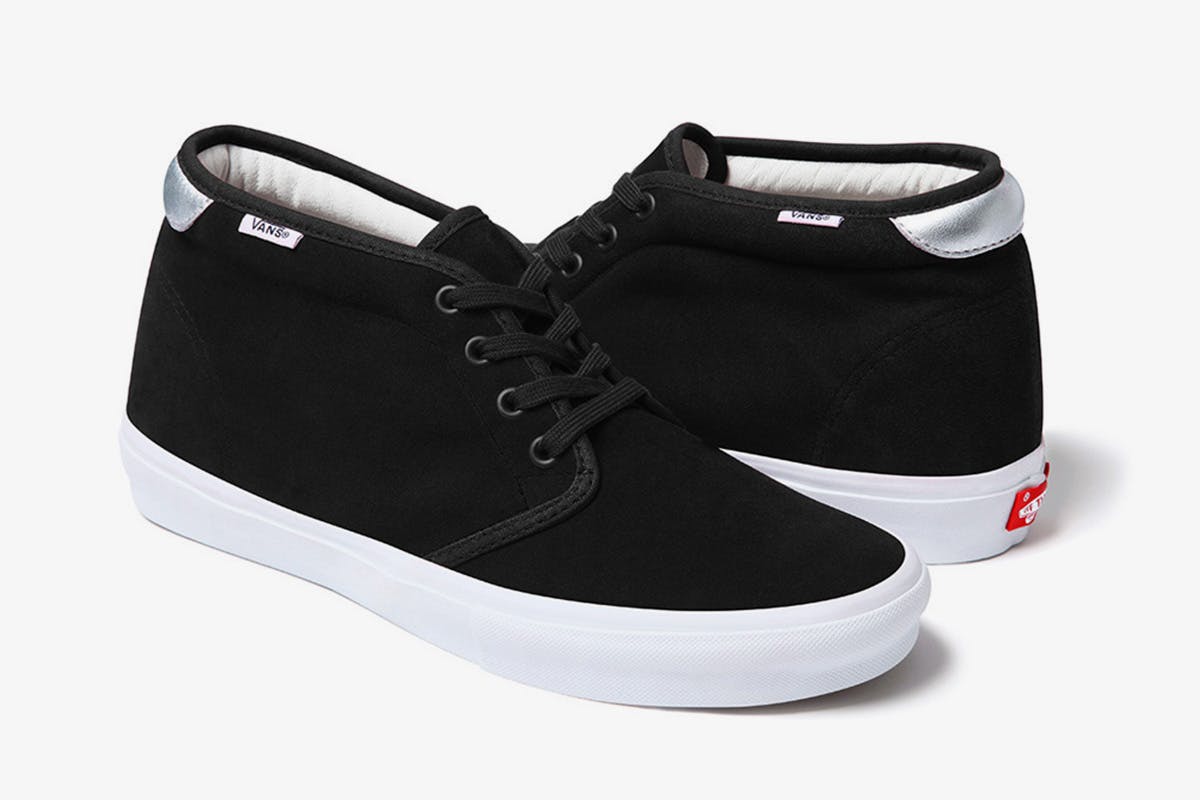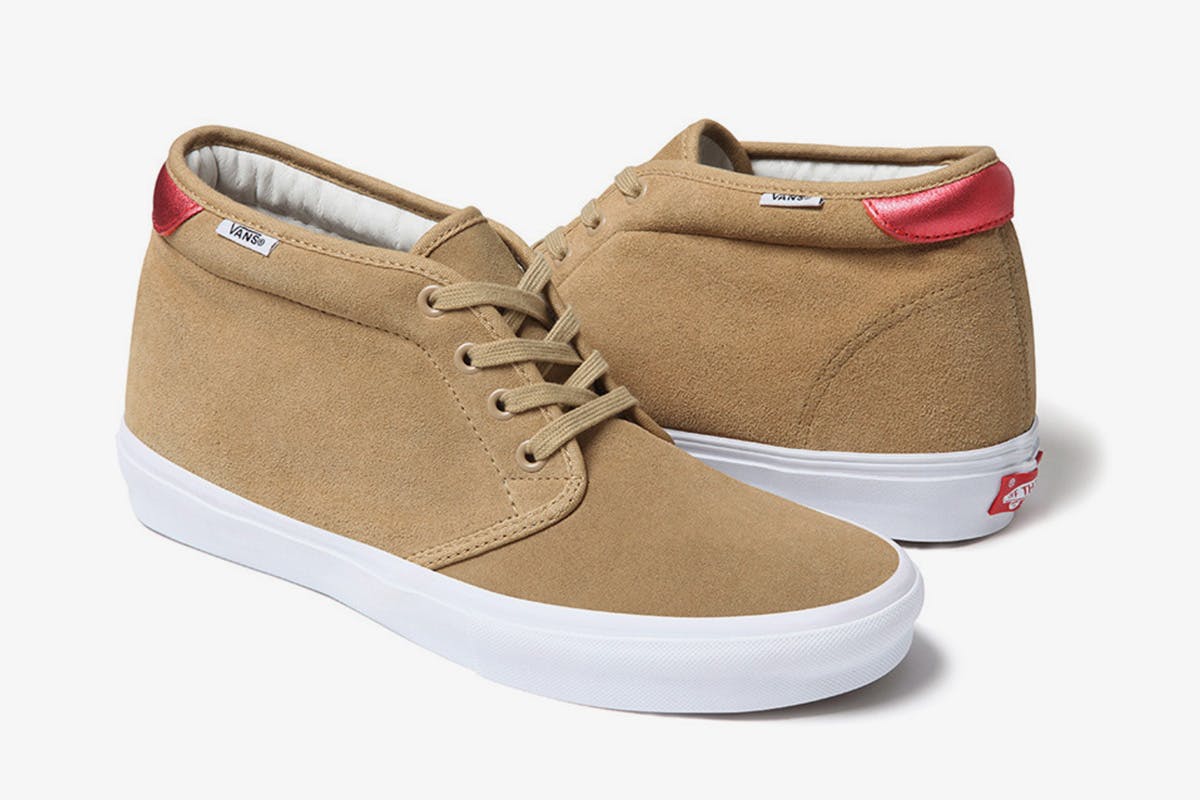 Supreme and Vans decided to start the year with something remarkably different to their usual combined output. 2012 marked twenty years of the Half Cab, one of the greatest pro model skate shoes of all time. For those who don't know the history of this shoe, it was born when Steve Caballero noticed a new wave of street skaters using scissors to cut down their Vans Caballero high-top sneakers, creating a mid-cut shoe that was more suitable for their new skating style. To celebrate this landmark anniversary, Steve Caballero took twenty pairs of all-black Vans Caballero high-tops and personally cut them down, then applying duct tape around the collars like he did back in '92. All twenty pairs were signed by Steve himself and made exclusive to Supreme's Fairfax store in Los Angeles.
A year on from the initial release, Supreme once again worked on an exclusive version of the Vans MC. The four colorways all featured a suede and nubuck upper, with a reflective tongue similar to that of the Nike Air Jordan V, a model the New York City brand would go on to work with five years later.
As part of their collection with Campbell's Soup, Supreme used one of the world's most recognisable labels as a pattern on the SK8-Hi, Authentic and Half Cab. The branding that was made infamous by New York pop artist Andy Warhol's interpretations worked perfectly across the three styles and is one of the most eye catching of all Supreme's collections with Vans.
A few weeks later Supreme once again used the Vans Authentic, this time taking the simple concept of the classic black-and-white checkerboard quarter with a single color corduroy vamp in a choice of four colorways.
Supreme's partnership with Rei Kawakubo's Comme des Garçons SHIRT may have launched in March 2012 but the second half of the collection didn't see the light of day until July that year with the release of the collaborative Vans footwear. The Sk8-Hi and Authentic featured Comme des Garçons shirting fabric and dual branding on the innersoles. These shoes were also available at Dover Street Market stores.
One of the last collaborations of the FW12 season was the Supreme x Vans metallic collection. In a very similar vein to their 2010 snakeskin pack, this collection was made up of simple single color tones with metallic leather details. A houndstooth leather innersole complimented the two shoes across four colorways.
2013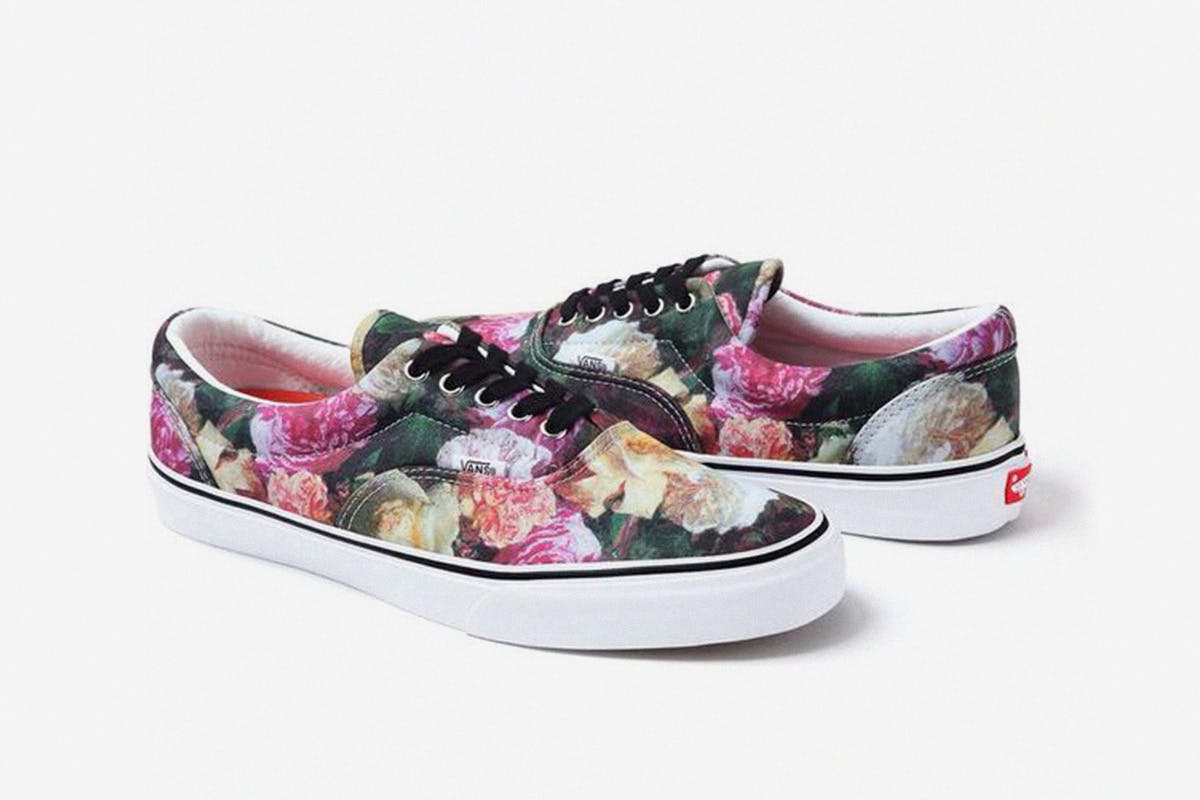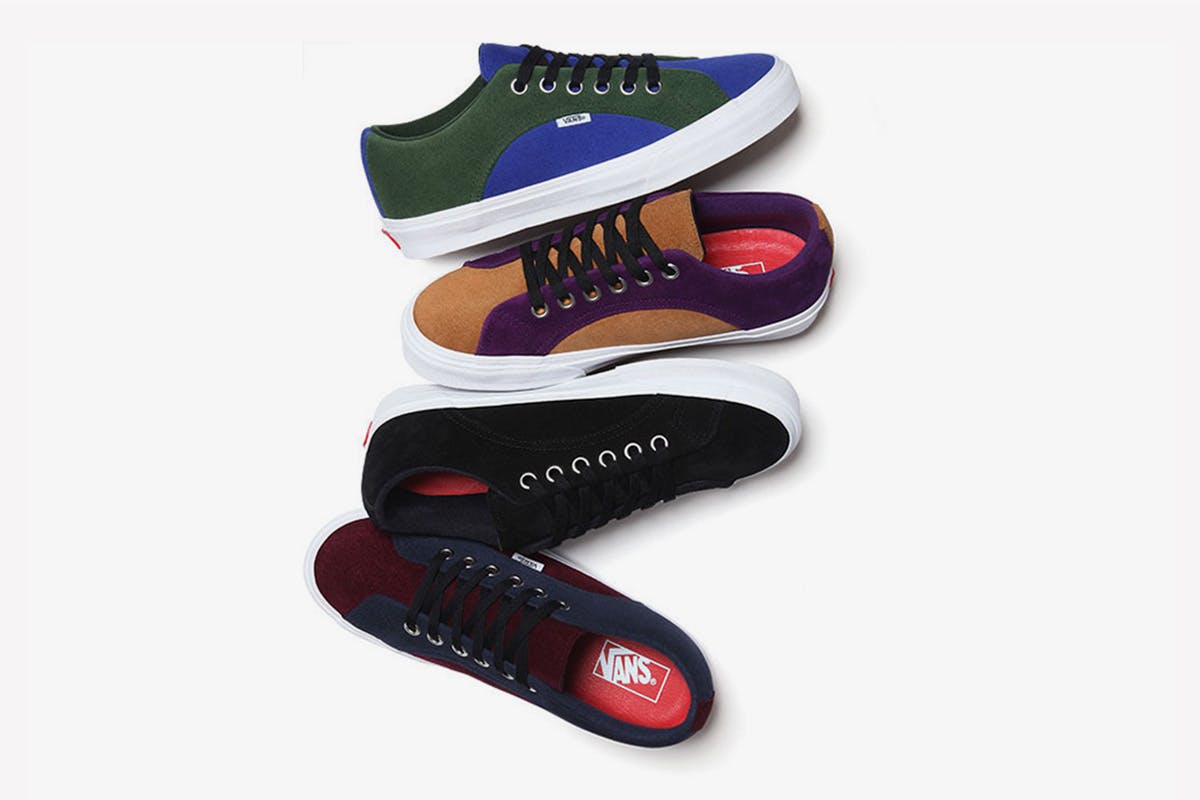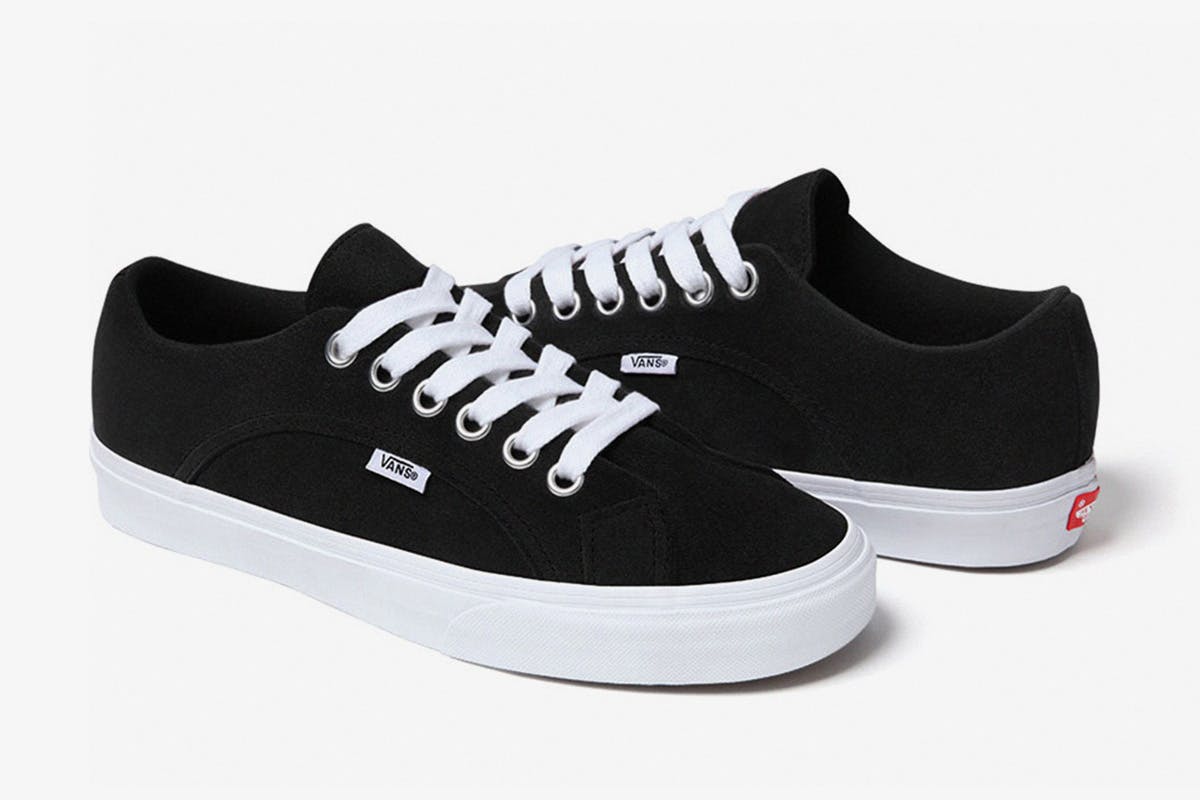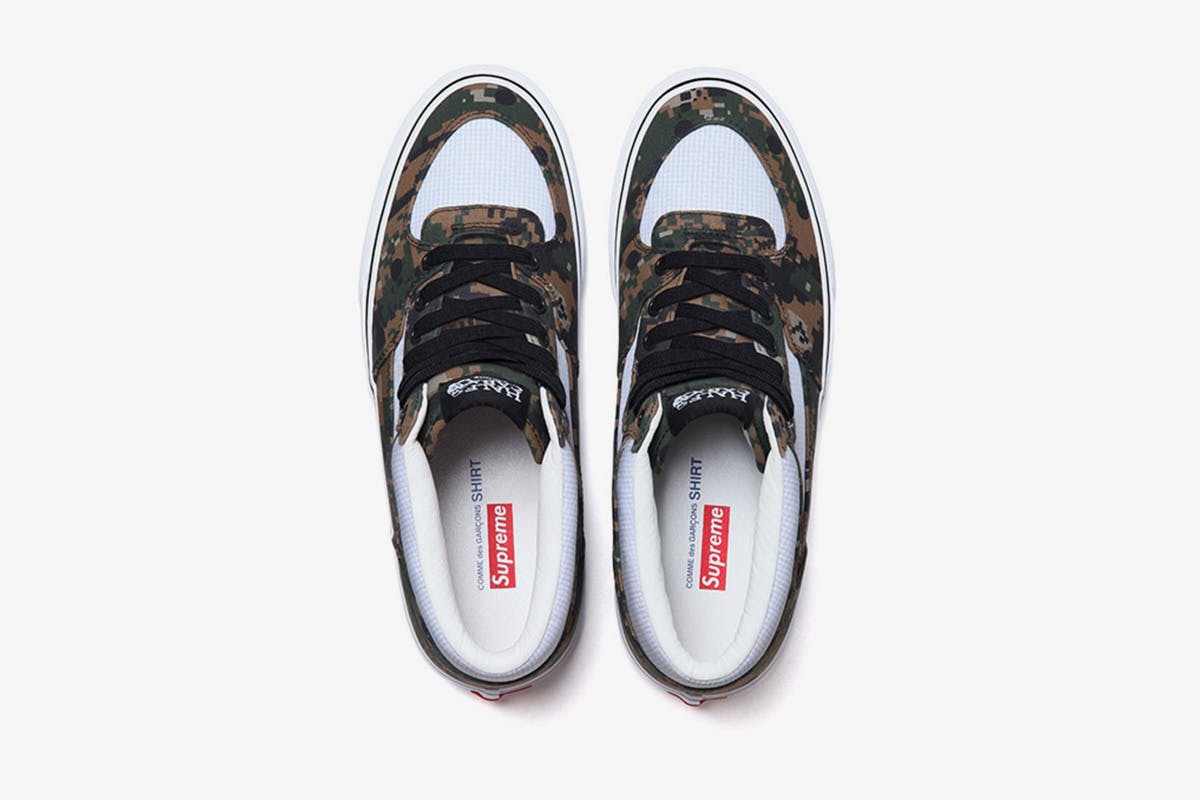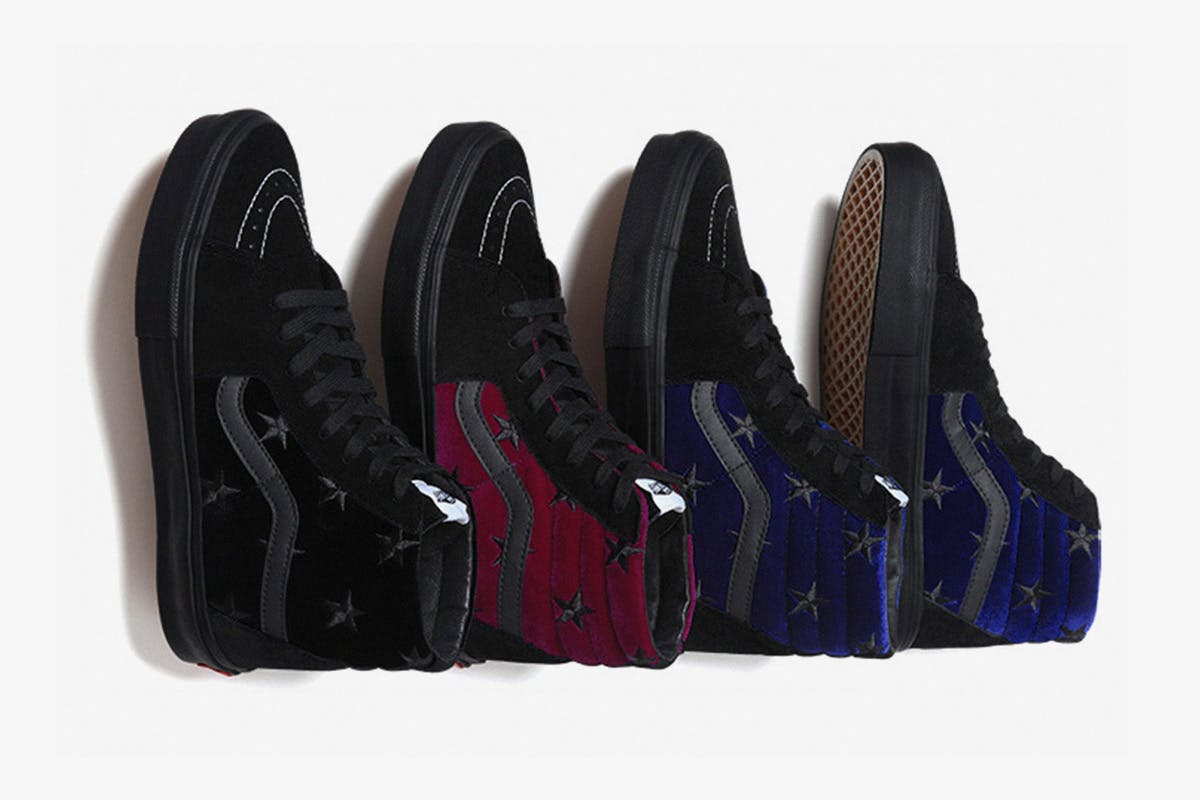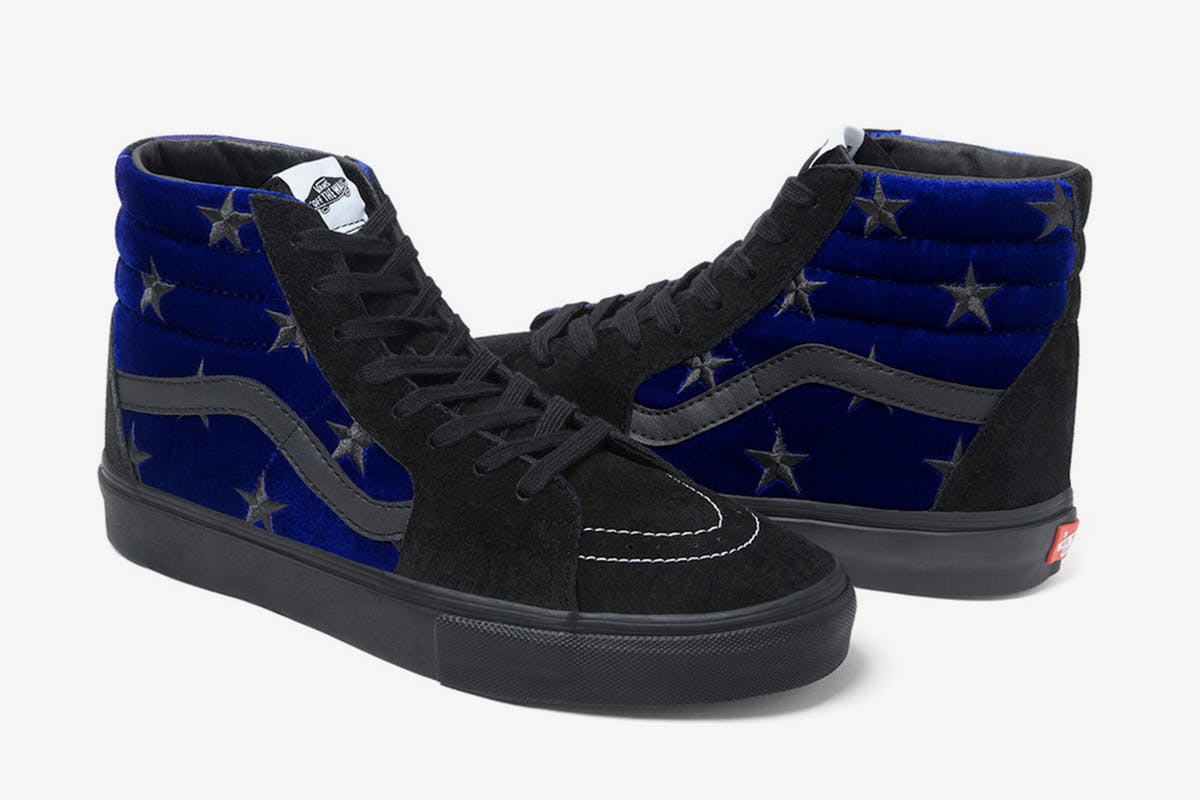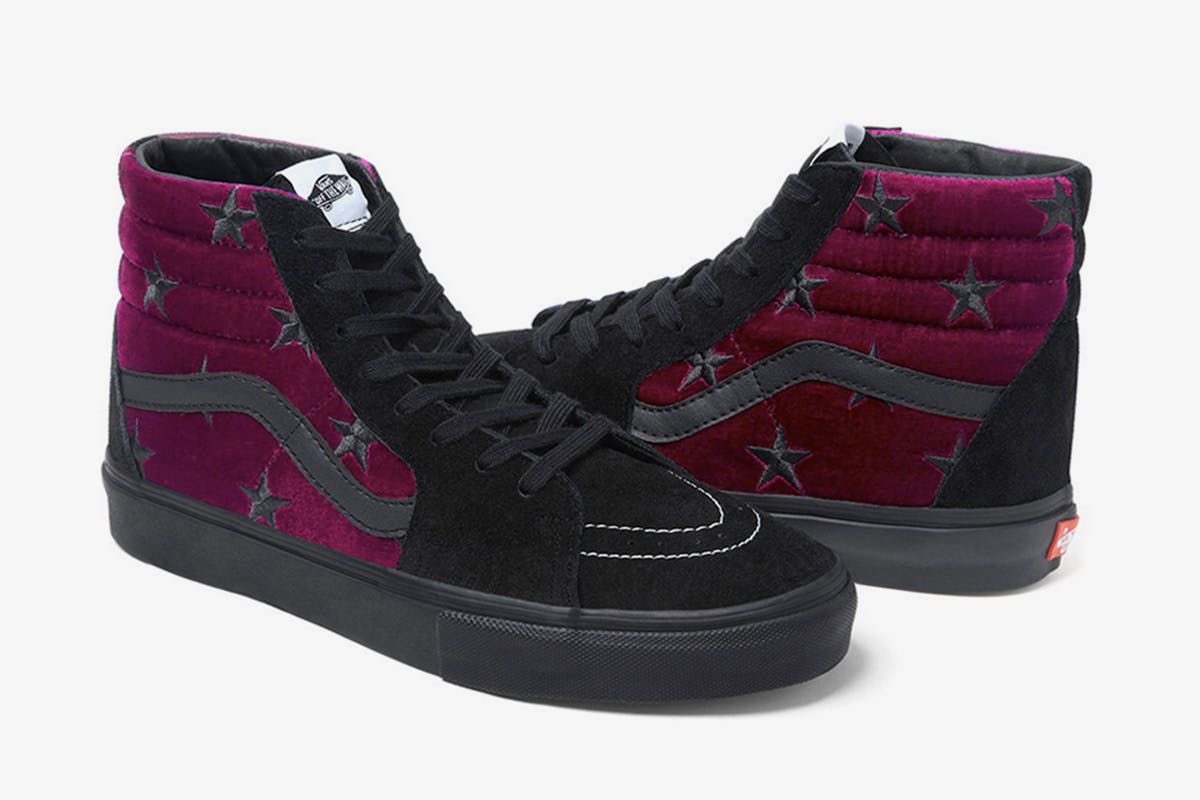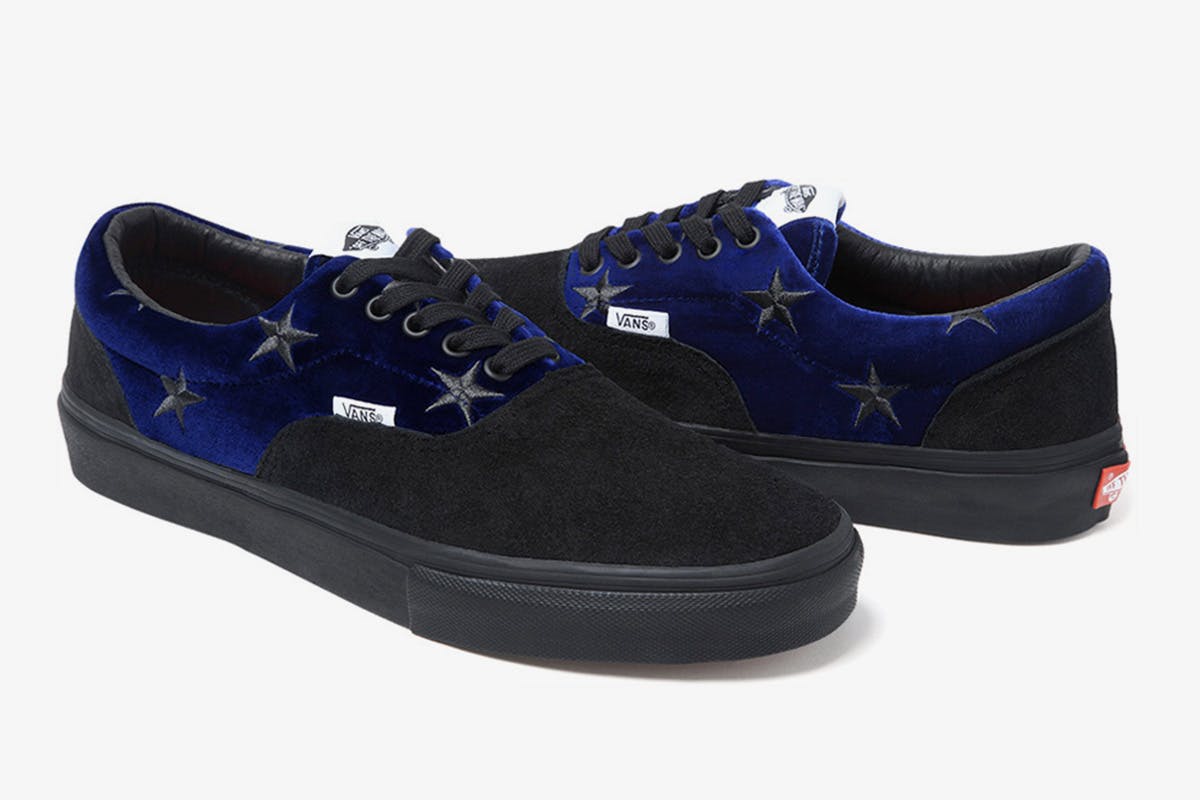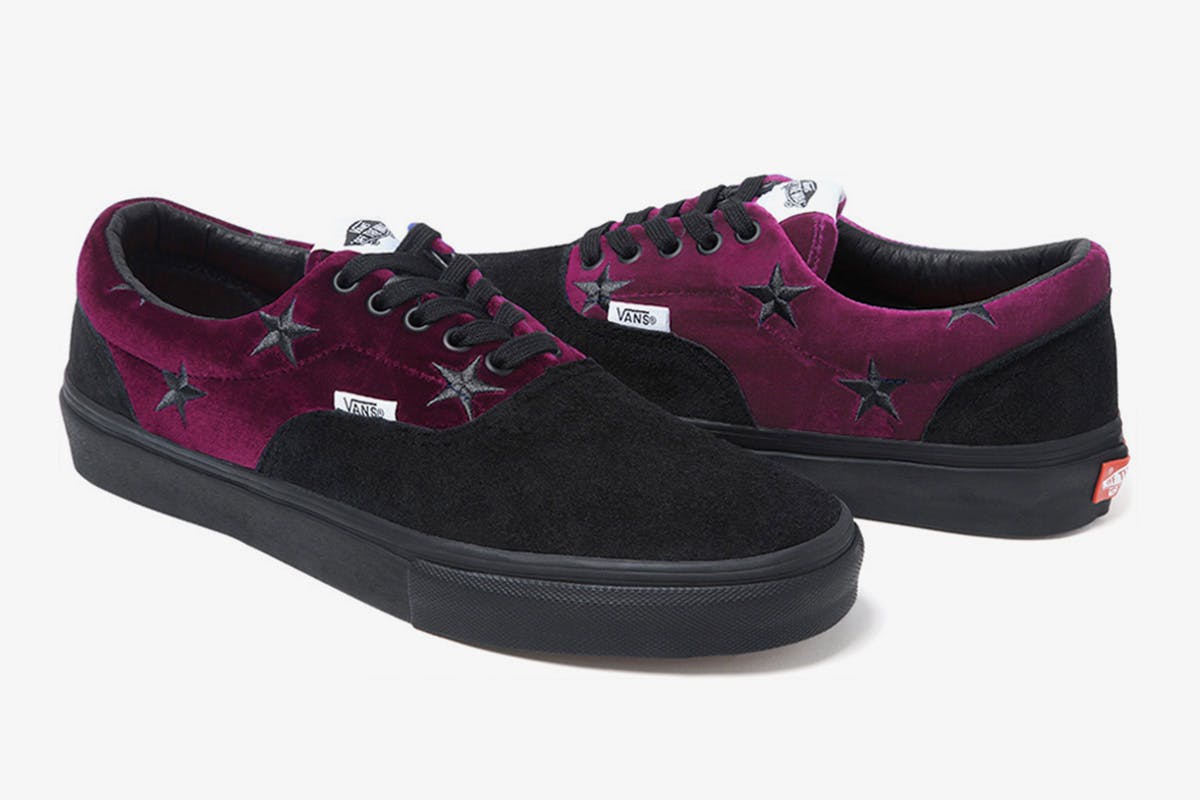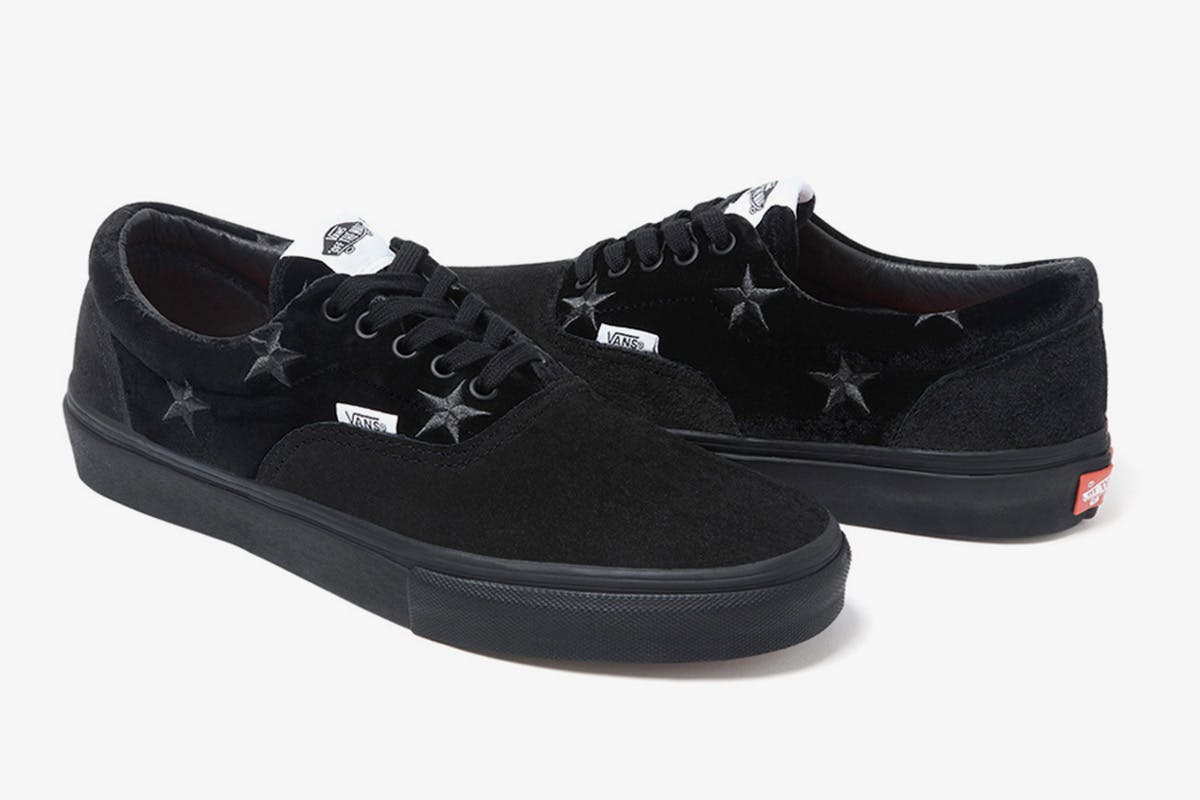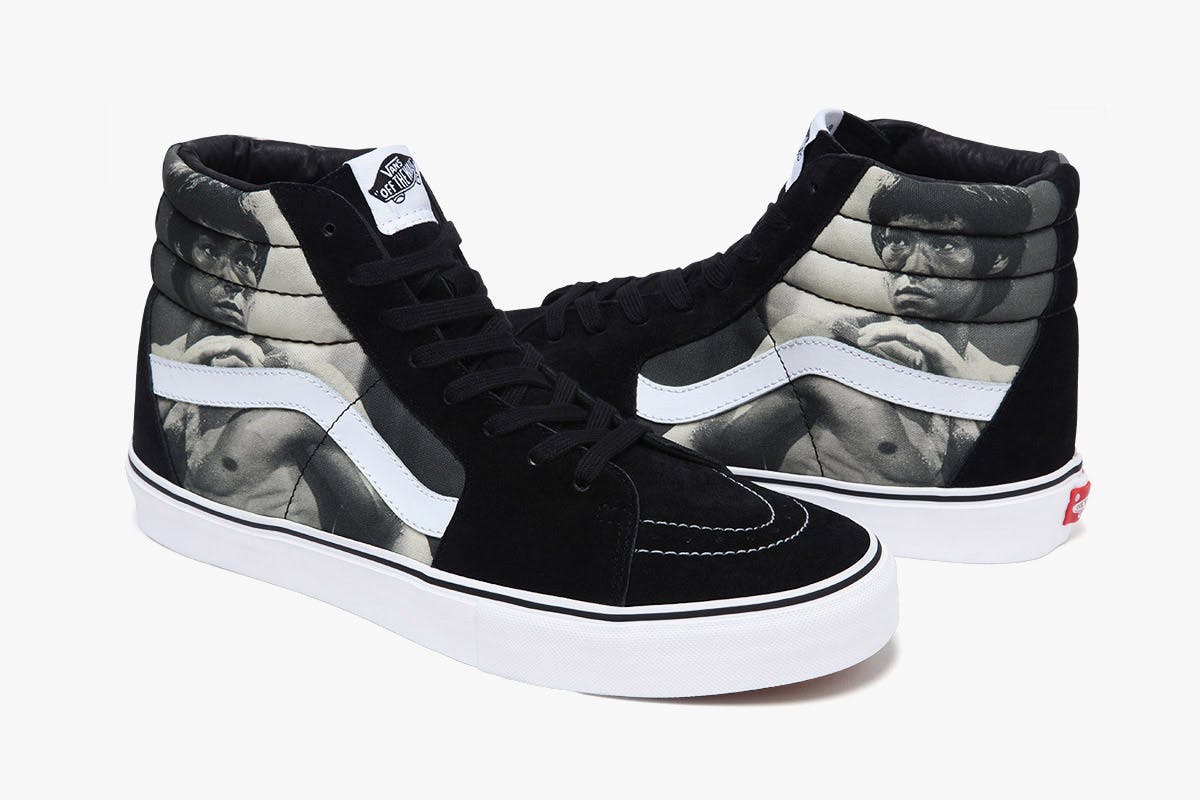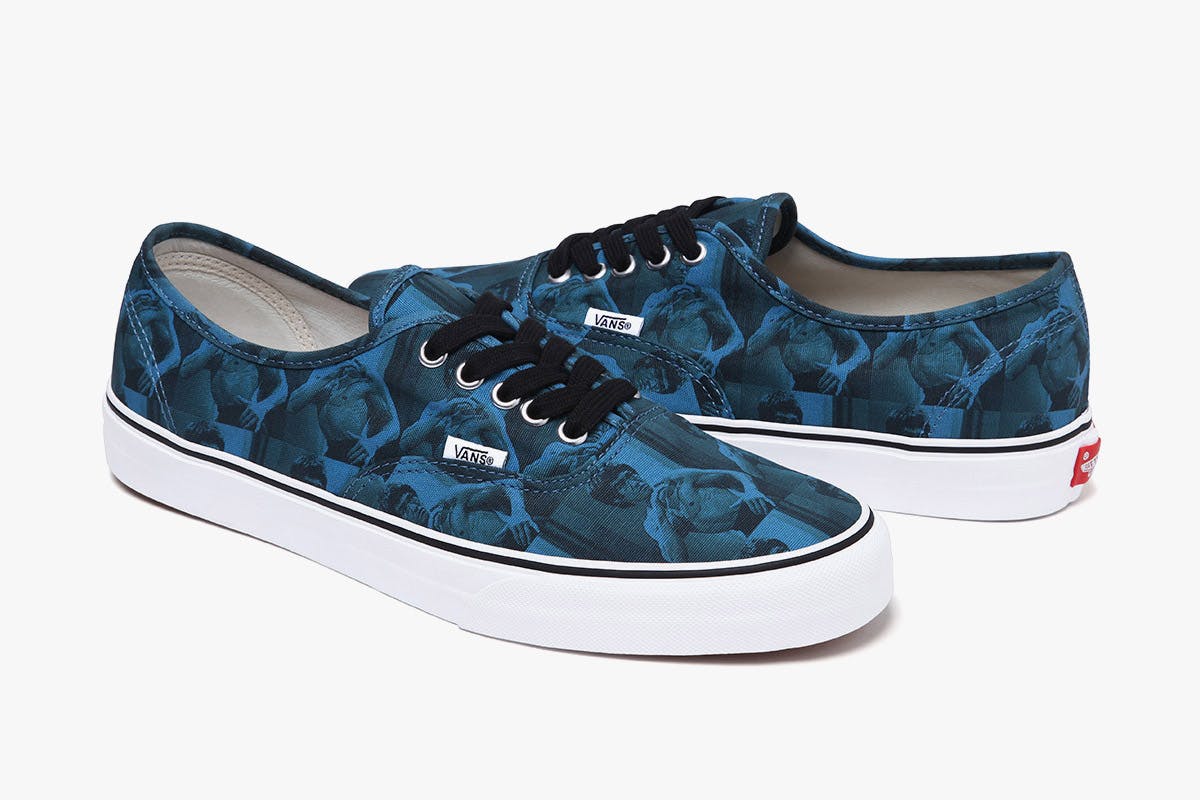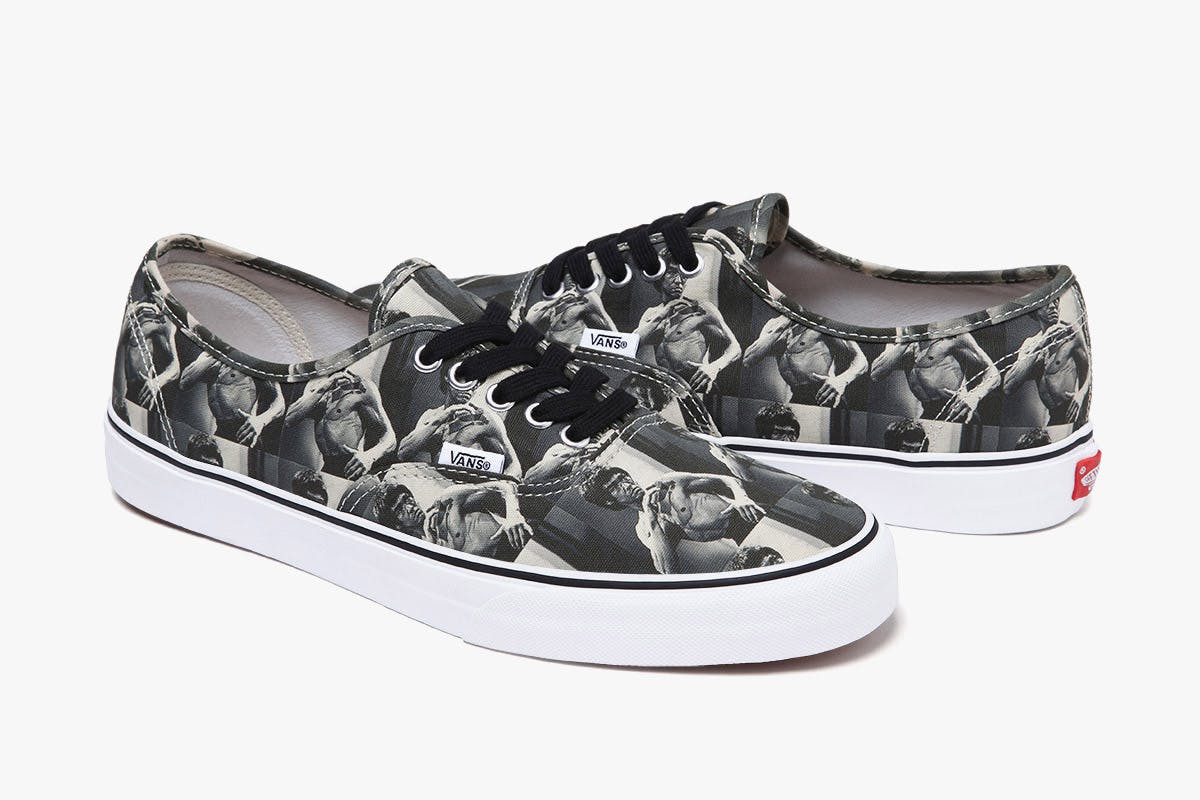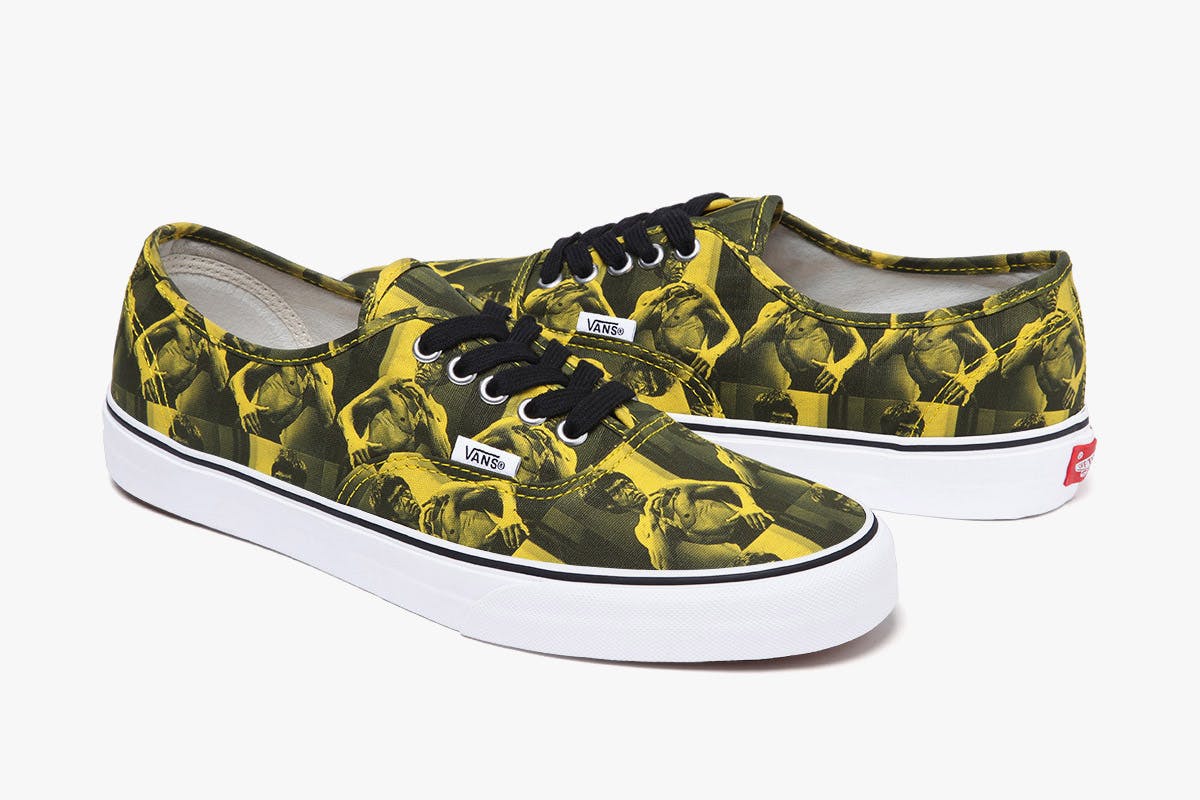 March 2013 saw Supreme collaborate with British artist Peter Saville, art director of Factory Records, on a collection of apparel, accessories, hardware and footwear. Every item in the capsule was covered in a floral pattern from the cover art of New Order's second album Power, Corruption & Lies. The Saville-designed 1983 cover is a reproduction of the painting "A Basket of Roses" by French artist Henri Fantin-Latour, which he was inspired by having seen it in London's National Gallery. The three styles chosen for the collection were the Sk8-Hi, Era, and Chukka boot and remain one of the most sought-after Supreme x Vans packs with collectors.
Next, Supreme released an updated version of the Vans Lampin in June 2013. The low-cut skate sneaker was available in four colorways and modelled by Vans x Supreme stalwart Jason Dill for the promo shoot.
In the same month, Supreme continued their collaboration with Comme des Garçons SHIRT by putting out a Vans Era and Half Cab, both in two exclusive digi-camo/polka dot patterns.
Toning things down for their Fall season by using black as the base, the brand released three color options (blue, burgundy and black) of the Era and Sk8-Hi, all resplendent in a rich velvet featuring an embroidered star pattern.
The final Supreme x Vans collaboration of 2013 appeared in October as part of their collection with iconic martial arts star Bruce Lee. A classic portrait of Lee from his 1973 classic Enter The Dragon was used to cover a Vans Era and Sk8-Hi alongside a matching button-down shirt and sweater. Other images of Lee were also featured on graphic tees and a coach jacket as part of the capsule.
2014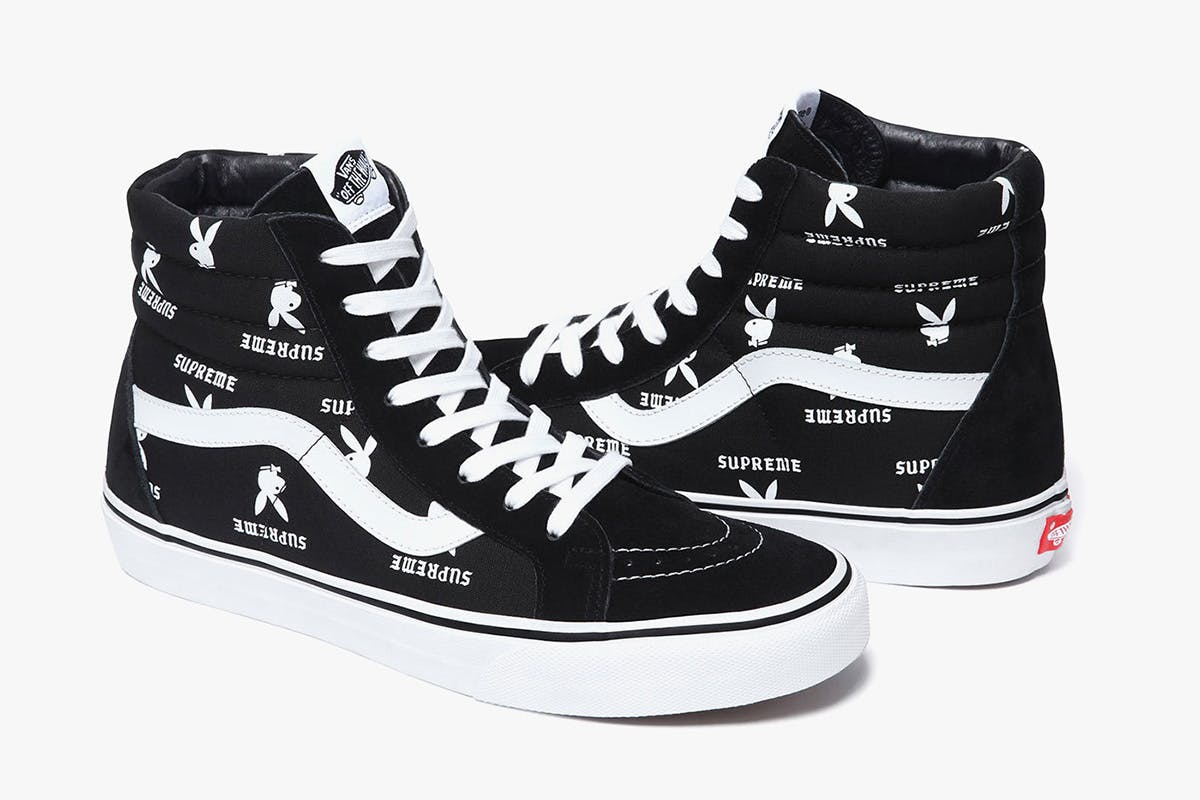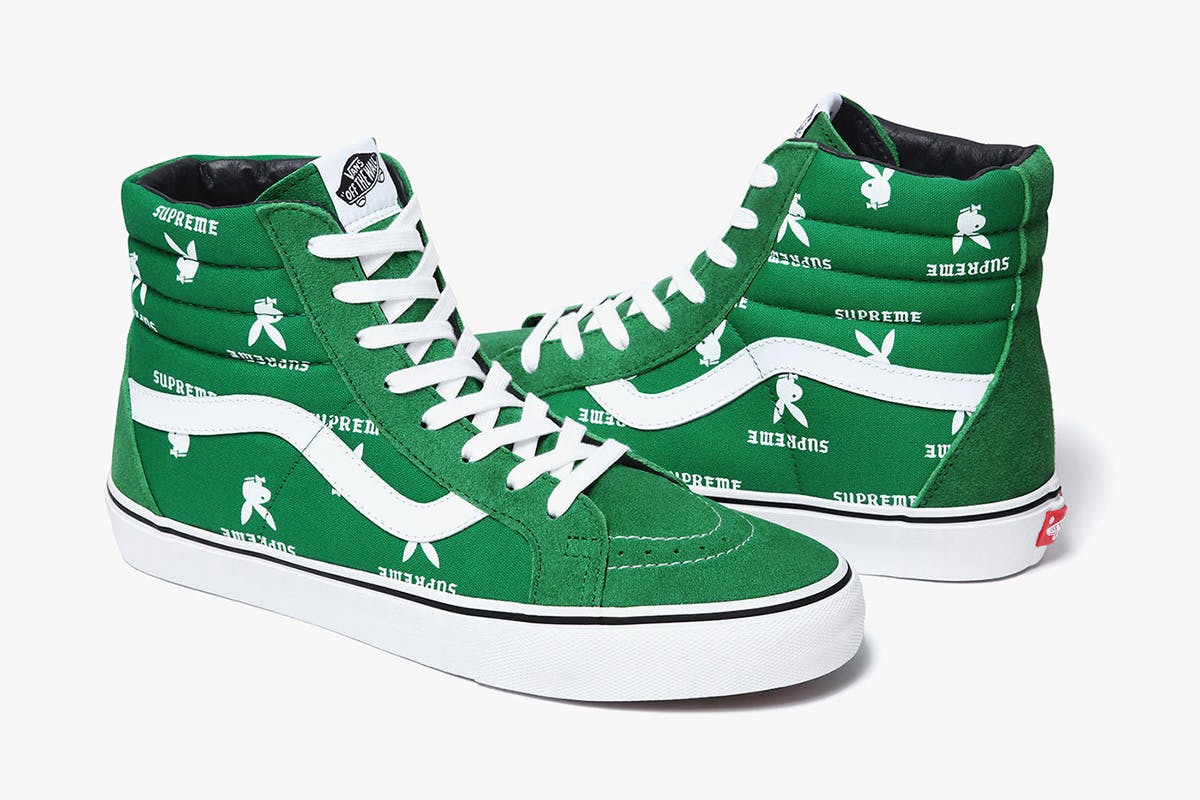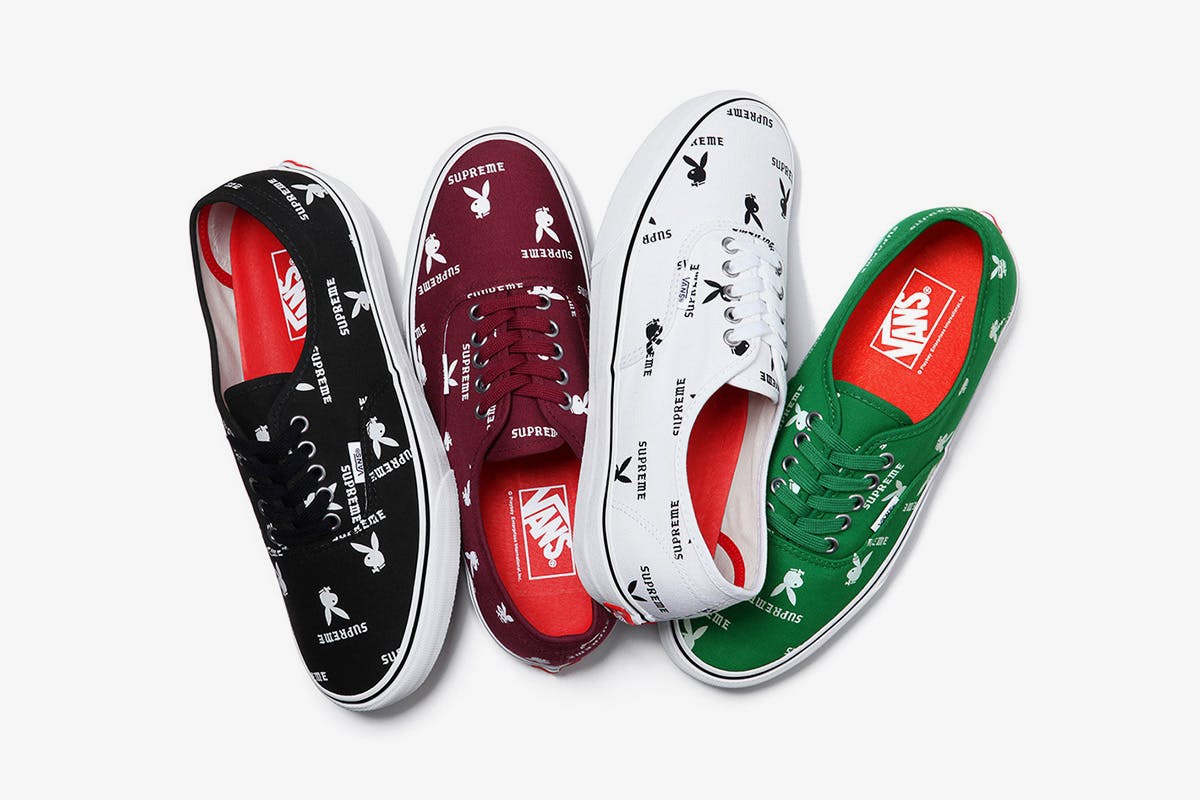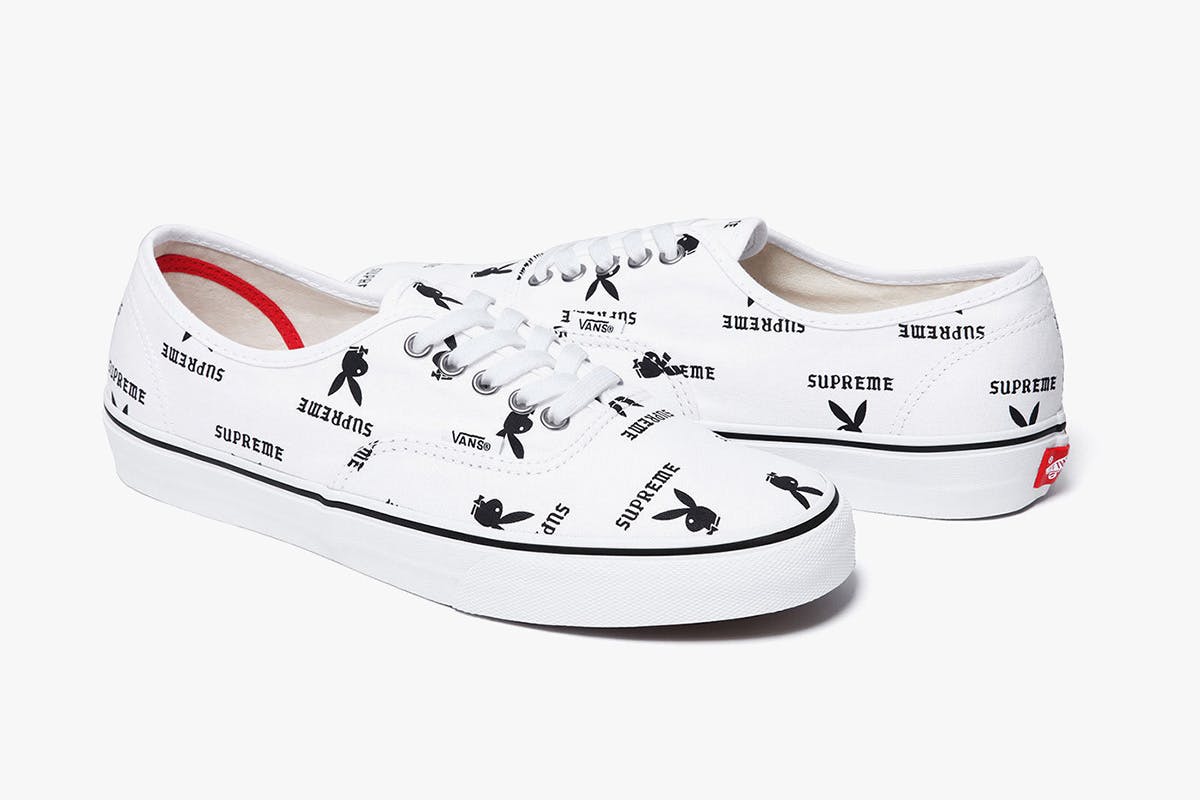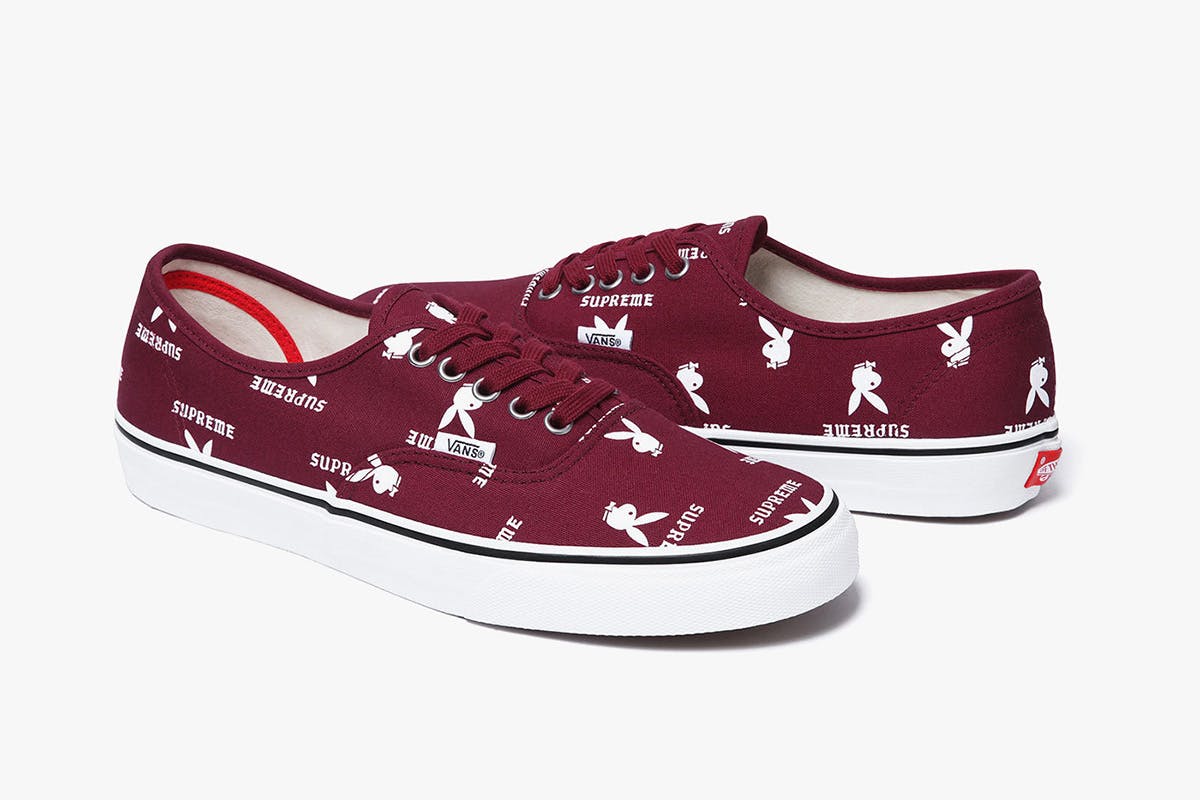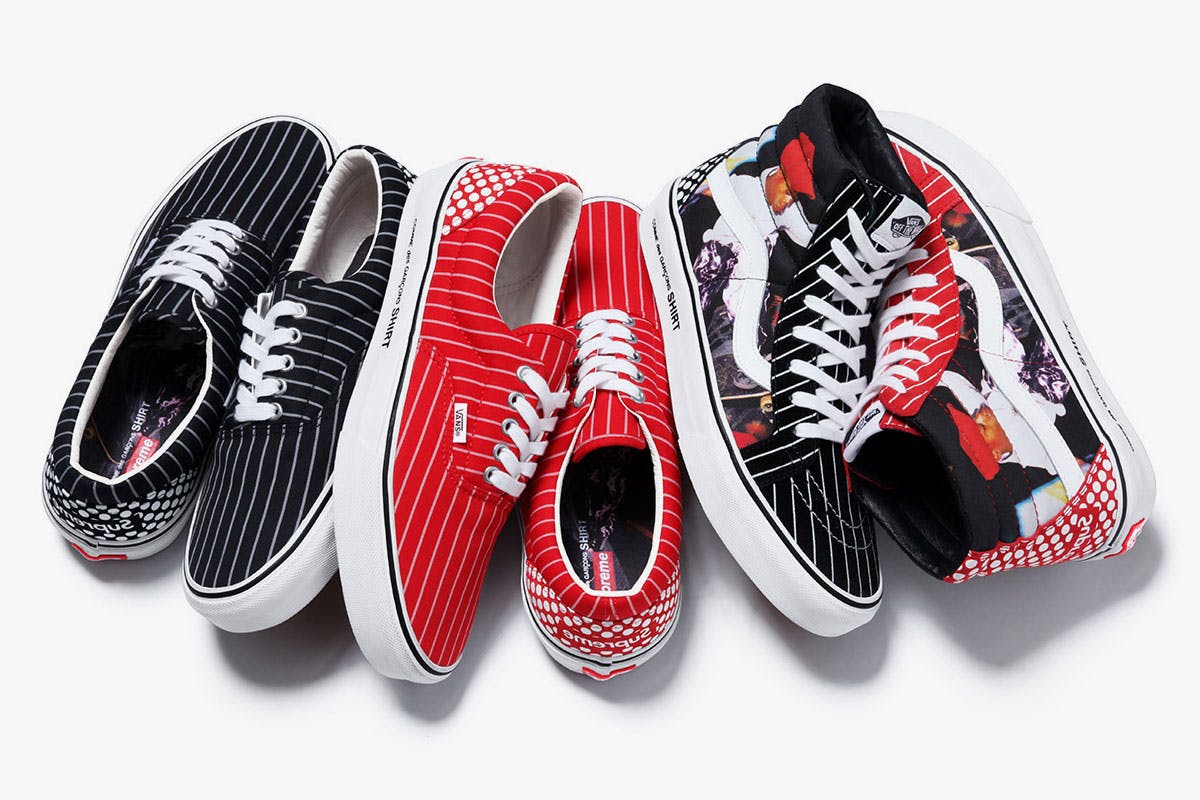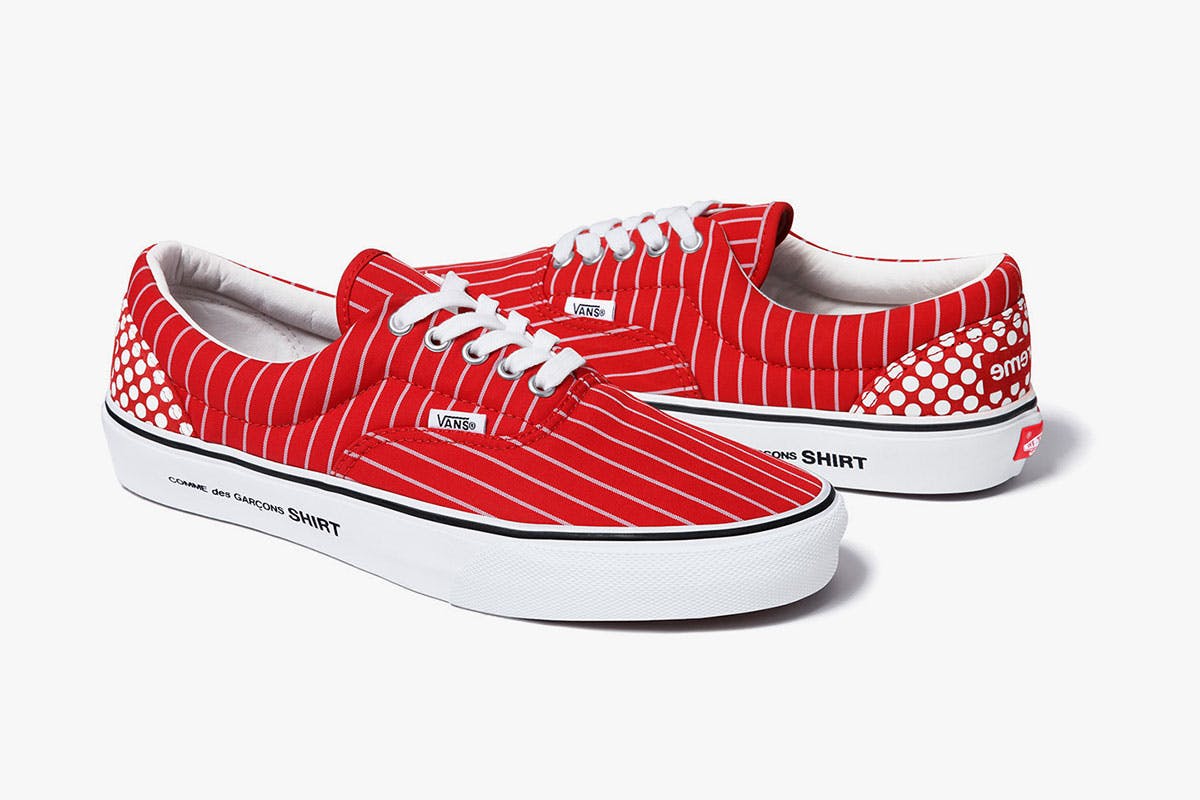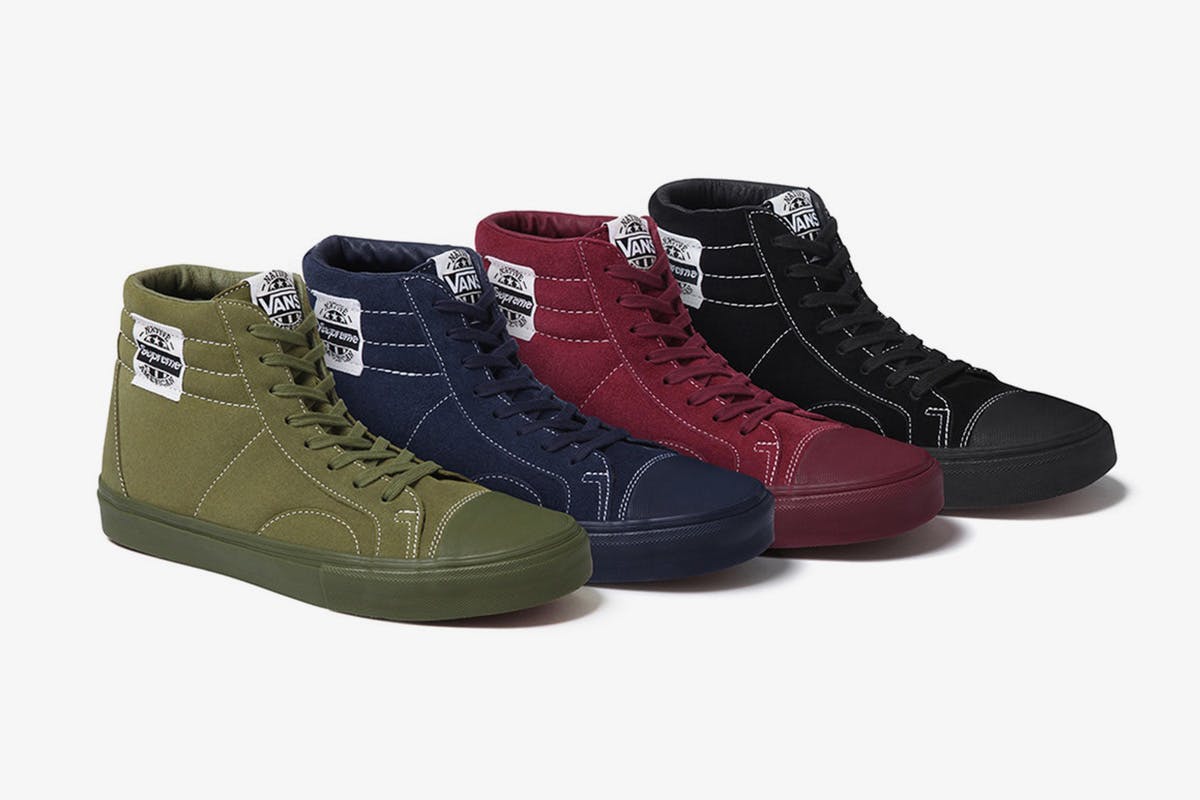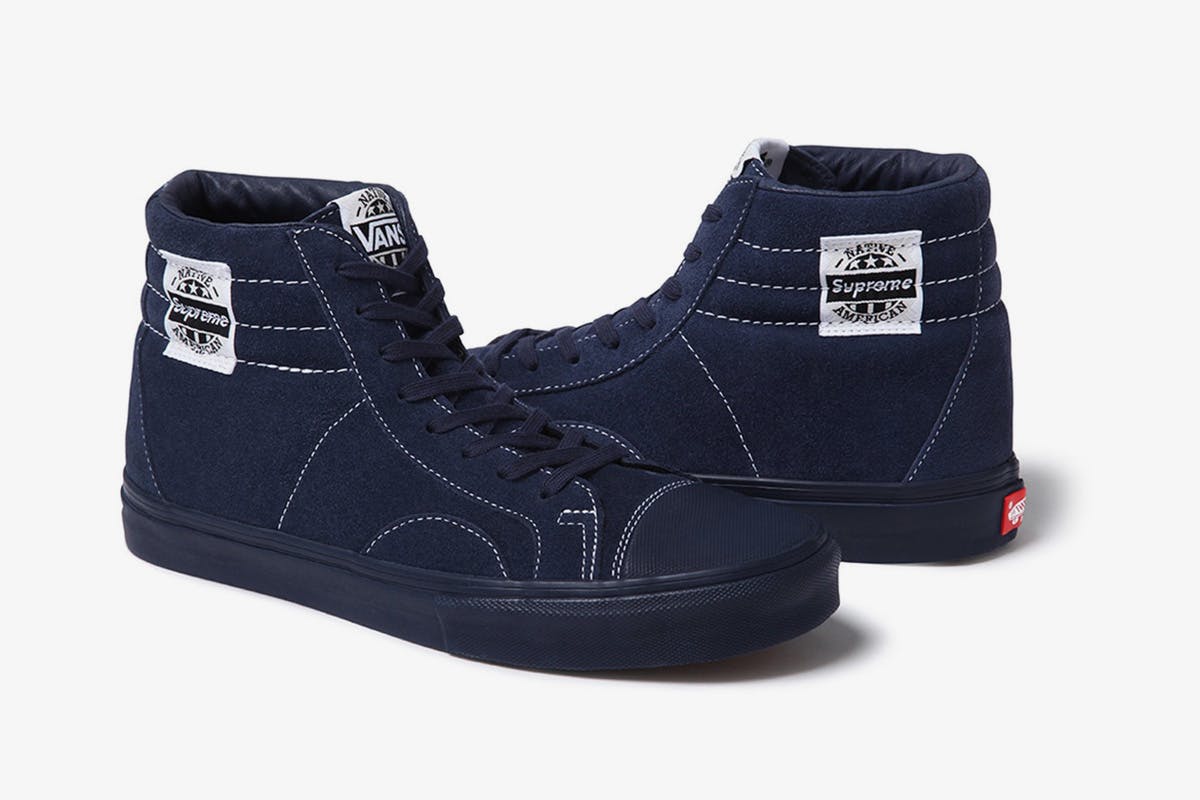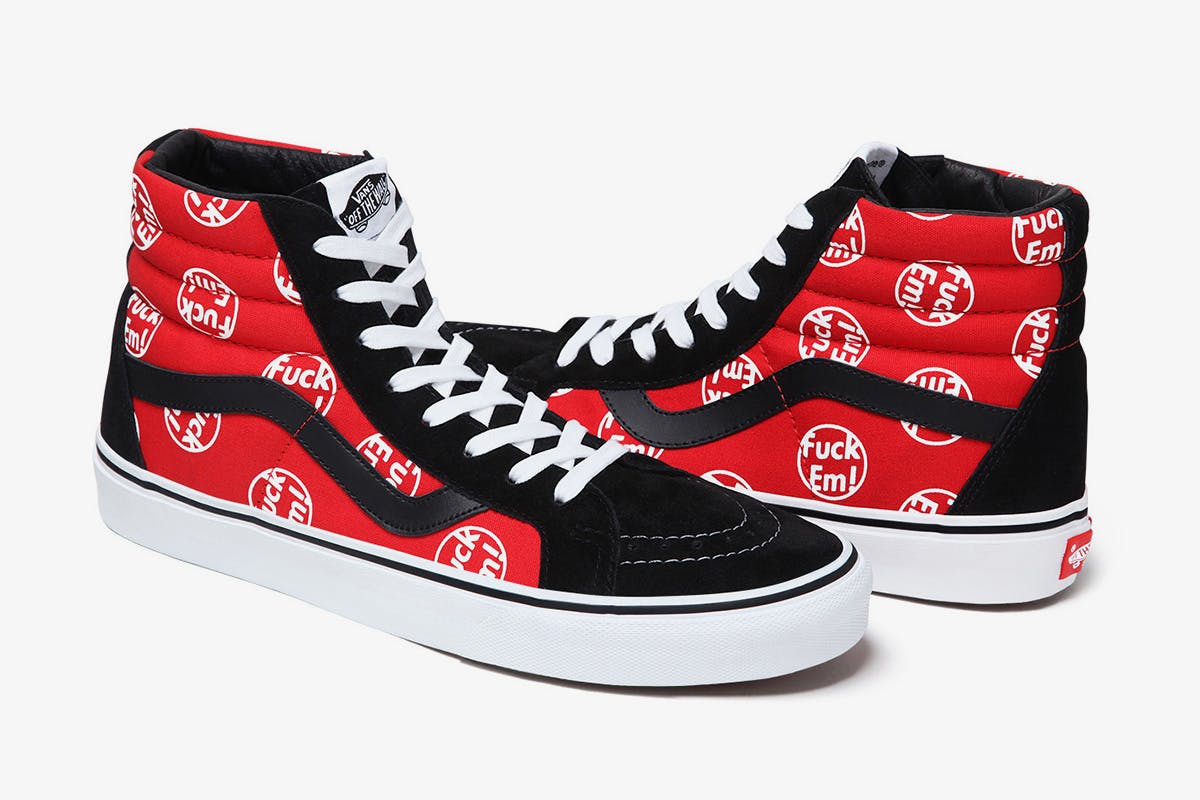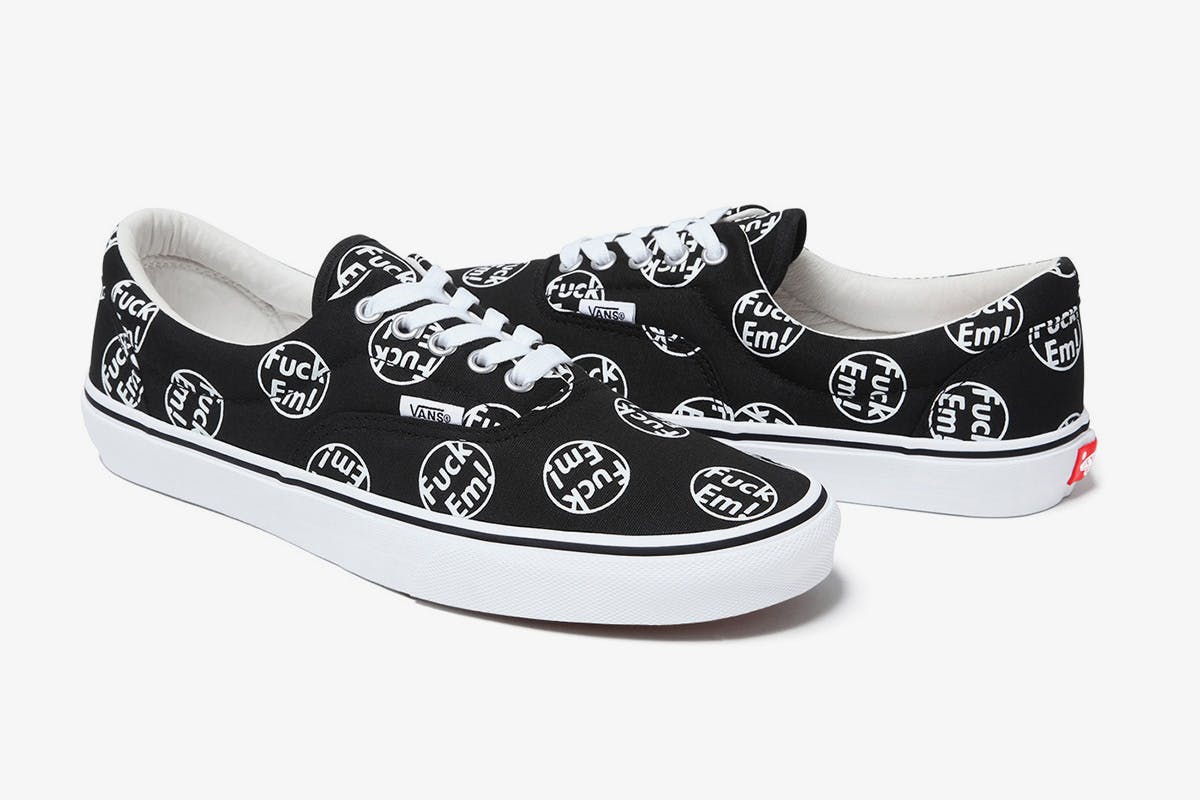 Supreme's first official collaboration with the gentleman's publication Playboy had arrived three years prior, but it wasn't until March 2014 that the bunny appeared on footwear for the brand. A custom Supreme x Playboy bunny logo was printed multiple times over the Vans Sk8-Hi and Authentic, and were both available in a choice of black, white, burgundy and green.
When Supreme brings out a great pattern, they often like to utilise it across multiple products, and for 2014 their "Uptown" design was no exception. Having featured on jackets and hats, the swirly pattern covered a Vans Era and Chukka Boot in red, blue and black.
Continuing their annual collaboration with Comme des Garçons SHIRT, the two brands worked with Vans on a Sk8-Hi and Era for June 14. Both shoes featured an old image of the late great Harold Hunter, who was not only a legendary New York skateboarder but a regular at the original Lafayette St. store, before his untimely passing in 2006. A donation from the sale of this collection was made to the Harold Hunter Foundation.
Much like the lesser known models such as the MC and Lampin, Supreme once again paid tribute to their skateboarding roots by digging in the vaults to bring back the Vans Native American. Introduced in the late 1980s in response to the growing popularity of similar styles from Vision Street Wear and Airwalk, the Native American featured a rubber toe cap and side-wall ollie patch, specifically to cater to the rise of street skating. Supreme offered the sneaker in a premium suede upper in four exclusive colorways with minimal branding. The no-frills skate shoe confused many, but really struck a cord with skaters from a certain era.
Supreme had been using their confrontational "Fuck Em!" design on a variety of products since 2007, so it was inevitable that the circular logo would finally appear of footwear sooner or later. The Sk8-Hi and Era were the chosen styles to showcase the graphic in striking red or black options to close their 20th anniversary year.
2015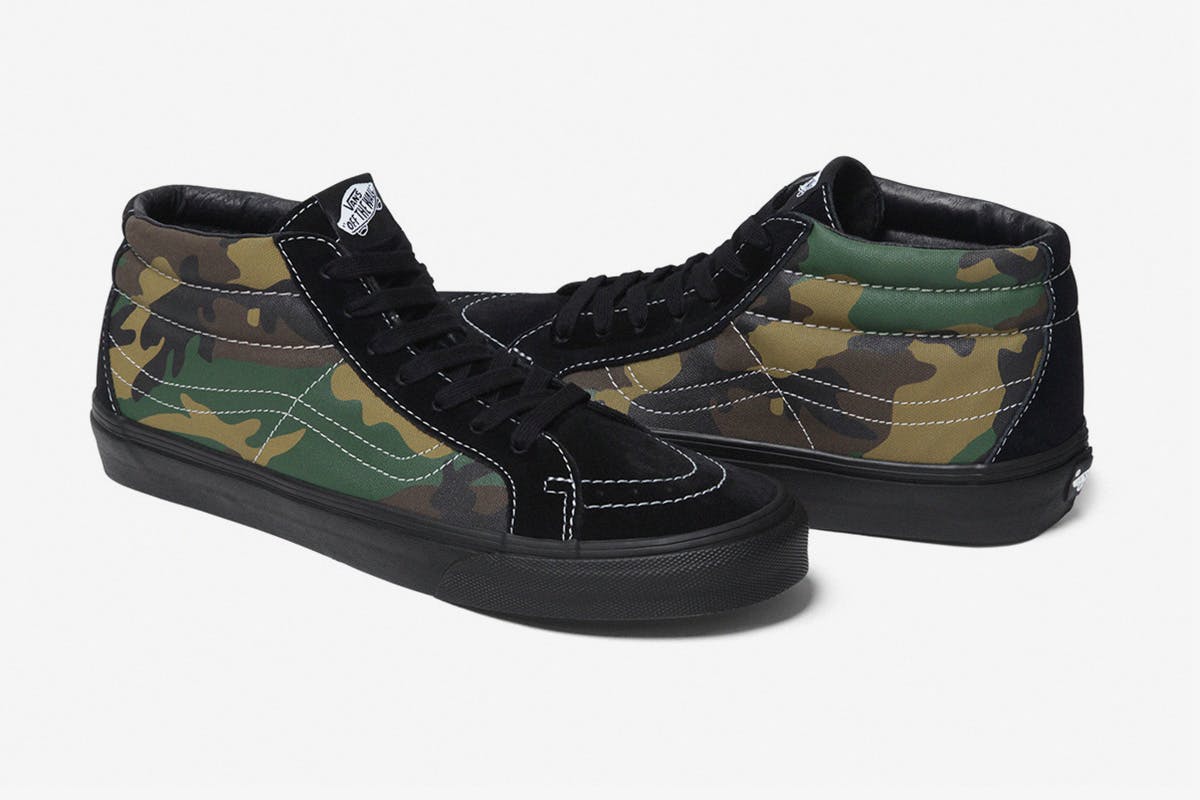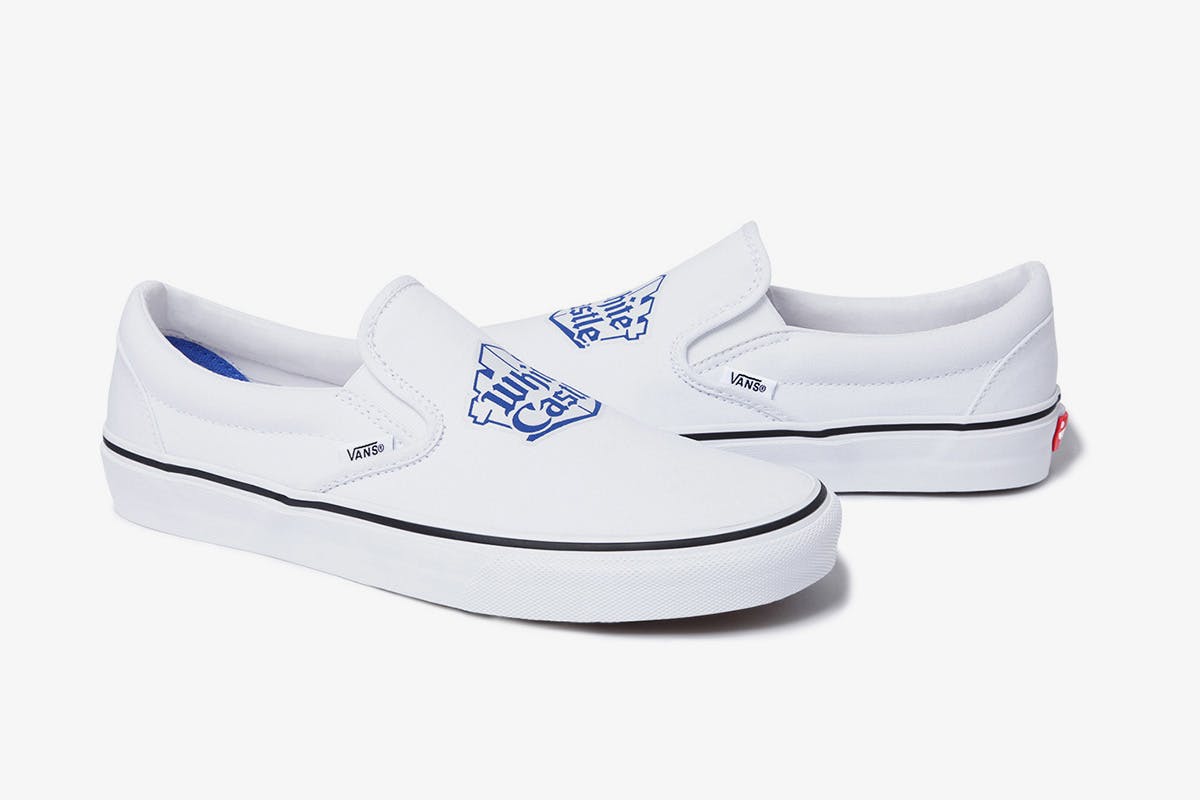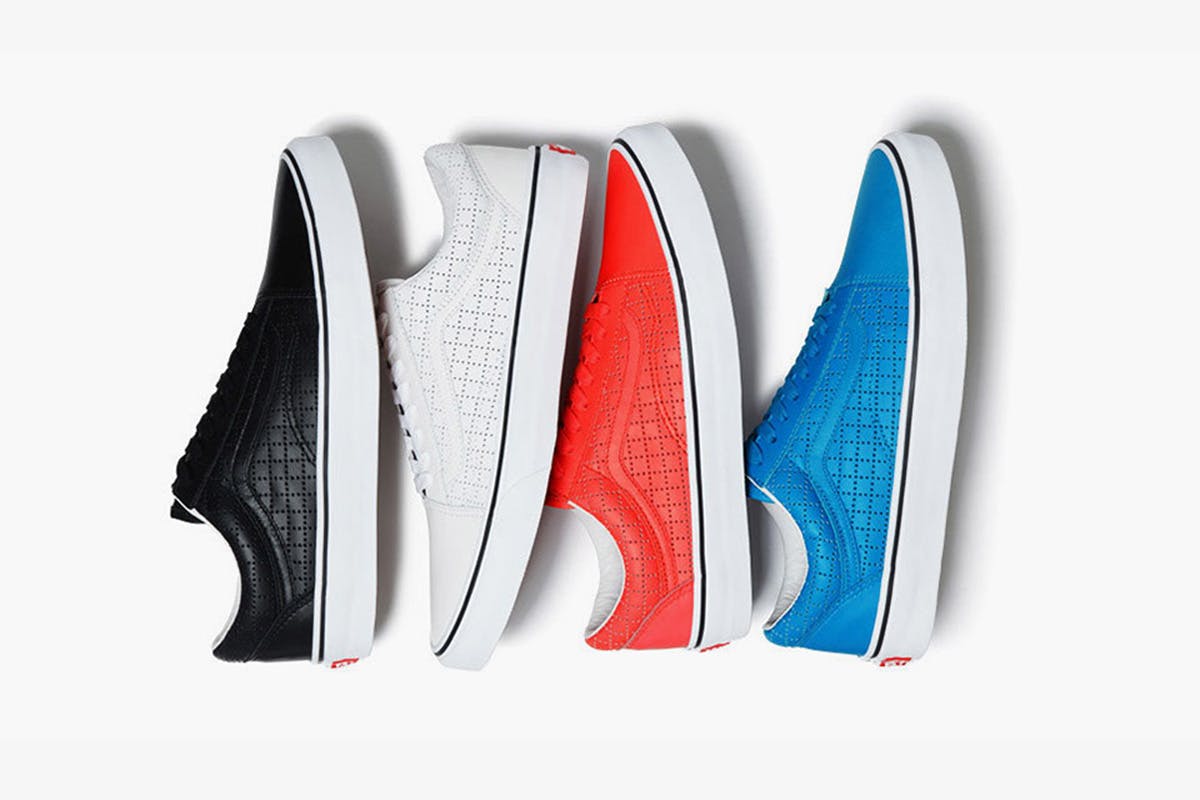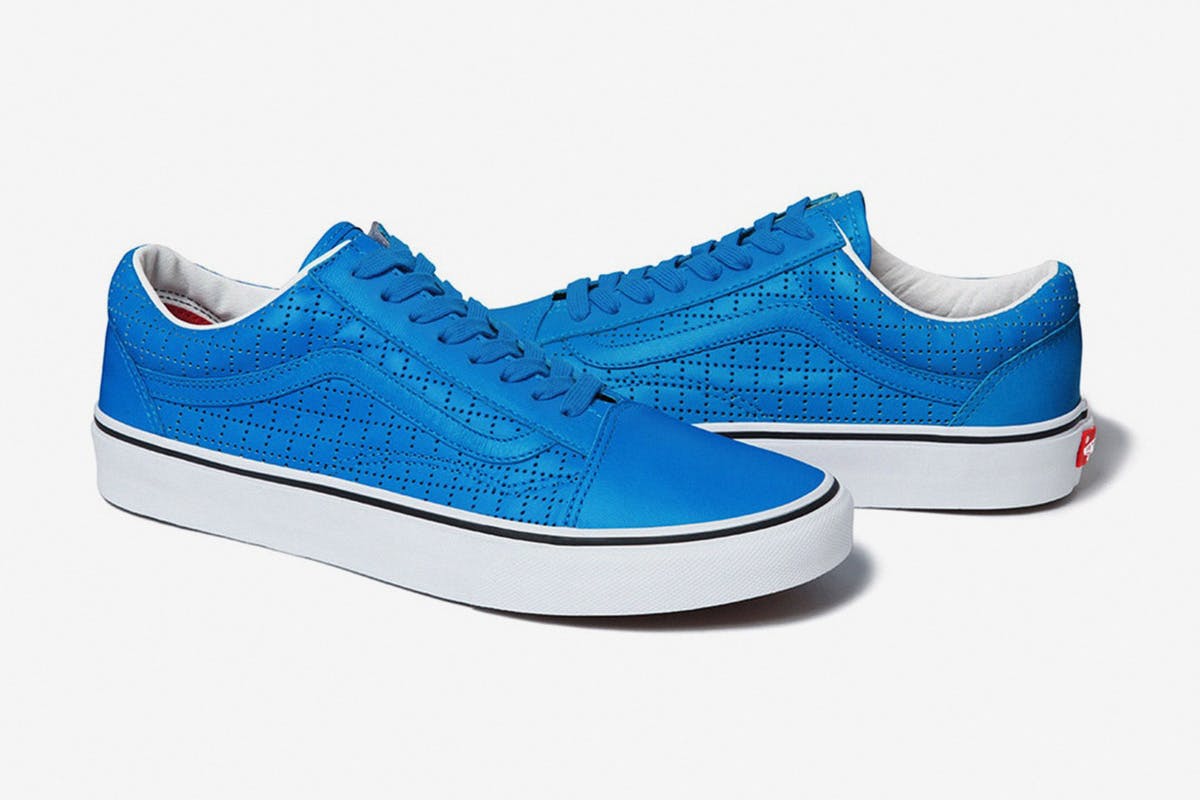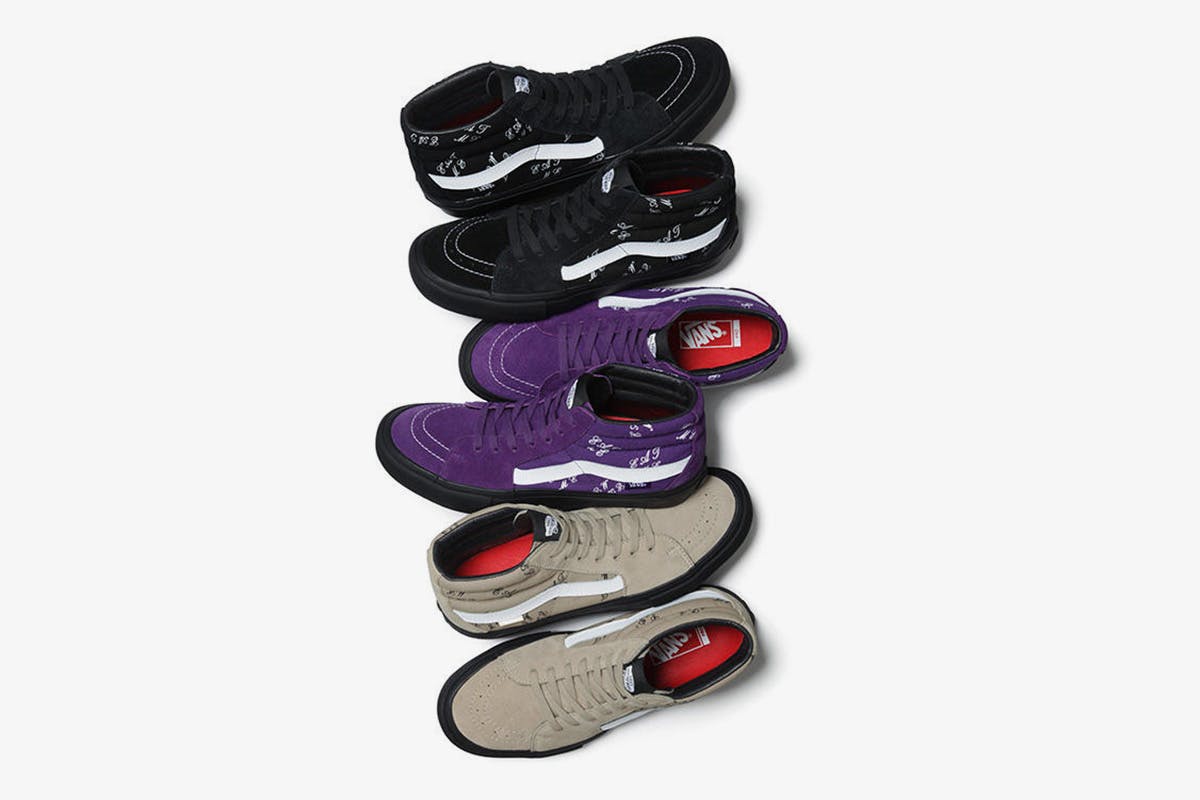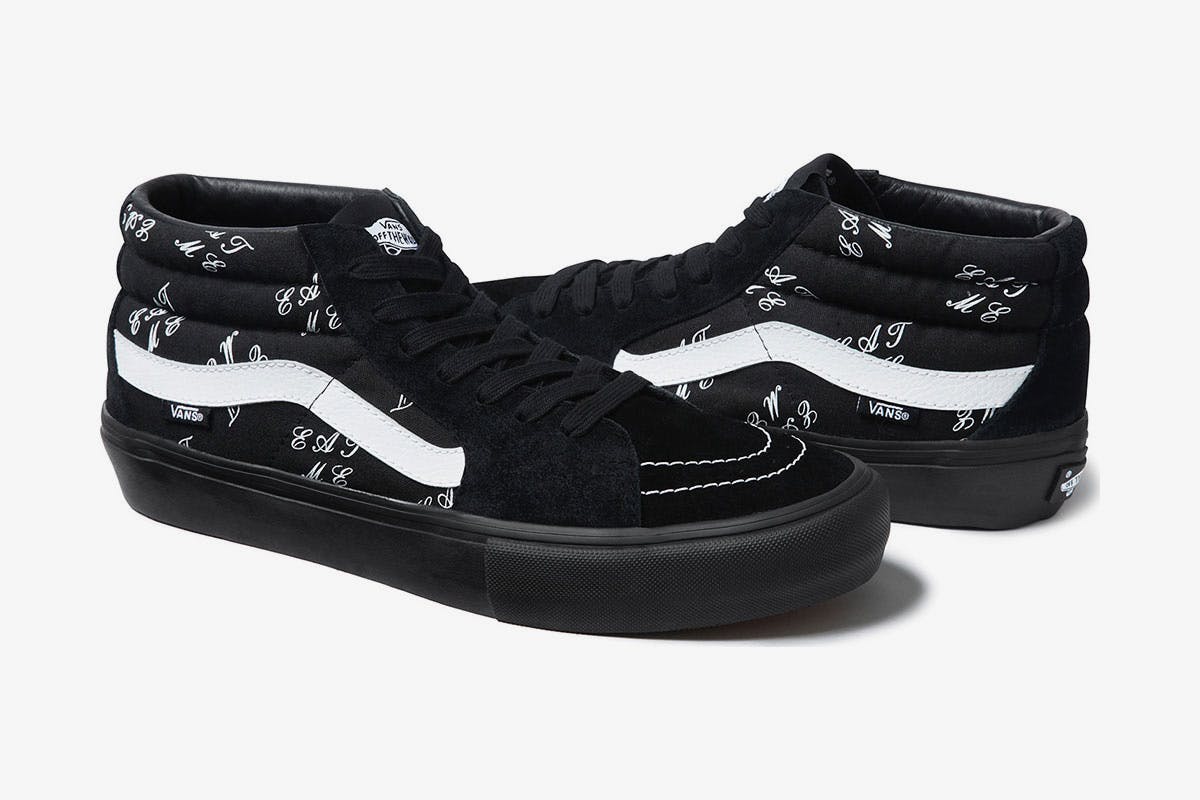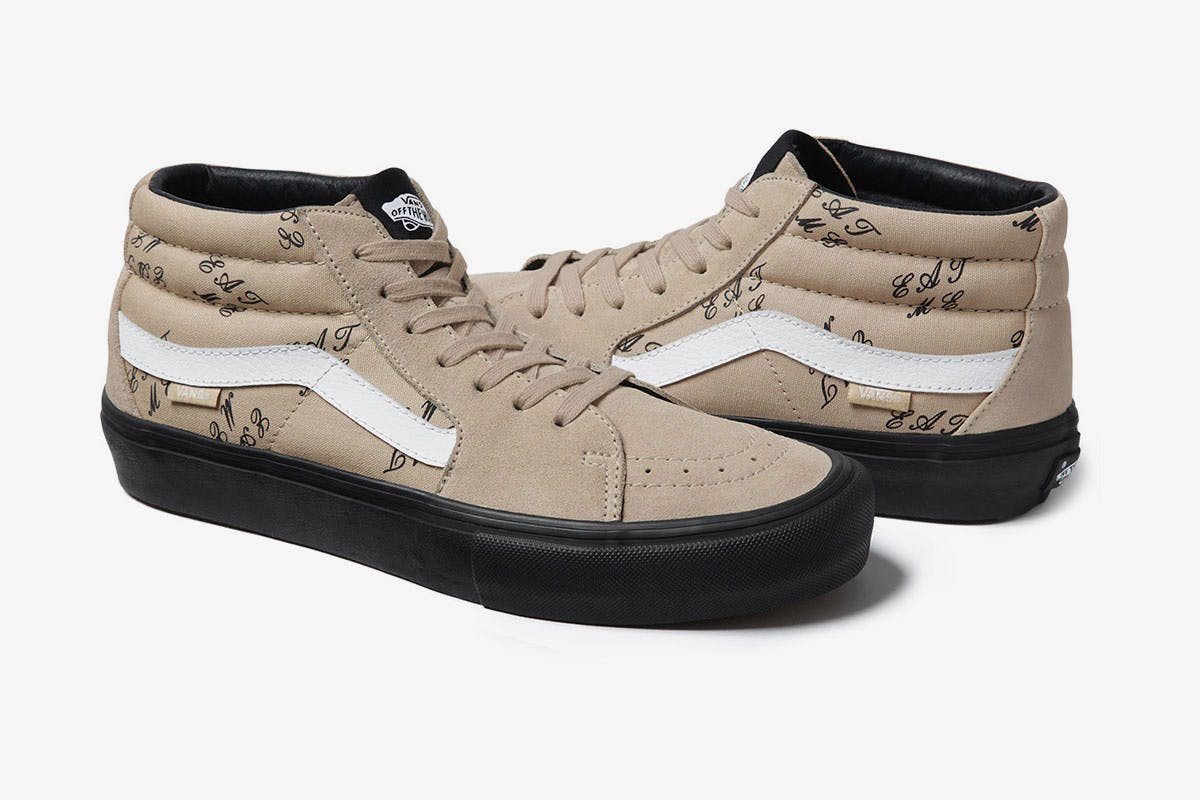 Choosing to kick off the year with a selection of camouflage patterns, 2015's first Supreme x Vans collection saw the Sk8-Mid and Old Skool decked out in blue, green and orange camo, sitting on a black midsole.
Following up on a predominately black-based collection came a mostly white-based range of Vans in the form of the White Castle collaboration capsule. Supreme has collaborated with a wide range of artists and brands, but this was the first time I recall them officially working with a fast food chain. Unlike most burger chains, White Castle produce small, square, steamed sliders that (when the craving hits) have no substitute, even going as far to inspire the 2004 stoner comedy Harold & Kumar. Back in April 15, the vintage-looking White Castle logo appeared on the Vans Authentic, Sk8-Hi and (making its first appearance for Supreme) the classic Slip-On.
For their third Vans release of the SS15 season, Supreme dropped four colors of the Old Skool, all featuring a premium perforated leather upper.
This year their Fall collection was remarkably similar to that in Spring, in the fact Supreme released a trio of Sk8-Mids sitting on a black midsole. This range exchanged camo for a simple monogram pattern reading "Eat Me."
2016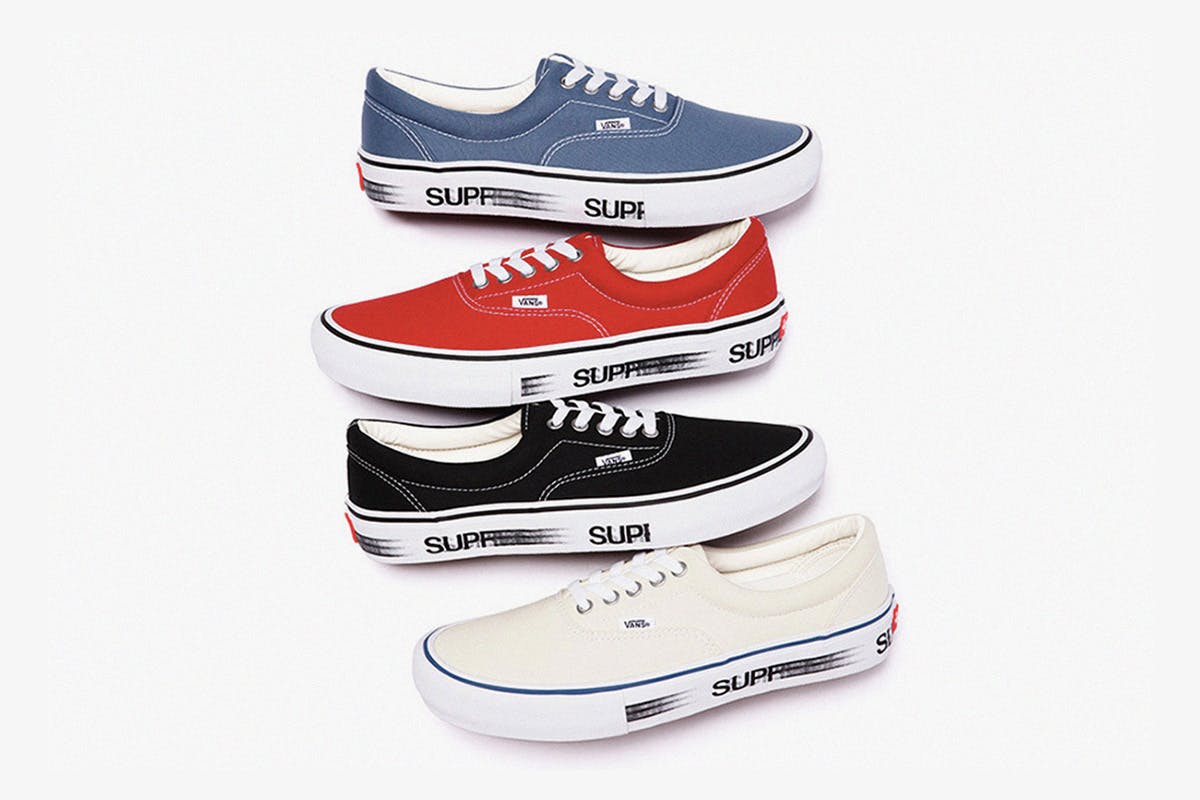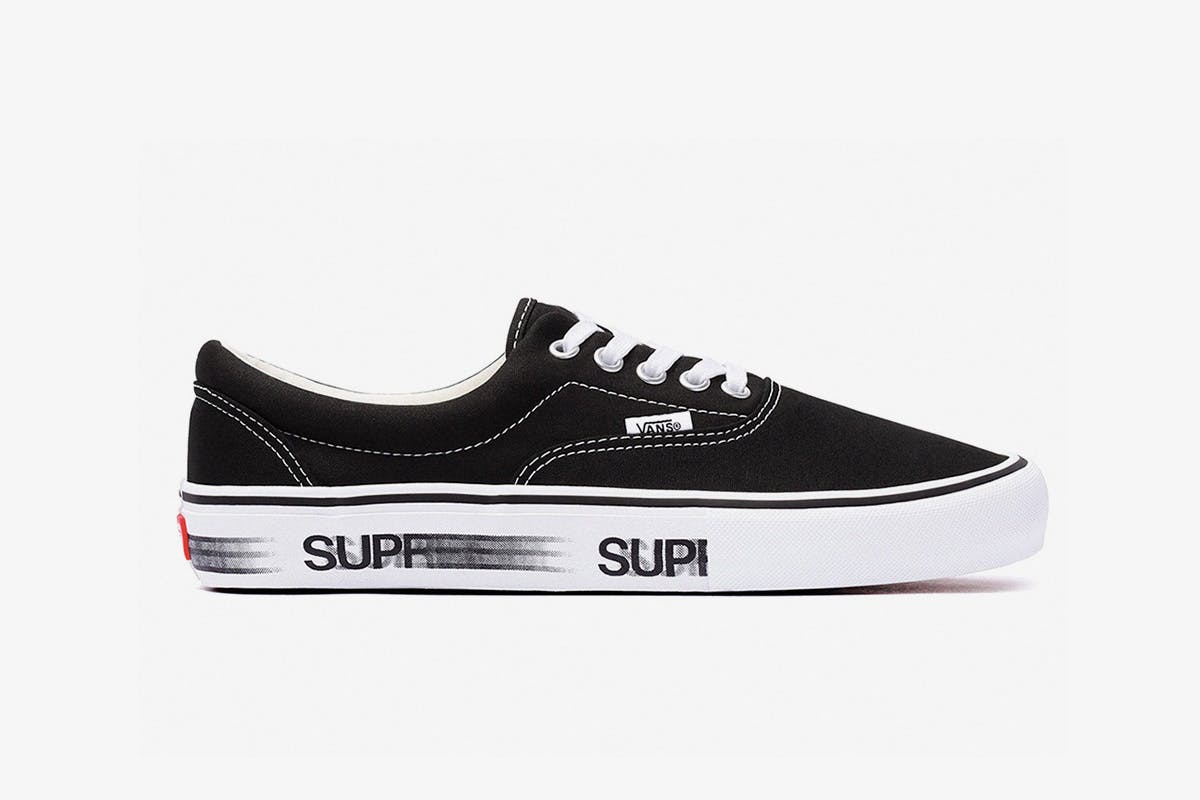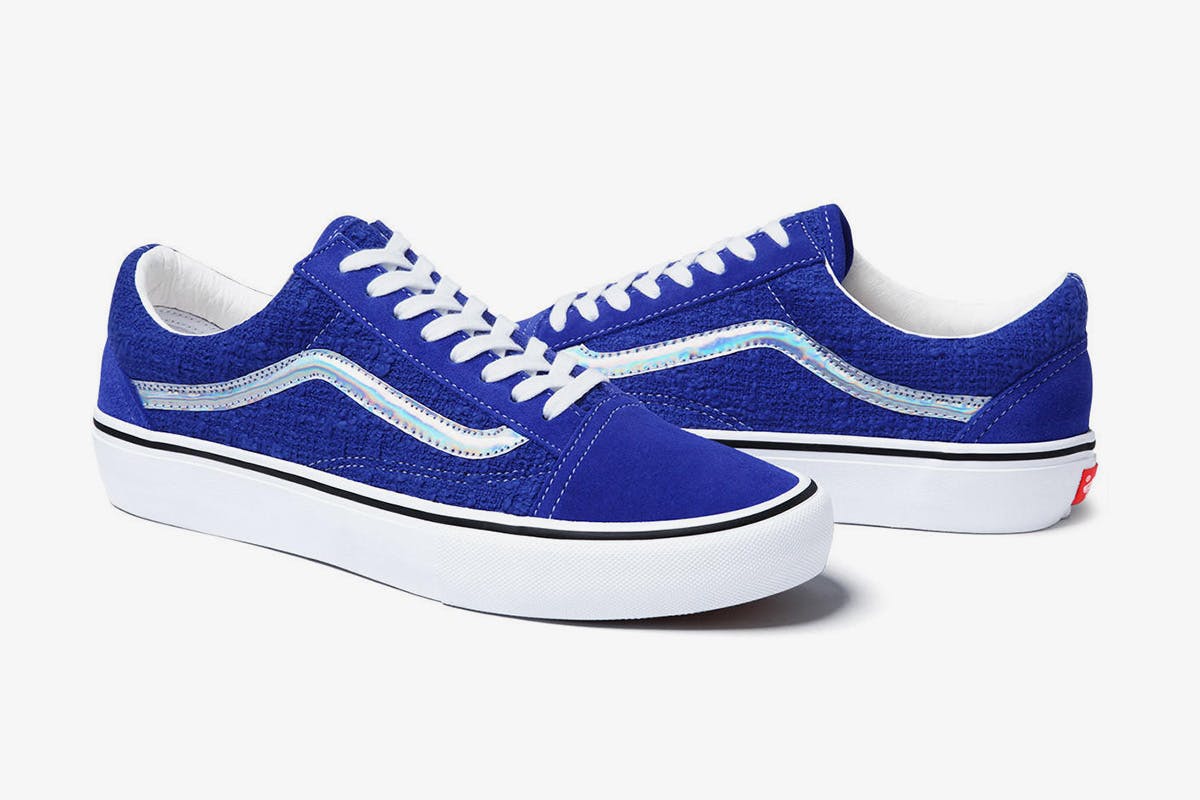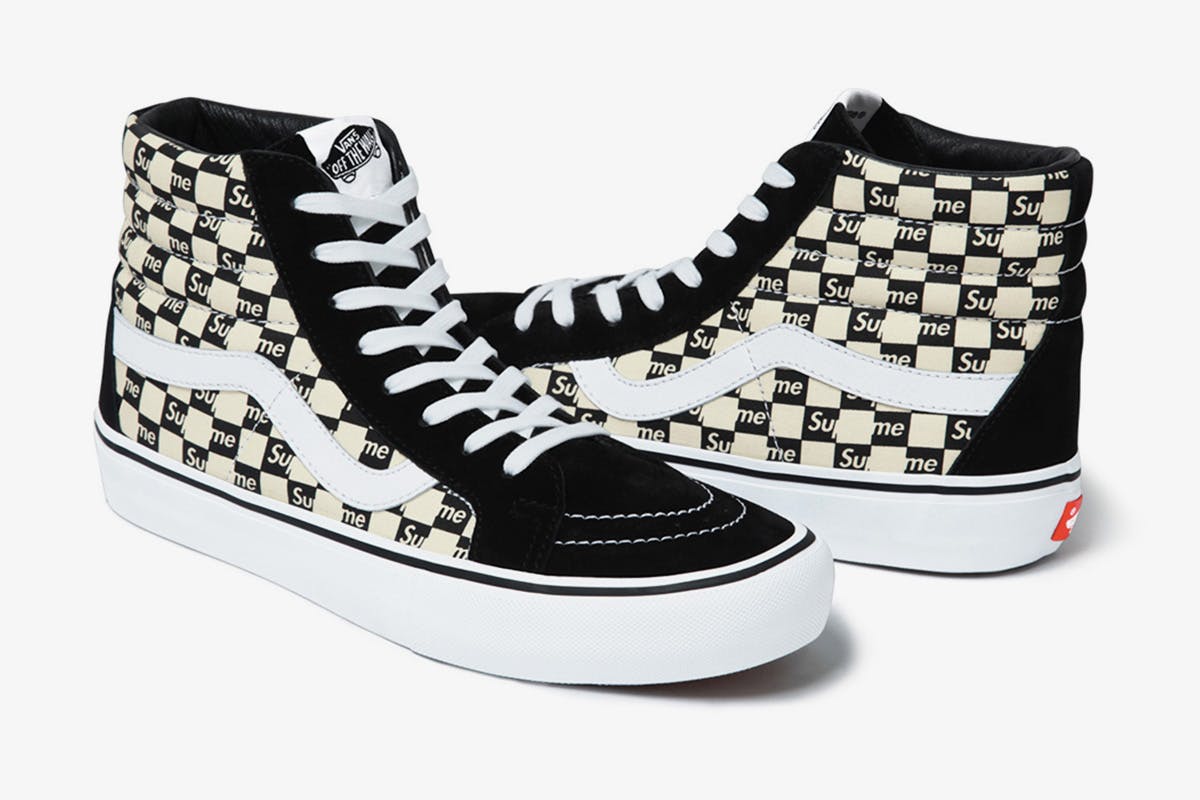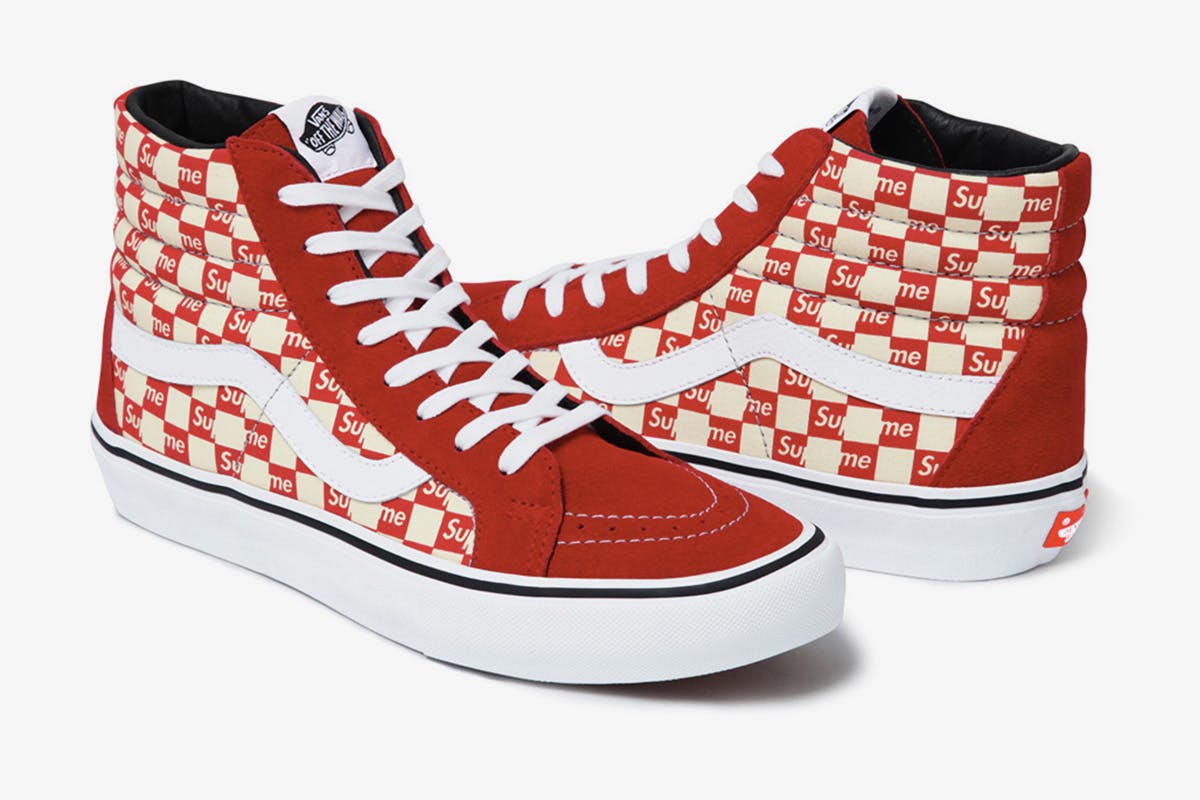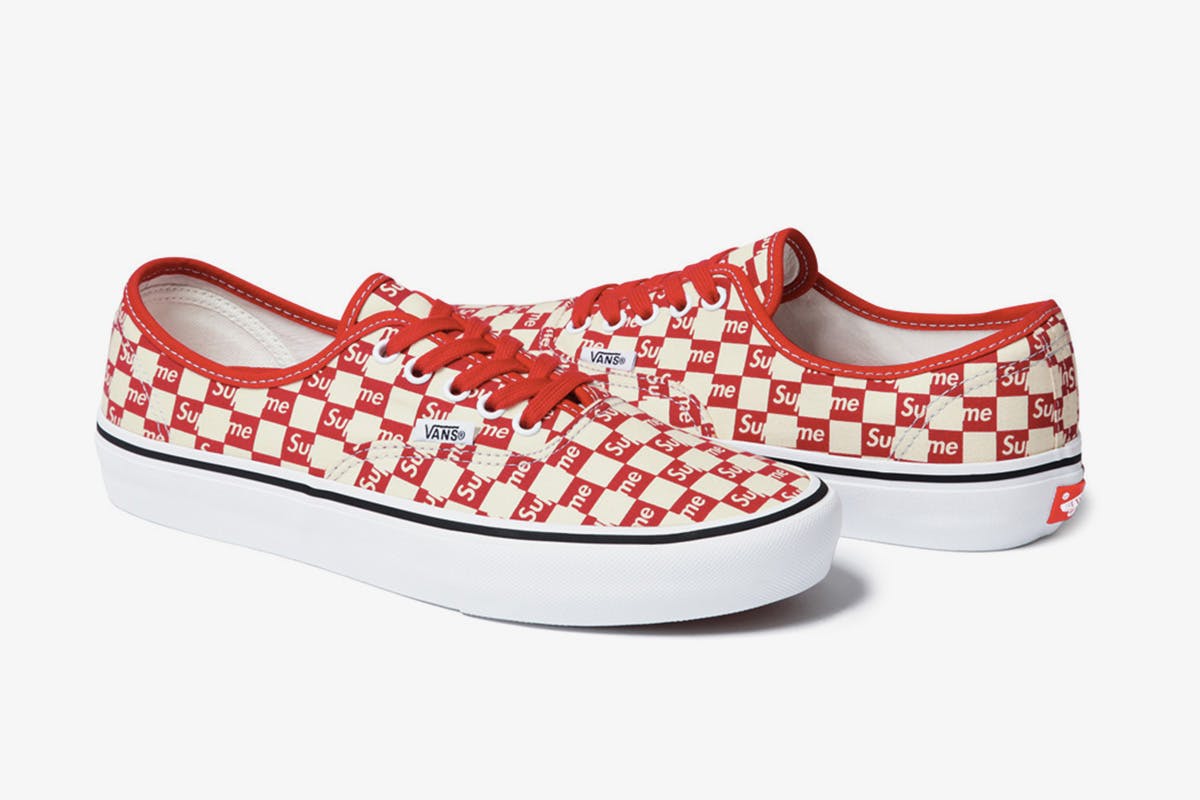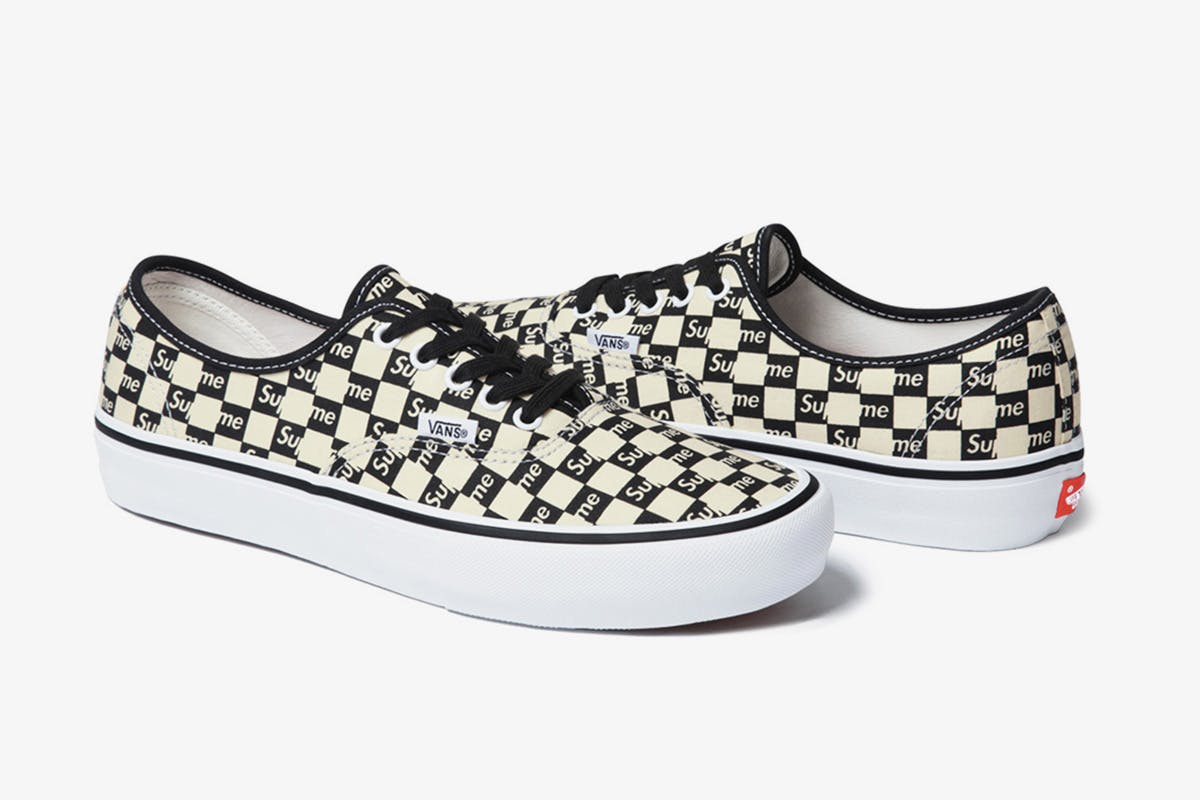 Supreme often likes to bring back logos and designs from their back catalog, and one of the most beloved by fans is the original "Motion" logo inspired by the opening credits from Martin Scorsese's seminal gangsta movie Goodfellas from 1990. In February 2016, the New Yorkers dropped a collection of four Vans Eras with the vintage branding running around the vulcanised midsole.
Next up was a return to the Old Skool, this time featuring a cotton boucle upper with an iridescent side stripe and leather lining. Blue, coral, white and black were the color choices for the May 16 release.
October last year saw one of my personal favourite iterations from the Supreme x Vans partnership, as the two brands took things back to basics with classic checkerboard makeups of the Sk8-Hi and Authentic Pro. The subtle Supreme branding combined with the quintessential Vans pattern and the choice of the three simple color palettes (black, red, blue) made for a timeless collection that's destined for future grail status.
2017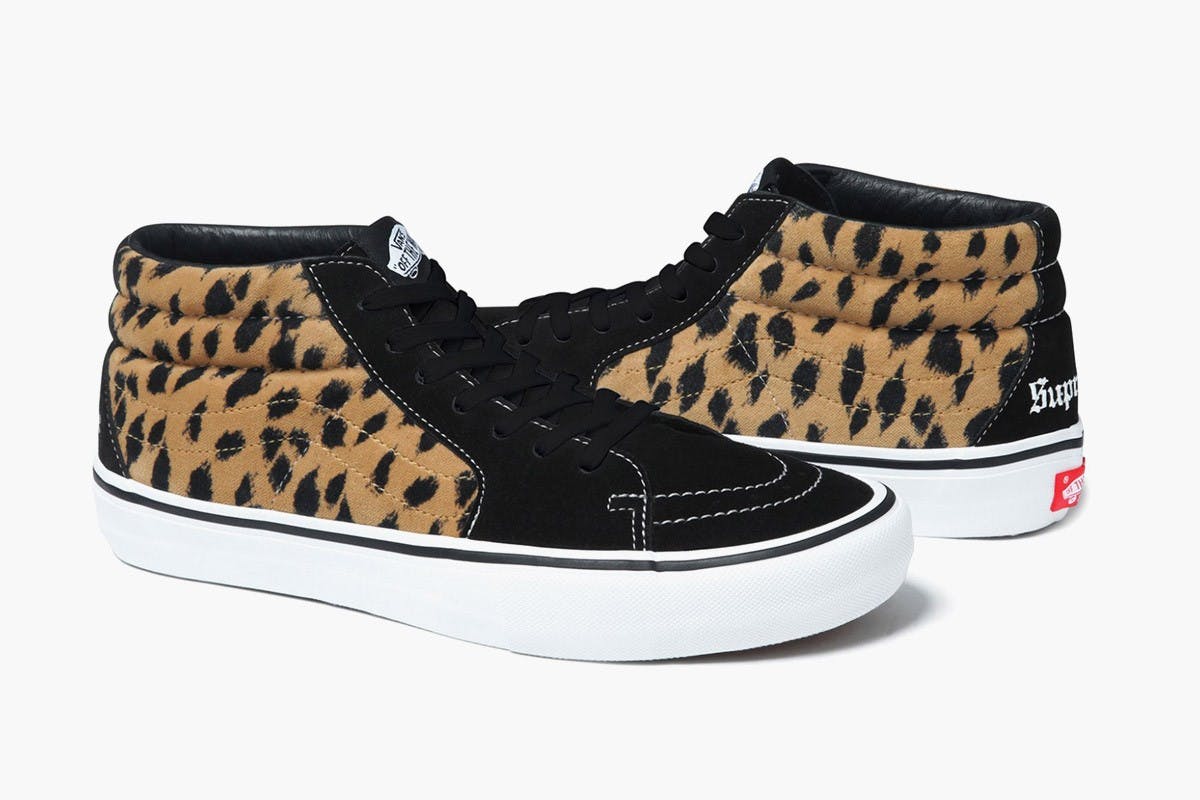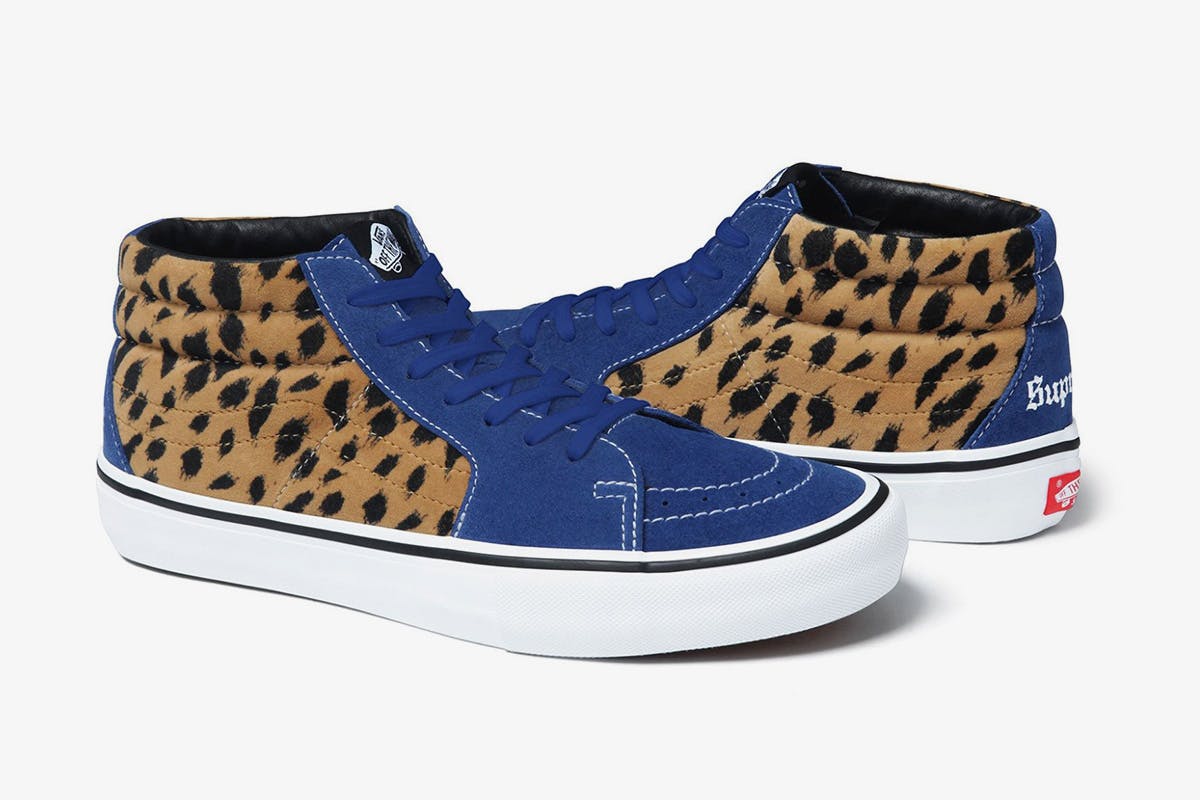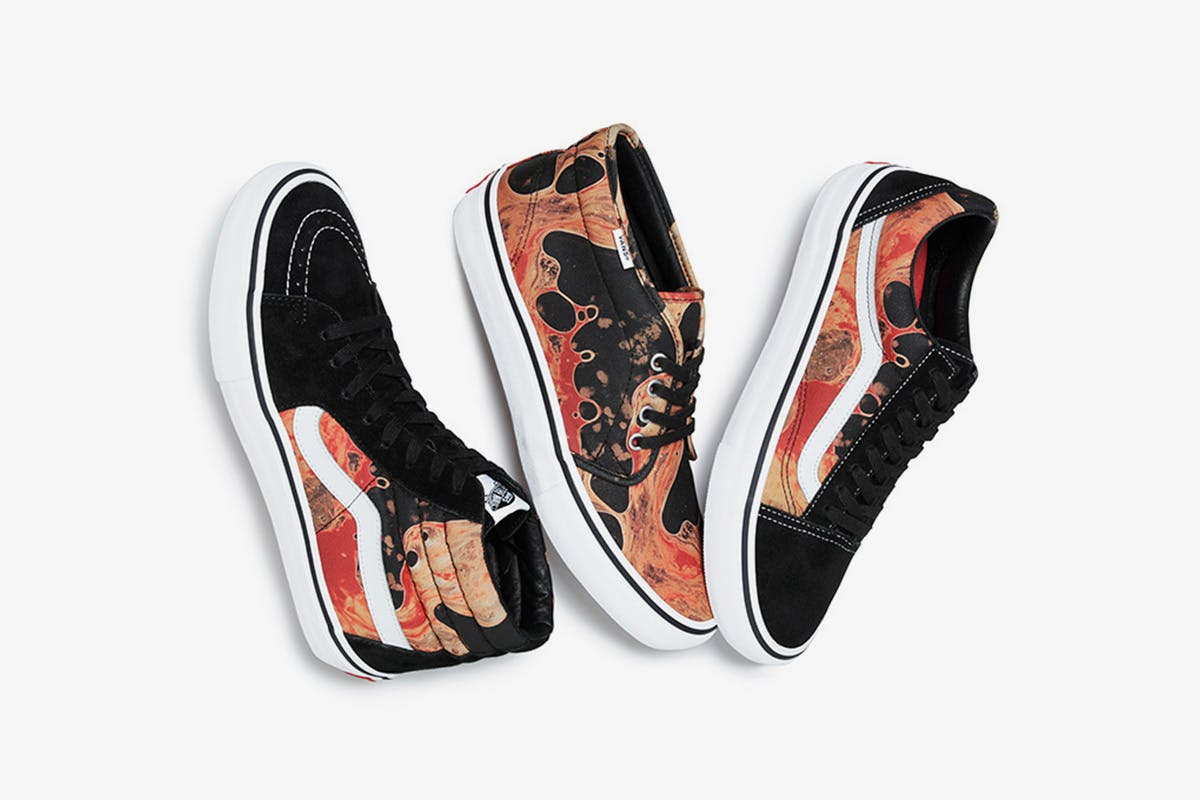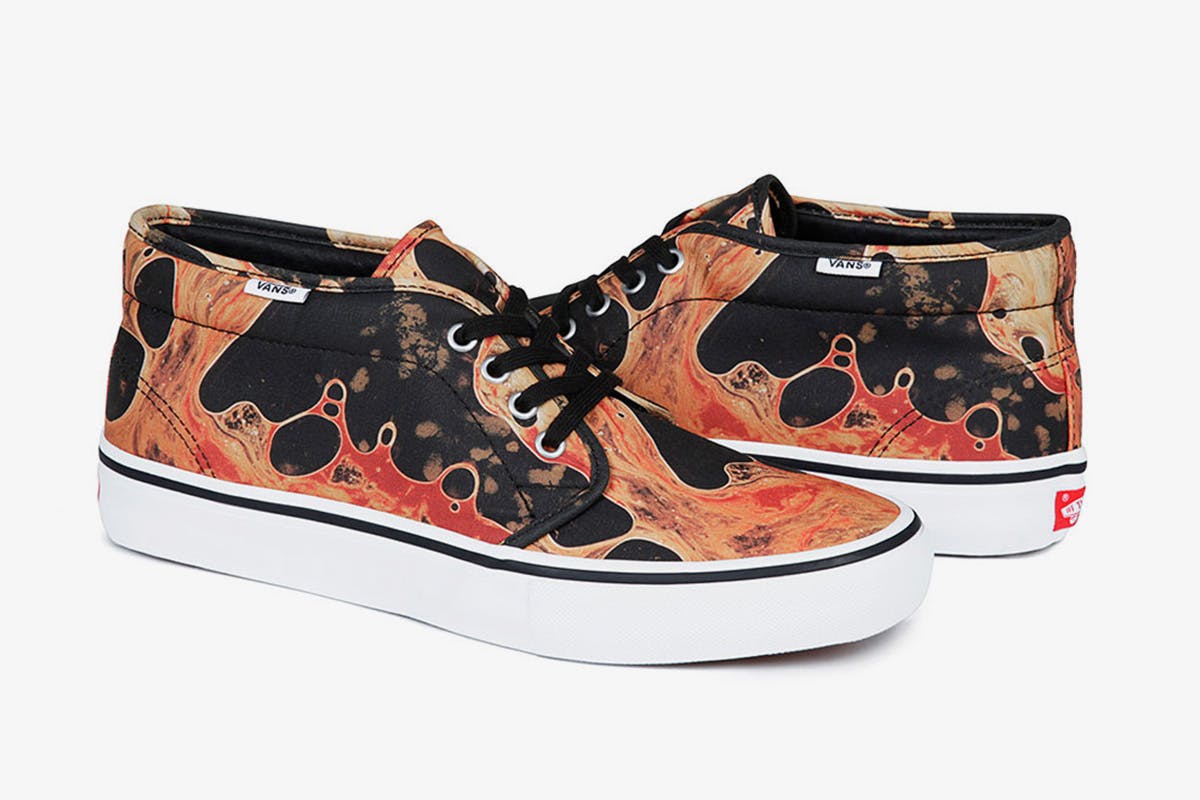 Rolling into the new year, Supreme kicked off their new season with Vans and revisited the often-overlooked Sk8-Mid. Premium suede and velvet leopard print uppers contrasted with a choice of four colour options made up the set. An online promo clip featuring Vans skater Rowan Zorilla was released to mark the February launch.
Sticking with a single style release, Supreme dropped a second trio of Vans shoes that season, with the Slip-On decked out in the brands "666" logo in June this year.
Ending their 2017 offering from the fruitful Supreme x Vans partnership was the September release featuring the original "Blood and Semen II" design from controversial artist Andres Serrano. The pattern is reworked across a Chukka Boot, Sk8-Hi and Old Skool alongside various items of Supreme clothing and a skate deck.
2018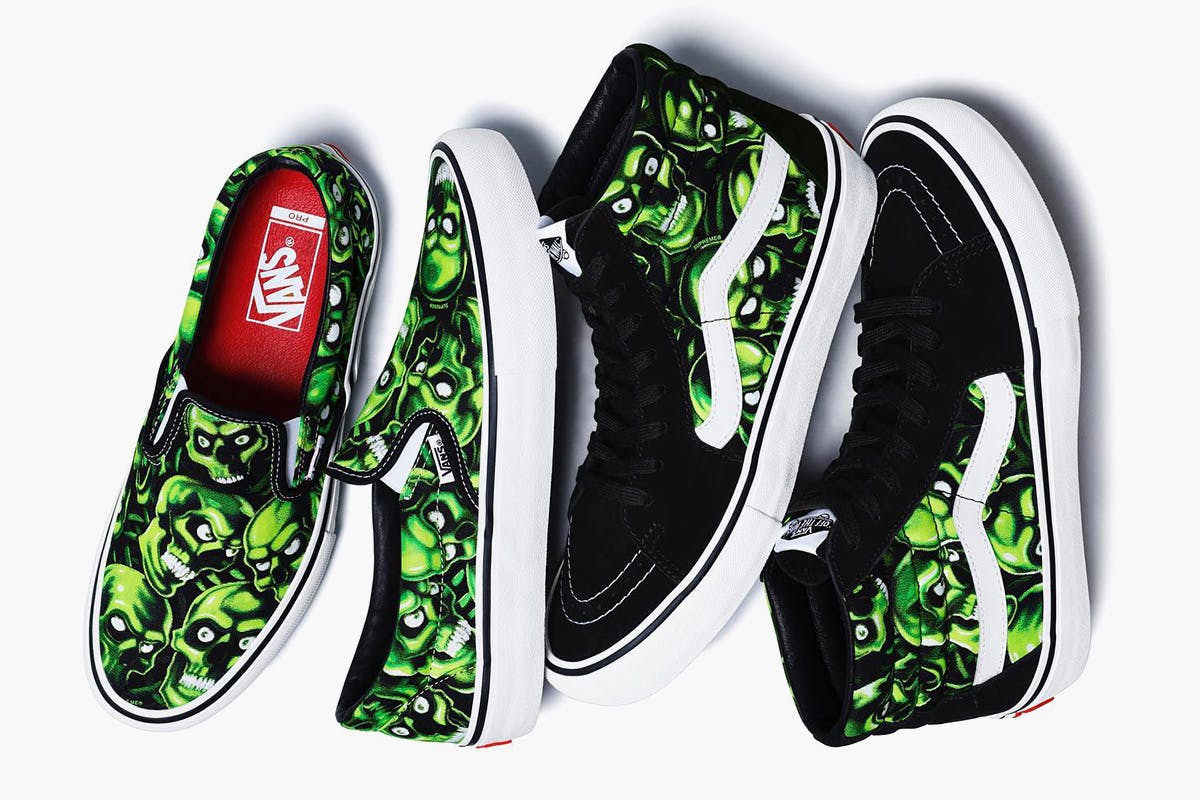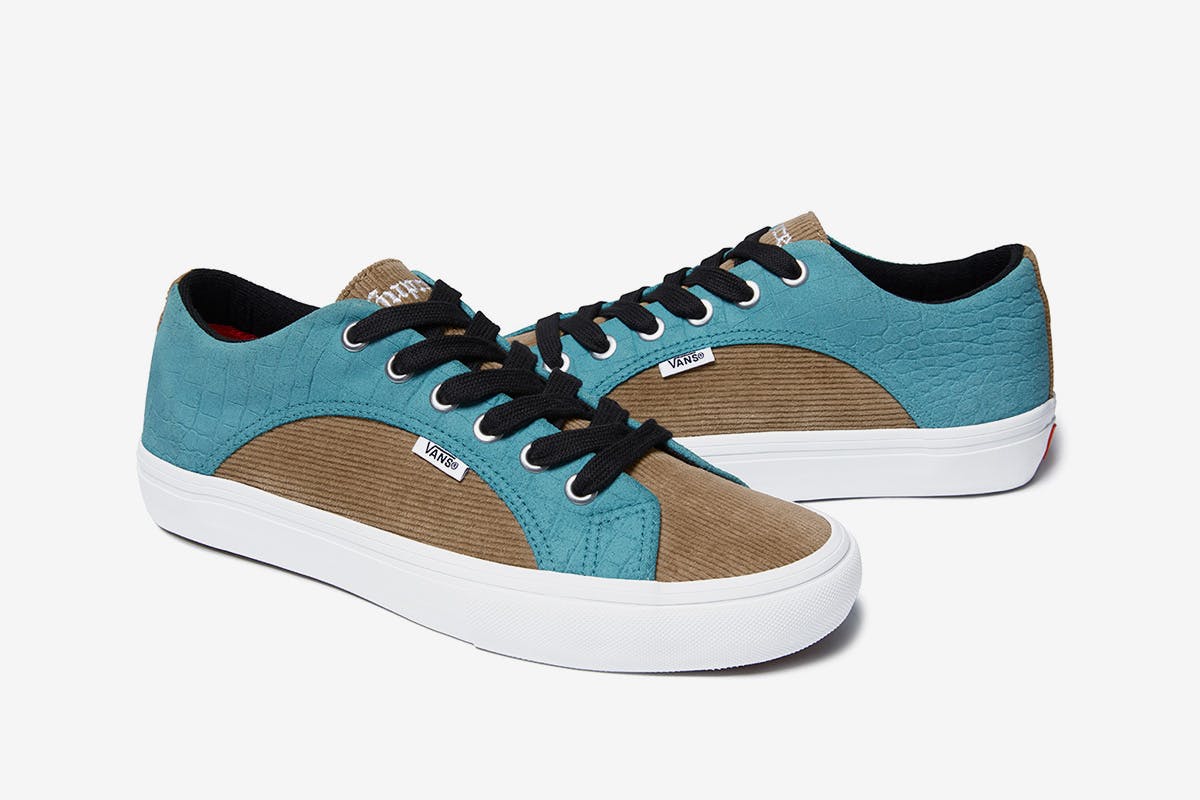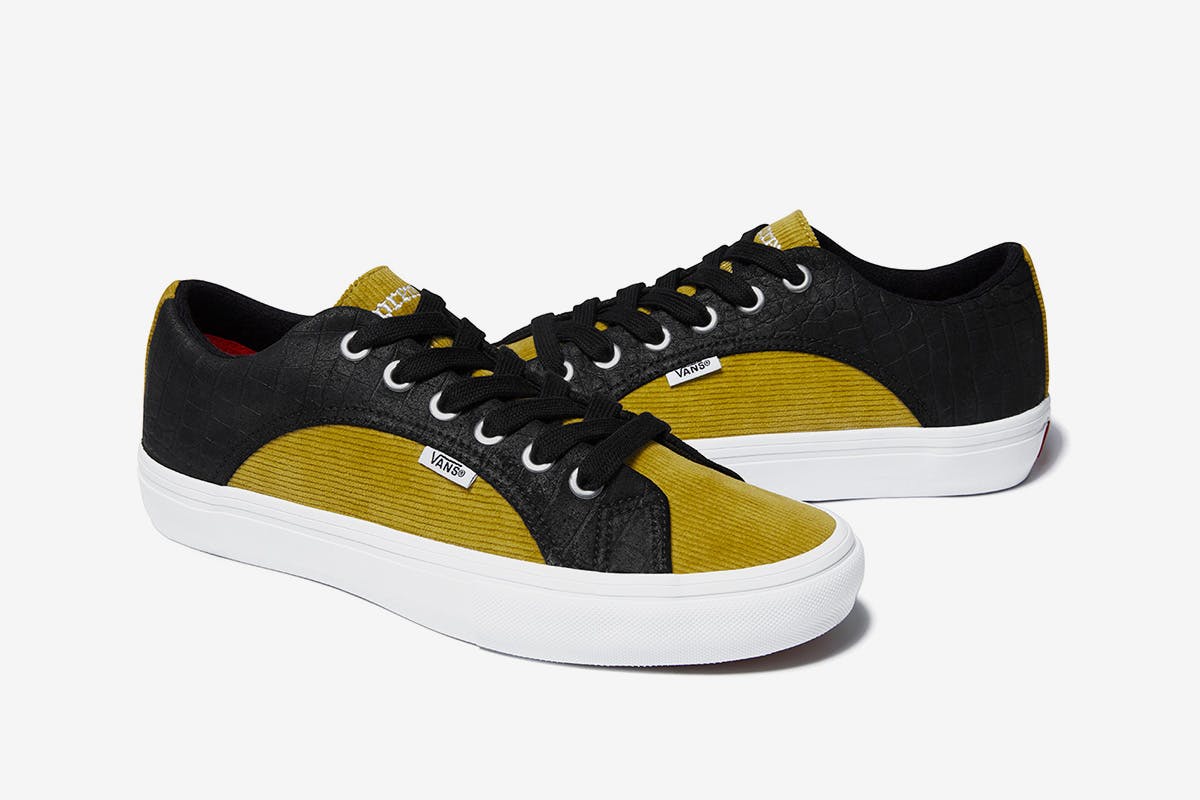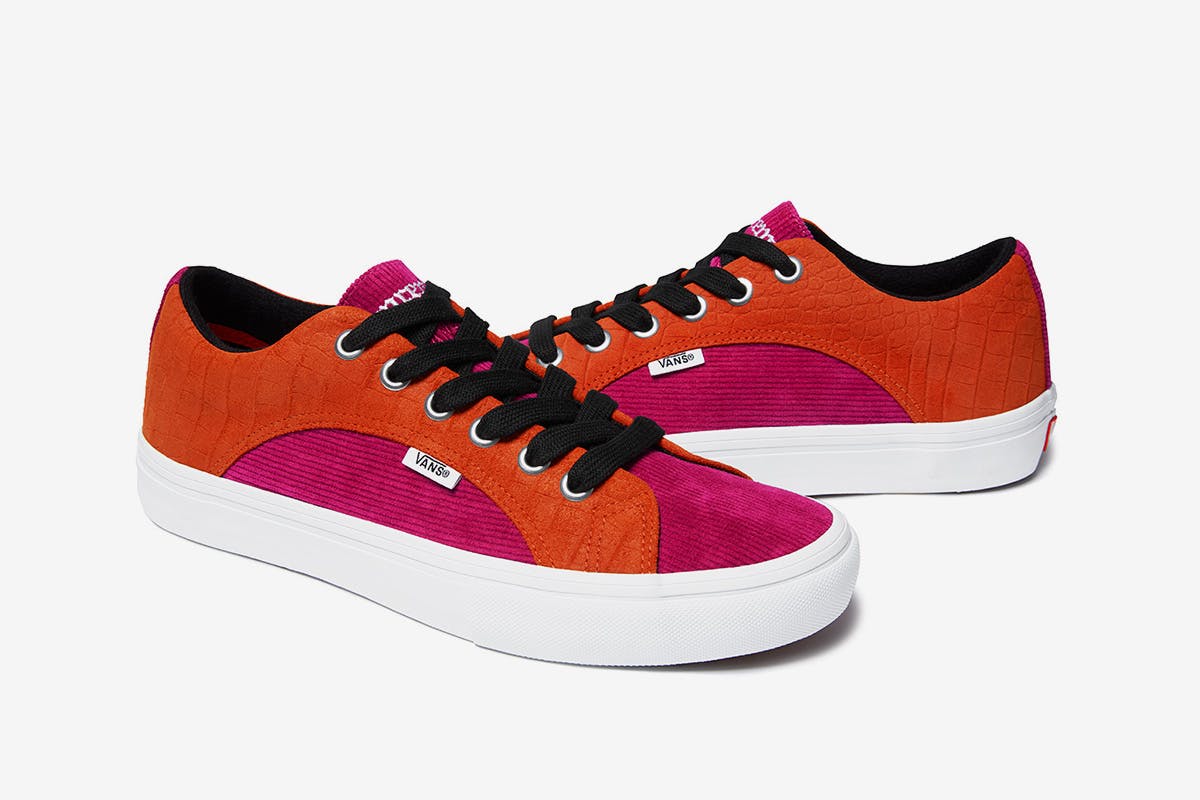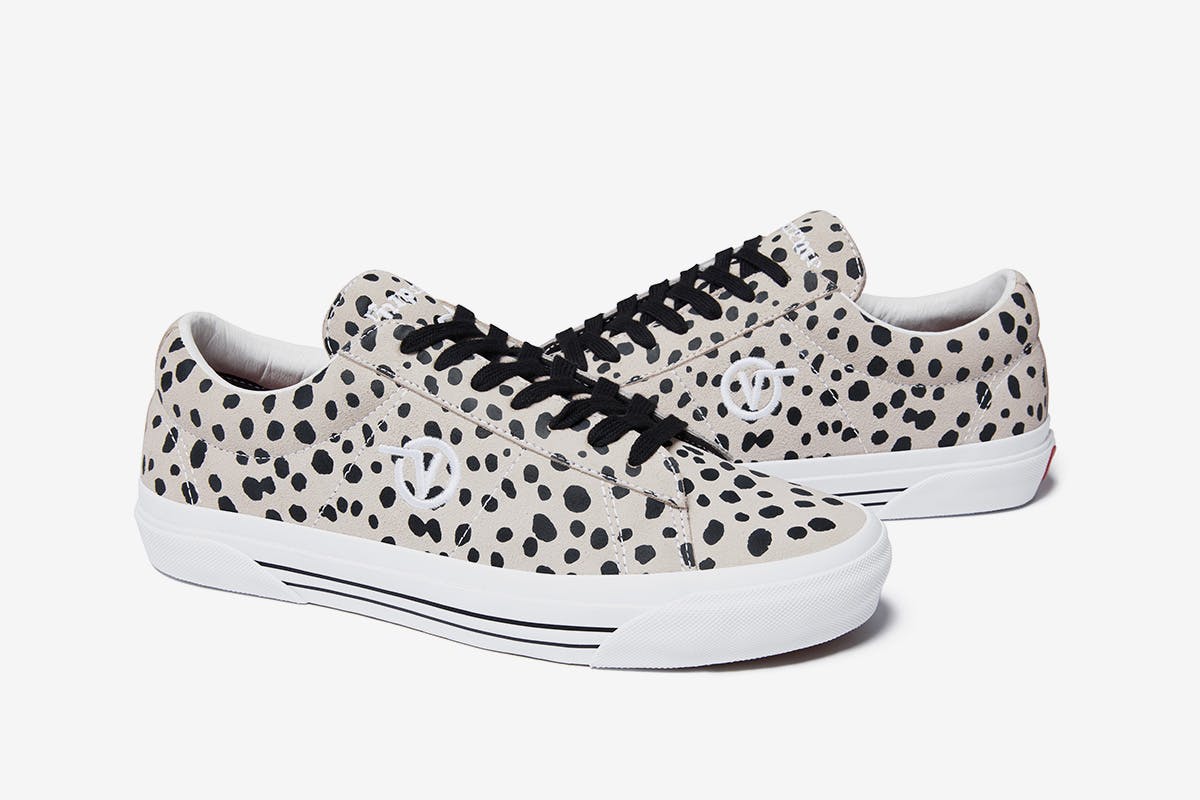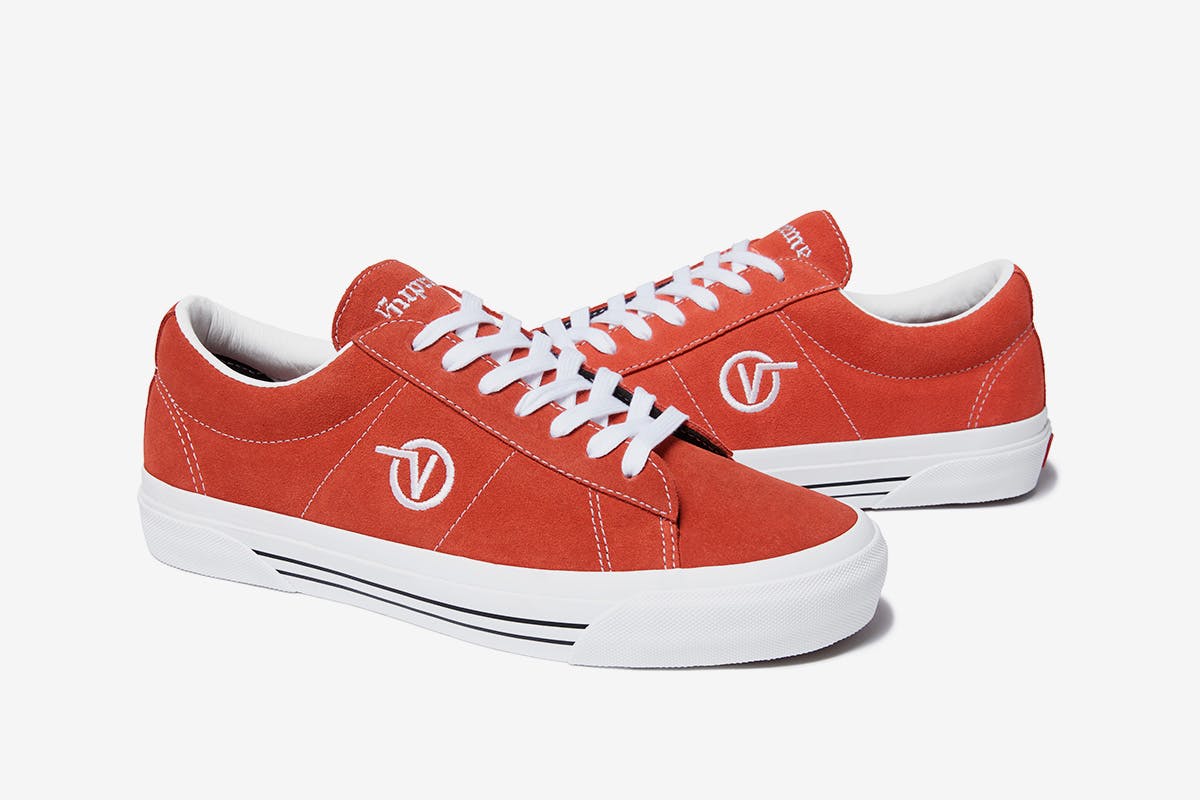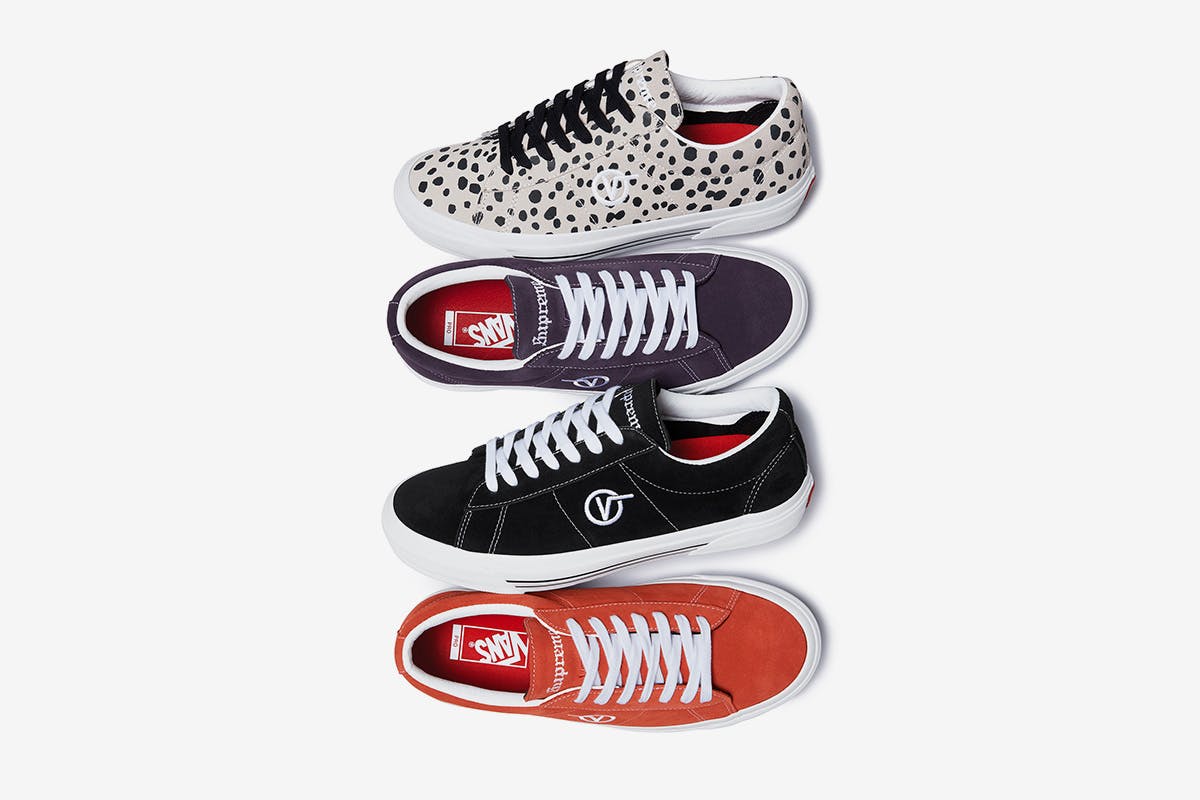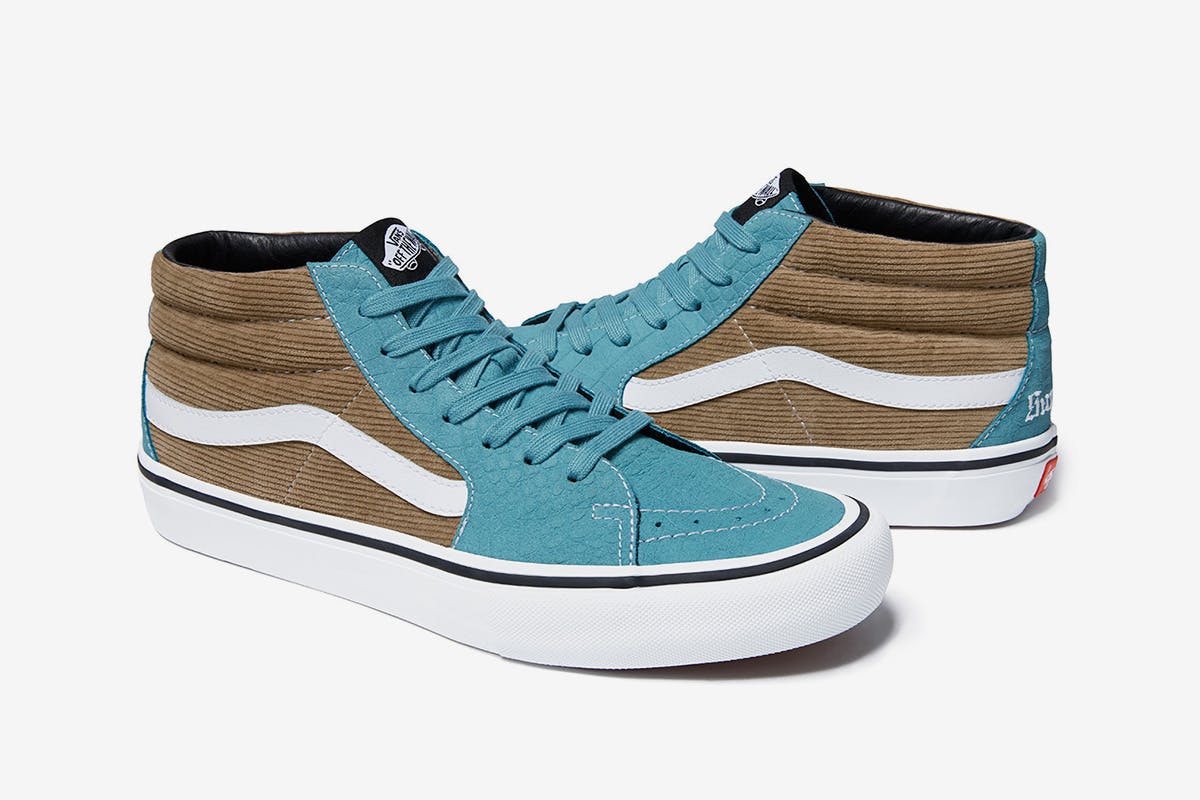 Kicking off 2018, Supreme unveiled a collection covered in the Juicy-J approved Skull Pile print. Featuring on hoodies, jackets, shorts and skate decks, the all over neon green print also made it on to a couple of Vans sneakers in March 2018.The Slip-Ons are then contrasted by a white sole unit, while the Sk8-Hi's welcome touches of black suede, a white leather Sidestripe, black laces, and a white midsole.
Summer '18 saw Supreme work on two of Vans' lesser-loved silhouettes, the Lampin and Sk8-Mid. With the same theme running over both styles, each shoe featured premium croc embossed suede mixed with a 12-wale corduroy upper and leather lining/insoles. Supreme branding came in the form of a logo embroidered tongue on the Lampin, while the Sk8-Mid featured a logo embroidered heel. Three colorways were offered in both styles - teal/tan, orange/pink and black/green.
The first Vans collab of Supreme's FW18 collection came in the form of the Sid Pro. Some of Supreme's younger fans may not recognise the style but anyone who was immersed in the '90s skate scene will instantly recognise the understated silhouette. Originally produced in the USA in 1995, the Sid debuted as an all-suede casual shoe in a similar vein to the Converse One Star, with the now iconic "flying V" logo on its side wall. Supreme upped the build quality with a premium suede upper and leather lining/insoles, but stayed faithful to the original design. The Supreme Sid Pro came in four colorways - purple, orange, black and a cool white/Dalmatian print version.
2019