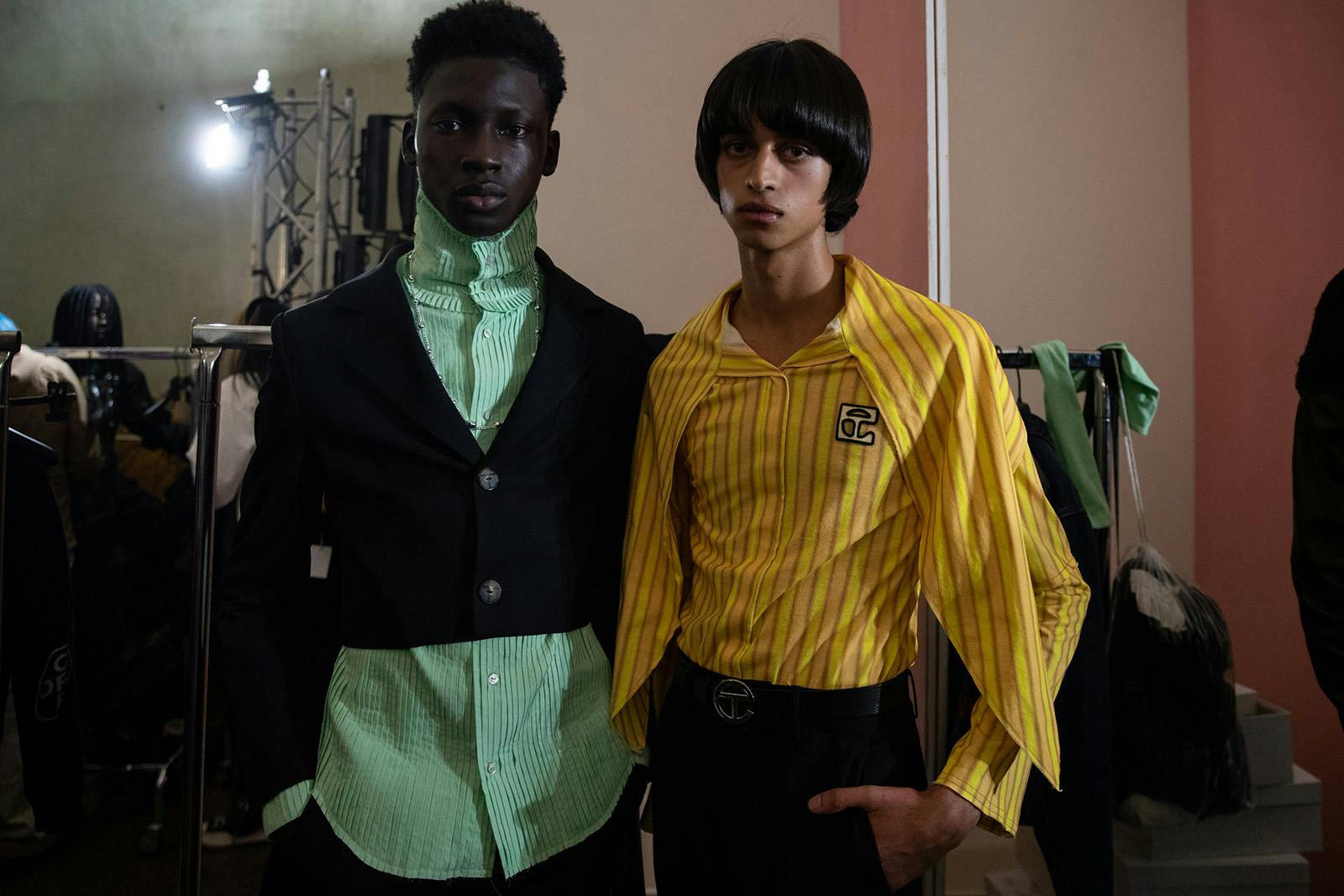 Highsnobiety / Eva Al Desnudo
Telfar Fall/Winter 2020 Men's. Florence, Italy.
Editor's Notes
Four months ago Telfar Clemens arrived in Italy. He moved himself and his entire team from New York to Lugo to design and produce his Fall/Winter 2020 collection as this year's guest designer for Pitti Uomo. On Thursday night he presented it his way. A long circular dinner table that served as the runway and had rotting food and other leftovers from his dinner and party with his friends from the night prior. His friends walked the show and performed. Solange, Kelela and Michele Lamy were there to support. Clothing, per usual, transcended gender norms and any reference of a single time period as seen with the show's t-shirts breaded at the seams, pleated like Victorian nightshirts, and quilted puffers, armoured across denim, leather and nylon. Telfar's "Tuscany dream" Clemens called it.
Community has always been core to the New York brand since its founding in 2005. It's what won them the CFDA/Vogue Fashion Fund Awards in 2017 and what has attracted different demographics to the label's signature logo bags, graphic tees and opulent outerwear.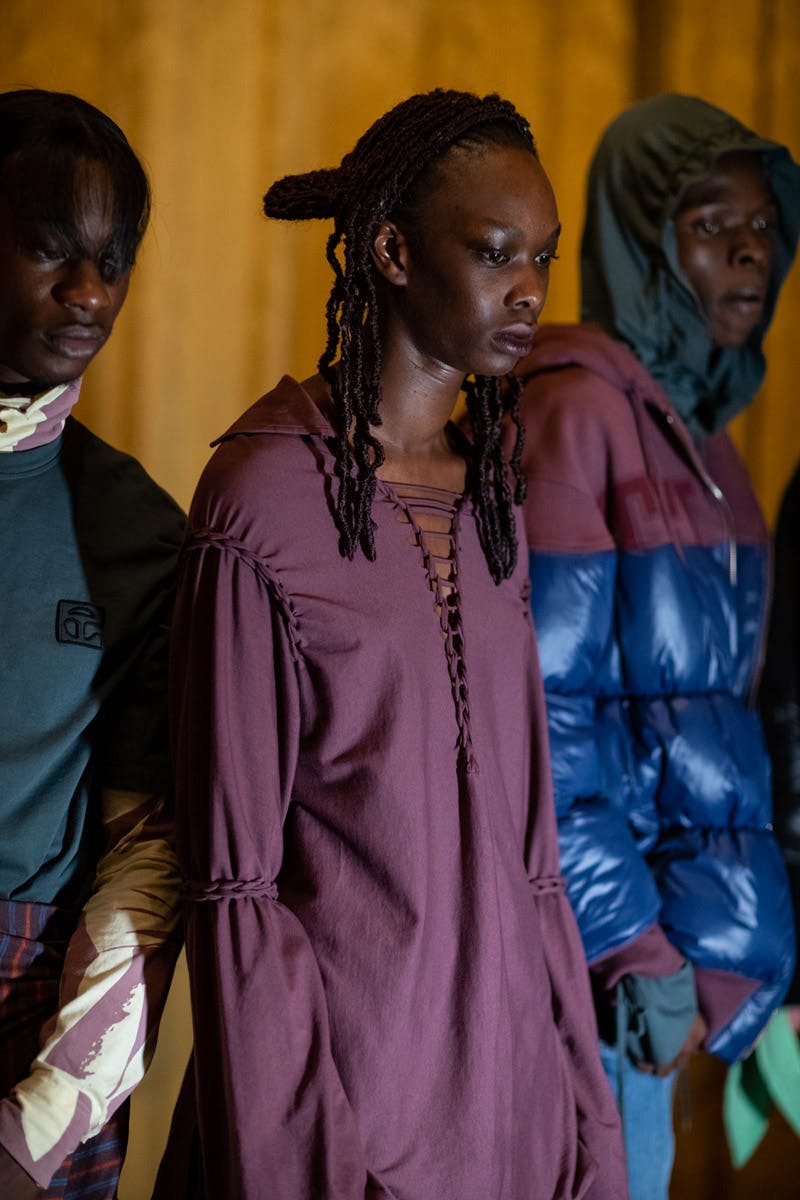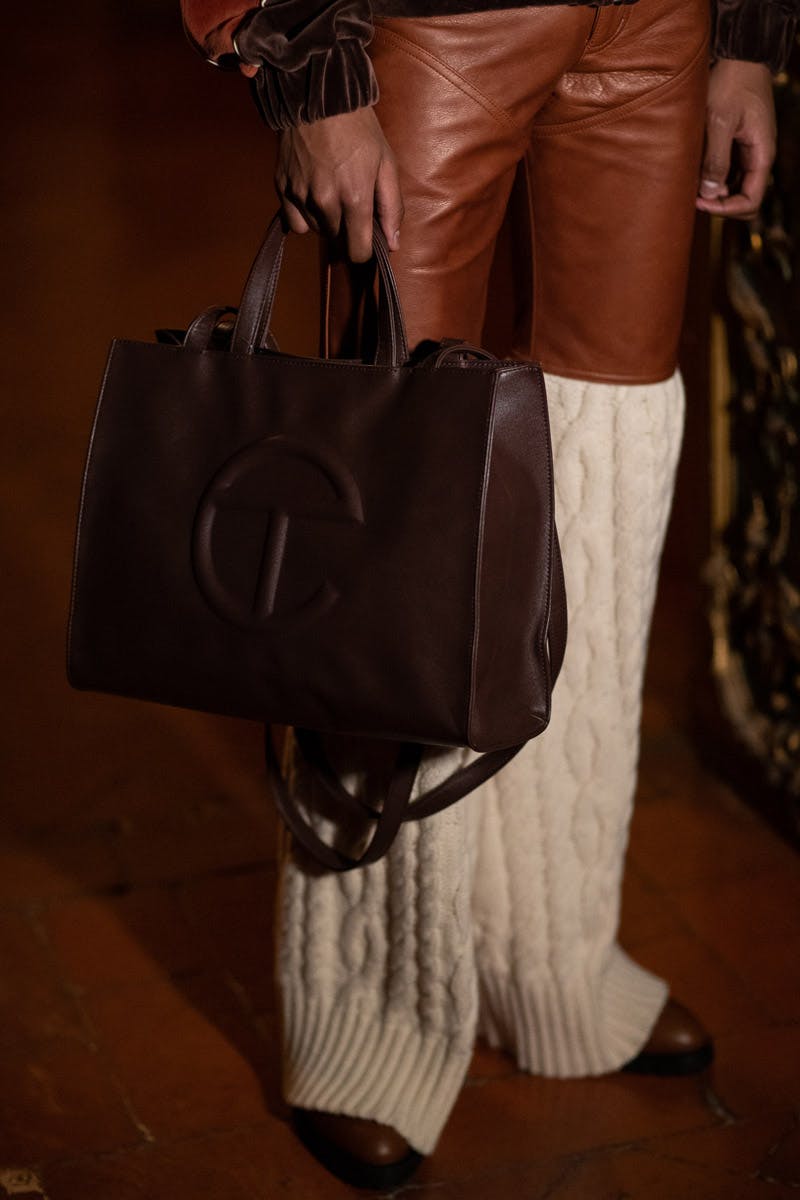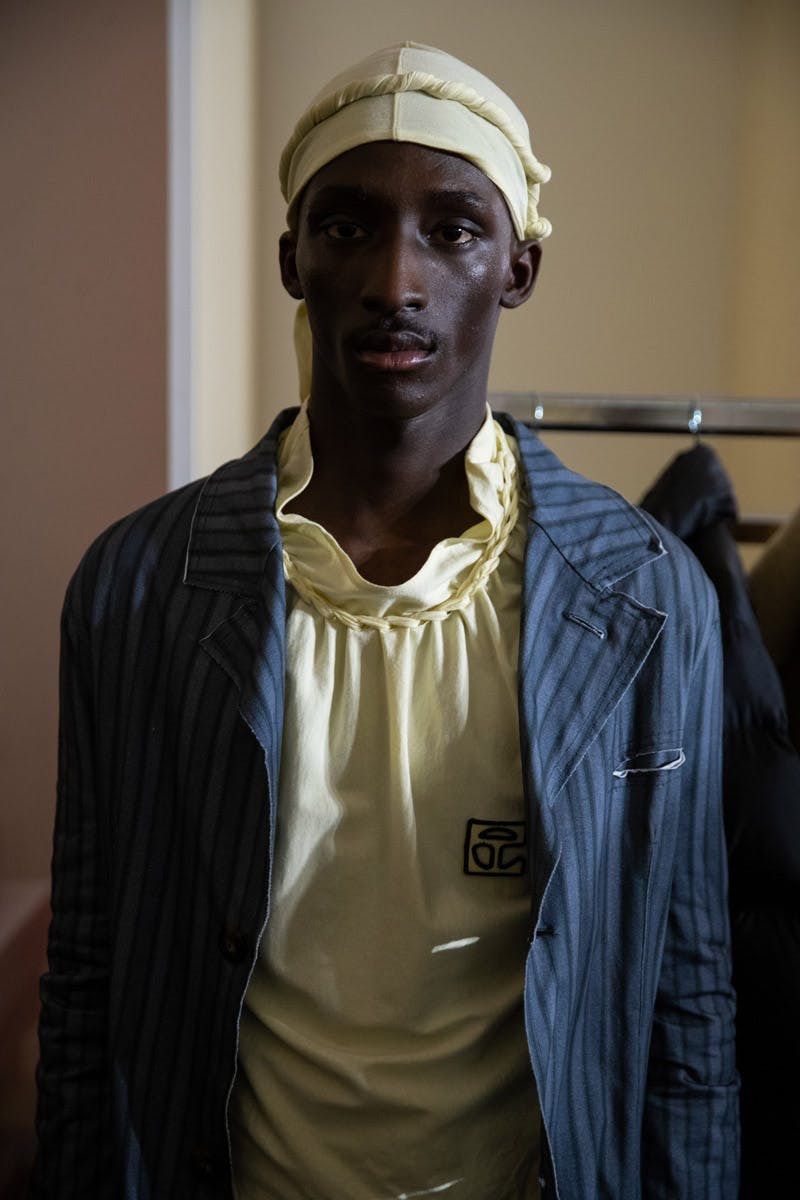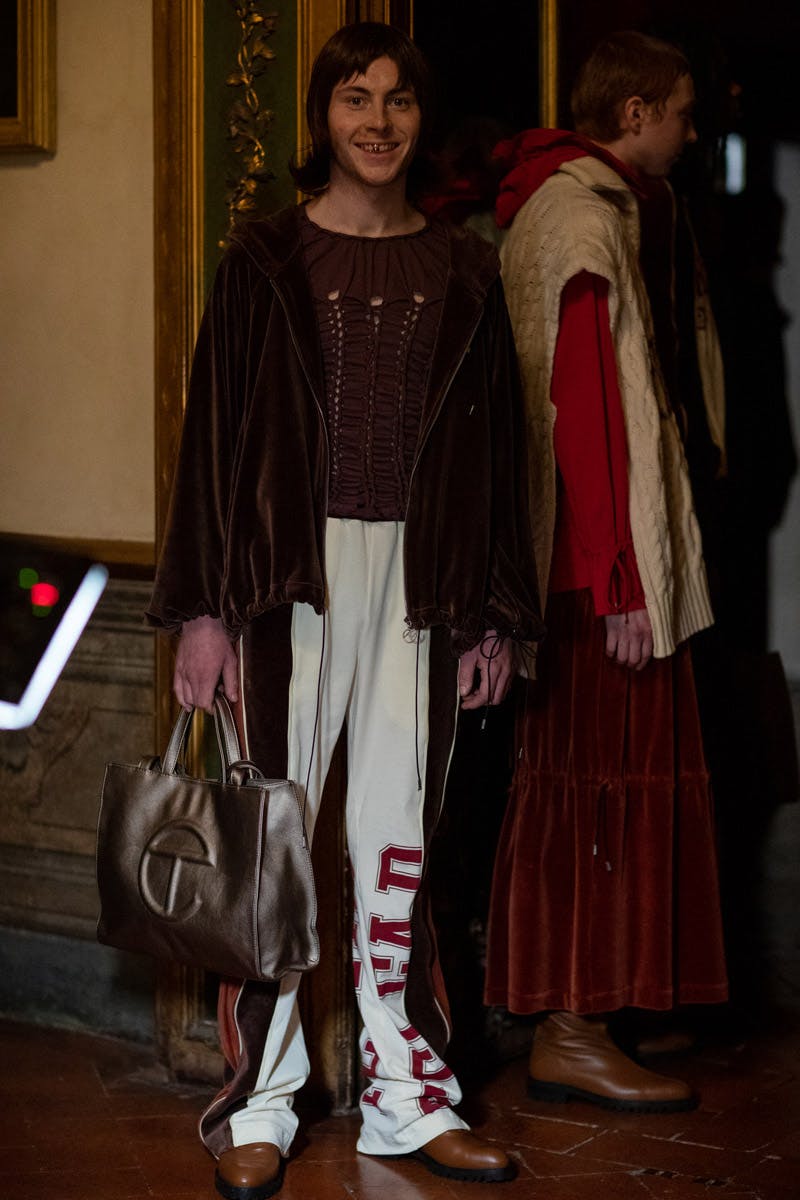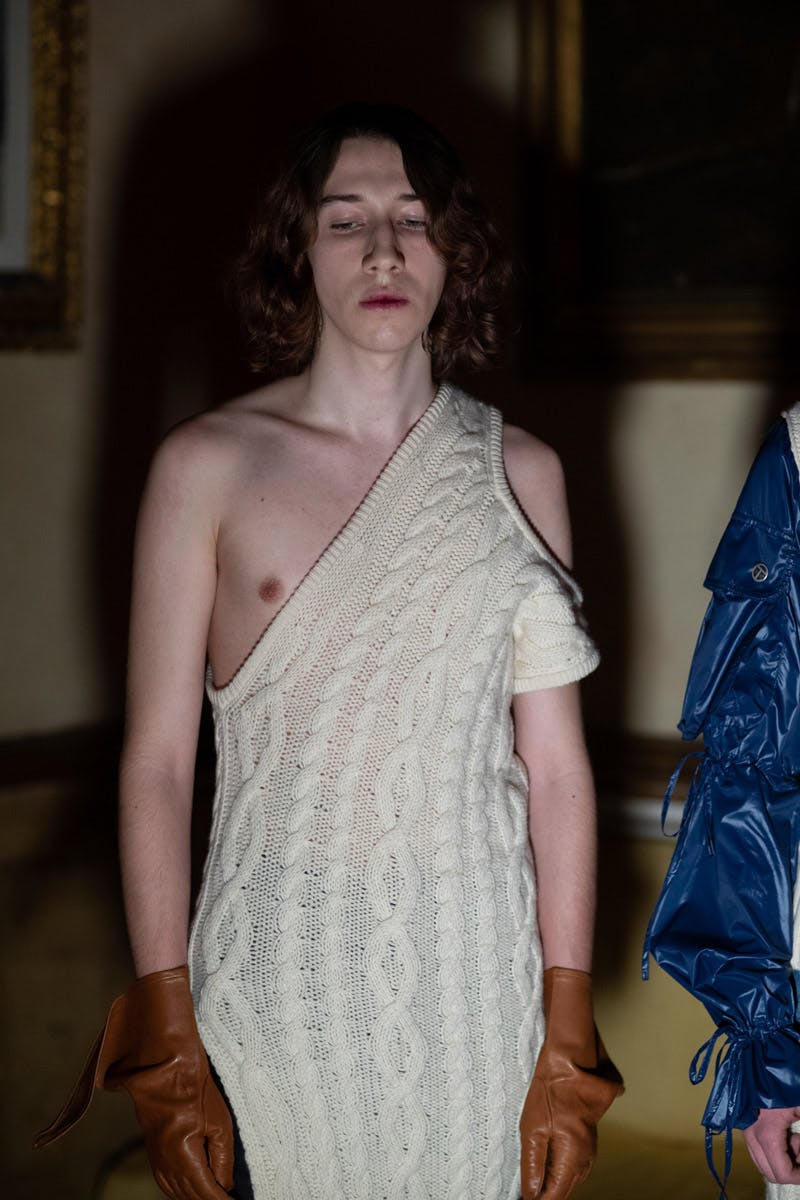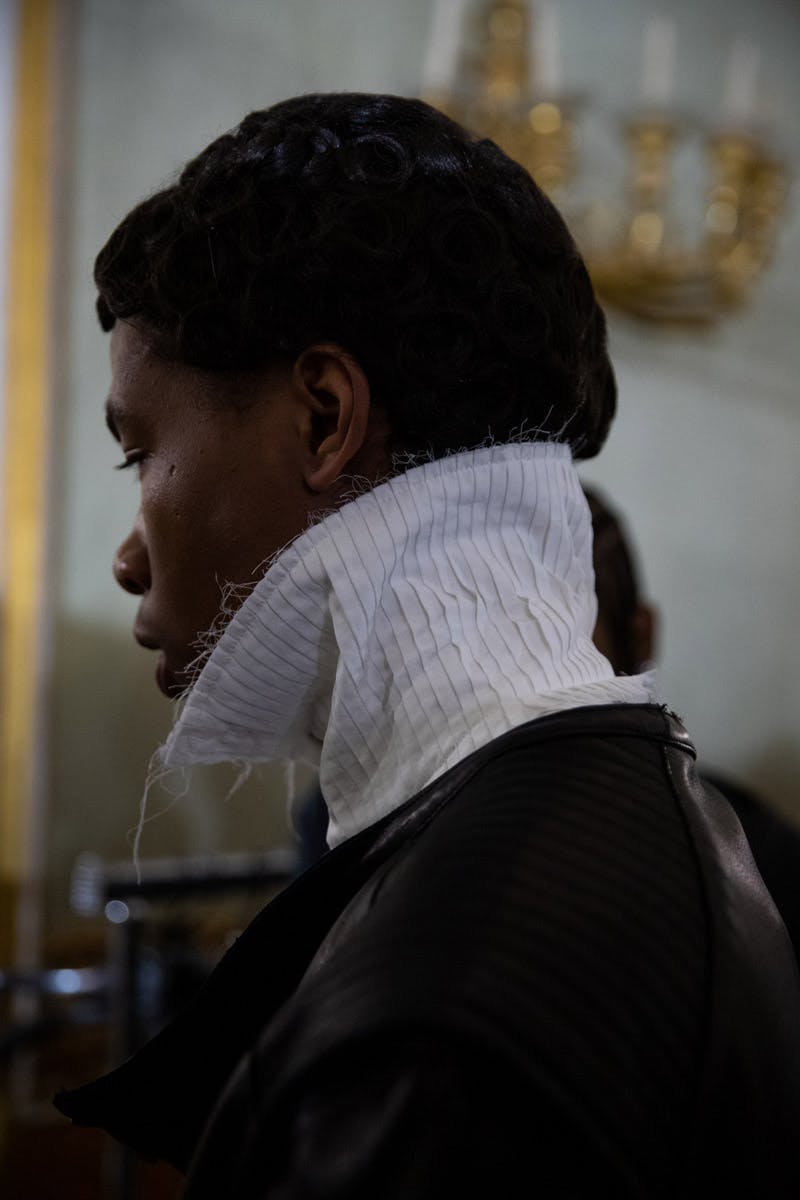 It started with us connecting with our friends and collaborators because so many people have come so far to help or walk in the show. At the end of the day I'm designing for myself because I want to wear that shit. If I can't buy it I'll have to make it. In my world people are doing things differently. They're bored by the old ways of doing things," says Clemens. "I want to be everywhere, we're called Telfar Global. Last show was in Paris, this one is in Florence and we're doing something in Paris next week. I want to be able to go anywhere, anthem when I want to do things and not necessarily on the fashion schedule.

Telfar Clemens
Industry Opinion
"Telfar has built up a strong following over the last seasons so expectations were high. But although he served up the usual best-sellers (deconstructed denim and the signature bags), the show didn't feel as dynamic and directional as previous seasons." - Ida Petersson, buying director at Browns
"The show was the Brooklyn version of European luxury. I really liked the contrasting fabrics and innovative use of cable-knit and leather." - London-based editor
Highsnobiety's Shopping List
The Bushwick Birkin
Telfar's affordable best-seller represents more than just another it-bag. According to an article in The Cut published earlier this week, it's become a community, with its various sizes and colorways being worn by Solange, A$AP Ferg and Ashton Sanders. Dubbed 'the Bushwick Birkin', this seasons renditions in muted hues. Beige, creme and light grey. Sparking joy even among minimalists who may feel alienated by the brand's more is more aesthetic.
Reverse-logo tracksuit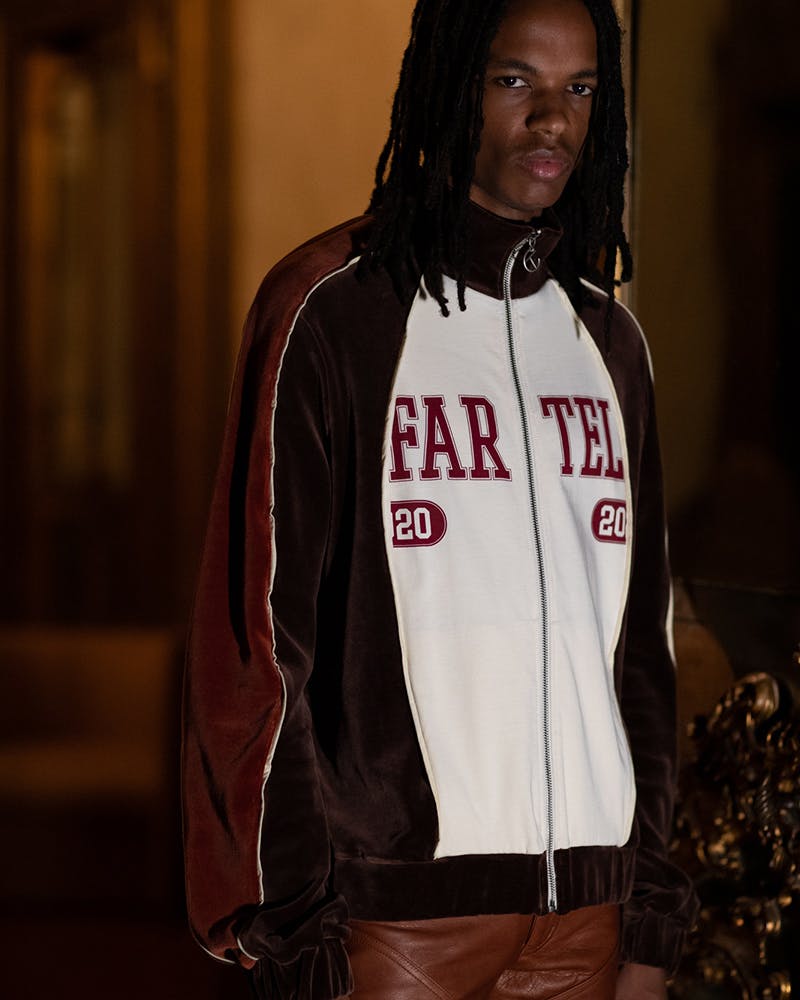 "I've always just picked up what people have been wearing on the street and recontextualized it, coming up with something new that feels like me," says Clemens. Finding the new in the banal is what he does. A simple tracksuit rooted in subculture lending itself perfectly to the designer's reinterpretation.
Ruched cable-knit sweat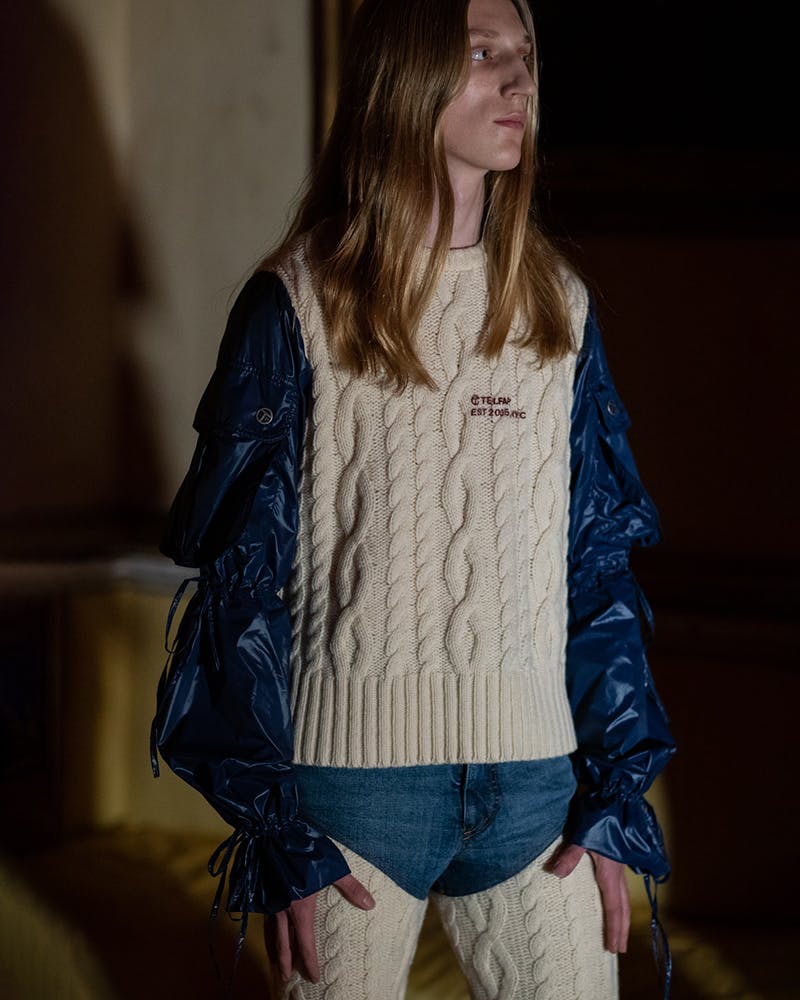 Baroque ornaments and silhouettes took centre stage. Italy as a country as a main inspiration made sense. "The hairstyle was specifically Italian in the collection as well as the colour scheme. "We kept seeing all these correlations between the clothes that we make and the clothes people were wearing in these old paintings. I was thinking 'what if that shirt was pleated, it already looks like that thing'. I wasn't just making some ruffles," says Clemens. For those more risk-takers, the collection's ruched, cable-knit swear will be eye-catching.
Cowboy boots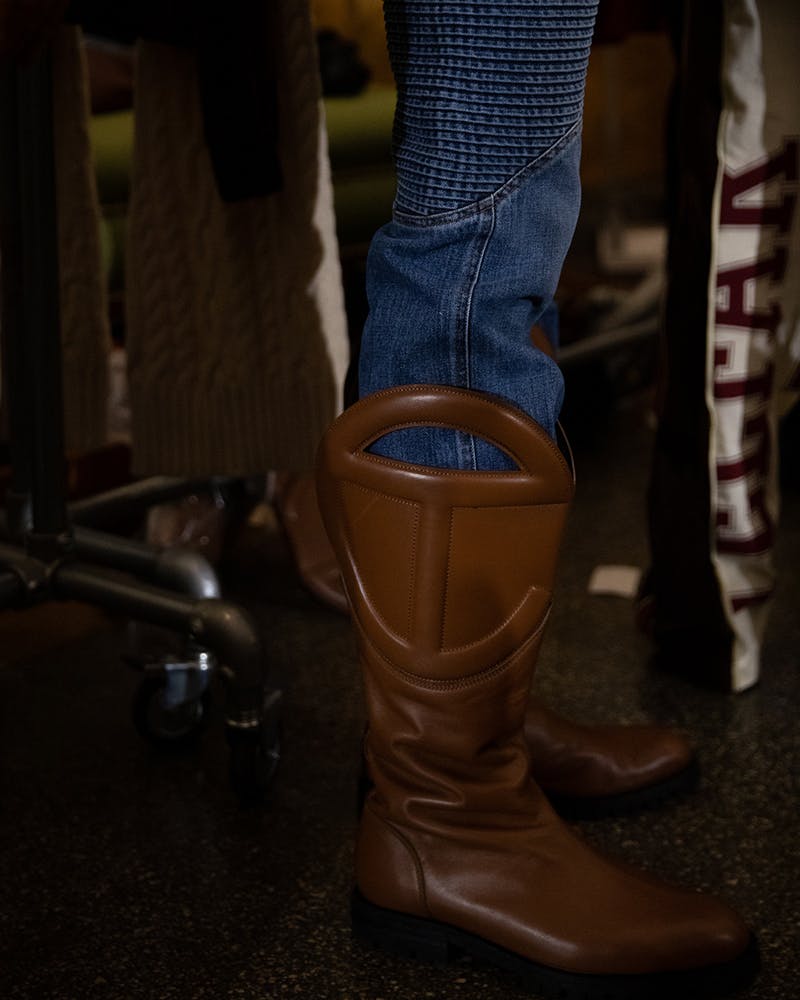 "Growing up, I wanted to be an accountant, in business management. That type of dude," says the designer. It's no wonder his bags have gone global. Any business consultant would point to footwear as a logical next frontier for Telfar's business growth. This season's best ones were a range of black and brown cowboy boots with Telfar's oversized logo on the side. Others came in the form of loafers, riding and slouchy boots. "It's all about taking a rennaissance [shoe] and putting a Timberland sole on it. That's what 2020 is about, [mixing] this sole with this other thing. Building off the past to create the future."
Logo tee
Talking about 2020. The future is now. And so custom graphics of the year itself ran throughout the collection as well as other graphics made in collaboration with author Brontez Purnell, featuring illustrations from the Harlem Renaissance redrawn by hand and paired with typographic profanities. A simple, accessible, tee with the year in college font is bound to draw in a new crowd of consumers.