This week's FRONTPAGE (which is featured in the new issue of Highsnobiety Magazine) is all about musical sensation Tems, a pop star who is blazing a trail for modern African soul.
A good mononym carries its own mythology. When done right, a lone name can deeply embed itself in our conscience, conjuring up something magical and uncompromising. Just think of Sade, Beyoncé, Prince, Cher, Madonna. And now, we have Tems.
A Tems song is a real place. It's hard for a three-minute track heard on the radio or streamed while idly scrolling to be so visceral that it transports you inward, but that's what Tems did four years ago when she released her first song, the self-produced, slow-burning "Mr Rebel" – that's when a fan base calling themselves "Rebel Gang" began to assemble. And with every song since, from the moment her voice enters until the last note hangs in the air, we are at her mercy. It's rare for a solo debut to deliver on such an enormous promise: That this is modern African soul, and Tems is the standard, the moment.
"Whenever I'm dealing with so many things, I remember three years ago I was that girl in Ajah, Lagos. Nobody knew me, I was just a singer with a dream to share my music. I'm still that girl today, and that just brings me perspective," says Tems from a makeup chair ahead of our shoot, her great doe eyes never breaking contact through the mirror. "Every day you have to keep remembering who you are and where you are coming from." Her words are resounding in this context; a makeup artist fussing over her, racks of designer clothing lining the wall, and, outside the sound of a snow machine humming away on a lavish winter wonderland, where moments later she'll enchant the camera.
Before the world discovered her soul-stirring talent, Temilade Openiyi was studying economics at Monash South Africa University in Johannesburg. But she knew music was her destiny – it's always been music. "Music gives me life. My focus, my passion, there's never been anything else. I write so many songs and I just want to find someone that loves them as much as me, to find a community that would accept me." Tems pauses, weighing her words delicately. "I think I've definitely found much more than that."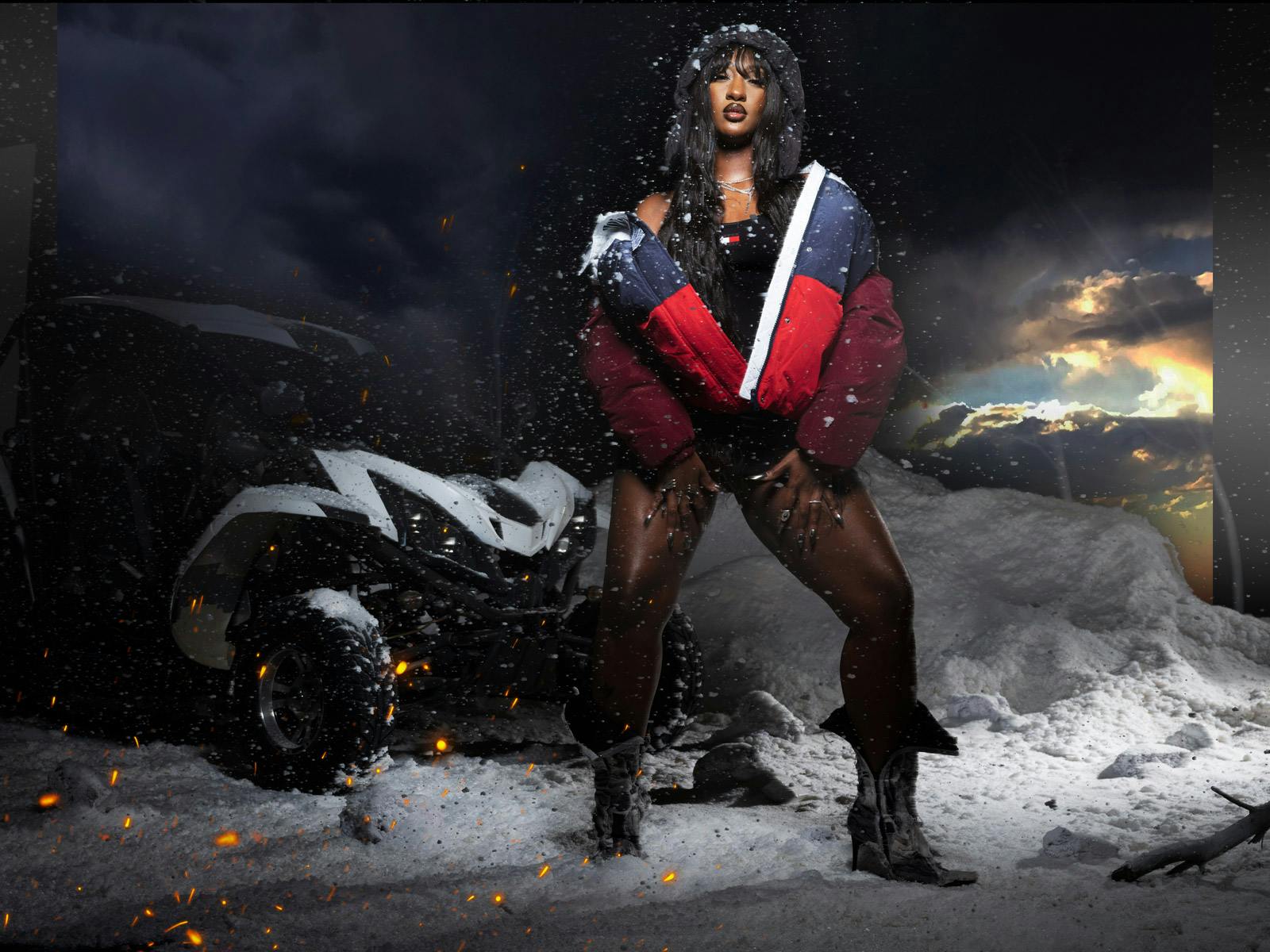 "The way I hear music, there's certain sounds I hear…" she drifts off, trying to grasp the words to explain her innate talent. "Once I hear a beat or something on the radio, I can hear multiple possibilities of a melody. And I don't know where that melody is going to go, but I need to do something with it." While in South Africa, the country's dynamic dance music caught her ear. Inspired by the movement's unpredictable sounds and undeniable soul, Tems developed her skills at producing – a kind of self-guided apprenticeship. "South Africans are very delicate with moving, and that's why the music sounds so good, because they take you on a journey," she says. "The way South African House or Amapiano builds up is so unexpected, next thing you know you're moving." Tems' music weaves together many influences, feelings and sounds. But soul is the common denominator: "As human beings, the only thing we all resonate with is the soul. And that's my thing."
Back in Nigeria, Tems stepped into the music industry "with zero expectations." "When you know what is at stake and you know what you're meant to do, you just have to do it. There's no time to think about it or be in your head," she explains in her melodic voice. "I can't control the reward. I can only do what I can and leave everything to God."
We know the rest of the story: after a slew of singles and a brilliant self-produced debut EP, Tems made her undeniability known. For Broken Ears arrived in 2020, in the midst of what can only be described as an explosive moment for African music. Still, the EP has little of Afrobeats' pop and gloss, zero chart-friendly hits, and no obvious single. Unphased by her contemporaries, Tems breaks convention and experiments with sound and her persona on her own terms. She pours out her heart unflinchingly. There's a war in her mind, and music is how she can get all this stuff out. "I try to be fine but I can't be / The noise in my mind wouldn't leave me / I try to get by but I'm burning," she sings on "Free Mind." Hindsight tells us this was an artist at the prime of her becoming, a multitalented innovator coming into her greatness.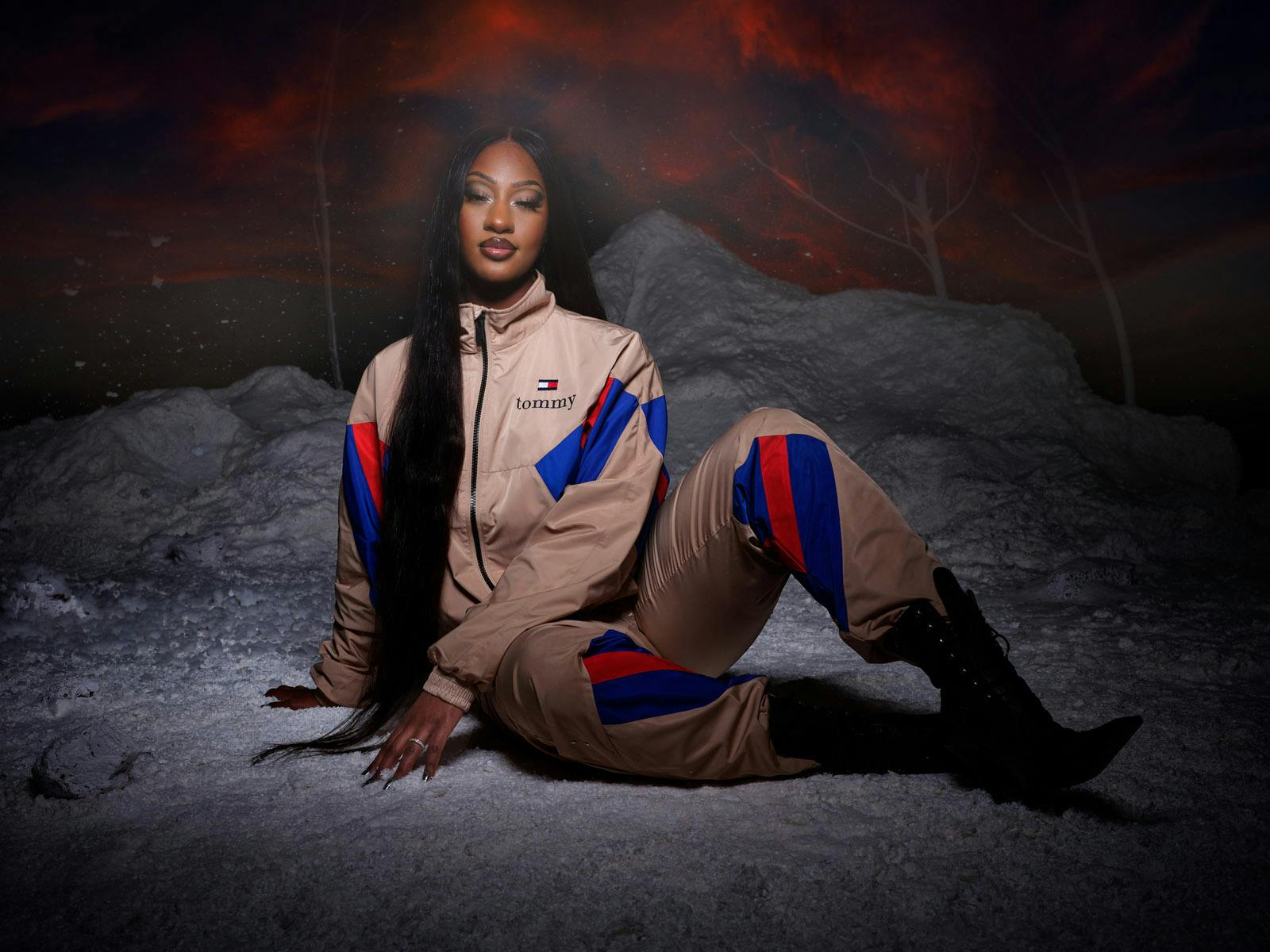 The same year, she delivered a legacy-making hook on Wizkid's hit song "Essence." It was the final trigger that launched Tems into the upper echelons of culture. Sure enough, a year later her name was in everyone's ear; features from Justin Bieber, Drake, and Future followed. Then another ethereal EP, If Orange Was a Place – a reminder that Tems is so great because of Tems, not other artists. She's snagged multiple rising artist awards, a Grammy nomination, graced some of the most important stages across the globe, and just became a face of Tommy Hilfiger. But if you ask her, she'll tell you not much has changed. "The only thing I would say that has changed is this, less time with yourself… Less time where it's also more adventures for me, more uncertain, but that's the beauty of it."
Tems doesn't like to dwell on her accolades. Our interview is unburdened by these heavyweight names in her orbit. She admits she's got many more surprises in the vault, but even those she's not one to boast about – it's one of her defining, appealing qualities. "I guess people only know me based off the last thing I did. But I've done so many things that are yet to be released, that I've already moved on from. And yeah, I feel like I'm five, ten steps ahead. And when it's time, I'll be excited to share a lot of the things that I've been up to." And the fans have flocked not to these associations or whispers of collaborations to come, but to her. That soothing voice that leaves you defenseless, her poetic appreciation for form, and lyrics that resemble diary entries. "My music is based off where I'm at in the moment. It's not always going to be painful, but it's definitely always going to be true."
It's heartening that an unapologetically African artist like Tems can be as appreciated and celebrated, without fitting into the glossy Afrobeats bracket, without needing international co-signs – those Drake and Future features can be chalked up to them simply being fans. Online – and in person – she's reserved, mysterious, adding to her own mythology. She's the anti-celebrity whose star won't stop rising.
"Life has become an adventure to me. I feel like I'm writing a book just by living my life and that's why…" she smiles coyly. "I'm looking forward to experiencing more of this book of Tems."
Head here to get a copy of the new issue of Highsnobiety Magazine.