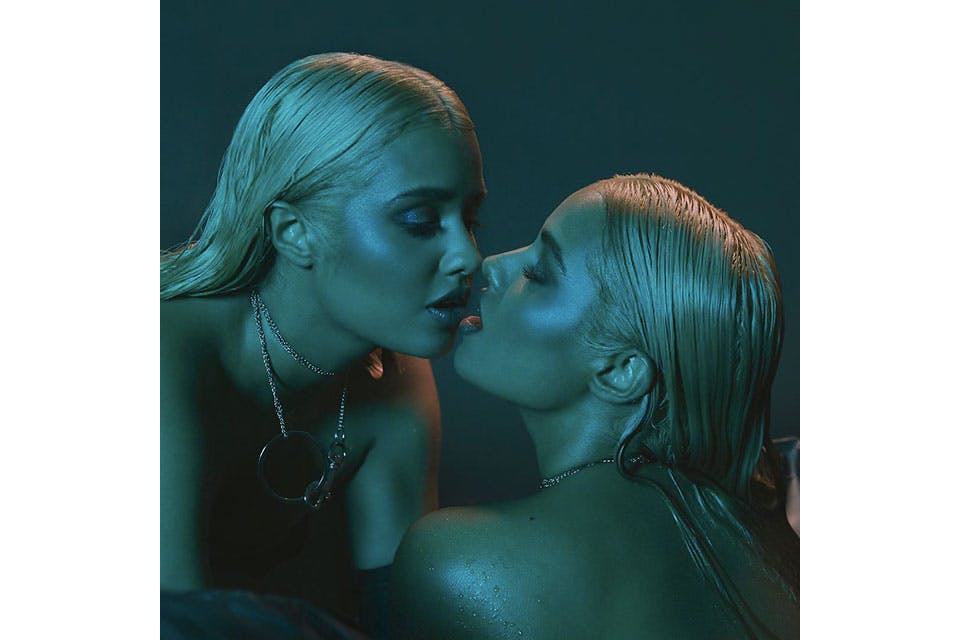 4.5/5.0
"The world's legs are spread wide open," Tommy Genesis told us earlier this year. "Everything good can come at you, but everything bad can come at you. You can put everything good out, but you can also put everything bad out really fast."
If the sounds and atmosphere of her self-titled album are anything to go by, Tommy Genesis has found her own way, through music, to explore all that the universe can provide - its light and dark extremes; the greyscale cognitive dissonance in between. From her public genesis as Tommy, it may have seemed like only shades of darkness befell the vision of the self-professed "fetish rapper." After all, our collective conscious and unconscious view of fetishes, indulging our wildest sexual desires and the world of BDSM specifically, are usually bathed in a seedy red light, associated with a depressing underbelly of society and not joy or transcendence.
Beyond dark-sounding beats and vocals that oscillate between dusky deadpan and flagellating lashes of rap verses, close listeners of Genesis might note an ecstatic feeling within them when listening to her music. At least, that's how I felt listening to some of her earlier work on World Vision, released on Father's Awful Records.
Since then, Tommy Genesis fans have had to cultivate relative patience in a world of never ending timelines and merch drops, let alone a world where it's not too unusual for mainstream artists to put out multiple mixtapes or albums a year. She blessed us with a couple of singles in 2016 and 2017 to assure us she wasn't going anywhere, and this year she made a splash with "100 Bad," produced by Grammy-nominated G.O.O.D. music affiliate Charlie Heat, which later received a Charli XCX remix. And it was only just over a month ago, at the end of September, that she officially announced she'd be dropping an album with her new label Downtown Records.
My expectations were quite high, I'll admit. I was experiencing the kind of expectations you'd have of a friend who you know is capable of anything; always colored by the visceral disappointment you'd feel if for some reason their output suggested they didn't give it their all. Happily, the 12 songs on Tommy Genesis made me feel like I finally have a grasp on what she's trying to achieve with her art, at least for the time being. And in short, my unfairly high expectations were entirely met.
Genesis has covered her bases with the requisite raunchy raps we've been conditioned to expect from her like "Daddy," "Bad Boy," and "Play With It." But overall, the sound on Tommy Genesis has evolved to become something that is very much her own. There were indications of this on the singles she released this year – even the reggae-flavored "Lucky," a much sunnier song than her "fetish rap" staples, showed us that we shouldn't be so quick to classify her with subgenre shortcuts.
"Lucky" didn't end up on her album, but there are plenty of other tracks that could leave the listener with a similarly wistful sense of optimism (although not the amazing line "Look at my face, only thing more pretty is my pussy.") Album closer "Miami," "Drive," and Empress Of collaboration "Naughty" come to mind. The brilliance of all of these is that they offer up relatable sentiments of cognitive dissonance. On "Drive" especially, Genesis offers up her own tense aphorisms - "I'm not a scene girl, but I'm scenic" and "I've got a feeling I don't feel alright." With the interplay of voices on "Naughty," bolstered by Empress Of's angelic utterances, the listener is confronted with some brilliant worldplay - the sentiments of "It's Naughty" versus "It's not enough," not to mention the opening line "I like this boy, he's full of shit." It all gets to the core of what it's like trying to grapple with being in one's feelings over a love interest - a situation that is at once so pure and immediate but so infinitely complicated.
In the so-called 'age of streaming,' the one thing that struck me about Tommy Genesis is how well-paced it is. The track sequencing is - dare I say it - perfect. I also found myself experiencing visceral cravings for certain transitions between songs. It's all so well-engineered to listen to from start to finish, and songs that could in theory be jarring when juxtaposed together sound like they absolutely belong one after the other.
As mentioned, Genesis has created and shared a sound, or more accurately, a collection of sounds, that is completely her own. Whereas other artists might pull off a multi-genre, melting pot approach, hers is, and has always been, one that aims to create genres. Hence, her self-described "fetish rap" has evolved in to what she now refers to as "art rap." From the frenetic breathy moans and synths of "Daddy" to the emoting guitar strums paired with trappy beats on "Drive" and "It's Ok," Genesis is just scratching the surface of something, a world perhaps, where things can sound (and look) at once slightly disturbing and comforting, where a person can be whatever they want to be without deferring to obvious linguistic shortcuts about easily categorizable "identities," where the universe is light, dark, and everything in between.
Tommy Genesis' self-titled album is available to buy or stream. For more of our album reviews, head here.