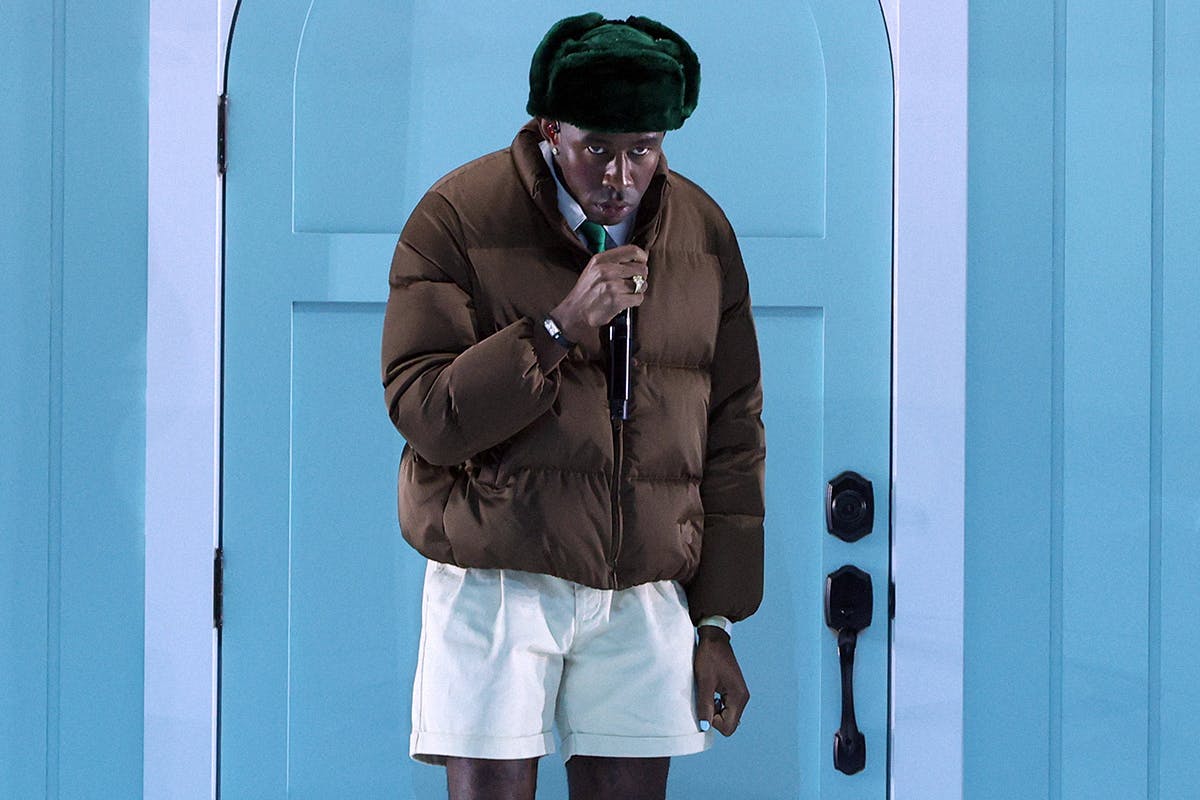 Performing his song "Massa" at the American Music Awards, Tyler, The Creator proved that he does not care much for seasonal-appropriate dressing. Combining staple items from completely contrasting seasons, his on-stage look was made up of a pair of shorts and a puffer jacket that managed to make us feel both cold and overheated at once.
Not being one to play by the rules, the pairing makes little practical sense. And yet, because it's Tyler, the entire fit feels natural, thanks to his signature style that playfully experiments with traditional menswear classics.
Pulling up a pair of white socks halfway up his calves with black loafers, an on-foot pairing synonymous with the former Odd-Future frontman, he also wore a white shirt and green tie. Another item that is usually reserved for only the coldest of weather and a regular fixture in his outfits, Tyler color-matched his tie with a green ushanka.
It's an outfit that is very similar, bar a few details, to what the Grammy Award-winning musician wore to the Gucci Love Parade at the start of this month. That event was followed only days later by the LACMA Art + Film Gala where Tyler's all-black outfit combined a puffer jacket, shorts, loafers, and an ushanka. We feel a new signature look coming on.
While strange to us, it is, of course, possible that this is something that feels completely natural to someone who grew up in the hot climate of Los Angeles as Tyler did — a way of managing to wear your favorite jacket without overheating. Or, it could simply allow him to sport a winter outfit while enjoying the ease of movement that shorts provide. Regardless of why it makes sense for Tyler, he makes a strong case for ditching long trousers this winter.
Check out how Tyler has managed to consistently make a winter jacket and shorts look like they were made to be together below.
A smart-casual combination
All Black
An everyday look