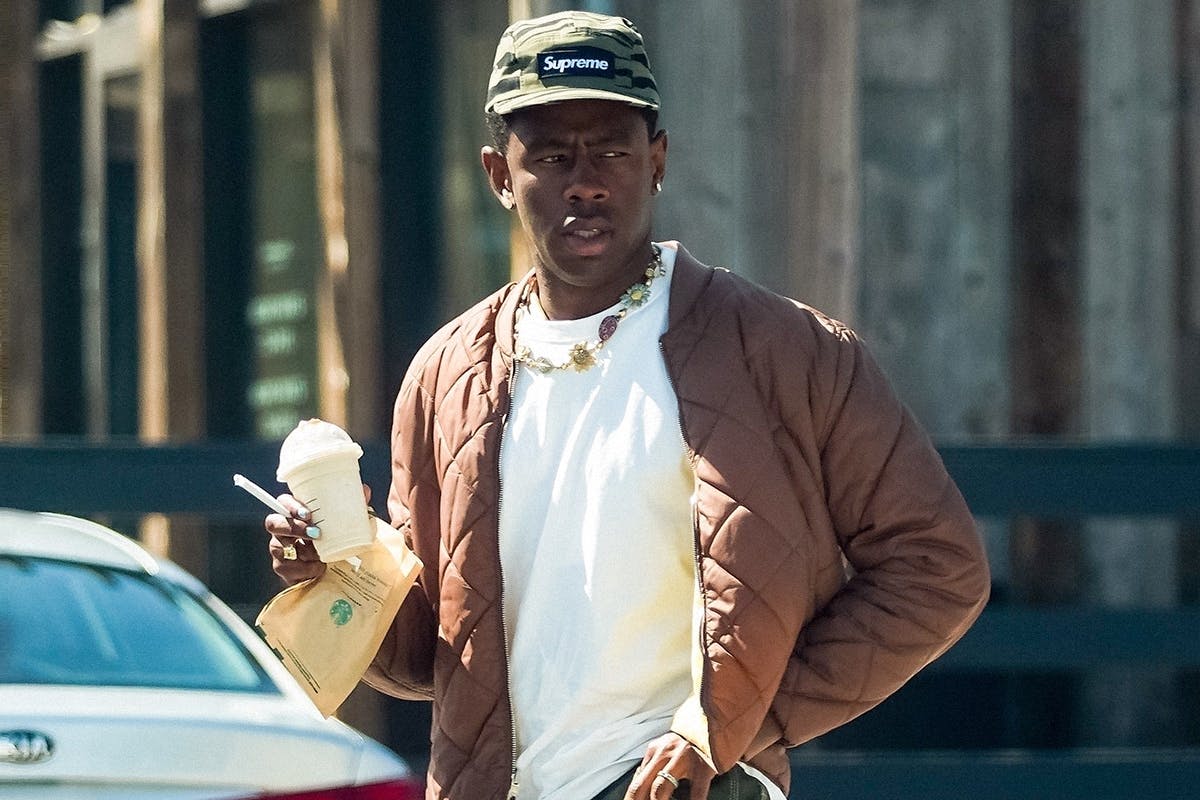 The best album rollouts are the ones you can lose yourself in. And Tyler, The Creator is pretty much the king of that category. With an affinity for reinventing his style with each project and another album just out, we're witnessing a new era of Tyler fits.
Ahead of the album release, the rapper dropped another music video to give us a sartorial taste of what Call Me If You Get Lost is all about. Titled "Wusyaname," the visuals open on a globetrotting Tyler – what's with all the luggage references lately, Ty? – driving through the idyllic countryside in search of a particular brioche. However, when he stops off at a roadside cafe it's love at first sight and he proceeds to test out his pick-up lines on a particularly uninterested (and unavailable) love interest.
As with anything Tyler puts out: there's a stellar fit moment to be discussed. So let's jump right into it.
Gone are the eccentric Cherry Bomb-era color codes, the preppy Flower Boy fits, and IGOR wig. Enter, Tyler, The-Ushanka-Hat-Wearing-Fit-God.
Some people like to dress from the footwear up, but we feel like Tyler does it the other way around. The delicious fit seems entirely curated to his eccentric brown fur headpiece. With a leopard sweater vest – worn over an oversized plain white tee – picking up the brown tones. And the color story continues into a pair of brown trousers, cut just above the ankle to make room for crisp white socks and black loafers.
It's the same style cue we saw in the album promo (below), where this time around Tyler matched his white ushanka hat with his – and his love interest's – white socks, undershirt, and her skirt. From this since-established style story, we think we're correct in assuming that this is the new Call Me If You Get Lost uniform.
Anyways, if you're someone who reinvents their closet with every Tyler, The Creator album, you're in the right place. Our resident steez selector Rhianna Matthews picked out some pieces to get the "Wusyaname"  look below.
Shop the Tyler, The Creator "Wusyaname" Look
Supreme Faux Fur Ushanka
Supreme Leopard Vest
Auralee Trousers
Our Legacy Loafers
Want to keep browsing? Head to the Highsnobiety Shop for more products that we love. Highsnobiety has affiliate marketing partnerships, which means we may receive a commission from your purchase.