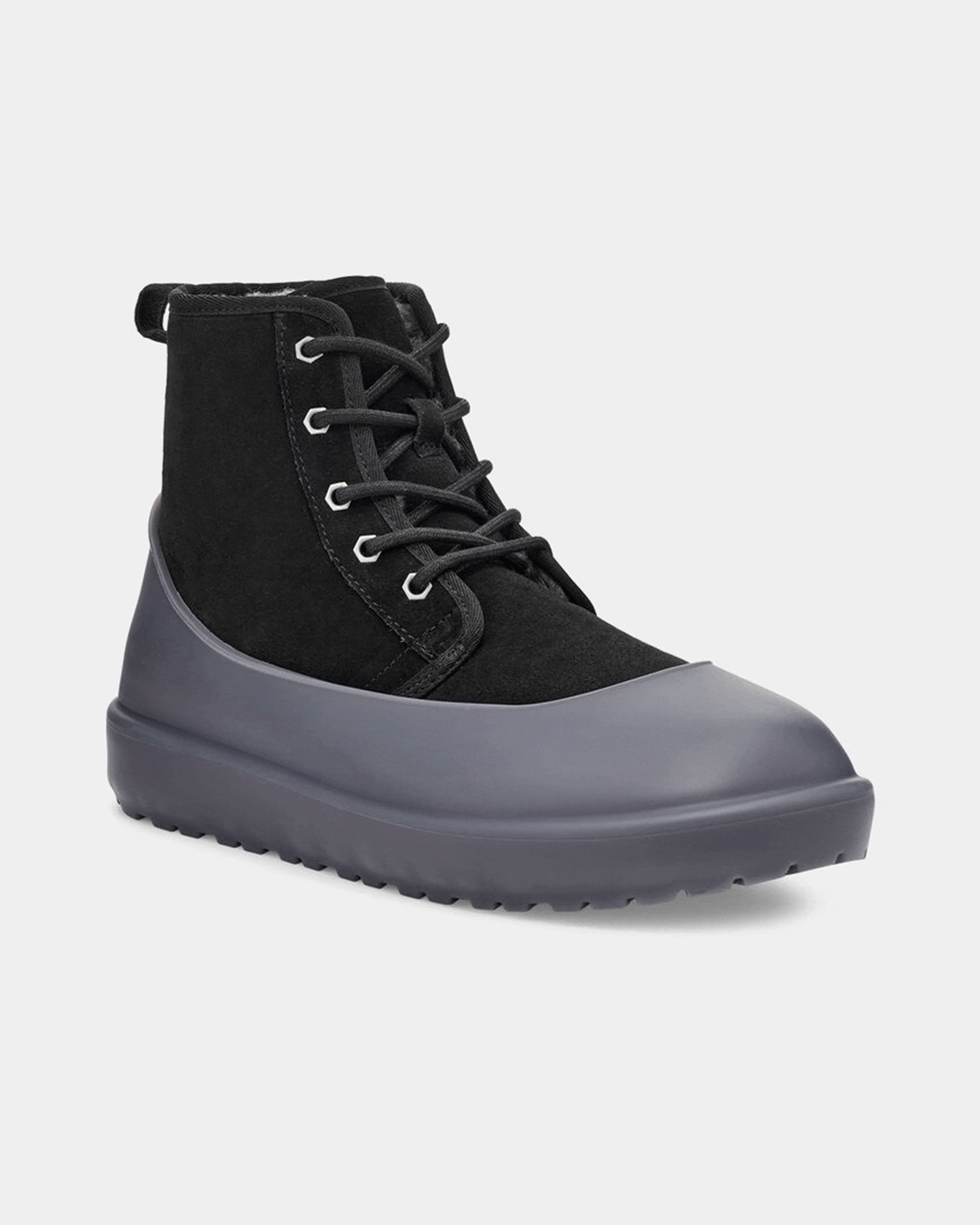 Uggs have never really been a must-have item for sneakerheads—until now. The Ugg Boot Guard, originally released in 2021, was designed to protect the brand's classic fuzzy footwear from harsh weather conditions with the use of silicone rubber galoshes. And now, sneaker lovers can't get enough of it.
Despite the guard launching a year prior, it wouldn't be until late September 2022 that men's style Instagrammer Tolga reimagined its use, ushering in a new era of the sneaker world's love affair with Uggs. After purchasing a pair of tan Ugg Boot Guards, he noticed they could be paired with his custom coffee-dyed Salomon S/Lab XT-6. When asked about it, Tolga says, "I love giving my shoes and clothes a second life by adding in small bits of creativity. The simplest things you do can result in the most unique twists."
HiddenNY reposted him later that day, and the sneaker-guard mashup took off from there. The unique use of a hype sneaker helped highlight the boot guard's legitimate functionality, outside the boots they had originally been created for. Typically, men don't wear galoshes despite the protection they offer and, for those that do, options usually start and end with dress shoes.
Shortly after the two Instagram posts, sneakerheads globally began posting their renditions of how they used the guard to elevate their sneaker collections. This gave birth to a new trend: The hashtag #uggguard currently has over 21 million views on TikTok. Popular TikTokers like Cain Beaudoin showcased it on classic silhouettes like the Nike Dunk, which eclipsed 2.4 million views.
The increased attention on functionality, multi-use, and utilitarianism, often synonymous with the gorpcore community, has certainly helped catapult the guard into the limelight. As we scroll through endless posts featuring brands like Arc'teryx, Salomon, The North Face, or Gore-Tex, we increasingly expect more weather protection from the products we wear.
Because most hype sneakers tend not to be weather-proof, the guard has embedded itself as an effective solution for consumers to both add sleek color accents as well as protect their prized possessions.
On the other end of the spectrum, luxury brands like Bottega Veneta, Prada, and Balenciaga have recently released footwear using silicone rubber bottoms. Bottega Veneta and Balenciaga have arguably been two of the most consistent leaders on this front, with standouts like the Puddle Boot, Rubber Flash Clog, and Trooper Rubber Boot.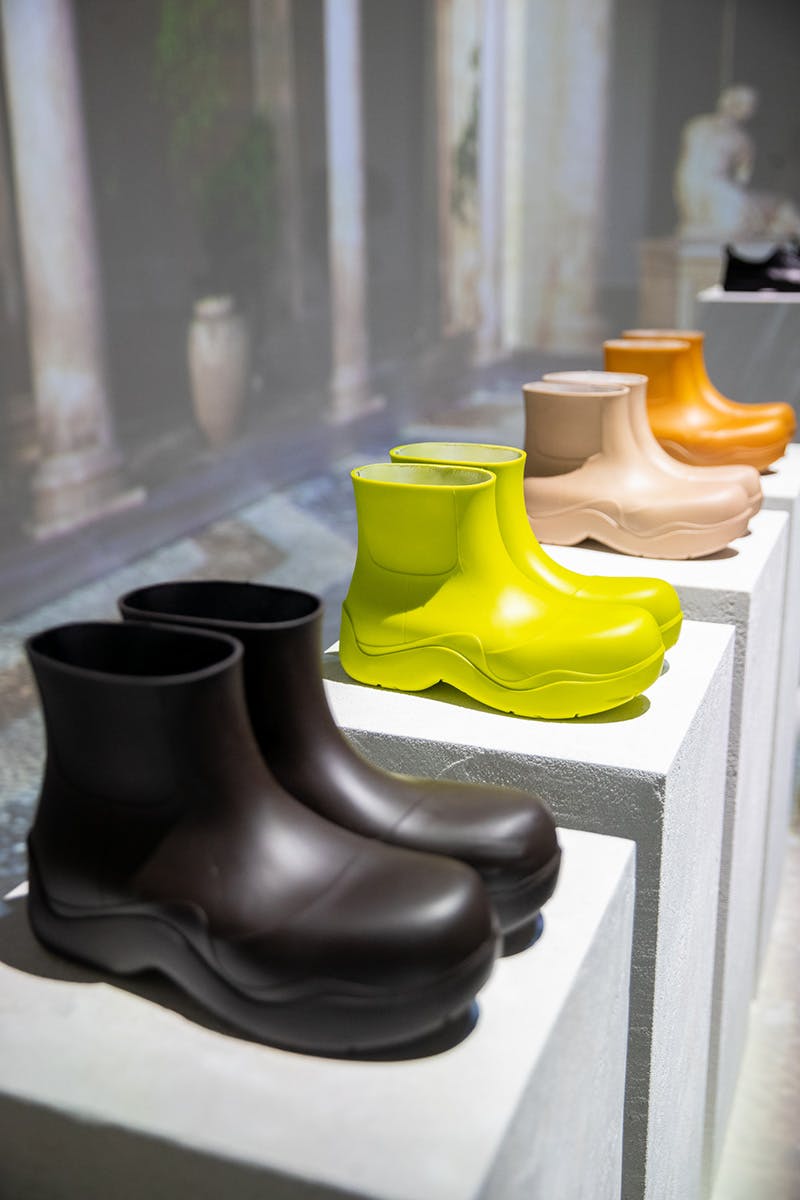 Prada's Monolith Gabardine Boot highlights a more modern approach using rubber bottoms. Their reinterpretation of classic galoshes in the Foam Rubber Booties serves as an example of the style's evolution. Even Fear of God released its own version in the California Mule, which became an instant hit with fans.
While the hype is being pushed by luxury and gorpcore enthusiasts, the aesthetic has been a staple for brands like L.L.Bean, whose Duck Boots have been a more affordable waterproof option since its release in 1912.
With the Ugg guard, priced at $50, the brand disrupted the trend within men's footwear by making it financially accessible and inclusive to a wide category of footwear options.
For a community that has spent countless hours collecting, cleaning, and flexing its grails, the guard's resurgence couldn't have come at a better time. As we make our way deeper into the colder and wetter seasons, sneaker aficionados will now be able to widen their rotation with a weatherproof option to combat the unpredictable conditions ahead. Come rain, sun, hail, or snow, drip will no longer need to be relegated to the back of the closet.