Much like the hermit, Vegyn is a creature that finds comfort in solitude. When he descends from the stairs of the Standard Oil Building on a dreary morning in October, he pulls up solo—there's no entourage, crew, or agents tending to his every need. This is who he really is; Joe Thornalley. All he requests upon arrival is a cup of black coffee, no cream or sugar necessary.
After showing off his fresh spider web tattoo by Will Sheldon, Vegyn tells me about how he's recently sparked an interest in reading tarot because "anything that inflicts a degree of self reflection is a good thing." At the time, he can't seem to stop pulling The Hermit card, a symbol for guidance, introspection, detachment, and inner reflection.
Jessica Dore, a licensed social worker who uses tarot cards as a dialogue for mental health, once said that The Hermit "looks poor, but beneath his cloak is a wealth of wisdom that comes from preserving resources inherent to his inner light + gifts." In a follow-up tweet, she went on to explain how it "reminds you that true security will need to come from within." The accuracy is hard to deny once you've spent a few hours with Vegyn.
Naturally, the conversation pivots to the next big ice breaker—astrology. Vegyn is a Virgo, an earth sign that is peaceful, but supposedly hard to love because of their hyper critical and detail-oriented nature. They're extremely organized, responsible, and stable, but have a tendency to overanalyze and worry which can come off as controlling. Virgos allegedly steer things to align with their personal preferences, but are always willing to be of service by helping others. Aside from that, they're charming creatures with good manners and taste, and Vegyn is no exception.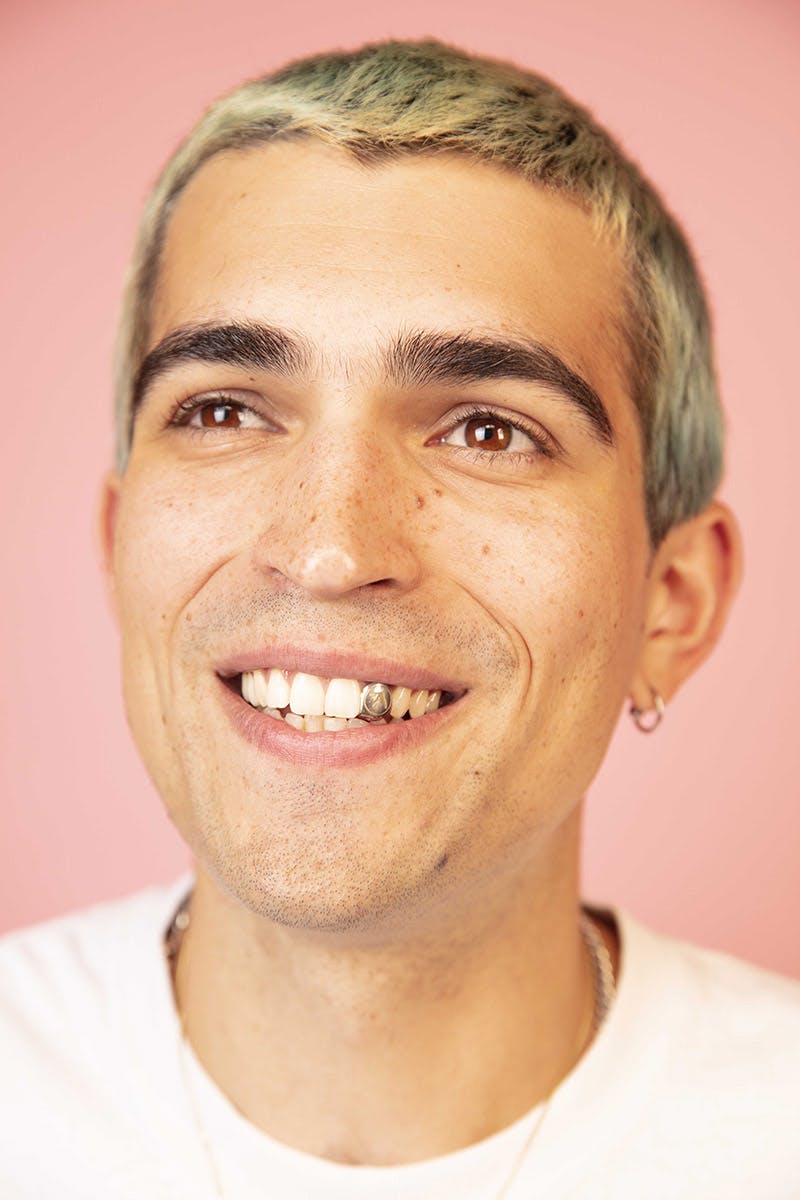 Vegyn was brought up within an artistic family in Northwest London, his mother a professional graphic designer and his father a working musician and songwriter. (One of his earliest memories is of his dad closing the door to the house studio on his fingers.) Having direct access and exposure to all of those resources was sort of like a divine intervention; Vegyn essentially inherited all of those traits, merging both sides into his own creative outlet that would eventually lead him to electronic music upon being denied entry into art school.
When speaking about the complex genre, Vegyn is delighted to point out the appeal of how there's a "certain level of fetishism to electronic music" with all the barriers to entry that make it sexy and mystifying. There's something quite romantic about it. "I'd always been into electronic music because that was my way of rebelling," he explains. "I suppose if you grow up in a creative family it's almost like everyone's really great and supportive and they understand, so in that way that was like music that my parents had no context of. It was more like my kind of escapism, and that didn't make any sense to my dad, you know?"
By now, everyone with a pulse for what's trending is aware of Vegyn's affiliation with Frank Ocean. His influence can be detected all over 2017's Blonde and Endless. Obviously, he's grateful for the opportunity (because who wouldn't be?) and it's only opened more doors for him as he continues to expand with his label, PLZ Make It Ruins. Vegyn has also attached himself to other boundary pushing artists along the way like JPEGMAFIA.
He compares the act of collaboration to building a sculpture because "you're making something and looking at it one way and then someone can come along and just sort of tilt it to one side and be like, 'Look, it's unfinished from here. Let me do it.'" When asked about the most valuable insights that he's gained from both artists, Vegyn emphasizes the uncompromised "commitment to ones own vision and trying to see that through to the best of one's ability" while testing out as many ideas as they can.
"This is one of the few places you actually have control on all those so choosing how you want to present yourself, it's hard work," he says. "[Music]'s an intrinsic part of who we are and it's kind of weird how easily accessible it is now, how consumable it is... Typically, the super old stories throughout history are poems and songs, but that's just because mimes make it easier to remember things."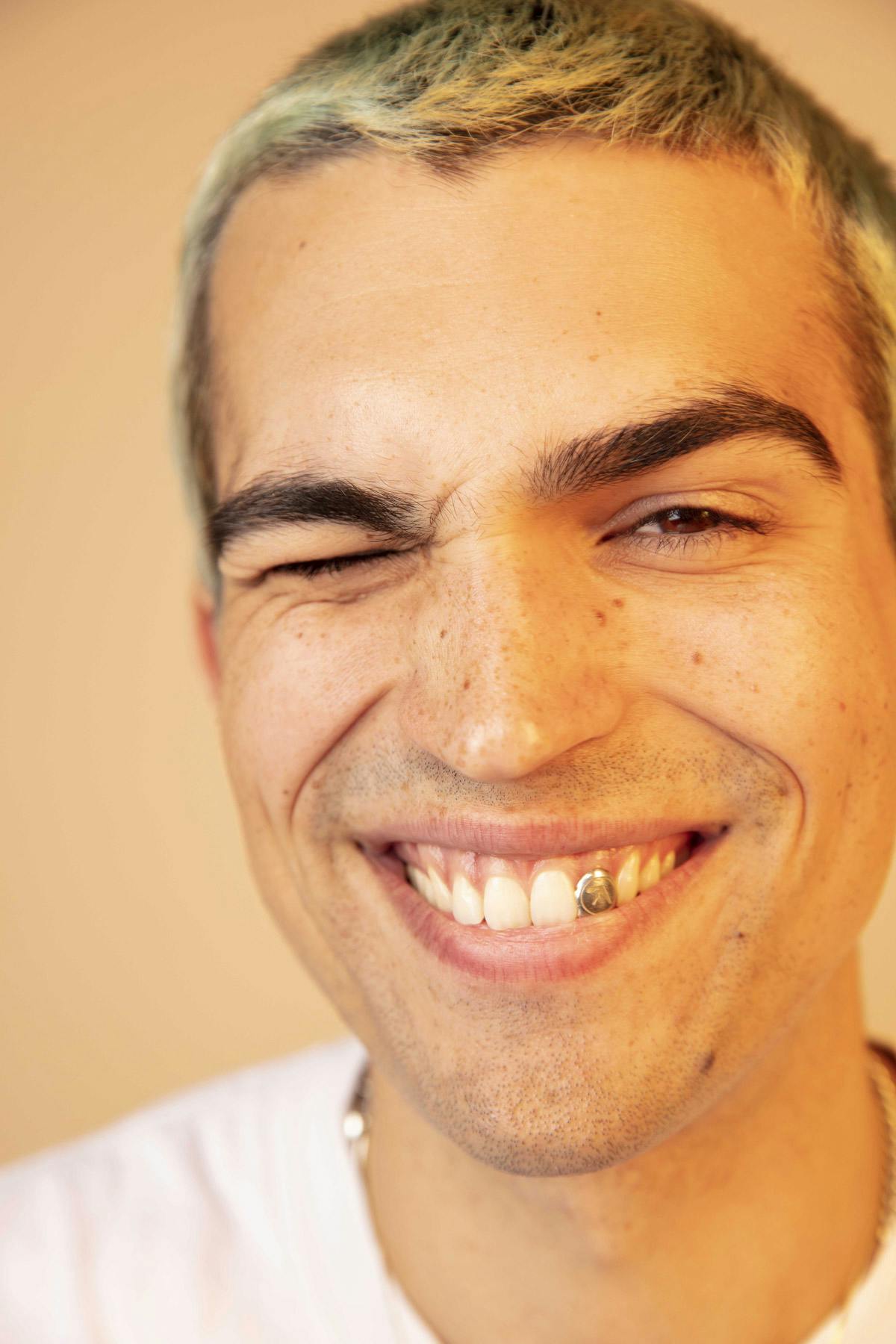 At the top of this year, Vegyn dropped Text While Driving If You Want to Meet God!, a 71-track mixtape he describes as an archive of unfinished ideas. It's heavily branded with car crash imagery, a visual metaphor for his personal feelings about the overall concept. For him, it was "a way to detract from any one particular composition" by removing the expectation of presenting a project that appeals to listeners from top to bottom.
"The idea of doing an album was always something that had scared me," he explains. "Like I was saying earlier, life's kind of about confronting fears. So initially I was trying to think about ways I could cheat. I was like, 'Oh maybe I can just take all my good beats and filter them together, maybe that can be the album.' Pretty quickly I figured out that's not going to be an effective way of doing it."
His sparkling debut album, Only Diamonds Cut Diamonds, feels like riding a malfunctioning carousel that won't stop spinning. The title touches on the "perception of perfection or beauty" and the journey endured to reach a standard of superior quality without cheapening oneself. While Vegyn has been constructing the base of the project for a long time, he's been sitting on it for about a year in order to align everything on his terms. He smoked a lot of weed and would switch between productive periods where he worked on it "ferociously" and then took breaks for one or two months to work on himself.
"That for me is where the inspiration comes from," he says. "I have to take time away from compositions that I've been working on for months and months and months because there's no way to see through the [vision]."
During those lulls, Vegyn zeroed in on his anxiety and tried new approaches to remove stressful triggers from his daily life. He hates the "rise and grind" mentality where people feel pressured to work all the time in order to suppress a deeper fear of not achieving success. In fact, he has no problem declaring that "it can go fuck itself, it's stupid." Vegyn has no interesting in subscribing to any of that, he'll just stick to waking up, drinking a cup of coffee, and doing some form of meditation.
"We're constantly obsessed with overcompensating for who we are," he adds. "I have a habit of picking apart my flaws and laying them out and being very self critical."
Since that creative cycle has passed, Vegyn has managed to quit smoking cigarettes and weed, stop seeking out attention from others, and fully enjoy his alone time within different environments—one day he hopes to reach a stage where he can take himself on a holiday and be completely on his own. Vegyn now gets instant gratification from cooking veggie pasta dishes for friends, practically salivating over the temporariness of preparing a meal. "It's actually a time where I can listen to other peoples music," he smirks.
Pushing through the album process served as a vehicle for Vegyn to remember how to make music for himself again, truly the most important lesson he could have learned.
"One of the other platforms of your first album is condensing down everything that you are and presenting 'This is who I am,'" he explains. "This record is... It is me, but I don't feel like it's everything I have to say. It's like a shade of who I am, and that covers a lot of different bases of what I make."
Vegyn did not set out to make a stereotypical producer album with a huge selection of songs stacked with vocalists. He gets the logic behind cross pollination strategy and the appeal of touching a variety of fan bases, but that wasn't his prerogative. Only Diamonds Cut Diamonds consists of 16 compositions with a few "washed out" features from special guests sprinkled in there.
"A lot of producers end up falling into the habit of trying to make things for other people and that's very much a vicious cycle," he explains. "You try and make stuff that's going to get placements, because that's where you're going to make money, but then what you end up doing is you just mend. All of the time, people just want to hear the same thing, but slightly different."
If anything, this record illuminates his contributions to the projects of his collaborators so listeners gain a better understanding of his signature techniques. He adds, "This album is about me standing on my own and so if it was being sold on who's on it, it kind of defeats the point."
Later on, Vegyn previews some of the mock-up illustrations for upcoming merchandise drops, like a robot cowboy he collaborated on with sshh co-owner Bráulio Amado as seen on the single artwork for "It's Nice to Be Alive." He loves a good print, even going as far as to say that "a t-shirt is worth more to me than a vinyl because a vinyl has one use and a t-shirt you can wear for the rest of your life."
If the devil's always in the details then Vegyn is the head seamstress behind the spinning wheel, weaving a thread that is reconnecting people together with strong feelings of familiarity that pass with the switch of each track.
"Life is kind of contributing to the never ending sort of pool of reference, and so it's like, here's my little contribution," he concludes. "That's obviously fab if somebody else hears it and that inspires them to make music that then inspires someone else... There's a lineage to it all, so I'm just channeling the freaks."