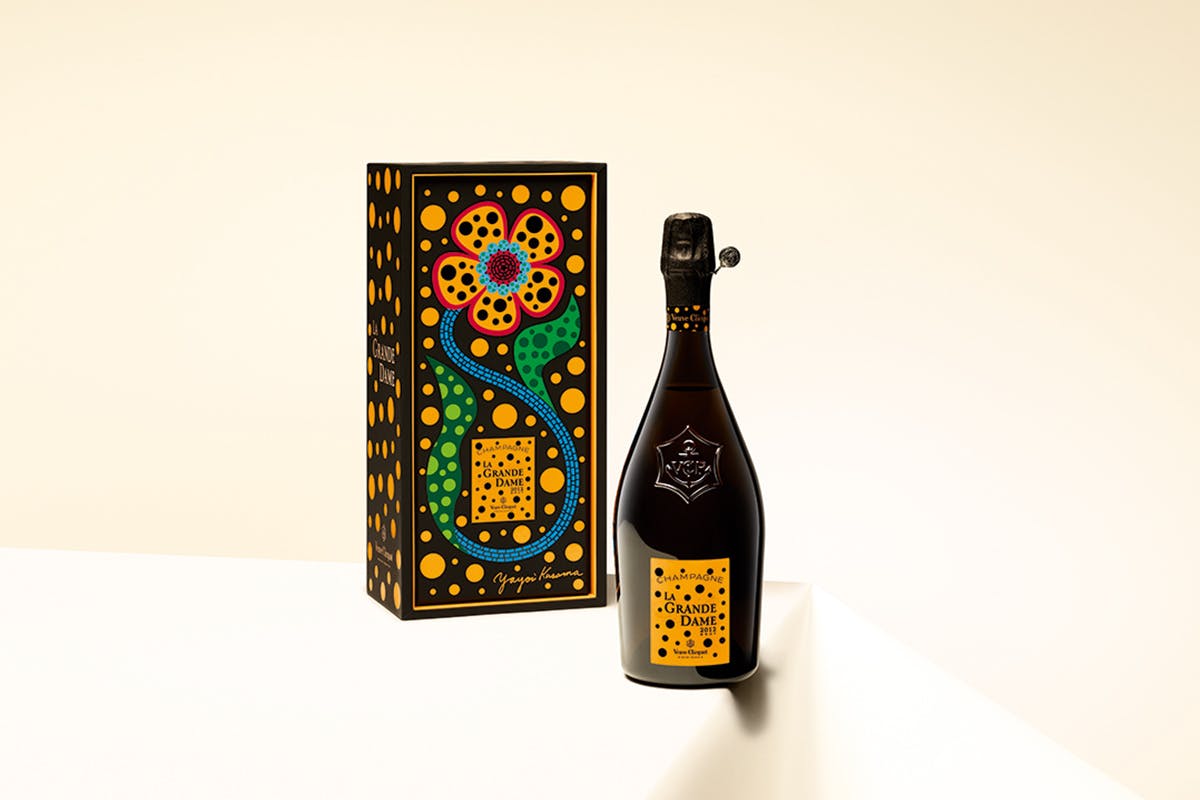 Words by Christopher Turner
Veuve Clicquot and iconic Japanese artist Yayoi Kusama have joined forces to celebrate the house's vintage La Grande Dame 2012. As part of the collaboration, the 92-year-old artist has designed a limited-edition bottle and case that serve as a vibrant tribute to La Grande Dame of Champagne — Madame Clicquot.
Known for her larger-than-life works of art and her extensive use of polka dots, Kusama is largely noted as one of the most influential living artists in the world. In recent years, the self-described "obsessional artist" has captivated audiences globally with her insanely popular and unapologetically photogenic "Infinity Room" installations (such as the Infinity Mirrored Room installation at the Art Gallery of Ontario in 2019), which have become among the most publicized pieces in the contemporary art world.
Of course, Kusama's art, and her life, are much more interesting than her Instagram-friendly reputation. By her own account, she started painting as a child as she began experiencing hallucinations that she says often involved fields of dots. Those child-like hallucinations would become an integral part of her career. Kusama had very little formal training, studying art only briefly in the late '40s at the Kyōto City Specialist School of Arts in Japan. Conflicts with her family, and her desire to become a working artist, pushed her to move to New York City in 1957. In 1968, as the Vietnam War grabbed the world's attention, she sent President Richard Nixon a letter in the spirit of peace and free love. "Our earth is like one little polka dot, among millions of other celestial bodies; one orb full of hatred and strife amid the peaceful, silent spheres. Let's you and I change all that and make this world a new Garden of Eden," she wrote.
Since the 1970s, Kusama has continued to spread messages of peace and love through her art, primarily in sculpture and installation, but she has also been active in painting, performance, film, fashion, poetry, fiction and more. However, it's her installations in various museums around the world that have turned her into a fashionable global phenomenon. Today she is the Instagram queen of the art world – reportedly the most frequently tagged living artist on the platform.
With her collaboration with Veuve Clicquot, the luxury French champagne house founded in 1772, Kusama was determined to send a much-needed message of joy to the whole world after nearly 20 months of living an often-isolated life. In fact, Kusama's uniquely designed bottles and gift boxes for Veuve Clicquot were specifically created with bright colors to help convey a cheerful message of hope and optimism.
Like much of Kusama's work, the ornate details that adorn the case and vintage-inspired bottles are symbolic: the opulent flower symbolizes vital energy, love, and celebration of life, while Kusama's signature polka dots are reworked appropriately, akin to champagne bubbles.
The name of the bottle, La Grande Dame (The Great Lady), is a nod to the brand's Madame Clicquot Ponsardin, who became known as the Grande Dame of Champagne in the early 1800s. Clicquot took the reins of her husband's business when she became a widow at age 27, blazing a trail as a female entrepreneur at a time when this was simply unheard of.
The collaboration between the two trailblazing icons will also see the release of a floral sculpture dubbed My Heart That Blooms in the Darkness of Night. This opulent creation wraps around La Grande Dame 2012 Magnum and is an extravagant tribute to nature, which was cherished as much by Madame Clicquot as it is by Kusama. Crafted through more than 250 hours of work, it is available only in 100 numbered pieces.
Veuve Clicquot's La Grande Dame 2012 collaboration with Yayoi Kusama will be available soon at select wine stores across the US and Canada. For more information, visit veuveclicquot.com.