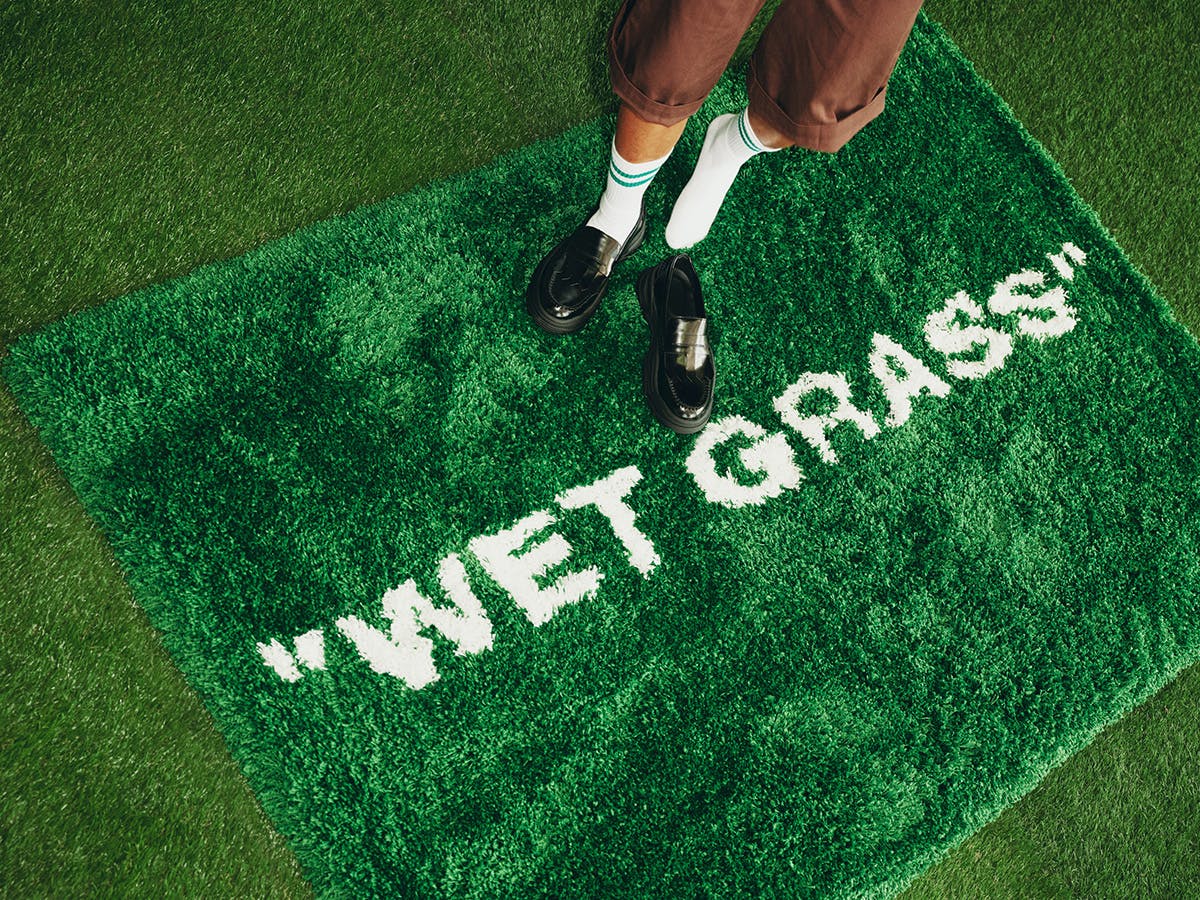 After more than two years of teasers, surprise drops around the world and countless other era-defining projects, the release of Virgil Abloh x IKEA "MARKERAD" is finally here. A grip of products is set to hit IKEA stores on November 1 and includes a bag, clock, pillow and blanket set, welcome mat, mirror, Mona Lisa light box, shelving unit, chaise longue, chair, rug, table and toolkit.
Ahead of the US launch of Virgil Abloh's collaboration with IKEA, we sat down with the multi-hypenate designer to learn more about the intentions and ideas that went in to the highly anticipated "MARKERAD" collection. See an edited version of our interview below and make sure to drop by Highsnobiety's launch party in New York City if you're in the area. Find out how you can get your hands on a piece after the interview.
Jeff Carvalho: Let's get right to it. Can you think of a household item that inspired you when you were younger?
Virgil Abloh: Power tools were always interesting to me. It was the '90s and we were always borrowing. Me and my friends borrowing our dad's jigsaws, nail guns and wireless screwdrivers to build skateboard ramps.
I was always building stuff by hand. I think that's what was most important about those years of being a teenager and a young kid. You're building furniture: you don't even think of it as design. At least, that's how I grew up in the suburbs of Chicago. You just think the sofa is a sofa. That thinking has crept into this IKEA project.
My chair in the IKEA MARKERAD collection is inspired by the chair that I grew up with before I knew what design was.
Do you remember a specific point when you saw a chair as more than a chair?
One hundred percent. I had to have been in my early twenties. I did a degree in engineering and then a Master's Degree in Architecture at the Illinois Institute of Technology, which was a Mies van der Rohe curriculum (he also designed the building).
In the library was his Barcelona chair. It's something that I had seen. It's not just functional; there's design to it and I was enamored by that. It's kind of like a Jordan 1 by Tinker Hatfield. That's what got me into furniture.
When we first talked about the project with Henrik Most (Creative Lead, IKEA) in 2017, we talked a lot about the idea of accessible design. Now that you've put your signature on an IKEA collection has your viewpoint changed on those objects?
It's very difficult to make something that's accessible and have it be as substantial as furniture. What makes IKEA remarkable is these things that I put just as much design integrity and thought into, somebody in a suburb, like the 17-year-old version of myself, can actually afford it for under a hundred bucks.
And it comes full circle. When I was that young, I never had a chair or a rug or a clock that I actually cared about.
The rug has become one of the standout pieces. I'm going to ask you this literally: can art be stepped on?
To me, it's almost like a pair of Jordan 1s: they are meant to be worn—and a Jordan is a piece of art.
When it came to the rug, I wanted to challenge that it could be put on the wall just as much as it could be put on the ground.
What role does the idea of "IKEA hacking" play into what you've done with IKEA?
It's essential. There's a number of pieces that in my mind people would adopt into their own home. Where I grew up, there were these furniture places that sold blank furniture. They were just raw wood and you were supposed to stain them yourself. I wanted people to be, like, I can make it my own. It's part of our culture.
No one wants to look exactly like anyone else. It's like streetwear where everyone styles themselves with their own sensibilities. So I thought very much the interior of your house can be adaptable. Like you could slap on a bunch of Supreme stickers and make your own version of the chair.
We are in a world of fit pics but no one really shows their apartment.
Is there one IKEA MARKERAD item you feel best embodies your design language?
It fluctuates. For me, the chair: there's multiple layers to it. It's both generic and very specific. The fact that it has a doorstop attached to the leg is so subtle but so odd at the same time.
Also, I really like the Mona Lisa light box. It's true to scale. I put my signature on it; it makes it something of the time.
Do you feel like this will encourage IKEA to collaborate with more unexpected designers? Have you opened the door for others?
It comes with a tremendous amount of responsibility. Same at Nike; they had collaborated with a number of people in the past. It's like Highsnobiety: it's matured to a place that's very different than it was in the first third of its existence. What seemed to be just an insular niche now affects product design mass scale.
I think companies are now in their third or fourth iteration of understanding how to work, how to really crack open and relate to a new generation. I'm always hesitant to be very insular. Like I was saying with the Barcelona chair: in that era, it was for a select few. Like if you get it, if you can afford it, this is speaking your language.
But I'm more like, "hey, how do you get someone who's never even heard of Le Corbusier or Jeanneret to be interested in the bed?"
My goal with all my work—whether it's fashion at Louis Vuitton or shoes at Nike or furniture with IKEA—is that I want another person to come in after me and do things that wouldn't have been able to have been done before.
On Friday, November 1, customers may line up at IKEA stores for wristbands beginning at 7 a.m. local time. First come, first served. Sales begin at 10 a.m. local time. Each wristband permits purchase of a maximum of one unit of each MARKERAD product style, as available. Wristband does not guarantee product availability or purchase.
The products are not available online or in Planning Studio. Selection may vary by store. Each IKEA store may not carry all 15 product styles in the MARKERAD collection. Camping and overnight parking are not permitted.
For more about Virgil Abloh, watch below.