A$AP Nast has the new, highly exclusive 'one of 22' racing gloves designed by Virgil Abloh and Mercedes-Benz Chief Creative Director Gorden Wagener. So does designer Don C, singer Ian Isaiah, London DJ Skinny Macho and your favorite culture boy Zack Bia. And you don't. It's why you want it. Or at least it's Abloh's attempt to rethink what drives desirability, with his new race-car inspired collaboration with the German automotive giant that launched today as part of a press preview.
#TheNewLuxury indeed (sounds familiar?). It's the official hashtag Abloh and Wagener created for their new anticipated collaborative endeavour titled Project Geländewagen — the original name of Mercedes' best selling G-Class model, changed in 1994. On the surface, the partnership is simply another alliance added to Abloh's ever growing roster of collaborations. Look deeper, and like everything he does, it's a case study aimed to progress how we think of luxury.
Beyond just the way details have been modernized through color, placement and reduction, Abloh's way of curating the launch to create buzz through influential pioneers, including London photographer Bafic, who shot the campaign, shows his power as a modern day branding and communication chief. Venturing into the automobile industry is equally a smart move, now that his original following who grew up with Pyrex and Off-White are growing up. It's not the car they want, but the idea of the car. It's what Lamborghini smartly did with its partnership with Supreme, and Porsche with Aimé Leon Dore, Daniel Arsham and soon L'Art de Automobile.
Back to the car itself. There will just be one version of the Mercedes-Benz G-Class that the Off-White founder and Louis Vuitton creative director created with Wagener. A one of a kind home-scale replica of the artwork, however, will be auctioned off following the launch, with proceeds being donated to an undisclosed charity that supports young artists. The winner of the model auction will also receive exclusive access to the co-creators, digging deeper into the model's ideation and creation.
If "rebuilding the luxury landscape" as Abloh and Wagener put it, sounds vague, it's because it is. So we asked them to elaborate. Take note.
I heard you both own a G-Class. Did that have to do anything with how the partnership between you two came about? How did it start?
Gorden Wagener: Yes we do, the G-class is the most iconic car that we have at Mercedes-Benz, and it just so happens that Virgil and I both drive one, a G-63. We first met in Paris and immediately started talking holistically about the project, talking the same language. We started the design process by analysing its DNA, breaking it down to the essence to find out what makes it so iconic, capturing the experience of owning and driving the G-class in order to create a new and different interpretation of it.
Virgil Abloh: It shows that luxury doesn't have to conform to ways of the past. It shows that design can show a new personality. Our partnership came about sort of organically. We met up, and instantly started flowing ideas back and forth of what we could do if we were to collaborate, and it all just grew from there. Gorden's history with Mercedes and design is top class. What's great is that our conversations were conversational, it wasn't just one side. We both have lives outside of our careers. That's where the meeting point came in. I remember distinctly talking about Gorden spending time in California, and [we talked about how] I remember it feels when a car arrives at Nobu Malibu. It's a specific thing. It's important that we stay human and apply these [experiences and memories] to our design profession. The thing that's noteworthy is that we started a conversation two years ago. This is just one of the ideas to set the standard of how we're thinking in a different place than the epicentre of design. It's completely different than anything I do. It's a car, it's something you grew up dreaming about and have an affinity for.
What was the process between the two of you when creating this artwork? How did you find a middle ground for the end result? What are some of the key elements in the design, hidden details?
Wagener: We liked Virgil's approach to collaborations - we didn't want to just invite a fashion designer to "design" a car for Mercedes-Benz, we wanted the project to be truly collaborative, and the collaboration was one of the most fruitful I have ever had, especially with a designer from a completely different field. We were both unapologetic about taking risks, which made the journey a fun and inspiring process, with the most important factor being that the end point respected the beginning, which was to offer a new interpretation of the G-class and create a truly iconic piece of design. Reduction is one of the most important design elements. We stripped back the whole of the G's exterior and interior, to make a final monolithic piece.
Abloh: One of the key points that we wanted to come across in the final product is the idea of being handmade, and human touch. You see this most in the finish of the car – it's not a glossy, dark paint finish. This is intentional and something that was really important to the both of us. We've brought in a lot of racing elements as well, which are apparent throughout the exterior and interior of the vehicle.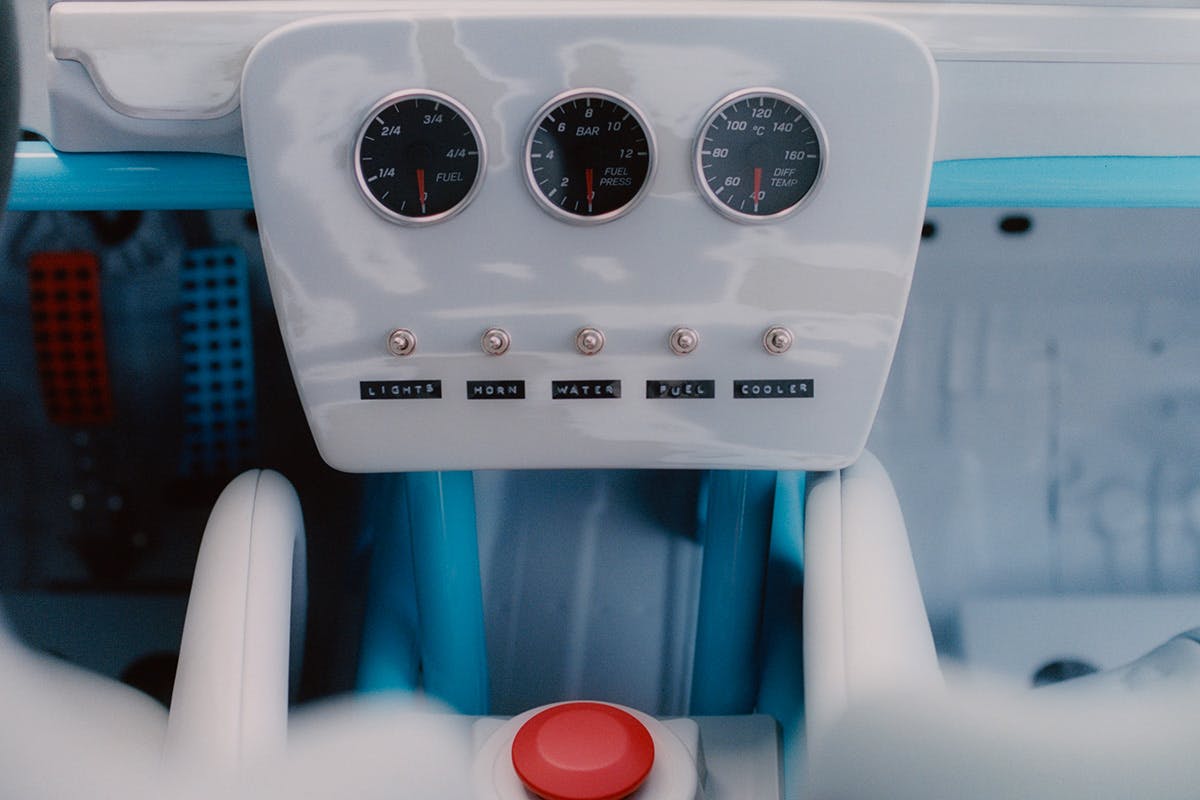 The definition of "luxury" has evolved so much over the years. No longer is it strictly defined by price point, exclusivity or craft alone. You talk about this project having the aim to "create a new vision of luxury that is defined by the sharing of ideas and disciplines." Is that what luxury is in your eyes? What other elements makes "luxury" today?
Abloh: Luxury for me will always refer to items or experiences that we covet. Luxury is something that should be modernized over time. The beauty of design is that we're adding to objects that came before and we're putting it into a new esteemed future. I believe in cross-disciplinary thinking. The end result is something unique and reminiscent of that.
Wagener: Virgil's unique take on modern luxury has great synergy with Mercedes-Benz: it is not just about a particular product or one piece of design but building a holistic luxury brand that captures the zeitgeist. I see Mercedes-Benz as a luxury label. We don't just deliver a luxury product, but intangible luxuries such as beauty and the extraordinary, but also a sense of emotion, safety and security. For this project, we wanted to explore a new definition of luxury, one that is stripped back, honest, and makes sense for the times we live in, which is what Virgil brought to the table. In a nutshell, luxury is what we make tomorrow. In a normal definition, it's about what's most rare and desired at its time. This piece is fast forwarded in time, a new interpretation that wasn't there before.
This idea of cross-pollination between creative disciplines isn't new, but it's growing. What does feel new is the marriage between fashion, art, and the automobile industry. Why are cars the logical next frontier for fashion (and young fashion consumers) to take an interest in in your opinion? Why now?
Wagener: Our products and the brand have always had multiple touchpoints to many cultural industries from music, to sports, and of course fashion. Personal style, and how you portray yourself stopped has long stopped being limited to one thing. A luxury purchase – such as fashion, or art, or cars – is all linked with one factor: extraordinary design. This is a very interesting decade in the automotive field. We design cars 5 to 10 years ahead of their [launch]. All these new trends like AI are changing the market more than ever before. That's why we're stepping out and making [Mercedes] more of a design company.
Abloh: These fields are more interconnected than it might seem. To be successful in each it requires a vision, and design is at the core of each. The G-Wagen has been a cultural icon for decades, we're just further ingraining that notion.
Proceeds of the auction will be going to charity to support young artists, why is this support more important than ever during this critical time? What will the important role be of young artists going forward?
Wagener: With this project, we hope to empower the next generation of young creatives to collaborate on a global scale, to take design, art and culture to the next level. Mercedes- Benz' passion to innovate never stops, and doing what you love – such as working creatively with others as we have done with Virgil on Project Geländewagen – is critical to fruitful creativity. Young artists and designers must continue to carry this energy and passion, to drive innovation.
Abloh: I don't come from a "traditional design background" nor did I get opportunities like [many] kids like myself. The spheres of automobile design etc, weren't always offered to kids like me. Everything I've ever done in my own career has been in service to the next generation coming after me, to pave the way for next class and giving them the chance to see someone who looks like them doing these things. We want to ensure that they have the tools they need to be successful, which is what we're doing here and through my Virgil Abloh "Post Modern" Scholarship Fund.