The crossover between fashion and the outdoors has had us all in its Gore-Tex-lined clutches for a few years now. We've discovered the mood-boosting benefits of spending time in the fresh air and the sense of invincibility that comes from having the proper gear to endure it. Meanwhile, fashion houses and outdoor brands have seen the opportunity in cross-pollination, the result being more collaborations than you can shake a Zegna ski pole at, and labels launching their own platforms catering to this new demand—Moncler Genius, Prada Linea Rossa Snow, and The North Face Purple Label to name a few.
With all the collaborations we've seen in the past few years—Jil Sander x Arc'tery, Jack Wolfskin x GmbH, Gucci x The North Face, Burton x Virgil Abloh, and so on—it might feel as though this new-found territory where high fashion meets high performance has reached its apex. But, it's clear that our need for clothes to be comfortable and perform as well as serve our stylistic demands is now a given—and there's no turning back. Collaborations served as the catalyst, and as knowledge sharing between luxury labels and performance players continues to flow, we can only expect to see more innovative, experimental gear as a result.
As we broaden the conversation around the outdoors, we also break down the trope of the plaid-wearing, bearded male explorer, and continue to open the natural world to more people. Whether that means more Frank Ocean wearing Mammut front row at a Louis Vuitton show moments, or (more importantly) more community initiatives giving access to the outdoors to those who wouldn't usually get the opportunity—the world of fashion and the outdoors still has so much new ground to chart.
To get an insight into what's to come, we pulled together thoughts from brand innovators, community leaders, and change-makers who spoke at the launch of 520M, our new platform with ISPO, the leading sport and outdoor fair, which explores the intersection of performance, fashion, and culture.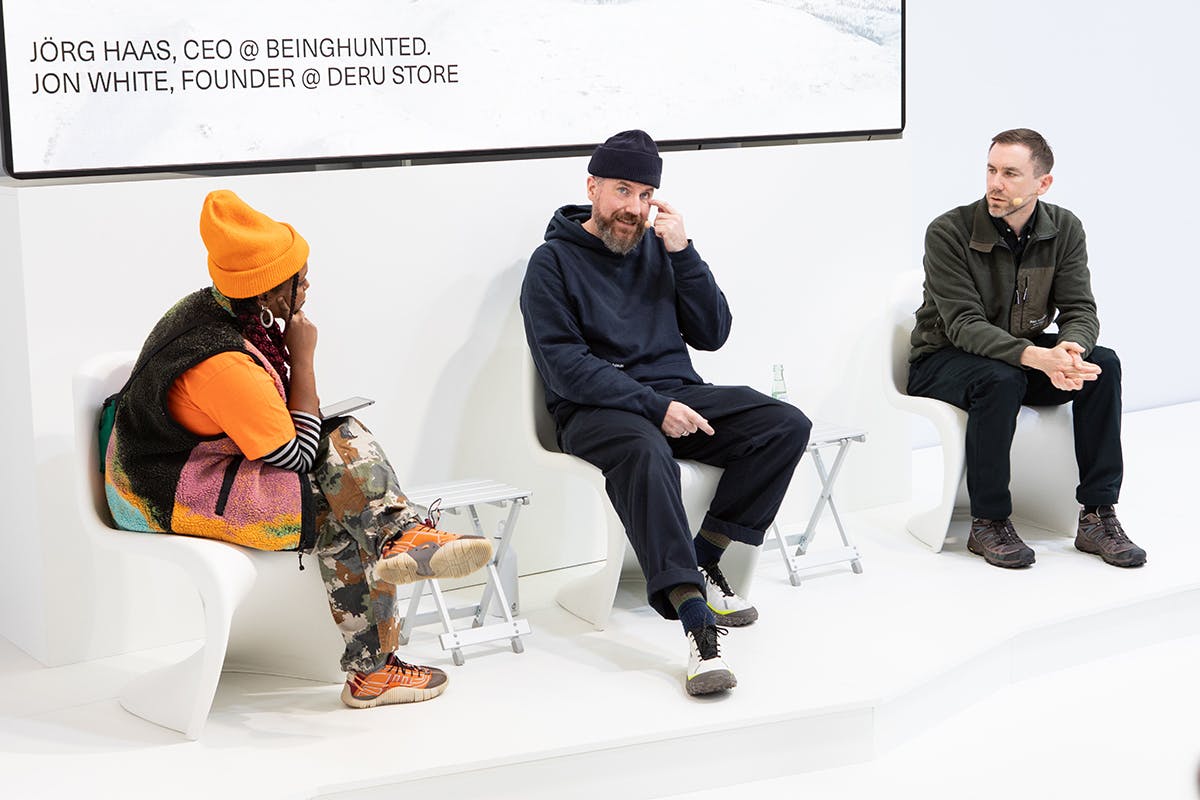 Alexandra Hackett, Collaborations Manager, Highsnobiety: There are quite a lot of parallels between sportswear and luxury. Firstly, from a heritage perspective, a lot of sportswear brands have been around for a really long time, and heritage is part of their core DNA. There's a dedication to quality, which again, is something that exists in luxury brands. It's interesting how many similarities there are. To me, that proves that there's a lot of potential in fusing these two.
Tsellot Melesse, film director & founder, Black Canary 030: I've seen it already lift the barrier, at least interest-wise, as the outdoors scene can seem a bit closed off and inaccessible. I believe in the power of clothes and the way they can make us feel and even motivate us to do certain things, like going outside. I really feel like nature and being outside had a rebranding since the whole gorpcore movement, especially for the "urban–fashion" person—it's actually a vibe now to be outside in nature.
On the relationship between fashion and the outdoors:
David Fischer, Founder, Highsnobiety:  It's exciting to see that brands aren't just staging collaborations, but outdoor brands are creating their own lifestyle offerings and luxury brands their own outdoor offerings. These are slowly but steadily becoming integral parts of their businesses. We're very certain that this will only continue to grow.
On expanding the usage of product:
Marco Cassanmagnago, Head of Communications, Oakley: We have no problem if someone wants to style [our products] in a way that's not the specific purpose for which it was created. Otherwise, we would not be compelling with our statement, which is Be Who You Are. It's an invitation. We are not protective in that way; we're just very mindful of where we stand and what our values are. With partnerships, we look for brands or entities that are similar to that, or at least that understand that. On the other side, the product flows, and it's free to flow wherever people want.
Herbert Hofmann, Creative Director & Head of Buying, Highsnobiety: In the end, it's clothing. Why would you not want other people to wear a North Face jacket? They aren't going to be up the Himalayas; they'll be somewhere in San Moritz drinking Aperol Spritz. Be self-confident, and do your thing. Support the brand, make the brand grow, and continue to innovate because fun stuff can happen when a fashion brand steps into the outdoor space and vice versa.
On collaboration:
Selma Kaci, Creative Director, SEKA Agency: For me, [fashion entering the outdoor space] is a bit like when sneakers started to be a big thing. People that were in the sneaker industry already were not keen to share. There's often this wrong idea that doing collaborations compromises the integrity of the brand. I see it as the opposite. It's the possibility of so many new things that no one might have thought about yet.
Alex Hoye, CEO, Full Stack Supply Co.: What you want in an ideal collaboration is something that will excite at least part of your community and your collab partner's community, and ideally reach people you wouldn't ordinarily on both sides. [Faction's collab with] Prada hit shops that our core doesn't go into. [With collaborations] the questions are: Will it be exciting? Will it reach a base that we wouldn't ordinarily? And, is it fun? That's part of it too, right?
Valentina Savi, Global Lifestyle Communications, Gore: From the beginning, we collaborated with other brand partners. First outdoor, then lifestyle and fashion, too. The concept of collaboration was really in Bob Gore's mind. We need to collaborate with other brand partners to improve life, to make life easier for people. Our main concept here is not that we want to deliver, let's say, a "cool lifestyle." No, we are a functional brand; we want to deliver functionality, and we want to deliver performance.
On the power of the outdoors:
Alex Hoye, CEO, Full Stack Supply Co.: Why are brands talking to us nowadays? Because this wasn't always the case. It's because action sports bring excitement. It's a pinnacle of sport. It's creative. It's authentic. It's exciting. It's different every time, and it's something you can do. Maybe you're not able to do it at the skill level that some paid athletes are, but our fans get out there every day and feel their own liberty. That is something that brands want to touch. They want to touch that authenticity.
Ollie Olanipekun, founder Futurimpose & co-founder Flock Together: It shouldn't live, start, and stop at the product. If we're developing a jacket, that should be an opportunity for us to open that experience through storytelling, platforming new perspectives, educating, and inspiring. That for me is what we need to focus on. The product is the key to an experience.
On community:
Tsellot Melesse, film director & founder, Black Canary 030: I strongly believe that brands can only truly have an impact through an already existing community. Let the people who've been opening doors to the outdoors do their work, and you as a brand collaborate with that group. Not only is it authentic but it actually reaches people on a deeper and more intense level.
Ollie Olanipekun, founder Futurimpose & co-founder Flock Together: What was really apparent when we started Flock Together was that the attendees were doctors, lawyers, teachers, artists—a whole range of professionals. But when I talked to a lot of brands, there was this attitude, kind of, that community means brown and poor. It's not that at all. It's really privileged as well. [...] Brands have to do a lot more for those who want to be involved in outdoor activities, but not be professionals. Otherwise, there's a danger of falling into elitism. Mass participation is what we are here for.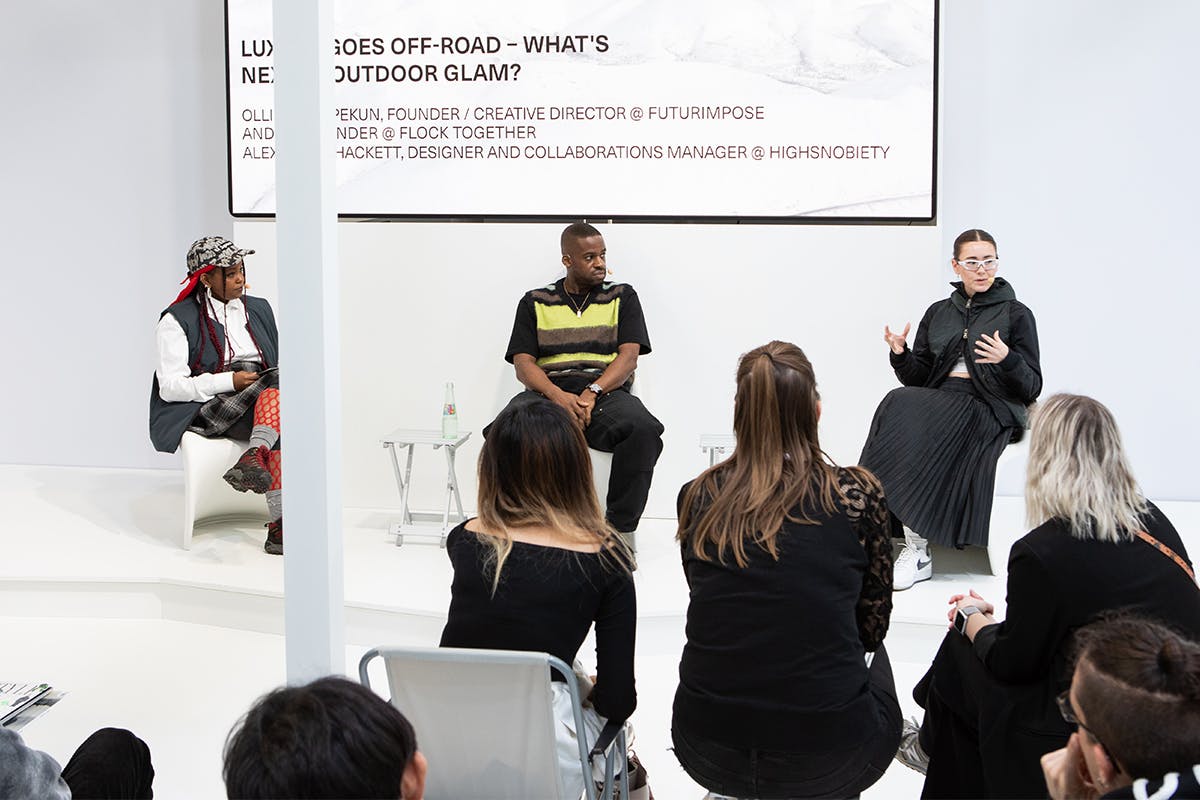 On what's next:
Alexandra Hackett, Collaborations Manager, Highsnobiety: Collaboration between sports and luxury was so new a couple of years ago, and it was very exciting. But now, brands need to do so much more to keep that energy. I've always been fascinated by this idea of mixing high-tech sportswear with casual wear and then trying to make it glam. At the moment, I'm really into artisanal sportswear—it's a term I'm coining right now—this idea of fusing the couture side of luxury with sport and really looking at that strong juxtaposition of themes and materials.
Ollie Olanipekun, founder Futurimpose & co-founder Flock Together: I think the power is, for big brands anyway, to work with community groups or individuals. There are so many learnings to be taken from those who live within nature and who are experimenting within nature. Then on the brand side, you've got this insane reach and production capabilities. Moving forward, I really hope to see more big brands working with smaller groups and individuals that are doing interesting stuff outdoors. It's really important to platform these new perspectives.
On sustainability:
Tobias Groeber, Head of ISPO Group: When you look at a brand like Patagonia, it's not a jacket; it's a statement, it's a mindset. [...] People today are a lot more conscious about the planet. [Sustainability] is the fundamental pillar of any company that wants to operate successfully in the next couple of years for several reasons. One is that our behavior is changing; secondly, that legislation is changing. You'll go out of business if you don't follow the rules which are driving the economy toward a more sustainable business. It's as simple as that.
Jörg Haas, Managing Director, Beinghunted: When do you not think about wanting shit? When you're at the beach, when you're cycling, when you're hiking, when you're having a good time outside with your friends. If you get people to enjoy the outdoor experiences that the clothing or the footwear allows them to get, because they feel comfortable, they can stay out longer. Then, maybe, that perceived need to have more shit will go down a bit. [...] That's what we need more of. Not just trying to sell the product but telling people, "hey, you can actually have a good time with this product outside."
Alex Hoye, CEO, Full Stack Supply Co.: Getting the message out around climate relies on social elements. [...] What we hope and believe is that the more people we get out there to enjoy nature, the more they're going to cherish it and take care of it and push their governments and major corporates also to take social responsibility.
Jon White, Founder, Deru Store: The only sustainable thing is producing less, selling less, buying less. Doesn't matter whether it's nylon or organic cotton. We have to find a way for businesses to survive on a smaller scale. [...] Brands need to slow down, and we need to slow down. How do we all find ways to slow down, consume less, and consume more intelligently, while still having fun?