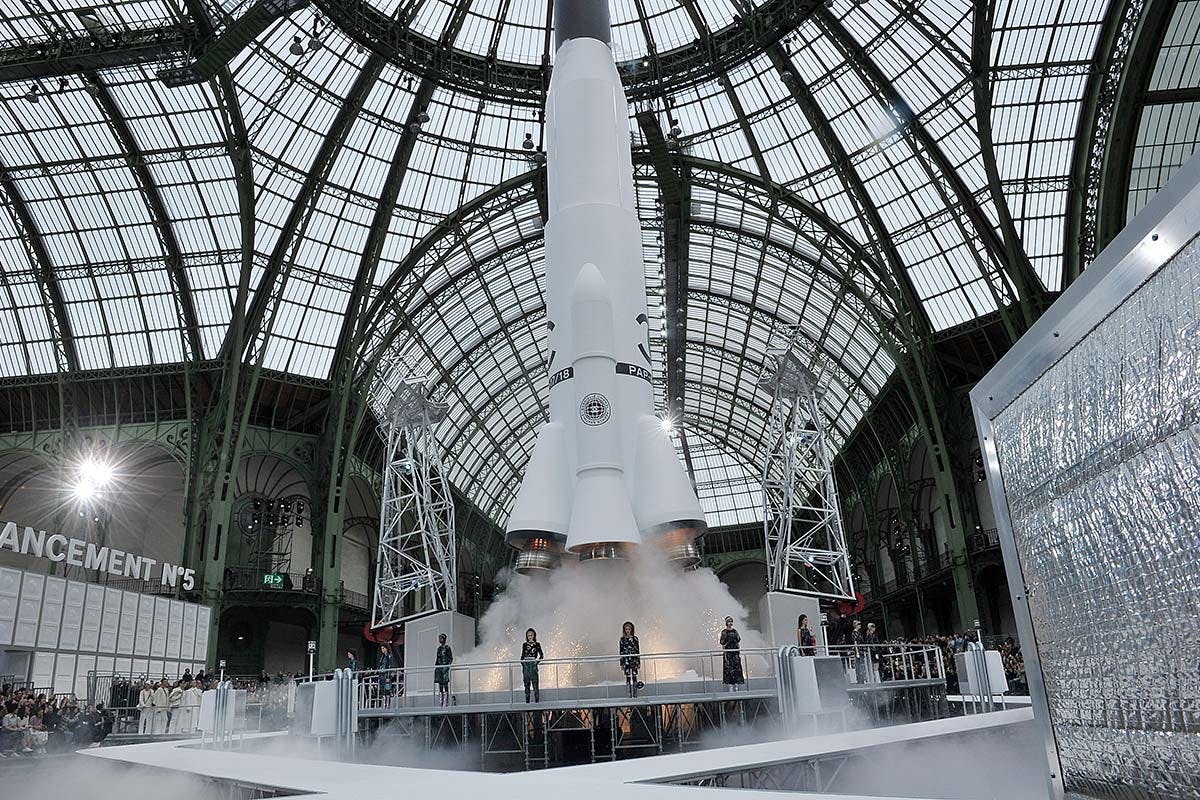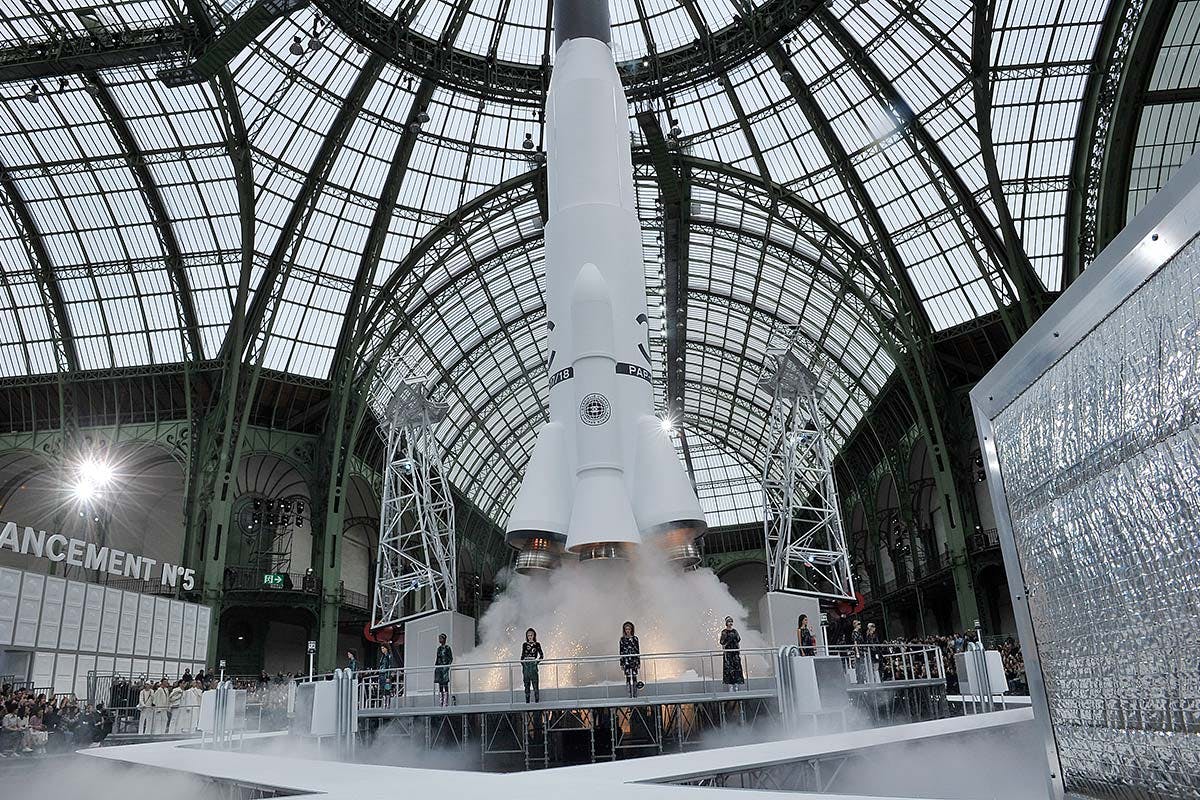 Chanel has produced some of the most transformative, sensorial experiences ever when it comes to the fashion mega show. Of course, the demigod responsible these full-blown fashion spectacles is none other than Karl Lagerfeld.
The prolific designer has rewired our expectations when it comes to consuming fashion on the catwalk, and his Chanel fashion shows are eccentric, cinematic wonderlands.
In the age of smartphones, frenzied iPhones in the air at a fashion show are par for the course, but Lagerfeld has been producing insane visual experiences at fashion week long before the instaquake.
For its most recent show, Chanel transformed the Grand Palais into a space station, and it featured a Chanel-branded rocket that literally blasted off. In reality, it was the marvel of movie-grade set design, because a real rocket launch would have no doubt killed every industry impresario in the room.
Following Chanel's interstellar fantasy, we take a retrospective look at the French house's most over-the-top, out-of-this-world, and totally spectacular fashion extravaganzas to date. We've also included a bonus fashion show from Fendi (Karl Lagerfeld has served as Creative Director there for 52 years) because it's a theatrical masterpiece that cannot be ignored.
Spring/Summer 1994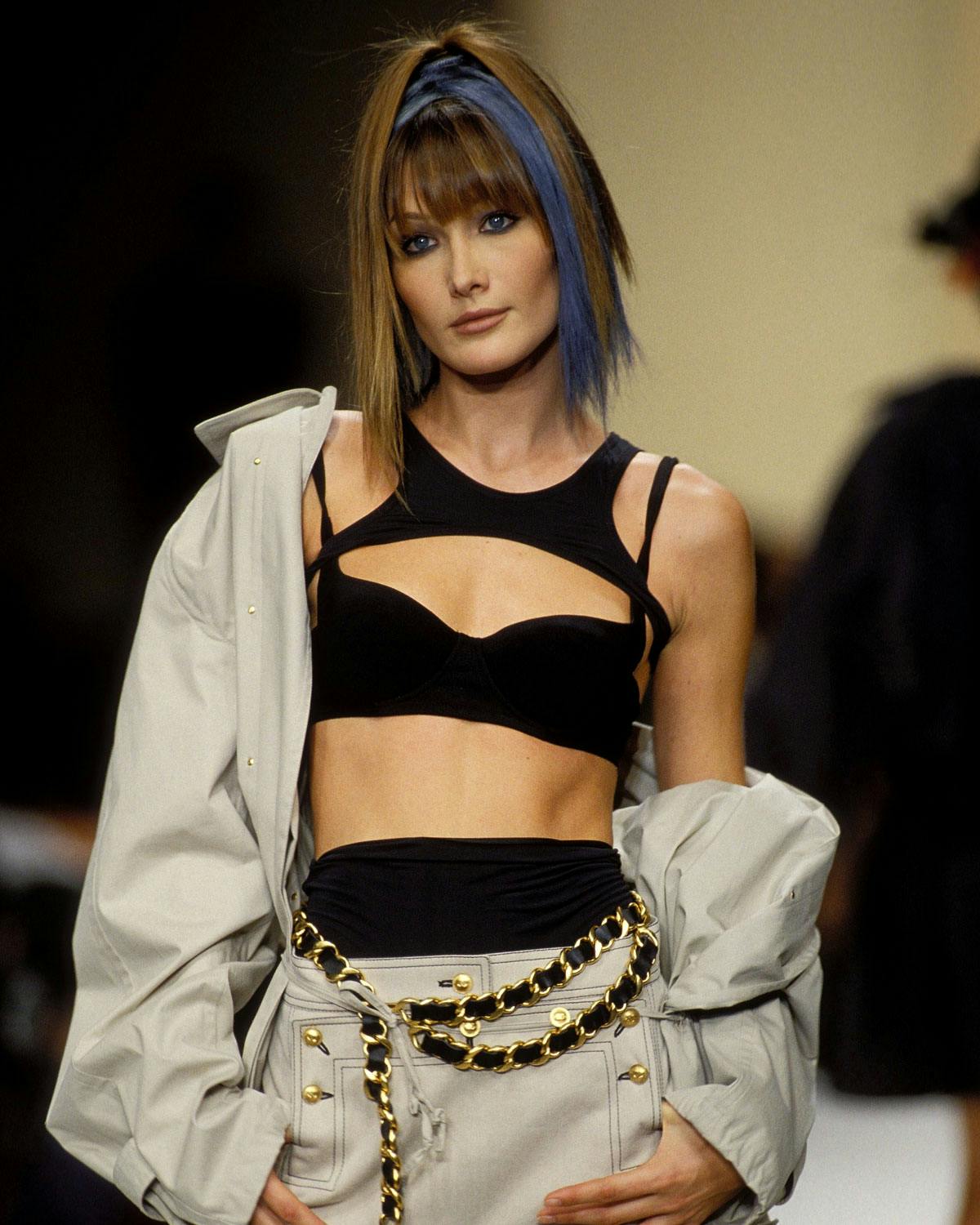 While this show certainly isn't Lagerfeld's most metamorphic show to date, it is certainly one of his most high-voltage and deserving of a place in fashion folklore. The show itself speaks to the decadence of '90s fashion, full of the decade's iconic style tropes like bucket hats, oversized hair clips and double C Logo branded bikinis. The likes of Naomi Campbell and Kate Moss all took to the runway with a sense of whimsy, and it marked Lagerfeld's uncompromisingly modern vision of Chanel in a new age.
Fall/Winter 2008
This show might have taken place at the height of a global fashion crisis, but Lagerfeld has never been one for peddling austerity chic. In fact, the show was as grandiose you'd expect, with a giant purpose-built carousel taking over the Grand Palais. Obviously, it was branded with Chanel's iconic insignia and was ornately fitted out with giant quilted bags, camellias, pearls, boaters, and bows. While the global economy imploded, Lagerfeld spared no expense on a lavish merry-go-round that presented a collection of varicolored tweeds, denim, chains, and knits — all quintessential Chanel.
Fall/Winter 2010
The tail-end of the global recession was no hurdle for Mr. Lagerfeld either. In fact, it was probably his most extravagant to date. For Chanel's Fall/Winter 2010 outing, he got a nine-metre high, 265-tonne real iceberg imported from Scandinavia and had it hand carved by 35 ice sculptures from around the world in just six days. Fun fact: The Grand Palais where the show took place had to be kept at four degrees below Celsius (about 28 Fahrenheit) in order to keep the ice piece from melting.
Metiers D'Art 2011
Not to be outdone by previous efforts, Lagerfeld infused all the decadence, luxury and over-the-top theatrics of Chanel's on schedule shows for the house's annual Métiers d'Art show, which honors the fine craftsmanship of its artisan partners. This particular show transformed Paris' Grand Palais into an Indian palace and had models walk a circular runway bordered by two set long banquets piled high with fruits, flowers, candelabras. It managed to exude pure opulence, fusing British high tea vibes with Indian decadence for a seriously mesmerizing result. Fit for a Raj, if you will.
Spring/Summer 2012
This particular show saw Karl Lagerfeld conjure a magical underwater world. The Grand Palais was transformed into a series of nautical-inspired structures and huge, blinding white sea shapes such as corals, shells, sea horses, and stingrays. The awe-inspiring set was the handiwork of the late, great architect Zaha Hadid. During the 15-minute show, a huge shell opened and out arose Florence and the Machine (serving Botticelli's Venus vibes) to sing a dazzling rendition of "What the Water Gave Me."
This magnificent feat of underwater-esque engineering was complemented by a procession of outfits that matched the set's clean, modern lines. Lagerfeld introduced new fabrics into the Chanel universe that brought an iridescent mother-of-pearl shimmer to the entire collection.
Cruise 2015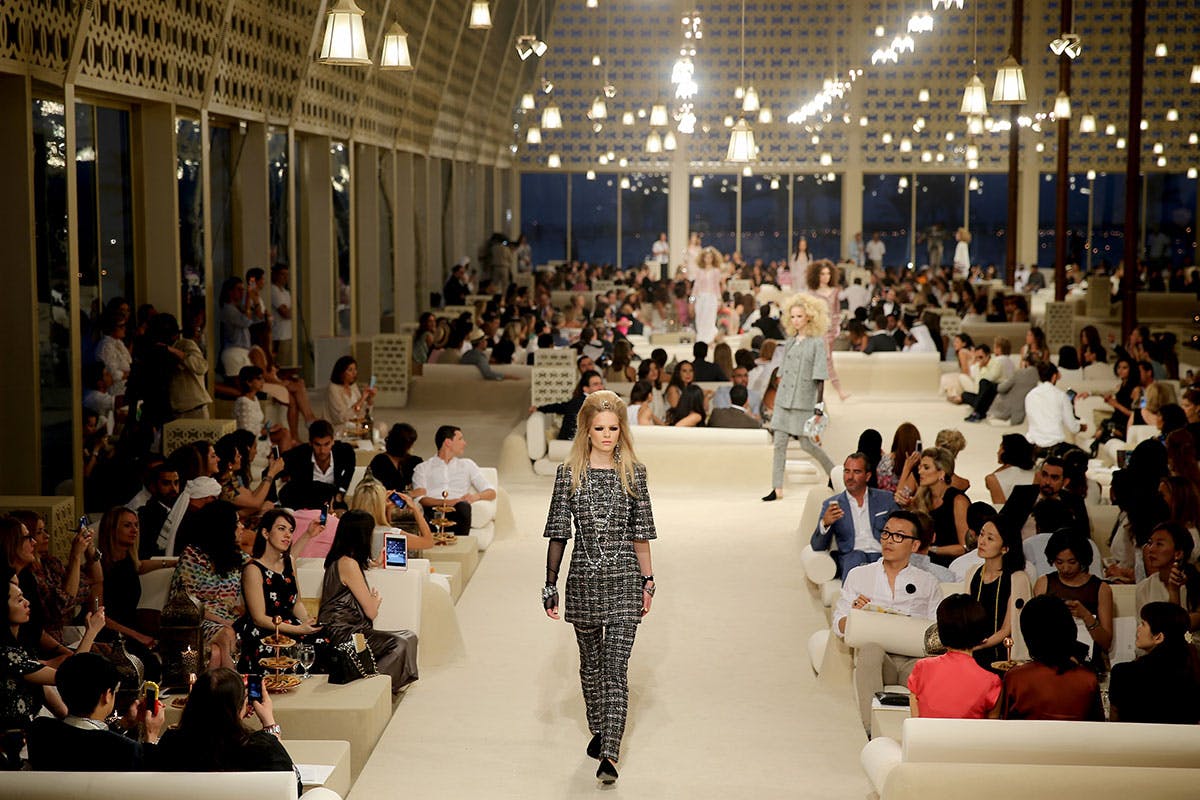 Dubai might not seem a likely location for a Chanel extravaganza at first thought, but when you consider Chanel's historic affinity for gems and the romance of the emirate's thousand-year-old pearl diving industry, it all becomes clear.
Not to mention that Dubai is the home of dizzying opulence, and it's the second-most important destination for global retailers, so this little fact does lend some business strategy to Chanel's nod to the Middle East. For this show, Lagerfeld erected an "egg box" structure on a man-made island on the shallow coast of Dubai. It reportedly took two months and more than $1.7m to complete, and Lagerfeld put out a collection of loud and proud excess to match the show's elaborate structure.
Couture Fall/Winter 2013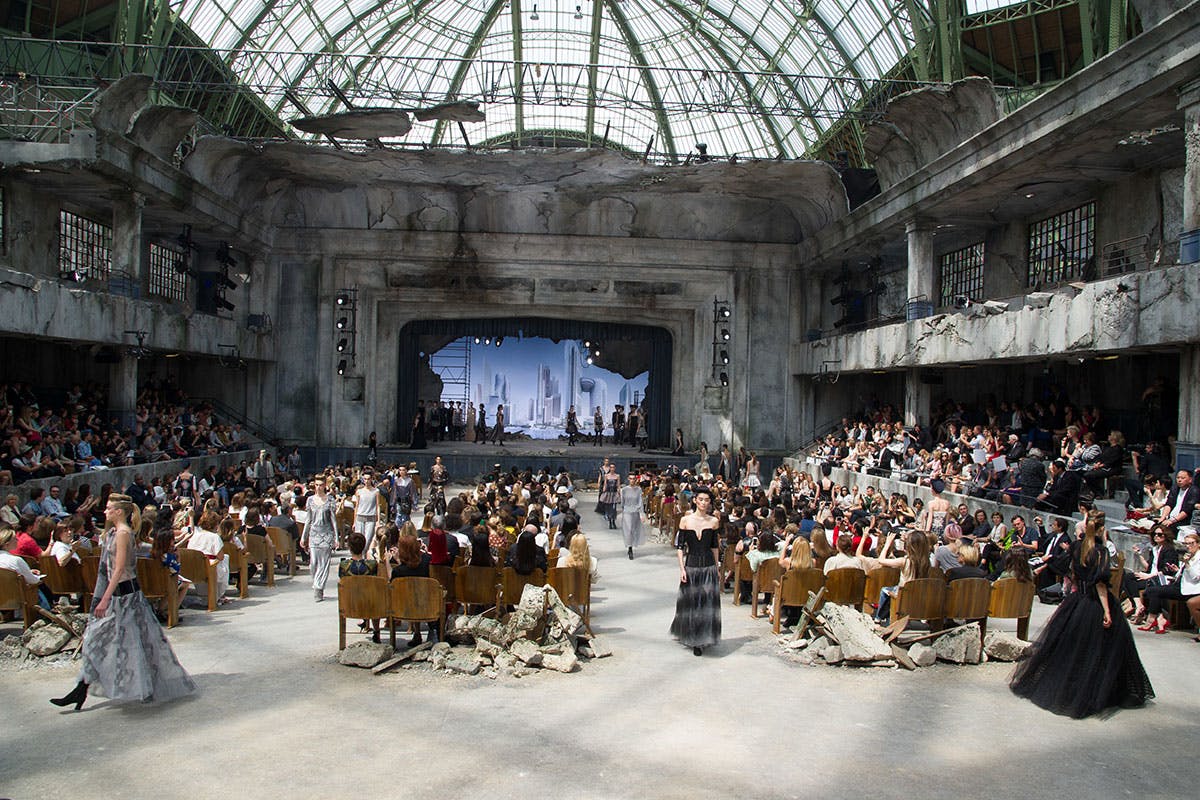 Needless to say, you've probably come to appreciate the fact that Chanel's immersive sets are as anticipated as the collections themselves. For Chanel's couture Fall/Winter 2013 show, Lagerfeld transformed the Grand Palais into a bombed-out theater. While a dusty, crumbled post-apocalyptic scene isn't something you'd immediately associate with couture, Kaiser Karl managed to pull off yet another feat of excellence.
The curtains parted under a scorched proscenium arch, and it revealed a skyline of glittering post-modern architecture, and the shiny glass surfaces of skyscrapers were in turn reflected in a procession of sequin-crusted clothes. It was theater of the highest grade.
Fall/Winter 2014
This show was definitely Chanel's most elaborate, before the fashion house started to launch rockets for giggles. For FW14, Lagerfeld played a game of Supermarket Sweep and transformed the Grand Palais into a fully-functioning supermarket, complete with fresh produce and shopping baskets that would go on to retail for $12,500.
Of course, no detail was spared, with plenty of double-C-emblazoned food items and even a hardware section fully stocked with Chanel brooms and hammers. Naturally, the usually sterile flock of fashion show attendees completely lost their chill and proceeded to loot the Chanel supermarket after the show finished. You can relive some of the madness below.
Spring/Summer 2015
This was the year that fashion flirted with activism, and Chanel staged a feminist protest inside the Grand Palais. Lagerfeld transformed the gargantuan space into a Parisian boulevard, complete with crazy real detailing like puddles on the ground. The reason behind Lagerfeld's aggressive attention to detail became clear when a faux-protest of models wielding signs replaced the conventional lap of finals looks.
Led by a megaphone-toting Cara Delevingne and Gisele Bündchen, the models marched down the catwalk together carrying placards that screamed slogans such as "Ladies First," "Women's Rights Are More Than Alright" and "History Is Her Story." Read more about fashion's thorny relationship with activism here.
Spring/Summer 2016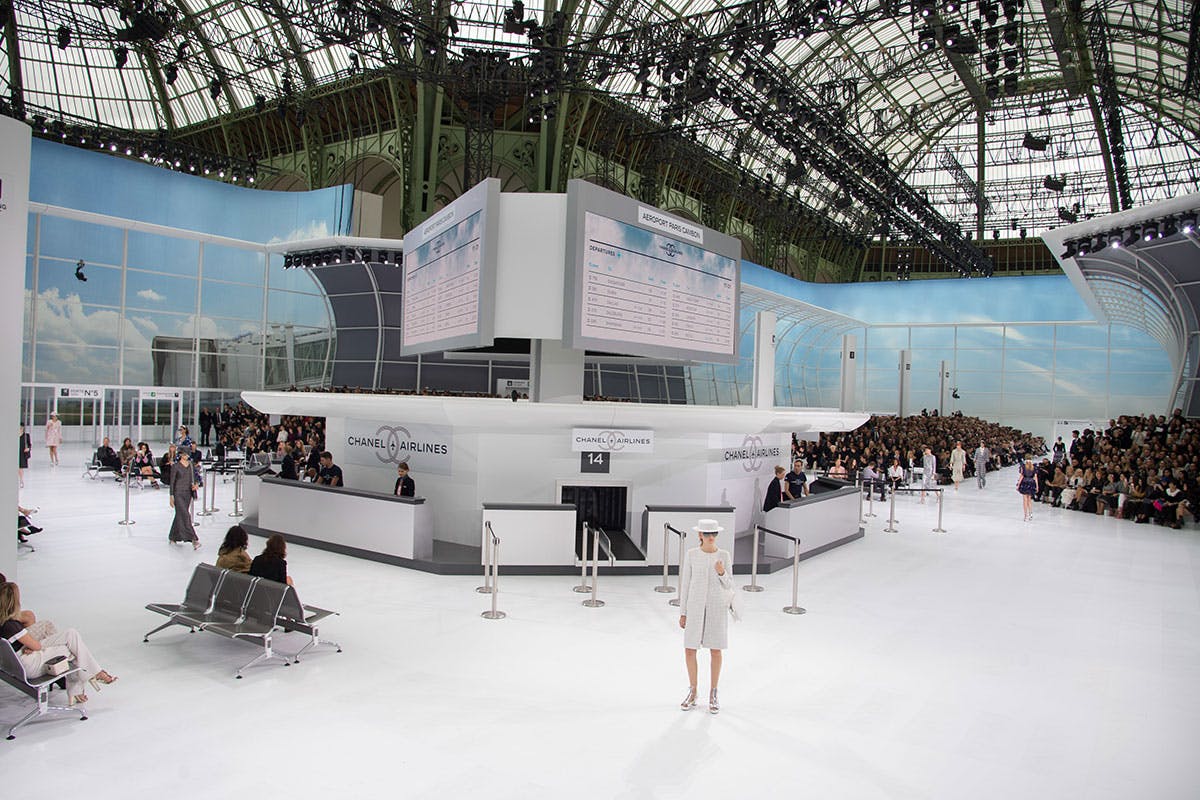 Another banger of a blockbuster show courtesy of Chanel. This particular season, Lagerfeld took flight with Chanel Airlines and transformed the Grand Palais into a buzzy airport terminal, complete with Chanel-branded paraphernalia like check-in kiosks, ticketing agents (all male models, of course) and branded luggage carts. Show attendees sat on terribly uncomfortable boarding gate seats because Karl Lagerfeld is cruelly faithful to detail and they all watched models walk and check-in for their flights.
Obviously, the garments themselves mirrored the theme of the show, decorated with airplane badges and plane prints. Perhaps, this show was Karl's not-so-subtle way of condemning the dire state of airport fashion.
BONUS: Fendi Great Wall of China Show (2007)
This is a bonus addition to the list, and even though it's not a Chanel show, Karl Lagerfeld (obviously) is the mastermind behind this legendary feat of excellence. For this special show, Lagerfeld took over the Great Wall of China. Yep, that's right, Kaiser Karl held a fashion show on the iconic 2,000-year-old world heritage site. It stretches for 4,500 miles and it's visible from space.
Originally built to keep the barbarians out, the global fashion elite was welcomed with open arms to bare witness to a spectacular feat of history. The show cost in excess of $10m to produce and took over a year to plan, and despite being dogged by delays from Chinese officials, Fendi was eventually granted a permit to show.
Lagerfeld chose to stage his show at sunset and transformed a section of the wall at the Juyongguan Pass into an extended runway raised off the ground, flanked by stunning views of the Guangou Valley. There were 88 looks in total, (eight being the revered number for prosperity,) and after the last model made her lap, Lagerfeld switched on the strobe lights to reveal gigantic double-F Fendi logos being projected onto the mountains. Insane.