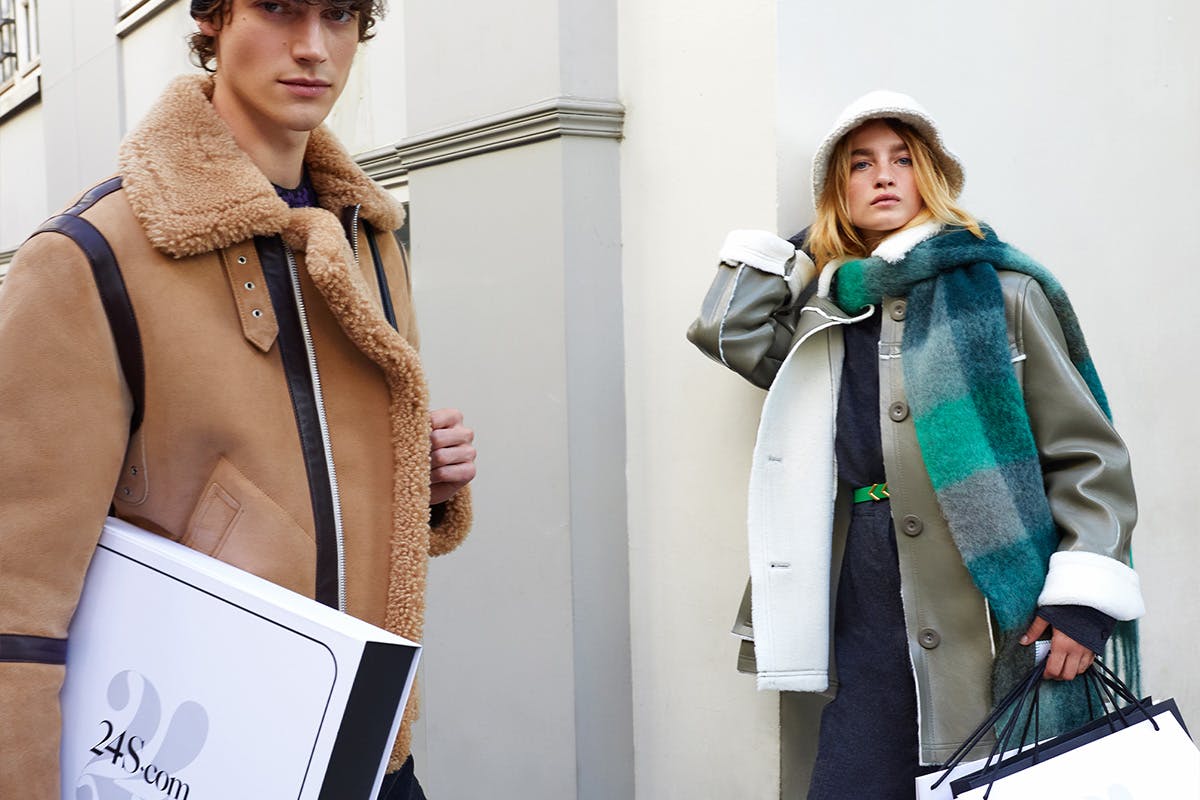 When November rolls around, your bank account starts shivering with fear and pleading with you to take it easy. It's obviously impossible, what with Christmas on the horizon and sales season inbound, but with a bit of ingenuity, you can definitely ease the impact of the busy period. We're talking about finding the best luxury sales around and scouring the pages for the gems. The 24S winter sale is in full swing, so you already know that the scouring is happening.
But then again, we know all too well that the big-spending season is also the big-plans season and therefore the short-on-time season, too. As such, we've done some of the legwork to help you make the most of the 24S winter sale.
Below, we've rounded up some of the best pieces we found. Ranging from Palm Angels to Marni, the selection encapsulates all of the best bits of luxury style with price tags to match. With some labels reduced up to 70 percent, it's definitely time to get stuck in.
Shop our top picks from the 24S winter sale below.
Dries Van Noten Vance Jacket
Part workwear, part dramatic luxury, the Vance Jacket from Dries Van Noten is a winter show-stopper.
Casablanca Scarf Track Pants
Casablanca always finds a way to bring a flash of creativity to staples. This pair of classic track pants features a luxury scarf tie to the waist.
Marni Wool Shirt
Marni has carved a space for itself at the very top of the wool clothing scale with its mohair pieces. This wool jacket is further proof that nobody can mess with Marni the master.
Palm Angels Zipped Track Jacket
Palm Angels' signature tracksuits are by no means cheap, but that makes them such a perfect sale treat.
A.P.C. Daniela Shopping Bag
Basically the final boss of totes, this heavy-duty denim carrier from A.P.C. will take a beating & last a lifetime.
Balenciaga Macro Logo Scarf
Balenciaga pieces aren't known for being particularly easy to style. The Macro Logo scarf, though, is highly understated by Balenciaga standards and slots seamlessly into the everyday wardrobe.
Marni Cotton Flannel
Marni puts two contrasting checked flannels together for this two-tone masterpiece. The perfect way to add punch to a fit without going over the top.
Givenchy Pullover
Matthew Williams' Givenchy has been delivering the goods lately. But while the shoes get more alien by the day, this classic wool sweater is a welcome departure from the otherworldly.
Boramy Viguier Army T-Shirt
A championship ring to the chest is always a big flex. Combine it with utilitarian detailing like the patch pockets to each arm and this Boramy Viguier T-shirt is doing a lot for us.
Want to keep browsing? Head to the Highsnobiety Shop for more products that we love. Highsnobiety has affiliate marketing partnerships, which means we may receive a commission from your purchase.