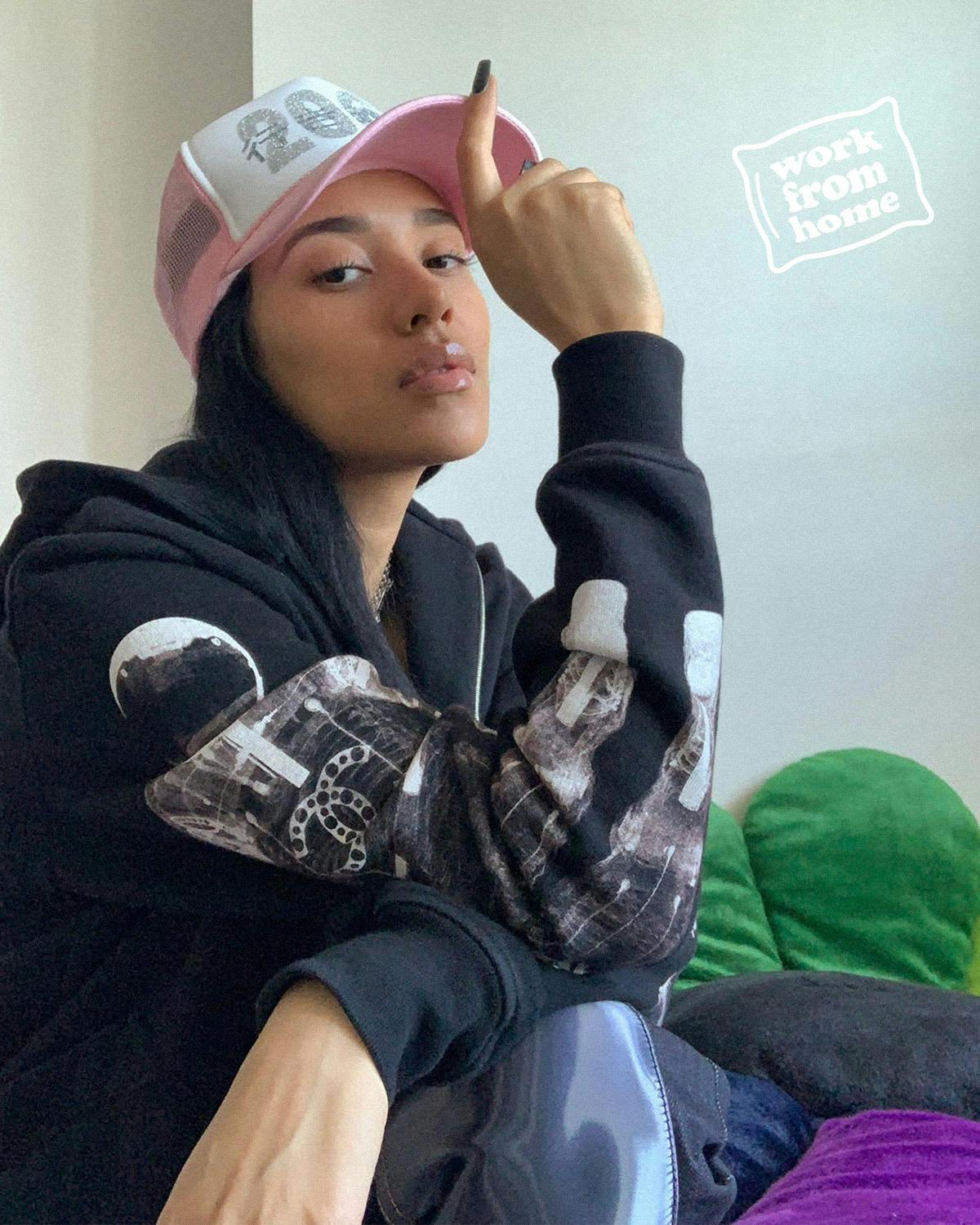 Aleali May is a model, stylist, and creative who's designed her fair share of Jordans including a pair that makes a nod to her home city of Los Angeles. Aleali catches up with host Jian DeLeon on this episode of 'Vibe Check,' sharing what she's been up to in quarantine which has often involved rewatching some of her favorite fashion documentaries.
Aleali joins her fellow Cancers as a homebody who's appreciating the stay-at-home life as an opportunity to relax and recover from her past fashion week run. She's finding tasks to keep herself busy, including cooking regularly and spring cleaning her closet. While doing so, Aleali has come across some forgotten pieces, styled them in outfits, and took pictures for documentation. Still, she can't help but feel disappointed about the cancellation of men's fashion week, which she feels always brings out the best atmosphere (3:45).
The below interview is a transcribed version of 'Vibe Check.' It has been edited and condensed for clarity. Jian DeLeon: Speaking of fits, of course, you've still been busy on Instagram. What's it like getting dressed now? Is it just like, it feels normal to just put a fit together, or are you just like everybody else living in a sweatsuit? I see you pulling out the Baby Phat sweatsuits, the velour ones, and things like that.
Aleali May: Yeah, I think when you leave Aleali at home, she likes to dig through all her old stuff. So I'm over here going through old Macbooks, I'm over here going through old iPods. And I think that just gives me a lot of excitement and inspiration, because you're just revisiting some time where I feel like everything was still underground in the sound, and you're reminded of how you discovered all these things. You can still get inspiration, you can still keep your mind going, you can still really keep going. And being able to express yourself on social media is also amazing.
The creativity that's surfaced out of this situation is a major plus for Aleali, who's impressed with the refreshing and inspiring ideas that have come into fruition. She's always been about coordinating new and upcoming styles with higher-end brands, and there's no better time for supporting small businesses and independent designers including Sheila Rashid who Aleali first modeled for when she moved to Chicago (8:02).
Aleali has been taking time out to rerun some of her go-to documentaries and enjoy the discoveries she finds with each new watch. She shares her lineup along with the takeaways for each film in hopes that the younger generation will be inspired by some of the most key players in the game (10:32).
AM: You know, you just want to be knowledgeable. I feel like everything is name brand, name brand, name brand. But if we start to know our history and start to know more about these things, that's where your style actually comes from, because then the pieces that you're wearing are coming from a certain place of your emotion. It's provoking something that you're inspired by, and I think that actually pushes your creativity with your own fits or your own projects.
Stay tuned for new episodes of 'Vibe Check' released every Tuesday and Thursday.