When you think of the great fashion houses of our past, they're almost always attached to brilliant designers and creative directors who took the brand to new heights. But what if there existed a label that didn't have a creative head at all, and instead ceded creative control to a rotating cast of collaborators?
That's what Alexander McQueen's MCQ is doing with their new technology-driven label and platform — an ever-shifting collective that partners with new creatives each cycle and gives collaborators complete freedom to express themselves in ways most fashion houses could never accommodate. It's a new model that's never been done before — they dismantled their previous line, McQ by Alexander McQueen, and built a pioneering label with its own identity separate from Alexander McQueen.
MCQ is ultimately a creative collective built around acknowledging the very creators who participate and bring each collection to life, or 'icon' as the house calls it. Because MCQ has no internal hierarchy or creative head, the team is run by individuals who come from similar worlds and share similar interests as their collaborators, making it a people-powered platform open to disruptive ideas and challenging fashion's status quo.
MCQ's idea of collaboration isn't just for co-branding's sake. It's a fluid conversation between up-and-coming creatives around the world and providing them with a global platform to bring their ideas to life. Collaborators have the potential to touch everything from designing products to curating the music at their icon's launch party, and everything in between. The idea is to empower and uplift a new generation of creatives who may not have had the opportunity to do so.
That's also why MCQ makes it a point for collaborators to be credited by name on its tags. Those names are always there and visible, a rare move for a fashion brand of this nature. Rather than just being touted as promotional figures for the collection, like appearing in the campaign or show, collaborators are credited as originators and part of the voice that created the garment.
This democratic approach means MCQ can operate on their own terms instead of fashion's usual seasonal hierarchy. Working in six-month cycles, expect at least three icons dropping per cycle — each telling an entirely new story, from visuals to collaborators to its launch event and location. One way MCQ visualizes an open and collaborative ethos is through its ultra-minimal logo: an exploded, stripped-down version of what vaguely resembles the British Union Jack flag, one that MCQ calls the 'Phantom Jack.' But instead of being a nationalist symbol, it's the opposite. It's a flag with a space at its center, lines converging to form a platform or stage. That stage elevates the voice, and the voice in MCQ's expressive form becomes the content that sits at its heart — which is new identities, new statements, and a whole world of new creations. The Phantom Jack is the closest thing you'll see to a logo in this label — it's the pure distillation of MCQ's core values and the heart of its identity.
Another feature that's been tried in the past but only now can be fully unlocked through the advent of technology is item tracking and true authentication. Each icon presented by MCQ is fully traceable through its digital platform MYMCQ — a first-of-its-kind system that uses blockchain and NFC technology to unlock innovative features. Launching September 3rd, not only can MYMCQ deliver historical information on entire archives, but it's also a media hub where anyone can interact with the label, access behind-the-scenes content, interviews with collaborators and other creatives within the MCQ community, and more.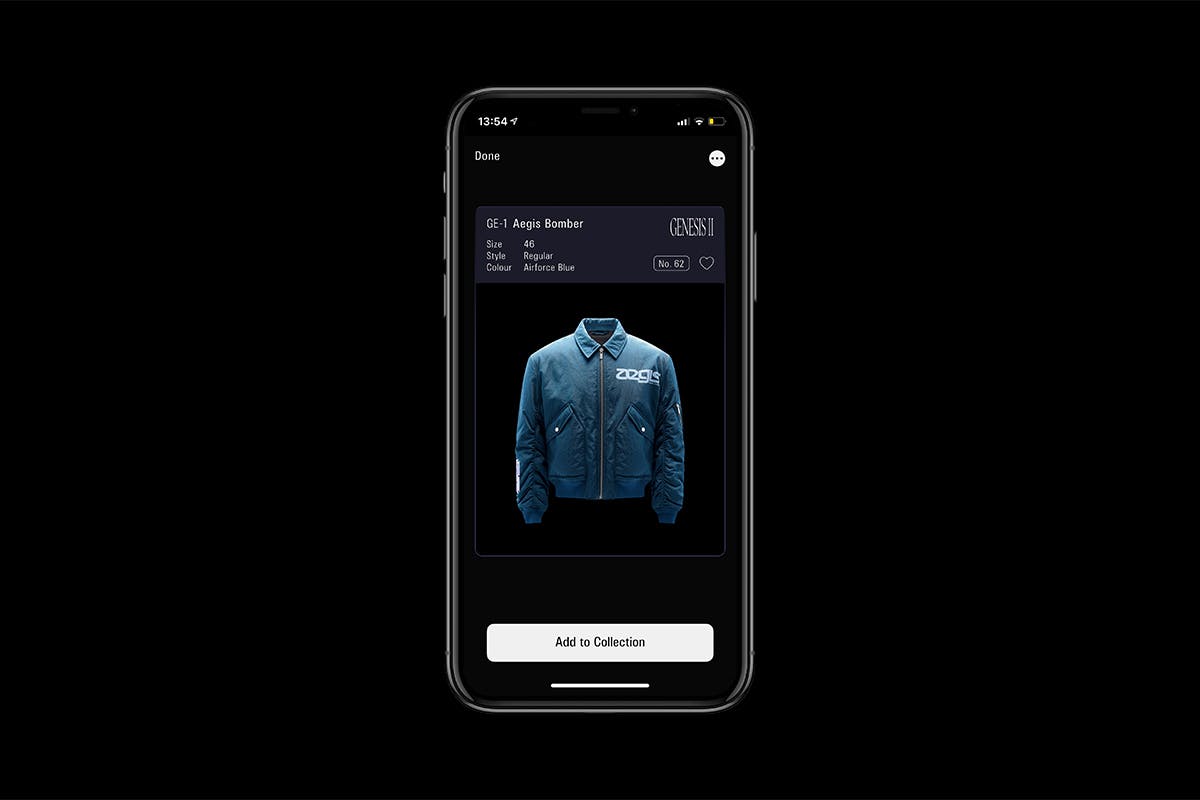 MCQ partnered with Everledger, the blockchain-powered ledger startup, to build these features from the ground up, allowing anyone to discover everything there is to know about an item with one swipe of your phone — from where and when it was made to how many were produced and which collection it came from. They're the first company to work on a blockchain-NFC protocol that enables people to interact with physical garments and claim ownership of it through a blockchain. By offering its own peer-to-peer marketplace, collectors have a dedicated space to find their favorite drops, which encourages less waste in the long run since resale increases each item's lifespan.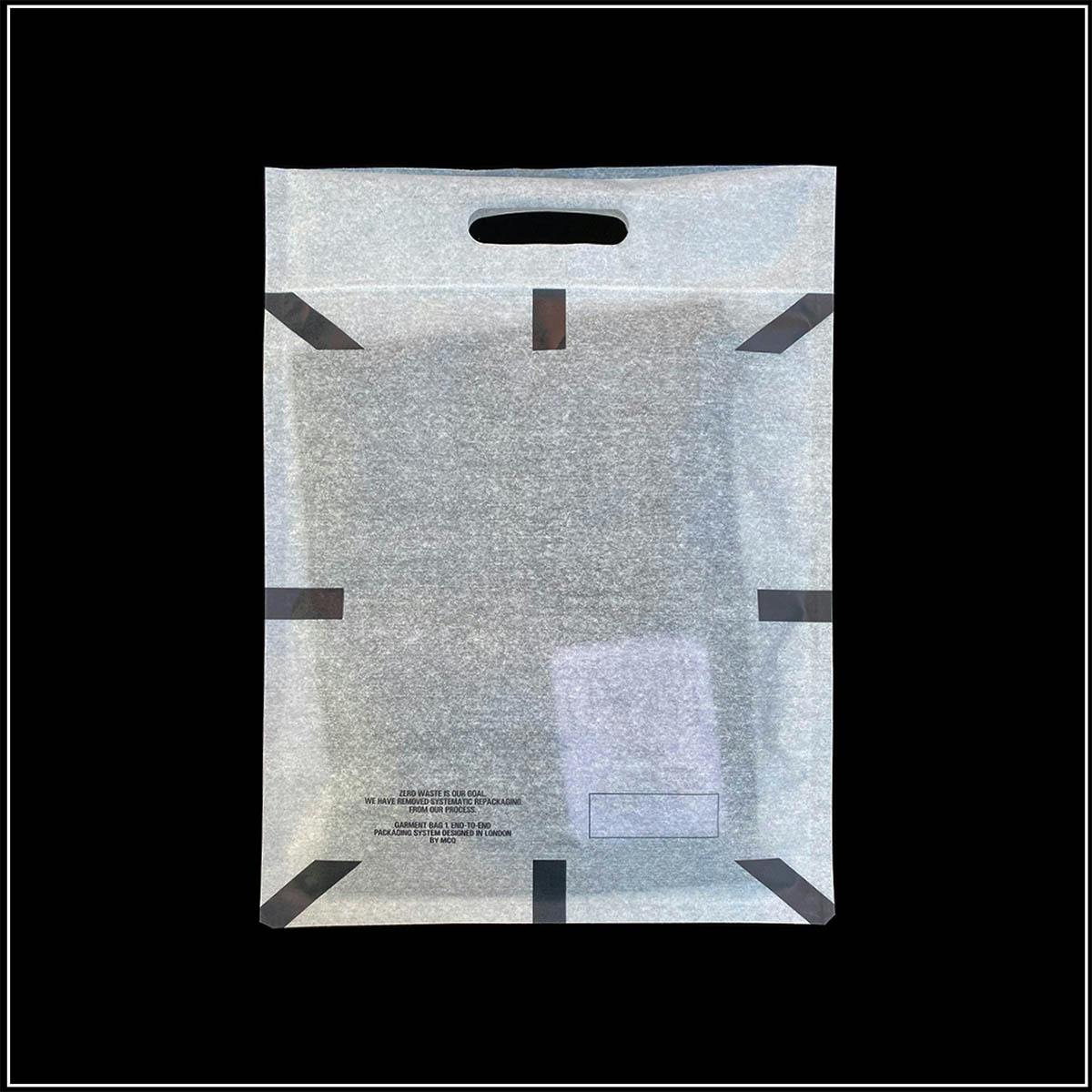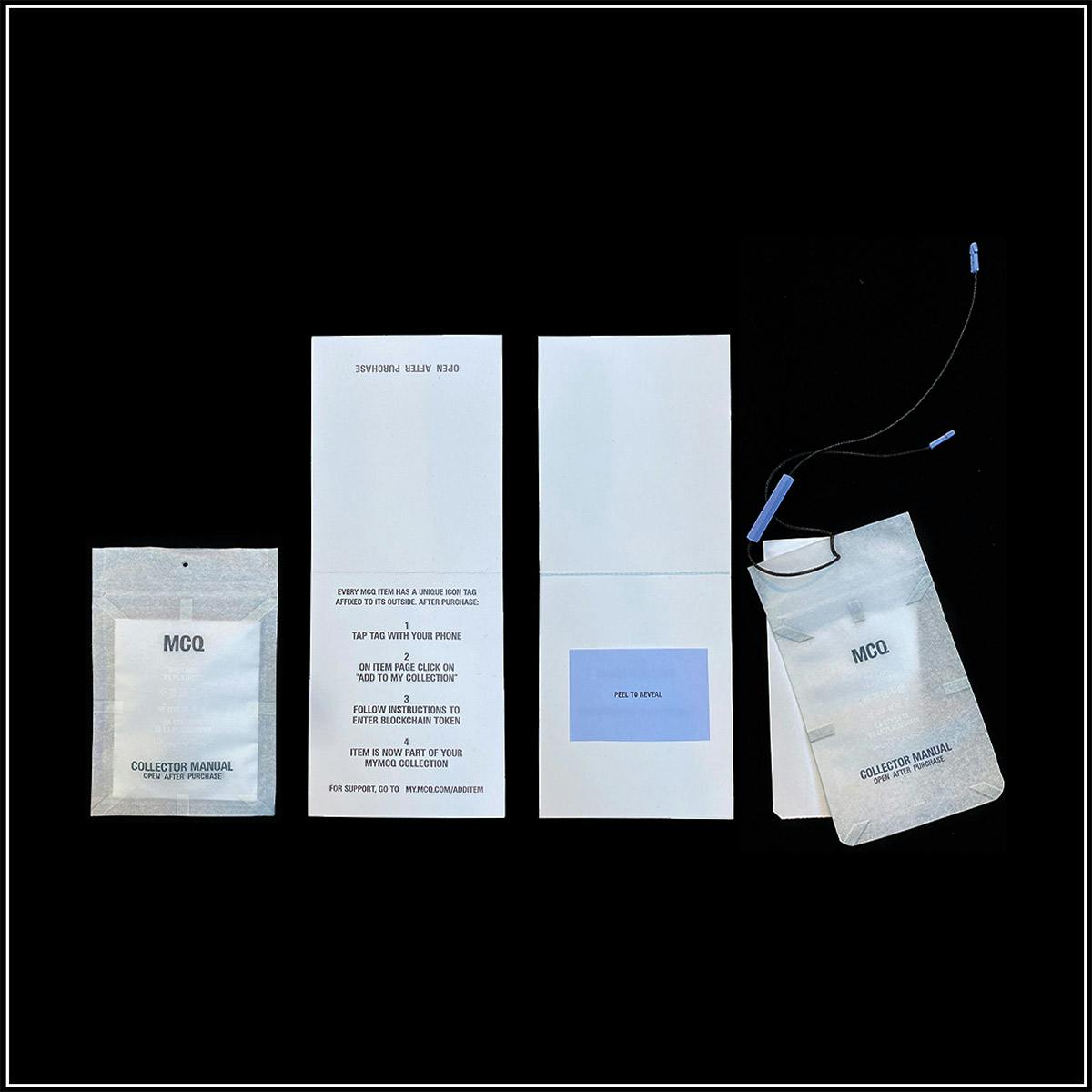 Being the label of the future means you also have to think about the impact you're having on it. As with any packaged good, shipping most items entail multiple stages of package waste — goods are often repacked several times before reaching consumers. To combat this, MCQ designers created an end-to-end packaging system to significantly reduce excess waste, meaning they use the same packaging throughout the entire production chain until it reaches the hands of you, the shopper.
It's a bold step into the future of fashion, and one that MCQ hopes to pioneer. MCQ's first official icon releases September 3rd, so stay tuned for more info and get a sneak peek at a few of our favorite pieces from upcoming drops.