For over 30 years, A.P.C. has created clothes that don't shout. It's why the French brand and its founder Jean Touitou have lasted so long. The wardrobe staples that make up the rich archive of the brand are a blank canvas, perfect for collaborators to come in and leave their mark on the minimalist designs. But at a time when novelty fashion collaborations are happening weekly, creating a partnership that goes beyond the product alone is crucial.
It's why Touitou started INTERACTION in 2018. Following collaborations with Nike, Louis W, Kanye West, and many others, the designer decided to open its door to creatives inside and outside of fashion, often showing them alongside each other in the same collection (think creations from Kid Cudi, Brain Dead, and JJJJound presented alongside product from fashion insider Suzanne Koller and LA-based boutique RTH). A partnership with jewelry designer (and in-house creative studio designer) Charlotte Chesnais is in the works, as is one with French actress and long-term client Catherine Deneuve.
"What I've always found funny while reading my mother's cookbook, is that after giving instructions to achieve a certain recipe, she would write 'have someone taste it.' It wasn't a matter of being lazy at all, it was a matter of having someone else taste what one would prepare," said Touitou in a statement launching INTERACTION. "Since I've always had this will of asking people from the outside their take on our work, I remembered my mom's advice: 'have someone taste it.'"
The latest A.P.C. partnership is with Carhartt WIP, available January 10 from Highsnobiety Shop and at both Carhartt WIP and A.P.C. stores. We caught up with Touitou in London at the Standard hotel and discussed what makes a meaningful collaboration and what brands will need to do beyond product to remain relevant to consumers in the future.
Hi Jean. It's funny we meet now as I spent hours tracking down a green military parka from your Kanye collection that I ended up finding on Vestiaire Collective. It was really the first collaboration from A.P.C. that I got acquainted with as a consumer. Back then it was so unusual to work with rappers. What you did was not just putting your clothing on them but actually brought them into the design process. Why?
That piece was a well-cut, loose piece I remember. But yes, it wasn't an easy thing. Very challenging. We started as friends before anything, because I didn't know who he was. [Kanye] just showed up at the studio and while I was talking with him I could see people staring at us and I said, "What's wrong? What did I do wrong?" Then I realized he was huge, but that conversation we had was so sincere. Maybe also because I was there at the beginning of the hip hop with Afrika Bambaataa, making me a member of Zulu Nation, that we started to be sincere friends and we could discover from there.
[Kanye] was obsessed with fashion but never could penetrate it except when sitting front row as a trophy at shows. We were very excited to give him a ride [beyond that].
Back then, what was the response of the industry like?
First of all, with the collaboration business, there's one old trick people should know about. Everytime there's a collaboration, people tend to say, "Oh, it sold out after one hour." It's like a machine. But it's sold out because people don't invest enough in merchandise.
People aren't good at business, period. They're happy to make huge noise but how much noise can you make? You won't make business in the end. It's not going to pay for any of the infrastructure. So from that point of view, we took a reasonable risk on merchandise. So the [Kanye] collaboration wasn't sold out in two hours but eventually in two weeks. It was a good one because it wasn't just about branding a sweatshirt. There was a huge effort on material sourcing and everything. People back then simply couldn't understand why you would spend $120 on a white tee.
The thing with the white T-shirt was that he asked for the best quality possible ever. People don't complain when there's a luxury brand doing a $700 or $800 purse in leather that's not really leather, but if you pick up the best jersey in the world they do. We didn't have much profit there. That was not a rip off because the quality was tremendous. I still have mine.
Working with someone traditionally from outside of fashion who has a different connection to culture, what were some of the learnings?
I'll give you a music comparison. It was Quincy Jones who said, "It's fascinating. There are only 12 notes in music, and it's infinite." Even if you take the art form of blues, it's 12 notes, but endless possibilities. This is what I learned. Even with a simple parka, I might have gone one direction but we came up with something that I wouldn't have done myself. And that's the common point with all collaborations we do with individuals. They take you somewhere else.
It's similar to the anecdote you once said about your mother's cooking.
Yeah, let someone else taste it, because you can't. That's more of the philosophy of the brand also. It's like, I don't want everything to depend on me. Have your business manager try on the parka and see how he lives in it. Again, the best comparison I can take is from blues. Come On In My Kitchen [a song by Robert Johnson]. I invite people to share my kitchen and cook with me. Them surprising me is the idea.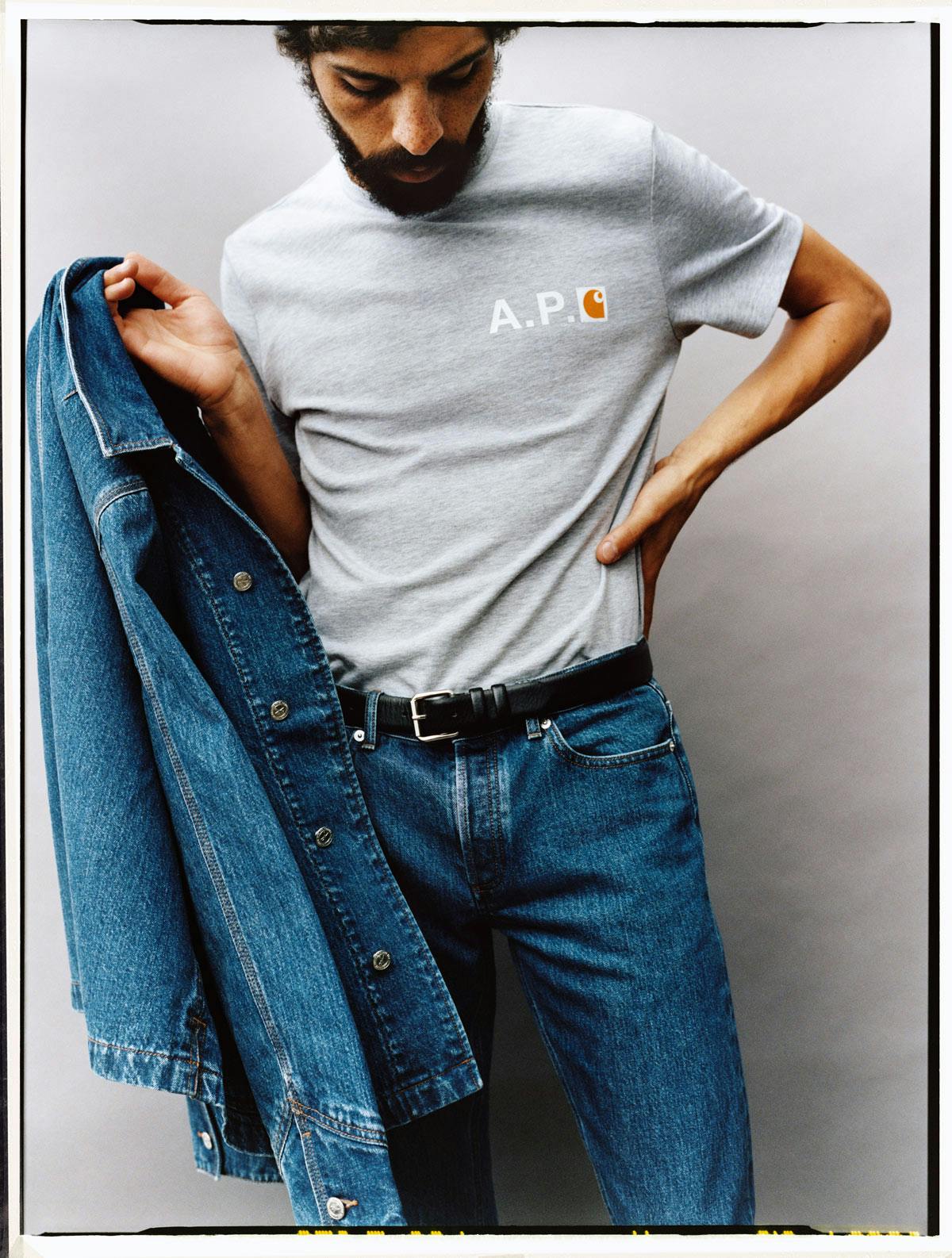 In three years, this brand is turning 35. Some people might say, "Okay, let's turn the page." I just feel like a rock band that's lasted and lasted and lasted. So I like that comparison, too. I say to myself, "I'm like Pink Floyd's Syd Barrett, who never took LSD." So he's still there with us and maybe they could have lasted just 10 years after Dark Side of the Moon, but maybe they should consider another drummer like Ginger Baker. That's how I felt. Even if you sincerely think that what you're doing is still relevant, you need the input of others. Maybe A.P.C. has three or four notes, and I need Suzanne Koller, I need Kid Cudi. I need them to add up my notes because I was very sad and sick of listening [to the same ones].
In what way?
In America, I met so many people saying, "Oh, I used to go to Mercer Street A.P.C. Store so much when I was younger." This kind of thing I don't like. This is why it was almost like a survival thing. We weren't in danger financially. We were in danger of boredom maybe. There's a dark sentence in German philosophy, Hegel, I think, "Everything that exists deserves to die." That's bad news because you don't want to die. You just want to play with that wind and not be done.
I read this piece in The New Yorker the other week about Amazon and Jeff Bezos' philosophy is, "Treat every day like it's day one, because if you think of it as day two, you're dying."
Yes, you need to because [the industry] is evolving so quickly. At the end of the day, though, it's still the same model since the 19th century. Since the birth of capitalism, it's still "Money, merchandising, more money." You can speak about any model you want, e-commerce, content etc. But in the end it's all about putting in one currency, buying merchandise and finding more money.
What I think is crazy about A.P.C. is the consistency. I get really excited about the Kanye products or collaborations with Carhartt and JJJJound; my friends care about the Suzanne Koller partnership. How do you appeal to both aesthetically different consumers without losing the core? And how do you create meaningful collaborations when that space has become so oversaturated?
There is a shit load of phony collaborations but at the end of the day, product speaks for itself. At some point beauty talks. There's no concept, it just talks. There are many women that have bought the Suzanne Koller collection without knowing her name, because the parka will speak to them. Suzanne works with us. Every two weeks there's a meeting for art direction, or this or that. I then thought she might have some ideas on design so we gave it a try. And what's amazing is that it's reached the sales. The figures are not definite yet, but Brain Dead and her collaborations are like a car race. It's two totally different feelings but at the end of the day, a person buying the Suzanne parka might buy a Brain Dead sweatshirt. It isn't impossible.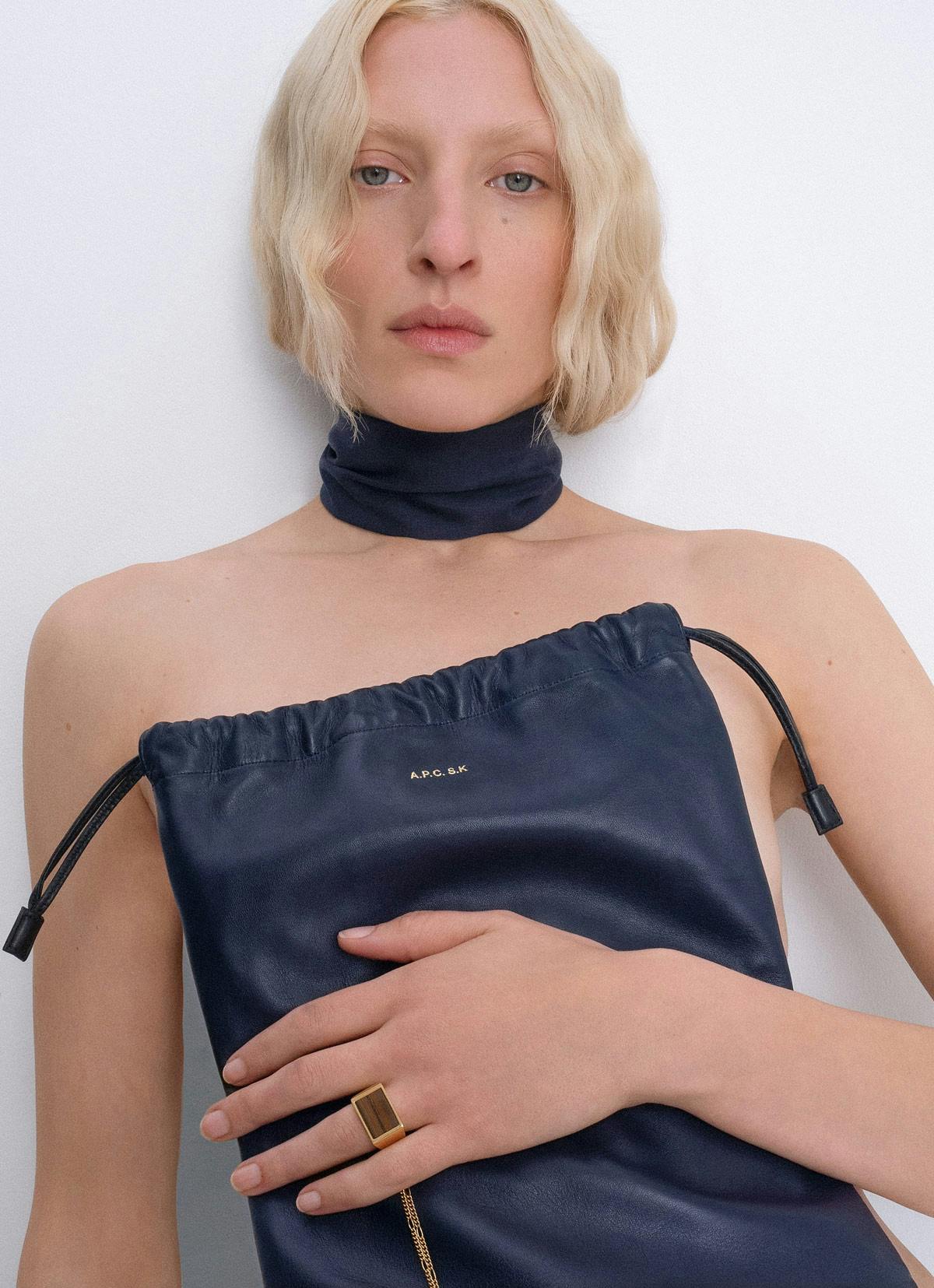 It's like working with RTH from Los Angeles and Carhartt. Both are very denim oriented but those two sensibilities are totally, totally different. Carhartt was more workwear oriented, but we use our sensibility with the fabric to work with them. With all, it's quality and it stands out because people know you're sincere. You're not selling out. And people know that if I do something and work with somebody it's not going to be the decision of my sales manager. We're not a huge company but we're known for not messing around, not compromising. I could be accused of many things, but not for compromising.
I like what you're saying about beauty. Everything is cyclical. We're heading into the 2020s and much like the post-war roaring 20s we're in this time of uncertainty and creating beauty can work as an antidote.
Beauty attracts itself. You cannot buy beauty. It comes from a certain craziness of magic. I always make a comparison between revolutionaries like Lenin and a very sharp businessman. They don't understand failure. They think they can figure it out. Why is the revolution not happening? Why is the business plan not working? Because one has to think of that word, beauty. It's magic. But you have to prepare the landing because you cannot push the button and call for beauty. So you have to create the condition of magic. You can create the [setting] but you won't be sure of the results. It's not a given.
It's like the bag business. Everybody knows in this business that the gold mine is the bag. As a matter of fact, when you speak to finance guys, they know a few things about fashion, but they're like parrots, "You got a bag? You got a bag?" After 10 minutes, "You do? Nice to meet you, but do you have the bag now?" That illustrates what I'm saying about beauty because there are so many brands fighting to have the bag but when the magic isn't there, it isn't there.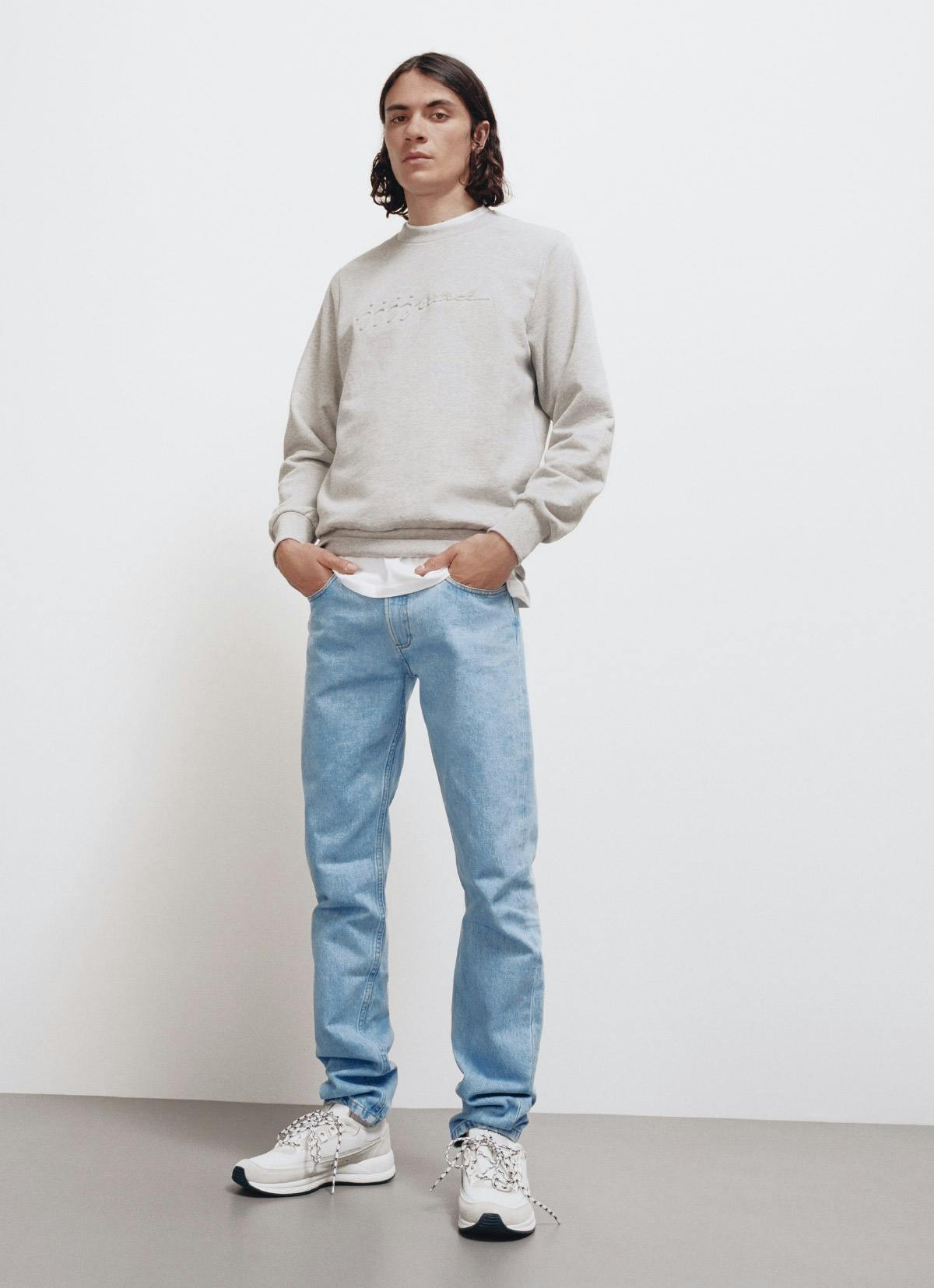 Having good product that is expensive isn't enough anymore. There needs to be something more that buoys consumers.
Exactly. This is what I tried to explain about Kanye. It's not only about being a genius that matters, but it's also how you coordinate everything that goes on around the jeans. It's like the recipe of a French pastry, like mille-feuille. This very recipe, you can bring to the best chef in Tokyo, and he'll come up with something that looks like it, but there's no way it can taste right. I've even seen some that say Saint Laurent on it, with the licenses. It just doesn't have the same vibe.
You need this layer of cultural credibility that is intangible. It's about the whole packaging around the product. I think that in the future fashion brands wont just sell tangible product anymore necessarily. They'll sell knowledge, experience and community. It will be about the brand itself.
I see where you want to go. Maybe if we do talks people can come and pay 10 quid. Remember, you have to do business to survive. I'm ready to do it.
That's an example of knowledge and community at the same time.
I have a feeling of what you say is true, because on a night in New York last month during our talk between me and Justin from JJJJound we had rented 83 chairs, but over 600 people came. It was me, him, the moderator Gabriel Tesoriero, who is an industry guy, and Kanye's publicist, who asked questions like "Are you a revolutionary or a reformist?" I mean that's the Albert Camus and Jean Paul Sartre dilemma. And these kids came to listen to Justin and I. This is where I discovered that those tribes are small but so powerful. You have the Brain Dead tribe, the Carhartt Tribe, the Suzanne Koller tribe.