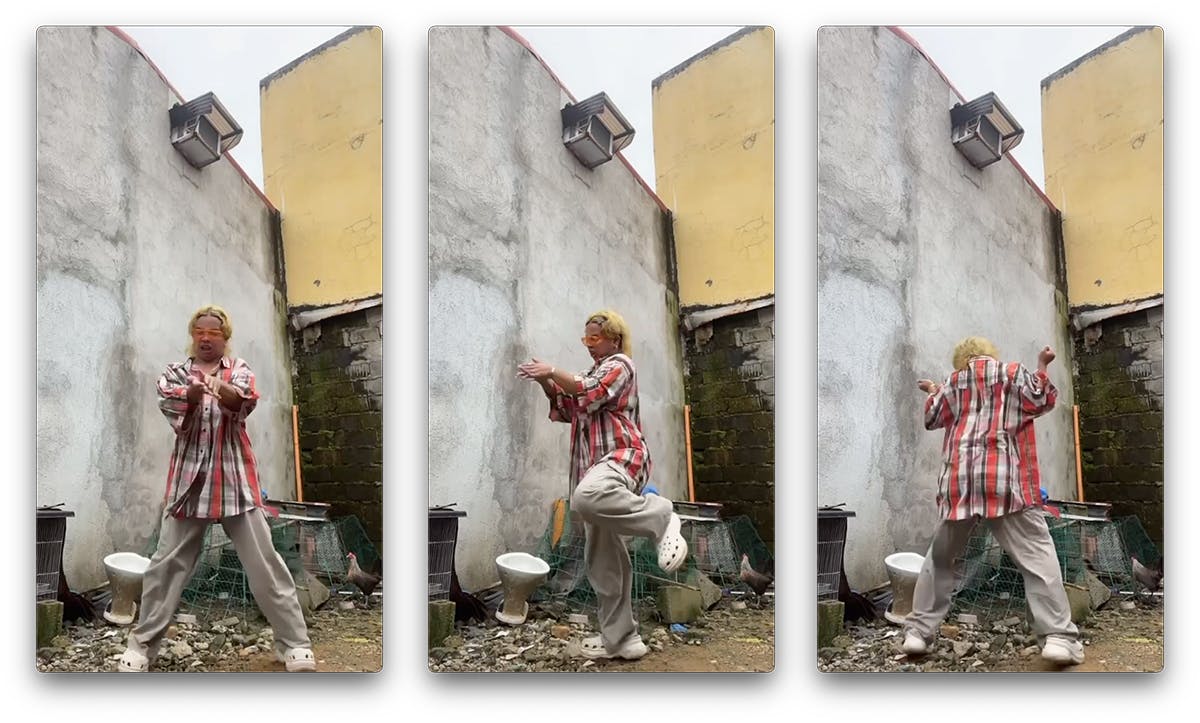 Experience this story and others in the new issue of Highsnobiety Magazine, available from retailers around the world and our online store.
When Argie Apawan Roquero started going viral, he didn't even know it was happening. The 18-year-old Filipino started making TikTok videos as a way to pass the time while cooped up at home during the pandemic. But then he deleted his account. He was active for about a month and then moved on, unaware that his "Talk N Bout" video had been catching millions of people's attention. In the video, he makes funny faces while doing a dance that mimics shading his eyes from the sun. He's dressed in an oversized polo shirt layered over a leopard print dress and baggy cargo pants with a little purse tucked under his arm.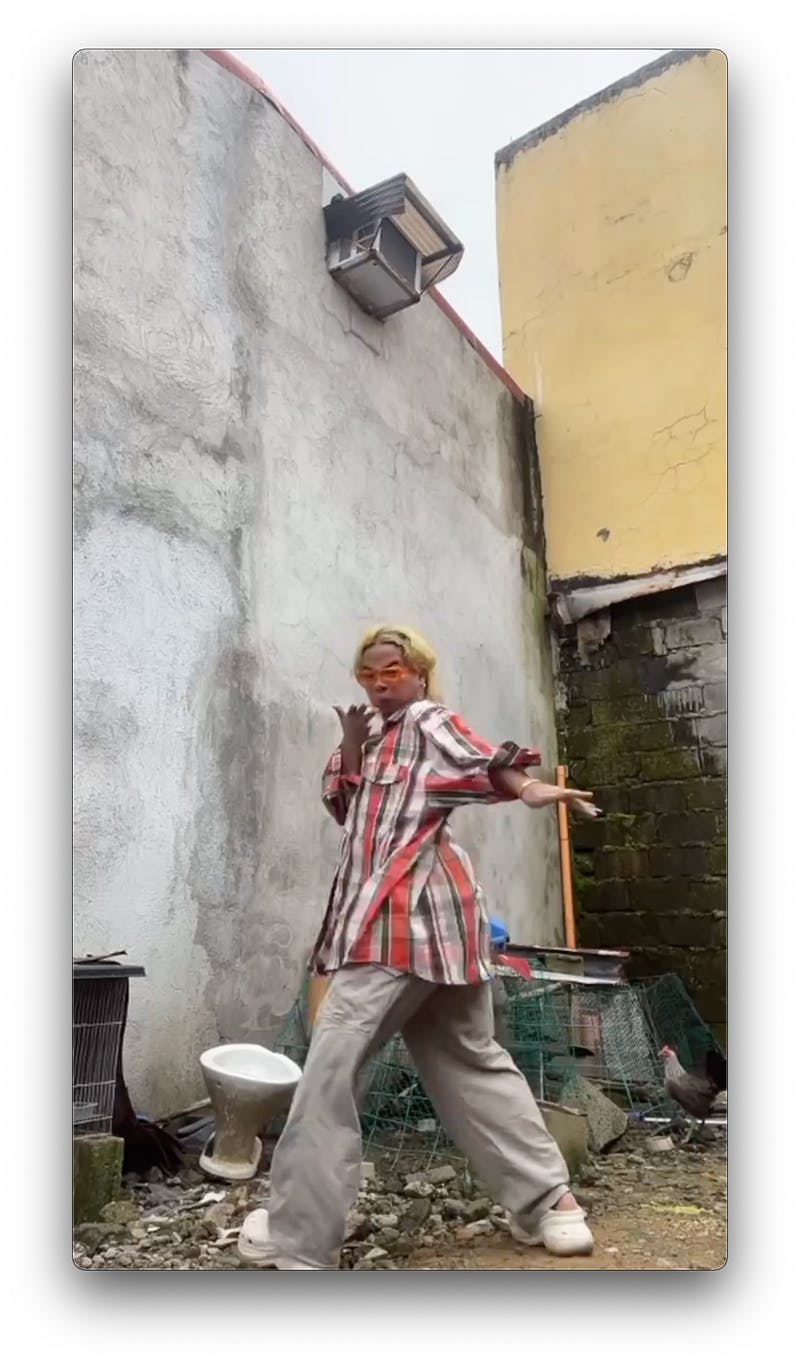 Although the song by Loui was part of a dance challenge, Roquero dispenses with the majority of the routine, save for the twerking finale, which in his version takes up nearly half of the 15 second clip. The setting of the video seems at odds with its success at first glance – he's dancing in a dirt yard squeezed up next to an old concrete wall with a broken toilet and a chicken cage in the background. But it's a memorable scene, and it has resonated with people across the world. The video captures Roquero being his proud self, feeling no need to gloss over anything. "I think people liked the clip because I was being true to myself — I'm not ashamed of my status in life," he says, in Tagalog. "I was shocked to discover I got so many views though. I was locked out of my account and had to start a new one several months later. That's when I finally saw that it had blown up." At the time of this writing, it's clocked 44 million views and nearly seven million likes.
The video became a template for Roquero, and he's uploaded countless other successful dance videos flexing a great sense of humor, a unique fashion sense, and an unapologetic femininity. Many of the videos are filmed in the same back yard and often feature the family's chicken, which he named Antonio. (Antonio has since passed, unfortunately.) His mom makes appearances too.
Success has been life changing for Roquero. He grew up poor as the son of an aluminum installer in between the city of Caloocan in Metro Manila and in Bulacan, the province immediately north of the Philippines capital region. His current neighborhood in Norzagaray — where the yard in his videos is located — is a squatters village. "The streets are filled with kids, the houses are too close to each other, and it's very messy," he says. Poverty in the Philippines can be extreme, with a pre-pandemic government survey putting the average family income at about $430 dollars a month. This year, an independent global survey put the monthly salary near the bottom of 110 countries. Almost 5 million families go hungry at least once over the course of three months.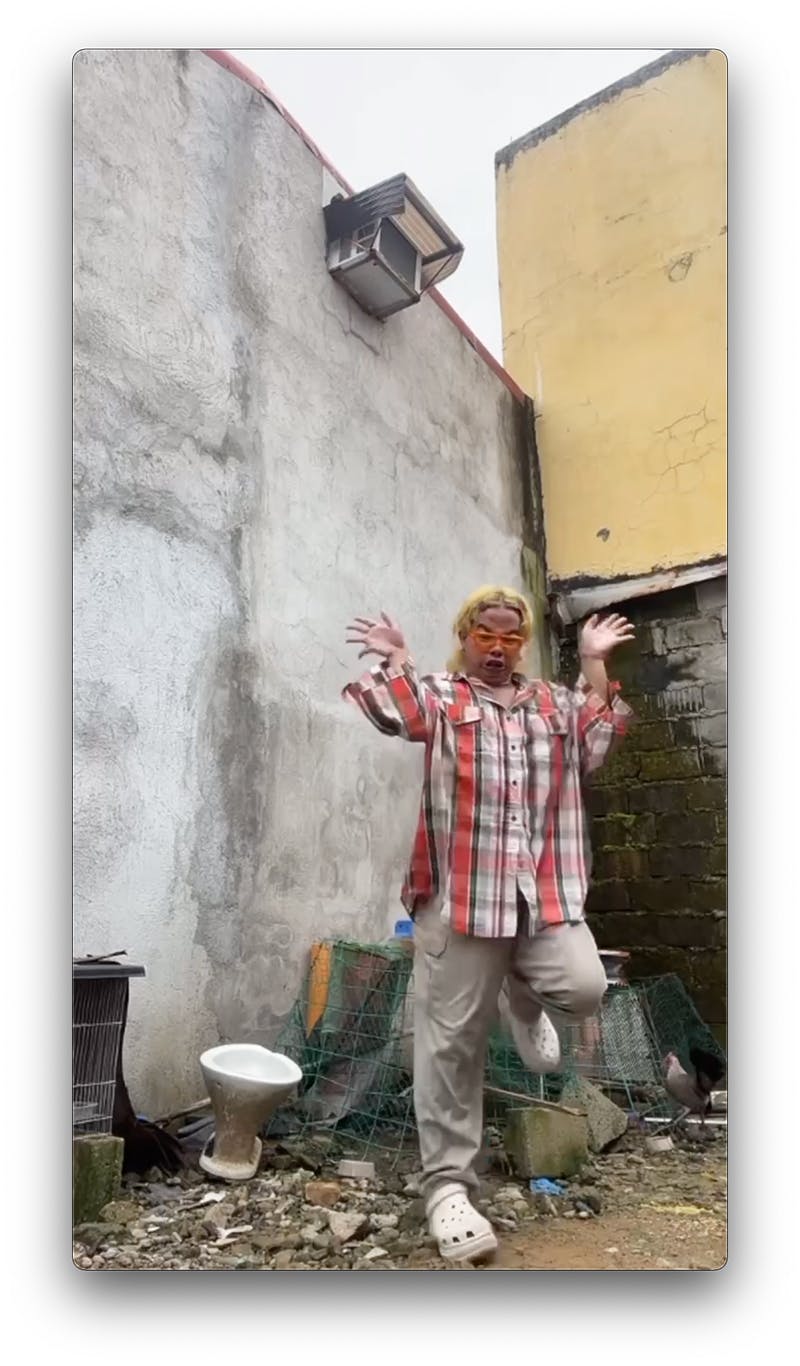 But now, because of TikTok, Roquero's family doesn't need to worry anymore. "We can eat food that we were never able to eat before," he says. "Now we get to buy the things we need and want." As silly as the platform can be, it's a legit source of income for people all over the world, and it can have a significant impact on the lives of creators in the developing world. The Philippines is a particularly lucrative market for influencers, with the country being the most online in the world for the past six years. It's such a good source of views and clicks that "Pinoy baiting" has become a thing, when foreigners swoop in and make Filipino content just for the engagement. Recently, Nas Daily was accused of exploiting an elderly, indigenous Filipino tattoo expert for his personal gain.
Although the majority of Roquero's viewers were initially from the US, Filipinos now account for half of his fans on the platform, he tells us. That local fame has also changed his life. "I've shown up on TV here and get to hang out with lots of other artists," he says. "I get recognized a lot when I go out too, especially at the mall or the market. They even chase me sometimes!" It makes it hard for him to do regular things, but he still enjoys the attention. "It's overwhelming but this is something I've always dreamed of."
Roquero has always been a dancer. When he was a kid at family parties, his aunts and uncles would always ask him to dance. He'd happily oblige, busting out moves to "Nobody" by the Wonder Girls and the Sexbomb Girls' "Spaghetti Song." He was also a part of dance teams at school. For TikTok, he tends to stick to trending dances.
His clothes are an instantly noticeable part of Roquero's personality, a mix of baggy streetwear with form-fitting, girly fits and his trademark berets. "I really like ukay-ukays," he says, using the Filipino name for thrift shops. "After school, I always used to go to them. Even if I didn't have any money, I'd still go just to see what they had. I don't really have any rules about what I wear — whatever I think looks the best and most unique, I mix and match them." Although importing used clothes into the Philippines is technically illegal, thrift shops are a regular sight across the country.
For all the things that have changed for Roquero, perhaps the biggest impact TikTok has had on his life is the way it's made him more comfortable with his sexuality. "I'm proud to say I'm gay," he tells us. "But it was hard for me to come out to my family. They were always supportive of me, but I'd see stuff on the news and social media about kids getting beat by their dads for being gay and I couldn't do it." The Philippines is relatively accepting when it comes to the LGBT community, especially for Asia. It's very common to see boys dressed as girls going about a typical day, while walking to school or even at work. But life can still be difficult, especially for kids. He says that he was bullied everywhere as a kid, even while just walking down the street, with people telling him he was "a poison to society." But his success on TikTok gave him the confidence to come out to his family. "Now they've slowly come to appreciate me for who I am."
Head here to get a copy of the new issue of Highsnobiety Magazine.