Like all good business ventures, emerging menswear label Arnar Már Jónsson was born over a few pints. "We met while studying at the Royal College of Art and quickly realised we had a lot in common after a few chats at the Art Bar," explains the label's namesake founder of connecting with his now co-creative director, Luke Stevens, in 2017. "We both had questions about limits of performance and everyday wear and how to elevate them both conceptually and in design."
Through those initial conversations, the pair established that they wanted to create a brand that would elevate their existing wardrobe; one that incorporates new shapes, fresh ideas and functionality into everyday dress. Cue Arnar Már Jónsson, officially launched in 2018, born from the desire to craft clothing that makes people feel comfortable, without harming the environment.
Each collection from the brand is built on three categories: jackets, shirts, and trousers, skipping on brash logo placement and bold hues in favour of high-tech fabrics and neutral colour schemes which give a visual nod to the natural environment. Splitting the work across continents – Jónsson is based in Reykjavik, Iceland, Stevens in London – the design duo create purposeful pieces that are suited "for both nature and the urban environment".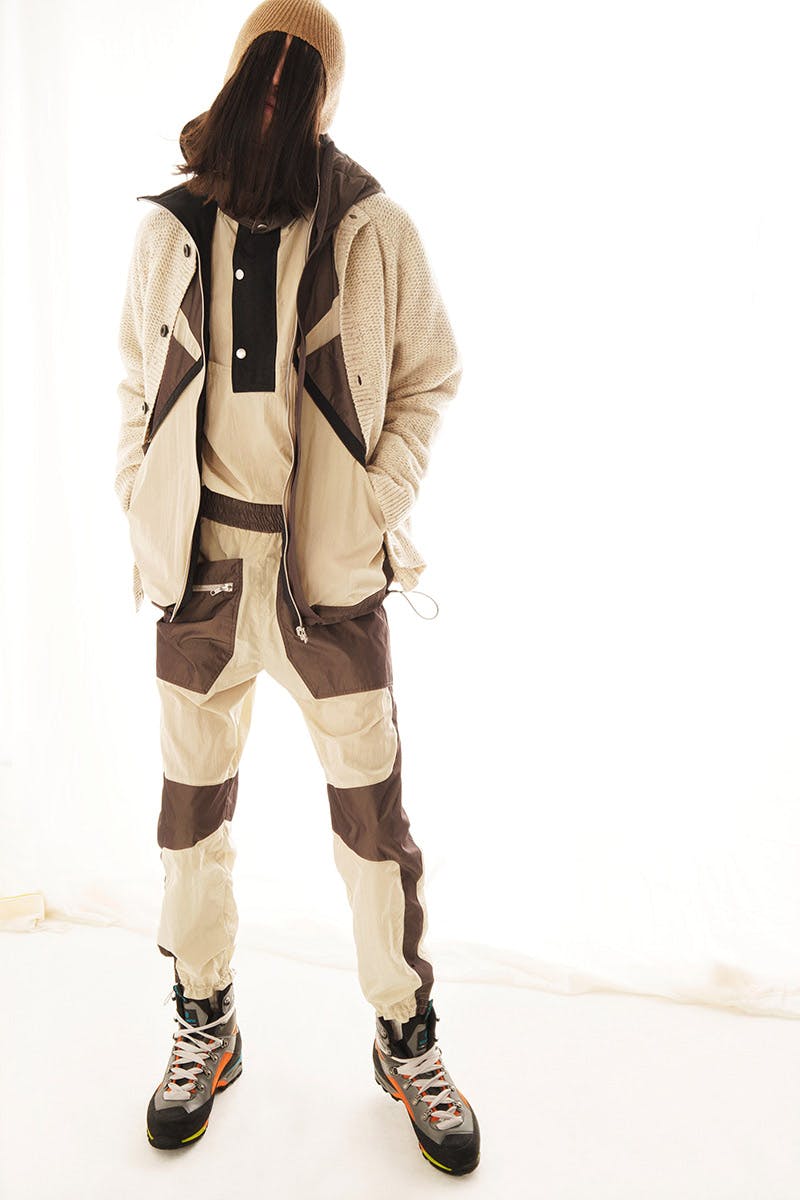 "We always look to places and scenarios where our clothing needs to function. For example, in Iceland you have to dress for the weather, it's just something you have to think about given its position at the top of the globe," says Jónsson. "You need to always keep in mind that you have to avoid getting wet or cold, and to shield you from the wind. We take the fundamental elements of dressing for that harsh environment and appropriate it [into] urban living."
The brand's garments are designed to be transitional, "equally suited to life in the city as they are to North Atlantic force winds". Adaptability and convertibility are pillars of their business, be it anoraks that can fold into a bag when not in use, or technical shirting made from a lightweight Ventile fabric, which behaves like a regular cotton but has a weaved structure that is both water repellent and breathable.
"We spend so much of our lives on the move so our clothing needs to constantly respond to different environments, and the harsher the climate gets the more our clothing needs to adapt. We're constantly building on these techniques season after season, through a continual process of refinement with our manufacturers and an ongoing conversation between designer and wearer," says Jónsson.
It's a refreshing approach, one that has garnered the attention of an impressive list of stockists including Browns Fashion, Selfridges and SSENSE. On a surface level, it could be easy to dismiss Arnar Már Jónsson as just another brand for the Gorpcore bros to obsess over. But as Jónsson explains, him and Stevens are driven not by aesthetics, but the yearning to bring human touch to performance-based design, treating fabrications with an artisanal hand, while celebrating traditional craftsmanship.
"We work with the idea in mind that our clothes are primarily designed to be worn, rather than being made for the sake of producing an image. This reflects the way that we both think about dressing; it's much more nuanced than this straight up, technical menswear thing. Hopefully, it has a more poetic sensibility to it — one which moves beyond the stereotypes associated with performance-wear to explore a more subtle fluidity, reflecting how those around us want to dress today," he explains. "It's a sort of tribal design, expressing a specific approach to living, made for a group that shares views on clothing, culture and life in general."
Just take the brand's SS22 collection, which sees the design duo use Sanremo wool to create smart-looking, yet waterproof trousers, or panelled tracksuits which appear to be made of an easy-going jersey, but are actually crafted from super-luxe Milano-stitched wool. The pair are prone to treat whole garments with natural over-dying and washing techniques, experimenting with black tea, iron and the Icelandic plant Beitilyng to create unique colour combinations – meeting new developments with tried and tested methods, such as sealing garments in traditional wax waterproofing techniques.
"We just wanted to give these techniques a little exposure, use nature, and really show our process," says Jónsson. "It's a complex and time-consuming process but we believe an important one, to develop clothing sustainably. The goal is to set up a dye lab specialising in these approaches."
With each season, Jónsson and Stevens are ensuring one garment isn't simply replaced by a newer variation of a piece from their previous collection, evolving brand signatures "in ways which respond to ideas we feel are missing in the industry".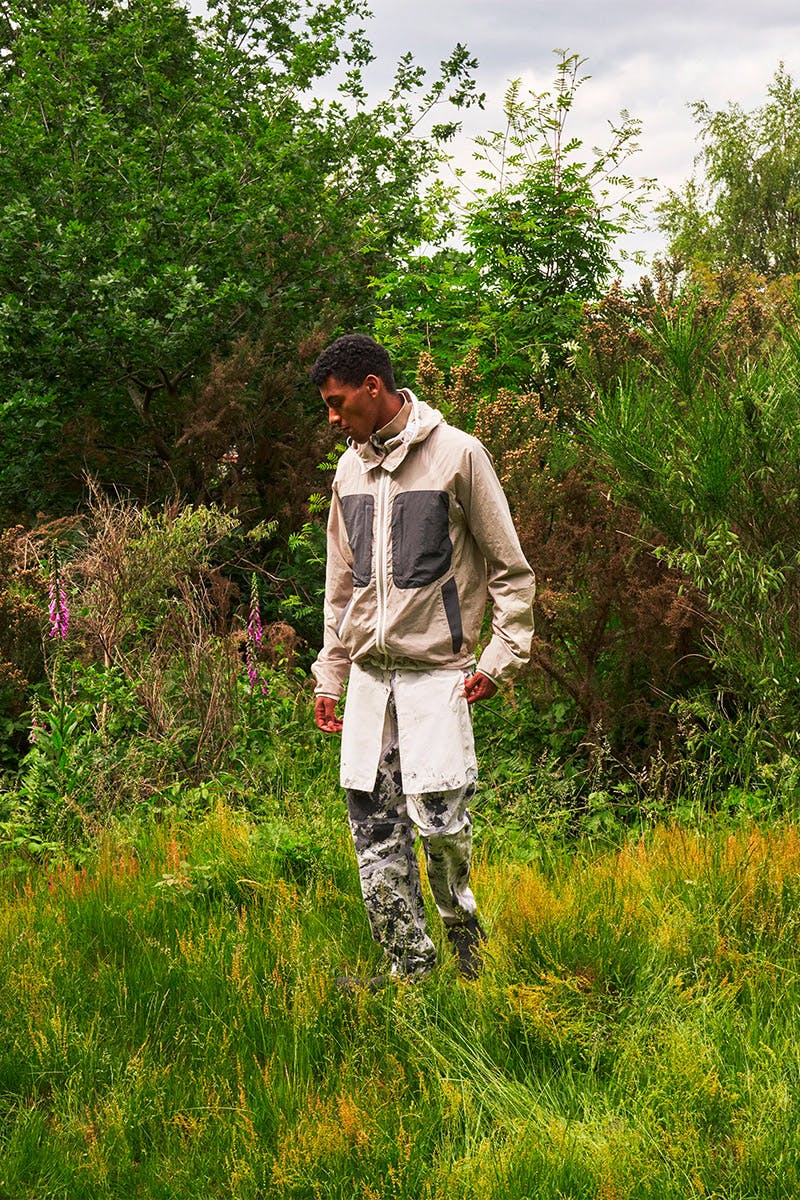 "We're interested in how the wearer's relationship with a piece evolves over time, through use, and how well a certain piece performs, or what we're asking of it," says Jónsson. "We like the idea that you could return to an archive piece from a previous season, updating it with a new component, function or feature from a new collection. We develop these techniques from season to season, so as certain techniques evolve this adaptability ensures previous pieces don't become obsolete – they function almost like a software update or installing a new app."
The future-facing vision of Jónsson and Stevens will serve them a great deal in future-proofing their own business. Together the pair are already thinking about creating product that exists outside of fashion – which will expand their repertoire to technical new heights, while remaining indebted to the nature that surrounds them.
Want to keep browsing? Head to the Highsnobiety Shop for more products that we love.