With a mother from Hong Kong and father from England, uniting east and west is not only in Arthur Bray's blood—literally—but it's also the mission of his creative collective Yeti Out. Founded with his twin brother and university roommate as a music blog during their university days eight years ago, Yeti Out has grown into a global platform that, through music collaborations and basement parties, is bringing together eastern and western artists to push the envelope in Asia's creative circles.
Thanks to his natural instinct to reject the conventional, Bray was recently featured alongside gender-defying model Jazzelle and rapper Octavian in Palladium's #DareTheUnknown series, which celebrates the release of their Spring/Summer 2018 collection.
As representatives of the next generation of urban explorers, Palladium challenged them to embrace their more intrepid sides in a series of three short films that follow them as they explore their cities. Each one captures them completing one dare set by Palladium which, for Bray, begins with him throwing an unexpected party in a Nepalese restaurant in Hong Kong.
To learn more about Bray's projects, we gave him a call and talked about pushing the boundaries in Hong Kong, disrupting the Asian music scene, and why it's important to dare to create, regardless of whether we succeed or fail. Read the interview below and check out Palladium's #DareTheUnknow video in full above.
Arthur, who are you and what do you do?
I'm an editor and music and party promoter. I'm originally from Hong Kong but then moved to the UK where my dad's from. The projects I work on can take different forms, cover various genres and locations, whether it's a photo or video shoot, producing merch, throwing an event in a restaurant, or writing a freelance piece.
Tell us about your creative collective Yeti Out.
Yeti Out started off as a blog in London called Yeti In The Basement. At first, it was an editorial platform that covered music and featured interviews with people that we admired. Prior to this Instagram frenzy, a blog could have a lot of power as we were essentially press, so we used it to our advantage to get into club nights in London and Brighton where I went to university. The blog then became a club night itself, and we began to put on parties in East London at various places from Visions Video Bar to The Cornershop. When I moved back to Hong Kong there was definitely a lack of good music nights and events, so we started throwing parties through Yeti Out.
What was it like to be a part of Palladium's #DareTheUnknown campaign?
It was really fun. The challenges they set me were all exciting and allowed me to connect with different creative people within the city and bring different tribes together under one roof to enjoy good music together. I was able to share with Palladium all the hidden gems within Hong Kong's bustling landscape, especially the little pockets of subculture, which are often overshadowed but nonetheless influential.
That's true, Hong Kong isn't a city typically associated with having a significant subcultural presence. What inspired you to establish Yeti Out there?
I wanted to contribute back to the city that I grew up in by recreating the vibes and musical direction of the club nights in London that we were buzzed about. Back in 2012, there weren't many promoters pushing alternative music in Asia, which inspired us to book the artists ourselves. Without a lot of money though, it was hard. Hong Kong is driven by money, so it's not the easiest place to break into if you're doing something that doesn't yield immediate monetary returns.
How does Yeti Out push the envelope of creativity in Asia?
The aim of Yeti Out is to bridge the gap between east and west. Hong Kong is a very multi-cultural city and we wanted to create a platform where we could highlight talent within Asia, but also introduce new music from other parts of the world. With our parties, we always make sure that there are local acts on the bill. If you're constantly booking overseas acts, then you're not doing anything for the local creative scene. I run Yeti Out with my twin brother who lives in Shanghai, so we have two cities on lock, and we also help tour artists around Singapore, Bangkok, Manila, Tokyo, and the rest of China. These artists, like the local promoters in those cities, share the same sensibility as us, so together we can build and push the envelope of the music scene in Asia as a whole.
And beyond Asia?
Looking beyond Asia, we have a record label called Silk Road Sounds and a radio show in London where we always highlight rising Asian talents, whether that's a producer from Singapore or a DJ from Bangkok. Now, when I travel to other parts of the world, people are really curious to know what's happening in Asia. That's really cool because, for the longest time, it felt as though people were only interested in key cities like New York, Paris, and London. There's always going to be a plethora of creativity within those cities, but we're in a time when people are increasingly psyched to find out what's going on in Asia.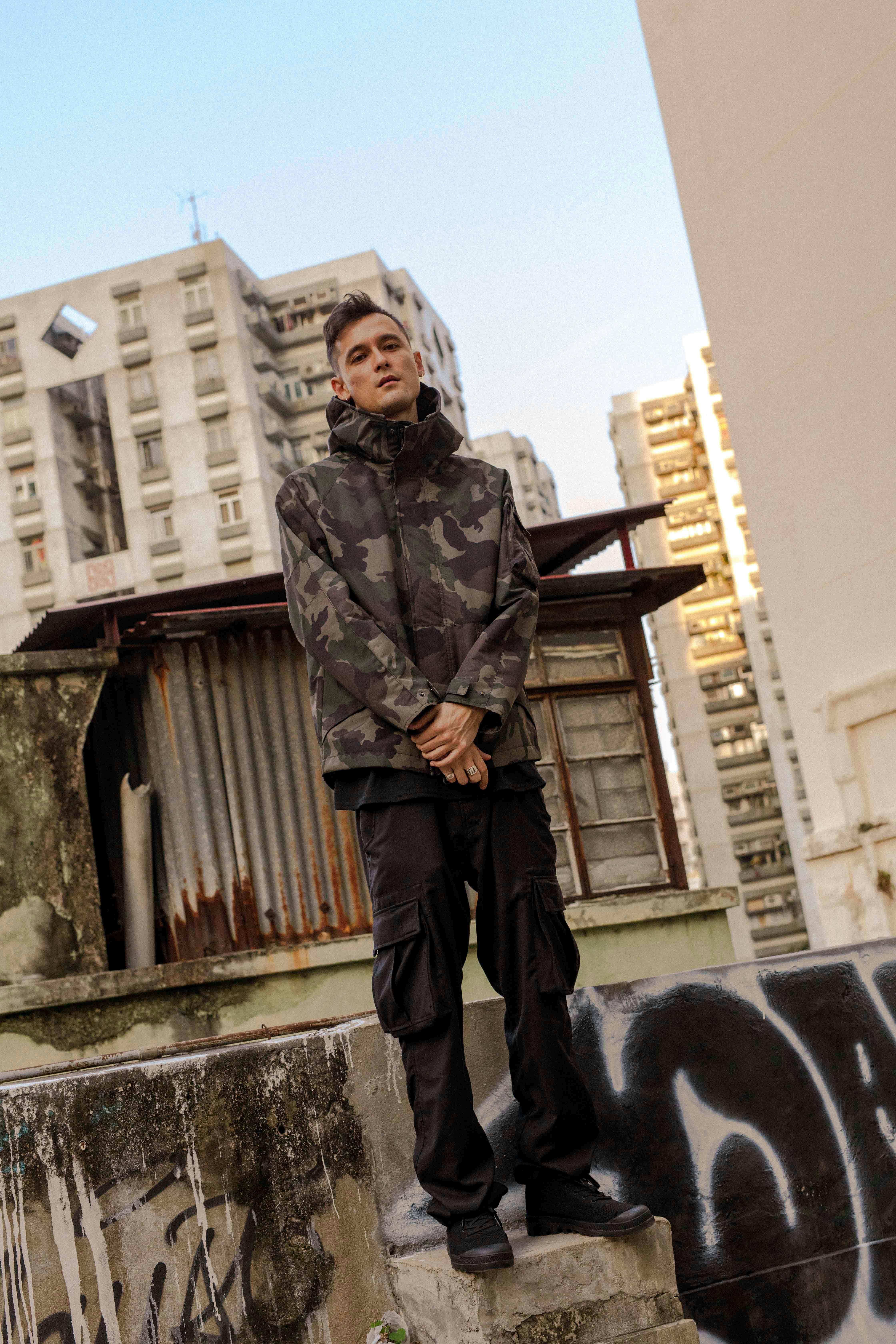 Palladium's campaign is about daring oneself to push the boundaries. What does being daring mean to you?
Doing something outside your comfort zone. With our club nights, we never know how many people are going to turn up. The success rate at the beginning was pretty low because there was almost no scene. By throwing these parties we were stepping outside of our comfort zone. Even now, we always have in the back of our minds the possibility that it could be a tragedy!
Why do you believe it is so important to challenge the status quo?
It's important because there needs to be more options to whatever's dominant, in Hong Kong especially, even if it's just so that people can decide that they don't want to be a part of it. Creative ideas don't normally come to fruition if there is immediate profit, you've got to nurture them. If you're doing that and taking a bit of risk, then you're disrupting the status quo and creating an alternative option that something new can emerge from.
With Yeti Out, you've continuously challenged cultural and musical boundaries. How do you challenge yourself on a personal level?
If you're not doing something new and exciting, it means that you're following a path that's already been carved out. In our case, that means going to a venue and negotiating a club deal that's pretty arranged and organized. Whereas, what we're trying to do is create something that's exciting and new. With that process, I'm always challenging myself.
What, in the campaign's message, do you feel is particularly good advice for future generations of creatives that are trying to go against established conventions with what they create?
To be open and do things with an independent spirit. I'm still learning myself, so I'm probably not in a place to give the best advice, but what I do know is that if you have an idea, whether it's really good or really bad, you should run with it. Your idea existing in this world is better than it not existing. You can fine-tune it, recreate it or trim it to make it something better later—that's the beauty of DIY culture. What matters is that you seized this independent spirit and went through with it. I always thought, if no one comes, that sucks, but at least there's a flyer.
How will Yeti Out continue to push the boundaries and influence future generations of explorers?
We want to continue to bridge different tribes and genres within music and society in general and, of course, highlight the young talent in Asia producing great music that we admire. In terms of other projects, we've got a merch line that we've grown into a capsule collection. We'll continue to do bookings so that we not only bridge communities within our own city but create a network of creatives across the world. It's always cool to be able to bring artists and DJs you admire from the U.K., Europe, and the U.S. to Asia—they always trip when they come here. We want to show them that although what we've got here is small, it's definitely bubbling.
Get involved with Palladium's #DareTheUnknown series and watch Bray explore Hong Kong. Then, check out Palladium's new SS18 collection, which draws inspiration from the revolutionary French spirit entrenched in the brand's military heritage. It's the brand's widest product offering to date and debuts new summer-ready models, such as the Pampa Free and the AX_EON, and an all-new knitted fabric.