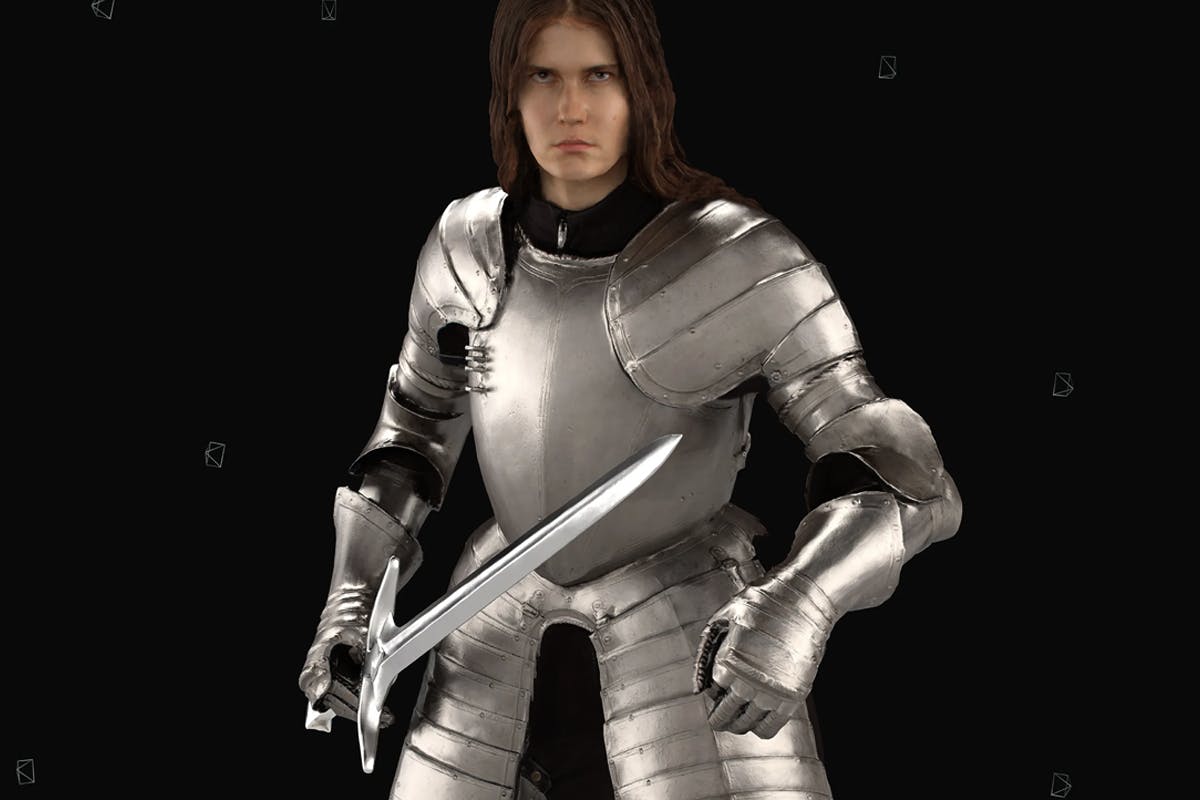 Yesterday saw Balenciaga release its Fall/Winter 2021 collection as a virtual reality runway show presented through Oculus glasses, and more intriguingly, the accompanying video game, Afterworld: The Age of Tomorrow.
In this virtual world, the player must guide a character through a series of environments, including a store, busy street, and cave (Hideo Kojima, eat your heart out). Along the way, they will bump into a motley crew of figures decked out in the new gear, as well as drone honeybees and Akira-esque space bikes. Think a fashion-centric, sustainability-heavy reboot of Broken Sword from the year 2031
Gvasalia says the narrative is a melding of mythological pasts and projected futures: a duality that was reflected in the clothes, which encompass everything from knight armor to NASA suits. At first, I was dismissive of the whole thing as marketing fluff, yet after playing, it provides context to the collection in a way that a typical film (or set) perhaps wouldn't.
Although the environment presented is hardly welcoming at first, you quickly understand grasp an endearing imperfection about it all — from the LED advertisement that has been afflicted with the blue screen of death to the dodgy-looking fellow who suddenly bears a rose (my favorite part is the forest full of ravers akin to scenes in Berlin this summer). In a dire time when so many designers are burying their heads in the idea of escapism, Gvasalia gives us something that while transportive, still feels relevant. It's the eco-conscious society that a lot of people crave, but not the kind they dream of in terms of aesthetics.
The death of physical runway shows might be over-exaggerated (Gvasalia says Balenciaga will return to this format for next July's inaugural couture collection), but it's true that brands have never had such riches at their disposal when it comes to communicating the message. Instead, it's horses for courses, where there is no right way of doing things (a video game isn't exactly what you'd use to showcase details and tailoring, for example). "It is unknown territory, but a very exciting one. Only the true and authentic creative intelligence will be able to pass a long-term test of survival," said Gvasalia. With that in mind, who knows what's next?
As with any Gvasalia project, there is a proverbial bricolage of references to pick apart. Find our highlights below.
Joan of Arc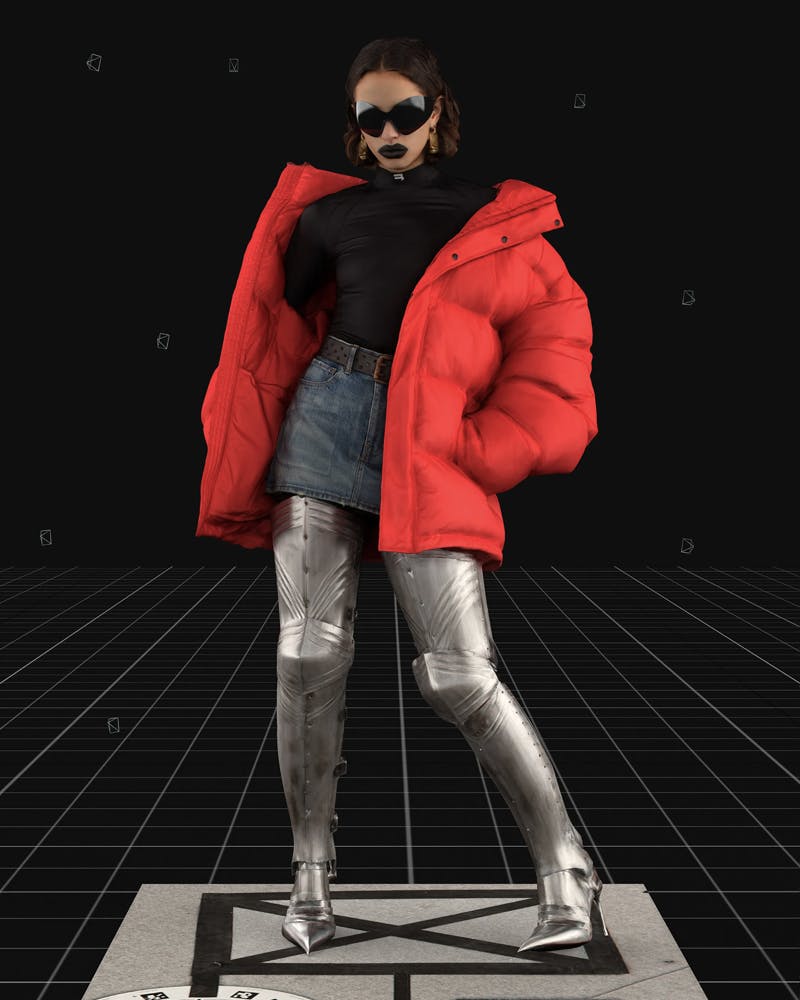 Normies wear Triple-S sneakers, fashion gallants rock medieval armored boots. In the same vein as Rick Owens' knee-high platforms, these things are wild; at first, I thought it was some kind of amputated C3P0 appendage, but no, it's just a sabaton that has been reimagined for the red carpet. As some canny online observers pointed out, they might even be a reference to Gvasalia's predecessor Nicolas Ghesquière's 2007 collection.
In an interview with WWD, Gvasalia explained his fascination with both the late middle ages and the gaming world. "My grandmothers, my parents, and [husband] Loick are my personal heroes of all times," he said. "In mythology, it is Achilles, because I love a hero who has a small but dangerous weakness. In history, it is Joan of Arc, because she is a symbol of fearless eternal youth and bravery. And in gaming, it is Aloy from Horizon Zero Dawn, because she is an outcast, just like myself."
Gvasalia said the boots were made by a craftsman in the South of France and that they will be "expensive" and "highly limited." It remains to be seen who will be the first person to break the Internet by wearing these in a music video or on the red carpet, but the smart money is on Cardi B.
PlayStation 5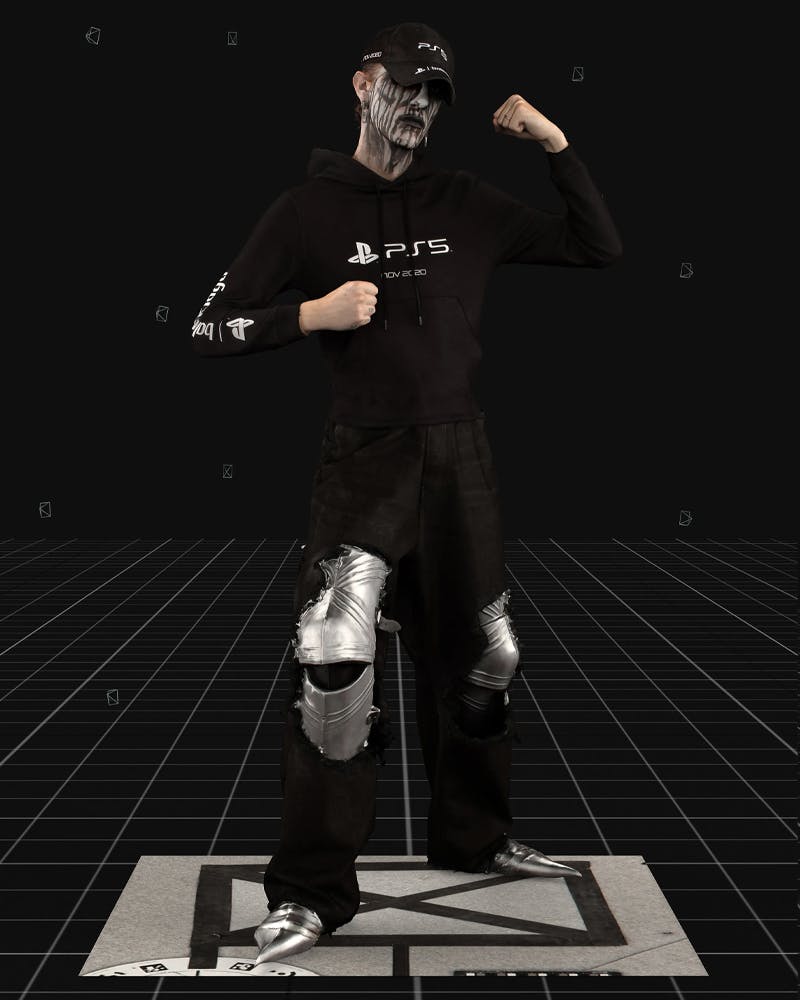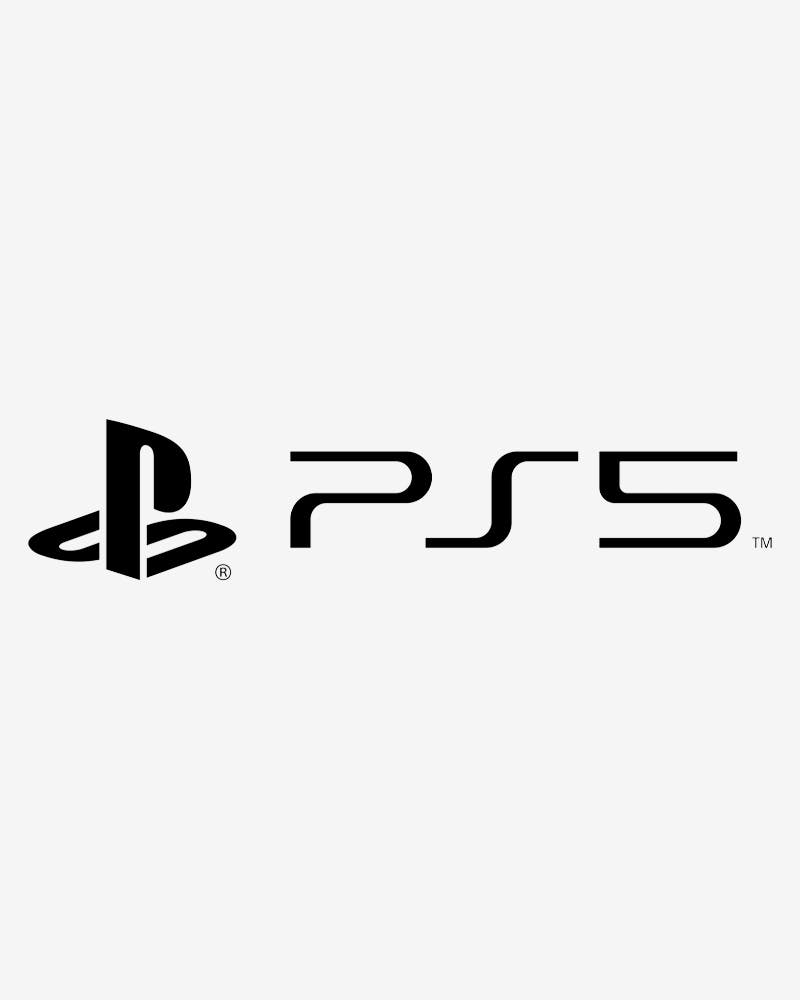 It's not the first time Gvasalia has referenced a Sony games console, having done so with the PS1 for Vetements SS20. The man himself says he enjoys gaming during downtime in the studio, specifically driving ones. A Demna-fied edition of Gran Turismo? We'd love to see it.
Uber Eats
Gvasalia loves riffing off an everyday bag, whether that's German supermarket Edeka or, most famously, the IKEA Frakta. This time, he took on what looks like an Uber Eats hot bag in an obvious wink to the pandemic and our unprecedented demand for convenience.
Workwear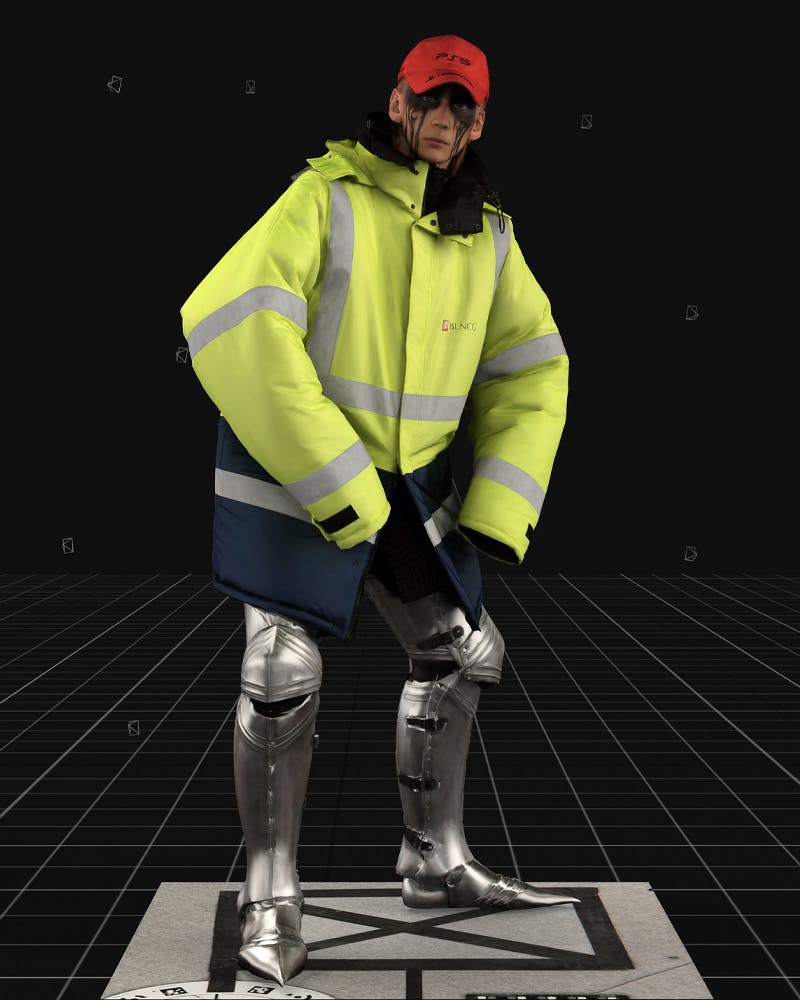 High-vis jackets are nothing new at Balenciaga. Gvasalia has been playing with fluorescent workwear for years, so the inclusion here is to be expected. This version is less logo-heavy than previous iterations and the cut, colorway, and stripe positioning means this piece actually looks like legitimate protective wear. Perhaps it's even political.
PoleStar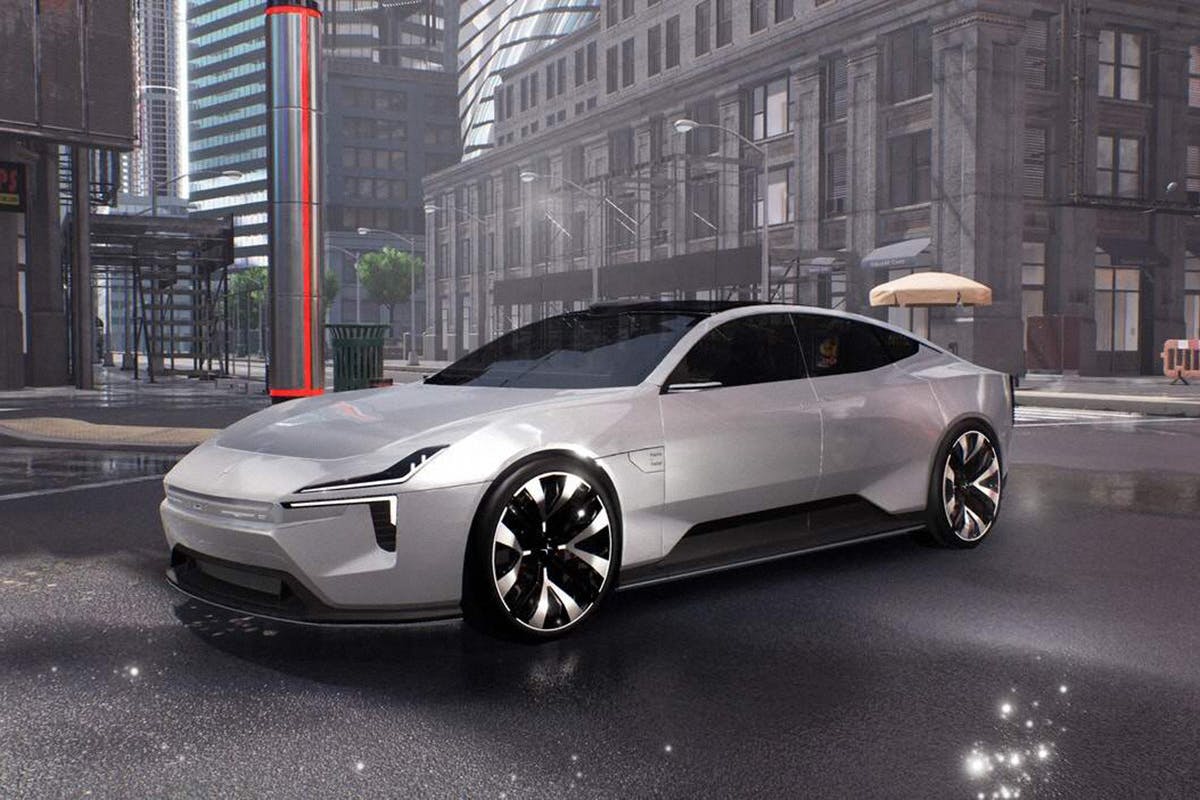 Moving back to the game, we finish with those virtual cars that came courtesy of Tes... sorry, Polestar. The Swedish, design-focused electric car brand is aligned with Balenciaga's core values in that it re-examines how materials are used and what the words "luxury" and "premium" actually mean today (or, in this case, in 2031).
The concept designs are pretty cool and way more realistic than standard Blade Runner-esque interpretations. The one above, for example, carries the blocky-quality of the Tesla Cybertruck, just way more obtainable and less apocalyptic — and there's not an Elon Musk in sight.