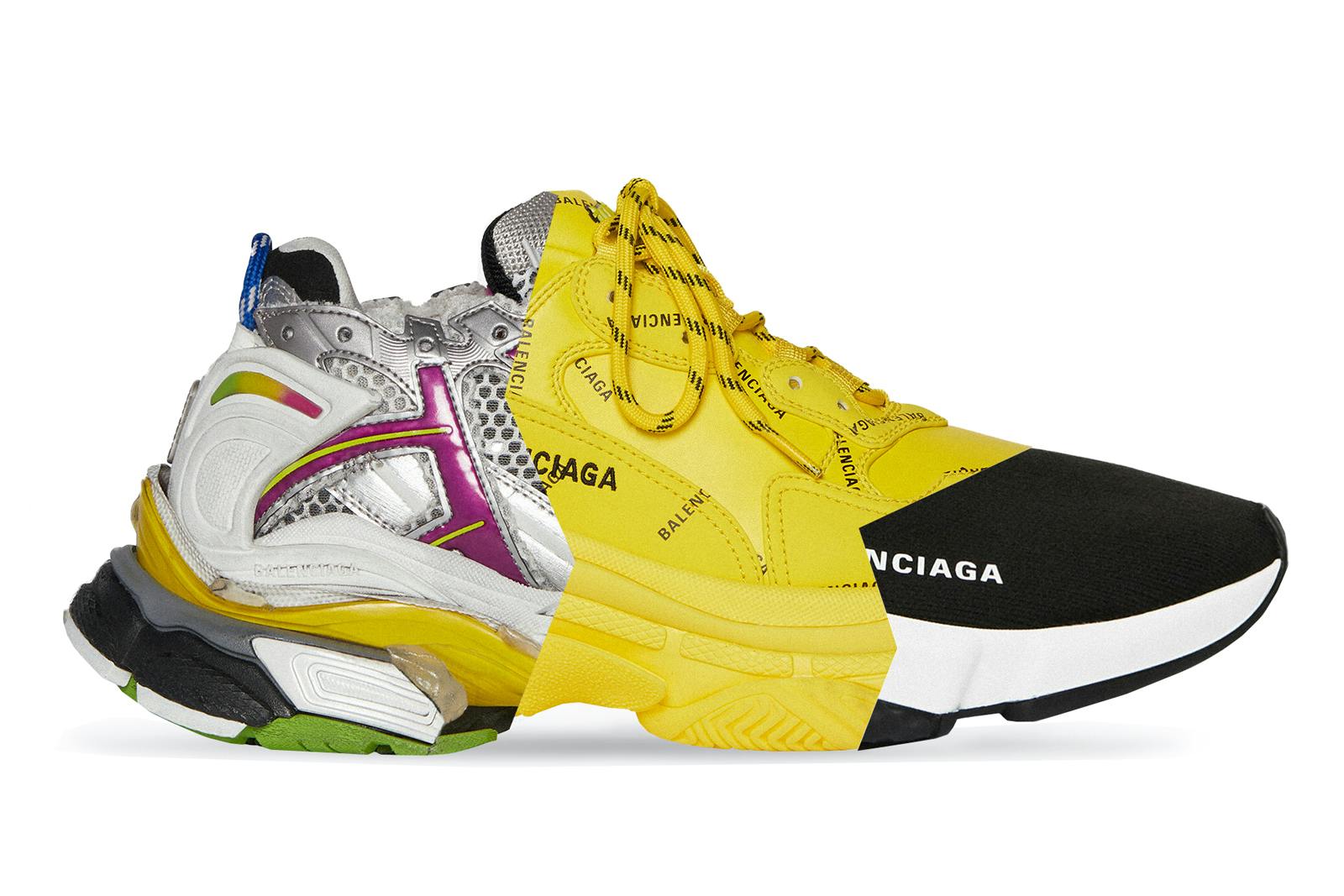 Earlier this month, Balenciaga sent Instagram commenters into a frenzy with the debut of its newest casual footwear offering: the Paris sneaker. The shoes feature a canvas upper and a vulcanized rubber sole which means they mostly resemble a high-top Chuck Taylor. While these icons of footwear come box-fresh and ready to take on the world, Balenciaga's take on the style looks like they've been through it already, to put it mildly. There's actually two levels of distressing customers can purchase, with the most beat-to-hell model retailing for $1,800. Shocking, right? Well, that depends.
For those who've been following Demna's ascent to the top of the fashion mountain, this move is actually just his latest in a series of shoes that prove when it comes to getting his vision to the masses, it is most succinctly communicated from the ground up.
Back in 2017, the Georgian-born designer first debuted his "footwear as meme fodder" philosophy with the Triple S — a shoe with a layered sole that took the dad sneaker trend to its most extreme point. These shoes weren't just chunky — they were gargantuan, honking pieces of mesh and rubber that not only inspired a million hot takes but actually warped people's perception of silhouette. After years of slim fitting everything (remember Hedi Slimane's Saint Laurent at the peak of its powers), the Triple S were like smelling salts for luxury shoppers. While initially roasted by many, in the end, the Triple S went on to become one of Balenciaga's most successful shoes of the Demna era — a sneaker they still sell to this day and which has become, if anything, so ubiquitous that its biggest flaw today is that too many people love it.
Even more successful than the Triple S has been Balenciaga's Speed Trainer, a minimal silhouette featuring a knit, sock-like upper atop a running sole.
Demna has a keen perspective on footwear as the means to get people to understand Balenciaga, a brand that requires a decent amount of pre-baked knowledge when it comes to irony and postmodernism. He's continued to push the boundaries of what a "running sneaker" means, offering a full menu of radically off-kilter options. There's the aptly-named Runner (basically actual running shoes on roids), the X-Pander (sneakers on a spring-loaded stilt), and most recently the Defender, a shoe that looks like it was cobbled together during a Mad Max apocalypse.
Even when global sportswear brands look to tap into Balenciaga's red-hot sneaker magic, it's done in a decisively Demna way. While Gucci — also part of Balenciaga's parent company, Kering — teamed up with adidas on its Gazelle, and Prada on the Forum, Balenciaga's collaboration with the three stripes (which debuted just days ago at the brand's Resort 2023 show) was on its own Triple S and Speed Trainer. This is indicative of where the balance of power lies — When you have this much pull with customers via footwear, even the biggest players come to you.
Sneakers at Balenciaga are an extension of the tried-and-true designer model for using beauty items and sunglasses as gateway products to enter their brand universe. While these categories are often licensing based, for Balenciaga, sneakers too are a foot-in-the-door category — literally. With the sneaker market at a place where Nikes easily resell for over $1,000, it's only made things like a pair of $1,300 X-Panders look relatively competitive. Perhaps no brand has reaped the benefits of this shift in consumer habits more than Balenciaga.
Stylistically, once a shopper buys a pair of Balenciaga's rather high design sneakers, whether they thought about it beforehand or not, they'll find themselves needing Balenciaga clothes to match. Would these shoes look better with the brand's flowy, oversized jeans? Most definitely. Again, footwear is a gateway category for Demna, the entry point to lure customers into the rest of Balenciaga's world, just as luxury brands utilize licensed fragrance and eyewear to get people to experience them.
As for the destroyed Paris sneakers, the fully-toasted pairs are themselves merely an art project to make way for the brand's more conservatively distressed pairs. Only 100 units of the $1,800 versions will ever be sold, with the more mass market versions fetching a relatively affordable $625. Given everything else Demna has put out into the world, they're actually quite quaint, and certainly more digestible. It's easy to imagine people who saw the fully-distressed pairs on Instagram wander into a Balenciaga store, and after some brief pondering, deciding a pair of lightly worn canvas high-tops are actually kind of cool — an easy way to finally own a piece from the brand everyone seems to be talking about.