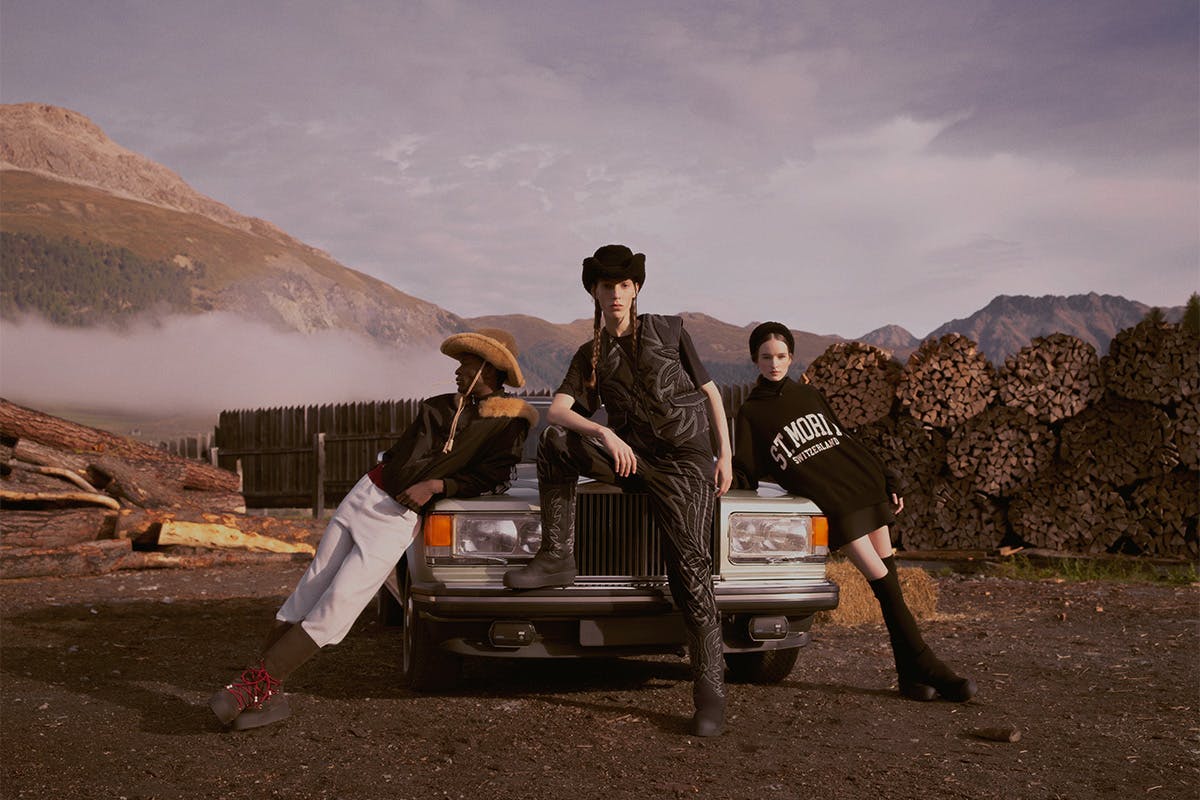 We all know that the first real sign of winter's arrival is when there's a shearling cowboy hat on the market. With this in mind, Rhuigi Villaseñor, creative director of Bally, has officially just launched winter with his first capsule for the house: Bally Curling.
Following his debut collection in the form of Bally Spring/Summer 2023, which showed in Milan earlier this year, Villaseñor keeps his foot on the gas for winter. Bally Curling finds its inspiration in the niche sport of curling which arrived in Switzerland in the late 19th century. The sport, which can be described as a giant game of boules on ice, is a favorite winter pastime in Switzerland, and it just so happens that the Bally curling boot is an icon of the sport, even outfitting the Swiss Olympic team in 1956.
Building on this typically Swiss tradition, Villaseñor stamps the Bally Curling capsule with his own distinctive Americana codes. Shearling meets cowboy hats while winter boots are treated to American-West embroidery. Beyond these visual tentpoles, though, the collection is based on Bally's long traditions of refinement and utility, all informed by cold climates. Cashmere and merino wool sweaters perfectly exemplify this trusty base.
Below, we've picked out our favorite pieces from the Bally Curling capsule collection.
Keep scrolling to shop the best of Bally Curling.
Montana Leather Long Boots
The Montana Boots represent the meeting of Rhuigi's signature flair and Bally's years of experience when it comes to making boots. Hard-wearing leather gets an Americana twist with cowboy-style embroidery.
Gstaad Leather Booties
The Gstaad Boot features an Arctic Grip® sole made up of five layers to offer comfort, warmth, and support. Combined with the suede upper, it's a force to be reckoned with during winter.
Bernina Leather Booties
Bernina is a great mix between form and function. The rubber-coated leather uppers provide a fully waterproof layer to combat adverse conditions, while the shearling lining is every bit as warming as it sounds.
Corviglia Leather Booties
Corviglia shows its shearling on the outside (and the inside, too.) The soft furry upper contrasts with the performance-ready sole unit, while bead-adorned laces round out the dramatic style.
Bear Sweater
Bally is very proud of its Swiss heritage. After all, it's this heritage that has directed the label's collections since it was founded in 1851. This crewneck sweater is woven from merino wool and makes no mistake about the label's origins.
Cashmere Roll Neck
For a less out-there take on winter knitwear, opt for items like this cashmere roll neck which prove that Rhuigi Villaseñor can do the classics just as well as the bold statements.
Shearling Hat
Arguably the highlight of the Bally Curling capsule, this shearling cowboy hat is giving us big '00s music video energy.
St Moritz Headband
Everything, from boots to headbands, is made better with a bold shearling update. Case in point.
Switzerland Beanie
Featuring tonal embroidery to the front and Switzerland text around the main section, this classic beanie is finished in pastels to bring a soft final note to your winter fits.