As this year winds down we've recapped its highlights to bring you the best of 2016 in fashion, sneakers, music, movies and, of course, everyone's favorite internet pastime: memes.
We all have tough days but, when real life gets too much, the internet can always be counted on to provide light relief.
2016 has been arguably the best year on record for meme culture – the U.S. election in particular sparked a wave of online creativity resulting in the hilarious "Prankster Joe Biden" series, whereas Drake once again reprised his role as King of the Memes (remember the "Hotline Bling" memes from last year?) by releasing his Views cover which was subsequently photoshopped onto everything from Beyoncé's cornrows to the awning of a Parisian bistro.
Elsewhere Pepe the Frog became a hate symbol (WTF?), garlic bread memes became transphobic and a small 2D dog engulfed in flames became one of the year's most relatable characters.
We may be headed into a future of political uncertainty and a long-dreaded Trump presidency, but the following memes should provide solace, plus an overview of the year that was. No matter how tough the world gets, we'll always have the internet to calm us down.
Damn Daniel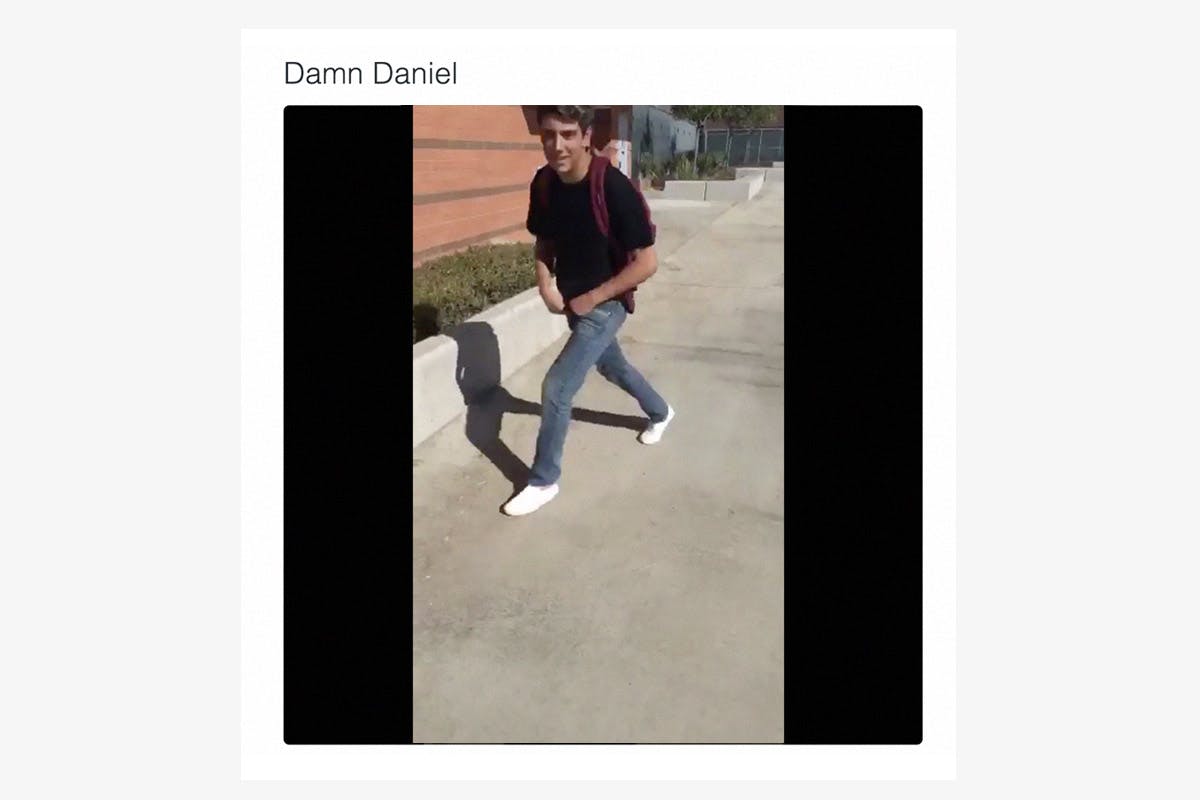 On February 14th, Daniel Lara was just a regular student at a Californian high school. Just a day later, he was a viral sensation due to a video posted by his classmate which spawned the now-iconic phrase: "Damn, Daniel!"
The original tweet currently has over 300,000 retweets, whereas a Damn Daniel starter pack meme was quickly created, containing a pair of white Vans. Unsurprisingly, just over a week later, Lara was contacted by Vans to star in a commercial.
Drake 'Views' Meme
Just last year, Drake's inimitable "Hotline Bling" dancing sparked the creativity of Twitter users worldwide, launching a series of memes and gifs. This year, on April 24th, the rapper topped himself by releasing the cover art of latest album Views and, once again, the internet began frantically photoshopping.
Within days, the seated rapper popped up atop Beyoncé's cornrows, on E.T.'s bicycle and even perched on Nicki Minaj's famous rear. Never one to take himself too seriously, Drake's official website was soon updated with a link for users to create their own album art.
Pepe the Frog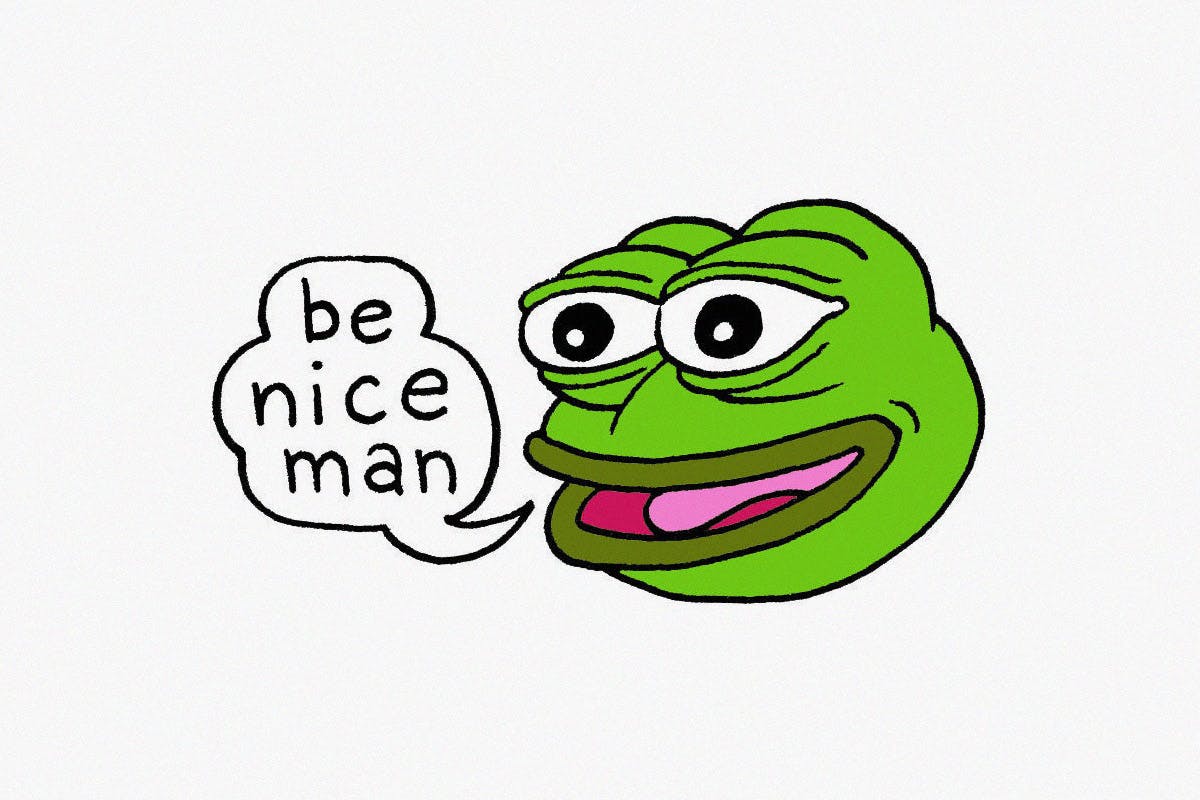 Despite originating back in 2005 as a character in artist Matt Furie's Boy's Club comic series, 2016 was the year that Pepe the Frog gained mainstream notoriety – first as a mainstream meme, then as an apparent hate symbol.
It started in May, when The Daily Beast published an interview with a Twitter user, self-identified as an "anonymous white nationalist," who expressed desire to "reclaim" Pepe by featuring him in anti-Semitic memes.
The situation escalated to the point that the artist had to defend himself, stating that he had no involvement in the "weird racist memes" and launched the #SavePepe hashtag to restore the poor frog's reputation.
Garlic Bread Memes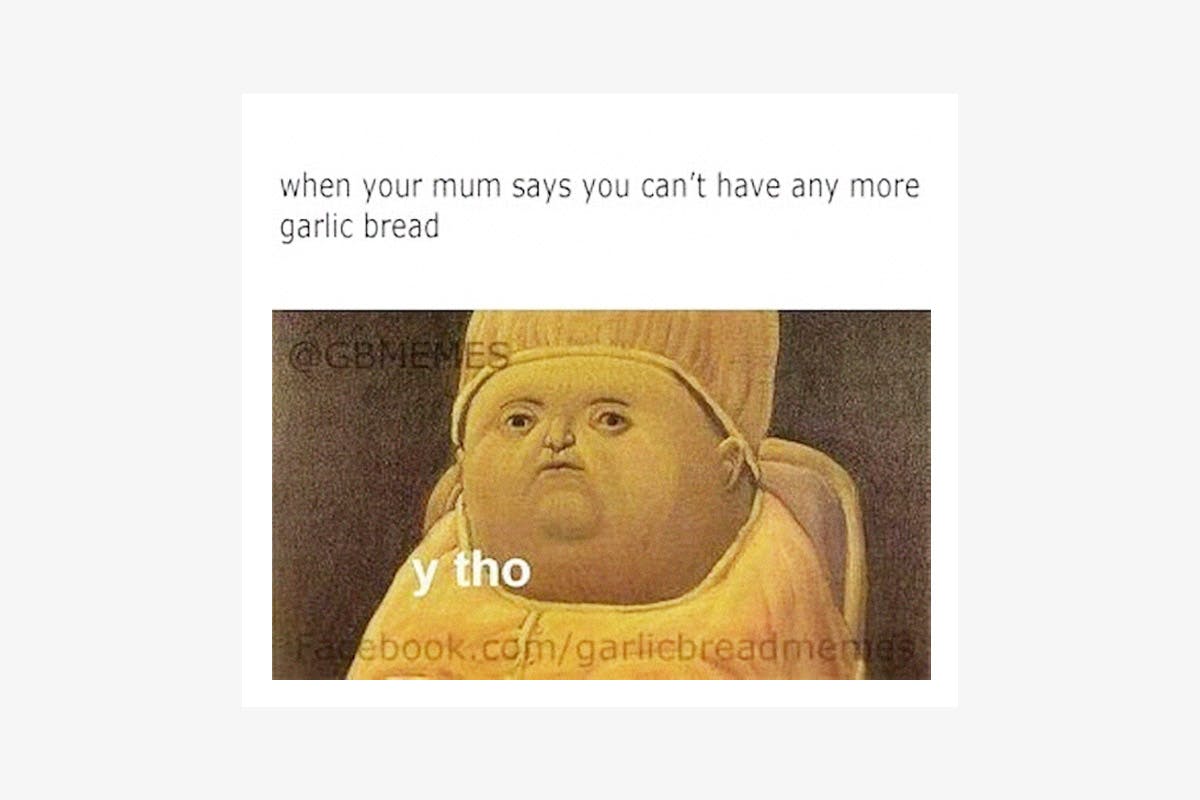 This year, meme culture honed in like never before on the Italian delicacy. Although established a few years ago, in January this year, articles were published dedicated to the rapid growth of the Garlic Bread Memes Facebook page.
New entries came in thick and fast, but one in particular stood out for the wrong reasons – the image depicts two slices of garlic bread captioned with "if I had a slice of garlic bread for every existing gender," and was taken to be a slight towards non-cisgendered individuals.
The meme went viral and spawned articles and online commentary on its offensiveness, proving that, when memes go political, the consequences aren't always great.
DJ Khaled
It's difficult to pinpoint the excellence of DJ Khaled. This is, after all, a man that this year gained icon status for his hilarious Snapchats – most notably the time he got stranded at sea on a jet ski and documented the whole thing.
He has predictably become a meme on various occasions due to his inspirational quotes. This year, an image of him next to Obama became an ISIS hoax, whereas a screenshot of the jet ski incident, subtitled "ride wit me through the journey of success" was posted with the caption "When you get more than 10 likes on your selfie".
DJ Khaled – he's the gift that won't stop giving.
Bernie and Hillary
Bernie Sanders developed a reputation as an online hero this year, spawning iconic Facebook groups such as Bernie Sanders' Dank Meme Stash.
It was a campaign poster depicting him next to Hillary Clinton, however, which went viral due to its layout being extremely easy to Photoshop – users began pasting various "issues" into the box and comparing the two candidates with the general implication being that Bernie is a radical badass whereas Hillary is a conservative robot.
Harambe
When Nicki Minaj references you in a freestyle, you know you've made it. "I'm dragging these hoes like Harambe did the kid," she rapped in "The Pinkprint Freestyle"; she was, of course, referring to the silverback gorilla shot dead at Cincinatti zoo when a child fell into his enclosure.
The tragic incident resulted in the #JusticeforHarambe hashtag which, in turn, sparked a series of initially heartfelt memes. However, things did get weird fairly quickly when Harambe appeared Photoshopped into memes mourning the legends claimed by 2016 – next to Prince, Muhammad Ali and David Bowie.
Arthur's Fist
One of the most ubiquitous memes of the year, Arthur's Fist was originated in a now-deleted tweet on Twitter and then by user axedowg on Reddit back on July 28th.
Captioned, "When people say Harambe was just a gorilla", the meme quickly gained notoriety and resulted in the inauguration of a Twitter feed entitled "Arthur's Hands," which spawned viral memes on everything from Spongebob and Pokémon to racism and even North Korea.
Mr. Krabs Spinning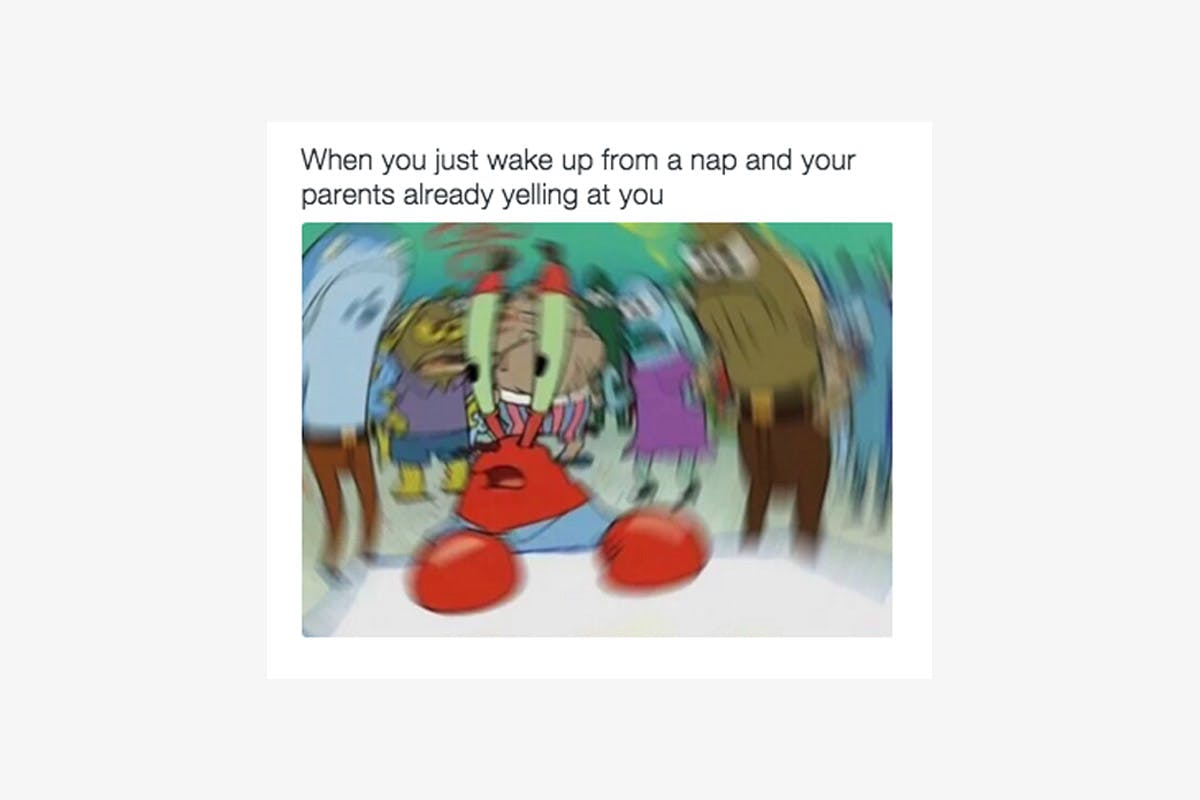 Few animated shows have spawned more memes than Spongebob Squarepants. From relatable statements about the first day of school to the disappointment of parents refusing that all-important night out, the iconic sponge and his underwater pals have resulted in a meme for every occasion.
In 2016, it was Mr. Krabs' time to shine – a wavy image of the famous crustacean originally captioned "when you just wake up from a nap and your parents already yelling at you" this year attracted thousands upon thousands of replicas and retweets.
Dat Boi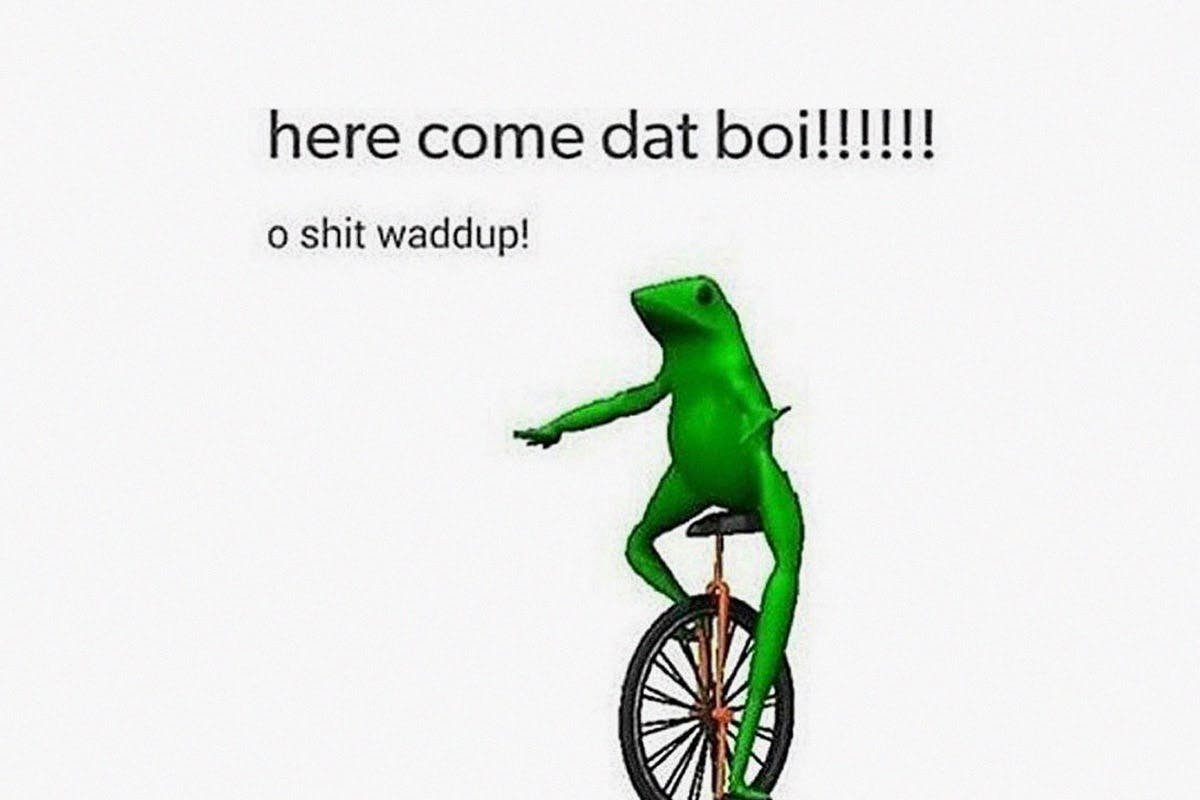 Some memes gain notoriety for no apparent reason. One example is this year's "dat boi" meme which has appeared in various incarnations.
Arguably the most popular and recognizable iteration depicts an animated frog on a unicycle, but later in the year the caption reappeared underneath a weird Pac-Man creature dressed in red sneakers and gloves; Tumblr user casualchriss even multiplied the original unicycle-riding amphibian, creating a frog crew alongside the caption 'we dem bois!!!!!'
Get You a Man That Can Do Both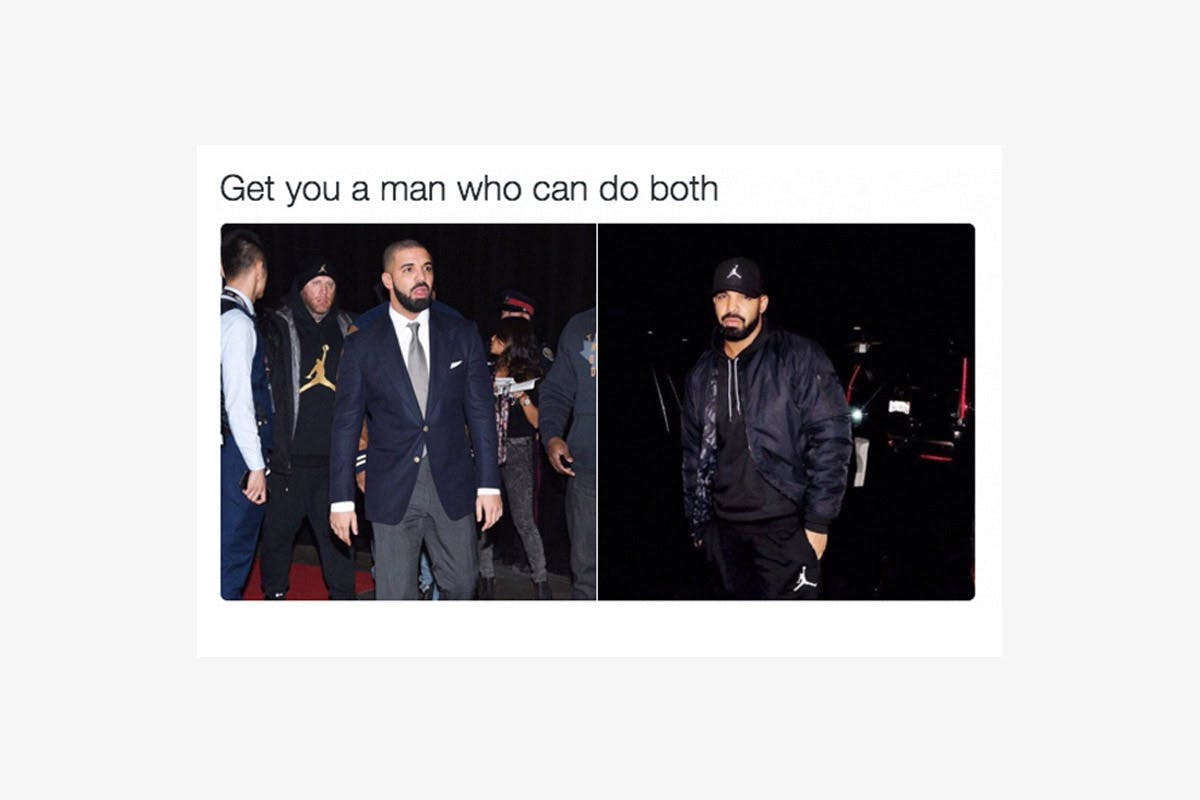 Once again proving the internet's obsession with Drake, the Canadian star went viral back in February when Twitter user @MikeShotya_ tweeted an image of the musician wearing a suit and tie next to another of him dressed in a tracksuit, captioned "get you a man who can do both".
This sparked a series of hilarious selfies accompanied by the same caption; later came the dogs dressed in jumpers, followed by politician parodies and guys with their heads replaced by sandwiches. Well done, internet.
This Is Fine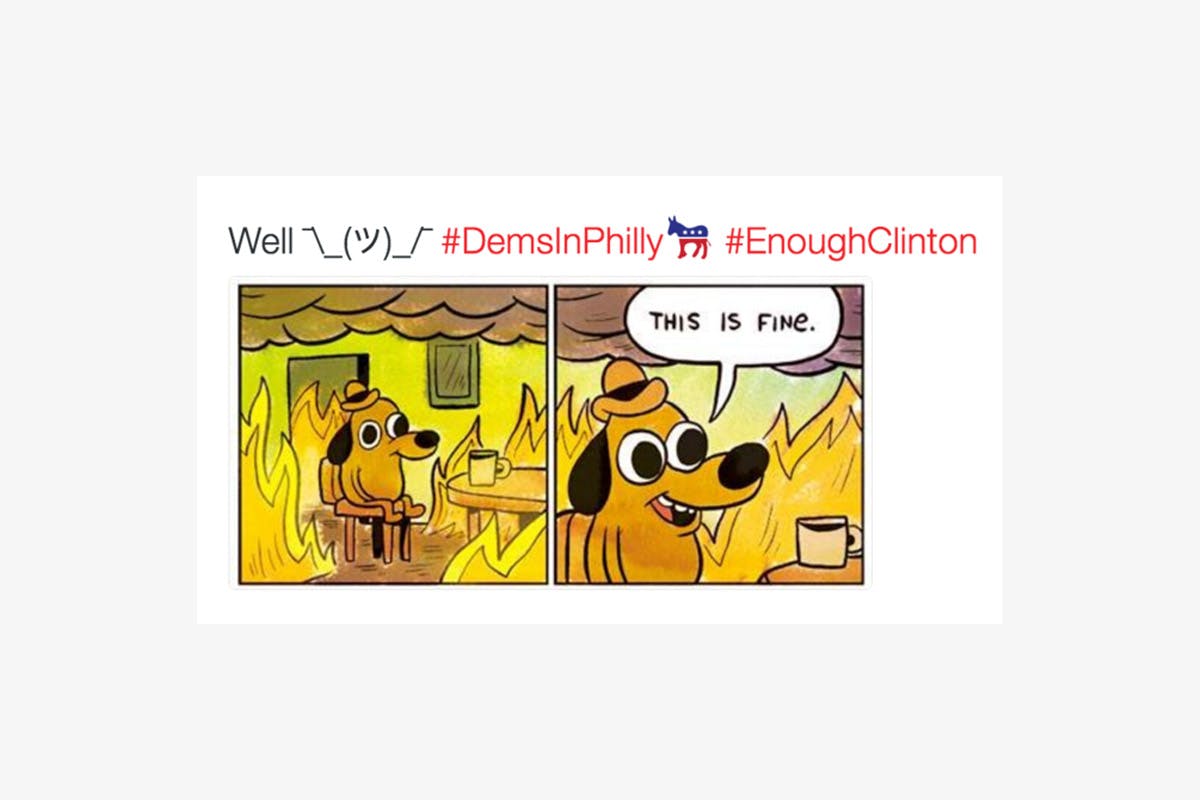 One meme that truly encapsulates the overall mood of 2016 comes courtesy of the webcomic series Gunshow. The image, depicting a dog sat saying "this is fine… I'm okay with the events that are unfolding currently" whilst engulfed by flames has become the go-to reaction for staying composed amidst social and political chaos – or seeming to, anyway.
The Republican National Committee posted the meme back in July as a reaction to scenes of extreme disarray at Philadelphia's Democratic National Convention, but even as recently as a week ago French musician Héloïse Letissier (of Christine & The Queens) tweeted the image to sum up this year.
Classical Art Memes
It was just eight weeks ago that an Instagram account entitled "Classical Art Memes" popped up and quickly went viral.
The account tapped into a trend growing all year; from Botticelli to monsters and Muppets Photoshopped into oil portraits, this year has provided art historians with a wealth of memes touching on topics ranging from hideous selfies to drunk negotiations in the line at the club.
Skai Williams Sitting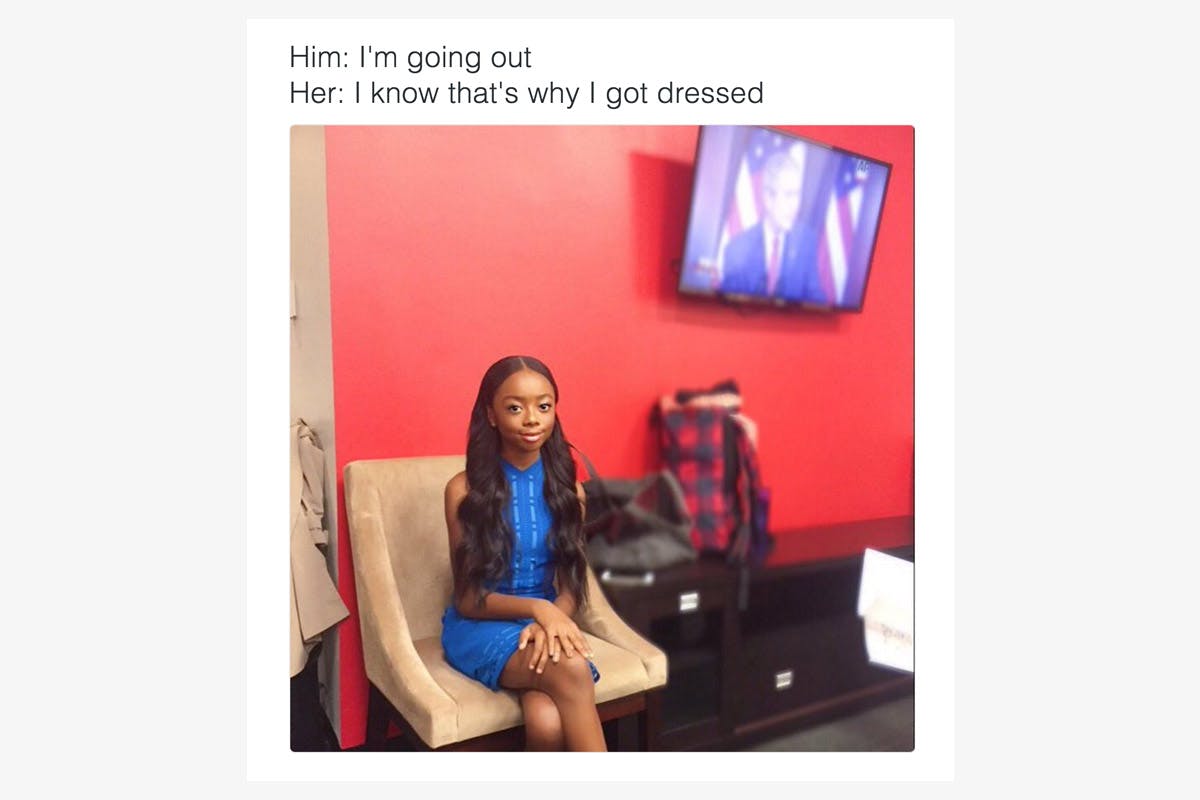 On April 4th year, actress and Disney star Skai Jackson tweeted a photo of herself in the green room before appearing on Good Morning New York. Within days the image had been tweeted by Twitter user @JonnnFinest accompanied by a caption of an imagined petty conversation between a boyfriend and girlfriend.
The tweet racked up thousands of retweets and Jackson quickly went viral; she even retweeted one herself, cementing her own status as one of this year's greatest meme stars.
If Metro Don't Trust You
Producer Metro Boomin' has had a huge year, working with musical behemoths like Drake on "Jumpman" and Kanye West on The Life of Pablo album.
With visibility, however, comes online notoriety: his DJ tag "if young Metro don't trust you Imma shoot you" quickly took on a life of its own in February this year when Drake tweeted "And on the off chance that Metro Boomin' doesn't trust you… well…"
The tweet quickly gained over 100,000 retweets and resulted in countless viral parodies.
Name a More Iconic Duo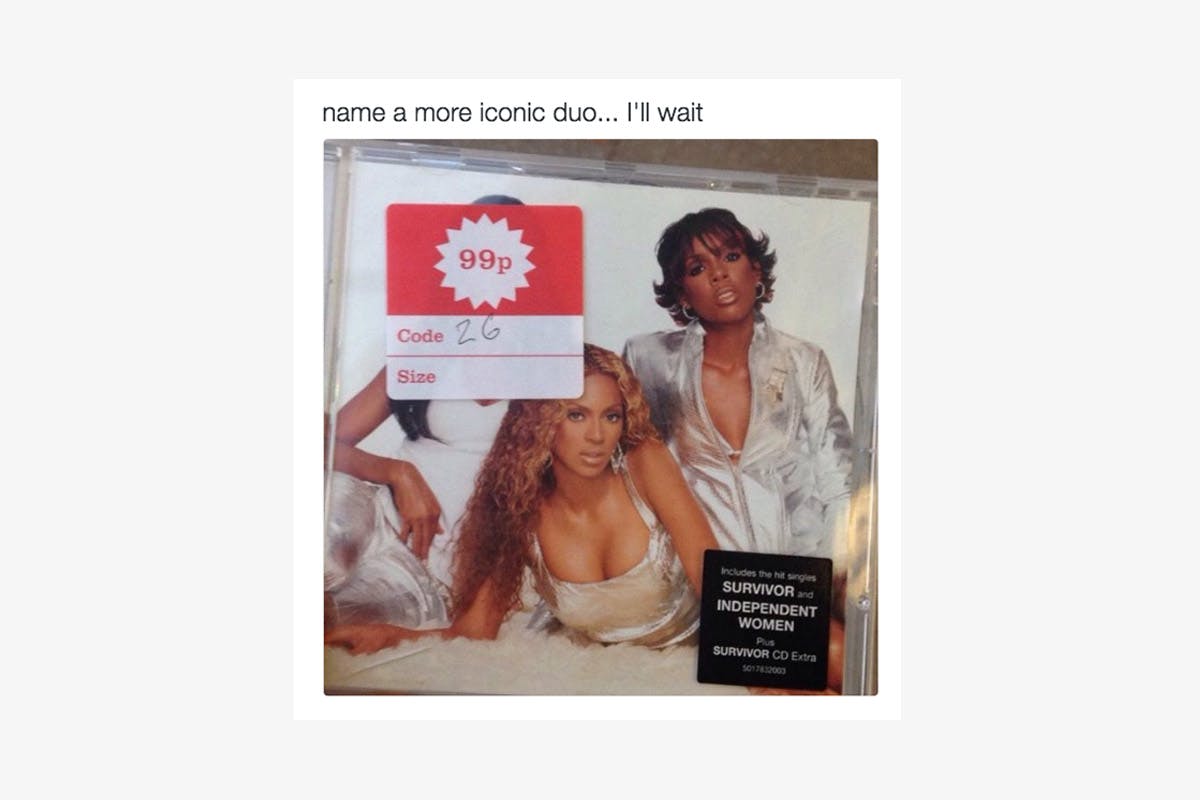 When Twitter user @negansvoid tweeted a picture of Kylie and Kendall Jenner captioned with "Name a more iconic duo… I'll wait", the internet quickly rose to the challenge.
A selection of the finest examples include Destiny's Child's Survivor album cover with a sticker over Michelle's face (poor Michelle!), a screen cap of Paula Abdul and her animated sidekick in the "Opposites Attract" video and even an image of American rock and roll duo Hall & Oates.
Evil Kermit
The history of Kermit memes spans several years, but this year's most notable example came in the form of the extremely relatable Evil Kermit. Originating from an image of Kermit talking to his evil nemesis, the meme has been used to represent the inner voice we all resist on the daily.
The first Evil Kermit to go viral explained the inner desire most of us feel to kidnap cuddly dogs; other examples make reference to guilty pleasures like skipping class and spending irresponsibly as well as irrational desires like starting arguments in relationships.
Joe Biden and Obama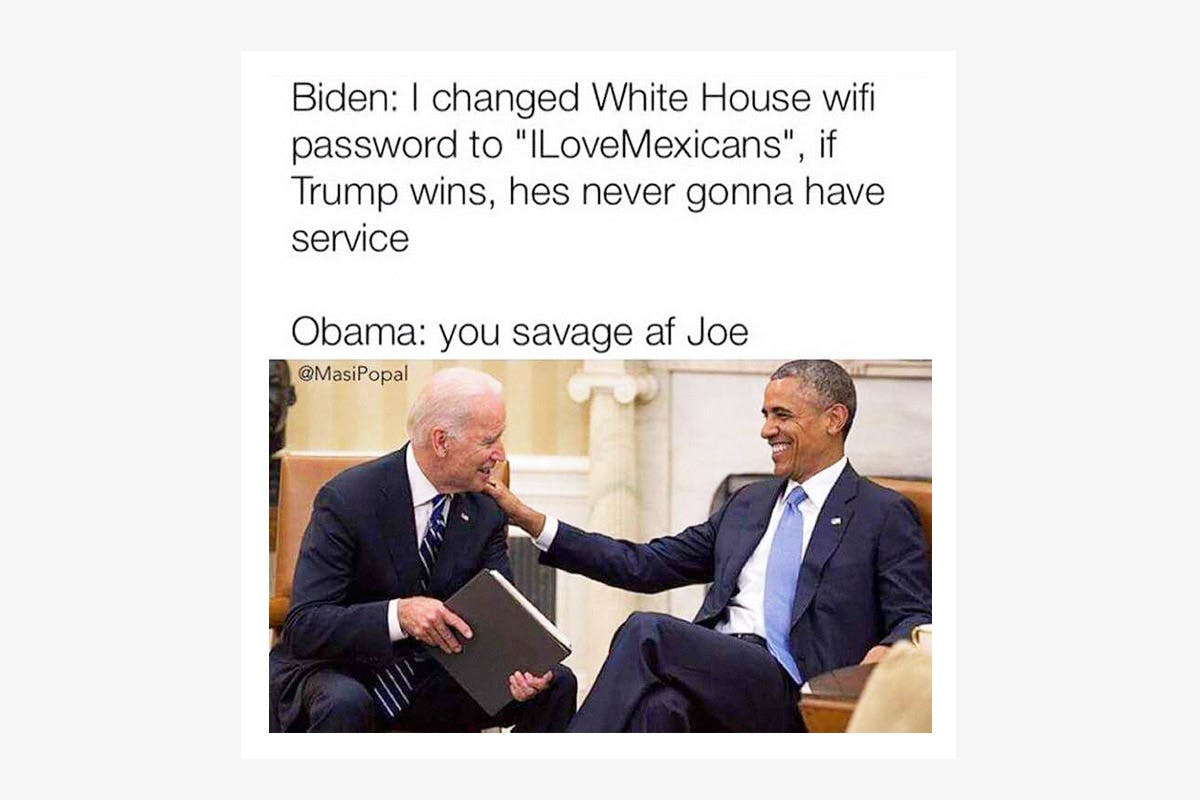 On November 9th, the news was announced that Donald Trump – known for his open racism and claims that his power allowed him to "grab women by the pussy" – was elected America's President-elect. One day later, Twitter began responding with hilarious memes depicting imagined jokes between President Obama and Joe Biden.
They ranged from Biden threatening to steal all the White House towels to – better still – changing the wifi password to "ILoveMexicans." Now known as "Prankster Joe Biden" memes, they're still a fairly regular feature on feeds worldwide.
Honey Bun Baby
It's not unusual for kids and babies to become memes – remember Vine star Gavin who, a few years ago, racked up a considerable following as well as a wealth of memes to his name?
This year it was the turn of 22-month-old Ashton J, now better known as Honey Bun Baby, to go viral. The exact origin of the image is unknown but the image blew up when actor and singer Tyrese tweeted the photo captioned with "When she keeps calling after you up in her face… Cause she wants to keep arguing about the same bullshit…"
The tweet racked up over 30,000 retweets and, within days, a new viral star was born.
Me in 2006 vs. Me Now
Twitter is often a breeding ground for great memes due to various "challenges" – usually in the form of hashtags – which often crop up. One recent example is the "me in 2006 vs. me in 2016" series, designed to encourage users to post side-by-side selfies to demonstrate that #glowup (or, usually, the opposite).
The earliest example dates back to October this year, but more recent examples have juxtaposed images of Shiba Inus, Pokémon and – in an example particularly relevant to 2016 – a dumpster on fire.
Now check out the 10 biggest trends of 2016, including our predictions for how they'll fare next year.