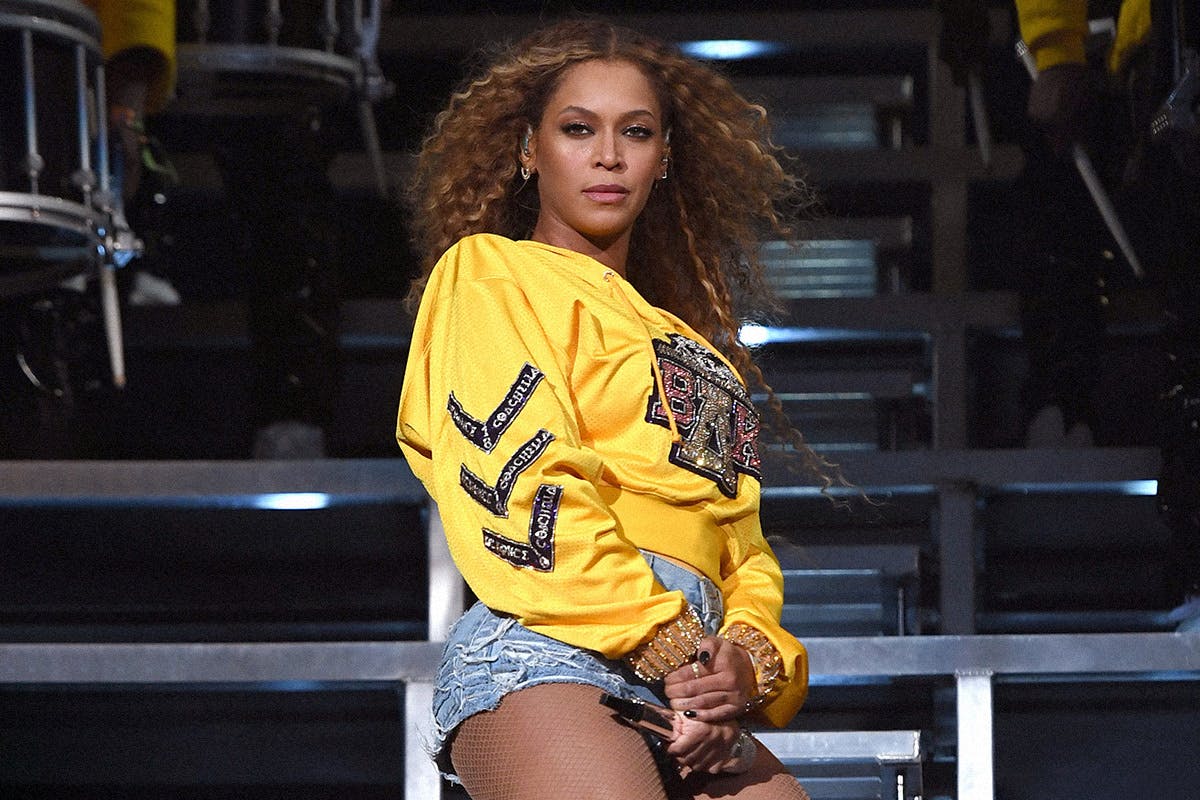 The best music documentaries are able to transcend time and place, transporting the viewer to a specific moment in history — be that in the recent or distant past. They can take the form of concert films, biographies honoring an artist's life, and snippets into specific eras — either of an artist's career or history in general – there's no limit to what they can express.
In recent years there has been a strong wave of music documentaries making their way onto streaming platforms, both newer releases and older films finding new distribution channels. Across Netflix, Hulu, Amazon, and HBO, the pickings have never looked this good, so tune in and educate yourself or enjoy for the sheer entertainment value.
Scroll on to see our selection of the best music documentaries streaming now.
Homecoming: A Film by Beyoncé
Year: 2019 Director: Beyoncé & Ed Burke Rotten Tomatoes: 98 percent Editor's note: One of the best music documentaries on Netflix right now, Homecoming: A Film by Beyoncé charts the artist's journey to Beychella – Beyoncé's turn last year as the first black woman headlining Coachella. Beyond the performance's incredible spectacle and behind-the-scenes look at a significant moment in recent music history, the documentary — which was written, co-directed, and co-executive produced by Bey herself — has been hailed as one of the best concert films of all time by various critics.
The Defiant Ones
Year: 2017 Director: Allen Hughes Rotten Tomatoes: 100 percent Editor's note: This four-part series tracks the individual and combined success of Dr. Dre and Jimmy Iovine, creators of Beats Electronics. From Dre's early days in N.W.A. and Iovine's achievements producing for artists such as Tom Petty and U2, to where their careers merged resulting in The Chronic, Eminem, and their Beats headphone company (which was ultimately sold to Apple in a historic $3 billion deal), this power duo are truly the best in the biz. This series offers us a closer look at their brilliance and determination.
Amy
Year: Director: Rotten Tomatoes: Editor's note: One of the best music documentaries in recent years, Amy is a post-humous look at the life of Amy Winehouse, doing justice to her incredible musical abilities while also depicting her tragic life. Critically acclaimed, Amy went on to win 30 film awards including the Oscar for Best Documentary Feature and Best Music Film at the Grammys.
Hip-Hop Evolution
Year: 2015 Director: Asif Kapadia Rotten Tomatoes: 95 percent Editor's note: Over an eight-episode series, Hip-Hop Evolution dives deep into the roots of hip-hop and rap culture. Kicking off in New York in the 1970s, the show brings us to the rise of gangster rap on the West Coast and cuts off there, when the genre had moved from the underground to the mainstream. If you're only going to watch a select few music documentaries from this list, make this one of them. Essential viewing for anyone who's a fan of rap and hip-hop.
Leaving Neverland
Year: 2019 Director: Dan Reed Rotten Tomatoes: 98 percent Editor's note: One of the more grim music-adjacent documentaries to come out in recent years, Leaving Neverland details two men's allegations of sexual abuse against Michael Jackson. The film focuses on their stories and does not directly comment on Jackson's actions or motivations, while Jackson's estate has denounced Leaving Neverland for lack of evidence and presenting a one-sided narrative. There has since been international backlash against Michael Jackson and his life's legacy.
Fyre: The Greatest Party That Never Happened
Year: 2019 Director: Chris Smith Rotten Tomatoes: 90 percent Editor's note: By now Fyre Festival has become the stuff of legend. If you haven't yet checked out Netflix's documentary detailing how exactly it all went wrong, then you're in for a treat. Controversially, the documentary was produced in part by Jerry Media, the agency that helped market the festival, with criticism drawn regarding the conflict of interest. Hulu made their own Fyre Festival doc and highlighted this fact. Ultimately both are worth watching as they present different sides of the same messy story.
Sample This
Year: 2012 Director: Dan Forrer Rotten Tomatoes: Editor's note: Another hip-hop history lesson, Sample This focuses on an obscure '70s track by The Incredible Bongo Band called "Apache." and how despite failing to become a hit, it ultimately became one of the most sampled tracks of all time. Afrika Bambaataa used it early on, citing its influence, while everyone from L.L. Cool J, Nas, The Roots, Moby, Missy Elliott, JAY-Z, and more have included it in their work.
Keith Richards: Under the Influence
Year: Director: Rotten Tomatoes: 93 percent Editor's note: The Rolling Stones' guitarist Keith Richards is still at it at the age of 71, and Under the Influence documents the recording of his first solo album in 23 years. Directed by Oscar-winning filmmaker Morgan Neville, the film is definitely not one to miss for rock'n'roll fans.
Surviving R. Kelly
Year: 2019 Director: NA Rotten Tomatoes: 95 percent Editor's note: R. Kelly's alleged sexual abuse of underage women has long been discussed. In fact it's been 25 years since his marriage to a then 15-year-old Aaliyah, when the first stirrings that something was off began. Lifetime's six-part series, Surviving R. Kelly, spans these two-and-a-half decades, examining all of the various allegations against him, leading up to the last couple of years where reports of a sex cult have been rife. A couple of celebrities appear in the series, including Chance the Rapper and John Legend, while many of his other collaborators who were asked to comment have kept silent. Since the series aired Kelly has been formally charged with 10 counts of aggravated criminal sexual abuse.
Quincy
Year: 2018 Director: Alan Hicks & Rashida Jones Rotten Tomatoes: 81 percent Editor's note: Rashida Jones co-wrote and co-directed this documentary about her father, the legendary musician Quincy Jones. With a career that spans six decades, the film recounts his body of work, as well as giving us an intimate look at his life – from his roots on the Southside of Chicago during the Great Depression, through to recent health scares. Musicians who Quincy has influenced appear throughout, including Dr. Dre, Kendrick Lamar, Will Smith, and more.
Gaga: Five Foot Two
Year: 2017 Director: Chris Moukarbel Rotten Tomatoes: 74 percent Editor's note: Revolving around Lady Gaga's fifth studio album, Joanne, and her Super Bowl LI halftime performance show, Gaga: Five Foot Two offers a close-up glimpse at one of the world's biggest ever pop stars. Highlighting her creation process and strong work ethic, the film also veers into personal territory, as it documents her ongoing chronic pain due to Fibromyalgia, as well as her home life.
Stretch and Bobbito: Radio That Changed Lives
Year: 2015 Director: Bobbito Garcia Rotten Tomatoes: 92 percent Editor's note: For those who know, The Stretch Armstrong & Bobbito Show was the most influential hip hop radio show that existed. And for those who don't know, it's time to school yourself. This Netflix documentary honors the legendary show while featuring many of the artists who premiered on it back when they were unsigned or unknown, including JAY-Z, Nas, Notorious B.I.G, Wu-Tang, Fugees, and many more.
Bad Rap
Year: 2016 Director: Salima Koroma Rotten Tomatoes: 63 percent Editor's note: Bad Rap shines a light on four Asian-American rappers trying to break into the mainstream, documenting their journeys and various roadblocks in attempting to further their careers. These four artists include Dumbfoundead, Awkwafina — who in the last year broke through with her acting in Crazy Rich Asians and Ocean's 8 — Rekstizzy, and Lyricks. It's a well made film that highlights the lack of visibility for Asian-Americans in rap.
Fyre Fraud
Year: 2019 Director: Jenner Furst & Julia Willoughby Nason Rotten Tomatoes: 78 percent Editor's note: Hulu's Fyre documentary has been neck and neck with Netflix's since they were both released in January. And while Hulu's highlights Jerry Media's involvement with the Netflix film, their own features an interview with festival organizer Billy McFarland, while Netflix's does not. It was revealed that McFarland was paid for his interview, however the sum has not been disclosed, prompting criticism. If you're interested in the disaster that was Fyre, consider both necessary viewing.
Whitney
Year: 2018 Director: Kevin Macdonald Rotten Tomatoes: 89 percent Editor's note: The most recent documentary to be released about Whitney Houston's life, Whitney, premiered at last year's Cannes Film Festival and was nominated at this year's Grammy Awards for Best Music Film. It's a very intimate look at the late singer, featuring interviews with her family members, archival footage that hasn't been seen before, and rare performances.
Justin Timberlake and the Tennessee Kids
Year: 2016 Director: Jonathan Demme Rotten Tomatoes: 100 percent Editor's note: This concert film documenting Justin Timberlake's 20/20 Experience World Tour was directed by Academy Award-winning filmmaker Jonathon Demme. Recorded in Las Vegas during the final stop on JT's world tour, its name is in reference to the 25-piece live band that performed alongside Timberlake. It's undoubtedly a well-executed production – both the performance and the filming of it.
Rapture
Year: 2018 Director: Marcus A. Clarke, Steven Caple Jr., Geeta Gandbhir, Sacha Jenkins, Gabriel Noble, Ben Selkow Rotten Tomatoes: 83 percent Editor's note: Rapture is Netflix's six-part documentary series about rappers and their lives in and outside of music. Each episode centers on a different artist, including Nas, G-Eazy, 2 Chainz, T.I., Logic, and others. The series specifically aims to show often unseen aspects of the rappers' lives, painting a more complete picture of their overall artistry in the process.
Chasing Trane: The John Coltrane Documentary
Year: 2016 Director: John Scheinfeld Rotten Tomatoes: 75 percent Editor's note: One of the greatest jazz musicians that ever lived, John Coltrane's influence on the genre is immense. This all-encompassing documentary hits all of the beats of his tragically short but full life, while offering enough new material to keep the full-fledged Trane fan satisfied. Denzel Washington narrates the film while reading excerpts from John Coltrane's own writing, bringing to life the artist's spirit.
George Harrison: Living In the Material World
Year: 2011 Director: Martin Scorsese Rotten Tomatoes: 86 percent Editor's note: Honoring the life and work of Beatle George Harrison, Living In the MaterialWorld was directed by none other than Martin Scorsese. Harrison's widow, Olivia, was approached by many production companies to make a documentary about her late husband's life and declined them all, explaining that he wanted to tell his own life story. However, that changed after she met Scorsese, entrusting him to do the job while signing on as a producer herself. The result is a personal account of the artist, from his childhood in Liverpool to the rise of The Beatles and his travels through India.
ReMastered: Who Shot the Sheriff?
Year: 2018 Director: Kief Davidson Rotten Tomatoes: NA Editor's note: This Netflix Original is an anthology series with eight standalone episodes released under the ReMastered title, each focusing on high-profile events surrounding various musicians such as Bob Marley, Run DMC's Jam Master Jay, Johnny Cash, and more. ReMastered: Who Shot the Sheriff? is obviously about Bob Marley — specifically his survived murder attempt in 1976. The other episodes in the series are also worth checking out.
Jimmy Hendrix: Voodoo Child
Year: 2010 Director: Bob Smeaton Rotten Tomatoes: NA Editor's note: Narrated by funk legend Bootsy Collins, Voodoo Child tells Jimmy Hendrix's tragically short life story. Blending archive footage, news archives, and rare performances, the film takes us through his childhood in Seattle, short stint in the army, rise in the music world, and untimely death at age 27.
Mr. Dynamite: The Rise of James Brown
Year: 2014 Director: Alex Gibney Rotten Tomatoes: 100 percent Editor's note: For Mr Dynamite: The Rise of James Brown, the late artist's estate opened up their archives for the first time, resulting in rare and never-before-seen video footage, interviews, and photographs — particularly those from early in his career. The documentary depicts Brown's rise to stardom and his status as the "hardest working man in show business." Rolling Stones frontman Mick Jagger co-produced the film while appearing in it, acknowledging Brown's influence on his own work.
Metallica: Some Kind of Monster
Year: 2004 Director: Joe Berlinger & Bruce Sinofsky Rotten Tomatoes: 89 percent Editor's note: A classic now at 15 years old, Some Kind of Monster offers an unexpectedly personal account of Metallica at a low point in their career. Intended to be a simple behind-the-scenes on the making of their first album in six years, the doc catches the band navigating troubled interpersonal relationships, leading to their management hiring a performance enhancing coach that acts as a therapist between members of the group; lead singer James Hetfield's stint in rehab; and former member Dave Mustaine discussing his exit in a personal conversation with drummer Lars Ulrich. A must watch for any metal fan.
Biggie & Tupac
Year: 2002 Director: Nick Broomfield Rotten Tomatoes: 81 percent Editor's note: Another one from the vault, Biggie & Tupac attempts to shine a light on both rappers' untimely murders. Investigating the myriad theories that have arisen since their deaths in the late '90s, the film uncovers possible collusion with the LAPD and ultimately pegs Suge Knight, head of Death Row Records, for the murders. But you probably already knew all of that, as this story is anything but new. However, if you've never seen the film summing all of that up, it's worth a watch.
The Doors: When You're Strange
Year: 2009 Director: Tom DiCillo Rotten Tomatoes: 61 percent Editor's note: Narrated by Johnny Depp, When You're Strange is a kind of official biography of The Doors. Founding member Ray Manzarek stated, "This will be the true story of The Doors," and that it was the "anti Oliver Stone," referencing the 1991 biopic that was overly dramatized, drawing disdain from the band and many fans. When You're Strange tracks the formation of the band through to Morrison's death at age 27, and included the first public release of scenes from HWY: An American Pastoral, an experimental film written, produced, co-directed, and starring Morrison.