Editor's Note: Due to the COVID-19 pandemic, we are updating this list to reflect which festivals have been canceled or postponed.
From the cycling shorts and selfies of Cali's Coachella to the lager-fueled mosh pits of Manchester's Parklife, there's a music festival for everyone in 2020 – no matter what you're into. But often, too much choice is worse than having none at all. Do you stay local? Do you travel across the country? Or do you go wild and jet-off to the other side of the world? Decisions, decisions, decisions.
And what makes it even harder is having to commit to a festival months in advance before all the tickets are sold out. (Re-sell websites are nobody's friend.) *Sighs*
Enter our 2020 Music Festival Guide, giving you the low-down on our personal favorites of the huge bounty of music festivals this year has to offer. Each have their merits, and if there's one thing to know about this summer's festival circuit, it's that it's heavily seasoned with hip-hop artists including all-timers like Tyler, the Creator and rapid risers like Roddy Rich. You won't hear us complaining!
USA / THE AMERICAS
DATES: May 8-10. LOCATION: Miami, US. KEY ACTS: Travis Scott, A$AP Rocky, Post Malone, 21 Savage, Megan Thee Stallion, Roddy Rich, 21 Savage, DaBaby, City Girls, Wale, Gucci Mane, Saweetie.
Miami is always a good idea, especially on Rolling Loud weekend. Just five years old, Rolling Loud has quickly become one of the hottest music festivals in the world – and we're not just talking about the weather.
What's their recipe to success? A heavenly line-up of hip-hop hitmakers (from Travis Scott to City Girls), an unbeatable atmosphere and an ultra-creative marketing team (FR, check their Insta).
Stay tuned for details on Rolling Loud's first European tour coming this summer.
DATES: Postponed to October 9 to 18 LOCATION: California, US. KEY ACTS: Frank Ocean, Travis Scott, Megan Thee Stallion, Rage Against the Machine, Summer Walker, Jessie Reyez, BROCKHAMPTON.
An extravaganza that speaks for itself; Coachella is a festival and influencer meet-up all in one Cali-sun heated space. And, no matter how you feel about glitter-drenched muscle men or Tik Tok teens posing for the gram in bohemian fits (Vanessa Hudgens is the muse), we still believe that the Palm Springs music spectacle has a place on everyone's bucket list. There must be a reason for all the hype, right? And Frank and Summer Walker are serious selling points this year.
DATES: Canceled LOCATION: Delaware, US. KEY ACTS: Billie Eilish, Halsey, Khalid, Rage Against the Machine, Blink-182, Don Toliver, Khali Uchis, Diplo.
Firefly: the slightly-hippy music festival you've dreamt of attending since you were little. This year's Firefly fest brags a star-studded line-up of some of the most in-demand artists (*coughs* Billie Eilish *coughs*); a range of glamping options featuring queen beds, sheepskin rugs and power sockets; a brewery and a bazaar, and a vast array of food choices served on real china crockery!! Tempting. Very tempting.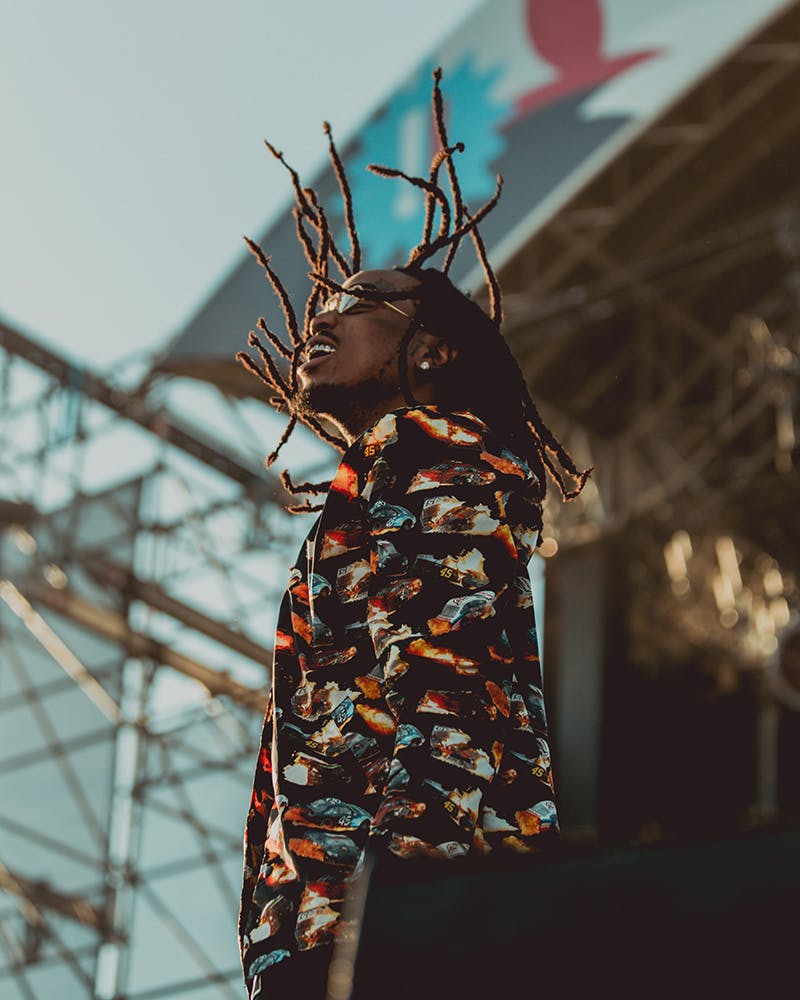 DATES: Expected to be Sat 7th – Sun 8th November. LOCATION: California, US. KEY ACTS: TBC.
Arguably the most exciting thing to happen in the nothing month of November (apologies to you Scorpios and Sagittarius'), the Dodger Stadium-set celebration of Tyler, the Creator's exquisite curational skills has seen the likes of Kids See Ghosts (AKA Ye and Kid Cudi), Drake and Ms. Lauryn Hill take to the stage in recent years. We can't help but wonder who's next...
DATES: September 5-6. LOCATION: Philadelphia, US. KEY ACTS: TBC.
Picture this: September has come and all of your friends and family are slowly winding down for fall – but not you. You are packing your bag for Philadelphia, ready to celebrate Labor Day at Made in America festival (even if you're not an American yourself). Decked-out in stars and stripes, you're ready to make more memories in this one weekend than you have all summer. You believe that this is what the founding fathers fought for. Here's hoping this year's Made in America line-up is just as strong as last year's. (Hint: Made in America 2019 was headlined by effervescent talents Cactus Jack and Cardi.)
DATES: Canceled LOCATION: Virginia, US. KEY ACTS: Chance the Rapper, A$AP Rocky, Snoh Aalegra, Pharrell Williams, Gunna, 6LACK, H.E.R, Migos, Nelly, Post Malone, Usher, Trey Songz, Tyler, the Creator, Sabrina Claudio, Playboi Carti, 070 Shake.
Anything you can do, Pharrell can do better; and that includes organizing a music festival. Taking place on Virginia Beach – which, FYI, has an average temperature of 23°C in April – SITW is a celebration of all things street culture. There's a Kaws installation, a pop-up church, a collection of R&B idols (Trey Songz, Nelly and Usher to name a few) and even an appearance from woman-of-the-moment Miss Snoh Aalegra. Mr. Williams, take our money already.
DATES: Canceled LOCATION: New York, US. KEY ACTS: Miley Cyrus, Missy Elliott, H.E.R, Solange, Tame Impala, Flume, Swae Lee, Vampire Weekend, YBN Cordae, EarthGang, Dave, Pink Sweat$, YBN Cordae, Summer Walker.
It may be hard to narrow down the best music festival, but if we focus on those that take place in NYC, there's one clear winner. Held on Randall's Island (situated in the borough of Manhattan for anyone asking), the two-day June jamboree is a supreme way to kick-off summer '20. Oh, and if you do decide to go, make sure you don't sleep on Miley – we've got a sneaky feeling she'll be the highlight of every attendee's weekend. Don't believe us? Go and watch her Glasto '19 set and get back to us. (Spoiler: she brings the energy.)
DATES: July 31–August 2. LOCATION: Montreal, Canada. KEY ACTS: PARTYNEXTDOOR, Kendrick Lamar, Burna Boy, EarthGang, Jessie Reyez, BROCKHAMPTON, Dave, Leon Bridges, Lizzo, Mahalia, Octavian, Pink Sweat$.
Osheaga is a celebration of worldwide talent set on St. Helen's Island in Montreal. To us, this sounds like the perfect excuse to visit one of the most picturesque cities in the world (we've been waiting for one). Whether you're off enjoying the political raps of British songwriter Dave or the soulful sounds of Leon Bridges, the scenic festival has a huge swathe of genre representation, satisfying even your pickiest friends.
DATES: Postponed to December 4-6. LOCATION: São Paulo, Brazil. KEY ACTS: Travis Scott, Guns 'N' Roses, Lana Del Rey, Jaden Smith, BROCKHAMPTON, Gwen Stefani, Denzel Curry, Vampire Weekend, Charli XCX.
Did you really think we were going to create a music festival guide and not include at least one Lollapalooza event? This year, Lollapalooza Brazil's eclectic line-up is crazier than ever. They've got Guns 'N' Roses and Lana Del Rey headlining on Friday, Travis Scott and Martin Garrix headlining Saturday, and The Strokes and Gwen Stefani headlining Sunday. Confused? Join the club. Only one thing's for sure: Lollapalooza Brazil 2020 will be an event to remember forever. N.B. You can also experience the same line-up in both Argentina and Chile.
UK / EU
DATES: Canceled LOCATION: London, UK. KEY ACTS: Jorja Smith, Tyler, the Creator, Anderson .Paak, Khalid, Peggy Gou, Mabel, Little Simz.
Ok, we admit it, Lovebox snuck up on us. What was once a low-key way to spend a summertime weekend is now one of the most thrilling music festivals to be found in the big smoke – and beyond. We're just trying to decide whether it's a Maisie Wilen-clad Jorja Smith, parading around the stage to "Be Honest" (please bring Burna Boy on stage, please bring Burna Boy on stage), or an uber-enthusiastic, blonde-wig wearing Tyler, the Creator we're most anticipating.
If you managed to catch the 62nd Grammys, you may be inclined to say the latter.
DATES: June 27-July 4. LOCATION: Roskilde, Denmark. KEY ACTS: Tyler, the Creator, Pusha-T, Taylor Swift, TLC, Mura Masa, Def Tones.
What do you get when you put songstress Taylor Swift and rap legend Pusha-T in a Scandinavian field together? Roskilde Festival 2020, of course! What did you think we were going to say?
For those who prefer their festivals slightly more 'off-grid,' we suggest you consider Denmark's week-long affair that's surprisingly big – both in terms of space and heavyweight headliners.
And if the brief description of Roskilde isn't appealing enough to convince you to at least take a peek at their website, know that there's still one decisive factor: TLC are performing; you know you want to hear "No Scrubs" performed live.
DATES: August. LOCATION: Gothenburg, Sweden. KEY ACTS: Burna Boy, Khalid, FKA twigs, Robyn, Bon Iver, slowthai, Michael Kiwanuka, Koffee.
If there's any music festival that's good for the soul, it's gotta be this Scandanavian treasure. Wwhere else could you spend the day soaking in the smooth melodies of Michael Kiwanuka while forest bathing (Google it), before whining your hips to the reggae beats of Koffee. Only in Sweden, aye. *Checks Airbnb for stays nearby.*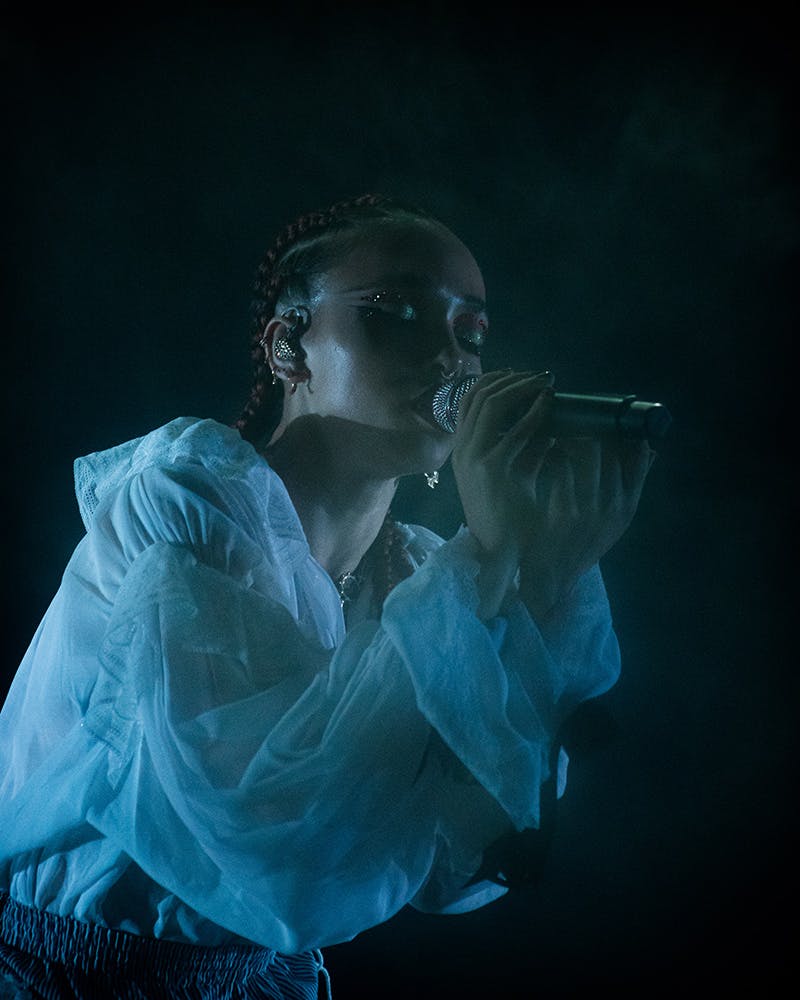 DATES: Canceled LOCATION: Manchester, UK. KEY ACTS: Tyler, the Creator, Khalid, Lewis Capaldi, Skepta, Robyn, Jorja Smith, Anderson .Paak, Peggy Gou, D-BLOCK Europe, Mahalia, Tierra Whack, Aitch, Fatboy Slim.
It may be cold up north in England, but each summer, Parklife serves Mancunians with some straight-fire heat. Last year, the likes of Solange, Nas, and Migos took to the Parklife stage, and this year, huge names including Skepta, Tyler, the Creator (it's almost like he's had a UK ban lifted or something...) and Fatboy Slim are scheduled to perform.
DATES: August 26-30 LOCATION: Barcelona, Spain. KEY ACTS: Lana Del Ray, BROCKHAMPTON, Kaytranada, 21 Savage, Sonic Youth, TLC, Tyler, the Creator.
Festivals aren't always the muddy, drug-based raves that your parents imagine them to be (no one needs that toxicity in their life... all the time). In fact, these days, they're usually the complete opposite. Primavera Sound, for example, is a Mediterranean music festival that's the perfect addition to anyone's Barcelona city trip, no matter your age. Sharing many acts with US juggernaut Coachella, Primavera Sound swaps out a sweaty field location for a slightly more intimate beachside setting, with the option to head out into the cosmopolitan world of the city whenever you like. Truly a dream.
DATES: July 3-5. LOCATION: Frankfurt, Germany. KEY ACTS: Kendrick Lamar, Roddy Ricch, A$AP Rocky, Meek Mill, DaBaby, Young Thug, Tierra Whack, A Boogie Wit Da Hoodie.
Wireless Festival, Frankfurt, is the ultimate summer motive. Not only does it have a whole host of stellar performers – Roddy Ricch, Meek Mill and A$AP Rocky to name a few – it's home to a range of experiences including basketball courts, shisha hang-outs and even a fashion and styling area. Plus, there's a slew of food and cocktail trucks to try out. What more could you possibly want?
DATES: July 3-5. LOCATION: Dublin, Ireland. KEY ACTS: Kendrick Lamar, A$AP Rocky, Tyler the Creator, J Hus, DaBaby, AJ Tracey, Playboy Carti, Earthgang, Aitch, Jay 1.
Kung Fu Kenny… Juju J... Ight, see you in Ireland. Longitude – potentially the most under-the-radar music festival featured on this list – boasts a pitch-perfect line-up of some of the most popular artists from across the globe. Plus, it's just a stone's throw away from Dublin city center. Which means you can visit the Guinness Storehouse and have a few before you revel in the raps of Aitch and AJ Tracey. Dreams can come true.
DATES: July 9-11. LOCATION: Gräfenhainichen, Germany. KEY ACTS: Migos, Rae Sremmurd, Earthgang, Ski Mask the Slump God, DaniLeigh.
Like an old friend, Splash! is a festival you can trust in. You may only catch-up once a year, but you know that when you're reunited, the experience is always top form. So, what has this year's Splash! Festival got to offer? Well, there's the sweet sounds of DaniLeigh (Still sleeping on her? Go check out her single "Easy (Unplugged)" right now, you won't regret it), the otherworldly energy of Earthgang and the familiar sounds of Migos and Rae Sremmurd. In short: Splash! is the ultimate summer mood.
DATES: July 17-19. LOCATION: Portimão, Portugal. KEY ACTS: WizKid, Torey Lanez, French Montana, Chronixx, Tion Wayne, Afro B, Naira Marley, Aya Nakamura, Dadju, Diamond Platnumz, Maître Gims (more to be confirmed).
If you haven't heard of Afronation by now, we've got every right to assume you've been living under a rock, as it seems to be the word on everybody's lips. Is it the festival's zesty line-up of new and established artists that's caused all this hype? Or is it the festival's emphasis on afrobeats, dancehall, bashment and hip-hop? Or perhaps it's the festival's sunny Portuguese location? We've heard it's nothing short of 'a madness.'