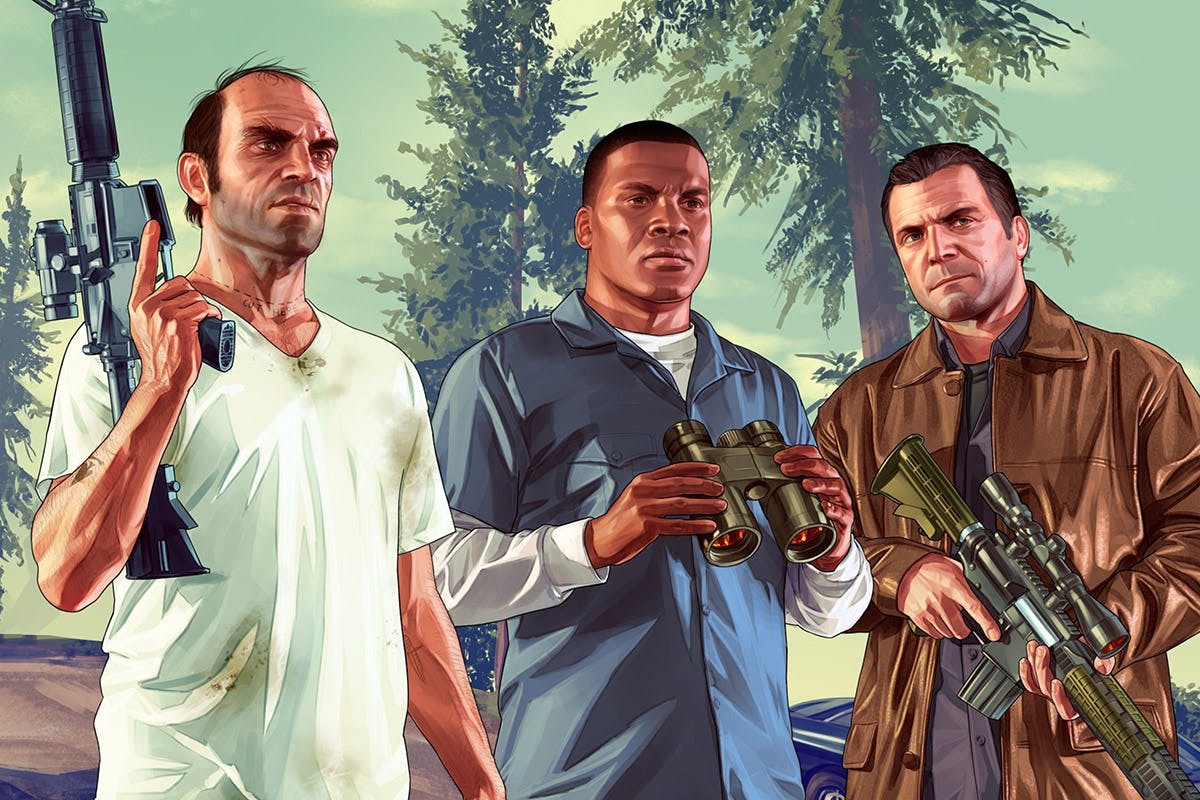 Few experiences elicit more powerful nostalgia than video games. Your last console might have been a Gamecube, but you probably still associate certain emotions or sensations with the games you played. You probably remember those games' soundtracks, too. Video games are underrated as a gateway to music for adolescents who have not yet developed a musical identity or sophisticated taste. The best video game soundtracks don't just affect how we experience each game – they affect how we remember them.
The goal of this list of the 40 greatest hip-hop video game soundtracks is to commemorate classic soundtracks and shine a light on lesser-known ones that paved the way. Was a soundtrack innovative, influential, or important in its time? Was it well-curated, and did it feature a heavy concentration of rap songs? How did it relate to the game? Was it prominent? These are the criteria that shape this list, from 40 to 1.
40. Grand Theft Auto (1997)
We have the Grand Theft Auto series to thank for pioneering the use of radio stations as a way to cater to each individual player's music taste. The very first GTA game featured N-CT FM, a hip-hop channel that rotated between between three songs, each created by Rockstar in-house composers Craig Conner and Robert DeNegro.
39. PaRappa the Rapper (1996)
A precursor to games like Dance Dance Revolution and Guitar Hero, Parappa the Rapper challenged the player to "rap" along by pressing various buttons in rhythm in order to fill up the "U Rappin'" meter. The underlying beats, composed by Masaya Matsuura, used airy drums, chintzy horns, and vinyl scratches to underscore the game's whimsical nature.
Watch on YouTube
38. Rap Jam: Volume One (1995)
The '90s were a golden age for crappy basketball video games. It got so bad that the belligerent Detroit Pistons big man Bill Laimbeer had his own signature title, Bill Laimbeer's Combat Basketball. Rap Jam was distinguished by its remarkable hip-hop-centricity; playable characters included Naughty by Nature, Coolio, Queen Latifah, Warren G, and several other rappers, and the in-game soundtrack consisted of a series of minimalist breakbeats, some of which undeniably knocked. Rap Jam walked so NBA Street could run.
37. NBA Street V3 (2005)
Just as NBA Street V3 failed to live up to the impossibly high standards set by Vol. 2, its soundtrack was merely decent rather than transcendent. It was clubbier than its predecessor, and it's worth noting that it perhaps included the highest percentage of female rappers of any soundtrack on this list, between appearances from MC Lyte and Trina and Ak'Sent's infectious, crunk-inflected street anthem "Bounce."
Listen on Spotify Listen on YouTube
36. Scarface: The World Is Yours (2006)
The Scarface video game soundtrack dialed the hip-hop portion of its soundtrack to the year 1983. There was no shortage of Kurtis Blow, Fat Boys, and Run-DMC, and the music even dipped back into the '70s, with Afrika Bambaataa and the Treacherous Three. LL Cool and Public Enemy appeared too, as the soundtrack's youngest, hippest offerings.
Listen on Spotify
35. NBA 2K17: Park After Dark (2016)
In 2016, 2K swung for the fences with its MyPARK Park After Dark, a series of live online multiplayer parties that invited virtual hoopers to bring their MyPLAYER to a cavernous, neon-lit arena, where real-life artists like Snoop Dogg, Future, and DJ Premier spun records. It was a bold idea that was nevertheless unpopular on account of gripes familiar to real-life nightclubs: it was hard to actually get in, and it was a total sausage fest – just male basketball players. Premier put together a set of tracks that he produced, by Gang Starr and artists like Joe Budden, Jeru the Damaja, and Papoose.
Watch on YouTube
34. Fight Night Round 3 (2006)
The greatest musical legacy of the four-part Fight Night boxing franchise is that it inspired the 2014 Migos song of the same name. But the games had some rock-solid soundtracks that quickly got anyone holding the sticks into the pugnacious, haymaker-throwing spirit. FNR3's compact 11-track loop featured '00s staples like Akon, Dipset, Consequence, and Obie Trice.
33. Need For Speed: Underground 2 (2004)
The extremely 2004, all-rap main menu soundtrack for the timeless Need For Speed: Underground 2 included Chingy's "I Do" and Terror Squad's "Lean Back," and was anchored by one of the the best exclusive gaming rap songs ever: Snoop Dogg and Fredwreck's slick remix of The Doors' "Riders on the Storm."
Listen on Spotify Listen on YouTube
32. NBA Live 14 (2013)
After three years of literal non-existence, the NBA Live franchise emerged like a phoenix from the ashes with NBA Live 14. The game's unenthusiastic reviews likely had nothing to do with the soundtrack, which featured several of the year's most exquisite anthems, like Pusha-T's "Numbers on the Board," Travis Scott's "Upper Echelon," ScHoolboy Q's "Man of the Year," and Action Bronson "Strictly 4 My Jeeps."
Listen on Spotify Listen on YouTube
31. DJ Hero (2009)
Whether or not you subscribe to the ~four pillars of hip-hop~, the fact that that game developers have made titles based on each pillar points to the compatibility of hip-hop culture and video games. There have been games about rapping (PaRappa the Rapper), graffiti (Jet Set Hero, Marc Ecko's Getting Up), and breakdancing (the 2018 indie game Floor Kids). Turntablism platform DJ Hero arrived at the crest of the mashup craze and offered a broad selection of rap songs to spin, with emphasis on '80s heavyweights like Grandmaster Flash, Kool Moe Dee, Beastie Boys, and Boogie Down Productions.
Listen on Spotify
30. True Crime: Streets of LA (2003)
Yeah, the Streets of LA soundtrack had a lot of metal. But it also had a lot of Los Angeles rap staples from the '90s, like Snoop Dogg, Warren G, Ice Cube, The D.O.C., and Mack 10. The game allowed the player to unlock Snoop as a secret character and let him roll through the City of Angels in a '67 Coupe de Ville.
Listen on Spotify
29. Afro Samurai (2009)
After overseeing production of soundtracks for the Afro Samurai anime series and the Afro Samurai film, RZA completed the trifecta by composing the 23-track score for the Afro Samurai video game. Though he primarily sampled from a broad pool of traditional Asian instruments, he wasn't afraid to incorporate the occasional driving hard rock groove or the kind of hellish, grandiose strings one might associate with Jedi Mind Tricks.
Listen on YouTube
28. Saints Row: 2 (2008) & Saints Row: The Third (2011)
The Saints Row sandbox game featured genre-themed radio stations à la GTA, but downsized from three hip-hop stations to just one, 95.4 KRhyme, in the second and third installments. Things only got worse; Gat Out Of Hell, a later version of the game, had an unfortunate name and no soundtrack to speak of.
Listen on Spotify [SR2] Listen on Spotify [SR3] Listen to KRhyme on YouTube [SR3]
27. Wu-Tang: Shaolin Style (1999)
Shaolin Style was an imaginative fighting game that built on the traditions of Tekken and Street Fighter. A handful of RZA instrumentals and Wu-Tang loosies comprised the in-game music and supplied the game's gritty flavor, such that the player felt like they might actually be throwing down in the 36 Chambers of Shaolin.
26. Madden 19 (2018)
The Madden franchise has licensed a handful of memorable hip-hop songs over the years (shoutout Nappy Roots), but it never really spotlighted rap music until the Madden 19 soundtrack, an all-rap blowout that worked in some regional favs, like Creek Boyz and P-Lo, operating amidst many of 2018's heavyweights, like Lil Baby's "Life Goes On," 2 Chainz's "Big Bank," and Cardi B's "Money Bag."
Listen on Spotify Listen on Apple Music Listen on YouTube
25. Jet Set Radio (2000)
Jet Set Radio got its name from a pirate radio station that plays only "hardcore music" and aligned itself with rebel artists who roller bladde around Tokyo and sprayed its walls with graffiti. The game's high-energy soundtrack, composed by Hideki Naganuma, elicited a plunderphonics vibe through its use of hip-hop, trip hop, drum and bass, and acid jazz.
Listen on Spotify Listen on YouTube
24. Thrasher Presents Skate and Destroy (1999)
Skate and Destroy came out in 1999, four weeks after the first Tony Hawk Pro Skater, but judging from its music, you'd think mankind peaked in 1988. The soundtrack is fixated on golden age rap; it's newest song is A Tribe Called Quest's 1993 single "Award Tour." Flip through the Skate and Destroy manual, and you'll find a two-page overview of hip-hop history.
Listen on Spotify
23. Midnight Club: Los Angeles (2008)
Apparently curated to reflect music that was popular in LA at the time, the Midnight Club: Los Angeles soundtrack was a whopping 97 tracks long and placed an emphasis on West Coast rap. There's one song from Young Maylay, better known as the voice of CJ from GTA: San Andreas.
Listen on Spotify Listen on YouTube
22. NBA 2K19 (2018)
The 50-song, Travis Scott-curated 2K19 soundtrack makes this list solely by including Lil Flip's "Game Over" and Mike Jones' "Still Tippin." It featured plenty more modern tracks (Migos' "Stir Fry," Lil Uzi Vert's "Sauce It Up," Nef the Pharoah's "Big Tymin," Miguel's "Sky Walker"), the type that instilled in each player the desire to put their defender in a blender (or on a poster).
Listen on Spotify
21. True Crime: New York City (2005)
True Crime: New York City mapped Manhattan almost to a T, so that you could hijack a car and run down citizens at recognizable places – bankers on Park Ave, tourists in Times Square, and NYU students on LaGuardia Place. The soundtrack offered a survey of New York's most popular rappers of the '80s and '90s, from Kurtis Blow to Black Star, alongside songs from classic NYC bands like the Ramones and Interpol.
Listen on Spotify Listen on YouTube
20. 50 Cent: Bulletproof (2007) & 50 Cent: Blood in the Sand (2009)
Not surprisingly, the third person shooter 50 Cent: Bulletproof came with a lot of music. It featured an exclusive pack of Sha Money XL beats and access to 50's full discography, as well as an officially released soundtrack that repurposed songs from the G-Unit mixtape 2050 Before the Massacre. Blood on the Sand updated this exact model, this time with even more 50!
Listen on Spotify
19. Midnight Club 3: DUB Edition (2005)
As a street racing adventure set in Los Angeles, Paris, and Tokyo, Midnight Club 2 included a superb soundtrack composed almost entirely of electronic music. DUB Edition incorporated rap music and leaned heavily on artists like Big Tymers, Fabolous, and Twista to underscore the game's domestic, American settings (San Diego, Atlanta, and Detroit).
Listen on Spotify
18. Grand Theft Auto: Liberty City Stories (2005)
Rockstar conceived the Liberty City soundtrack as music that would have appeared on the city's radio stations in 1998. There's only one rap station – The Liberty Jam – but it's a perfect encapsulation of that dusty, mid-'90s era in Liberty City (read: NYC) rap when songs regularly spanned over five verses. Wu-Tang, Ruff Ryders Entertainment, and Terror Squad are all represented here.
Listen to The Liberty Jam on Spotify Listen to The Liberty Jam on YouTube
17. 25 To Life (2006)
Janky gameplay and street violence clichés prevent 25 to Life from fulfilling its aspirations as a video game hood epic, but the game had a killer soundtrack that surrounded its musical centerpiece, Ghostface Killah and Jadakiss' "Run," with other vital mid-'00s tracks from veteran rappers, like Juvenile's "Nolia Clap," Geto Boys' "Yes, Yes, Y'all," and DMX's "Where the Hood At."
Listen on Spotify Listen on YouTube
16. Def Jam: Fight For NY (2004)
The second installment of a series that still stands as one of the most inspired works of branded commercial art ever, Fight For NY built on its predecessor by adding dozens of new rappers as playable wrestling characters, like Busta Rhymes, Shawnna, and Xzibit, and constructing its soundtrack around their songs.
Listen on Spotify
15. NFL Street 2 (2004)
Xzibit's transition from rapper to actor, host, and cash-checker basically went down in 2004, the year he started hosting Pimp My Ride and served as cover star and virtual host of NFL Street 2. The NFL Street 2 soundtrack features a surprisingly tasteful blend of rap and heavy rock best summed up by M.O.P.'s metal experiment "Ground Zero." The best song here, though, is Ying Yang Twins' "Halftime," which vibrates with the theatrical energy of a full HBCU marching band.
Listen on Spotify Listen on YouTube
14. Marc Ecko's Getting Up: Contents Under Pressure (2006)
In the world of Marc Ecko's Getting Up, citizens live under the government's authoritarian gaze, and graffiti art is a tool of liberation. Rap music served as another ally; the game was soundtracked primarily by original compositions from RJD2 and RZA, as well as iconic NYC tracks like Biggie's "Who Shot Ya," Grand Wizzard Theodore's "Subway Theme," and Mobb Deep's "Survival of the Fittest."
Listen on Spotify
13. NBA 2K6 (2005)
This edition of NBA 2K is one of the first (and still one of the best) all-exclusives mixtapes on a sports video game title. The 2K6 soundtrack was a backpack rap fan's wet dream, with contributions from Little Brother, The Roots, Hieroglyphics, Common, and other like-minded artists. "Excellent" is probably still on Blackalicious' live set list.
Listen on Spotify Listen on YouTube
12. Saints Row (2006)
Saints Row's rap offerings spanned three stations: 92.2 The Kronic, 95.4 KRhyme, and the immaculately titled 101.69 Sizzurp FM. The game included one character, an R&B singer named Aisha, with each station keeping her three hits ("Bounce Like My Checks", "Leave The Ho" and "Don't Fuck Me Like I'm Your Wife") in regular rotation. Aisha met her death In Saints Row 2, when a man with a samurai sword decapitated her, but her music lives on.
Listen to The Kronic on YouTube Listen to KRhyme on YouTube Listen to Sizzurp FM on YouTube
11. Tony Hawk Pro Skater 4 (2002)
The rap corner of the Tony Hawk 4 soundtrack balanced cheerful, instantly recognizable hip-hop standards (N.W.A's "Express Yourself," Run-DMC's "My Adidas"), political screeds (Aesop Rock's "Labor," Public Enemy's "By The Time I Get To Arizona"), and woozy '90s tracks (De La Soul's "Oodles Of O's," Lootpack's "Whenimondamic") that seem to capture the nauseous disorientation one might feel after suffering a skateboard-induced concussion. The soundtrack also featured a few tracks from Muskabeatz, skater Chad Muska's musical project with composer Dave Roen.
Listen on Spotify
10. Grand Theft Auto: Vice City Stories (2006)
The Vice City hip-hop radio station Wildstyle Pirate Radio wasn't nearly as magnificent as the simmering soul a few clicks over at Fever 105, but it felt curated to fit its environment, unlike Scarface: The World Is Yours, the other Miami video game set in the '80s. Wildstyle included several tracks that blended early hip-hop with electronic elements, like Zapp and Roger's "More Bounce to the Ounce" and Herbie Hancock's "Rockit," which made it the ideal station for cruising through Ocean Beach.
Listen on Spotify Listen to Wildstyle Pirate Radio on YouTube
9. Def Jam Vendetta (2003)
EA put DMX's "Party Up In Here" in two games in 2003, Tiger Woods PGA Tour 04 and Def Jam Vendetta. Tiger Woods drew the line there but Vendetta continued, finding identity in songs like DMX's "X Gon' Give It To Ya'," Redman's "Smash Sumthin," and Method Man's "Bring the Pain." Music, of course, was the beating heart of Def Jam Vendetta, which with its premise of rappers as pro wrestlers staked its claim for most ambitious crossover event of the century.
Listen on Spotify
8. NBA 2K13 (2012)
The innovation of 2K13 was that it attached itself to a mega-famous artist – in this case, JAY-Z. Hov executive-produced 2K13 and curated the franchise's most rap-heavy soundtrack of the mid-aughts. His soundtrack included several of his creations, and even some of the non-hip-hop tracks exuded a Brooklyn air; there was "Stillness Is the Move" by the extremely Brooklyn art-pop outfit Dirty Projectors, and the Roy Ayers acid-jazz opus "We Live in Brooklyn, Baby." More recent iterations of the 2K have followed suit and sought out hip-hop A-listers like Travis Scott, Pharrell Williams, and DJ Khaled to curate their soundtrack.
Listen on Spotify
7. Tony Hawk Underground (2003)
The Tony Hawk Underground soundtrack was almost literally an alphabet soup of alternative rappers: Aceyalone, Busdriver, Cannibal Ox, Dan the Automator, and on and on. But the soundtrack was anchored by a song from the heart of the rap canon, Nas' "The World is Yours," which perfectly fits the game's globetrotting plot and skateboarding's intention of co-opting every urban nook and cranny. After Underground, the Tony Hawk franchise took a sharp musical turn towards punk.
Listen on Spotify Listen on YouTube
6. Grand Theft Auto: San Andreas (2004)
Several titles on this list attempted to use music to evoke a specific time or place. Few succeeded like GTA: San Andreas, a game that zeroed on the dismal race relations, gang and police violence, and crack epidemic that plagued Los Angeles in the late '80s and early '90s. This environment never felt more immersive than when riding along and blasting Radio Los Santos, which put Compton's Most Wanted, Above the Law, Cypress Hill, N.W.A, a young Tupac, and other LA gangster rap in heavy rotation.
Listen to Radio Los Santos on Spotify Listen to Radio Los Santos on YouTube
5. Fight Night 2004 (2004)
The first Fight Night soundtrack was simply immaculate. Between Biggie rapping over the Rocky soundtrack, a defining hyphy anthem, and the hell-raising southern rap of Lil Scrappy, Lil Jon, Tity Boi, and David Banner, it utilized far-ranging styles to underscore the theater and physicality of boxing. The only thing it was missing was the musical stylings of Roy Jones, Jr.
Listen on Spotify Listen on YouTube
4. Def Jam: Icon (2007)
Icon may have been the worst game in the Def Jam wrestling series, but it had the best music. The soundtrack doubles as a compilation of the best commercial rap of the mid-aughts. It was so stacked that its highlights are worth spelling out at length here: Jim Jones' "We Fly High," Yung Joc's "It's Going Down," Mike Jones' "Back Then," T.I.'s "Top Back" and "What You Know," Ludacris' "Get Back," Jeezy and Akon's "Soul Survivor," E-40's "Tell Me When To Go," and Fat Joe's "Make It Rain." If your house party is losing steam, turn on the Def Jam: Icon soundtrack.
Listen on Spotify Listen on YouTube
3. GTA V (2013)
GTA V is set in a modern-day San Andreas; Big Boy has replaced DJ Julio G as the host of Radio Los Santos, which now plays over two hours of contemporary, LA-centric rap, and West Coast Classics is effectively the Radio Los Santos of GTA: San Andreas. The jewel of GTA V radio is Flying Lotus' FlyLo FM, which draws on the LA beat scene and celestial tracks from OutKast and DOOM for a heady, nocturnal mix.
Listen to West Coast Classics on YouTube Listen to FlyLo FM on YouTube
2. Grand Theft Auto IV (2008)
GTA IV doesn't have a station specializing in commercial or forward-thinking contemporary rap, but that doesn't stop it from treating the omnivorous rap listener to a musical feast. There's International Funk 99 and Fusion FM, which offer primo sample fodder from the likes of the O'Jays and David Axelrod; The NY-centric The Beat 102.7, which plays two of the most triumphant tracks in the GTA compendium in Styles P's "Blow Your Mind (Remix)" and Swizz Beatz's "Top Down"; and the DJ Premier-hosted The Classics 104.1 and "audio aphrodisiac" R&B specialist The Vibe 98.9. And that's not even counting disco hub The Studio, hosted by none other than DJ Karl Lagerfeld.
Listen to The Beat 102.7 on YouTube Listen to The Classics 104.1 on YouTube Listen to The Vibe 98.9 on YouTube
1. NBA Street Vol. 2 (2003)
NBA Street Vol. 2 captured the essence of basketball more artfully than any video game has captured the essence of any sport, ever. There has never been a more perfect video game menu theme than Pete Rock and CL Smooth's "T.R.O.Y." Vol. 2 blasted its pack of exclusive Just Blaze instrumentals and in-game rotation of '90s acts like Lords of the Underground and Dilated Peoples (plus its exclusive Nelly track that he cut near the height of his career) so loudly that it became it impossible to conceive of these songs without basketball, and vice versa. What more can a video game soundtrack accomplish?